What to see in New Zealand – North Island with kids
Even though travelers tend to love the South Island more, there's plenty of awesome on the North Island too! They're just very different from each other. On this post, find out what to see in New Zealand – North Island with kids.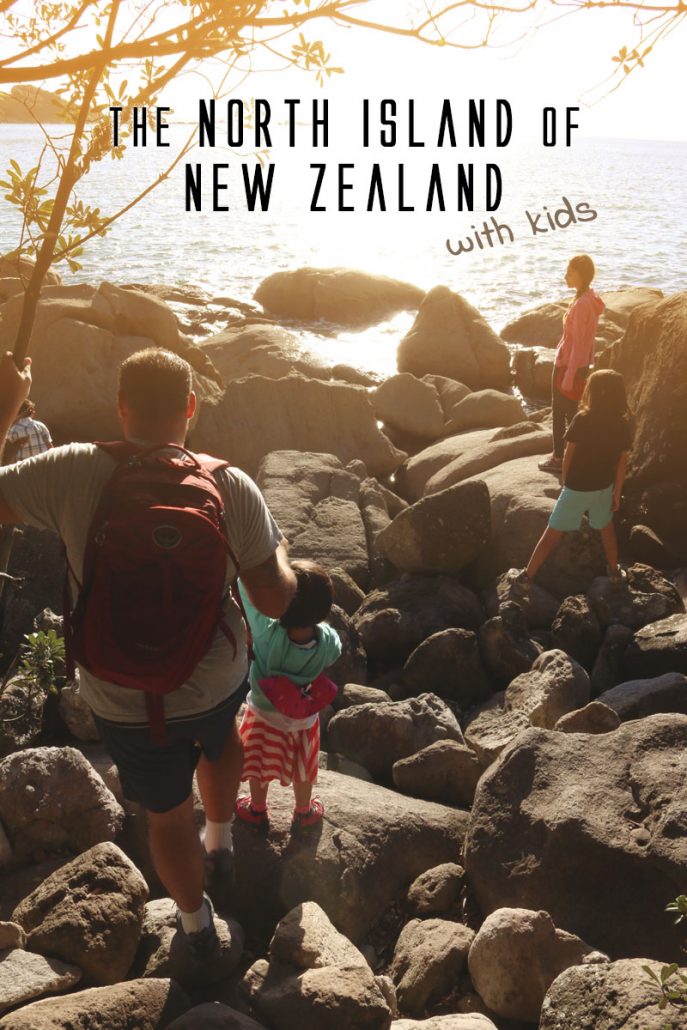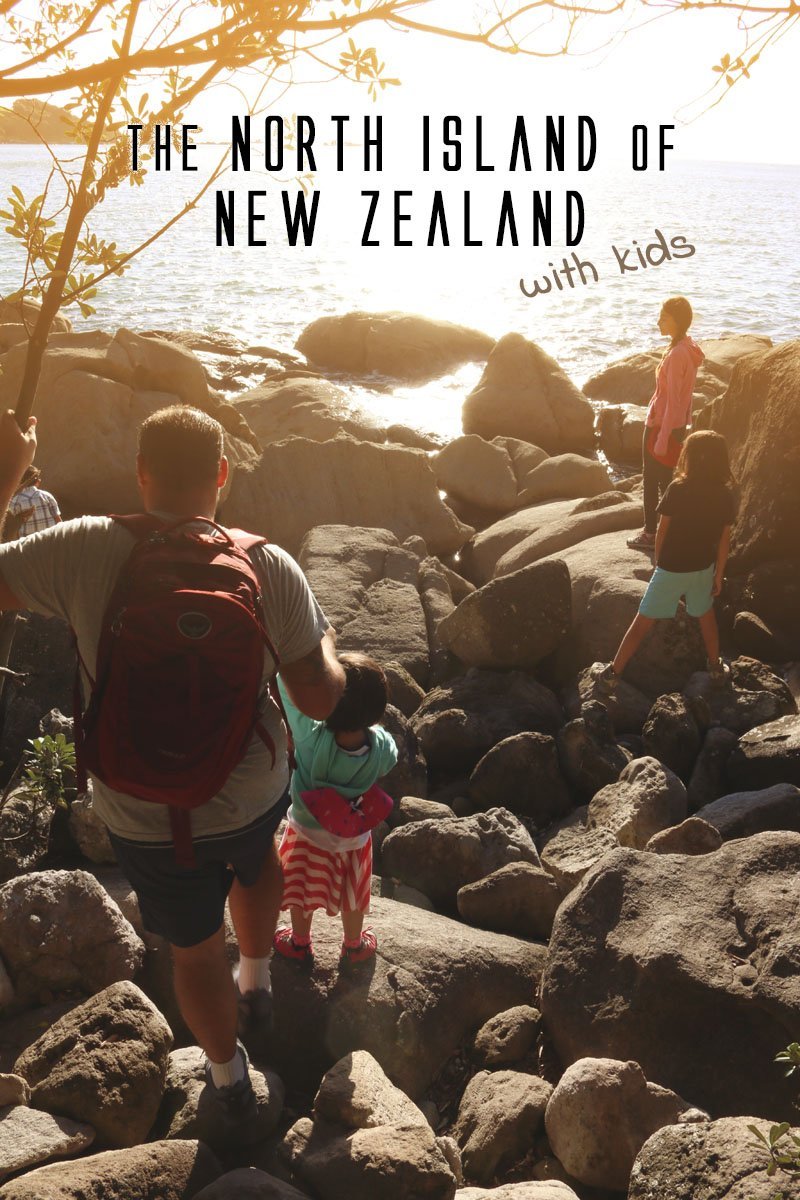 The North Island, called Te Ika a Maui (The Fish of Maui) in Maori, is where most visitors arrive. This is where you'll find Auckland, the country's biggest city, and Wellington, the Capital.
Even though it's a small island, roads are windy and visitors must take into consideration the time it takes to travel form one place to another when making their itinerary.
* this post contains affiliate links – they don't cost you anything but give us a small commission
New Zealand's North Island must-see for families with kids
The whole North Island is incredible and there's plenty to do even if you spend your whole life around. Find out below about the many New Zealand North Island attractions! Let's start from the North to the South – of the North Island.
Things to do in Northland with kids
Northland – we spent 2 weeks traveling through Northland in a campervan. We saw a lot of places, all very quickly, not even close to the slow travel we like to do. It was an extraordinary experience, but we need to revisit it with more time, for sure. Find below what not to miss in Northland with kids!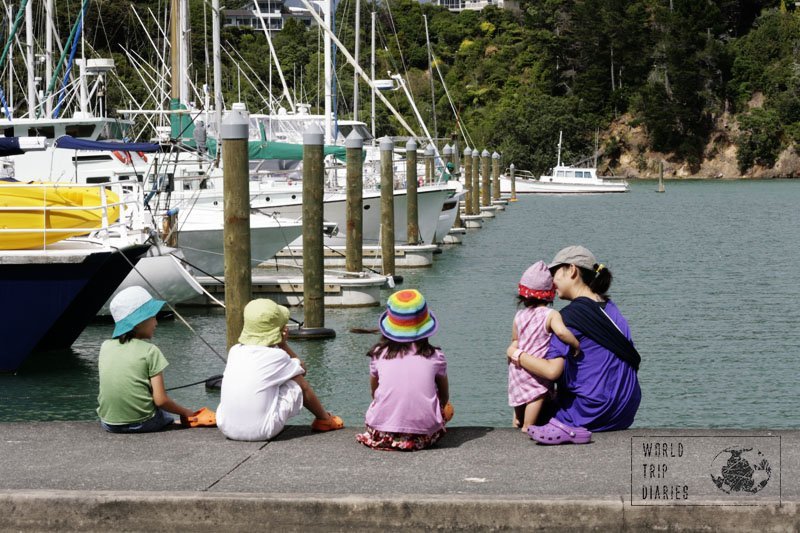 Mangonui Fish Shop: the best fish & chips in NZ. It was pretty good, you could taste the freshness.
Cape Reinga: the farther northern spot in NZ, it is very pretty. There is a lighthouse, where the Tasman Sea and the Pacific Ocean meet. Oh man, is it pretty!
90 Miles Beach: you can look left and right and all you see is the beach. We spend just one hour there and it was chilly and windy so we did not get to enjoy all it has to offer, but still worth the drive, the wind, the chill. Amazing place to run around and be a child again.
Waipoua Forest: this is where you can find the amazing Tane Mahuta, the largest kauri tree known to stand today. It is quite impressive, really. There is a walk (5 minutes from the car park) and you must remain on the track because it might damage the roots of the tree. We also visited the Four Sisters, which are 4 kauri trees growing really close together (a little walk – 20 minutes or so). Beautiful place, peaceful and calm.
Ka Iwi Lakes: great lakes for swimming. They are cold but clear, calm and there was almost no one around! Oh, I could live there. Swimming in fresh water was refreshing and fun!
Tutukaka: it is said to be one of the best snorkeling spots in NZ. We didn't get to see it because we had a few problems with the camping site we had booked so we had to leave early. Such a pity. If you can, try to visit the Poor Knights Island – it looks stunning!
Te Paki: sand dunes. Just sand dunes. Huge sand dunes. So. Much. Fun!!!!!! Just be careful and leave electronics in the car because sand has a way into them…
Waiomio Caves: small but amazing cave. It is beautiful, it has glow worms and it is way cheaper than Waitomo. You need to walk through it, and it is 30-40 minutes walk in the dark, with a few lanterns. It has stairs, so everyone must walk – no trolleys. Coral was little and couldn't walk yet, so we put her in the wrap and she slept the whole time.
Cable Bay: a pink sand beach. It is not super pink but it is a salmon color and is gorgeous. The water was super salty and it stang but it's worth a stop. So beautiful!
Things to do in Auckland with kids
Auckland is the biggest and the most populous city in New Zealand. It's also one of our favorite cities in the world. There's a lot to do, but don't be fooled: it's not just the city things – there's plenty of nature too!
Head out to a beach! There are many beaches in Auckland, but I suggest you go West – to one of the black sand beaches! Our favorites are Piha and Muriwai.
BUT if you have little ones with you, you may prefer some gentler beaches, like Mission Bay Beach, Sandy Beach (Blockhouse Bay) or Cornwallis Beach (Titirangi).
Enjoy one (or more) of the awesome parks and playgrounds. There are many, and most of the times, you'll find both. The Domain is stunning – don't miss it!
There are many museums in the city too. From the Auckland War Memorial to MOTAT and the Maritime Museum. It's a great activity for when the weather is bad…
Rainbow's End is an attraction park. It's sort of outdated, but still heaps of fun.
Kelly Tarlton Aquarium, if you like aquariums. This is a small one, but pretty neat and well kept.
Sky Tower because, how can you not? You get 360 views of the city and you can even jump from the tower! Safely, that is.
Coromandel for families
We've actually only spent a few days in Coromandel, and even then, it was a very bad time with horrible weather and we barely saw anything. So below is what we WANT to see sometime. See some options below!
The hot water beach – I mean, digging a hole in the sand and having your own personal hot pool? If it has the stunning Cathedral Coves, then, even better!
309 Road to see waterfalls – you can never have seen too many of them.
The Karangahake Gorge – old mining site, tunnels, waterfalls, rivers? Oh, yes, please!
Bay of Plenty for families
One of the most popular holiday spots in the North Island, Mount Maunganui is incredible. It's a small coastal town, but it's so beautiful, and one of the most family-friendly places in New Zealand!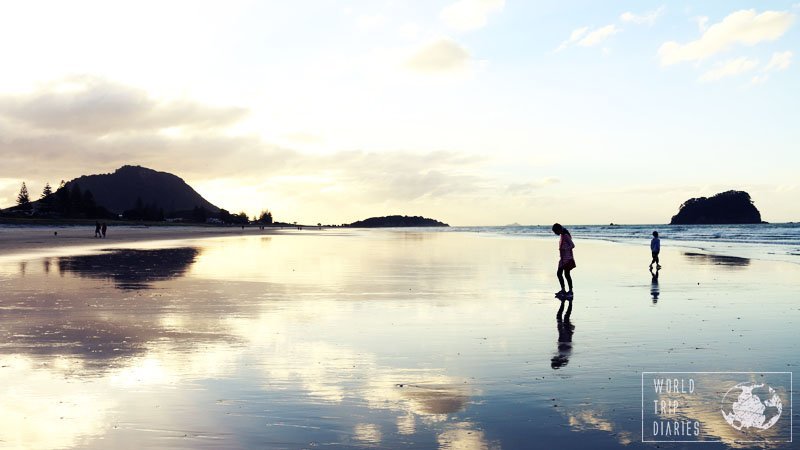 You can go to one of the many incredible beaches
Hiking Mauao, the mountain, is a must! It's an easy hike for everyone even little kids. Some of the tracks (there are many) are stroller friendly.
Play at the playground
Or even go to the movies.
The best, though, is just to soak in the kiwi atmosphere. What a wonderful, wonderful place this is!
Out of Mt. Maunganui, but still in the Bay of Plenty, Pukehina Beach is one breathtaking beach. You can even see dolphins from the beach if you're lucky!
The best of Rotorua for kids
It's a sulfur-smelling city, but pretty cool. We had lots of fun there, despite the smell. Colorful lakes, hot springs, and rich Maori culture everywhere! Definitely worth a visit! Check our full post on Rotorua here!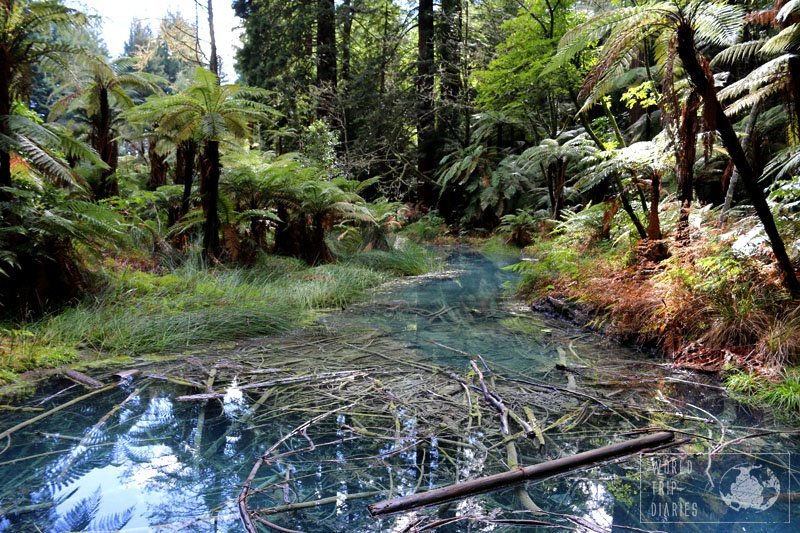 The Buried Village of Wairoa – a pretty cool indoor-outdoor museum about the Village of Te Wairoa, that ended up buried when Mount Tarawera erupted.
Te Puia – a thermal village, a beautiful one, with the Pohutu Geyser and a lot of Maori culture!
Sulphur Point – a free walkway passing through many smelly and bubbling pools – from mud pools to colorful hot water pools.
The Redwoods – free and awesome (and not smelly) forest! Loved it!
Lake Tarawera – It's a big lake. Pretty cool to see the real thing after seeing the Buried Village.
Blue and Green Lakes – Two lakes, one beside the other – one blue and one green.
Wai-O-Tapu for some of the most unbelievable lakes in the whole world!
Matamata with kids
Hobbiton: this is probably the only reason to visit Matamata. Do you need more? It is a 2-3 hours drive from Auckland and the tour takes 1-1.5 hour only. It is guided, so a group comes in, the guide talks about the place, takes you to the places they want to show, give you 5 minutes each time to take photos. Still…. awesome!!! It is incredible, you know, to see the work people put on building such a beautiful place, full of details, that's gonna be on screen for 1 minute. It is a must for Tolkien/movie lovers. After that, you're taken to the Green Dragon Inn for a drink and home! There's also the option of the dinner tour, which was GREAT!
Taupo with kids
Taupo – we didn't really spend a lot of time there, just went and spent the day a few times. It is a city with everything you might need but still has this small city character. Charming! It's home to the biggest lake in NZ – it's almost infinite. Seriously.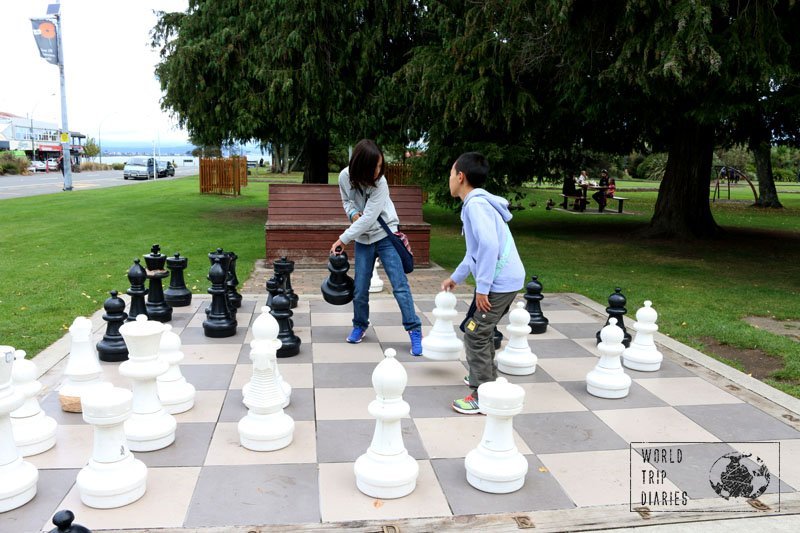 Lake Taupo: Huge lake with beautiful views from anywhere around it. Alas, around it is a lot of food and entertainment options. I haven't been there anytime near summer, so I haven't really checked what the water's like but I heard it is icy cold.
Starlight Cinema: the only cinema in town, with 5 rooms only and an arcade (kind of outdated). It isn't cheap as some of the cinemas in Auckland BUT it is more comfortable. Had this funny smell (like a closet that's been unused for a long time but was cleaned recently), but it wasn't really bad or anything, just different. We were there in April 2016.
Playground: there is this very cool playground right beside the library. It has amazing plays and there is a giant chess set. Taupo Central (Tongariro Domain).
There are also many family-friendly hikes around the area!
Take a day trip and visit the famous Waitomo Caves to see the glow worms!
What to do in Tongariro National Park with kids
This is the only UNESCO World Heritage in the North Island and one of the most beautiful places in the whole country. A paradise for hikers and nature lovers, and also for snow sports during the winter months. But it's worth a visit even if you're a couch potato like me. It's worth just sitting and watching.
For J.R. Tolkien fans, it's even better! Mount Doom (called Mt Ngauruhoe) is there and you can visit most of the places used on the movies The Lord of the Rings and The Hobbit.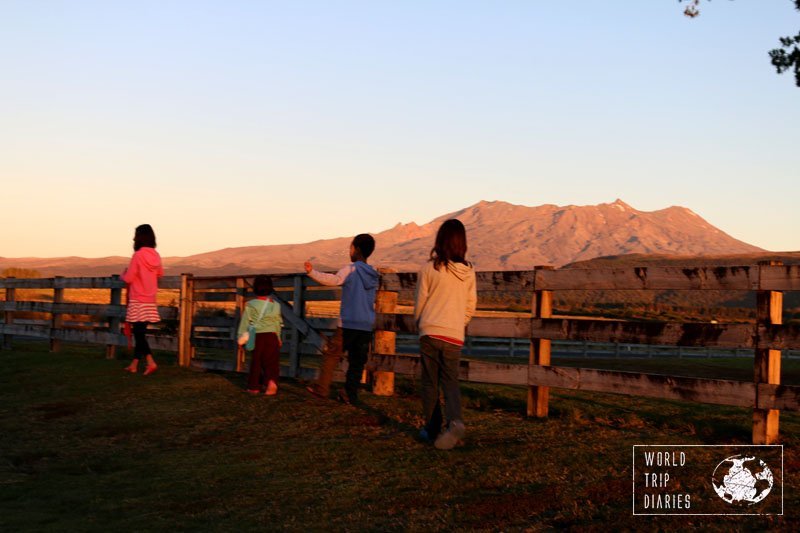 Tongariro Alpine Crossing: 19.4 km of walk through the Tongariro Mountain. Not an easy hike, so Angelo did it alone. It took him over 7 hours. He enjoyed it but came home really tired.
Taranaki Falls Walk, a 2 hours return track, with loads of stairs, gorgeous views, and the most amazing waterfall: you can walk right behind it.
To eat, and surf the Internet, we tried the Station Café (good food, but most importantly, fast internet), Macrocarpa Café (the food wasn't exceptional, just OK and the internet did not work at all) and the Chateau Tongariro (expensive, OK food, really good dessert).
Whakapapa Village: just beautiful, even if you don't ski. Loads of walks and a great information center (+ free wifi).
Whanganui for families
We only spent one afternoon there and we didn't see anything besides the city on the way and the center and we LOVED it! It is a small city full of character, vintage buildings, parks, and farms, but it's still big enough to have cinemas, malls, and loads of stuff to do. Oh, so gorgeous!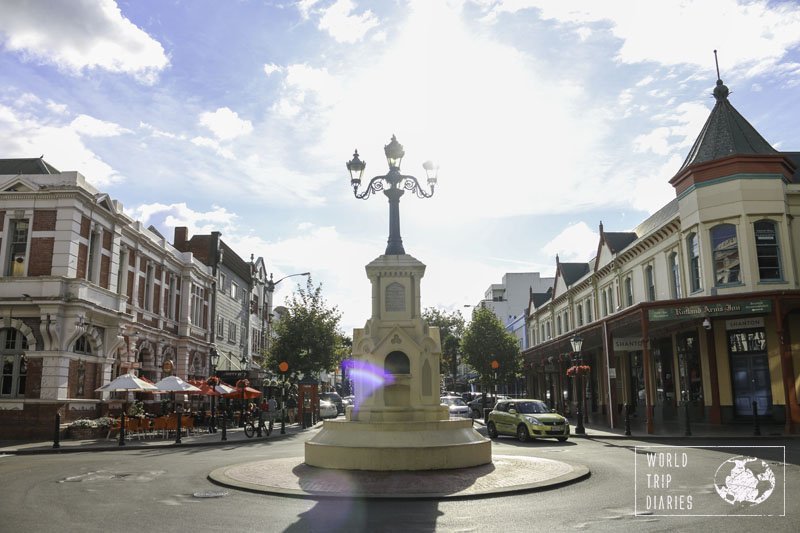 The best things to do in Wellington with kids
Wellington is the Capital and we've been there a few times. We love it. One problem though is that it's very windy. VERY windy. Even during the summer months. Bring on your windbreakers and enjoy.
Wellington Airport: if you love J. R. Tolkien, you WILL love it. Gollum, a huge one, trolls, and Gandalf. That's all I'm gonna say. The last time we were there, Gollum was out but Smaug had appeared. Super, super fun!
Te Papa: the best museum ever! It is mostly interactive, there are areas designed for children on each part of the museum and it is HUGE! Last time we were there, we had to use up 2 days in there. Kids love it, we love it. Super educational, super fun, just perfect. And it is indoors, so no wind inside.
Cuba Street: a pretty street in Central Wellington. It has everything you think about, even playgrounds. Really. There are also amazing photo opportunities. Worth the walk!
Weta Cave: Oh, my! I can't just tell you how much I loved this place. I am a nerd, judge me. I just adore Tolkien and this little museum/store has it all. It is very small, but I could spend hours there if my children weren't more excited than me trying to touch everything we could never afford. There is a tour of the studio where they show you how the films are made (or at least the effects they are specialized in) and it is awesome! Our kids were small when we went there (Coral was one and she slept through it all, in a sling). If you can, you must.
Waterfront: you could visit one water-front and see it all, probably. But there are just so many playgrounds and cafes, markets. And it is so close to everything! Even if it is just to give your kids some time to run around, it is worth it. Grab a fish & chips and enjoy the sun (if it's sunny, of course).
Cable Car Museum: first of all, we took the cable car. It has 3 stations. In less than 5 minutes, from one end to the other. It was a bit disappointing. The museum is also quite small, but it is entertaining and it is covered. Great for a few hours on a rainy day.
Zealandia: it is a park that holds native species from NZ. It is like NZ was before the colonization. Big park, so many birds, and reptiles! My kids loved it. I confess I was so tired I was barely seeing anything but my kids LOVED it. Joao had a great time finding out birds he had only seen in books, seeing them flying, hearing their sounds. We couldn't find any tuatara, but it was still fun. They have this little inside area with a mini museum (the size of the Cable Car Museum) that was also really fun. And the cafe…. Ah, how I loved the heating, the warm tea, and the couch…
Tips for a North Island (New Zealand) road trip
First off, download your maps. Phone coverage isn't that great if you're in the forest, on the mountains, or anywhere a little far from a town. Download them.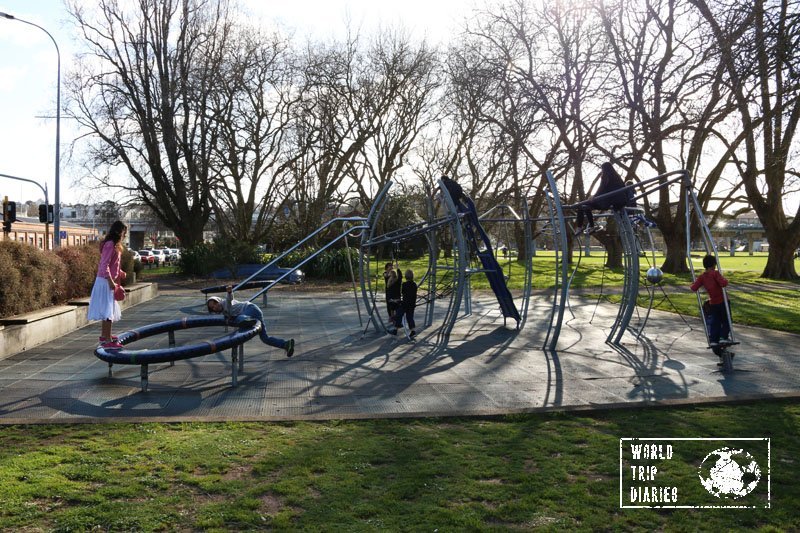 Then, try to do less. It's real. Visit fewer places – NZ roads are windy and long, and driving from one place to the other, even though the distance isn't great, will take you long enough. Like, a Wellington to Auckland drive is around 640 km (398 miles) and it takes at least 8 hours and a half. Did you see when I said AT LEAST? I mean it.
I mean, most roads pass through small towns, where the speed limit is 50 km/h (31 miles/hour) so it will lengthen any drive.
Last, but not least, is to beware of the sandfly. I mean, these little pesky things are hell on earth. Seriously, what is that? Their bites itch for weeks! Horrible. Find out a shop and grab yourself this amazing repellent called Goodbye Sandfly (only in NZ), which is the only one that works really well for us. And if you've already had the displeasure to encounter those little blood suckers, grab yourself some Tui Balm. They really help.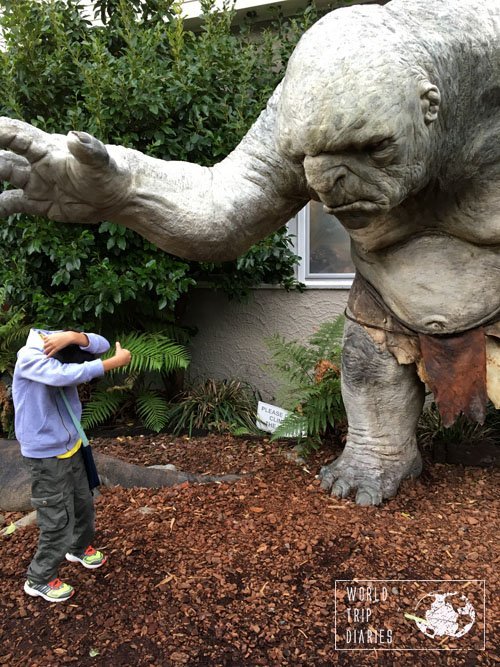 New Zealand North Island itinerary
If you have around a month, I think it's a good time to cover most of the island. But if you don't, then below are our recommended itinerary.
New Zealand North Island Itinerary 7 days
For a week itinerary, you'd have to choose what you want to do most. See some suggestions:
Bay of Plenty + Taupo + Rotorua + Tongariro National Park: you'd fly from your arrival airport to Tauranga airport and rent a car there. So you'll visit Mount Maunganui (1 day), Rotorua (2 days), Hobbiton (on the way), Taupo (2 days) and Tongariro National Park (1 day). Then you go back to Tauranga Airport, return your car, and fly to your exit airport.
Auckland – Wellington: this is a long trip, and you'll have little time to rest, but it's pretty cool. Start in Auckland, rent your car, and spend the day enjoying the city. Drive to Rotorua and spend a day or two there, visiting all the attractions. On your way off Rotorua, stop by Matamata to visit Hobbiton. Make sure you make a reservation beforehand. Then stop at the National Park and have one or 2 days – if you plan on doing the Tongariro Alpine Crossing, better have 2 days. Go further south, and stop at Foxton, to one of the best playgrounds in the country, and spend a day there. Then finish in Wellington.
New Zealand North Island itinerary: 10 days
For 10 days, you can add a few more stops or have more time to enjoy the places you visit.
Auckland + Coromandel + Bay of Plenty + Rotorua + Taupo + National Park: Start off with a day in Auckland. Catch the ferry to Coromandel and spend the day at the hot beach and visit the Cathedral Cove and one day at the city. On the next day, go to Mt. Maunganui (1 day) > Rotorua (2 days) > Hobbiton (stopover) > Taupo (1 day) > Tongariro National Park (1 day) > Auckland for the rest of the trip.
Auckland – Wellington: The same as the 7 days, but you can choose a few more stops or have some more time to enjoy the chosen spots.
Bay of Islands: Head from Auckland to Waipu (1 day) > Tutukaka (1 day) > Russel (1 day) Paihia (1 day) > Kari Kari Peninsula (1 day) > Cape Reinga (1 day) > 90 miles beach (stopover) > Waipoua (1 day) > Dargaville (1 day) > Auckland
To finish it…
Well, I'm biased, but I do love the North Island. There's no shortage of tourist attractions, and they're definitely worth your time on your itinerary.
Where

Minimun Stay
$ ~ $$$
Child-friendlyness
Best local transport option
Safety
Do we recommend it?
North Island of New Zealand

a day, but to see it all, a year. 😛
$$$
Very child friendly!
Car.
Super safe!
YES!
Are you inspired to go see the North Island of New Zealand? You'll not regret it!
SaveSave
https://www.worldtripdiaries.com/wp-content/uploads/4-feat-wellingtonair-gollum.jpg
287
815
Thais Saito
https://www.worldtripdiaries.com/wp-content/uploads/wtdlogo.jpg
Thais Saito
2016-04-23 00:27:19
2019-08-12 22:03:53
What to see in New Zealand – North Island with kids