Tongariro National Park Village, New Zealand – Tongariro with kids
Our first ever stop during our world trip was Tongariro National Park Village, on the North Island of NZ. So, on this post, I'm going to share with you all about Tongariro National Park Village, New Zealand – Tongariro with kids.
It's a small village very near 3 active volcanoes (Mt Tongariro, Mt Ngauruhoe, and Mt Ruapehu). If you follow us on Facebook, you probably saw the bunch of photos I uploaded because it is a breathtaking place.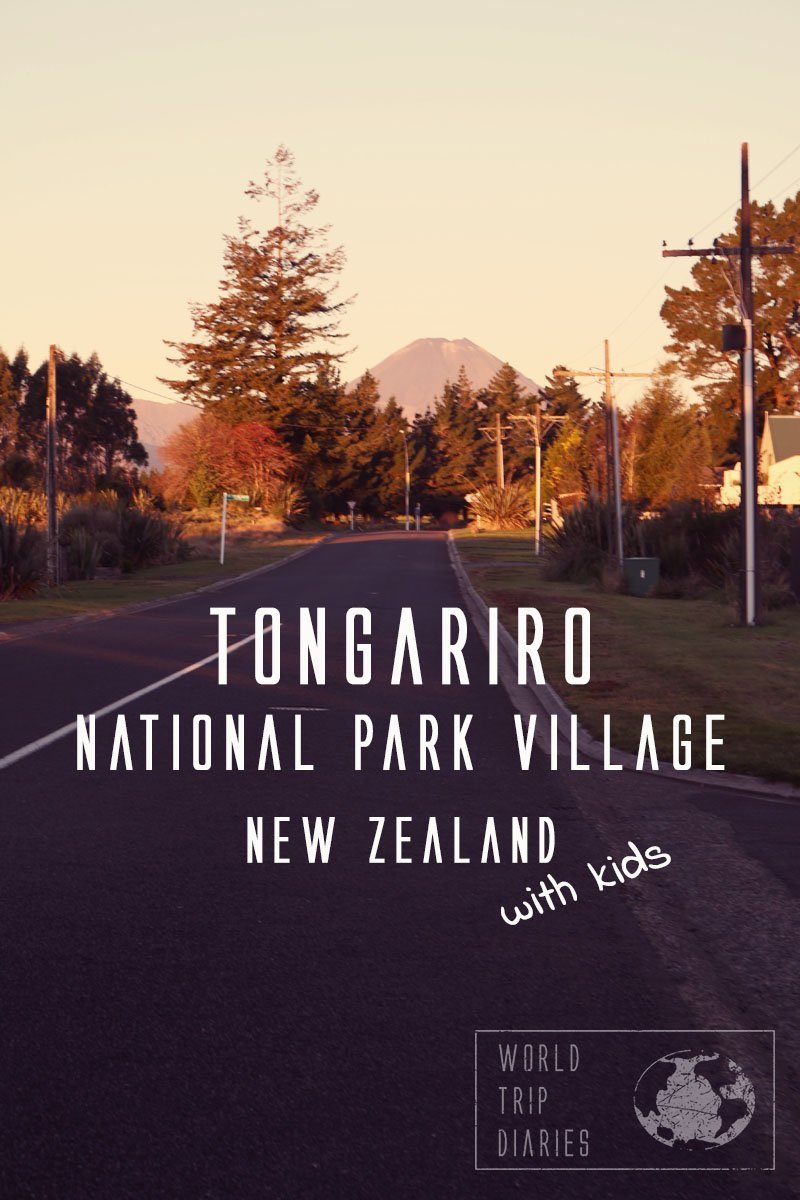 Tongariro National Park: Where to stay
We found Tongariro National Park accommodation rather expensive – but, oh well, it's the price we have to pay. It is one of New Zealand's most beautiful places and one of the only 3 UNESCO World Heritage Sites in the country, so…
Nowadays there are many options. Check some on the box below!
If you're like us and like to have a whole house for your family, then Airbnb or Bookabach would be the best option.
I think around 3~4 days in the area is enough to do a lot and be done with it BUT I'm gonna say that we had 3 weeks there and it was perfect. We managed to fit one or two hikes every day, try out every restaurant, and even go to Taupo once.
What to do in Tongariro National Park with kids
Tongariro National Park Walks
They are free, as with most hikes in NZ, good for you, pleasant, and you should do as many as you can! You can read more about each of them below and here.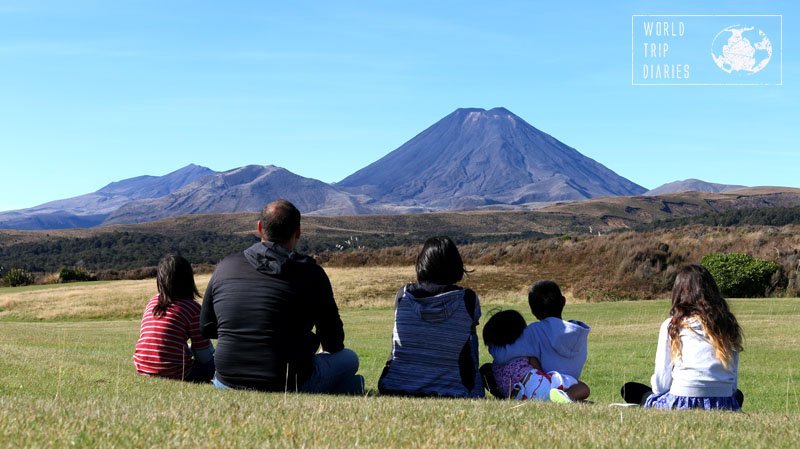 Tongariro Alpine Crossing: One of the world's famous one-day hikes. It's said to take around 6 hours to complete, but it's steep and slippery. Not for those who are unsure. You can go to any hostel/hotel/camping ground and they will take you to the beginning of the track themselves or contact someone who does for you. They charged Angelo NZ$ 30. By the way, Angelo did it by himself, but he said there was one family with a 10-11-year-old there too. It's the most famous Tongariro National Park hike.
Taranaki Falls Walk: It was our first ever walk and it took us more than 3 hours to complete, but it was pretty amazing! The views are stunning and the walk itself was very pleasant. We crossed and re-crossed the river many times, we walked behind the waterfall, we climbed many stairs and crossed many bridges. The track is very well maintained and easy to follow, but it is for those capable of walking for at least 2 hours and climb stairs. We stopped many times to rest, to take in the views, to allow Coral's bruised knee to heal, to play. Coral (4 years old) completed the whole track on her own feet.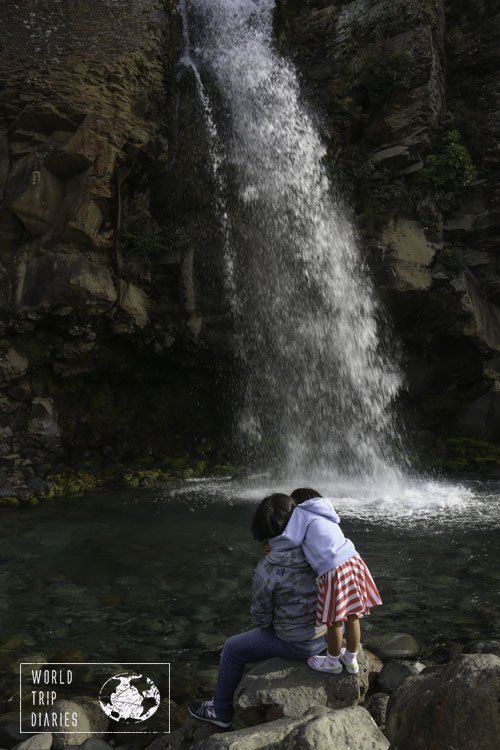 Meads Wall Walk: This was probably the hardest for me. The official track was closed due to the construction of the new chairlift, so we had to climb down and up paths made out of loose rocks. I had to squat down and go really low on most of the decline areas (with Melissa) but Angelo, the boys, and Coral (4 years old) had no problem at all: they kept on going forward and said it was just fine. It's said to take 20 minutes return, but it took us 20 minutes each way – because Melissa and I took way longer. Anyway, up there, beside the wall, you get the most amazing view of Mt Ngauruhoe ever. The wall is really magical, I could totally visualize Frodo and Sam there – it's the location of a few scenes of The Lord of The Ring, after all.
Ridge Walking Track: the guide at i-SITE said it takes 30-40 minutes return and the sign at the start of the track says it takes 1-hour return. We took around 20-25 minutes going up and around 10 going down. It's a steady climb: easy, but tiring. From the end of the track, you see the Chateau Tongariro, the volcanoes, and the whole Whakapapa Village. I don't know if we were tired but we didn't think this was the most impressive of the Tongariro walks.
Tawhai Falls Walk: around 20 minutes return, but with stairs and rocks to climb so you might not want to wear jeans – trust me. It's fast and easy and you get really close to Tawhai Falls. We spent a lot of time there, playing by the river. The turquoise waters were just amazing and inviting. It's really such a shame it was so freezing cold! The kids loved it. Almost all the photos from this day were taken by Melissa – I had had a bad neck day. Super recommend this walk. It's definitely my favorite of the Tongariro National Park short walks.
Mounds Walk – it's said to take around 20 minutes return. We took around 20 counting the time we spent up there. It's mostly stairs, but they're not many. From up there you get good views of the mountains.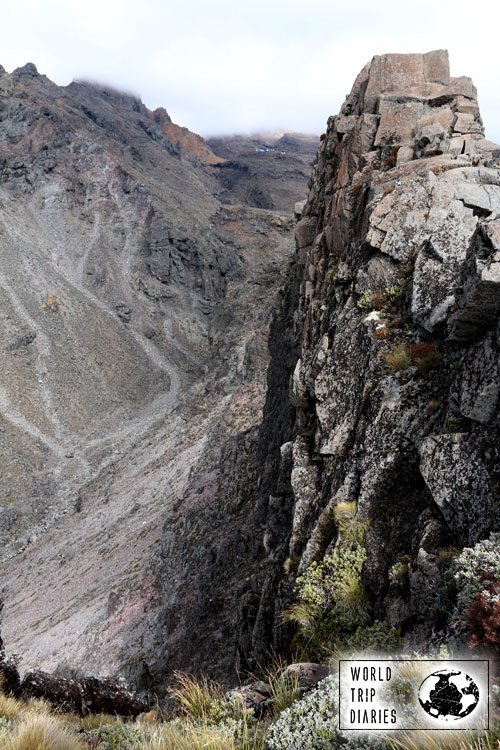 Other things to do in Tongariro National Park
Chairlift on Mt Ruapehu: oh so high! Not for those who are afraid of heights (like me). I managed, but I was scared to death all the time. Each trip takes around 15 minutes, and in order to get to the highest point of the chairlift, you need to take 2 different chairlifts (one charge only for all the 4 needed – 2 to go up, 2 to go down). To get to the peak of Mt Ruapehu, you need to walk around 2 hours more after the second lift. We didn't. It gets cold up there, so bring a jacket, even during summer. It cost us NZ$ 29 per adult and NZ$ 15 per child.
Schnapps: there are an 18-hole mini golf course and a climbing wall, besides the cafe-bar in National Park Village.
Four Square: By the gas station, the only convenience store in the Village. Pricey, but has more stuff than I'd imagined.
Playground: it's an awesome playground at the corner of Millar St. and Buddo St. Great place for kids to play when you don't want to go far.
Mountain bike: EVERYWHERE there's a place that rents our bikes. EVERYWHERE. There are many bike trails around.
Visitor Centre in Whakapapa Village: Very informative displays, helpful staff, and free internet.
Water sports: there are plenty of options, anywhere you go you'll find canoeing, rafting, fishing, kayaking, etc. We didn't try them, it was too cold.
Historical Train Station: just a very simple train station, with loads of space to run around. It's kinda pretty.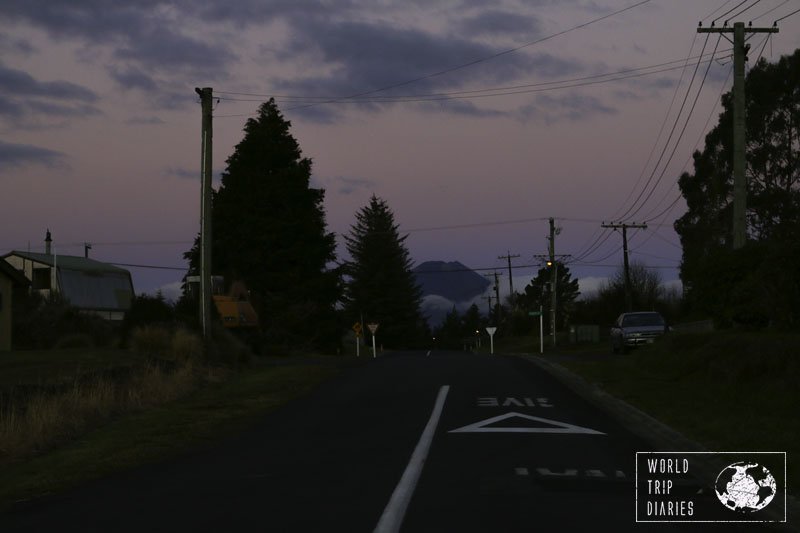 Best Time to Visit Tongariro National Park
Well, it does depend on what you want to do there. We visited in the fall and it was just stunning. It got pretty chilly in the evenings, but during the day, it was a mild temperature – so we could go on walks with only one sweater and nobody complained of dying due to the heat.
The high season is during winter – with all the snow sports and stuff, I mean, it is the BEST spot for winter sports in the whole North Island. If you're visiting during winter, you should plan ahead and book a place as soon as you can.
Even though it's a beautiful scenery all year long, you can't miss Tongariro National Park winter is also when it's the prettiest, with the mountains covered in snow…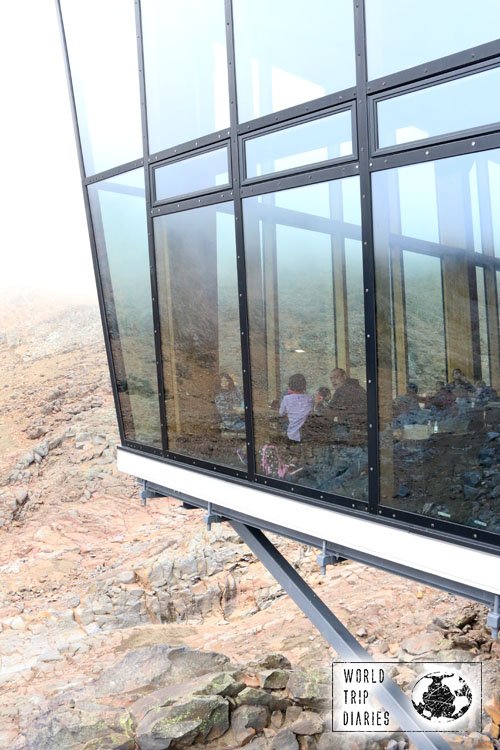 But, if your interest lays in the hikes and the views, and peace and quiet, then you should visit it during any other season. The tracks do close sometimes during winter – or you can only do them with a guide. Especially Tongariro Alpine Crossing. So, if that's your goal, visit late spring, summer, or early autumn (October ~ May).
Tongariro National Park Weather
You should note that, since it's surrounded by mountains, it has even more peculiar weather than the rest of the country's already peculiar and unpredictable weather.
Many times, it was pouring rain there and we were all feeling like it'd be a boring day when we decided to drive to the nearest towns and, surprise, it was lovely and sunny there. The opposite also applies.
FAMILY FRIENDLY EATERIES:
Station Cafe: we had brunch there. The food and the service were pretty good and the internet is the best we experienced there. It's just next to the train station. Price is the same as any cafe in NZ.
Macrocarpa: a cafe by the only gas station. We had dinner there. The Godfather pizza was really good, but the burgers were just OK. The internet didn't work at all. Service is OK too.
Knoll Ridge Cafe, New Zealand's Highest Cafe: It is located 2020m above sea level on Mt Ruapehu and you need to climb for 2 hours or take the chairlift. We got there at 3 pm and they close at 4 pm, so there wasn't much food to choose from, which was unfortunate, but the pies and sausage rolls were good and the brownie was very good. The price's the same as the other cafes in town.
Chateau Tongariro: we had high tea there. It was expensive (it costs NZ$25 per person in April 2016). The tea was amazingly good, the desserts were dreamy but the sandwiches weren't. It is quite a sight, though, the pretty chateau with Mount Ruapehu on the back. You don't really have to eat there to enjoy the views.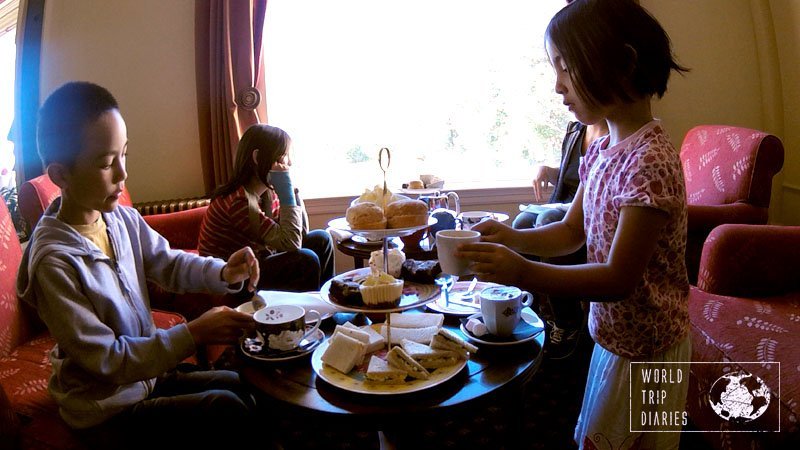 Overall
We loved Tongariro National Park. The Village is beautiful, and the walks are amazing. Everywhere you look, any time of the day, the views are stunning. There isn't much other than nature and the outdoors there, but trust me, it's enough to fill up a lot of time.
Tongariro National Park is an amazing destination for family trips with kids, but also for couples and solo travelers!
City / Country

Minimun Stay
$ ~ $$$
Child-friendlyness
Best local transport option
Safety
Do we recommend it?
Tongariro National Park Village / New Zealand

2 days
$$$
Super child friendly!
Walk, though a car may be needed sometimes
Safe, but there is the risk of volcano eruptions…
Yes, yes yes1
https://www.worldtripdiaries.com/wp-content/uploads/6-feat-IMG_6062-copy.jpg
287
815
Thais Saito
https://www.worldtripdiaries.com/wp-content/uploads/wtdlogo.jpg
Thais Saito
2016-04-28 00:59:21
2019-08-12 20:59:17
Tongariro National Park Village, New Zealand – Tongariro with kids