Hobbiton with kids – review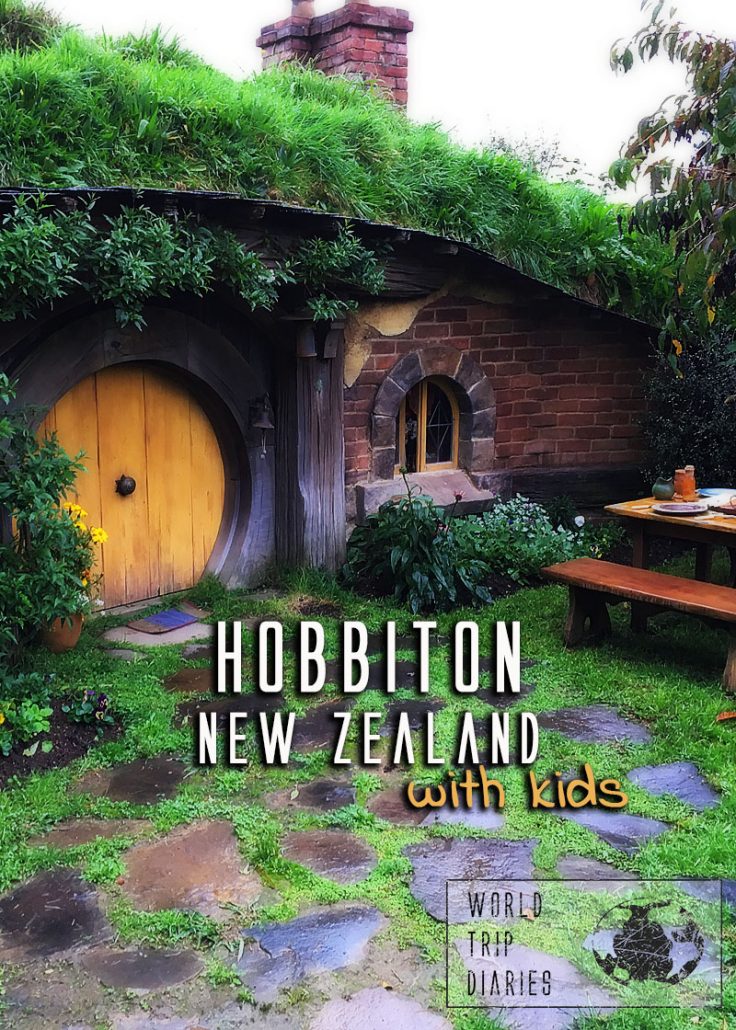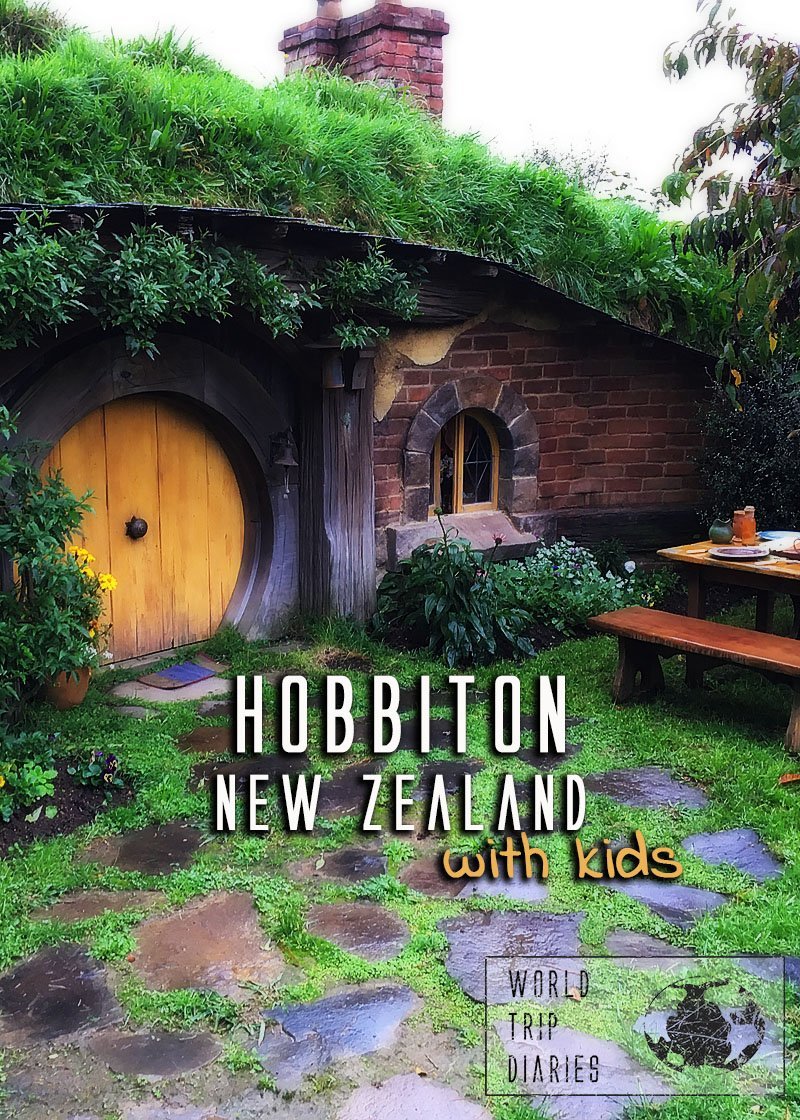 Hobbiton is the hobbit village built for the movies of The Lord of The Ring and The Hobbit. It is the place where some scenes were shot. It's in Matamata, a short drive from Rotorua, Taupo or Tauranga. find out what it's like to visit Hobbiton with kids – review!
Where is Hobbiton?
It is located in Matamata, very near Rotorua, Taupo or Tauranga. From Auckland to Hobbiton, it's around 2~3 hours. It's part of the bucket lists of a lot of people and it should: it's stunning!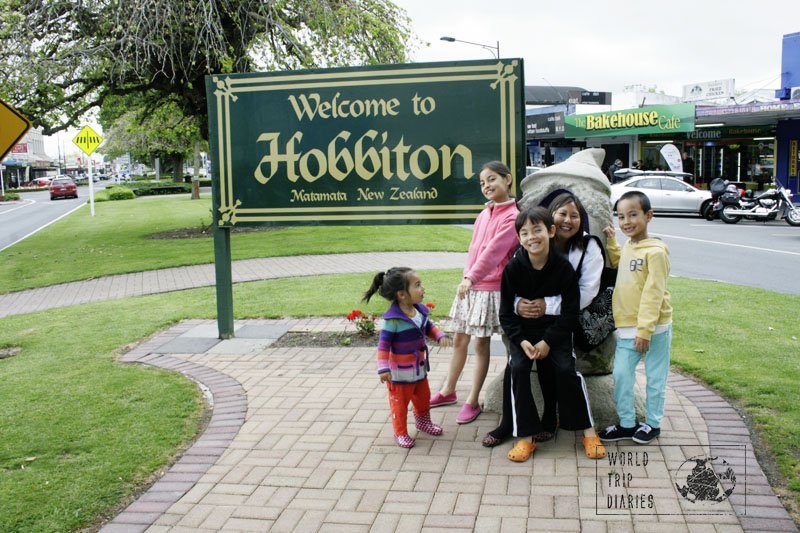 This post is about the day tour. We also did the Hobbiton Evening Tour and Dinner Experience, and you can read about it here.
It's an outdoors experience, so it's best enjoyed when it's not raining.
How to get tickets to Hobbiton
We drove from Auckland to Matamata's i-SITE, which is a place that gives free information to tourists. We hadn't booked our tours yet, so we did it there. We got there a bit after noon and only managed to find a spot (7 spots, to be honest) for the 4 pm tour only. It was fine. We had time to take photos with the Matamata sign, as the i-SITE also was built as a hobbit hole and we had fun wandering around. We had a coffee and drove to Rotorua just to see if we could spot a geyser – which we didn't.
You can get your tickets at the I-Site, online (recommended), or at the Shires Rest. Find some ticket options below!
<div data-gyg-partner-id="3ZAUOTZ" data-gyg-number-of-items="3" data-gyg-currency="USD" data-gyg-locale-code="en-US" data-gyg-id="code-example" data-gyg-q="hobbiton" data-gyg-widget="activites" data-gyg-href="https://widget.getyourguide.com/3ZAUOTZ/activities.frame"></div>
We left the car at the i-SITE parking site and took the bus from there – the bus that takes you to Hobbiton. You can drive to The Shire's Rest, to the iSite, or Rotorua, but you cannot drive into Hobbiton. You only enter it on their bus.
The driver who drove us was friendly and fun, made jokes all the way, told us curiosities and facts so the drive (it was around 20 minutes) didn't really feel long.
Hobbiton Day Tour with kids
It is a guided tour, so your group will have 2 guides that will keep people together and keep them from messing up with things they aren't supposed to.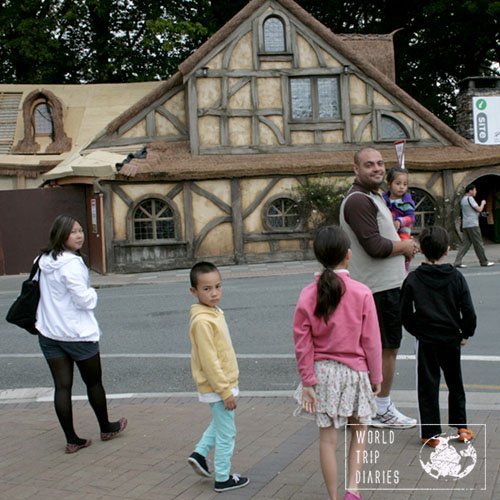 All you see at first when you get to the place, are hills and sheep. It is already such a sight! But you go further and further until the bus stops. There is a map of the Shire right at the entrance: check it out, it's so pretty!
And then…. there you have it: the Shire! You come through the place Bilbo left by shouting "I'm going on an adventure!". And that's exactly what a lot of people do.
It is just breathtaking. The guide will tell you all about the place and do try to listen, some things they say are pretty curious.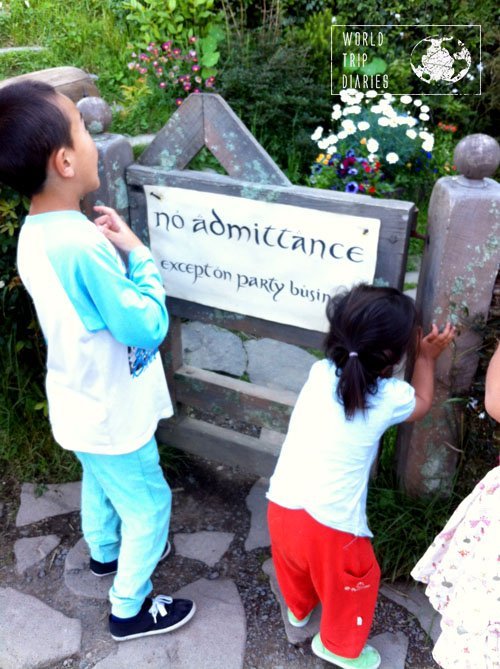 They will take you from place to place, give you around 5 minutes to take photos and go to the next.
I had Coral and she was one at the time, so we were really slow and a guide came along with us all the way telling the curiosities all over again to me, which was very kind. I don't really know if all the guides do this, but this one did and I am grateful. They do keep you in place and the thing moving, which is efficient, but it didn't give us near enough time to really see what we wanted to see or take photos of everything we wanted to.
You cannot enter the hobbit holes, and the only 2 you can enter are fake. The door opens, there is this small space inside but there's nothing there, really. A little disappointing, especially for the kids.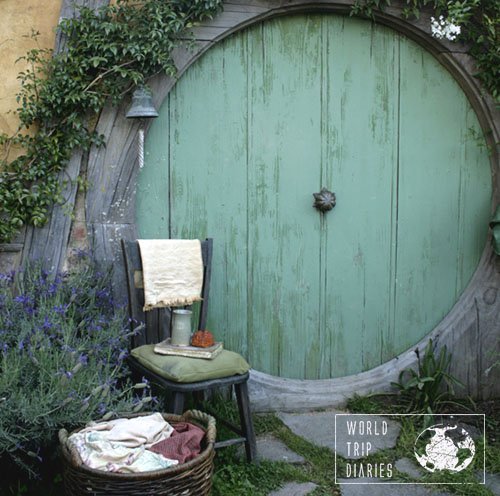 You are allowed in some of the gardens, so check them out. Some props are just great to see up close and they give you great photo opportunities. You aren't allowed on Bilbo's, unfortunately, but I was expecting that.
In the end, you get to the Green Dragon Inn (and it is gorgeously decorated, even the toilets are amazing) and get a free drink. Then you're out. They serve food there, but I really don't see enough time to order, wait and eat with kids in the 20-30 minutes they give you. Do take lots of photos because it is amazing.
The bus, then, takes you back to your departing spot (the i-SITE or the Shires Rest) and it's over….
Tips for enjoying a Hobbiton tour with the family
The tour (including the time you'll spend at the Green Dragon Inn and the bus-trip) is approximately 2 hours, so around 1-hour walking. Strollers are ok. They do lend umbrellas if it is too hot or rainy. There is a toilet at Green Dragon Inn, but not during the tour, so be sure to take your kids to the toilet at the iSite or the Shires Rest.
My kids were 1, 6, 8 and 10 by then and they loved it. They hadn't even seen the movies yet – though we had shown them the trailers so they would know what to expect – and they loved it! The place is really magical. The attention to detail is incredible.
It is pretty expensive. The Hobbiton day tour costs NZ$ 84/adult and NZ$ 42/child from 9 to 17 years old. Children under 8 are free with a full paying adult.
You have to. Just do. It is magical.
What and where

Total time needed
$ ~ $$$
Child-friendlyness
Best local transport option
Safety
Do we recommend it?
Hobbiton, in Matamata, New Zealand

2~3 hours
$$$
Very child friendly
You'll probably be better off with a car, though you can use the bus
Very safe, except for a few rabbit holes
Definitely!
What are your thoughts on Hobbiton? Let us know in the comments!
https://www.worldtripdiaries.com/wp-content/uploads/5-feat-matamata11.jpg
287
815
Thais Saito
https://www.worldtripdiaries.com/wp-content/uploads/wtdlogo.jpg
Thais Saito
2016-04-25 23:24:51
2019-04-30 15:26:18
Hobbiton with kids – review