Hobbiton Evening Dinner Tour for families – review!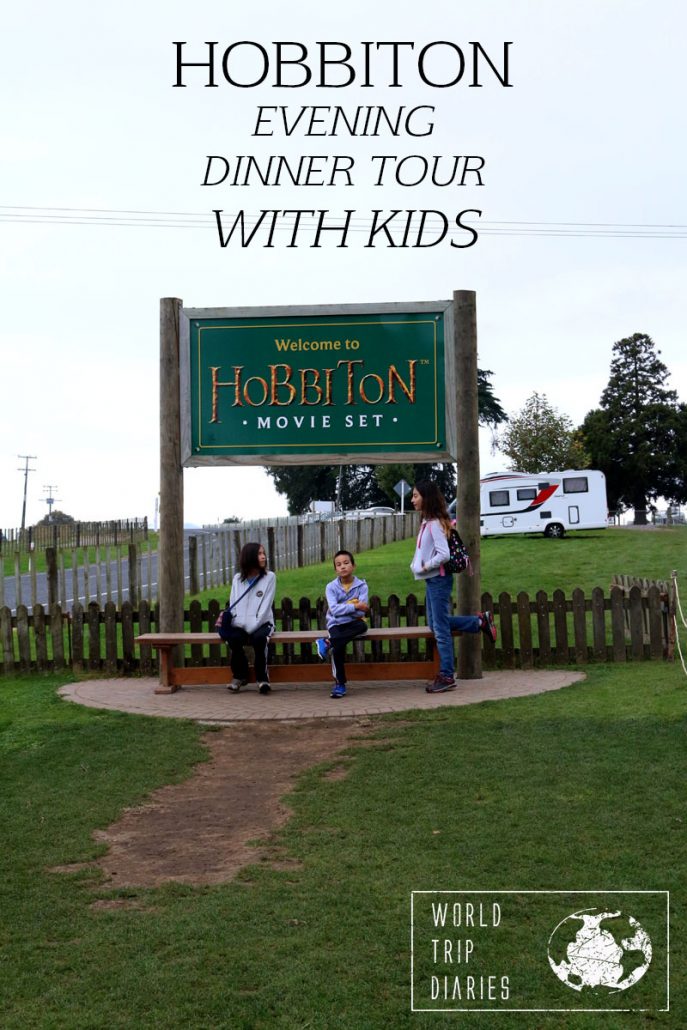 Hobbiton is where the trilogies of The Lord of The Rings and The Hobbit were shot. Well, at least some parts of it. The Shire, or the Hobbit Village, is there. It's amazingly well done. We've also been there for the day tour and here is our review. On this post, you'll find the Hobbiton Evening Dinner Tour for families – review!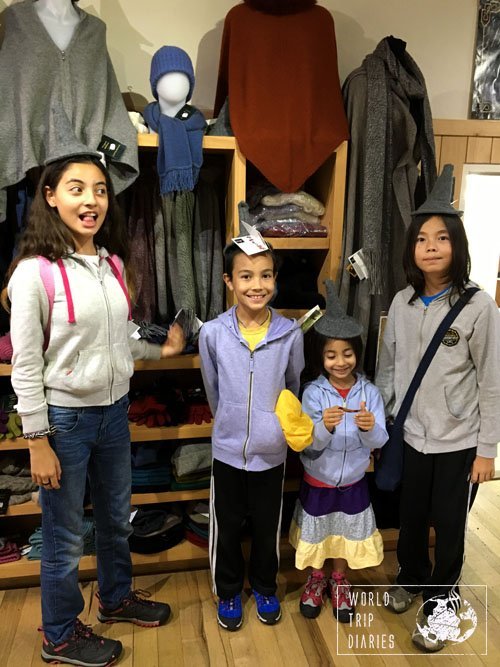 The day of the dinner
It was a horrible day. It rained all day long. The sky was completely gray. There was even some fog. I ended up wondering if it was really worth the drive, but we'd already paid for it, so we went ahead.
This time, we went straight to the Shire's Rest. We got there at 3 pm – 1 hour earlier than what they ask. The rain was drizzling.
We went to the cafe, had some tea, and spent the rest of the hour at the shop. It's nice and has a varied array of merchandise. Overpriced, of course, but still fun.
At 4 pm we were given Hobbit family names (ours was Proudfoot) and were directed to the van that would take us to Hobbiton. A short drive of around 10 minutes and there we were. Sam, the guide-driver was telling us curiosities about the filming all the way.
The guides (Sam and Teresa) were great.
The Hobbiton Twilight Tour
The group was pretty big (around 60 people). Right at the entrance, they offered people umbrellas – we took one but since we were wearing raincoats, it wasn't really necessary.
We went behind everyone because we'd already heard all the stuff they say and we really wanted to see stuff (and take photos) without a bunch of people around waiting for their turn, or even crossing in front of the shot.
The guides do keep the group moving and together, so even though we were able to stay behind, they were always calling us, showing something ahead.
I felt that we did have a little more time than on day tours.
The good and the bad about the Hobbiton evening tour
There were 2 main disappointing things about this evening tour:
The weather was bad, the light wasn't nice and it got dark really early, making it difficult to get good shots without a tripod. We should have tried it sometime during summer. It's hardly their fault, though, so it's not really about the tour but about our sheer luck.
The way back from the Green Dragon Inn was pitch black. All we could see were the lights at the hobbit houses. It's pretty enough but the details aren't visible and they're half of the fun.
BUT there was also the good thing! The hobbit houses light up when it starts to get dark and it's a whole different experience. So pretty, I loved it!
Hobbiton Dinner for families
It took us around 90 minutes from the Hobbiton entrance to the Green Dragon Inn. In there, we were offered drinks and had some time to rest – even though there weren't enough seats for everyone (and since we were last, we didn't get to sit down and rest). It was still nice, though. We roamed between the tables, saw the details in the decoration, went outside for some more night shots.
During the day, there are enough seats, but for the Banquet tour, they use up half of the place to set up the dinner table – that's why they had little space.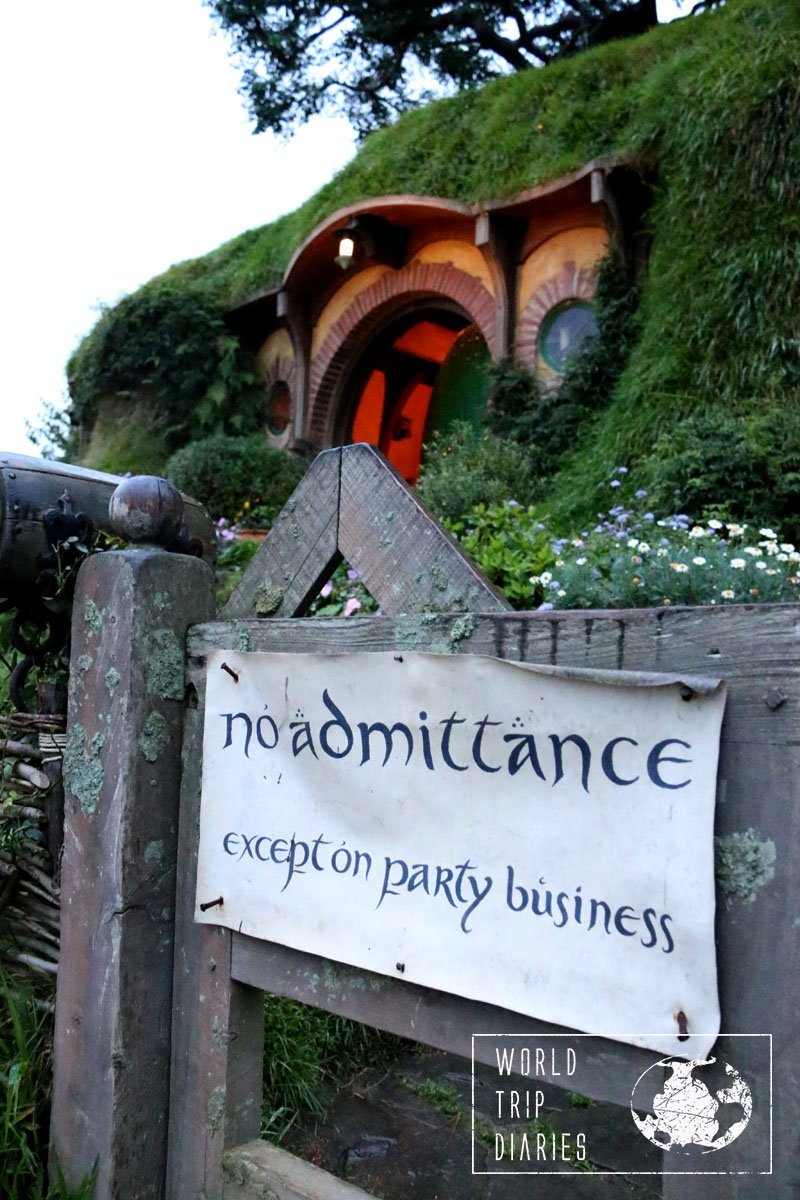 When Sam (the guide) called everyone back to open the curtains, we were led to our Proudfoot table. The food smelled and looked delicious. We took our seats, Sam told us the menu, and we ate. We ate A LOT.
There were all kinds of meat, roasted potatoes, carrots, sweet potatoes (or kumaras, as they're known in NZ) and parsnips, salad, gravy, chutneys, bread, and butter. There was a lot of things we still don't know what they were because we couldn't hear what Sam was saying.
There was water, tea, and coffee for guests throughout dinner. If you wanted something else, it was paid on the side.
When we were finished, they brought the dessert. There were 5 different desserts. I was only able to try 3 of them – couldn't really have anything or I would burst. It was amazing. The toffee sauce? Oh, dreamy.
After dinner, the Hobbiton at night experience
After all the eating, we were given a lantern for every two people and led outside for a nice stroll around the Shire at night. It's beautiful, I'm sorry we couldn't take better photos – we needed a tripod. Sam kept telling us funny behind-the-scenes stories about the film.
It was long, to be honest. He spoke for around half an hour, interesting facts, but we were standing, in the dark, with full stomachs, and tired kids. It felt very, very long.
They set up one hobbit house with lighting so we could take at least one nice photo, which we did, and it was over.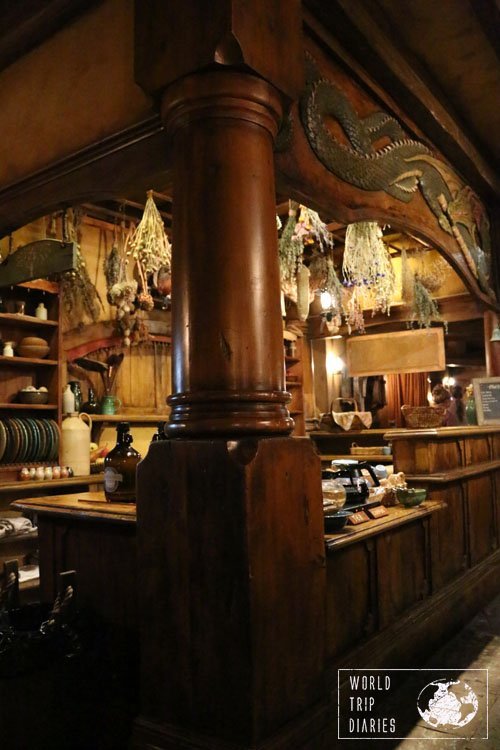 Our view of the Hobbiton Dinner Tour for families
There's a toilet at the entrance of Hobbiton and one at the Green Dragon Inn. The umbrellas are free of charge, and you need to return them, along with the lanterns, at the end of the tour.
The tour lasted a bit over 4 hours, 2 of those spent eating.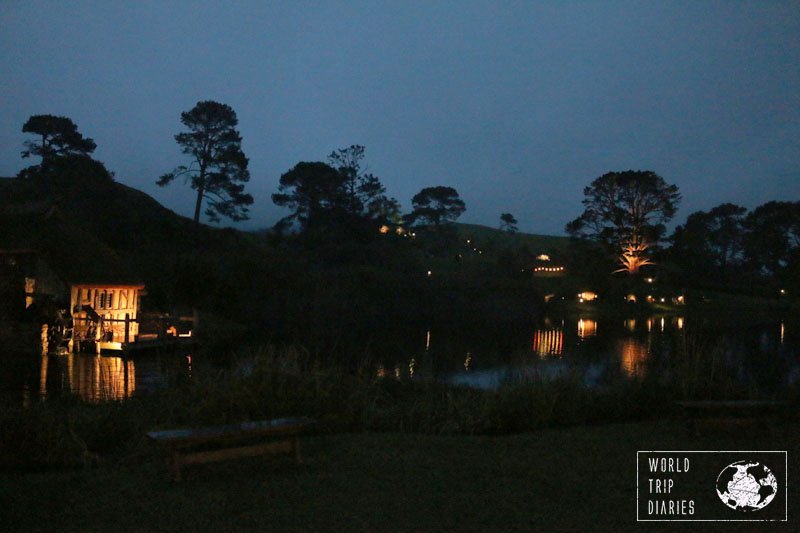 The food was child-friendly (though it's not a separate menu) and they cater for different food necessities, you just need to let them know when you book. You do need to book it early on (and pay). We booked ours a month before – it was the earliest we could get. Joao and Coral are picky eaters but they still had a lot of food. Coral loved the pavlova and ate more than everyone at the table.
My kids were really tired after dinner, they weren't even listening to what Sam was saying. It was, after all, late. It was 9 pm when we got to our car. We woke up really late on that day, but even so, we got home and they all went straight to bed.
Coral didn't even change her clothes, so I don't believe this is the kind of thing you can take your kids to, then expect them to be up early and go to school or something like that on the next day. My kids had one nice very quiet day afterward.
It's also quite dark, so if anyone in your family isn't a fan of the dark, aim to do it between November and March, when the days are longer.
Also, it was good that we went wearing our hiking shoes – there were puddles and some slippery bits – and it's a walking tour.
Coral (4) was happy, she tried to open every gate and every door (some opened, some didn't, but we stopped her from entering where it was closed – because you're not supposed to).
She also loved the mailboxes and the props (donuts? Cheese? Tools?). She didn't like to stop and listen to Sam when he was trying to tell everyone a curiosity, though. She did keep quiet when we asked her to, but she really wanted to wander around and play with stuff (so did I, Coral). I did have to hold her hand through some parts of the way because she was dancing around and it's a hill.
Melissa was happy taking photos and finding everything so pretty. The boys were really disengaged from the set itself, but they were happy looking at the hedgehog, the bees and the pretty and realistic props around.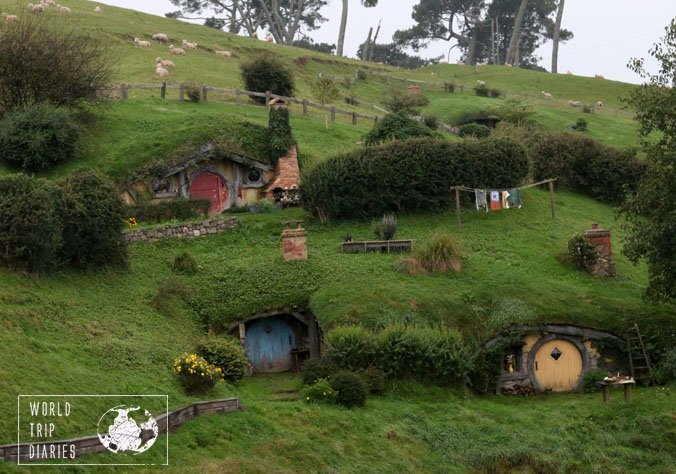 Hobbiton prices
It cost NZ$ 195/adult, NZ$ 152/chilld from 9 to 16 years old, and NZ$ 100/child from 5-8 years old. Kids aged 4 and under are free.
It includes the bus (to Matamata I-Site or The Shires Rest), guided tour, and dinner.
<div data-gyg-partner-id="3ZAUOTZ" data-gyg-number-of-items="3" data-gyg-currency="USD" data-gyg-locale-code="en-US" data-gyg-id="code-example" data-gyg-q="hobbiton" data-gyg-widget="activites" data-gyg-href="https://widget.getyourguide.com/3ZAUOTZ/activities.frame"></div>
To finish it…
City / Country

Minimun Stay
$ ~ $$$
Child-friendlyness
Best local transport option
Safety
Do we recommend it?
Hobbiton / Matamata / New Zealand

4 hours for the whole tour
$$$
It's child friendly
Walk but you'll need to get to the iSite or Shire's Rest first
Super safe – but for a few rabbit holes
Yes, if you're a fan!
It was a very expensive experience, but it was well worth it!
Leave us a comment saying if you would try it?
Click here to find accommodation in the area (affiliate link)!
https://www.worldtripdiaries.com/wp-content/uploads/hobbitondinner-feat.jpg
287
815
Thais Saito
https://www.worldtripdiaries.com/wp-content/uploads/wtdlogo.jpg
Thais Saito
2016-05-13 22:29:31
2019-08-12 21:29:40
Hobbiton Evening Dinner Tour for families – review!