30 most beautiful places to visit in NZ
New Zealand is a stunning country, most people will agree. There's beauty everywhere and mostly, from nature. There's an infinity of unbelievable places everywhere you look and, honestly, it's hard not to feel elated. So we've asked for help and now we have a list of the 30 most beautiful places to visit in NZ!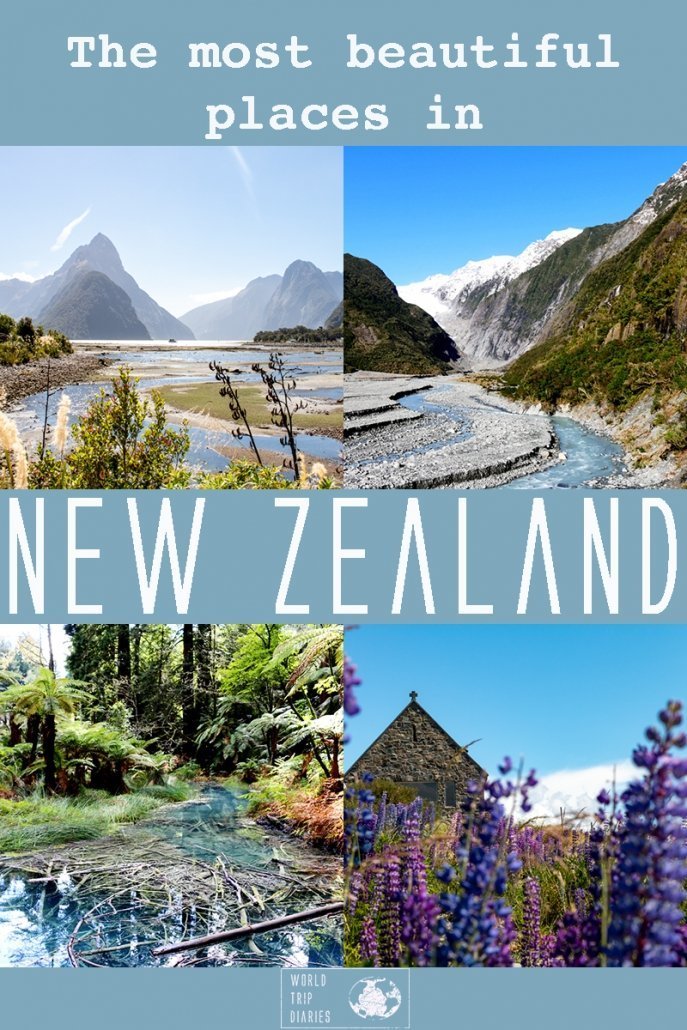 Since this will be a long list containing all of the most beautiful places in NZ, I'll divide into North and South Island, each with its 15 top attractions!
Most beautiful places to visit in New Zealand North Island
Most tourists arrive in Auckland – it's the main airport in NZ – so we're starting with the North Island. Keep scrolling to see the most stunning New Zealand North Island attractions!
1) Lake Taupo
We've never really spent a lot of time in Taupo, but we crossed it quite a few times over the years. It's lovely. Below is what Lisa, from Rebellious Tourist says about it:
Lake Taupo has a lot to show off about. It boasts some of the prettiest scenery on the North Island – all green hills and snow-capped peaks reflected in sparkling clear water – and with a surface area about the same size as Singapore, it's the largest lake in New Zealand.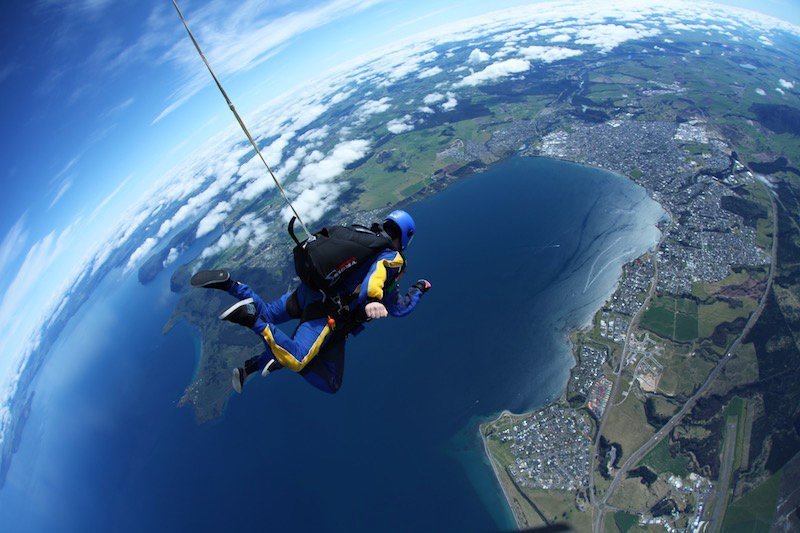 Unsurprisingly this is one of the most popular places in the country for skydiving, a destination for hiking holidays, and an essential stop on any North Island itinerary. The town of Taupo, on the north side of the lake, is about 3.5 hours' drive from Auckland and an hour from Rotorua. You'll have more freedom with a car or campervan, but there are also frequent InterCity buses and backpacker bus tours.
Don't miss the 10m-high Māori rock carvings at Mine Bay on the northwest side of the lake – reachable only by boat or kayak, they're said to protect the area from its volcanic underbelly. Next, head to the raging waters of Huka Falls, or Wai-O-Tapu geothermal park – also a must-see – or go on to stunning Tongariro National Park to the south (just keep a close eye on the weather).
The high season here in New Zealand's summer, especially around Christmas and New Year. I recommend visiting just before or after the local schools' summer holidays. We were there in early October, and the weather was sunny but crisp, hiking trails and hot springs were busy but not crowded.
2) Tongariro National Park
Tongariro National Park is one of the 3 Unesco World Heritage Sites in NZ and we love it! It was our starting point for the round-the-world trip. See below what Gábor Kovács, from Surfing the Planet thought about it!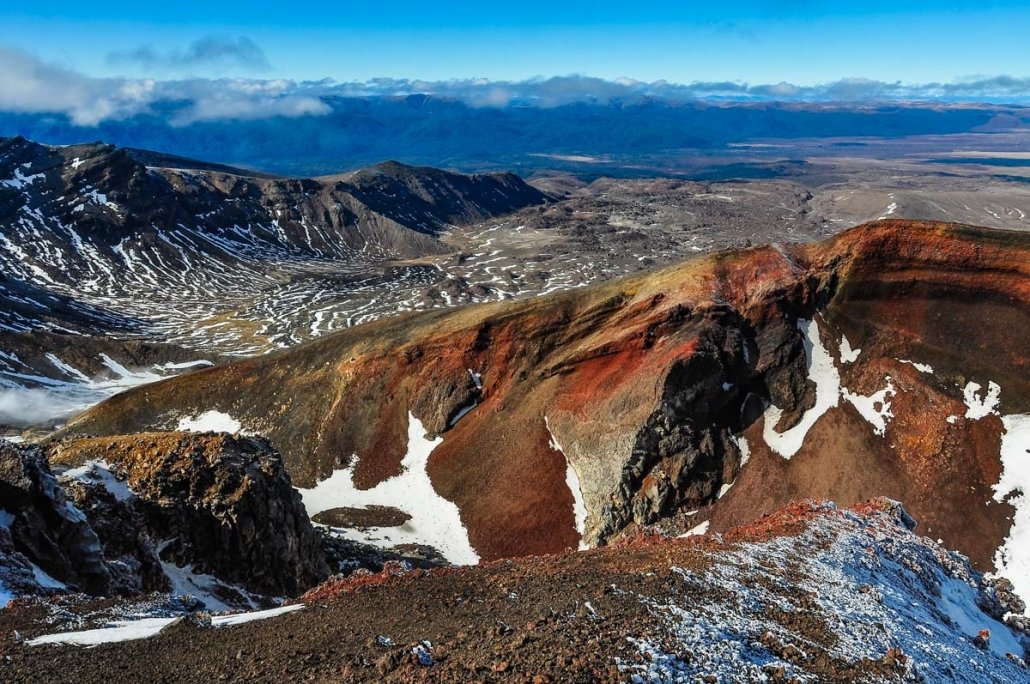 There are many beautiful national parks in New Zealand, and while most of the higher mountains are situated in the Southern island, no mountain lover can leave out the Tongariro National Park in the central part of the Northern Island. This natural park is famous for providing the scenery for one of the most famous 1-day walks in the world, the Tongariro Alpine Crossing.
Tongariro National Park is so popular for two reasons. First of all, for the unbelievably varied volcanic scenery you can observe in the park. There are craters and lakes of all sorts of colors there, the Red Crater and the Emerald Lakes are especially picturesque sights. The other reason for the fame of Tongariro is that it represents the scenery for Mordor in the Lord of the Rings movie trilogy, and Mount Ngauruhoe is Mount Doom itself.
The weather in the park is quite tricky even in summer, and in winter you will most definitely need crampons to walk in the park, especially in the higher parts. The entrance to the park is free, but since the walk does not circular, you will need to use a shuttle bus from the Tongariro shuttle car park to Mangatepopo, where the trail starts.
3) Wai-O-Tapu Thermal Wonderland
Located in Rotorua, this place is one of the things we've never had the chance to visit! Check out what Michael, from The Round The World Guys says!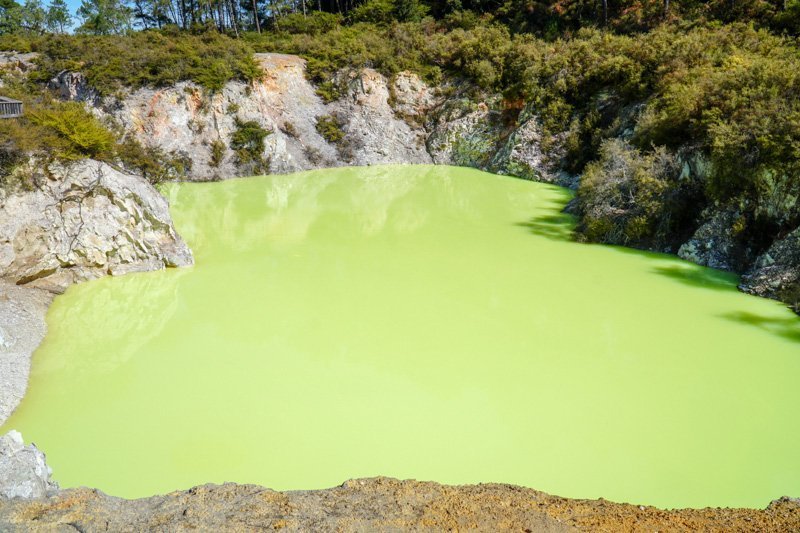 Wai-O-Tapu Thermal Wonderland is a stunning geothermal attraction 27 km south of Rotorua and 53 km north of Taupo via the Thermal Explorer Highway (SH 5). It's New Zealand's most colorful geothermal park. Along with Yellowstone National Park in the USA, it's one of the best examples of geothermal activity in the world. From boiling mud pools to the famous Champagne pool, Devil's Bath, and Lady Knox Geyser, you'll leave Wai-O-Tapu knowing you just saw one of the most unique places on Earth.
The best time to visit Wai-O-Tapu is in the least rainy months – so Spring and Autumn are your best choices, especially if you want to get great photos. Admission isn't exactly cheap. It's $32.50 NZD for adults and $11.00 for children. Families get a bit of a break – 2 adults with up to 3 children pay $85.00. But it's worth it for such a unique experience. Note that Wai-O-Tapu is a cashless park. They accept only major credit cards and EFTPOS.
Walking around Wai-O-Tapu is quite easy, as the trails are covered with well-constructed wooden platforms. And if you grab the helpful map from the visitor center, you'll be able to see the majority of the park in a half-day. Keep an eye on small children and stay on the trails. If you want to see Lady Knox Geyser erupt each day at 10:30 am, you'll need to drive a bit. Allow extra time and get there by 10 to get great seats for the show.
4) Marokopa Falls
Near Waitomo Caves (you've heard of the glowworms, right?), this is one waterfall we still haven't seen! This is what Rhiannon, from Wales to Wherever has to say about it!
Looking at a picture of Marokopa Falls, you'd be forgiven for thinking it was an image taken from a Hans Christian Andersen tale – or, more appropriately given its location, Lord of the Rings. The astonishing beauty of the 35m high Marokopa Falls beggars belief, and you really do have to see it to believe it!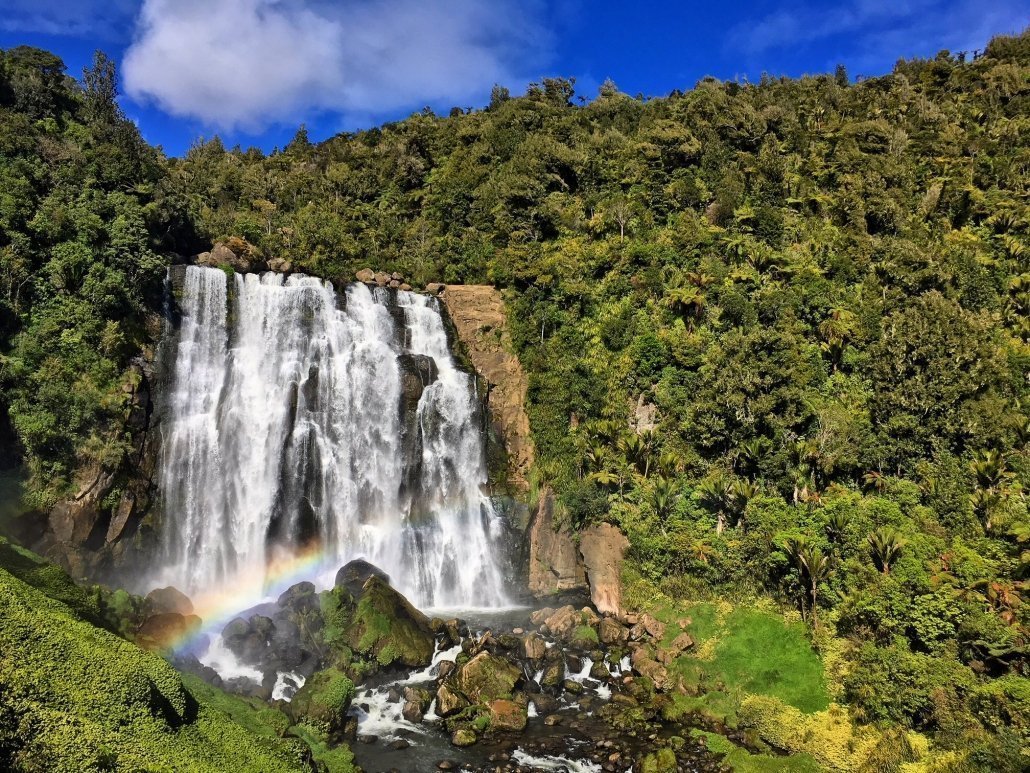 Despite regularly being declared the most beautiful waterfall in the North Island, a lot of visitors miss out on Marokopa Falls either because they don't know it's there or they don't think it's worth their time. Trust me – it's worth your time!
In fact, it's so incredibly easy to visit from one of the country's major attractions (Waitomo Caves) that you'd be silly to miss out.
Just a thirty-minute drive from the town of Waitomo, the route to Marokopa Falls is well sign-posted although not serviced by public transport. There's a small car park right outside along the road, so you can drive up in your car, campervan or bike and park it safely (the sheep in the field opposite will keep an eye on your valuables!). From the car park it's just a 10-minute walk to the viewing platform.
As an area of natural beauty, there's no entry charge and due to its rural setting, there aren't any toilets or shops nearby. There is, however, a small picnic area, so pack a lunch and enjoy the view.
The most reliably picturesque waterfall in all New Zealand, there's no bad time to visit Marokopa Falls. Head there in autumn and you'll see the falls in full flow, intensified by New Zealand's heavy rainfall. In summer and spring, you're almost guaranteed a fairy-tale image of blue skies, lush green surroundings and a beautiful rainbow stretching out across the base of the falls. And in the dead of winter? A combination of frost, ice and fog gives Marokopa Falls an ethereal ambience unrivalled by any other waterfall.
5) Rangitoto Island
Just outside Auckland, there's Rangitoto Island! This is what Alex, from Discover Aotearoa, has to say!
Rangitoto Island is this iconic cone shaped volcano crater in the waters of Hauraki Gulf, by ferry only about 25 minutes from Auckland city. It's the youngest of the over 50 volcanoes in the Auckland area, only about 600 years old.
Once on the island, it will feel like a step back in time. On the way to the summit, you'll walk through hostile-looking lava fields and a forest of native trees called Pohutukawa. Just before reaching the summit, be sure to turn off to explore the lava caves.
The view from Rangitoto Island summit is incredible. From the lookout, you can almost see 360° around you. The view towards Auckland skyline is especially great.
Where it is: Right in front of Auckland city, you can't miss the iconic volcano cone.
When to visit: Any time. Summer can get really hot since the black lava stone collects a lot of heat
How to get to Rangitoto Island: Take the ferry from Auckland. In high season it's best to pre-book your departure time as the ferry fills up quickly.
Cost: Return Ferry: NZD 36
Tips
Take latest the 9am ferry from Auckland to Rangitoto to make sure you get enough island time
The island is pest-free. Don't take open (hand)bags with you. All bags need to be closed with a zipper or else you'll have to carry it in a sealed plastic bag.
Bring enough water. There are no shops on the island.
6) Blue Spring
This is another hidden gem of NZ's North Island. Completely off the beaten track and looks gorgeous! This is what Helen, from Destination>Differentville says!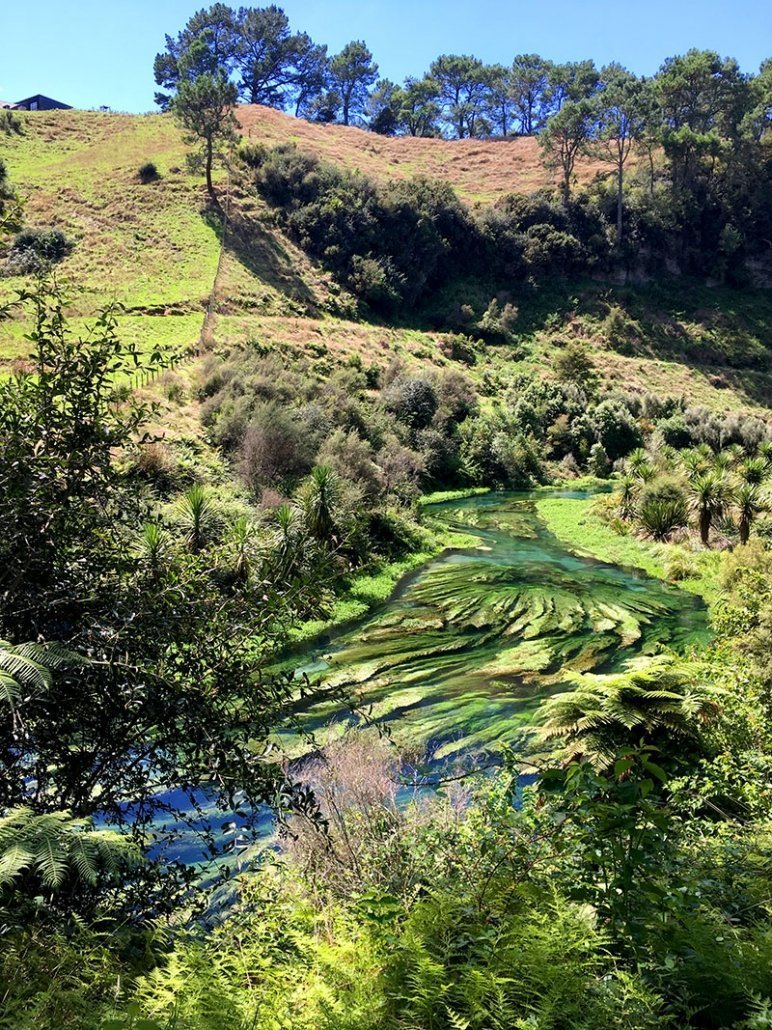 Six years I lived in Auckland, six years – and not one of my local buddies told me that one of the most beautiful sights I would ever see was just a two and a half hours' drive south down Highway One.
I'm talking about the Blue Spring about 9km east of the small town of Putaruru. This crystal clear pool and the rivers that surround it consist of the brightest blue waters, fronds of ferns wafting about in the gentle current and, to top it off, families of Pukeko float about on the top looking adorable.
Unlike many of New Zealand's most beautiful places, The Blue Spring isn't even that hard to get to. You can drive to the parking lot on Leslie Road and then walk about 15 minutes up the Te Waihou Walkway, an easy dirt track, to reach it – or, if you fancy a longer walk, park at State Highway 28 and walk about 90 minutes along the Walkway the other way. It's reachable as a day trip from Auckland, or, makes a great stop off point between Auckland and Rotorua or Lake Taupo.
While you're there, also take a side trip to Tirau, quite possibly New Zealand's quirkiest town – it's not as beautiful as the Blue Spring, but it will make you smile.
7) Paekakariki Escarpment Track
For those willing to walk, this track in the Wellington area seems to be a beautiful one. Jub, from Tiki Touring Kiwi, shares this:
The Paekakariki Escarpment Track quickly gained its name of Stairway to Heaven for the hundreds of stairs that give you a quick ascent during the middle of the 10km hike (between the 3km and 7km mark approximately). As part of the Te Araroa trail, this track is accessible for all to visit and provides sweeping views out to the Tasman Sea with Kapiti Island and the South Island visible on nice days.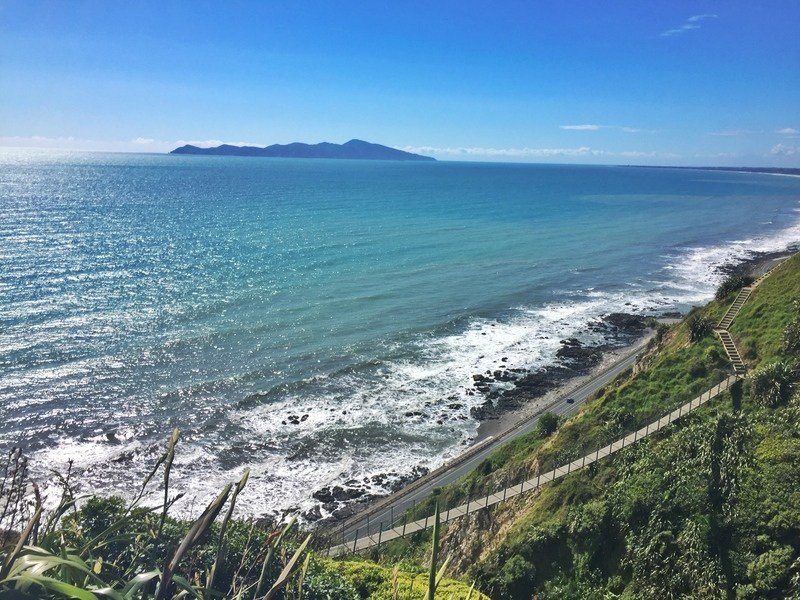 You can access the track by car, but as it is an end-to-end trail of 10km in length, most decide to hike in one direction and then catch the train back to the car. The relevant train stations are Pukera Bay Station and Paekakariki Station. I recommend starting at the Paekakariki end as the stairs are slightly easier starting here, and you've got more stores here. So either drive to Paekakariki or catch the train (45 minutes from Wellington Station).
In Paekakariki there's a cool cafe called the Perching Parrot, the gallery, Polly's is worth a visit, and there's a convenience store to stock up on your food and beverages before you start the walk.
This trail does get steep as it follows the highway and train tracks below. There are several spots where you wouldn't want to fall off, that's for sure. In saying that, the track is well maintained so it's not dangerous, but do the (free) walk on a nice clear day so you can maximize the views out to the ocean.
Along the walk are two swing bridges, take your time here and you might see pairs of Tui's swooping in and out of the gorge. And if you haven't, but feel confident, learn to spot the Kawakawa tree, and eat some leaves straight from nature (they taste peppery).
8) Hobbiton
This man-made beautiful fake village is the place where The Shire, from the trilogies of The Lord of The Rings and The Hobbit were filmed.
Located in Matamata, near Rotorua and Taupo, it's a must for the fans of the series (movies and books!). Yes, it's true that they were made to look beautiful and that they are completely fake – one can barely enter the hobbit holes. But it's still breathtaking.
Every time we visit, we are in awe.
They have a lot of different tours, now, with options to add meals or not, and they sound a lot of fun. We visited it during one day-time regular visit and once for the Banquet Tour at night. It was just WOW both times. Whenever we come around Rotorua or Taupo, we visit it. It's expensive, yes, but it's a dream. And we're nerds.
You can stop by the Matamata Tourist Information Centre and buy your tour or you can buy online (I recommend it). For transport, there are many options, one being the bus from Matamata I-Centre or you can drive straight to The Shire's Rest and start there. Tours are timed and guided, unfortunately. The last tour of the day seems to us more relaxed, but any time is time.
Check below for other Hobbiton tour options!
9) Goat Island
Yes, Auckland beaches are awesome, but if you haven't visited Goat Island Marine Reserve, then you haven't seen its best.
The golden sands and the crystal clear waters in this marine reserve are just unbelievably dreamy. The water is so clear that you can see all the way through the bottom for a long, long time. If you have the chance, make sure to take a trip on the bottom glass boat!
And if you're not really into boats, bring your own dive gear or hire some there because you'll want it.
The waves are a little strong and it can be scary for younger children, so make sure you're with them at all times.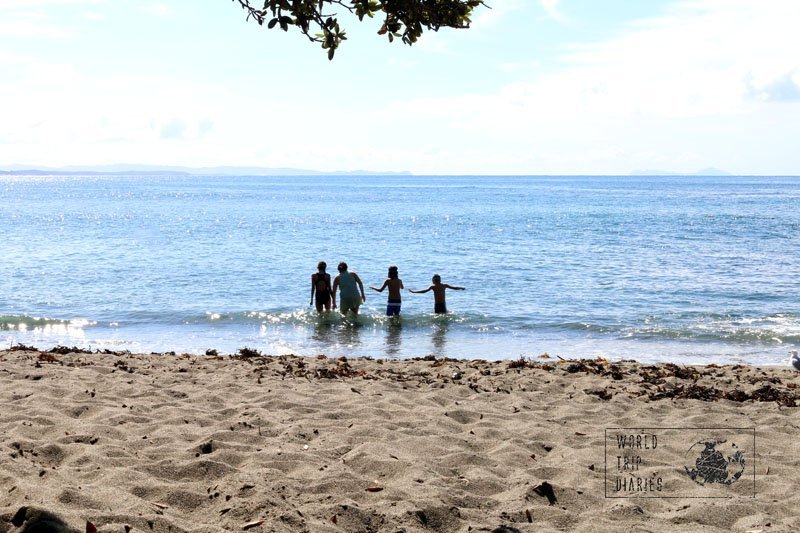 Then, when you get tired of the beach (does it ever happen?), you can head to the Marine Discovery Centre just up the hill to learn a lot more about what's there. It's an incredible day-out in Auckland.
It's in Leigh, on the North of Auckland.
10) Cape Reinga
This little place at the north of the North Island is stunning. You can see the Tasman Sea crashing with the Pacific Ocean and the little lighthouse completes the scenery. It's a sacred place in the Maori culture and should be respected when is visited.
There are a few trails around, and it's a little walk (around 10~15 minutes from the car park), easily doable with prams and babies, though it's uphill on the way back and it gets tiring.
This is where the location sign is, pointing out to many different cities in the world. The whole Northland is amazingly beautiful, but Cape Reinga deserves a little stop for sure.
Besides the lighthouse, there isn't much to do there. You'll need either a car or a tour to get there. Check some options below!
11) Mount Maunganui (and the whole of Bay of Plenty)
Mount Maunganui is one of our favorite places in the whole world, and it's perfect. It's an incredibly beautiful small coastal town, with some amazing beaches, and The Mount.
We just can never have enough of it!
But then again, the whole Bay of Plenty is just to die for. If you have to choose one place to visit in the North Island, let it be the Bay of Plenty area. It's just so beautiful and beach-y and perfect!
If you're into water sports, this is where you should go.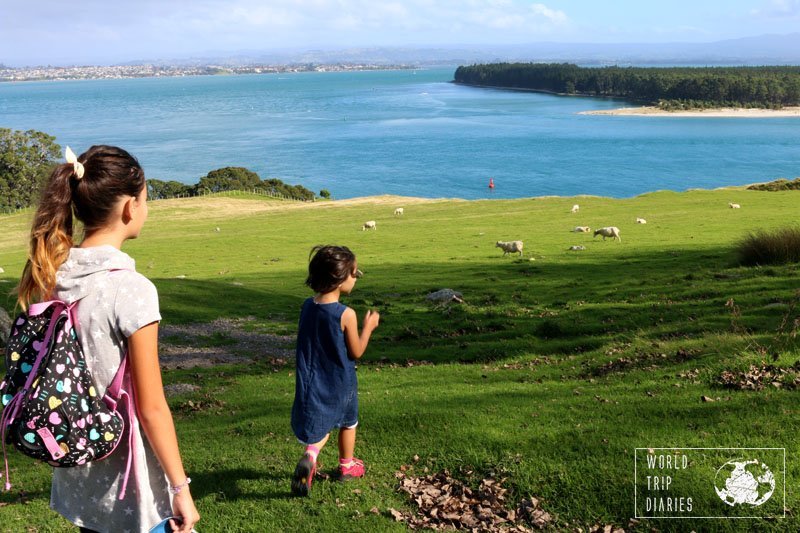 12) Kai Iwi Lakes
These huge lakes, in Kaipara, are awesome. We stopped there very briefly, unfortunately, but they are so beautiful and so much fun we could've lived there forever.
The sparkling waters are home to many fresh water animals and plants, and you can swim for a long time. They're enormous and super fun.
The lakes are in the Kauri Coast, and it's breathtaking.
There are many hiking tracks around, and the beach is also close by. The lakes are surrounded by lush forests and you can hear the birds all around.
It's definitely worth it!
13) Redwoods
My favorite place in Rotorua, the Redwood Forest is stunning.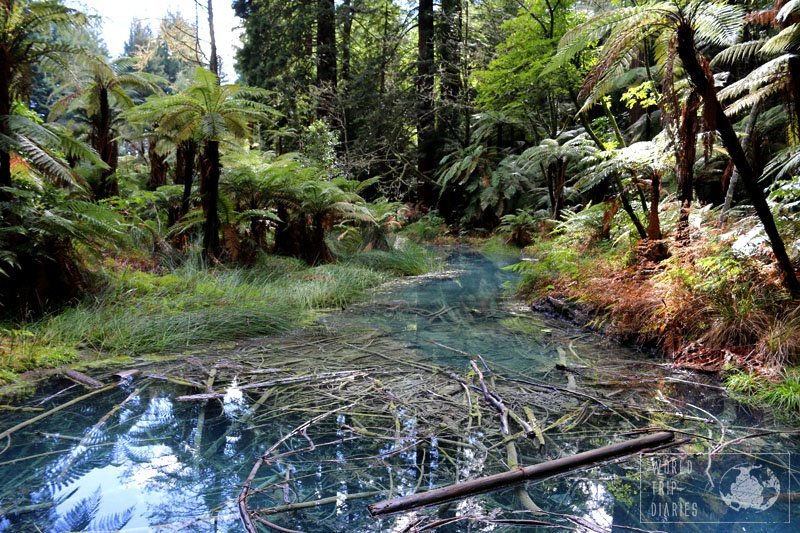 The trees are so tall they can reach the sky. They smell so good it makes you think you're dreaming. And then, you walk amongst them and realize how small you are, how your problems are so tiny, and how nature is perfect.
The entry to the forest and the walking trails are free of charge but there's the option of a canopy walk (paid), if you're into those things. I hate bridges and it looked terrifying. No, thanks.
There are biking trails and a lot to do. There are many different tracks, with different lengths and difficulty levels, so you can choose one to suit you.
14) Piha Beach
Another Auckland beach, but it's the last one. Piha is a surfers' beach, with awesome waves, but it's also unique due to its black sand. Well, to be really honest, if you look closely, it looks more like a tiger fur pattern, and it's way better, in my eyes.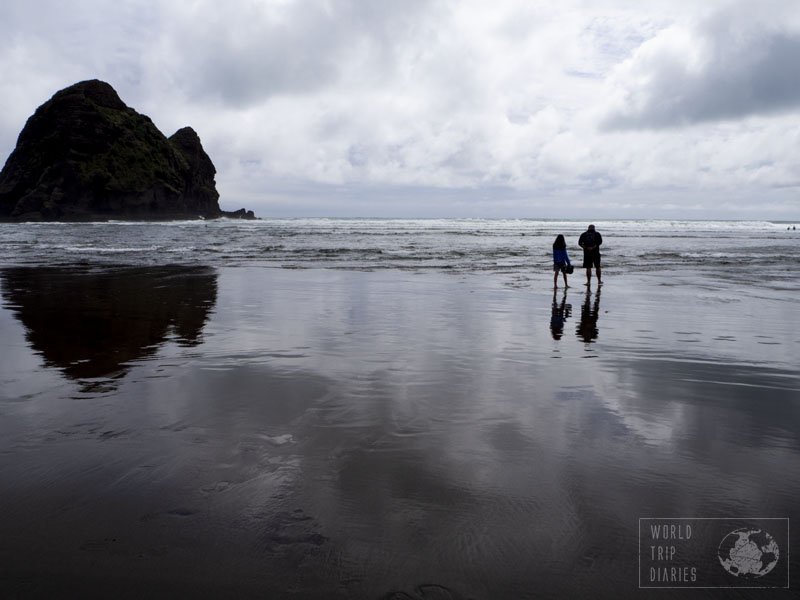 There are walking tracks, caves, and just a lot to explore there.
If you're very lucky (or unlucky), you'll also see some beautiful blue jellyfish-like polyp (called Portuguese Man o' War) spotting the sand. Don't touch the tentacles, they sting really badly.
It may not be the best beach for letting little kids go for a swim, but it's a beautiful beach. If the tide is good, you'll also see many surfers there to make the view cooler.
But if you're into being cooler, you can also learn how to surf there!
15) Waipoua Kauri Forest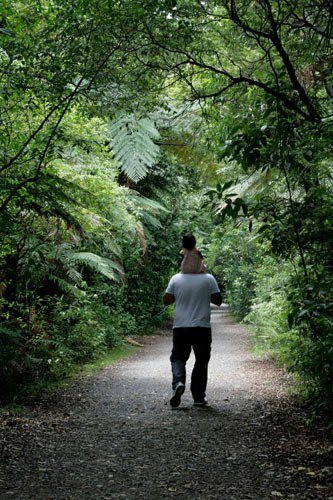 Home to Tane Mahuta, the oldest kauri tree standing today (they estimate something between 1,250 and 2,500 years!!!), this forest is beautiful!
The forest is lush, green, and peaceful. You hear the birds, and the wind, and the leaves, and sometimes the bugs. You can see the sky between the leaves and you smell the fresh and beautiful smell of the trees. Besides Tane Mahuta, you can see the Four Sisters, Te Matua Ngahere, and the Yakas Trees. And if you want to, go check the Waipoua Lookout Tower!
The trails are very well marked – and you shouldn't go beyond them as kauri tree roots are shallow and you CAN KILL THEM! – and easy to walk.
Nearby, you'll find the Kauri Museum, with some awesome information about it!
The trees are real giants, but make sure you stay on the track.
Places to visit in New Zealand: South Island
In my opinion, the South Island ends up being even prettier than the North Island. It's chillier, yes, but oh so stunning!
Just see below the best places to visit in New Zealand. South Island Attractions aren't few, so I'll have to just shorten it up a bit. 😀
1) Lanarch Castle (and the Otago Peninsula)
The whole of the Otago Peninsula is stunning, with abundant wildlife, beautiful beaches and even a castle, the only castle in NZ. Check what Alan, from More Passport Stamps, says!
Larnarch Castle, perched atop the ridge of the Otago Peninsula on New Zealand's South Island, was built in 1871 by eccentric entrepreneur William Lanarch, whose story is as unbelievable as the views from his castle.
His amazing life included not only huge successes (hence the castle), but also some dire failures, and ultimately his own suicide, which is rumored to have been caused by his partner having an affair with his son!
Once home to over 40 servants, Lanarch Castle now operates as a tourist destination and is a designated New Zealand landmark. Visiting is open all year round, but it is recommended that you go in the Summer as the weather is much warmer.
Getting here is easy by car, just a short, signposted drive from Dunedin. Paid tours are available but self-guided ones are just as visually stunning. The gardens surrounding the castle are lush and definitely worth the walk, with games such as croquet free for visitors to play. The castle and grounds are majestic, but the views they afford over the Otago Peninsula are the finest achievement.
2) Lake Tekapo
It's unanimous, Lake Tekapo is one of the most beautiful places on earth. I'm not the only one saying that. This is what Leanne, from The Globetrotter GP, has to say!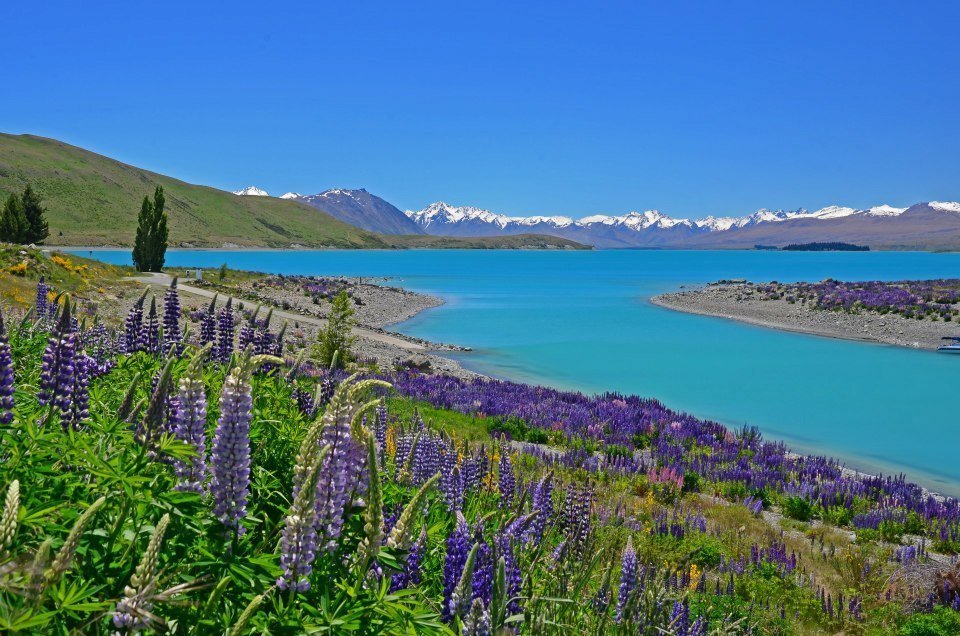 In my opinion, Lake Tekapo is the most beautiful lake in New Zealand. That's a bold claim given New Zealand is full to bursting with beautiful lakes.
Is it the fact that it's framed with purple and pink lupins in the spring and summer? Or perhaps it the bright turquoise water created by the high mineral content from the glacial runoff? Perhaps it's the snow-capped mountains in the distance or the charming little church – the church of the good shepherd which draws landscape photographers from all over the world.
If you can tear yourself away from the view, you could consider hiring a bike to cycle around some of the lake. I say 'some of' as the lake is massive – it covers 32 square miles. There's also a hot springs spa to visit and in winter there are 2 snowfields if you enjoy winter sports.
One of the big attractions at Lake Tekapo is the stargazing experience. Lake Tekapo is part of the Mackenzie international dark sky reserve meaning it's internationally recognized as having amazing conditions for star gazing. You could see them from the Mt John observatory using state of the art telescopes. Or you could see them from the comfort of a floating hammock in the local hot pools as part of the Tekapo springs stargazing tour.
Whatever you decide to do, Lake Tekapo definitely deserves a place on your New Zealand South Island itinerary!
3) Moeraki Boulders
If you haven't seen those beautiful and enormous round boulders at the beach, you can't imagine the magic they have. Yen, from Swing Abroad, says the following: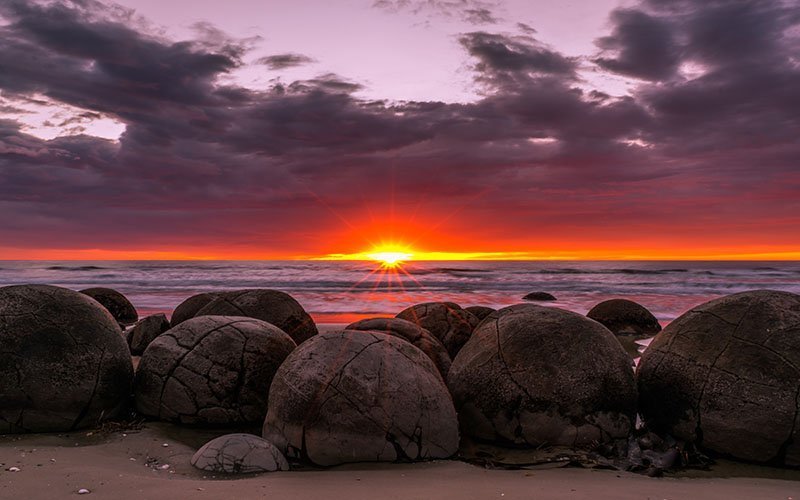 The Maori legend has it that these massive spherical boulders were once baskets and gourds aboard a canoe. When the canoe crashed, these baskets and gourds transformed into Moeraki Boulders.
Moeraki Boulders are located along the stretch of Koekohe Beach between Moeraki and Hampden. The beach is open to the public and does not require any entrance fee. Which means you can literally climb onto these boulders, which a lot of tourists do, and you'll not get penalized or anything.
Moeraki Boulders can be visited all year round. But the best time to visit is in the early morning. As the boulders are located on the east coast, you'll get a mesmerizing view of the sunrise over these legendary spheres. Tourists are also at its minimum during these hours, so you'll get to enjoy the peacefulness there.
If you're visiting, be sure to try the chowder in Moeraki Café, located just above the cliff by the beach.
Preparing for a road trip in New Zealand? Check our Ultimate Guide to Road Trip in New Zealand.
4) Fiordland National Park
It's also part of the NZ's only UNESCO World Heritage Sites – and it deserves it! In it, you'll find Milford Sound, for example. Read on to what Cat, from Walk My World, says: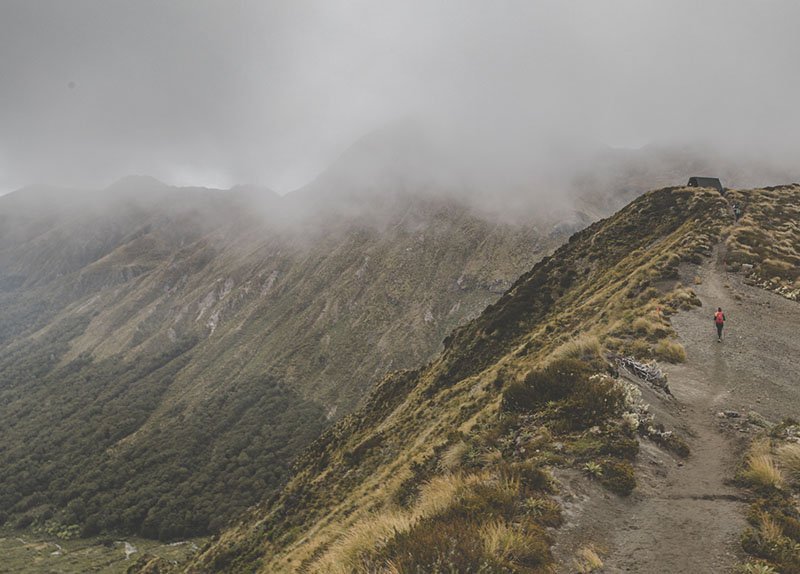 Fiordland National Park on the South Island is one of New Zealand's wildest frontiers. This stunningly beautiful area is remote and full of experiences that will stay with you for a lifetime. The national park is characterised by huge mountains, fiords, glaciers, huge lakes and alpine landscapes that will take your breath away. It is also home to Keas – the world's only alpine parrot – which you can regularly see on the road to Milford Sound or on the ridges of the Kepler Track. They are known for their cheekiness so watch your bags when they are around!
Fiordland's most famous landscape is Milford Sound – an incredible Fiord that stretches for miles with waterfalls, steep mountains, and even the occasional seal colony. It's a place that has been drawing visitors for over 100 years, you can explore it on a sedate cruise or a more adventurous kayaking trip.
Hiking lovers are spoilt for choice in Fiordland. The most famous hike being the Milford Track, a four-day trail that goes from Te Anau, through the heart of Fiordland, ending at Milford Sound. It has often been referred to as "the finest walk in the world" and is so popular that a whole year's worth of permits can sell out in a day (so get in there quick!).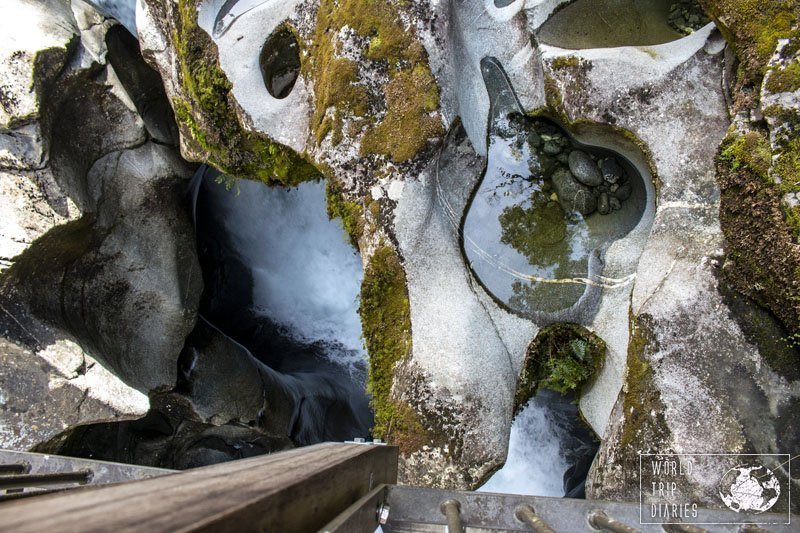 Fiordland is located on the very South-Western tip of the South Island, with the nearest major town being Te Anau, around a 1 hr 45 min drive away. The park itself is free to visit as are day hikes. Multi day hikes require permits and costs vary. If you are planning on hiking it's a good idea to have sandfly repellent with you as they are rife on the trails. When just taking a boat trip you are usually safe!
Fiordland is the wettest part of New Zealand so the best time to visit is summer, although heavy rain is experienced year-round. Summer is the busiest season so for fewer crowds visit in shoulder season or even winter to see the mountains covered in snow.
5) Marfells Beach
I can' believe we had over a week in Blenheim and we haven't seen Marfells Beach. Good thing Lena, from Salut from Paris, found it and shared with us!
After spending 6 weeks in New Zealand, we saw tons of wonderful places, but one of our all time favourite is clearly Marfells Beach. This piece of paradise lays half an hour east of Blenheim, just behind the salines of Lake Grassmere The beach itself is a beauty with plenty of birds, wild flowers, wide and clean stretches of sand and very shallow waters. The later is mainly due to the elevated sea level after the earthquake in 2016, which is clearly not great, but makes it an excellent choice for families.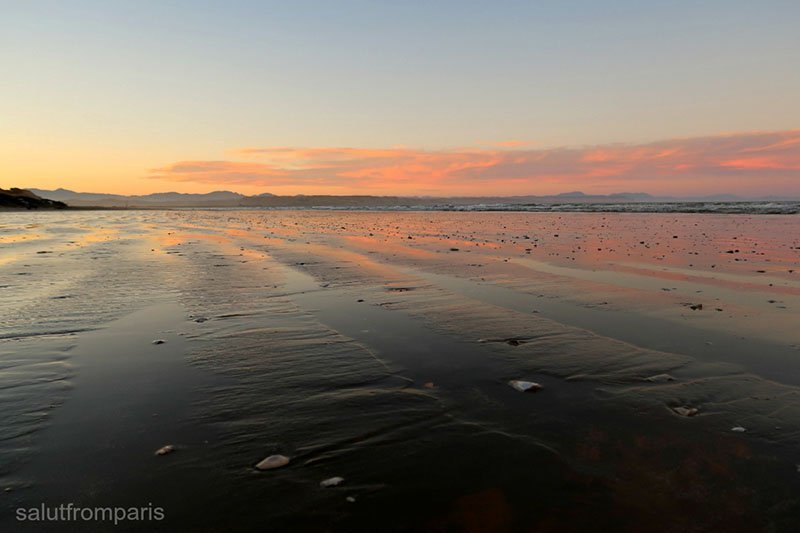 While the beach is maybe less interesting for travellers that are getting around by car (and it's off any bus line anyways) it's an absolute must visit for everyone that is traveling in a campervan.
Just along the beach lays a very remote (and basic) DOC camping place that almost guarantees a beach front pit. You are basically parking your RV on the beach and the ocean is the last thing that you hear when falling asleep and the first when you wake up. If you ever had this campervan – beach dream.. Marfells Beach is your place to go!
Just make sure you stock up before getting there – there's no shop close by, no gas station, no dump station. Neither fresh water, nor hot showers. The Campside is open during summer season from December throughout April and costs approximately 8 NZ$ per person.
6) Hooker Valley Track
We are yet to visit Mount Cook, but when we do, we'll have to see this. This is what Kami, from My Wanderlust, says about it!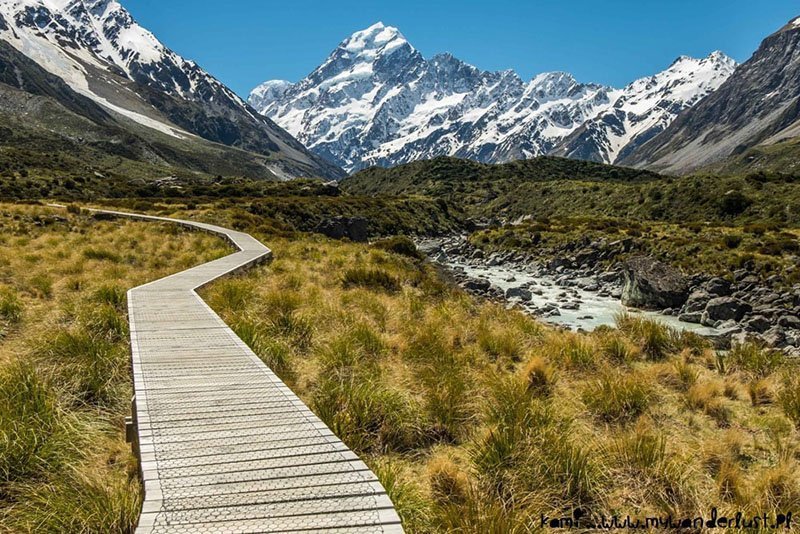 When planning your New Zealand itinerary don't miss Hooker Valley Track. Located right in the middle of South Island, in Aoraki / Mount Cook National Park, this track is easily reachable by car or bus from nearby cities Tekapo and Twizel (both are around one hour away).
Getting there is already a stunning experience as the road along Lake Pukaki is extremely scenic but it's only a foretaste of the views you are about to see.
Hooker Valley Track is only around 5kms one way but this might be the most beautiful hike in New Zealand, available for just about everyone since it's very easy and most of it is in the flat area. It took me around 4 hours to complete the hike both there and back but I was stopping every few steps to take pictures as the scenery around me was just too beautiful, I felt like I was walking in Photoshop.
The end of the Hooker Valley Track is at the Hooker Lake, with Mt. Cook – the highest mountain in New Zealand – in the background. There you can relax, eat some snacks (that you need to bring with you) and enjoy the breathtaking views.
In the nearby Mount Cook Village, you can find the tourist info point as well as a small shop where you can get all the necessary things.
7) Kawarau Bridge, Queenstown
Queenstown is highly touristic but it's touristic because it's so beautiful. Kawarau Bridge is where people do bungy jumping from – not me. Find out below what Sara, from Our Kind of Crazy, has to say!
If you're looking for one of the most beautiful places in New Zealand, you will love the famous Kawarau Bridge in Queenstown. This bridge is home of the world's first commercial bungy. So what better way to see the sites than to jump off the bridge, over the beautiful water.
The views are spectacular, and the jump makes it even more exhilarating. One of the coolest parts about the Kawarau Bridge jump is that you can actually touch (or dunk in) the water below if you're keen. If you're not into dare-devil dives, the views alone are worth the stop.
It is located on the South Island in Queenstown and is easily accessible by car. Grab some lunch at the cafe there, and watch some crazies check off something on their bucket list. Who knows, maybe you'll be inspired to do the same!
8) Sugarloaf Scenic Reserve, Christchurch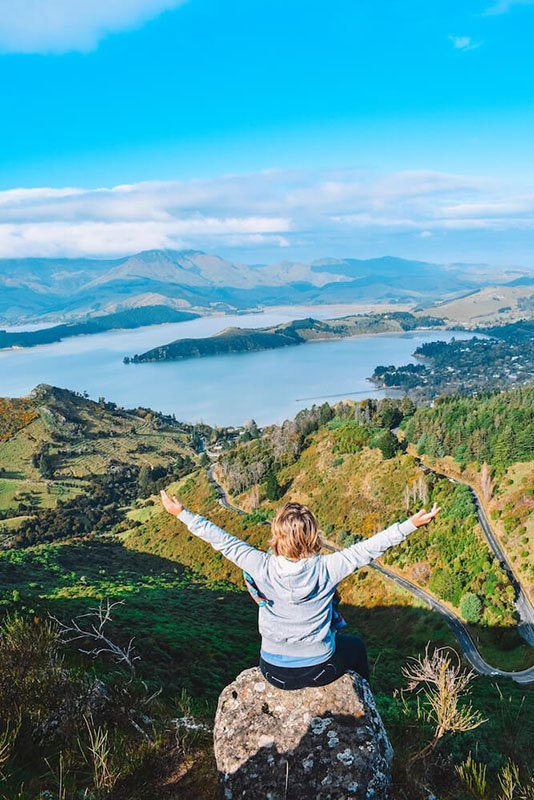 Christchurch is one of my favorite cities in NZ. It's fun, it's big, and it has so many incredibly beautiful places, some in nature, some in the city. It's perfect. And here's Greta, from Greta's Travels, favorite place there!
If you're looking for the most beautiful places in New Zealand you can't miss the Sugarloaf Scenic Reserve near Christchurch. Located just a short 20-minute drive out of Christchurch, the Sugarloaf Scenic Reserve is a beautiful hilly area with numerous hiking or cycling trails and stunning views.
The Reserve is free to access and there are multiple entry points to it. We drove to the coffee shop "The Sign of the Kiwi", as there is a car park where you can leave your car and then enjoy some food and drinks at the end of your hike. It's also just by the starting point of Mitchells Track, one of the easiest but also most rewarding hikes in the Reserve.
Mitchells Track is a relatively easy 2.5km trail, which should take around 1 hour. The best time to visit is early in the morning so that you get to enjoy this beautiful place without crowds of other hikers. The views at the Sugarloaf Scenic Reserve are guaranteed to amaze you and are well worth the hiking effort.
9) Akaroa, Canterbury
We have never been to Akaroa YET but Nadine, from Le Long Weekend, says it's one of the most beautiful places in NZ!
The historical town of Akaroa on the Banks Peninsula is most definitely one of the most beautiful places in New Zealand. The 90-minute drive to Akaroa from Christchurch is a scenic one, with the last portion offering spectacular views across the Akaroa Harbour and beyond. Once you reach the petite settlement, you'll be won over by the beautiful setting and unique heritage of the area.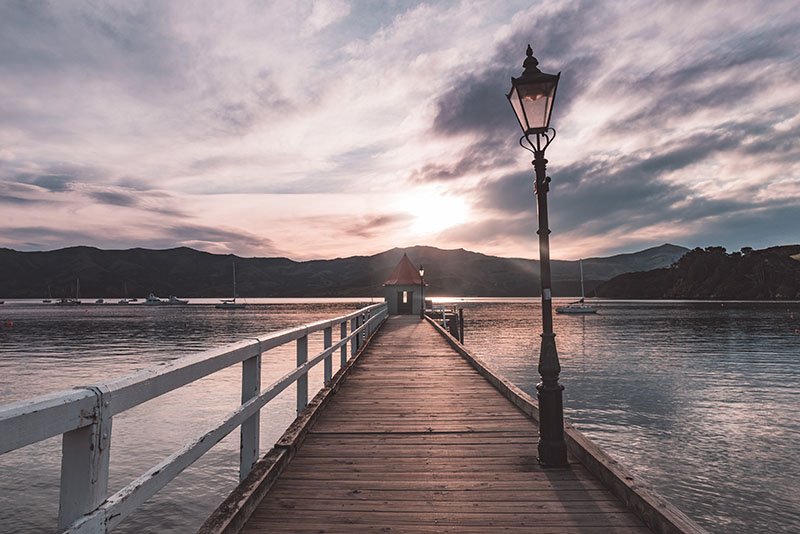 The town, which has a distinctly French flair, was originally discovered by French sailor Jean François Langlois before it became an English settlement after the Treaty of Waitangi. The French decided to stay on, however, and it's this mixed ancestry that gives the town such a unique vantage point.
Of course, it's also popular for its thriving café scene, expansive beaches and as the best place to find the NZ native hector's dolphins which have a protected reserve in the area. Visit in the summer for the ultimate seaside adventures, or in October for the annual French Fest.
10) Franz Josef and the forest walks
The whole Glacier Country leaves people speechless. I found that the Franz Josef walk was one of the most beautiful I've ever seen, and the forest walks are also beautiful. Below is what Talek, from Travels with Talek, says.
One must-do activity in New Zealand is to hike the temperate rain forests. On the west side of South Island on route 6, one of the most beautiful roads I've ever seen, is the town of Franz Joseph. It is in this area that you will find the thick foliage of the rain forests common to the area.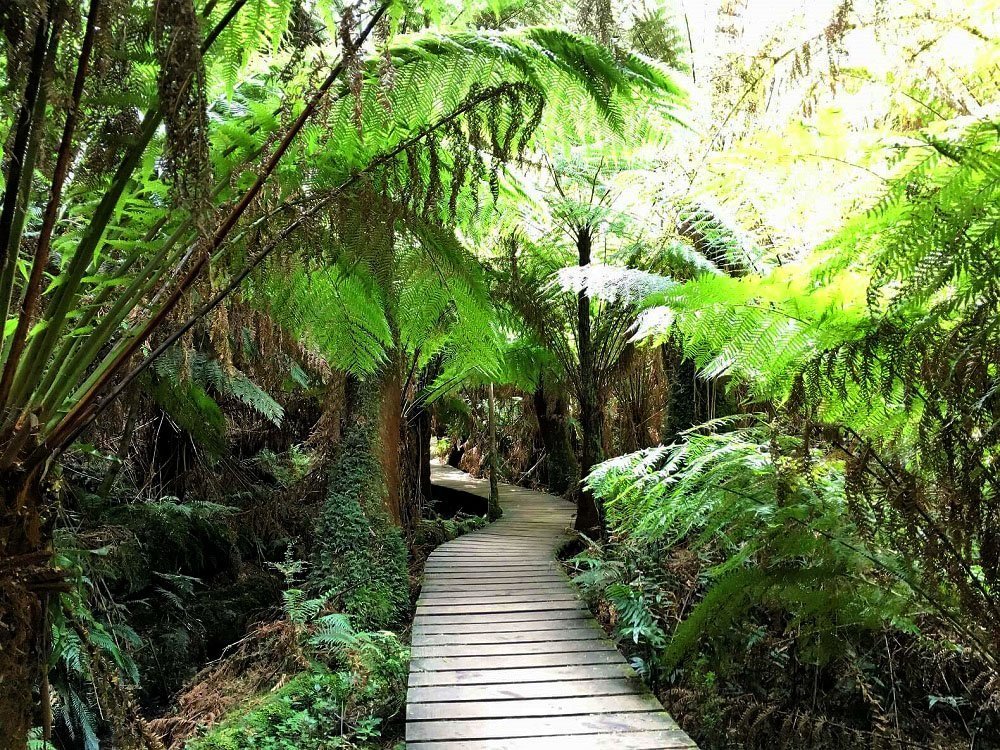 The humidity here is almost 100%. The vegetation grows abundant and dense with exotic insects buzzing about. Giant ferns towering several meters tall and other unusual plants create a canopy overhead. Everything around you is covered with heavy carpets of moss in every shade of green imaginable. It feels like you are walking in a Jurassic Park of prehistoric times.
This is a wonderful hike to do during the day. At night you can go on a midnight forest hike to view the glow worms. Carry a flash light and walk deep into the forest on the trail. Once you are in a few meters, turn off the flashlight and see the thousands of lightning bugs sparkle and twinkle in the darkness of the moonless night.
11) The Pancake Rocks
This was one of my greatest misses on our South Island road trip, but thankfully Jon, from Jon is Travelling, has been there and shared this: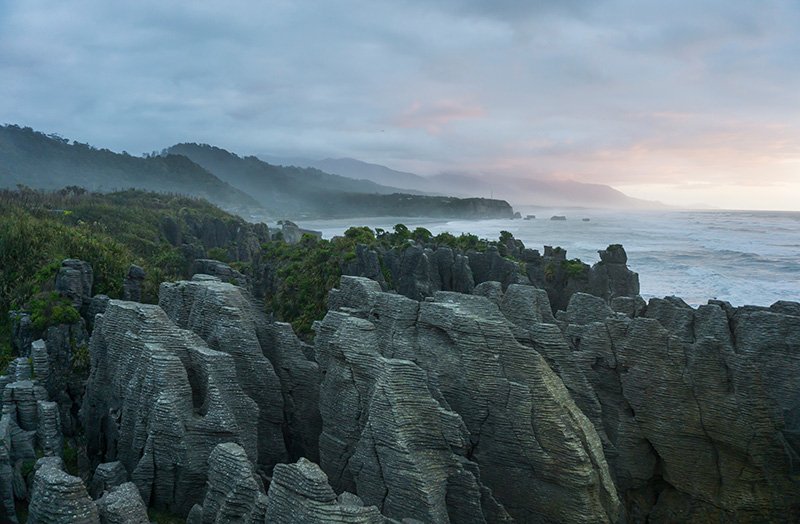 The Pancake Rocks, on the West Coast of the South Island, is a great place to visit for surreal coastal scenery. A short track takes you down to the various sections and viewpoints — it takes around 15 minutes and is suitable for all levels of fitness.
The rocks look great at any time, but head there at sunset to see this place at its best.
The Pancake Rocks are in Punakaiki, a small town roughly halfway between Greymouth and Westport. You can catch a bus there from Christchurch (where a lot of people start their South Island travels) but renting a car and spending a few days exploring the West Coast is the best way to do it. While in Punakaiki make sure to also hike the Pororari River Track for more unique New Zealand views.
12) Wanaka
Sally, from Our 3 Kids vs the World, is also a fan of Wanaka. We absolutely love it. Here's what she has to say: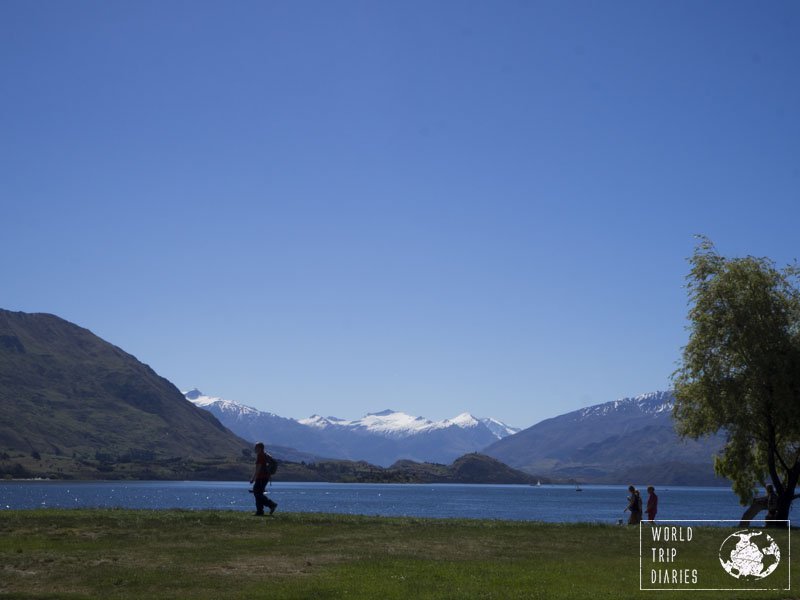 Wanaka is located on the South Island of New Zealand about an hour from Queenstown. Wanaka is best reached by flying into Queenstown and hiring a car or camper to get you over the Crown Ranges to Wanaka. You can also fly into Christchurch and travel overland to Wanaka stopping at the beautiful Tekapo and Pukeki Lakes famous for their electric blue hues of the water. Accommodation and restaurant prices are generally at the higher end of the scale due to Wanaka mostly being seasonal and in a high tourist area.
Wanaka is one of those places that is amazing all year round. During winter Wanaka is popular with skiers as it is close the to Cardona ski fields and many people use Wanaka as a base. Unlike Australia, when visiting New Zealand ski fields you are unable to stay on the mountain so this makes Wanaka only a short drive away, a popular place to stay.
Wanaka is also popular during the summer months as they have great hiking treks that are popular with adventurous trekkers/hikers. The Wanaka Tree has recently become Instafamous and is regularly photographed. The tree is located in the Wanaka Lake which is used for rowing and watersports during the summer. Wanaka has a world class golf course with the most amazing views across the mountains which are particularly lovely during winter and spring when snow capped.
13) Doubtful Sound
It's indeed one of the most beautiful places in NZ. Claire, from Travels in Peru, cruised the sounds and here's what she has to say!
For me the most beautiful place I visited in New Zealand was Doubtful Sound. It is located in Fiordland in the south west of New Zealand.
To visit you will need to take an organized cruise either a day cruise or the overnight cruise and there is also the option to kayak too.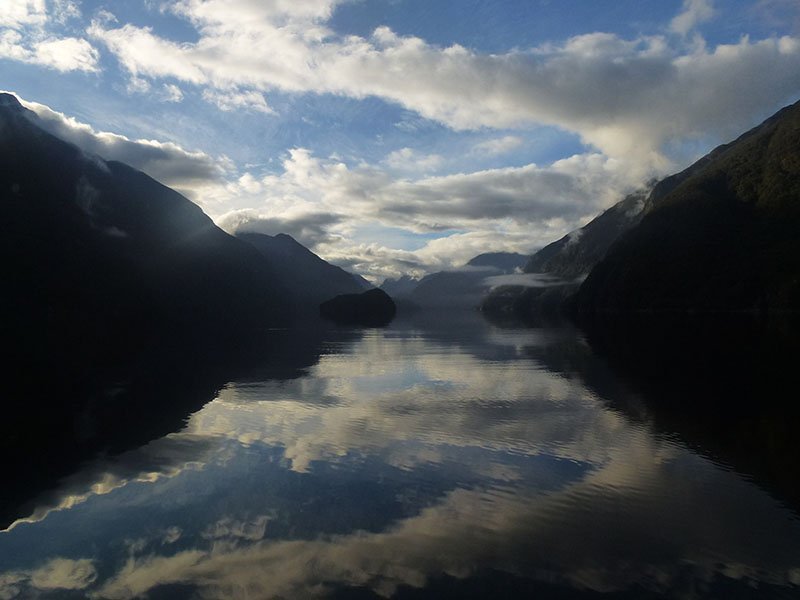 The cruise starts in Manapouri if you have a car, or you can arrange to be picked up from your accommodation in Queenstown. It is about a 2-hour drive from Queenstown to Manapouri.
Firstly to get to Doubtful Sound you need to cross Lake Manapouri, this in itself is stunning with the rugged peaks covered in trees and the reflections on the lake it's stunning. My first glimpse of Doubtful sound was as we crossed Wilmot pass. We stopped to view the sound and to be honest it that had been all I had seen I would have been happy!!! For me it was the most beautiful place I had seen in New Zealand, the tree-lined peaks, some snow covered going as far as the eye could see and the color of the water just took my breath away.
Once we were down on the boat we then sailed amongst the Fjords amongst the high peaks and seeing some waterfalls and finally sailing to the edge of the coast. We saw fur seals sunbathing on the rocks and dolphins playing around.
Overall it was my best experience and the most beautiful place I visited in New Zealand.
14) Golden Bay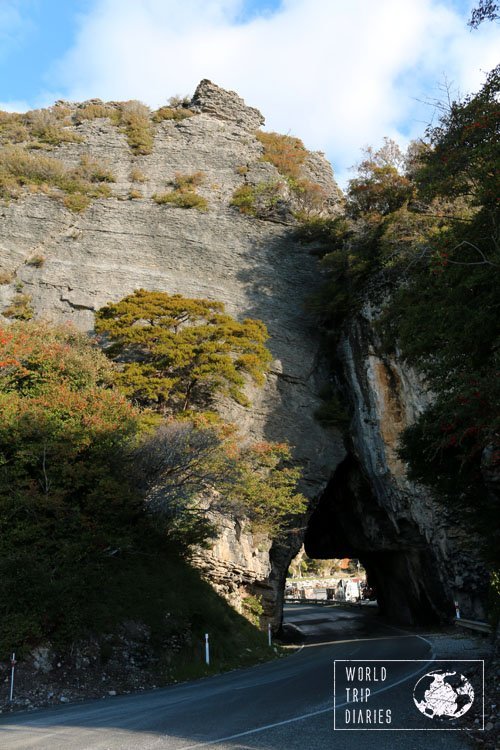 This bay at the north of the South Island is just stunning. It has 2 national parks, the amazing Abel Tasman and the unbelievable Kahurangi National Park. If you're ever there, don't miss the chance to see the blue penguins coming home from a day at the sea! Adorable.
But also there's the Pupu (Te Waikoropupu) springs, with one of the clearest waters in the world. You can't miss Totaranui Beach and its copper color sand and turquoise blue waters, and gorgeous star fishes. The Labyrinth Rocks, even though it was a little creepy, is incredible with unusual rock formations, tunnels, and lots of passages.
It's one of the places with the prettiest sunsets in the world, but the stars in the night shone so brightly it made me tear up a bit.
It's the perfect place for some water sports, so don't miss Golden Bay for the world!
15) Marlborough Sound
Well, even though I HATE the ferry (sea sickness, you're terrible), the chance to see the Marlborough Sound up close always make my heart beat a little bit faster.
The first time we crossed it, it was a foggy day and the first thing that came to my mind was the movie (animation, but yeah) How to Train Your Dragon. I was pretty sure we'd end up seeing Toothless there. No luck though.
Luckily, the Sound is visible from a lot of places inland, like from Marlborough and they're equally as amazing. If you can, and if you're not prone to sea sickness, I recommend you take the ferry at least once. It's pretty amazing to be IN there.
To finish it…
These were the best places to visit in New Zealand by real bloggers. Have you booked your flights yet?
Don't forget to leave a comment below with your favorite place in New Zealand!
https://www.worldtripdiaries.com/wp-content/uploads/feat-beautiful-places-nz-2-pt.jpg
287
815
Thais Saito
https://www.worldtripdiaries.com/wp-content/uploads/wtdlogo.jpg
Thais Saito
2019-03-05 16:54:54
2019-03-05 19:31:34
30 most beautiful places to visit in NZ