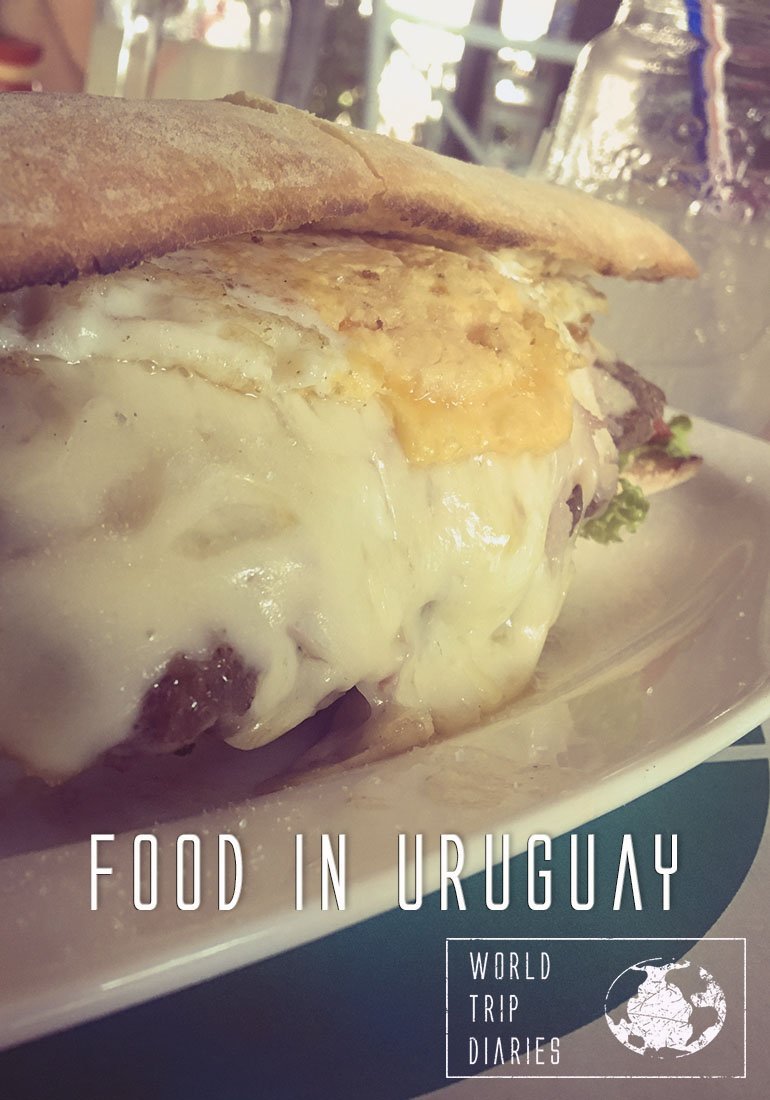 We didn't know what to expect of Uruguayan food – we only knew there'd loads of beef and, guess what? There is. Overall, we ate quite a lot in Uruguay! Here is what we tried and think you might want to try too!
Chivito
It's a funny mixture of things. Beef, egg (fried or boiled, depends on the restaurant), ham, cheese. It can be on bread or on the plate. I didn't really like it, but Angelo did and he had it several times. Beware that it's usually huge, so 2 people can share it easily, especially if it's on the plate.
Parrillada
This is everywhere. It's the Uruguayan (Argentinian, Chilean, I've seen everywhere) barbecue. It's a mix of different cuts and I was a bit scared of it so didn't have it. We had ASADO, which is when we choose the cuts we want from the same grill as the parrillada. The best one we've had was in Mercado del Puerto, in Montevideo, in a place called Cabana Veronica – perfect!
Lapataia
OK, so this is not one food. It's a brand. Lapataia makes delicious dulce de leche but also many other things. We tried almost everything we found and it was all delicious. I even brought a jar of creamy dulce de leche to Chile but it ended, sadly. It's just the best we've ever tried! You can find it in every supermarket, gift shops and even at the airport!
Pancho
Hot dog, basically. The biggest difference is that the bread is tiny, less than half of the length of the sausage. The kids found it super fun, but it's also a bit difficult to load with sauce.
Alfajor
Well, it's not really Uruguayan but the ones we had in Montevideo are just great. Really great. Volveras a Mi Boutique Chocolate is the best. Really great ones. It's not too sweet, delicious, heavy. Love it.
Milanesa
This we also had several times. The Uruguayan schnitzel is delicious! And huge! We usually ordered one for all the kids to share. It comes with a side, and it's usually fries, rice or salad.
Choripan
We've only found out what this is in our last week and it was really good (and cheap). It's a sausage in hamburger bread, but not the hotdog sausage, the barbecue sausage. It comes with a variety of sauces. We don't really know what it was, and it was on Carnival day, we were hungry and the sellers were there just for that night, but it was good. I'm pretty sure they're sold in other places.
Mate
This one is a MUST. We see all the people walking around town with a thermos filled with hot water and a cup (mate) full with herb. They drink it all the time. I wanted to try it and we asked our host where we could find it. He brought us one set to try. On that same day, we found it in a Café, called Facal.
The straw is also a filter – it blocks the herb from entering it. It's pretty cool!
What can I tell you about it? It's bitter, really bitter. It's worst at the beginning but it gets better as we add water to it. At home, Claudio brought us some herb with Ginko Biloba and it was less bitter than the one we tried at Facal. Still bitter, though. Coral and José loved it. I found it OK after refilling with water a few times. The rest of the family didn't like it BUT you should try it!
Well, we did eat a lot out and we liked a lot and almost everything was delicious. Food in Uruguay shouldn't be a problem at all!
Just to be really honest, I ended up a little fed up with beef. Besides, there wasn't much veggie variety anywhere, so it was either salad (lettuce, tomato, and carrots) or fries. We found vegetarian options in only a few places, but we did see lots of vegetarian restaurants and ones with vegetarian options stated on the board outside of the restaurant.
When you travel, do you usually eat out or cook? Have you seen our cooking guide?
https://www.worldtripdiaries.com/wp-content/uploads/FEAT-food-in-uruguay.jpg
287
815
Thais Saito
https://www.worldtripdiaries.com/wp-content/uploads/wtdlogo.jpg
Thais Saito
2017-03-17 17:26:29
2019-08-12 21:31:21
The great food of Uruguay to try now! Or not.