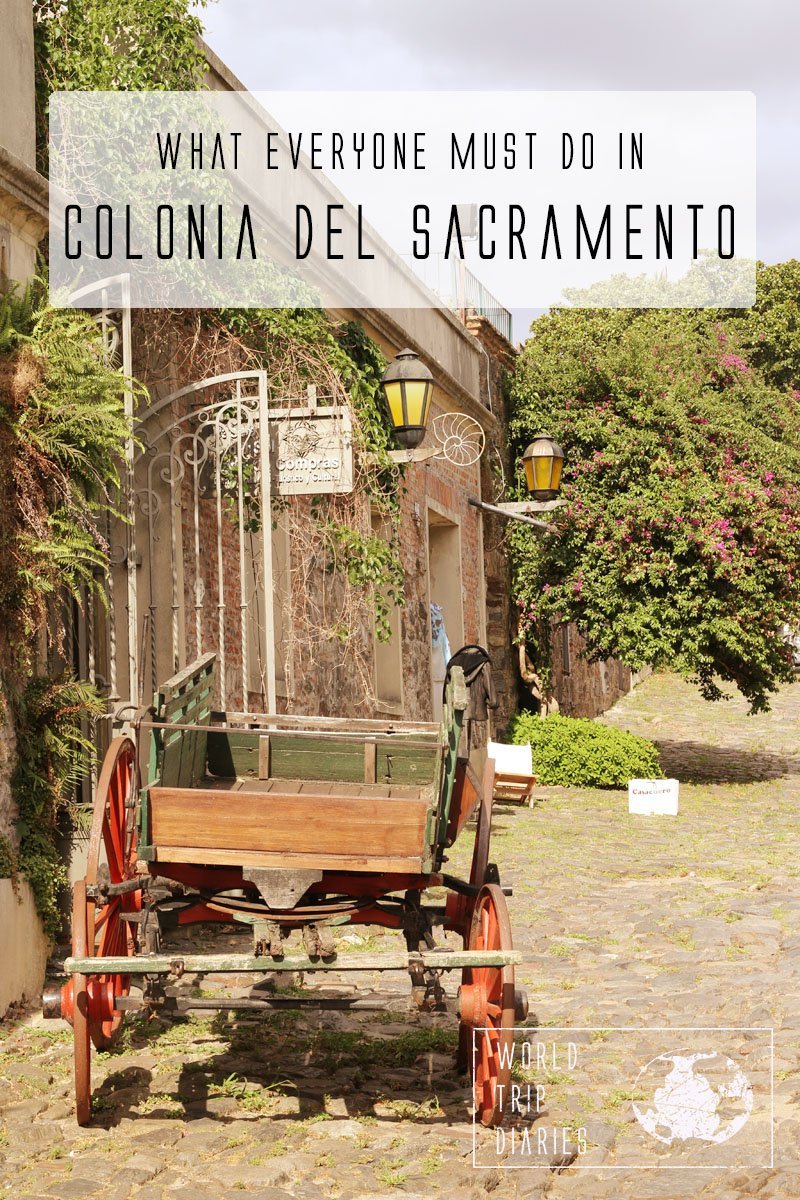 We have a post about Colonia, but here are the things I believe everyone should do when visiting it. It is such a magical place! You should, really, visit it.
Swim in Rio de La Plata
Yeah, it's a river and yeah, it's brown. But it's warm, calm and shallow for a good bit. We did it and we liked it. It's a very different experience from a beach. The floor was all smooth rocks and clay (hence the color), but it was a bit scary not being able to see what's there.
Ride a golf cart
Everyone rides them and if you won't have a car, the golf cart is a great and fun way to see the spots that are a bit too far to walk to. We rented it for a day and even had some time to come home, rest, change clothes and go again. It was the highlight for the kids. There was one place that had some really awesome golf carts, yellow and vintage but we decided to rent elsewhere because it was closer to 'home' and cheaper.
Climb the lighthouse
Kids under 8 can't go, so if you have a little one, don't take them. Coral loves lighthouses and was really disappointed that she wasn't allowed in. The view from up there isn't the best, but maybe if you go on sunset time it'll be better. I didn't climb because I was with Coral, but Angelo and the older kids did and they said all you can see are tree tops, roofs (not pretty ones) and the river. Still, it's something I regret not doing as it's a different view of Colonia. If you can't do stairs or have a little one, the ruins around the lighthouse are just a wonder. Coral and João (the ones who didn't climb) had a blast there while waiting.
Wander around the streets
streets are just so beautiful! They're mostly tree lined, the houses are super adorable, there are even a few vintage cars around. I could walk around a lot and never get tired of it. I did get tired, but it wasn't because of Colonia. It was because of the kids. The 'Are we going there/doing that again?' got to me. A few streets are pedestrian only and it was great to let the kids run freely. Take your time, get lost (it's very very small, so you probably won't but anyway), have a tea, just really, enjoy the walk.
Watch the sunset from La Rambla
This was my favorite thing ever, just sitting there, watching the sun go down, the sky and the beautiful Colonia changing color at the same time. I adored it. I even regret not going when it was raining. We watched it from everywhere, but in Barrio Historico is where it's magic. My favorite place was near the huge Uruguay flag, close to the lighthouse. Take some insect repellent and enjoy your time. Really. Just stunning. We could see Buenos Aires at the other side of the river.
Have an ice cream at Bortolot
It was used as a lure to get the kids to watch the sunset 'again'. It's just by La Rambla and we could get some ice cream and take it out to watch the sunset happening. They are pretty good, so I enjoyed it too.
Visit the old train station
There's not much to do there, but there's a nice grass area, the river and the tourist information center close by. My kids loved running on the train tracks, playing with the levers (they don't really work anymore) and all. It's just beautiful.
Have you ever been to Colonia? Are we forgetting something?
Check it out!
https://www.worldtripdiaries.com/wp-content/uploads/FEAT-to-do-colonia-uruguay-world-trip-diaries-8.jpg
287
815
Thais Saito
https://www.worldtripdiaries.com/wp-content/uploads/wtdlogo.jpg
Thais Saito
2017-03-15 17:34:20
2019-08-12 17:11:57
Things everyone must do in Colonia del Sacramento, Uruguay