Visiting Uruguay with kids – tips and more!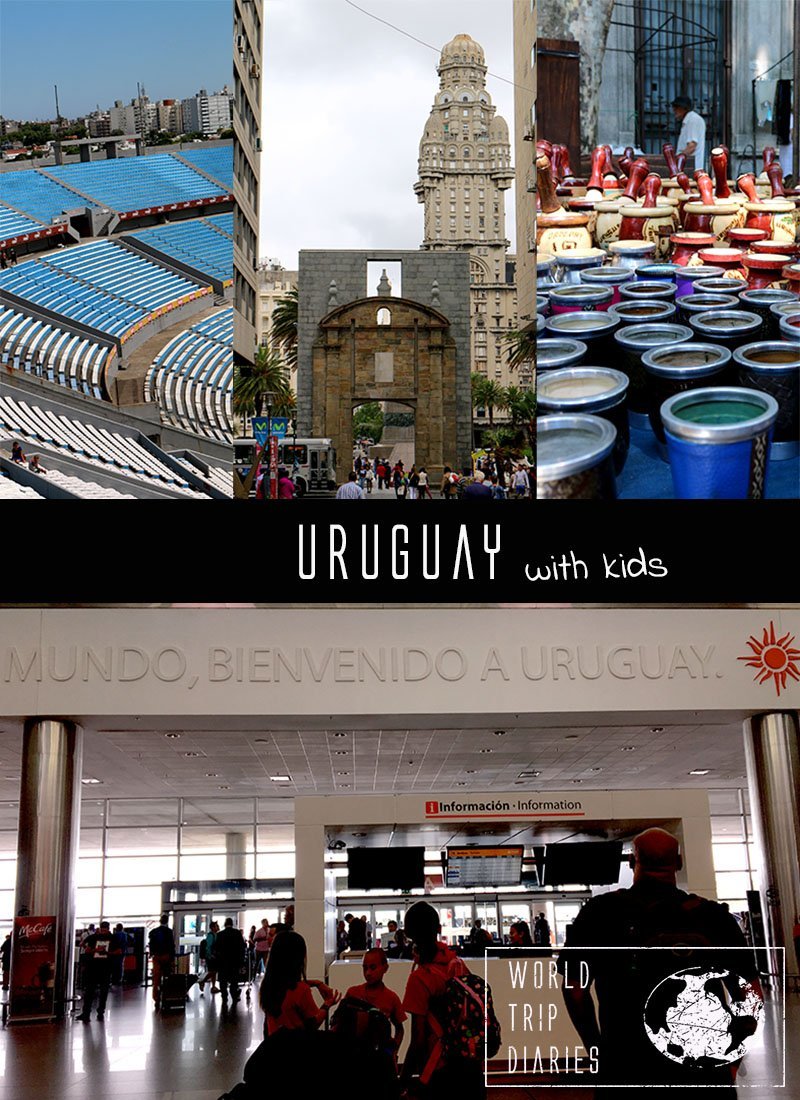 We spent 4 weeks in Uruguay with our kids in the beginning of 2017 and we LOVED it! We'll tell you all about it here – but you can also read our other posts about Uruguay here.
Uruguay is a small country at the south of South America. It's not very famous for anything, and I believe it adds to the charm of the place. It's a tranquil place, very much unlike the other countries in South America. They speak Spanish there, which is very similar to the Argentinian Spanish. Well, it's not super different from the Spanish spoken in the other places, but it's still not exactly the same. Don't worry! Your regular Spanish will work just fine (if you have any, that is – I have none)!
I'm going to start by talking about its 3 weaknesses:
– It hasn't got a high cleanliness standard: we'd often go into a restaurant to be taken to tables with dirty (I mean with food crust on it) tablecloths. Seriously. So. Many. Times. And the toilets? Most of the times, they were dirty. Sometimes they were just unusable. Even the sink was filthy AND it almost never has soap.
– There's dog poop everywhere. I'm talking about parks, playgrounds and streets here, not inside restaurants or shops (although I'm pretty sure there is because it's impossible that nobody stepped on one and walked in somewhere).
– It's expensive. Even more so during summer months. It was the most expensive place we've been so far – including Japan and New Zealand. But it was worth it! Carnaval (or Carnival) is a fun time to be there!
But all these issues are manageable. If you're taken to a dirty table clothed table, just ask for it to be exchanged or simply say 'no, thanks' and walk away. If the toilet is filthy, you can either walk away, use hand sanitizer to wipe it a bit or just not touch anything. And if there's no soap, use hand sanitizer and wash your hands when you get home. Anyway, take some hand sanitizer everywhere.
As for the dog poop, there's not much one can do – unless you intend to walk around collecting them to dispose of properly. Just pay attention and try not to step on them. If you do (and you will, probably), just clean your shoe on a patch of grass and remember not to climb on the bed with it.
The solution to the money issue would be to travel on low season (winter) but just by avoiding high summer would be enough.
Now to the good part, because it's an enchanting country. Montevideo and Colonia del Sacramento, the 2 places we visited, where amazing! They're both beautiful, safe, with plenty to see and do. In Colonia, 2-3 days will suffice while Montevideo requires a lot more. We had a bit over 2 weeks and we didn't see everything we wanted to. But we take things slowly anyway.
– Uruguayans are friendly and welcoming. We haven't had a problem with them during our stay, even with Angelo's rusted and my non-existent Spanish. Almost everyone was great, from bus drivers to people we crossed on the streets. We even had people apologizing because they wanted to park their cars in their garage and we were chasing fairies or Pokémons right in front of it. Never happened anywhere else.
– Tap water is just fine. There's no need for bottled water. Love it!
– Tourists get a discount on the tax when paying with a credit card. It applies to restaurants, supermarkets, regular stores. Just remember to pay with the credit card.
– The internet works perfectly (at least in Montevideo and Colonia – even the mobile worked better than the ADSL in lots of countries).
– Food is delicious. This is just so important! Especially if you, like us, are taking kids.
– The buses are reliable and safe. Super safe, compared to other South American countries. Taxis are just as crazy, though.
– It has loads of parks, playgrounds, those open-air free exercising machines, beaches, the river, La Rambla, and so many places to let some energy go!
– There are also many cultural activities all around, from movie theaters to actual theaters, performances, many museums, ruins and historical places too!
– It's safe – we walked a lot with the camera and phone out, kids running ahead, day and night, and never had any problem.
– The sunsets are amazing and, from Colonia, you can see Buenos Aires on the other side of the river. Just magical.
– It's B-E-A-U-T-I-F-U-L! Just beautiful. Everywhere. Even the house number plates are decorated and pretty.
There must be much more good things about Uruguay, but I can't really remember them all. I hope you'll visit it and tell me all the other things I missed.
Plus, our Pinterest page is filled with awesome resources for anyone planning a trip! Check it out!
https://www.worldtripdiaries.com/wp-content/uploads/FEAT-uruguay.jpg
288
815
Thais Saito
https://www.worldtripdiaries.com/wp-content/uploads/wtdlogo.jpg
Thais Saito
2017-04-05 16:20:29
2019-08-12 17:07:56
Visiting Uruguay with kids – tips and more!