Viña del Mar and Valparaíso, Chile, with kids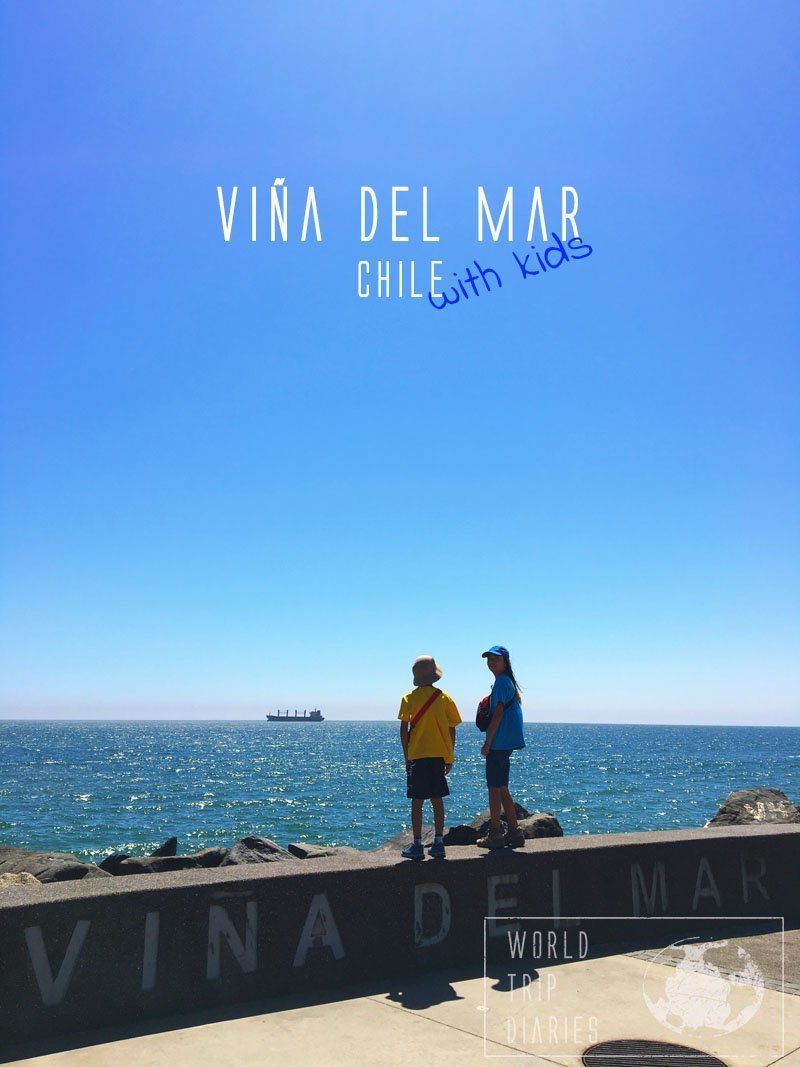 We spent 2 weeks in Viña del Mar, Chile, in March 2017. I'm going to tell you how it went.
We went from Santiago to Viña and them from Viña to Santiago with Turbus and it was fine. It was nice being able to buy our tickets online, though.
*This post contains affiliate links. If you buy something through them, we get a few cents and it doesn't cost you anything!
This is the apartment we rented through Airbnb (+ click here when booking for the first time. That way, you'll receive a discount and so do we). It's an OK apartment, basic, but well located. It's close to the beach, nice restaurants and almost everything else.
We had the idea of going to the beach and swim everyday but things don't really work out the way we want to. When we arrived, we discovered that the beaches aren't safe for swimming. We could go, wet our feet (or our whole bodies) but not swim. The waves are pretty strong and it's kinda dangerous.
So our plans were crushed. But the weather was beautiful and we decided to try and enjoy it anyway.
In the end, we didn't do half of what we'd planned, but it was fine. We rested, played by the beach, walked a lot, went to the movies, had ice creams, and basically, didn't do much sightseeing.
By the way, we went to Mall Marina for the movies and a few times to eat and buy something. It's a big mall but it has not one good restaurant. None. At least the movie was subtitled, so we got to hear it in English – doesn't happen very often in South America, people. The supermarket there, though, it was a pain. There was NEVER a shopping cart and when you found one around the mall, you had to hold on to it until the very end or someone would snatch it from you. And people kept coming to ask if we were using it. Of course, we're using it, we're inside the freaking supermarket, filling it up! It was one of the most stressful shopping experiences ever.
A little bit of Viña and Valparaiso!
We had only two decent meals: the first was in a restaurant called
Tierra de Fuego
by the beach. Lovely food, great service (super rare in Viña) and incredibly expensive. We ended up paying over US$ 150 – and we don't even do alcoholics. The second was in a place called Entre Massas (it doesn't have a website, but it's located on 5 Norte 377) and it was delicious when we weren't expecting. A delightful experience for our last meal in Viña.
Castillo Wulff is a small castle. It offers a nice view and you can even enter on a very small part. It was disappointing because we could see only 3 rooms and one of them was empty. It was free, though, so maybe it's worth the visit if you have the time. We did.
And lastly, we went to Valparaíso (or Valpo, as the locals call it). It's a sweet and colorful village easily accessed from Viña by a 15 minutes metro ride. We were planning to go to Valpo a few times during our stay but we made it only once.
On the first time we were there, there'd just been a shooting and someone was bleeding horribly as there was blood (FRESH blood) everywhere. It was so horrifying that I was super scared throughout the day. One of the scariest things was that people just dodged the blood (and probably the bleeding person) and carried on with their lives as if it was the most ordinary thing ever.
It totally put me out of ever wanting to be there again.
BUT it was cute. The houses, the streets, the stairs, the squares, and everything is colorful. One of the best empanadas we had was there. Mercadito Alegre has some awesome empanadas and pretty desserts. There was no space to sit and eat besides a small bench in front of the store, but it was worth it (and it was the cheapest and most delicious meal we've had in those weeks).
I'd say it's worth knowing Valpo, but we just really walked up and down hill after hill, scared and neurotic, so we didn't have much fun. We didn't even find the funiculars.
It has some killer views of the ocean, though. Really pretty thing.
Viña wasn't our favorite place, but it's not to say that it wasn't nice. We loved walking by the beach, sit on the rocks and let the waves sprinkle water on us, and we loved seeing Valpo light up at night. It's like a Christmas hill. Haha. So amazing!
We were able to walk day and night and we didn't really feel threatened (except in Valpo, but if not for the blood, everything would've been fine too).
If we ever go back – and we might not, since the food… – we'd not spent so long there. A weekend would be enough for sure.
Oh! We also rode one of those bike things and it was horrible! It's so hard, so heavy, it's impossible! We rented the thing for 30 minutes and were able to use it for less than 15 minutes. It was fun, we laughed a lot, but man, was it tiring! We all felt like our legs were falling off for a few days after.
And we were there during fire season and had to stay inside for a whole day because of the smoke and the ashes that were raining around all the place. It was also a scary experience. We got to see the burned forest area when we were going back to Santiago and it was heartbreaking.
Have you seen our Facebook page? We share some insights and photos, plus we share any new posts there! Like us on Facebook too!
https://www.worldtripdiaries.com/wp-content/uploads/FEAT-vina-del-mar.jpg
287
815
Thais Saito
https://www.worldtripdiaries.com/wp-content/uploads/wtdlogo.jpg
Thais Saito
2017-05-09 16:57:52
2019-08-12 16:44:39
Viña del Mar and Valparaíso, Chile, with kids