Upolu Island: Samoa with kids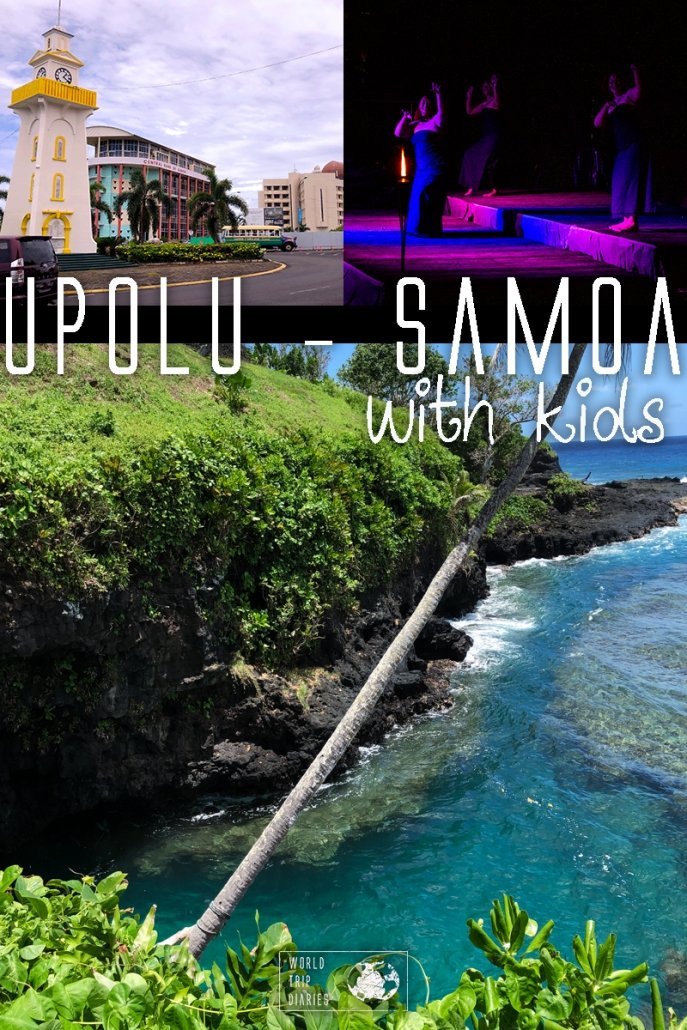 Western Samoa is a country with 2 main islands, Upolu and Savaii. It's on the Pacific Ocean, and it's part of Polynesia and heaven on earth.
It's famous for its pristine beaches, forests, and waterfalls. Being a popular tropical destination for New-Zealanders, we had to go check it for ourselves! This post is about the main island, Upolu.
To know more about Samoa, click here!
* there are affiliate links in this post. They don't cost you anything, but we receive a small commission for each booking made through our links.
The best of Upolu, Samoa, with kids
Upolu is the main island, where the Capital (Apia) is. It's the most populated and known.
It's also the most visited of the Samoan Islands, so it's got a lot more written about it, more tours and options of what to do.
The airport is also there, so it's the first stop for most visitors.
A drive from one extremity to the other takes around 3 hours, so anything is doable even if you stay just one place. There is one main road that goes around the island and a few smaller roads that cut the island here and there. It's pretty easy to drive, really, but it can be windy and full of hills, so if you're prone to car sickness, take a med before a long drive.
Take a look at some of the incredible things you'll find there below!
No free internet, though, and the free tropical breakfast was lovely.
The juice wasn't fresh, which was disappointing, but nowhere in Samoa did we find fresh juice, so…
Late check-out was at 11 am.
Then after we got back to Upolu from Savai'i, we had a couple of days in this place. 
When we drove past it on our way to Savai'i, I was underwhelmed, to be honest. It wasn't close to anything and it looked shabby.
But we were surprised! We had an apartment, with toilet, living room, kitchen, and 2 bedrooms. It was clean and nice, even though the furniture was a bit run down. The air conditioning from the rooms cooled the whole place up.
The curtains didn't cover the whole windows and they were really sheer, so we'd wake up with the sun (which isn't necessarily a bad thing). The kids loved that they lent us some movies to watch at the end of the day so we could stay in and just relax for a few hours.
Even though it isn't too close to town, it was a short drive - around 10 minutes, so easy enough.
There was a pool but we didn't use it. There's no breakfast included, but there's a café on-site open during the mornings. We bought stuff at the supermarket and used the kitchen provided, though. And it's in Apia, so easy spot to go anywhere, which is great. 
No free wifi here either.
Late check-out was whenever, as it wasn't busy, so they let us stay until the afternoon. That was great!
Find out more about Samoana Hotel here!
Sheraton Samoa Beach Resort
Then, for our last night, we splurged a bit and stayed there. Pretty rooms with lovely views of the beach, 3 different dining options, a shop, and a casino (it was closed, though). along with a pool and a pool bar.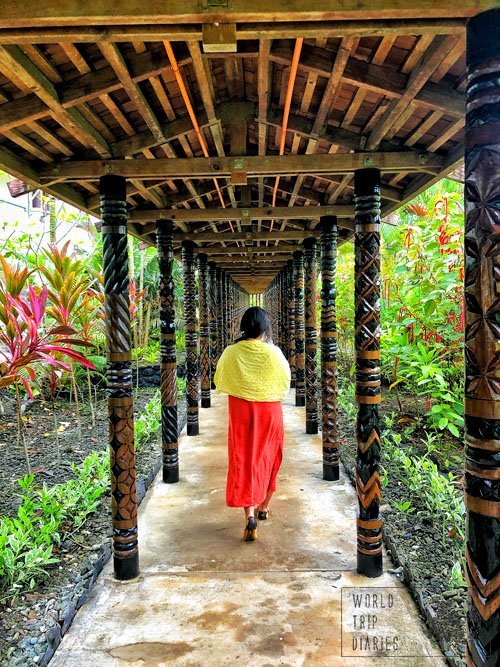 We tried 2 of the 3 restaurants and the food was amazing anywhere, albeit very expensive.
My kids relished on the free wifi and the cable TV (even though most movies were pay-per-view, the kids' channels were free).
There isn't a 6 people room, so we've had to take 2 rooms ($$$) but sometimes, it's great because, you know, 2 toilets, 2 showers, 2 TVs, and enough beds for everyone to really relax. 
They charge an extra if you want to stay until late, but it's not that expensive and we could stay until 6 pm. Our flight was at 10 pm, so it was perfect. And it was so close to the airport, a taxi fare of ST$ 20 took us there.
Click here to know more about Sheraton Samoa!
Things to do in Upolu, Samoa, for families
Upolu isn't short of things to do, just beware that most of it is outdoors, so be prepared.
Even though we wanted to do so much, the rain on the first days really took precious time from us, but it was still busy and wonderful!
This was high up on my Samoan bucket list because… waterfall? And one where you can actually swim under and enjoy it? Yes, please.
But we visited it on a rainy day, and it wasn't the best. We could've gone back another time, but we just didn't have the time.
It's 2 small waterfalls with a lovely pool.
There's a visitor center with a toilet, and we stopped to see if we had to pay a fee to visit the waterfall, but there was no one there.
It's a very short drive from the visitor center and then, a 3-minute walk from the car park and we reached the waterfall. There were picnic tables, a toilet, and stairs leading to the pool beneath the waterfall. 
---
Best time to visit: I highly recommend you visit it after the rain so there's a lot of water, but on a sunny day.
Where: At O Le Pupu-Pue National Park, on the Main South Road, 38 minutes from Apia via Cross Island Road
---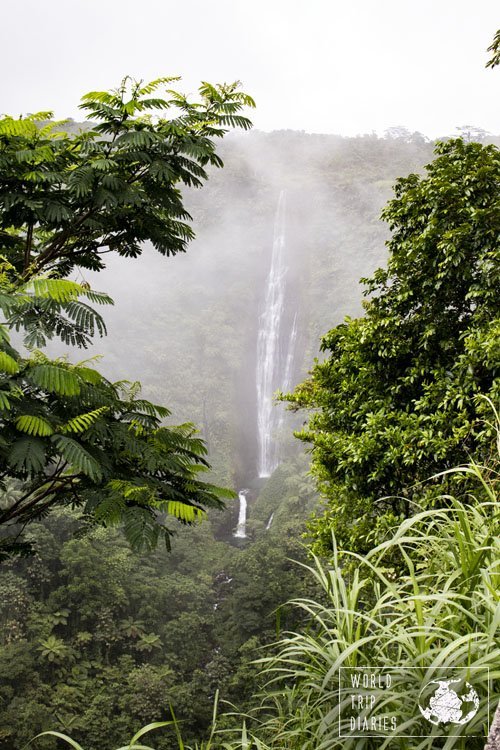 During one of our drives, we stopped to see this wonderful waterfall. It's a 100 m (328 ft) long waterfall, and it's gorgeous.
The sad things were that we could only see it from very, very far and that the viewpoint was completely full of litter. It was sad, really, and we couldn't reach them to pick them up because it was beyond the fence. 
It's free, though, and it's worth the stop.
Tips for visiting: It was super foggy when we were there but it suddenly cleared out and we could see it. If it happens to you, wait around for a few moments before leaving!
---
Where: 20 minutes from Apia via Cross Island Road
---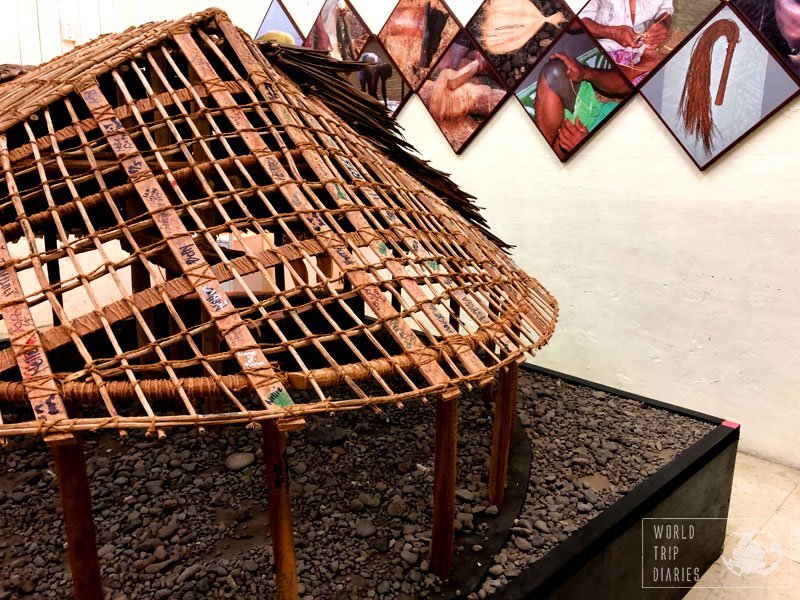 Since we had yet another rainy day, we've decided to visit the Museum of Samoa. It's quite small, 4 rooms only, but fun and interesting. Entry is free, though you can make a donation at the entry (there's a donation box). We saw everything in around 1 hour. 
There was a lot missing when we were there, but it was still worth the visit. It was really cold inside, though. Bring something to cover up!
---
Best time to visit: a rainy day, for sure.
Where: In Apia
---
Palolo Deep Marine Reserve
This was one of the most beautiful places we've seen and so worth it!
There are a car park and rental of snorkeling equipment.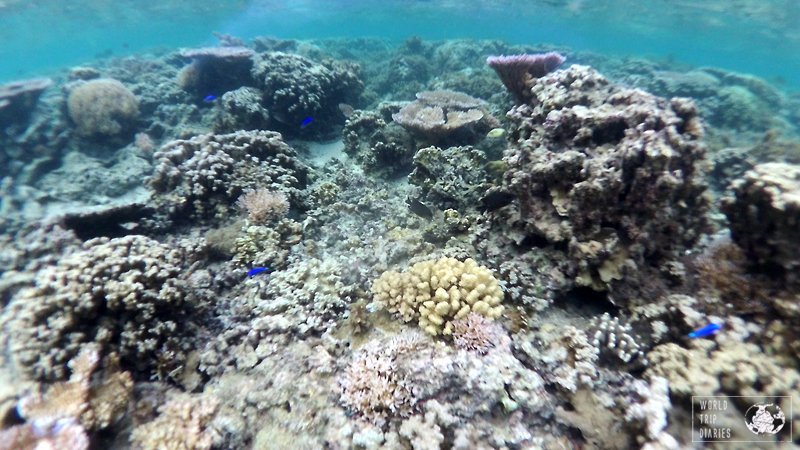 We were a little skeptical because it's so close to the ferry terminal, but it was stunning.
There a multitude of corals, colorful fishes, and seaweed all around the beach - if your child doesn't like them, bring them a clear floaty so they can float around without touching anything. 
---
Don't forget: wear reef-safe sunscreen and only put on insect repellent when you're not going back into the water. If you have water shoes, wear them.
Best time to visit: on high tide to be able to swim a lot without damaging the coral and hurting yourself!
Cost: ST$ 5 per person over 12 and ST$ 2 for kids 11 and under.
Where: Vaiala Beach, in Apia
---
Despite being one of the most expensive attractions in Samoa, To Sua Trench is SO WORTH it!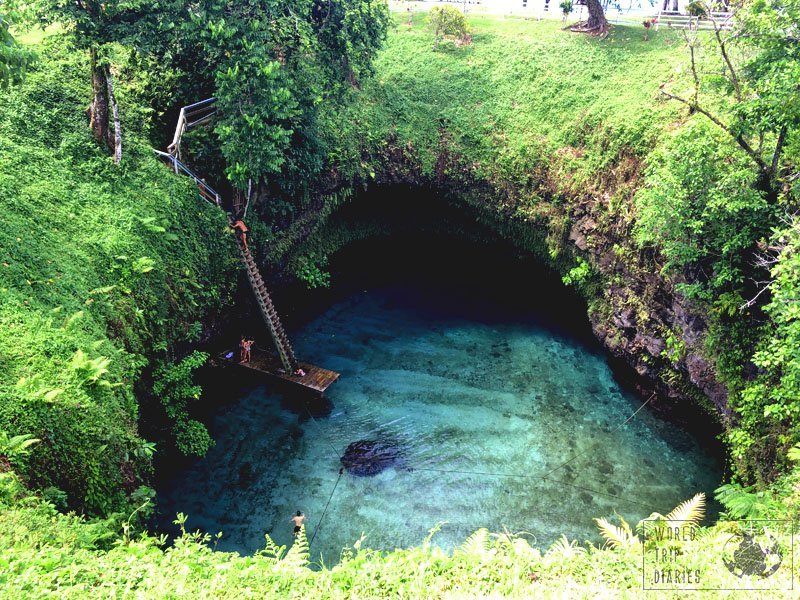 It's one of those places where you're speechless. It's pure beauty.
The grounds are incredibly well kept, it's all stunning, we could've spent a whole day there!
You CAN take your snorkels, but honestly, there's no need. You can see clearly everything to the bottom of the pool!
It's, though, a little deep. Even though there's a rope around for people to hold on to, it goes quite deep around the middle, so my kids couldn't go to the middle of the pool. Bringing a life jacket would've made things a lot easier. 
The ladder is scary and a bit slippery. Hold tight, go slow, but go. It's amazing.
During low tide, you can cross the cave and go to the beach. During high tide, that's not possible.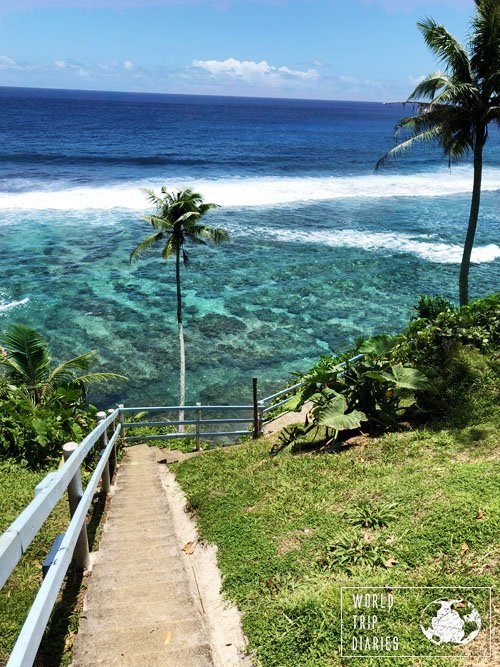 The current can be quite strong, so unless you're a good swimmer, stay close to the edges or hold on to the rope!
The more adventurous can jump off the ladder - we didn't.
After the horrifying ladder, there's a small platform but unless it's something that can be wet, I suggest you leave inside your car - locked. There's nowhere to store your things. You can take your clothes and your towel and leave in one of the fales (small bungalows) there for free - but also unattended. So don't leave anything of value. We did leave all our phones with our stuff, though, and nobody touched them.
---
Remember: You're asked to dress moderately unless you're in the pool, so bring on a sarong and wrap it around you when you're enjoying the garden. 
Cost: ST$ 20 per adult and ST$ 10 per child
How to get there: it's one hour from Apia, via Main East Coast Road. It's on the Main South Road, between Matafutu and Vavau.
---
There are actually a lot of markets in Apia, but we're talking about the Flea Market.
There are the fish market, the produce market, and many other smaller markets, but this is where you'll find the souvenirs. There are many, many, many stalls selling everything from lavalava (sarong) to clothing, accessories, to home decor items and food. It was extremely hot there, even though we visited it on a rainy day.
I suggest you go visit it on a cooler day. Note that not all stalls are covered enough to protect the visitors from the rain or the sun. 
---
Where: in Apia
Tip: Walk around before buying anything as many stalls sell the same thing and for different prices.
---
We were there and, you know, we had yet another rainy day so what could we do? *naughty face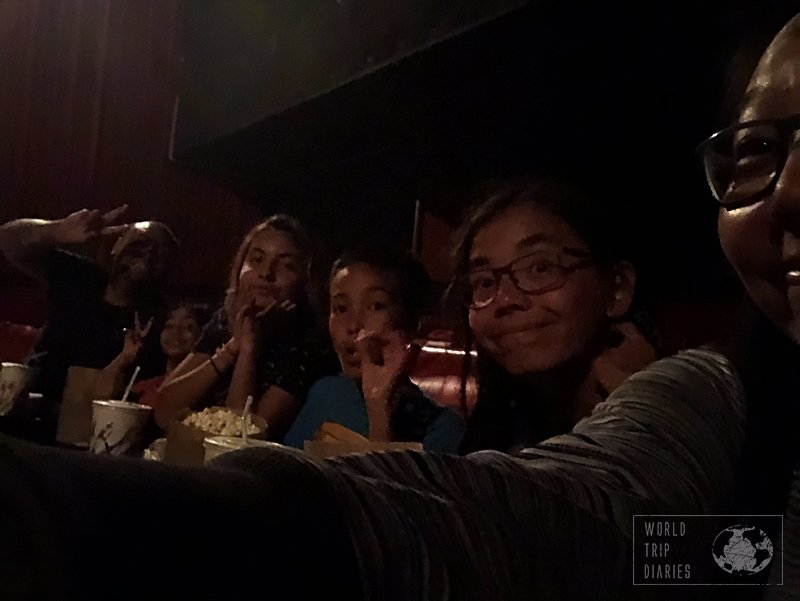 Well, we've been trying out movie theaters from all over the world just to tell you how they are, so we couldn't miss this one, now, cloud we?
It has 2 rooms only, but movies are played in English. The rooms are clean and the staff is helpful. It was worth it.
---
Cost: ST$ 15 per adult and children 11 and under pay half price.
Where: in Apia, on Convent Street
---
We didn't visit it, but here's what Jo, from Over the Edge of the Wild, says about it:
'The Papase'ea Sliding Rocks are a natural phenomenon only a short distance from the Samoan capital city of Apia. Formed from volcanic rock, worn smooth by years of water flowing over them, the Sliding Rocks are nature's own waterslide. The Rocks are at the bottom of a steep flight of stairs, so are not easily accessible for those with limited mobility, but are recommended for adults and children alike. In the dry season, there may not be enough water in the pools at the bottom of the rocks for any sliding, but they are still a great place for a swim on a hot day.
One of the cheapest attractions in Samoa, at only 5 tala for adults and 3 tala for children, it's well worth spending a few hours at Papase'ea. Warnings against leaving valuables unattended are posted in the carpark at the top of the stairs, so consider carefully whether you want your camera with you or in your car – you're unlikely to want to take the stairs again if you change your mind.'
---
Where: Tuamasaga, Apia
---
Robert Louis Stevenson Museum
We also run out of time and sunny days to visit this one, but it's huge and I wish we'd done that. But here's what Sinead from Map Made Memories says about it:
'The pretty, colonial style home of Robert Louis Stevenson in Vailima is easily reached from nearby Apia by bus or taxi. The expansive grounds are free to enter but there is an admission fee of 20 Tala to enter the house (children are discounted or free).
Affectionately named by Samoans as Tusitala, 'writer of tales', RLS built this house on virgin land and lived here for five years until his death in 1894. Visiting the house is by guided tour only and no shoes are allowed inside. We were the only people on our tour and our friendly guide answered all our questions and brought the history of the museum to life with engaging tales for our children. The interesting rooms of the house are decorated and furnished as they would have been for the Stevenson family; don't miss the beautiful Tapa room or the only fireplace in Samoa (which was never used)!
Make sure you allocate time in your visit to explore the beautiful grounds. The huge site has winding forest trails lined with gorgeous flowers and multicolor shrubbery. You can walk to a pretty waterfall that the Scottish author adapted into a swimming hole. You can also climb the 'Road Of Loving Hearts', a path cut by locals to enable Stevenson to be buried above his house on Mt. Vaea. In hot weather, it is a challenging climb but you will be rewarded with stunning views from the author's peaceful resting place.'
---
Where: in Vailima, Apia. At Cross Island Road
---
Savaia Giant Clams Marine Protected Area
We drove by, stopped, debated whether we should or not dive in, but the fear Melissa (15) has of clams and the fear Jose (11) had of losing his foot by accidentally stepping on an open clam made us pass this one. It does look lovely, though there are giant clams there. By giant, we mean giant. Imagine something around 50 cm (around 20 inches) in diameter.
---
Where: in Savaia. Stop by Le Valasi's Beach Fales to pay the fee
Tips: don't try to put your hand or foot or whatever inside the clams - they do close quite quickly, as I hear.
---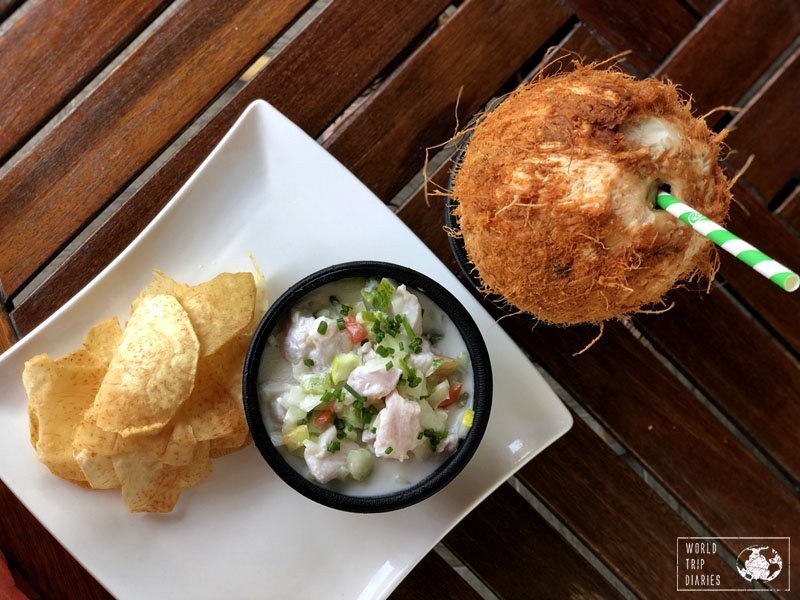 Family friendly places to eat in Upolu, Samoa
Well, eating is important, isn't it? Even though we did eat more at the resorts we were in, we squeezed in some meals.
A lovely café, one of the quickest services we encountered. It was super clean, everyone was super friendly, and the food was delicious. They also serve Samoa made ice cream!
---
Where: on Beach Road, Apia
---
Manumea Restaurant and Island Show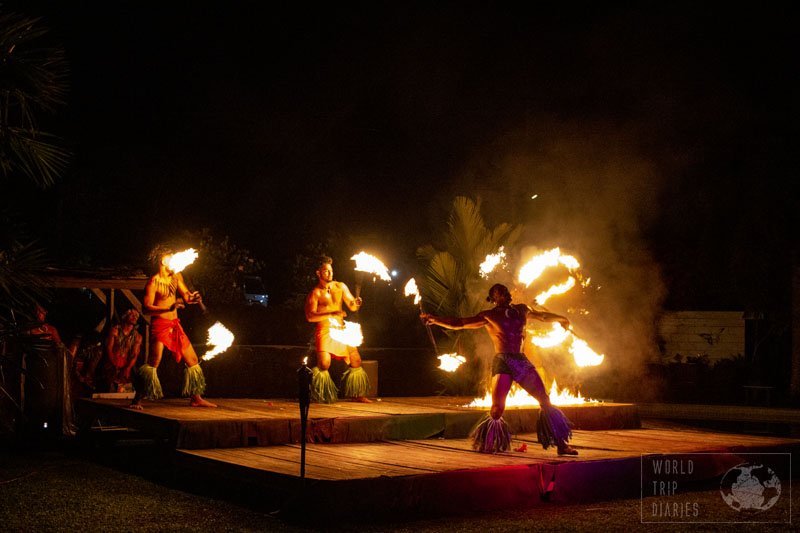 We attended this performance because we would miss all the performances in every single place we'd booked. It included a meal and a 2-hours cultural show with lots of dances, music, fire, and coconuts. 
We all loved it but it was a little bit tiring for the kids, to be really honest. We'd woken up early and it finished after 10 pm (we still had an hour drive back to the resort). But it was fun!
---
Where: Cross Island Road, 6 minutes from Apia
Cost: around ST$ 60 per adult and ST$ 30 per child, we can't remember exactly #fail
---
If you need a taste of home, there's one Mc Donald's in Apia. We often stopped there to grab fries as we didn't have to leave the comforts of the car air conditioning.
---
Where: Vaea Street, Apia
---
To finish it…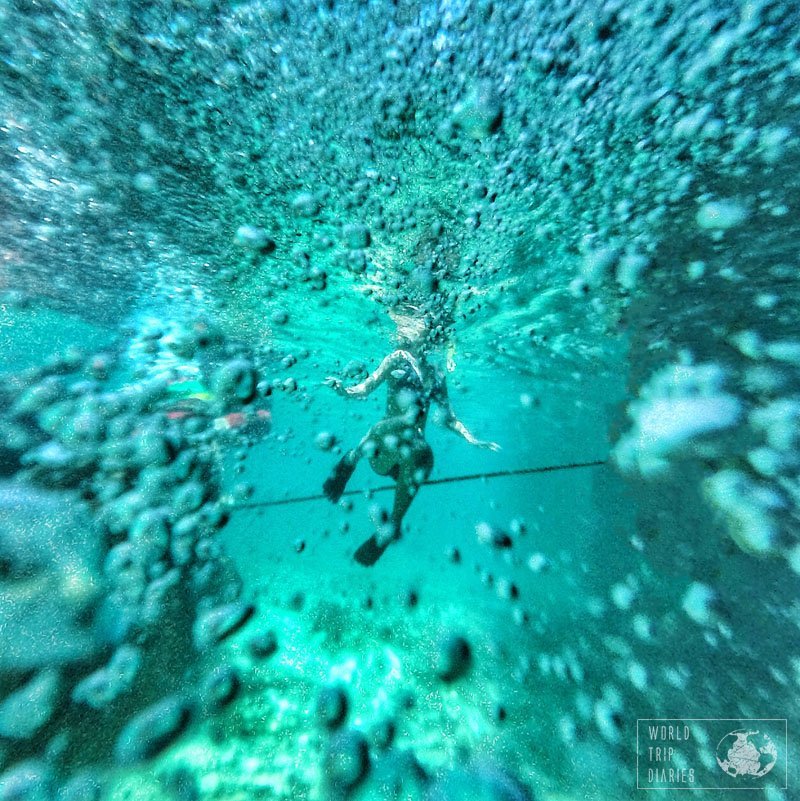 We found Upolu Island lovely. When it was hot, it was really hot, and when it wasn't, it was still hot. Perfect for beaches!
Wear a good insect repellent, drink plenty of water (or coconut water), wear reef safe sunscreen, dress moderately and enjoy!
We heard the roads were full of holes and stuff, but we found them in OK condition. There were holes, but not that many. Our problem was the animals. Seriously piglets crossing the road were too adorable and scary. SO MANY and everywhere! If there weren't the piglets, it'd be crabs or hens or dogs or cats or donkeys (seriously). Drive safely.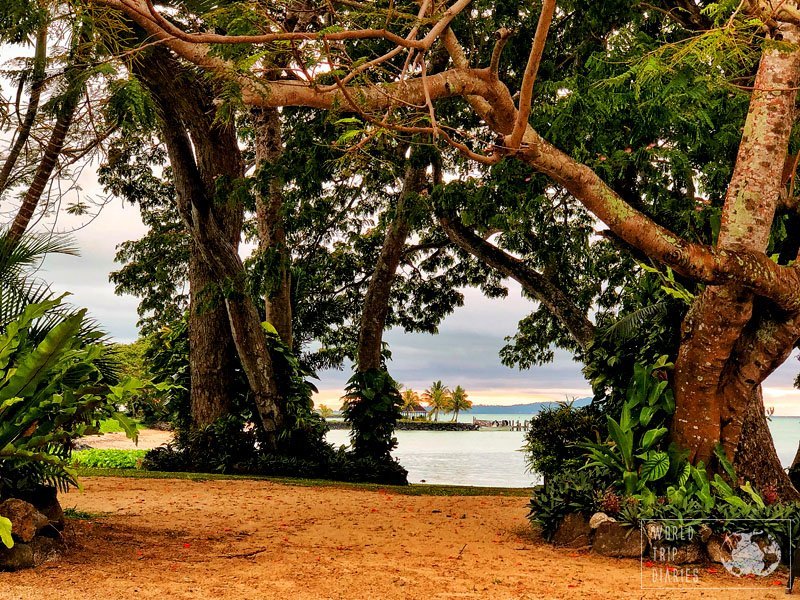 And the drivers… Some people seriously drive at 20 km/h for loooooong stretches and we couldn't just pass them - hello, piglets! Taxis did that a lot, but we caught quite a few cars doing that. So a drive that would take us 30 minutes ended up lasting for over an hour.
There are quite a few big supermarkets in and around Apia and they all sold many, many things from NZ and Australia, which was great for when we wanted something we were familiar with.
And remember: tap water isn't safe for drinking so buy bottled water of take your own sterilization device (such as SteriPen Adventurer
or Aquatabs
). 
Where

Minimun Stay
$ ~ $$$
Child-friendlyness
Best local transport option
Safety
Do we recommend it?
Upolu Island / Samoa

3 days
$$
Super child-friendly!
Car
Perfectly safe
YES!
https://www.worldtripdiaries.com/wp-content/uploads/feat-upolu-samoa-kids-2.jpg
282
800
Thais Saito
https://www.worldtripdiaries.com/wp-content/uploads/wtdlogo.jpg
Thais Saito
2018-12-12 00:00:31
2020-07-07 20:09:32
Upolu Island: Samoa with kids