Travel Tattoo Ideas – and why they're the best souvenir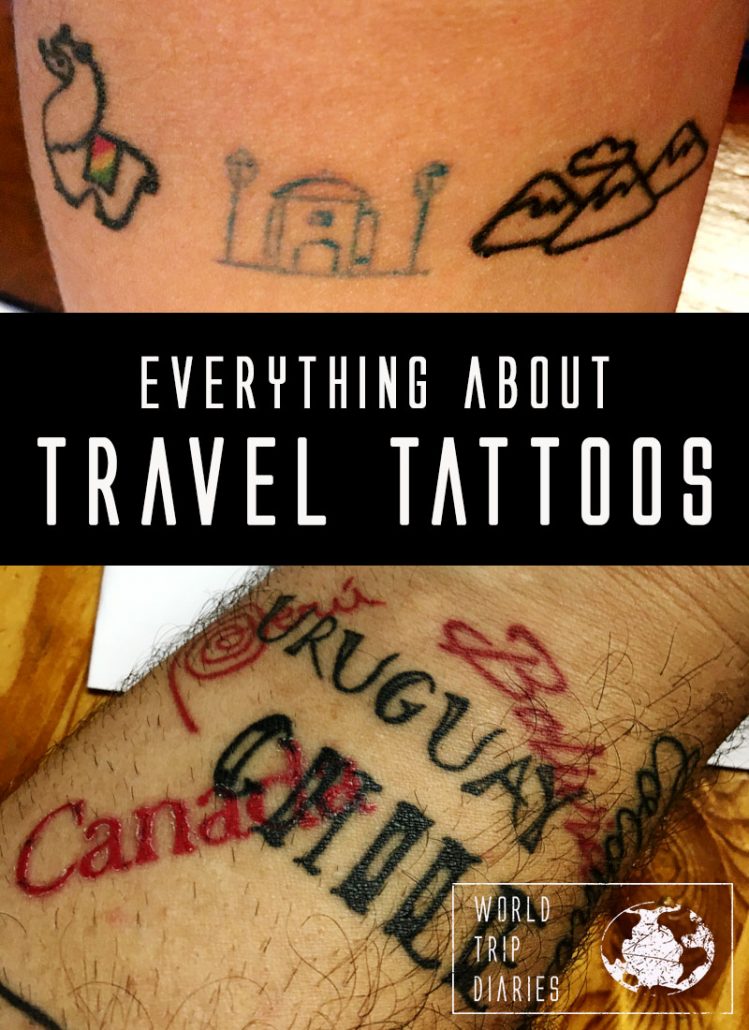 We love travel tattoos – the best souvenir to ever exist. Angelo and I have been getting them since we were 19 and if they weren't so expensive, we'd be all covered up by now.  They really are the best souvenir, as they don't take any space, don't weight, and they're unique!
Then we started loving travel. And adding those 2 together wasn't hard. And here's the post where we talk all about tattoos!
*Post updated in 2020 to add the latest tattoos and experiences.
– If you don't like tattoos, you may want to stop reading now. It's gonna be all about tattoos today. –
We've decided to make one small tattoo in every country we visit. It took us 3 countries to decide, but we did and we started there (in Uruguay) anyway.
To be really honest here, Angelo was doing it and I wasn't. I'd do it IF I found something I loved enough about a place to do it. And then we were in Montevideo and I fell head over heels – I just had to. And then I loved the Andes, and Uyuni, and Bogota, and everywhere else. So now I also have it.
Let's start with Angelo's travel tattoos
He wanted to make a digital cloud-like tattoo with the names of every country he's been. But then the first one (Uruguay), even though it was beautifully done, it wasn't aligned with the tattoo bands he had and would end up crooked or weird. He even considered erasing them or covering them with a black band. Haha.
After a lot of thought, he decided on letting the artists decide how, where (within a limit, of course), and the size of the country name and have it all sketch-like. It turned out pretty cool, in my opinion. At least, now that it's full and all because it was a bit strange and incomplete in the first places.
It has colors, personality, and it's just Angelo.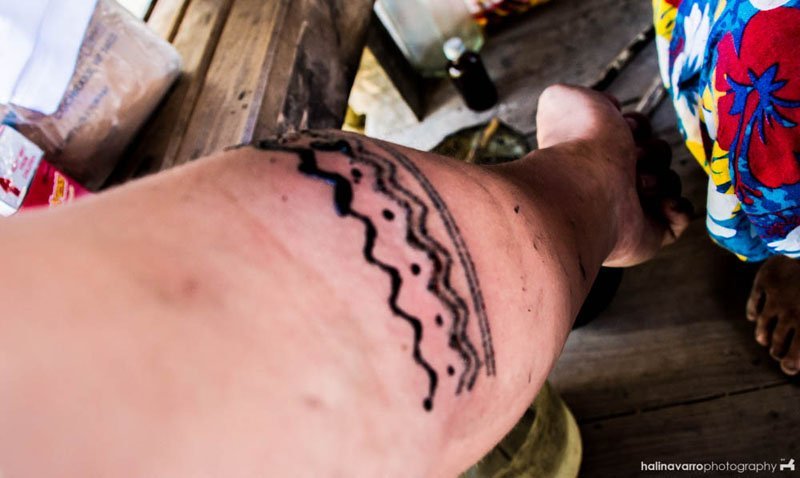 Then Thais' tiny tattoos
I wanted to do tiny symbols of each place, but not what's important, famous, or great, or even characteristic of a certain place, but what was meaningful FOR ME. So I fell in love with Montevideo and its beautiful Ciudad Vieja, so I really wanted the Ciudadela on me. After a lot of research on images, I came across the one I liked most on a sign in a public building. Well, it was faith and I'd chosen.
Then I had the Andes in Chile, a llama in Bolivia, Machu Picchu in Peru, Monserrate in Bogota, a maple leaf-shaped maple syrup bottle from Canada, a sloth from Costa Rica, a turtle from Nicaragua, and a PASTEL from Brazil.
They're all randomly colored and I love them.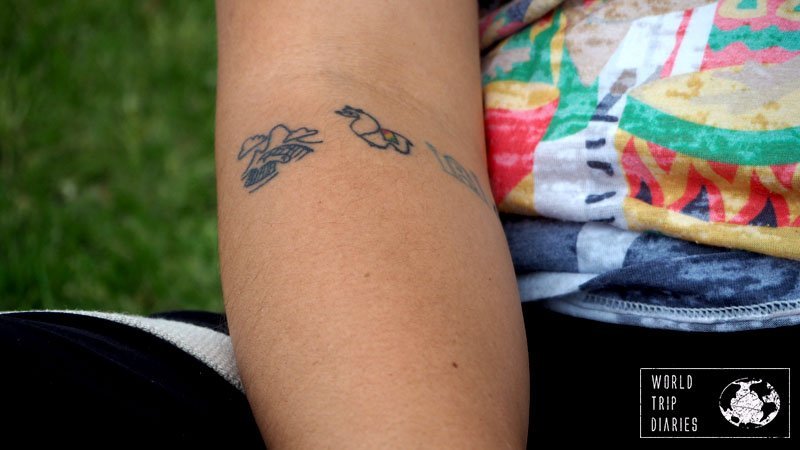 Traditional Tattoo in Japan – Tebori Irezumi
On our last trip to Japan, we had our Japanese tattoo done in style: handpoked with a Japanese artist.
We got in contact with the artist a year before and, since he travels a lot, we hadn't managed to make our schedules fit. When it finally did, we had the time of our lives. It was a dream of Angelo (you can see his bucket list here).
Tebori Irezumi, which means stick n poke tattoo, is the Japanese tattoo, traditional style. It's done with the tattoo needles attached to a bamboo stick, and the artist does every little poke by hand – no machines.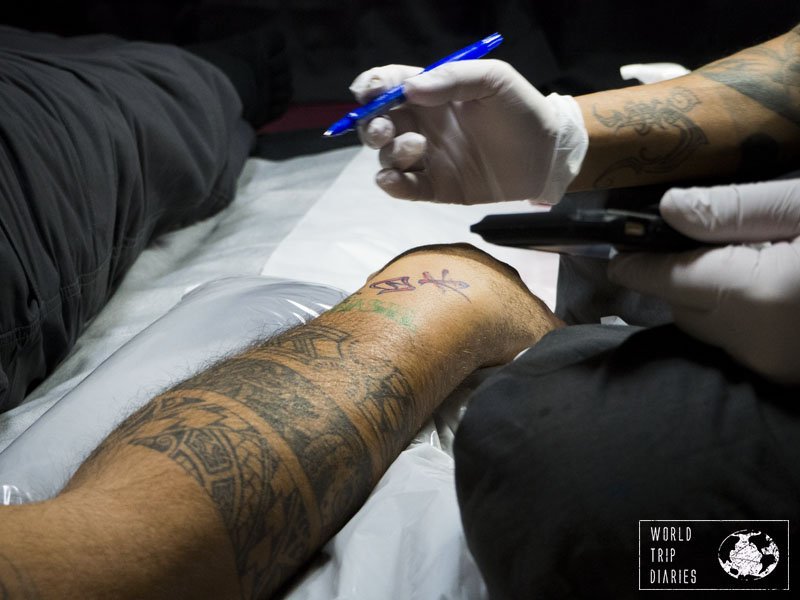 Since he was talking to us in English, he called it a Tebori tattoo.
We thought it'd take a lot longer than the machine-tattoos, but I'm happy to inform you that 'our' Japanese tattoo artist was incredibly quick and gentle. It didn't hurt! It was great to learn that stick n poke tattoos can be that quick and painless! And besides, it nearly didn't bleed.
Angelo had his Japanese writing tattoo done (Nihon, which means Japan, in kanji), and I got myself an onigiri. They're the rice triangles very popular in Japan – one of my favorite food in the world!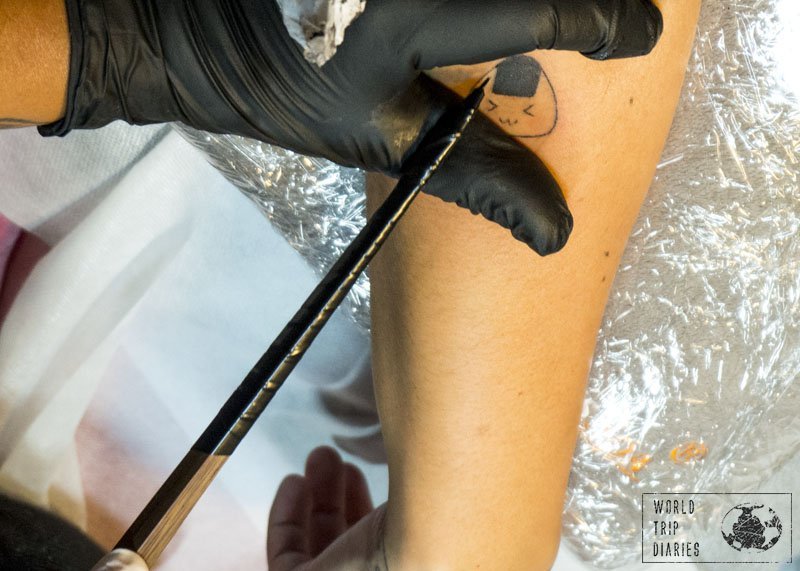 He said that, while he was used to making kanji tattoos (the fancy complicated Japanese writings), it was his first time tattooing an onigiri. He actually laughed a few times while tattooing, but I couldn't really not have it. And it's super KAWAII!
For those thinking about getting a new ink in Japan, try and find one Tebori artist: it's worth the money.
If you don't mind if it's machine-made, we saw many studios in the big cities, like Osaka and Tokyo. Tattoos are still a taboo in Japan, but they're a lot more ordinary than it was a few years ago!
How to choose a local artist
We start off with Google, check the nearby places, their ratings, and we send a message with what we want and asking for a quote. It usually works fine – worked in most places. Reading reviews – the bad ones – is especially helpful.
In some places, we find a studio by passing by it – and entering, of course. Most times we did this, we had our tattoos done right then. Quick, easy, no hassle.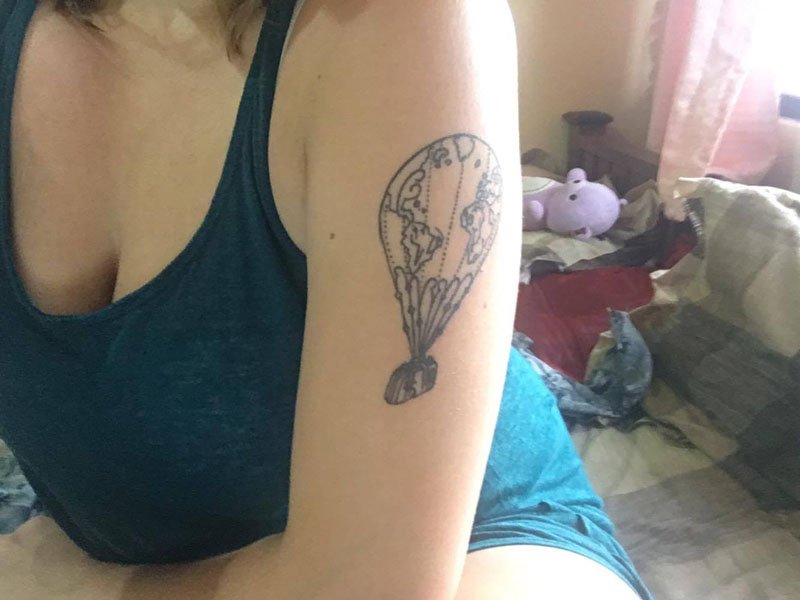 Fewer times, though, we find a studio by asking people (our hosts, staff from the hotel/hostel, the waiting staff at the restaurant, etc). This is usually how we find the best places, but it's not that common.
When we go for a visit, we lookout for hygiene, the artist's designs, and we talk to them. If we like the place and the artists, then we do it. If we don't, we just leave – no hard feelings, because it's something that's gonna stay on your skin forever, so you need to trust.
I try to find female artists because I feel we need to support women but it's also not always doable.
The cleanliness
Is the space clean? Do they wrap everything in plastic wrap? Are the needles new and discarded after use? Do the artists wear surgical gloves? Do they wash their hands before and after a tattoo, after a break? The answer needs to be yes to all of those.
If the place has bloodstains, the artist is sick, it smells bad, there are people smoking, drinking, and doing drugs (yes, it happens), or any of the questions above was a no, then you really need to leave.
You don't need to ask any of these questions, just look around, see how they do with other customers, look at their tools. If everything is well cared for, then chances are – it's fine. If not, then, consider finding somewhere else.
Choosing the design
Most of the time, we search the net for ideas.
I knew I wanted small symbols so I searched for icons or vectors of whatever it is that I wanted. Then we'd take it to the tattoo artist, who'd tell us the changes needed, and that's it. Some of the times, though, like in Colombia, I had no idea what I wanted to do, so I just asked the artist for an idea and he drew the prettiest Monserrate for me.
In Brazil, I asked our friend Shamil to draw a "pastel" for me – which is just my favorite Brazilian food – and he made the cutest thing ever. In Canada, too, I asked Alexandra for something very Canadian and she drew a beautiful maple leaf-shaped maple syrup bottle. I love how amazing artists can be!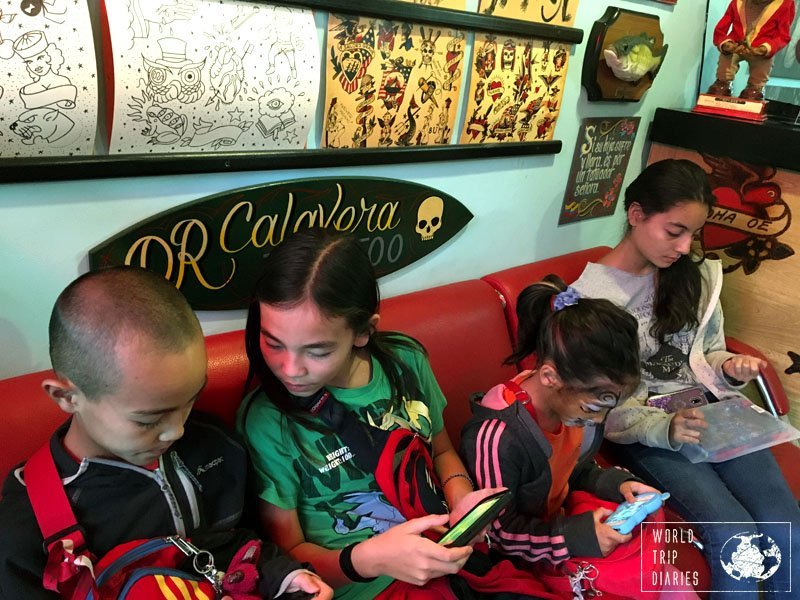 You really shouldn't be afraid of asking for what you want and ask for changes, anything. It's your body, after all, and it's gonna last forever, so it needs to be something you're comfortable with.
The cost of the tattoos worldwide
The prices vary a LOT. The standards throughout the Americas and NZ are pretty much the same, but the prices are very different.
A very small tattoo costs around US$ 100 in NZ, while in Nicaragua, it costs US$ 30. In Japan, the smallest dot costs around US$ 200. In most places, if you're gonna have more than one done (or like us, two people with the same artist), it ends up being a bit cheaper than that.
It really depends on which country, where in your body, the size and color(s), and the artist.
How to explain what we want when we don't speak the language
I haven't had much experience here since we've only had tattoos done in places that spoke one of the languages we speak BUT I always ask if they speak English. If they have an artist who speaks it, they send him/her to talk to me. A lot of people do nowadays. Secondly, I ALWAYS carry a picture of what I want. If the person doesn't speak enough to understand when I want changes, I try to translate first on google or something beforehand. Or I just take exactly what I want.
Worst case scenario, use Google Translator. It's not perfect, but it should work.
Do tattoos hurt?
Well, yeah!
The pain depends on where it's being done, but it always hurts, even if it's just a tiny bit. There are needles and blood involved, after all.
Choose wisely. Haha!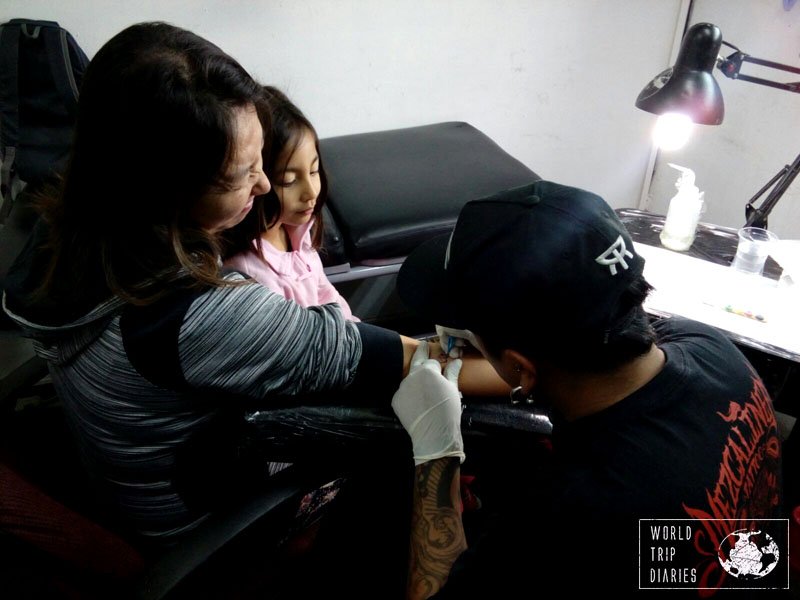 In my experience, the forearm is the least painful place – but Angelo disagrees. It's different for each person, so try pulling a hair out of the place you plan your tattoo on and see how much it hurts.
Is it worth it?
YES!
I think tattoos are the best souvenirs in the world: they're weightless, last forever, don't occupy space in the bags, don't break.
They hurt, and when they're healing, they're ugly – the same crust that forms when you hurt yourself happens there – all over the tattoo. When they start healing, they are itchy, and you're not supposed to itch. Sometimes they even need a retouch.
Can you take kids to a tattoo studio?
They've been coming with us to the studios around the world since they were toddlers (or infants, in Jose's case) and we've never had a problem. Most studios are more than welcoming, and honestly, I see no reason to keep them at home.
They're clean, safe, and just fine.
We've only had problems finding a studio in Scotland, where most studios had a no-under-14 ridiculous policy. By the way, we had ours in a studio called The Studio that welcomed them just fine.
If you know your kids sit for an hour, then don't take them. If they can, they're fine going – take iPads, or whatever they like doing and talk to them, just like you'd do for a bus or plane trip: they need to sit, wait, and not bother the people around.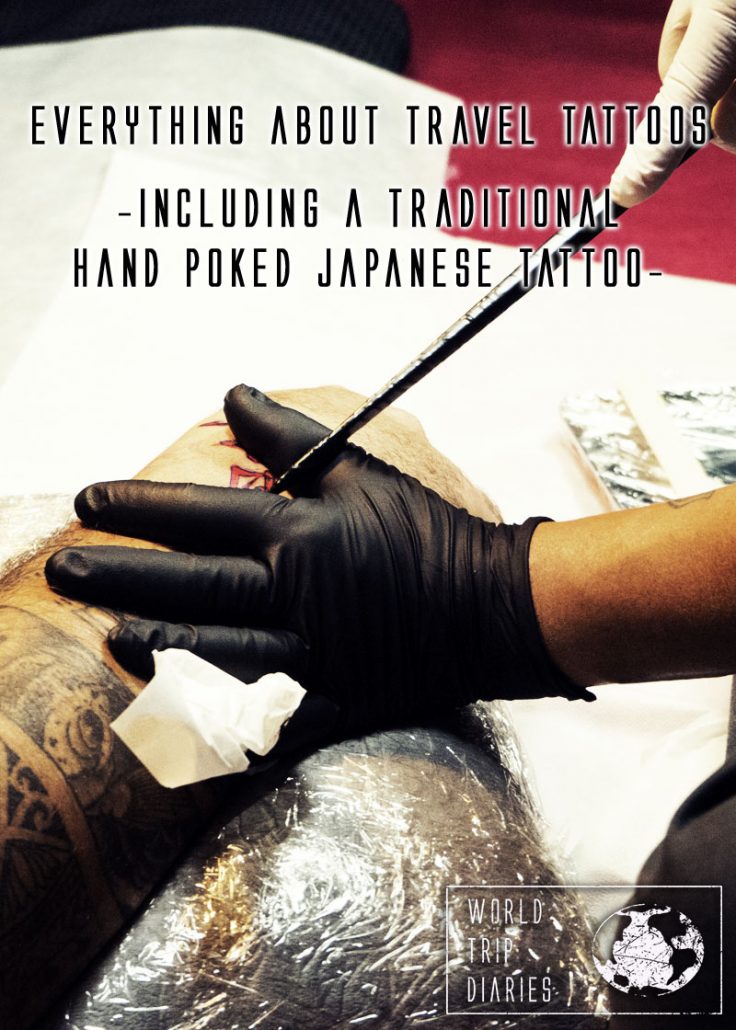 If you have a travel tattoo, we'd love to see it!
SaveSaveSaveSaveSaveSave
SaveSave
SaveSave
SaveSave
SaveSave
SaveSave
SaveSave
SaveSave
SaveSave
https://www.worldtripdiaries.com/wp-content/uploads/FEAT-travel-tattoo-pt.jpg
287
815
Thais Saito
https://www.worldtripdiaries.com/wp-content/uploads/wtdlogo.jpg
Thais Saito
2017-11-14 17:00:18
2020-07-07 22:18:26
Travel Tattoo Ideas – and why they're the best souvenir