A travel guide to Bogota, Colombia, with kids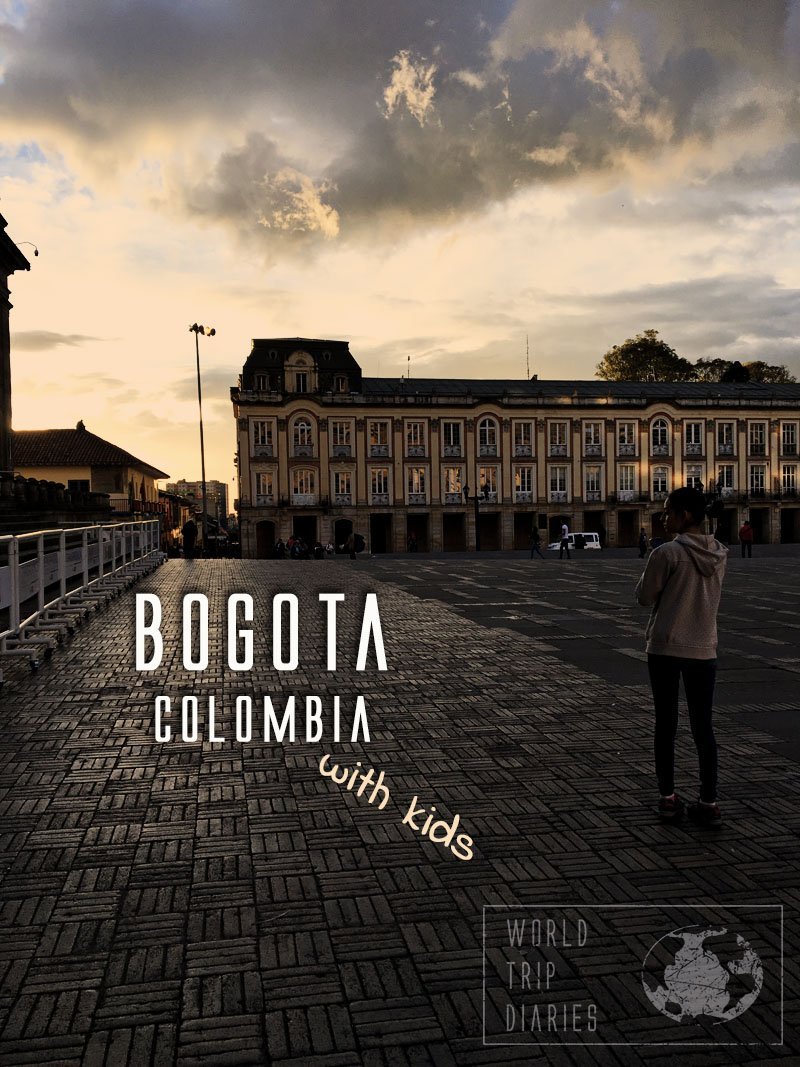 Bogota brings up mixed feelings. It's beautiful and incredibly silent, comparing to the previous city (Lima), but it was cold and rainy. It's also in altitude, so that explains a lot.
We didn't do much because we've had a few problems. First of all, I had some pretty bad days with my head. Then we had taxi problems – regular taxis are for 4 passengers and we had to book Uber most of the time – and sometimes they wouldn't come at all. We were there in May 2017.
High altitude alert!
Bogota is 8,675 feet or 2644 m above sea level
The thing is: Bogotá is so beautiful, and when you actually manage to do something or see something, you fall in love. What an incredible place that is!
Colombians, in general, are great, good with kids, and the places we've been to were super family friendly. It's a great place to be.
We spent our 2 weeks in this apartment. It had enough space for 6 people, it had the most incredible washer and dryer we've ever encountered, and it had EVERYTHING. By everything, I mean everything. Stacks of paper napkins, facial tissues, toilet paper, shampoo, conditioner, new toothpaste and toothbrushes, cotton balls, even menstrual pads. It was the first (and so far only) time we've had something like that. It's close to 2 supermarkets, a bus station, and restaurants.
It's in a condo, so safe enough. Our problem with it was the noise. Once someone right above us (or beside us, we couldn't tell) had a party that lasted for at least 20 hours. It was super loud – luckily, it started after the kids went to bed. Unluckily, it was our movie time, so we had to give it up – it was impossible to hear anything. But other than that one whole day, we had no problems.
(If you're new to Airbnb, click here to receive a discount on your first booking – and we receive one too, without any additional cost to you!)
We loved how beautiful Bogota is, but we also loved its food, so today I'm gonna start with the food.
To eat in Bogota
There's ONE thing I'm telling you: Colombian empanadas aren't good. The dough is hard and yellow and chewy and yuck. Seriously.
On the other hand, buñuelos are love. They're huge round bread balls, deep fried, and with some cheese (how much cheese depends on where you buy it). Geez, it's pure yumminess. They're my favorite Colombian street food ever!
We didn't go to a lot of restaurants because we were too busy eating at the same places all the time. Such a good feeling when you find a nice place!
Andres DC
This one was our favorite by far. It was the most expensive, but the one we kept going back to it. In 2 weeks, I think we visited it 3 or 4 times.
On Saturdays, it had some crazy awesome activities for kids but they're not free (cheap, but not free). It gets really loud too. There are some guys that go from table to table singing songs and throwing confetti – it was fun. Coral and Angelo got a sash in Colombian colors. They left wearing it, it was funny. Returning to the food, the menu is HUGE and we had a lot of trouble choosing. They serve fruits for couvert – how awesome is it? And every single food there is delicious. Not that we tried all of them, but we did try quite a few. They have a lot of locations in Bogota, so choose the closest and go! We always went to the DC, in Zona Rosa. You won't regret it!
Arte Y Pasión
This was another of our favorites. We went there a couple of times. It gets pretty full around lunch time but it's still worth visiting. The kids LOVED the art on their drinks – made in front of them, at the table. Angelo tried 2 exotic coffees and loved them. They bring all the paraphernalia to the table, light a candle and boil the water, do everything there. So very cool!
Candelaria Café
We stopped by quickly there when I was starting to get dizzy again – a quick rest and something to eat never hurt. It's right in the heart of Candelaria, a cute café with pretty decent food. The tables at the front are glass containers filled with coffee beans! The snacks were pretty good and the coffee was top notch! I don't even like coffee, but this one was good. I mean, Colombia has some pretty amazing coffee everywhere.
Family friendly things to do in Bogota, Colombia
The altitude caught us by surprise – yes, another lack of research by me and it made Melissa and Angelo a bit sick on the first couple of days, but after that, they were just fine. I, on the other hand, had a tough time there during our first days again, but the last week was very well enjoyed by all.
Catedral de Sal
Our first day-trip was to the Salt Cathedral. We were going to Candelaria, but our Uber driver told us there was a protest going on there. We decided, then, to pay a visit to the Salt Cathedral.
The first thing to note here is that it's in the salt mines, buried deep. You need to cross tunnel after tunnel and some pretty narrow passages to get to the actual cathedral. It's pretty impressive, and even though we're not religious, we saw the beauty in it.
It's worth visiting anyway – though it's not in Bogotá, but in Zipaquira, a 30~50 minutes-drive away.
There's the cathedral, the water mirror, some impressive carvings, light show, and a tiny mining town looking souvenir shop. Pretty cool.
Museo Botero
As I said the last post, Botero is a Colombian artist. He donated several of his work and many artworks from his personal collection to many museums across Colombia. It's pretty cool, and the kids LOVED his style. Even the objects, like guitars and forks, are chubby. Awesome thing. The hand at the entry is a whole other thing, huge, and so Botero.
Zona Rosa
We roamed quite a bit there because we went there to eat at Andres DC. Haha. Well, once we went just to see the neighborhood but a super heavy thunderstorm started out of nowhere, so we had to spend around 4 hours inside a mall – with nothing to do. The most useless time we've ever spent somewhere. We couldn't even go to the movies because they were all dubbed in Spanish.
But anyway, Zona Rosa is a cool neighborhood, with amazing restaurants and funky shops. It's pretty and many of the pedestrian-only streets are delightful. Traffic in the area is one of the heaviest, though.
Candelaria
This was my all-time favorite place in Bogota. Candelaria is the center, where the museums are. We went there the first time on a Wednesday and there were loads of streets closed to car traffic, offering a great and safe place to walk around.
The buildings are beautiful (some are a bit too old and falling apart, though), the vibe is great and it's made to be walked. Incredible place. We revisited several times just to walk around and have coffee at the Arte Y Pasión.
Supermarkets
We did our groceries in 2 supermarkets: Exito and Jumbo because both were within walking distance from the apartment.
Exito
It was the first one we went to. We bought quite a lot of things and the cashier lady did all the work, including packing. She put too much stuff in each bag and most of them ripped. She didn't care and kept on cramming stuff in the ripped bags. When we asked her for some spare bags to repack our stuff, she complained, gave us 3 extra bags and said they're trying to reduce plastic waste so they can't do that. We had a 10-minute walk home with ripped bags, holding them like babies.
(We do have one shopping bag, but one isn't even close to enough when we go to get food enough for a week)
Jumbo
This one is bigger, a bit farther away but it's got more variety and they didn't make us walk home with ripped bags, so we preferred this one. It's inside a mall, though the mall is quite dinky.
The price was pretty much the same on both, so we just walked a bit longer to not receive nasty looks when we asked for more bags. Though we learned our lessons and took our day packs empty to the supermarket to carry our stuff – at least the heavy stuff.
Tattoo
Dr. Calavera Tattoo
We chose it randomly. We were walking on a street and there were 5 studios, one next to the other. Angelo entered that one, so I went along (as I can't speak Spanish haha). We got our tattoos done quickly and nicely. Mine was even drawn on the spot, so cool. We loved it. It was the most expensive in South America (except for Brazil) but very worth it. The crew was awesome all the way through. We loved it.
Hospital
Fundación Cardioinfantil
To be really honest, I didn't think it was a hospital for adults, but on the website, it said it was, so we went. I was having some really bad days so we decided to go.
We were directed to a huge line, where people were receiving IV drips on the floor, some sad stuff. But then, when we were to give passports and all, they directed us to the fancy part, where we had sofas and a food cart, TV, and all that. It was the perfect timing to talk to the kids about inequality and why we must work to change it. We spent 4 hours there, I had another head CT, blood tests, consultation with a very strange ER doctor but then, with 2 very young and yet incredible neurologists. They asked me lots of questions, did lots of tests, and well, it was pretty complete. We left with a recommendation for Vestibular Therapy and an MRI – I never did any of them. It was a lot more expensive than in Bolivia. Thankfully, we have travel insurance to cover it.
What wasn't fun was that Angelo had to go back twice to get my test results: once because it was already closed (it was 5 pm) and I needed to sign an authorization for Angelo to collect it.
Uber Fail
When there are taxi protests, Uber drivers don't work. There isn't any taxi that takes more than 4 passengers (most limit to 3) so we always had to use Uber. It happened once, on a Sunday, and we were stuck at home, waiting for the Uber that canceled our drives every 5 minutes.
Then one day, we asked for a car and after many cancellations, one guy accepted but he kept going around and around – for over an hour. We were waiting patiently, but man, it was enough. We canceled and were charged the cancellation fee but after a complaint, it was returned.
It happens, so if you need Uber or a bigger car, have patience because you'll need it.
Or better yet, get the number of a few drivers on your first days and call them ahead of time to book a tour with them – they don't guide you if you don't want them to. Just drive you and wait for you, if you want them to.
Climate
It rains a lot. It was the wet season, and it rained every single day. Sometimes, a drizzle for a few hours, but sometimes, it was scary. It was also chilly. So chilly at times, but when the sun was out, it could be nice and warm!
This was our time in Bogotá, Colombia, with kids.
I wish we can return there sometime, to enjoy it better and eat our way through.
We loved it, even though it was rainy and chilly.
SaveSave
SaveSave
https://www.worldtripdiaries.com/wp-content/uploads/FEAT-bogota.jpg
287
815
Thais Saito
https://www.worldtripdiaries.com/wp-content/uploads/wtdlogo.jpg
Thais Saito
2017-07-18 16:53:36
2019-08-12 16:34:00
A travel guide to Bogota, Colombia, with kids