Tiahuanaco (Tiwanaku), La Paz, Bolivia, with kids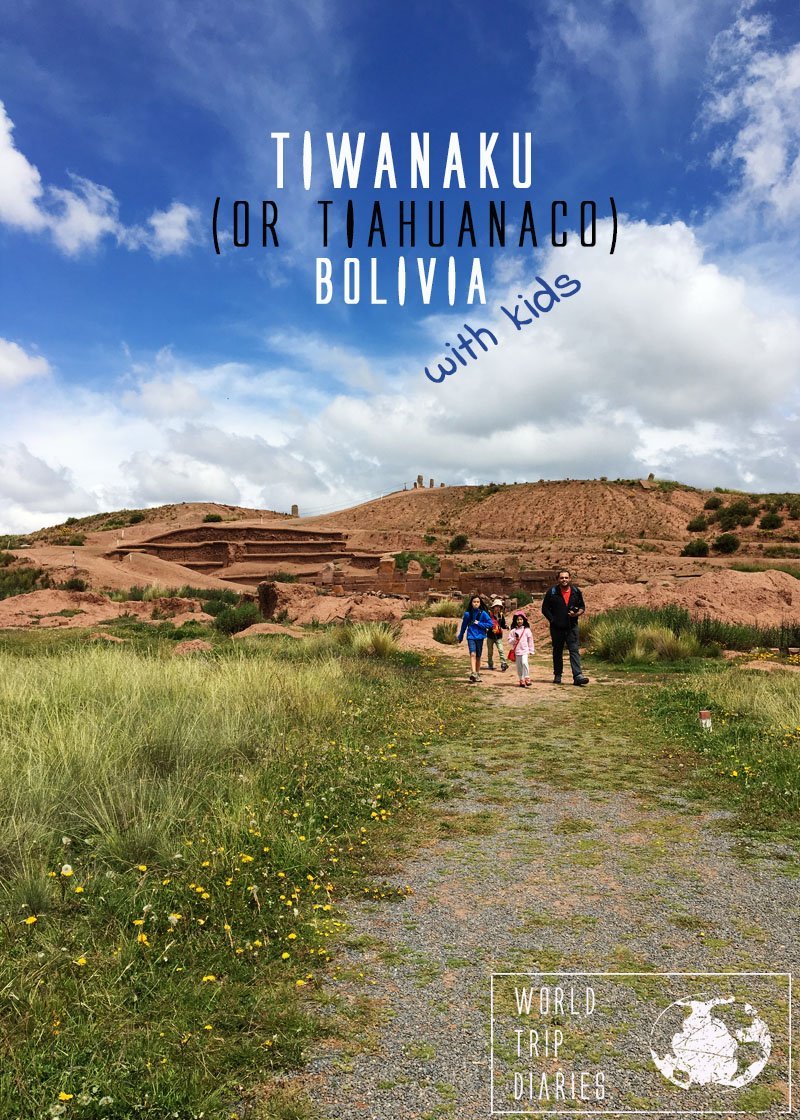 High Altitude Alert!


Tiahuanaco (or Tiwanaku) altitude: 3850 m or 12.631 ft above sea level

We visited the ruins of Tiahuanaco (or Tiwanaku) in April 2017. It's a UNESCO World Heritage Site, full of amazing stuff to be seen. It's a great day trip from La Paz, Bolivia!

We contacted Diego, from Ar-bol Toursn and he arranged the whole trip for us. We paid 1050 BOB with the entrance, lunch, transport and guide included.
He told us that he'd pick us up at 8 am, so we left home a bit before 8 and he was already there with our guide, Angela. He introduced us and led us to the 5-seat taxi. Very safely, we entered it (it was 8 people – Angela rode the trunk) and we left. He also handed us our sandwiches and Cokes.

This taxi thing is VERY ordinary in Bolivia. We rode regular cabs ALL. THE. TIME. There was no option for a larger cab and, honestly, we thought it'd be safer to ride together than to take 2 cabs.

The taxi drove us to a stop near the Cemetery, where we took a van. We entered it and waited for – seriously – 1 hour to leave. It kept waiting and waiting for more people to arrive. It finally decided to leave when Angelo (the husband, the guide is Angela) got impatient and went to ask.
The drive to Tiahuanaco was fine, it took around 1 hour. The van did stop everywhere to collect more people and to let people off, but I fell asleep and didn't see half of it.
It stopped in front of the Archeological Museum and we left the van. Angela went to buy our tickets while we went to the loo in the museum. It's free and it had toilet paper AND soap (great!). She soon arrived with our tickets and we headed to the archeological site.

Angela then told us a bit of the place – it was the center of the Tiahuanaco empire. They left it and the Incas came and started using it. Then the Spanish came and destroyed everything. We were very impressed with the detail of the information she was able to give us, and her English was very good.

The first thing we saw were the llamas. There were 4 llamas just hanging around and it was the first time we saw them so close. Cute things, they don't smell. Apparently, they have to be closed up at night because there are foxes in the area.

She led us to the first site: the pyramid of Akapana. Only it's lower levels survived through time, but it's still impressive. It was our first pyramid encounter! We were able to climb it and see the site from there. It's amazing how perfect everything is. Everything is divided by 7: the pyramid had 7 tiers, the bricks are divided into groups of 7, and it all matches perfectly.
Angela showed us where things probably were before in great details and we were able to picture it – how stunning it must have been. Sad that it's not the way it was.

The underground temple is one place the kids (the younger 3) loved to explore. It's an open rectangle on the floor, with many protruding carved faces all around the walls. Some faces are very deteriorated but some are pretty intact. Angela showed us the alien face that brought discussions about ETS building the site. The kids LOVED it.
In the middle of the underground temple, there are 3 monoliths with symbols carved on them. Each symbol has a meaning and the position (one hand on the heart, the other on the belly) is supposed to bring maximum connection to the Gods. All the statues there are in the same position!

Kalasasaya is an open temple, but it's above the ground. It's said to have been an observatory, and it's where the Gate of the Sun is. The surrounding walls of this place are my favorite place there. So beautifully laid. Unfortunately, almost everything was destroyed and nothing is in its original place. It's still used by the people to celebrate the solstice, which is an amazing thing. This area has quite a few monoliths – and you can't get close to them anymore because people were carving their names on it.

We also passed by the supposed cemetery and walked around. We saw some wild bunnies and lizards, black moths, and many different and sacred plants. Angela was really a great guide, she knew everything.

At the exit, there are 2 stones with holes on them. They were used as sound amplifiers. Angela told us to stand around 15 meters away and went to them. She then told us to listen to what she was saying and we could barely hear her screaming from there amidst the crowd noise. When she bent down and talked into the hole on the stone, it was like she was talking right in front of us! So clear and loud, amazing! The kids then went to try it. They were a bit shy and tried it very quickly but they were very impressed.

The tour through this site took around 2 hours.

We went to have the sandwiches given by Diego and neither Melissa nor I liked it, so we only ate the chips we brought from home. The rest of the party, though, enjoyed it. While we were eating, some stray dogs came begging for the food and some of them actually managed to get bites from Coral's sandwiches. She did enjoy feeding them – and luckily, there were mine and Melissa's sandwiches to be eaten.
Having room temperature Coke is something we just can't get used to.

The second part of the tour were the 2 museums.

The first Museum, the Archeological Museum where we saw some of the artifacts recovered at the site, like pottery, clothing, tools. There was even a mummy and some food preserved the way it used to be done (and in some places, still is).
The second Museum was the Museo Litico Monumental, where the huge monolith is. It's full of carved stones and it has some incredible pieces of rock with the connecting parts – the parts they carved to make one rock connect to the other. So perfect!
No photos are allowed inside the museums, so we have none.

By then it was after 2 pm and it was time to leave. We headed to the van, not passing by the handicraft marked because we can't really carry anything else in our bags, and waited. We waited for around 20 minutes until it decided to leave, and luckily, the driver stopped at Pumapumku temple site.

Pumapumku is a bit separated from the Tiwanaku archeological site and it's a bit more like lots of pieces, stone bricks, decorated parts were placed there to be shown. I was still amazed at how perfectly they were able to carve those huge stone blocks – they're incredibly symmetrical, smooth, and beautiful.
We only had 15 minutes there, but it was enough to see most of it. It's worth the visit because there are some things that are different from the main site.

Our drive home was more of the same, with lots of stops to pick people up and let people leave.

Angela told us about the places on the way, a bit more of history, lots of culture. She dropped us off at home and then headed to her house. It was João's birthday and he wanted to visit the ruins, he was super happy and satisfied when we got home, so mission accomplished.
Tips
– Hire a guide. They're fairly inexpensive and they can give you an incredibly better idea of the places and things you see. Since there isn't much information on the local, we'd have left it pretty unsatisfied if it wasn't for our guide. We loved Angela, she spoke great English and was super nice. You can hire them on the spot, but you can also book a tour beforehand. Don't forget to tip them if you think their work was worth it!
– The town is pretty small and there's not much there but, according to Angela, the stars there are worth being seen, so maybe spend a night at the hotel there?
– It's even higher than La Paz (3,850 m or 12,600 ft above sea level), so make sure you're acclimatized before you go otherwise you won't be able to enjoy it, as it's 2 hours of walking amongst the ruins.
– The buses and vans stop A LOT until they're full, so don't use them unless you have enough spare time.
– There's one small restaurant there. We should've eaten there as Bolivian food is usually pretty good.
– The ruins are real ruins. It's not all pretty and organized and well kept like Machu Picchu, so don't expect it. In some aspects, it's even more impressive. I am still amazed at the perfection of the details.
– Take water to the tour and take your rubbish home or dispose of it in the bins.
– Wear sunscreen and dress warmly!
– The place can get pretty crowded, so go early on or late in the afternoon. We had around 5 large groups there with us and it was noisy and hard to take photos.
– There's no toilet on the site. Use the museum before entering the site.
– Take a raincoat – you never know.
– It's close to Lake Titicaca, so maybe touring the whole area is a better idea than going to one, then going to the other.
All in all…
It's an amazing site, deserves to be visited! Lots of it isn't as preserved as it could've been, but it's still so rich in culture and details!
We'd probably like to have had some more time around, so maybe spending a night there would've been a good idea.
It's sad that we'd never heard of it before we were there, though.
Melissa (13) hated it, she doesn't really like ruins. João (11~12) loved it a lot and he was super interested in all the details Angela could give. José (9) didn't really mind, he was impressed with some stuff but mostly indifferent. Coral (almost 5) loved running around the place, seeing the wild bunnies and moths but didn't really have the patience to listen to Angela.
I believe it was a great day, full of learning!
Have you ever heard of it before? Let us know in the comments!
SaveSave
SaveSaveSaveSaveSaveSaveSaveSave
https://www.worldtripdiaries.com/wp-content/uploads/FEAT-tiwanaku-bolivia-pt.jpg
287
815
Thais Saito
https://www.worldtripdiaries.com/wp-content/uploads/wtdlogo.jpg
Thais Saito
2017-05-30 17:02:09
2019-08-12 16:40:21
Tiahuanaco (Tiwanaku), La Paz, Bolivia, with kids