Things to do in Kochi, Japan, with kids
One of the most beautiful places to visit in Japan, Kochi prefecture is breathtaking and full of incredible things to do. Most places aren't YET very popular, and full of off-grip amazing tourism spots, you'll not regret having visited it. So here's our Things to do in Kochi, Japan, guide, with kids.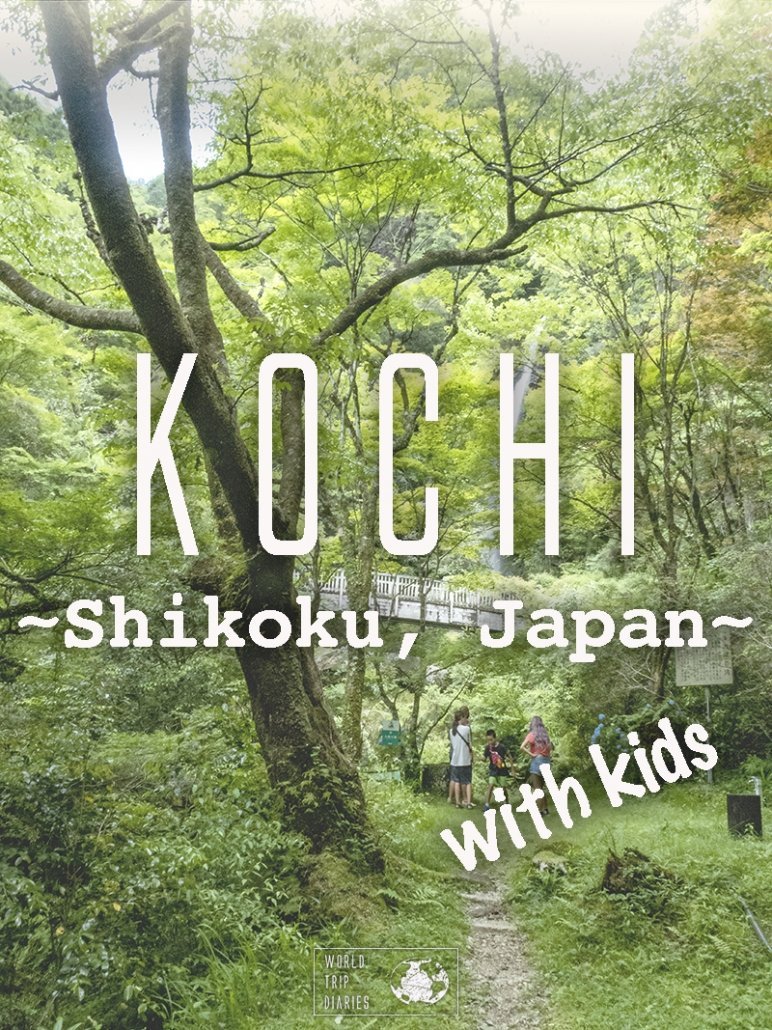 * this post contains affiliate links – they don't cost you anything but give us a small commission
** a little warning: this is NOT about Kochi in India. It's about Kochi Prefecture, Japan.
Where is Kochi, Japan?
Kochi is in the island of Shikoku. You can drive there, as the island is accessible via bridges, but you can take a ferry – it's an OK ferry trip.
Among the many things to do in Shikoku, Japan, visiting Kōchi prefecture is a must.
Where to stay in Kochi
We chose to stay in this house, in the Ino Village. It was AMAZING. Just across the street from one of my favorite places in the world, Niyodo river, it's the best Kochi, Japan, accommodation.
If you're new to Airbnb, grab your discount here – for your first booking!
The house is a traditional Japanese house, with many tiny buildings in it. There's the living/room quarters, then the old kitchen + shower, the toilet is separate, and the actual kitchen is in another building. It's all very close together, a few steps from each other. Imagine a house with open hallways. That's it.
It's lovely because it's super well ventilated but it's Japan, so you're supposed to put on shoes to go from one room to the other, then remove them before entering the new quarters. That's the only annoying thing.
The owner, Ono-san, lives downstairs, and he's a great guy. He has many tips! If you book there, don't miss the dinner option, as it's just superb! We were welcomed to a most delicious feast, with seared bonito, a delicious salad, and just the best food ever.
You do need a car, though. There's no way around it.
Kochi, Japan, things to do
Kochi ken, Japan, is HUGE, And since Shikoku doesn't have the bullet train network, it's a little harder to travel all around it. Even by car, it's near impossible to see it all in a week. Find below what to do in Kochi, Japan!
Niyodo River (Niyodo Blue)
Let's start with my favorite of the Japan tourist attractions, the amazing Niyodo river. It's this incredibly river with clear-blue waters that are just to die for, hence the nickname Niyodo Blue. It's one of the most beautiful rivers we've ever seen, and we live in New Zealand!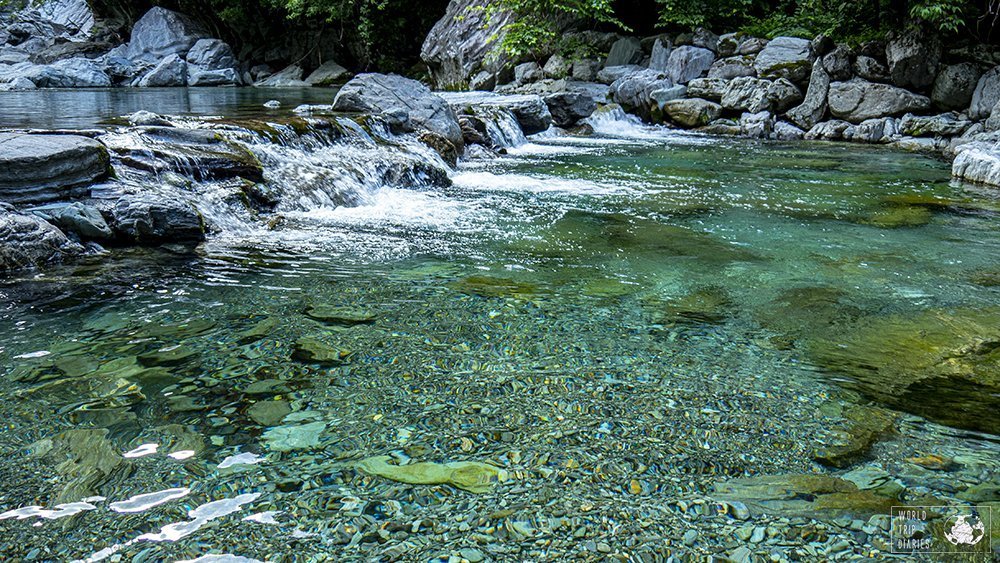 It cover Nakatsu Gorge, Yasui Gorge and Ino Town, and it has many, many streams branching from and onto it. It's just wow.
So many stunning bridges, around, including the submersive Nagoya Bridge, which appears when the tide is low and submerges when the river is full. Cool thing.
Nakatsu Valley
This area is one of the most popular spots of the Niyodo river. It's worth a stop. There's a little shop with a few parking spaces, and you can walk around the Nakatsu Gorge, which is one of the prettiest places in the world.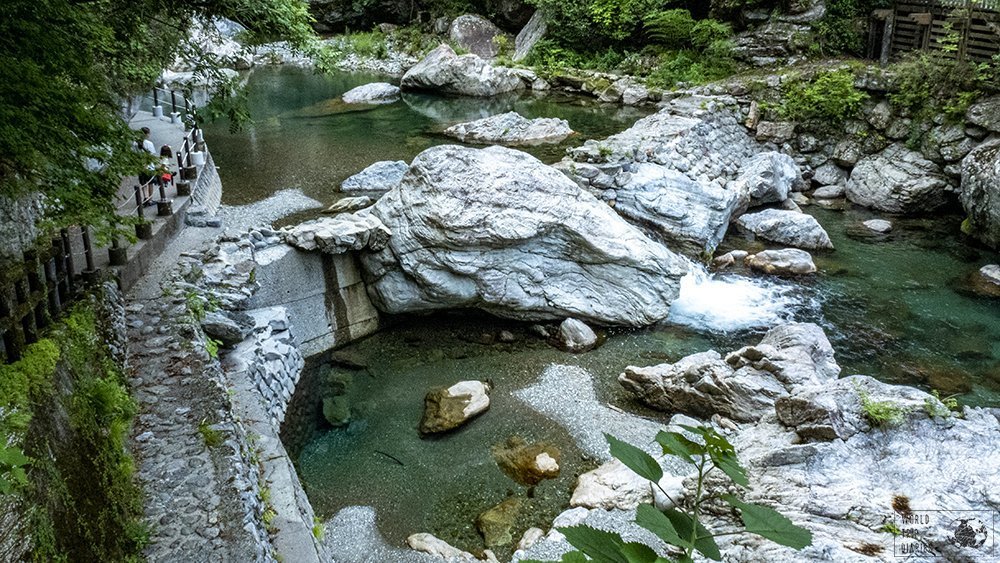 If you park at the shop, make sure to spend some money and ask permission to leave the car there. We stopped the car by the toilet on the elbow of the road, across the shop.
There's a little temple there and a few walks there too.
Oodaru Waterfall (大樽の滝)
One of Japan's best 100 waterfalls, this waterfall in Ochi-cho is stunning. It's horrible to get there. The road is super narrow, and it's beyond scary. We drove so slow I think we took around 2 years to get there. There's plenty of free parking space, but then, it's around 15~20 minutes walk to the waterfall.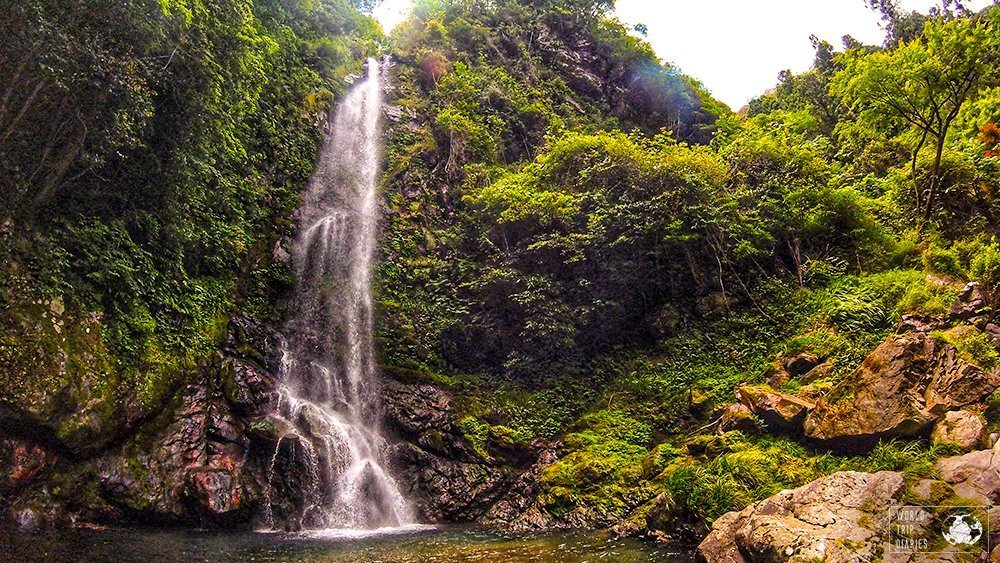 It's worth it. The path is beautiful and easy to walk (though it can be slippery some times), and it's so peaceful and wild and Japanese.
The other problem (besides the horrible road) is that there are snakes. Be noisy and they'll avoid you.
Yasui Valley and Yasui River
This part of the Niyodo river was our favorite in the world. So blue. So calm. So beautiful. Yasui River is a tributary of Niyodo River.
There are many places to stop all over the Yasui Gorge, and I can't tell you exactly where, but we found this amazing places with little terraces where we could swim and play safely. I mean, besides the snakes.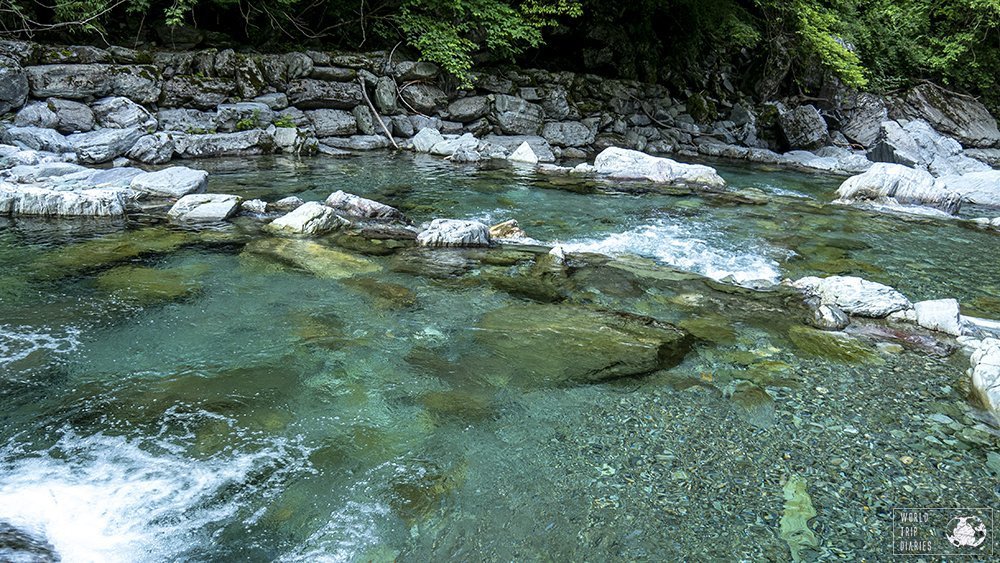 This (and the part of the river in front of the house) was the place were we spent more time – swimming and playing and just enjoying.
Drive around, stop often, wander into places – the best places are often a little hidden.
Tea farms
Kōchi, Japan, is famous for its tea. When you're there, you'll see many, many tea farms all around. They're so pretty and neat, and a little hard to imagine how people manage to work there, really.
Make sure you stop by the Sawatari Café for a bite, it's delicious and local, and the view is stunning.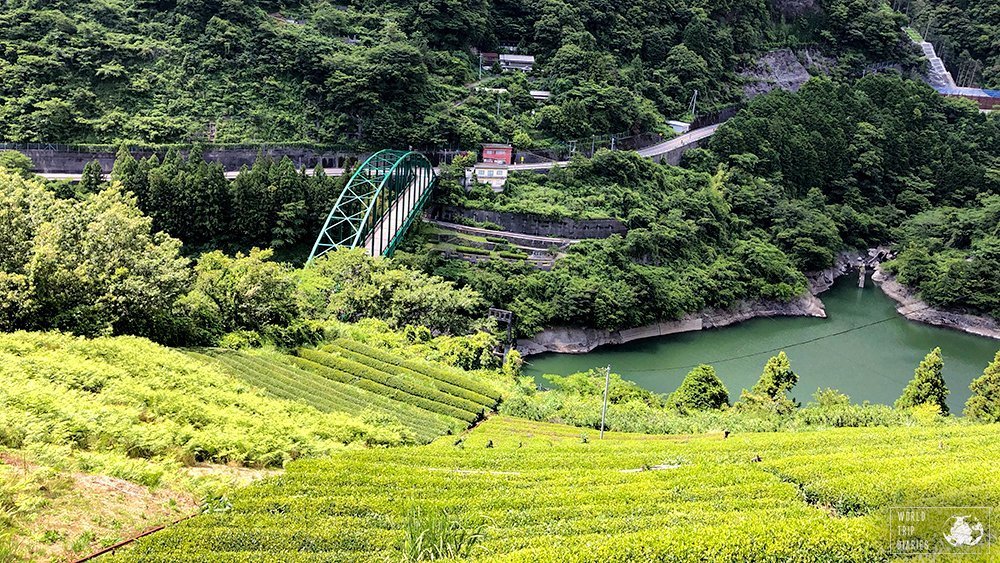 Kochi Castle
This castle is one of the few castles in Japan that survived until now from the Edo period. It's beautiful, yes, but the inside is a little empty and sad.
You need to take off your shoes to enter, and there are lockers at the entry (free). The entry to the castle costs ¥420 for those over 18. Kids up to 18 years old go for free.
Opening Hours: from 9 am to 5 pm (last entry is at 4:30 pm)
Closed from December 26 to January 1.
Access: Parking is available (paid). It takes around 25 minutes walk from Kochi Station. The Kochi-jo Mae station (for trains) and Kochi-jo Mae stop (bus) are just in front of the castle.
Hirome Market
This market is to visit when you're hungry. Mostly a big food market, it smells so good. But then it's a closed space where people smoke, so if you have anything against smoke, avoid. We entered and left in 10 minutes due to the smokers.
It was sad, as there were many things we wish we could eat.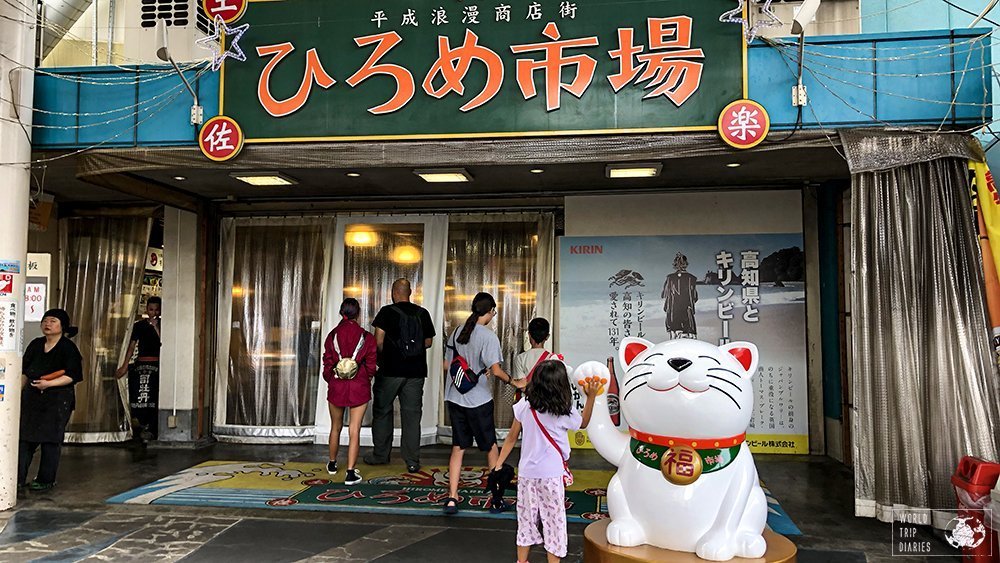 Obiyamachi
This shopping arcade is cute and full of pretty things to buy, and delicious looking food to eat. Do visit it between 9 am and 5 pm, because otherwise things are closed. And if you plan on eating, go from 11 am to 2 pm or after 5 pm, otherwise, restaurants are closed.
It was the first place in Japan where we couldn't find a ramen shop. We really felt like having one and there was none. Lots of udon, soba, and fish places, though!
Tosahamono Distribution Center
Japanese knives are so good. They're sharp, and they last a life time. This is an awesome shop selling all things that cut: scissors, knives, and other sharp tools (some we couldn't even tell what they were for).
There's a huge variety and it's pretty cool BUT everything is in Japanese and the people there didn't speak any English, so go ready for it.
If you're thinking about renting a mobile internet in Japan, click here or use the code WTD10 at the payment page to receive a 10% discount with Ninja Wifi!
Other things to do in the Kochi Prefecture
Below are some of the things we wish we'd had the time to see, but didn't. For more info on them, check the Visit Kochi Japan website!
One of the biggest Shikoku points of interest were the beach. Apparently, the water temperature is always mild – around 25ºC (77ºF) – and we really wish we'd gone but we didn't manage. It was too far away (over an hour drive) and we had a lot we wanted to do around the river, so we had to cut a lot of our list out.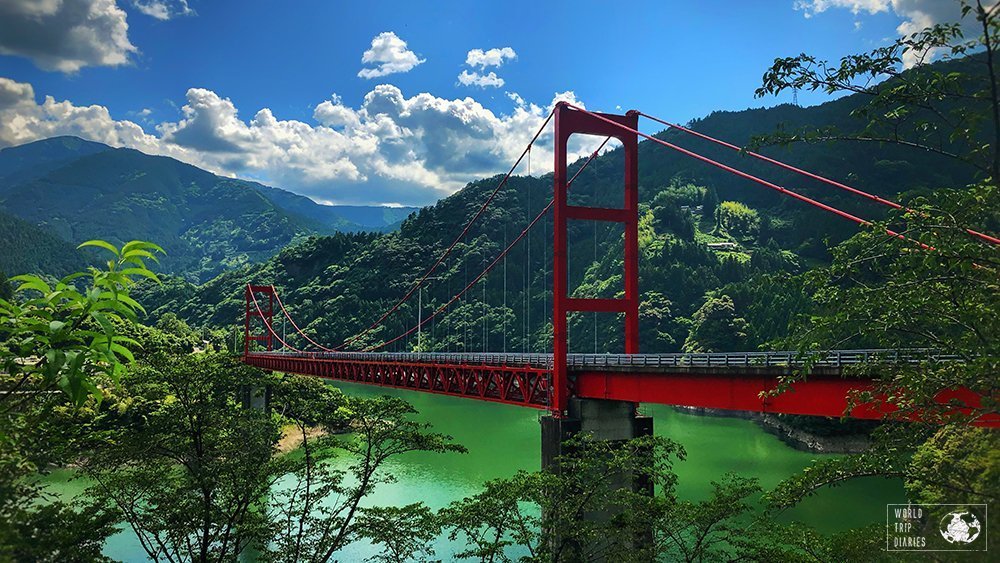 Whale Watch Usa Shiokaze Park -We considered going, but decided against. Well, Japan isn't the most whale-friendly country in the world, after all. But this is one of the most famous Kochi (Japan) attractions.
Tatsukushi Marine Park – impressive marine life and beautiful waters!
Muroto UNESCO Global Geopark – incredible rock formations at the beach!
Kochi Travel Plaza – This is the tourist information center, and they also have a few movie sets where some Japanese shows were shot. A really cool place to find out more about Shikoku tourism.
Ryuga Caves – archeologically rich caves, with many artefacts from old civilisation and many stunning natural formations. It's one of the most famous Kochi tourist places.
Kure Taisho Market – a complete tourist market, with many things going on – you can even buy some knives there!
Shikoku Karst Cape – one of the best places for star gazing and peace in Japan.
Shimanto River – one of Japan's last clean rivers, apparently. We were happy enough with Niyodo and didn't even consider detouring. But… it looks really beautiful!
Sugi no Osugi – 2300 year old trees joined at the roots. It says it brings luck if you cross between the roots (it's tall enough for a person to cross standing up).
What to eat in Kochi
While you're there, try out the local specialty, Dosa Inaka Sushi. It's not a restaurant, it's a type of sushi mainly made out of vegetables! In some places, you can have a truly authentic and vegan sushi experience, while in others they use fish stock or some bits of fish mixed on the rice. Look around and find one that suits you!
Other local food is the bonito. Seared bonito is everywhere and it's delicious and fresh!
To finish it, what to see in Kochi, Japan
Well, the biggest appeal in Kochi is the nature. The blue rivers, the mountains, the sea. It's all just incredible. If you want a taste of an off the beaten path Japan, this is your best choice. It stunned us, it took our breath away, and we are in love. It's now one of our favorite places in the country. 
Subscribe to our Youtube channel and find out every time we post a new video!
City / Country

Minimun Stay
$ ~ $$$
Child-friendlyness
Best local transport option
Safety
Do we recommend it?
Kochi / Japan

2 days
$$
Very child-friendly!
Car
Super safe – except for a few snakes and boars
A lot!
https://www.worldtripdiaries.com/wp-content/uploads/feat-kochi-japan-kids.jpg
287
815
Thais Saito
https://www.worldtripdiaries.com/wp-content/uploads/wtdlogo.jpg
Thais Saito
2019-09-04 17:07:13
2019-09-04 21:21:16
Things to do in Kochi, Japan, with kids