Fukuoka city is the capital of Fukuoka Prefecture. It's in the Kyushu region of Japan. It's off the tourist track, so if you're looking for something different in Japan, Fukuoka may be the perfect place for you! Find below the best things to do in Fukuoka with kids!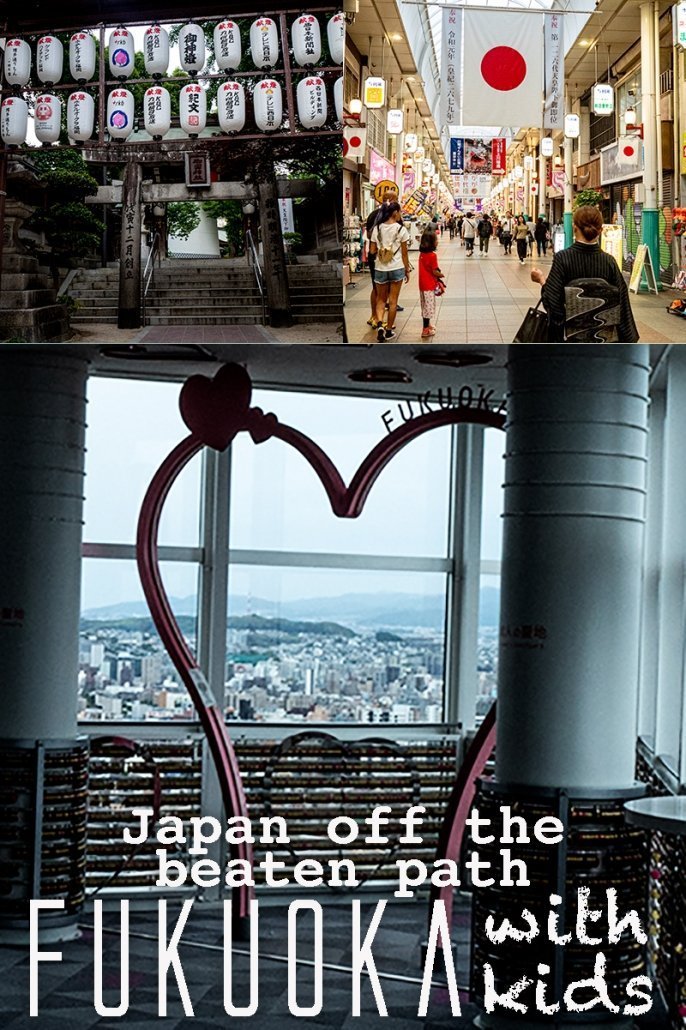 * this post contains affiliate links – they don't cost you anything but give us a small commission
Fukuoka Travel Guide
In the Kyushu region of Japan, Fukuoka is a Capital, therefore, it's a relatively big city. Nothing like Tokyo, or Osaka, but big enough to have whatever you need and a little extra.
It's a plain ground, not many hills, and mountains, which makes it a great city for long walks and for cycling.
If you're thinking about renting a mobile internet in Japan, click here or use the code WTD10 at the payment page to receive a 10% discount with Ninja Wifi!
Where to stay in Fukuoka
We rented this Airbnb in Fukuoka.
It was a nice apartment, in Hakata, with a perfect location. It's super close to Canal City (a huge, huge mall), the food stalls, incredible restaurants, and so much more.
But you can't cook in the house – which is weird, considering it's one of the main reasons why people actually do rent houses instead of hotels – and the beds were super lumpy and uncomfortable.
If you're new to Airbnb, grab your discount here – for your first booking!
We've also spent a night at the Fukuoka Green Hotel 1 (they have 2 hotels), which is super well located. The breakfast bar was delicious, really. The only thing is that we booked smoking rooms by mistake and, they put us in rooms that were on opposite sides of the hall, which is pretty inconvenient. Oh, and their parking lot is for cars under 1.55m (5 ft). Find out their latest prices here!
Places to visit in Fukuoka, Japan
There aren't many tourist attractions in Fukuoka, Japan, but most of them are free. Check below what to see in Fukuoka.
Hakata Old Town
Even though Hakata is a pretty cool and newish neighborhood, the Old Town is old-school and so Japanese. With beautiful shrines and temples, and arcades filled with shops that have been passed on from generation to generation, it's definitely worth a trip.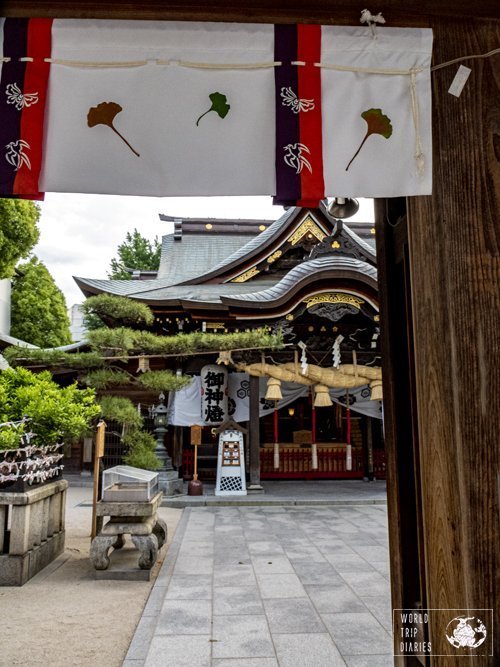 It's all free to wander around – unless you want to stop to eat something (highly recommend it) or shop a little. It's one of the best things to do in Hakata, for sure!
Canal City Mall
For those wanting some air conditioning bliss, do some shopping, or even eat something nice, this mall is a good place to visit. It's huge, it's super confusing to find yourself at first, but it's a very complete shopping mall.
If you just want to wander around the area, take your time. There is the lovely Donguri no Mura (the shop that sells Ghibli things), Sanrio store (Hello Kitty things), Snoopy shop, Jump shop, Uniqlo, and so much more.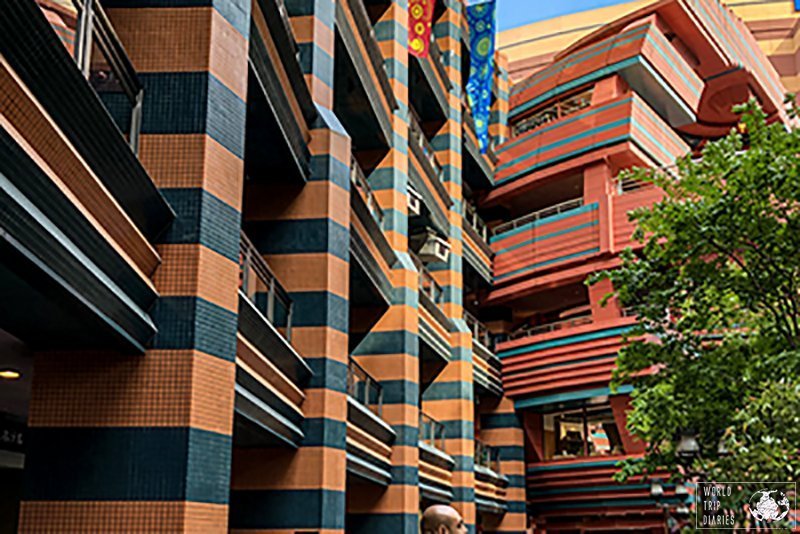 I suggest you stop by the cake shop on the first floor to get yourself a really good choux cream pastry. YUM!
Seaside Momochi
This cute little place between Fukuoka Tower and the sea is just that, really. Cute. It lacks on excitement, I guess. It has a few restaurants, diving schools, marine sports rental shops, a church, and that's it.
BUT it's by the sea, which means: kids can play around and let off steam. It's a great little place to relax a little.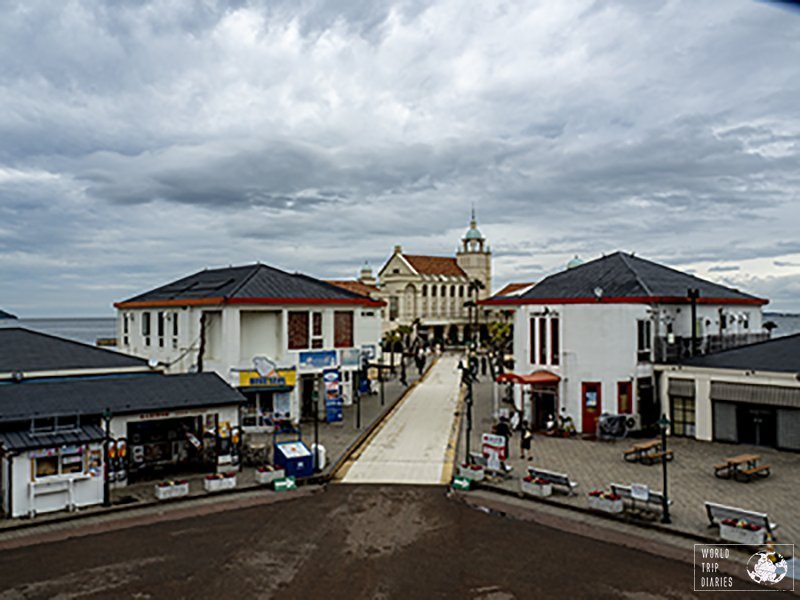 Fukuoka Tower
We visited Fukuoka Tower and we actually went to the top. It's something we usually don't because we want to take photos WITH the iconic towers, not from them. But this time we did.
It's the tallest tower on the seaside in Japan (very specific), and it's 234 m (767 ft) high.
A few tips for those wishing to see Fukuoka Tower: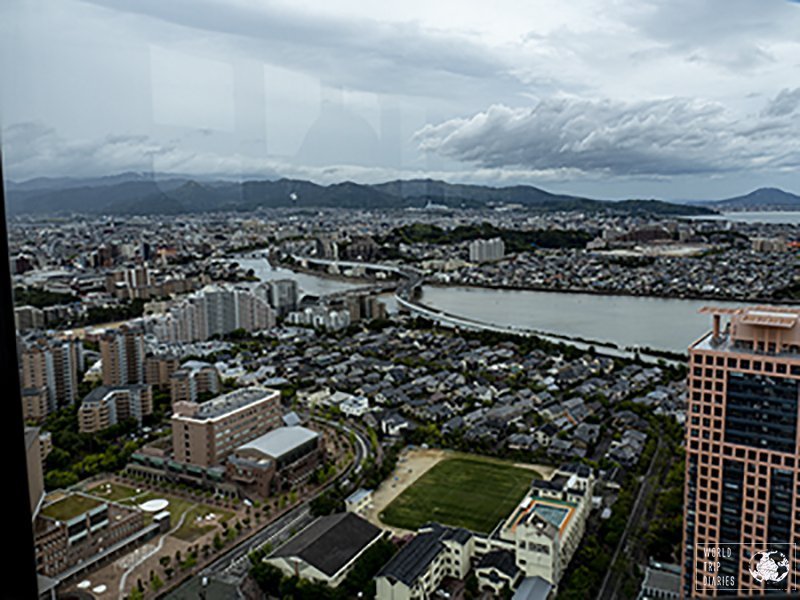 Visit it in time for sunset. Then you'll have the view of the day time, the sunset, and the night time.
At night, the floor in some spots light up, which is cute.
There are 2 floors open to the public, and they're pretty much the same.
There's a little video simulation going on – when we were there, it looked like an alien ship crashed with the tower and it was fun.
For the kids, there are stamps to collect. You grab a little info paper and they have all the places to stamp.
There are also many, many money wasting ops, like future telling, capsule machines, etc.
You receive a little photo for free when you visit. It's a Fukuoka Tower postcard with a little photo of your group, which is fun. You can buy bigger, better stuff, if you want.
In front of the tower, there's this phone holder for selfies. It's in the exact angle to capture the whole tower and it's actually pretty handy. Be prepared to line up, though.
The parking lot gives you 2 hours of parking for free if you pay to go to the observatory! Take your card with you when you buy your entry.
Fukuoka Tower Prices (2019)
Adults (16+) ¥800
Kids (6~15) ¥500
Pre school kids (4 and 5 year-olds) ¥200
Under 4 – go for free
Grab your tickets with a discount here!
Fukuoka Museum (Ghibli expo)
We rarely go to local museums because they're too much alike, but this time, we had a reason. They were having a Ghibli expo and we had to see it. It'll be over in July, so head there quickly or wait until the next location is on!
The museum in itself is free and it's actually pretty cool! We loved the old-style-cover-the-whole-wall map of Fukuoka and it's an actually pretty kid-friendly museum. There's even a little part near the entrance for kids to try their hands at various activities.
The parking there is also free, but only for who's visiting the museum.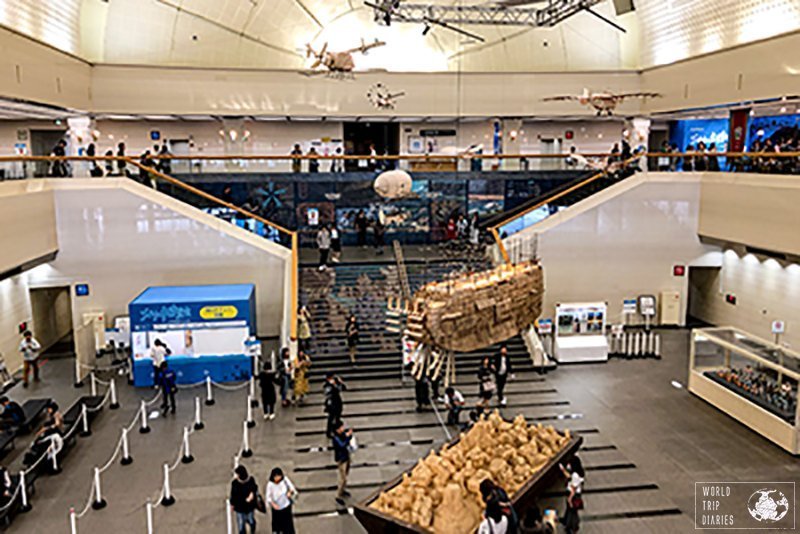 Nakasu Island
This is the place to go if you want to try some Japanese street food. At night, the little stalls come up and fill the whole little island.
I say island, but it's actually in the city and you can cross on foot – it takes around 10 steps. Seriously.
You can see the whole list of yatai (stalls) here!
Beware, though, that people do smoke a lot. We avoided it because a few of our family members are quite sensitive to smoke.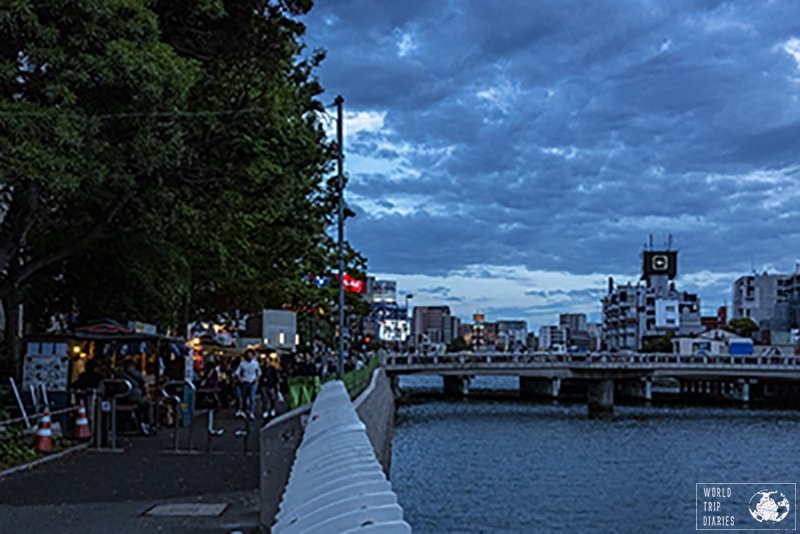 Hakata Machiya Furusato-kan
We didn't visit it because we just couldn't fit in our few days there.
BUT it's supposed to be a house, a shop, and a place to try your hand at various experiences. You can see people doing traditional arts and crafts or you can even try doing some.
Furusato-kan prices (2019)
Adults (16+) ¥200 entry fee
Kids go for free
*Experience fees are not included in the entry fee.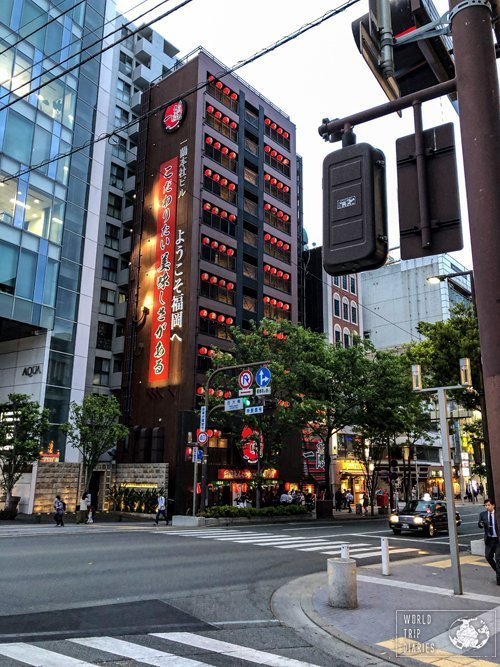 Fukuoka Castle Ruins and Ohori Park
The castle isn't there anymore, only the ruins. We didn't go to see it because we couldn't park the car. It was seriously difficult. We gave up. It was a very bad weekend to be in town because there were big concerts, sports events, and everything going on. Everywhere was crowded and it was seriously hard to be a tourist.
We rented a car because we'd have such a short time there – and it actually made it worse.
Wisteria Garden
If you're in Fukuoka between mid-April to mid-May, you may have the chance to see this beautiful wisteria garden.
Depending on the flower blooming conditions, there may be an extra fee, on top of the entry fee, but it's sure to be a beautiful, beautiful thing. We missed it by 2 weeks, and it was that sad.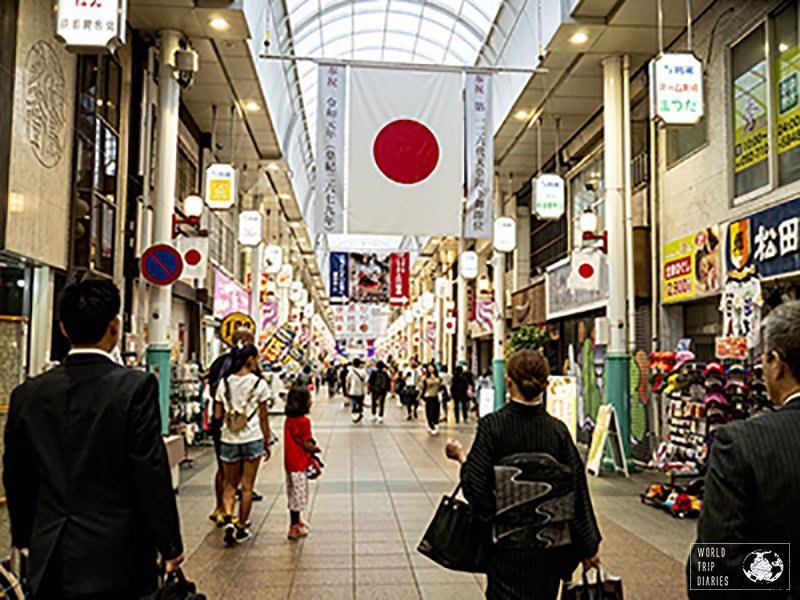 Try out Hakata Ramen
This was the only food we had on our list to try in Fukuoka, and it didn't disappoint.
We found this shop that sold the ramen for ¥280, and it was great! It was one of the cheapest meals we've had and it was delicious.
It was on Kawabatadori (Kawabata Arcade), and it was a super simple shop, full of locals. Great place to eat!
The ramen had thin noodles and it was lighter than the usual ramen. The soup was rich in flavor but not that much fat, which made it perfect!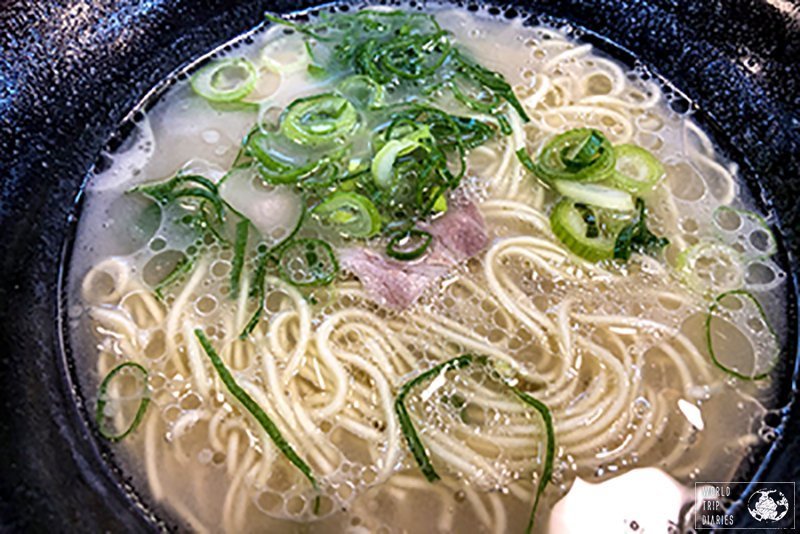 Public Transport in Fukuoka
It's quite easy to use the public transport, as it is in Japan as a whole.
The local bus from Hakata to Tenjin costs only ¥100 and it's one of the cheapest options. The Nishitetsu 100 line is a very good for sightseeing – as it goes near most of the tourist spots!
Is Fukuoka worth visiting?
This is a super hard question. I mean, which place in the world isn't?
We liked Fukuoka, but it didn't have anything that really stood out for us. It's not something we'll remember always.
If you're looking for a place to visit in Kyushu, then it's a good off the beaten path city, for sure.
Great if you're looking for a real-life Japan feel, if you just want to see how life is outside the big centers. It's nothing out of this world or super unique, but it has tits charm and the street food definitely deserves a stop!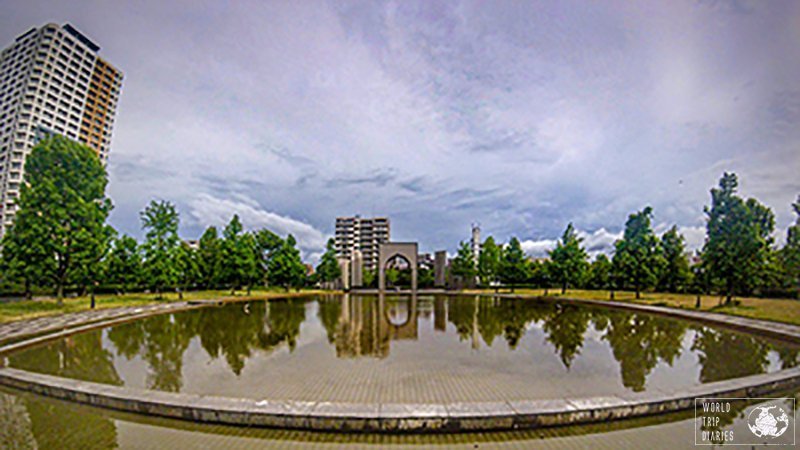 But it's a place you can see in a very short period. I'd say in one or 2 days. So use your JR Pass and hop in and out!
To finish it…. The best of Fukuoka with kids
It's one of the cities you need to visit while in Kyushu.
We liked it, but we need to come back with a little more time when it's not that crowded.
Parking is very expensive there, so if you rent a car, make sure your accommodation offer free parking – and check the parking lot height limits too, as a lot of them have ridiculous height limits.
City / Country

Minimun Stay
$ ~ $$$
Child-friendlyness
Best local transport option
Safety
Do we recommend it?
Fukuoka / Japan

1 day
$$
Child friendly enough
buses!
Super safe
If you have the time…
https://www.worldtripdiaries.com/wp-content/uploads/feat-fukuoka-japan-kids.jpg
287
815
Thais Saito
https://www.worldtripdiaries.com/wp-content/uploads/wtdlogo.jpg
Thais Saito
2019-06-17 02:16:05
2019-08-12 13:36:53
Things to do in Fukuoka with kids