Okinawa is an archipelago on the Pacific Ocean, South of Japan. It's part of Japan, and it's a little tropical paradise in the country. In a short flight (around 2 hours) you can get from almost anywhere in Japan's mainland to these beautiful islands. Continue below to see the best things to do in Okinawa with kids!
* this post contains affiliate links – they don't cost you anything but give us a small commission
Where to stay in Okinawa with kids
There are many cheapish hotels and holiday rentals (such as Airbnb – click to get a discount on your first booking!). We always choose budget accommodation because we like to waste our money elsewhere (read: travel and eat more) and we rarely stay in enough to make it worth the money really good hotels charge.
We stayed in the Pacific Hotel, which was a lot better than we expected! The rooms were good, the beds were comfortable, the coin laundry worked perfectly.
There was even a pool (which we didn't use, but there was). Find their latest prices here!
One little tip: they have these strange promotions, offering breakfast for only one day of your stay, or the eco-package, where you get discounts for not having the bedding changed everyday, etc. Try to find a day when they offer breakfast for every day of your stay + the eco-discount.
If you'd like to stay somewhere different, find some deals below!
The best things to do in Okinawa with kids
Since Okinawa is actually a bunch of tiny islands, it's a little hard to see it all. And they're not all close to each other, so things get harder and harder the further you want to go. We concentrated our time in Naha and we had one long day driving to the north of the main island.
So, this guide will have that + the things we would really like to have done but didn't manage to.
Best Naha, Okinawa, tourist attractions
Naha is the Capital, so most flights arrive there. Take a couple of days to visit it, it's pretty cool! Below is our list of the best things to do in Okinawa with kids!
Shuri Castle (首里城 – Shuri-jo)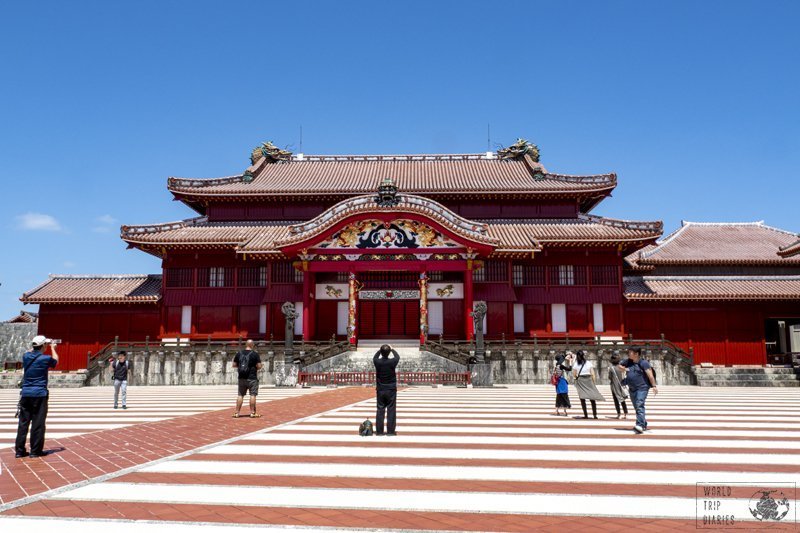 Shuri Castle was the main castle of the Ryukyu kingdom in olden Japan. The castle is STUNNING! It's not the original, as it was destroyed 4 times and rebuilt each time, but it's as close to it as it can get.
The gardens are also amazing, and it's all just breathtaking.
For the kids, there's this stamp treasure hunt. Well, adults can do it too. If you collect all stamps, you receive a sticker sheet and a special gift (for us, it was an A5 folder, cute as!).
Parts of the place are free to visit, but the best is, of course, paid. The remaining of the original castle are registered as World Heritage Site (UNESCO).
Prices are ¥ 820 (18+), ¥ 620 (15~18), ¥ 310 (6~15 years old), and under 6 enter for free. If you have the monorail 1-day pass or 2-day pass, you have a small discount, so present your ticket at the counter (don't buy it at the ticket machine!).
One tip: wear shoes that are easy to put on and take off.
Kokusai Dori (Kokusai Street)
This is where the main touristy things are. Even if you're not really into tourist-focused stuff, you should visit it once or twice. It's where you'll find the most appealing stores, the restaurants that offer cultural performances, and where you can try out most of the things you'll find all over Okinawa.
Visit Okashi Goten to try out the purple sweet potato tart (and maybe even make one)! And don't miss the shopping arcades! They're huge and they have everything. EVERYTHING!
You can even have art experiences (like making/painting your own Shisa – the lion-dog, protector of houses) there!
There's also a shop selling the local 2 best things – salt and sugar, and one shop selling the most delicious baumkuchen. You can watch them making it!
Tsuboya Yachimun Dori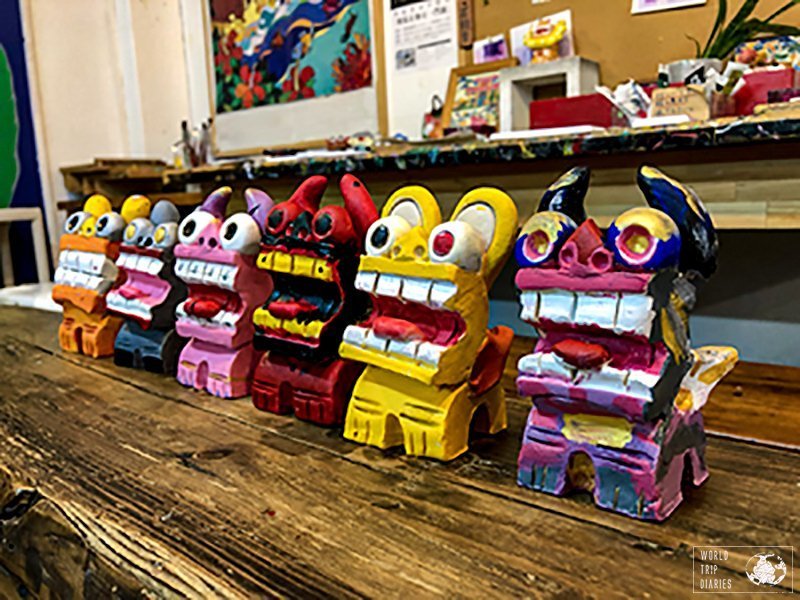 This beautiful neighborhood is the Pottery district. Even if you're not buying anything, you should take a walk around it. Also, visit the giant Shisa near the Monorail station!
We painted our Shisa there and it was so much fun! It was definitely worth it.
Blue Seal Ice Cream Factory
If the weather is bad but still hot, and you can't be inside the hotel any longer, This is it. Book online and make your own ice cream! You can arrive there and try your luck, but the workshops do fill out quickly, so you may need to wait for a few… hours.
We didn't do the workshop because we'd have to wait for 3 hours and we had a plane to catch.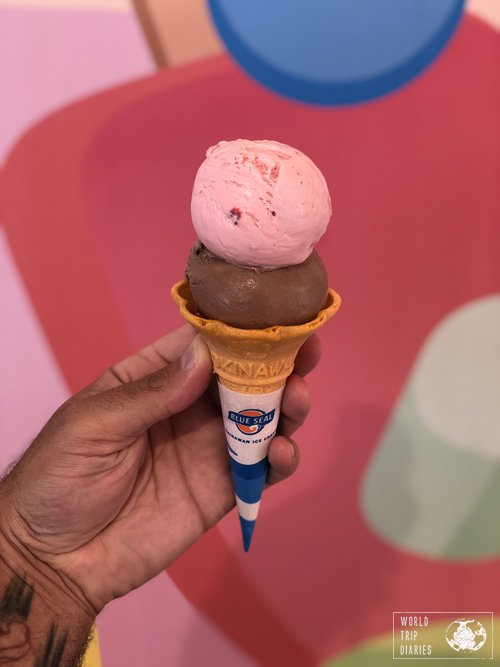 But the ice cream is quite good (though you can find it everywhere in Okinawa), and since it's Okinawan ice cream, try out the typical flavors, such as shikwasa (a mix between lemon and mandarin flavors. It's a local citrus fruit), purple yam, or the delicious sugar cane flavor.
Nami no Ue Beach
This is supposed to be one of Naha's best beaches, so we went there.
It's pretty, yes, but there's a highway over it and just beside the beach, there's the port. I don't really know how clean it can be with so much pollution coming from all sides.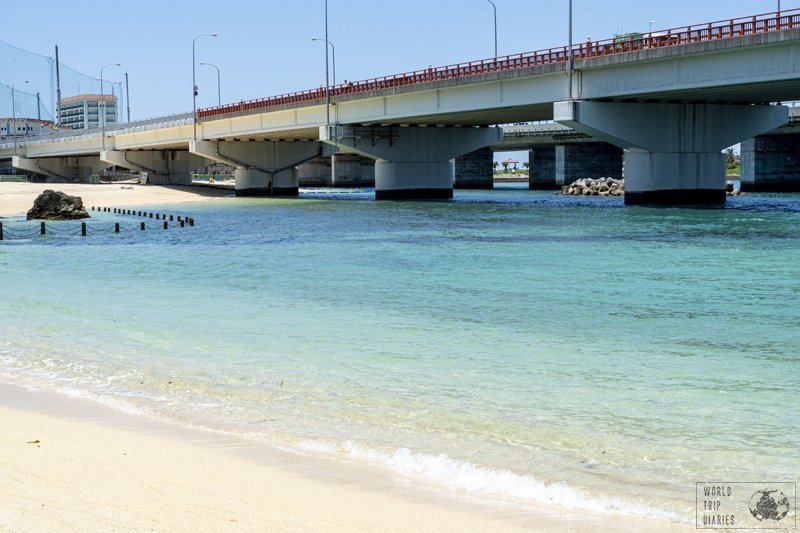 But if you have a really, really tight schedule, this beach is easily reached.
There are showers (cold, and 3 minutes cost ¥100), toilets, a little take-out food place, and rental place of all the gear you'll need. Access to the beach is free.
Pineapple House / Park
There are 2 different things: Pineapple House (in Naha) and the Pineapple Park (in Nago). We read that it had tours through pineapple plants and all, and we were kind of excited. But the tours are only in Nago (Pineapple Park) and we were in Naha.
It's around 2 hours to get to Nago (driving) and we didn't have the time.
Pineapple House is actually just a shop + restaurant with all things pineapple. It's really, really not worth the time. It's still one of the most famous Naha, Okinawa, attractions. I wonder why.
Find other cool things to do in Naha here!
A day trip around Okinawa
We rented a car and took a day trip to the Northern part of the island. Here's what we did:
Manzamou – the Elephant Cliff
We started by going to see the Elephant Cliff in Manza, Okinawa – Manzamou. It's so beautiful. The waters are so clear, you can see it to the bottom of the sea (if you have good eye sight).
BUT it's that. You go, see the elephant shaped cliff (with bored kids asking how you see an elephant), and go out. The whole thing, including the walk to and from the car park (around 5 minutes each way) took around 20 minutes.
There's Manza Beach just down the road – but we didn't stop there, so I can't tell you if it's worth it.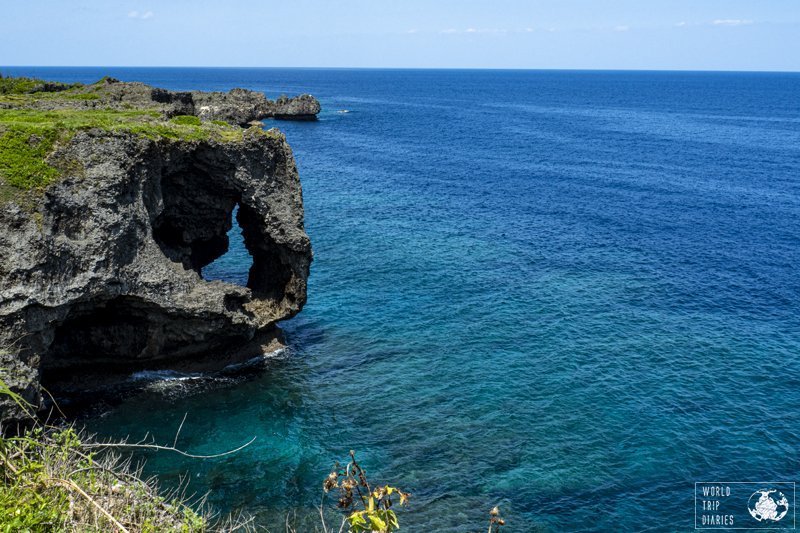 Todoroki Waterfall
Around 30 minutes after Manzamou, we saw a sign pointing out to a waterfall. As a waterfall loving family, we decided to go check it out.
Entry fee is ¥200 per adult and ¥100 per child (under 18).
What a good surprise! The fall didn't have much water since the island had been having a very dry spring, but it's still beautiful. And the grounds are to die for!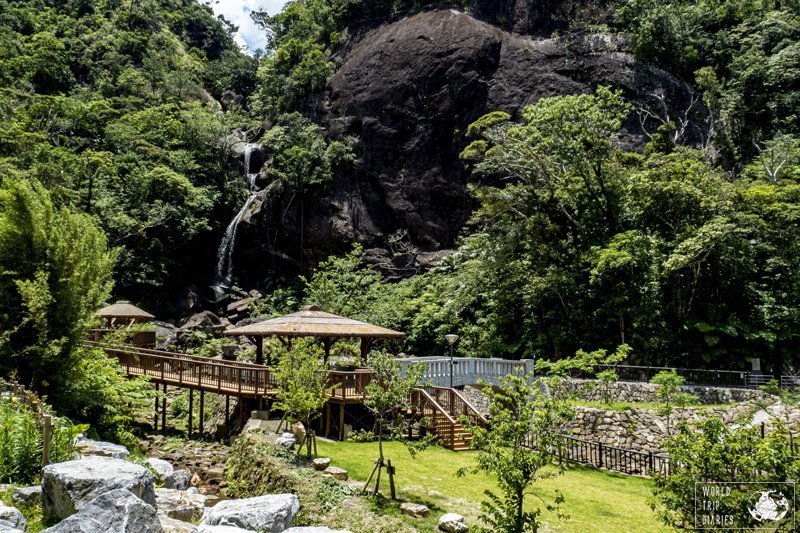 The park is immaculately kept, there was a sample rice plantation, wild boars (we didn't see them, as they didn't want to be seen), and SO MANY dragonflies! Of all colors and sizes! So beautiful.
It's definitely worth a stop. We spent around an hour there.
They have parking, vending machines, toilets, and picnic tables. Make sure you take your rubbish with you.
Sesoko Island – the best Okinawa beach
Sesoko beach is lovely, there are (HOT) showers (¥500 or cold showers for ¥300), rental of all the gear, banana boat, and all the cool marine sports.
The island is reachable by car, through a bridge.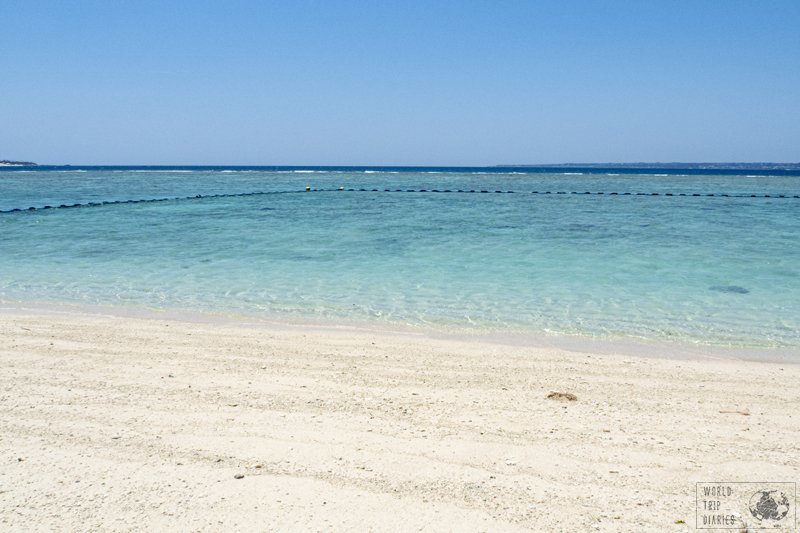 The swimming area is small, though, and all netted to keep it jellyfish-free. It's pretty cool, full of corals and fish, sea cucumbers, and all the marine cool little beings. The water was very calm and nice, very child-friendly.
Visit it when the tide is high to avoid hurting yourself on the corals or take your own floatie.
You don't NEED water shoes, but it's quite spiky on the sand. It's not gonna make you bleed to death, but it's not very comfortable.
There's a paid parking lot there too (it cost ¥1000 for the whole day).
Uppama Beach
We decided last minute not to visit this beach, seeing as we had just spent a long time on Sesoko Island. It was too close. It's said to be one of the best beaches in Okinawa, though.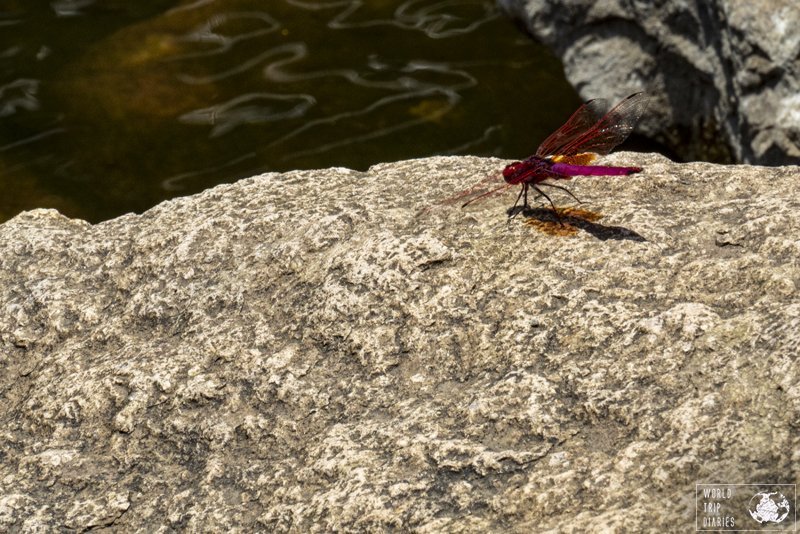 Bise Fukugi Tree Lane
I'd read that this lane was something like the Totoro tree tunnel (I'm a Ghibli fan, what can I do?) so we went to see it.
It was crazy crowded, parking was super expensive, and the lane was very short. It was 2 meters (6.5 ft) long. Seriously not worth it. Beautiful, but we decided to keep moving as soon as we saw the line of people trying to take a photo there.
Pineapple Park
We also skipped this one because we were going to the Pineapple House in Naha. Well, bad call. This one would have been much more fun.
Nakijin Castle Ruins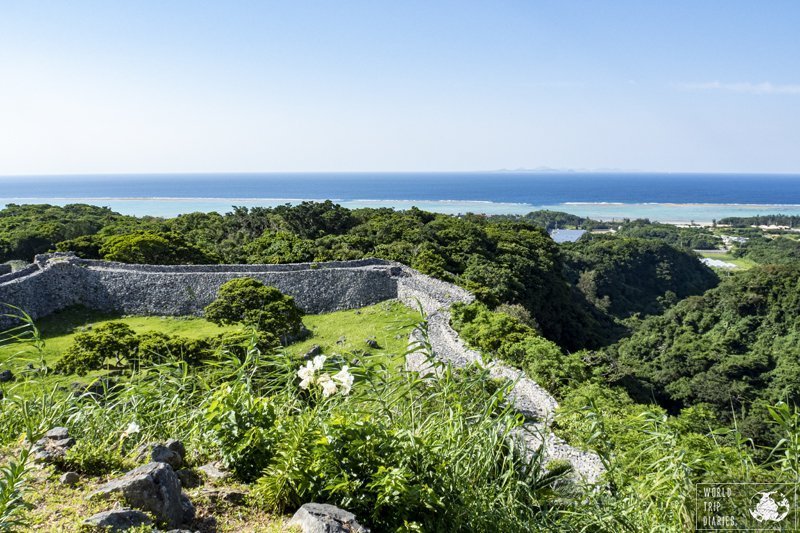 The ruins of Nakijin Castle are stunning. It's also a UNESCO World Heritage Site – and it dates back to the 13th century!
The grounds are really impressive, and even though not all of it is open for visitation, it's super worth a stop. The views are amazing and the little walk is lovely!
Entry fee is ¥400 per adult and ¥300 per child (6~18). Under 6s go for free. It includes the ruins and the museum. Parking is free.
It's in Nakijin, Okinawa, and the Nakijin Village is also quaint and pretty.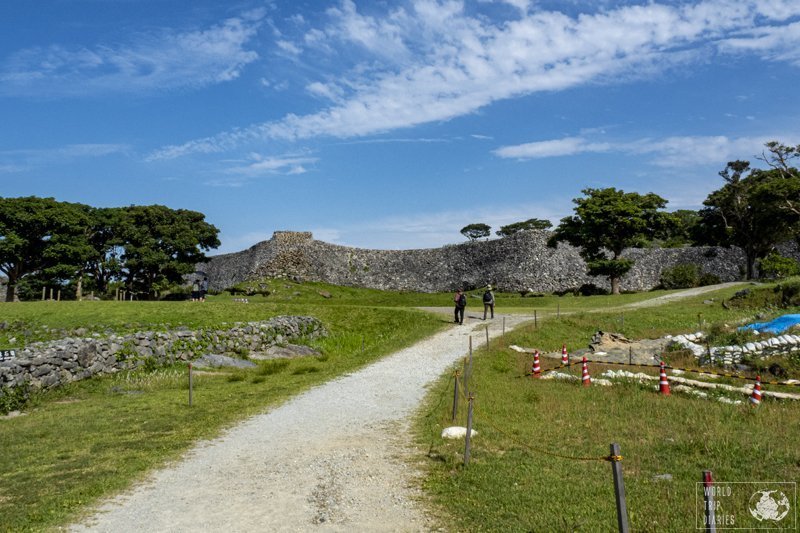 Kourijima, Okinawa (Kouri Island)
First off, you should visit it even if you're only going to cross the bridge.
You need go from Okinawa Island, cross Yagaji Island to finally reach Kouri Island. It sounds like a lot but it all took less than half an hour from the Nakijin Castle Remains.
Kourijima is a tiny island on the north of Okinawa and it's so pretty. Plus, everything is so cheap. Parking was ¥100 for a day!
The beach is a good spot to frame in a photo the super bridge, the blue waters, and you!
There's also the Kouri Ocean Tower, where you can have the best views. It was closed when we arrived there, though, so I can't guarantee 100%, but for what we've seen just passing through, it should have.
American Village (America Mura)
On the way back home, we stopped at America Mura to eat. And then decided we'd go eat at the only Japanese restaurant in the area. It was very loud and very crowded. Something like Universal Walk or the Niagara Falls. It has a Ferris Wheel, lots of American branded stores and restaurants, people busking, and all. If you like that, go take a look!
Entry is free but whatever else you do, it's paid.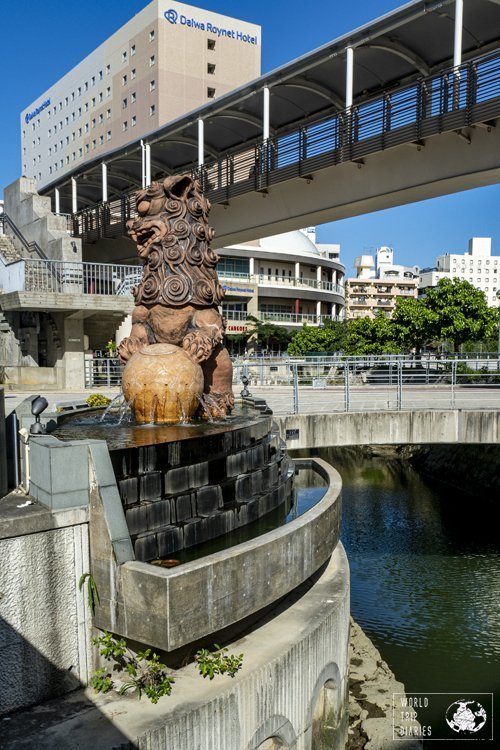 Ryukyu Village (Ryukyu Mura)
This is a theme park about Okinawa's Ryukyu kingdom. It has shows, places where you can make your own souvenirs, and more. It was also closed when we passed by so… well, no luck for us. It does look fun, though.
Churaumi Aquarium
There's also the aquarium. We started avoiding animal related attractions, so we didn't visit it.
It's one of the biggest aquariums in the world, and it's supposed to be stunning.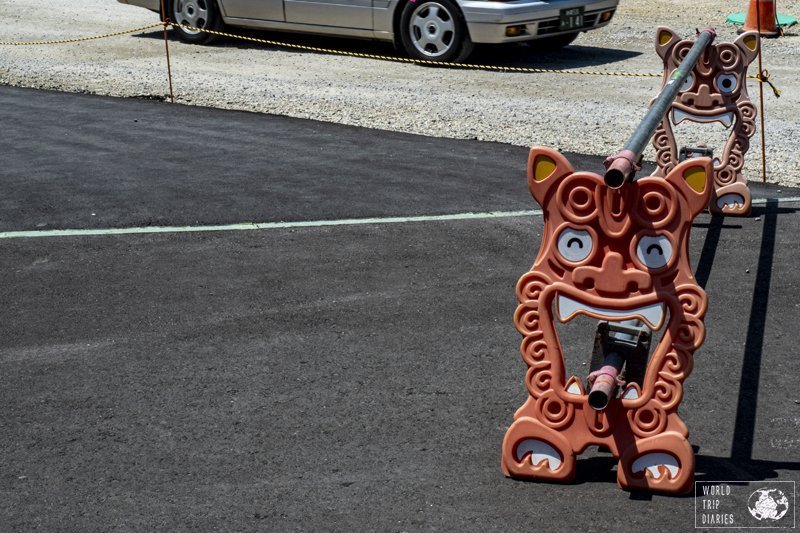 Transport
Okinawa has taxis available everywhere. They aren't really cheap, but they're not super expensive. For families, it can be cheaper to use taxis than use trains.
For big families, we found jumbo taxis at the airport, but around the city, none. The hotel also didn't know about it and we found nothing on the internet. 🙁 So the option was to walk, the monorail, rent a car, or grab 2 taxis.
The cooler option in Naha is the Monorail. It has only 15 stations and one line, but it works.
They offer one or two-day tickets, where you can travel as much as you want with one ticket. This ticket is also good because it gives you discounts on many attractions.
To go to faraway places (outside Naha), the best way is to travel by car. If you really want to avoid driving, then you'll need a tour. You can join tours from your accommodation, from the many souvenir and tour shops, or you can really ask anyone.
If you want to, you can even rent a taxi for a day – and they'll drive you around. Prices vary.
Food in Okinawa
Okinawan diet is supposed to be one of the best in the world – Okinawans have the longest longevity, reaching over 100 years easily.
The diet consists on a lot of sea food (including sea weed – have you ever eaten sea grapes?), pork (a lot of pork – the whole animal), fruits and vegetables. They're also very proud of their perfect brown sugar (and the brown sugar syrup) and their salt.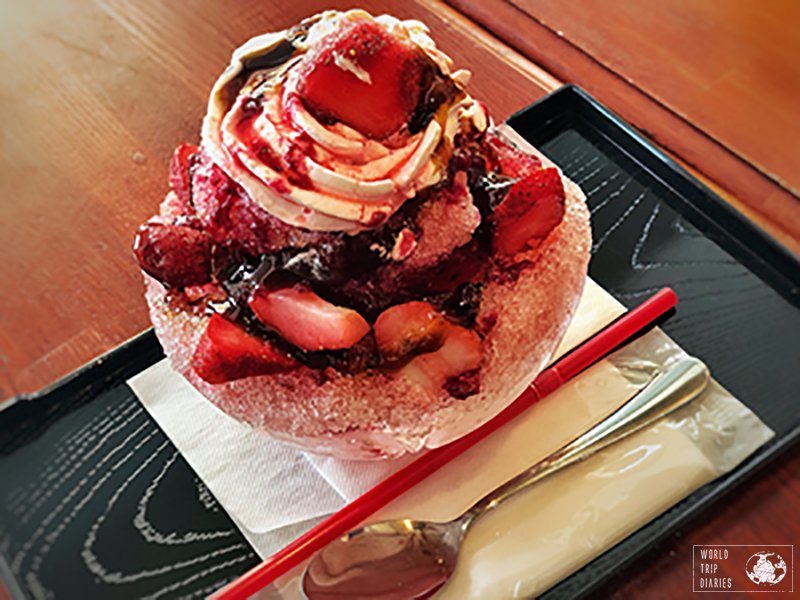 Foods to try in Okinawa
Goya Chanpuru – a goya stir fry. If you've no idea what goya is, they translate it to bitter melon. But it's not just bitter. It's medicine bitter. I didn't like it.
Purple yam tart – I actually didn't have the chance to try it, kept leaving it for tomorrow, and tomorrow, and tomorrow never arrived. You can even try making your own at Okashi Goten.
Sata Andagi – a deep fried donut-like dough. They're round, though. The kids really liked it and we bought it quite a few times all around the city. The fresher, the better.
Andasu – a miso and oil (lard, to be honest) paste that they eat with rice, or with stir fried vegetables, or even meat, and all. It's so good, so good!
Last but not least, kakikori – or shaved ice. This Okinawa specialty there has all the wonderful things in Okinawa- fruits, ice cream, ice, and more often than not, the sugar syrup. Just yum!
Best Okinawa Restaurants
I'm not gonna lie. We tried quite a few, but it was still not enough to tell which was the best restaurant in Okinawa. They were, though, all family-friendly.
Here's a list of the restaurants we tried:
Akamichi Ramen – a favorite, close to Shuri Castle. The ramen was SO GOOD and the cook there came around often to show us how to eat properly, give tips to enjoy more, and just be really nice. The kids ate a lot and we all wanted to go back badly, but we just didn't have the time.
Rainbow Coffee – it's also close to the castle. We had our first Kaki-kori (shaved ice) there. It was a mixed reaction. Half of us really loved the mix of ice, fruits, the ice cream, and the sugar syrup, but the other half preferred something simpler (and boring, I must say). Their homemade lemon soda was divine!
Han's Steak – it was the most expensive meal there, but it was so worth it. We hadn't eaten that much in ages and it was delicious. Beef, rice, soup, and salad. Yum. They have so many restaurants in all of Naha – the ones farther from Kokusai Dori are less crowded.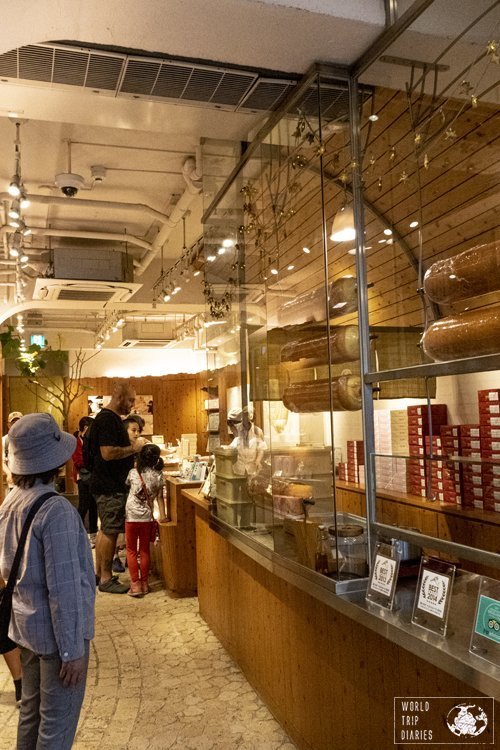 Blue Seal and their ice cream flavors! They're really good. You can even make your own ice cream, if you have the time!
Furusato – it's a restaurant on the basement level of Ryubo (a mall), just by Kokusai Dori. It serves Okinawa food. It's really, really good, albeit sounding a little strange to westerners. It's a popular restaurant among locals, so you can see it's good food there.
Yukishio Ice Cream – soft serve ice cream with various flavored salts. They have all the different salt on the counter and you pour a little over your ice cream to try them all. It's quite popular but… we didn't like it. Nor the ice cream, nor the salt. Not the mix, either.
Fukugiya – Baumkuchen is a German cake with many, many thin layers one baked over the next. Fukugiya is the shop to buy yourself a little piece of heaven in Okinawa. It's so good, so good, it's to die for. They also have little pieces for you to try before you buy. Yum. So good. So good. SO GOOD! And it's fun because you can see them making it.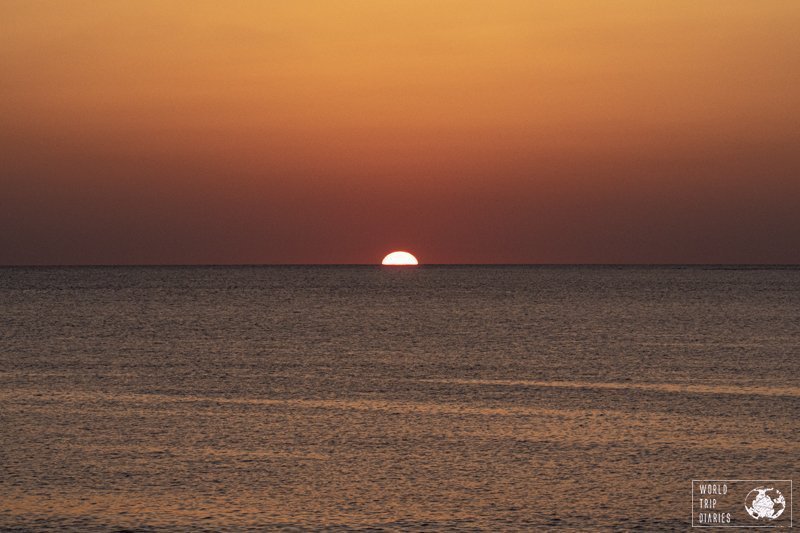 To finish the guide to Okinawa for families…
If you're wondering 'Is Okinawa worth visiting?', I'll answer: YES.
It's pretty, the beaches are beautiful, the food is good, people are friendly, and there's plenty to see and do.
If you like beaches and nature and history, that is.
Okinawa is quite different from the rest of Japan, though, and it's really a unique experience.
City / Country

Minimun Stay
$ ~ $$$
Child-friendlyness
Best local transport option
Safety
Do we recommend it?
Okinawa/Japan

2 days
$$
Very child friendly
Taxis and the fun monorail!
Super safe!
YES!
https://www.worldtripdiaries.com/wp-content/uploads/feat-okinawa-filhos-japao.jpg
287
815
Thais Saito
https://www.worldtripdiaries.com/wp-content/uploads/wtdlogo.jpg
Thais Saito
2019-06-07 17:02:45
2019-08-12 13:33:39
The best things to do in Okinawa with kids