Kagoshima is the southernmost city in Japan – except for Okinawa, of course. We visited it and had some great days there. Discover the best things to do in Kagoshima, Japan, with kids – or even without!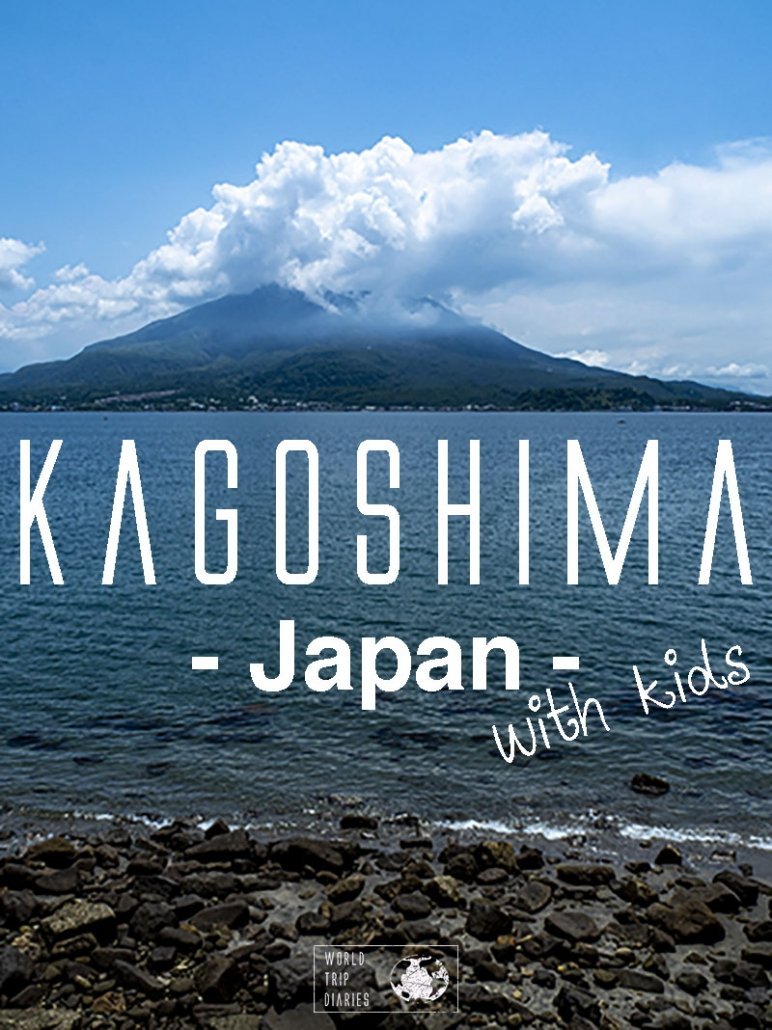 * this post contains affiliate links – they don't cost you anything but give us a small commission
Where is Kagoshima?
In the Kyushu region, it's at the 'bottom' of Japan – if you don't count Okinawa, because that's a lot more to the South, but also a lot farther away.
It prides itself in the delicious mangoes (called also as 'eggs of the sun') and the citrus fruits, it's a pretty cool and off-beat place to visit.
If you're looking for things to do in Kyushu, why not the south of Japan, Kagoshima?
If you're thinking about renting a mobile internet in Japan, click here or use the code WTD10 at the payment page to receive a 10% discount with Ninja Wifi!
What to do in Kagoshima with kids
Since it's not a super touristy place, there isn't many known tourist attractions in Kagoshima. Still, it's a beautiful place to spend some laid-back days in. And if the weather's good, rent a car and drive around!
I'm listing below our favorite Kagoshima attractions and some of the things we wish we'd done!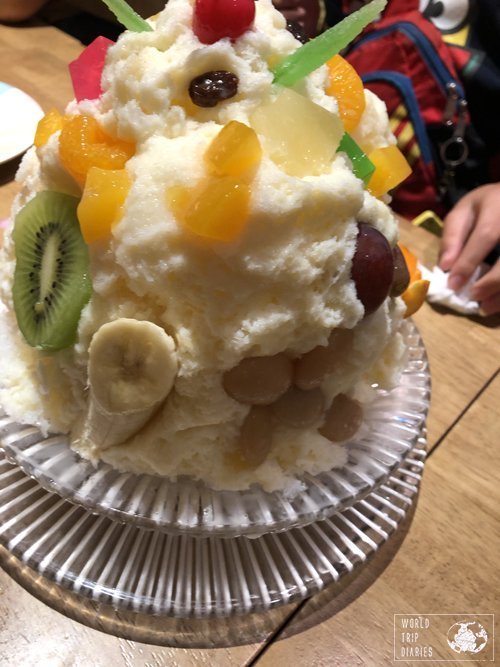 So this was in every single guide of the city, and we decided we'd try. Their main shaved ice is called Shirokuma (or White Bear) and it's a big one. But let me tell you as a story.
So we were taken to the table and given menus. All in Japanese. We chose by the photos (even though I can read) and placed our order. But no. We couldn't all share one shaved ice. It had to be one shaved ice per person or the enormous Shirokuma for 3 people. We'd had to order at least 2 giant shaved ices. So we ordered.
And it was… not tasty. It was ice with condensed milk, some fruits and… sweet potato. We didn't finish it. Well, it's one of the biggest things to do in Kagoshima city, and we did it.
This little open-air food court is in every Kagoshima travel guide. All the little restaurants are in an izakaya style and they serve some pretty good food. But it was pretty expensive, one of the most expensive places we've ever eaten in Japan.
There are many, many tiny restaurants (with space for 6~10 people). The good thing is that it was really good and there were so many delicious looking foods that it was easy to please everyone in the family.
The bad thing was that it was OK for people to smoke, and they do. And it's also small. And expensive. But delicious.
Shiroyama Park Observatory
If you want to have the best views of the city, you must climb a mountain. In the case of Kagoshima, what to do besides climbing Mt. Shiroyama?
The good (or not) thing is that you can go almost all the way up by car (or bus).The bad thing is that it's almost always as crowded as Disneyland.
But the views of Sakurajima volcano are pretty cool, and you get to see the whole city as a bonus.
Challenge: find the torii and the little castle-like building!
Wander around the arcades
Kagoshima has its arcades, and we always wander through them. It can be just a shortcut, or it can be a little break from the strong summer sun, but it's almost always nice.
Some have cool statues, cool shops, some are a little shabby but they're all worth a visit, even for those not shopping.
What we didn't do but sounded fun:
Have a sand bath
Visit the Science Hall
You can check them out on the official tourism website!
Sakurajima with kids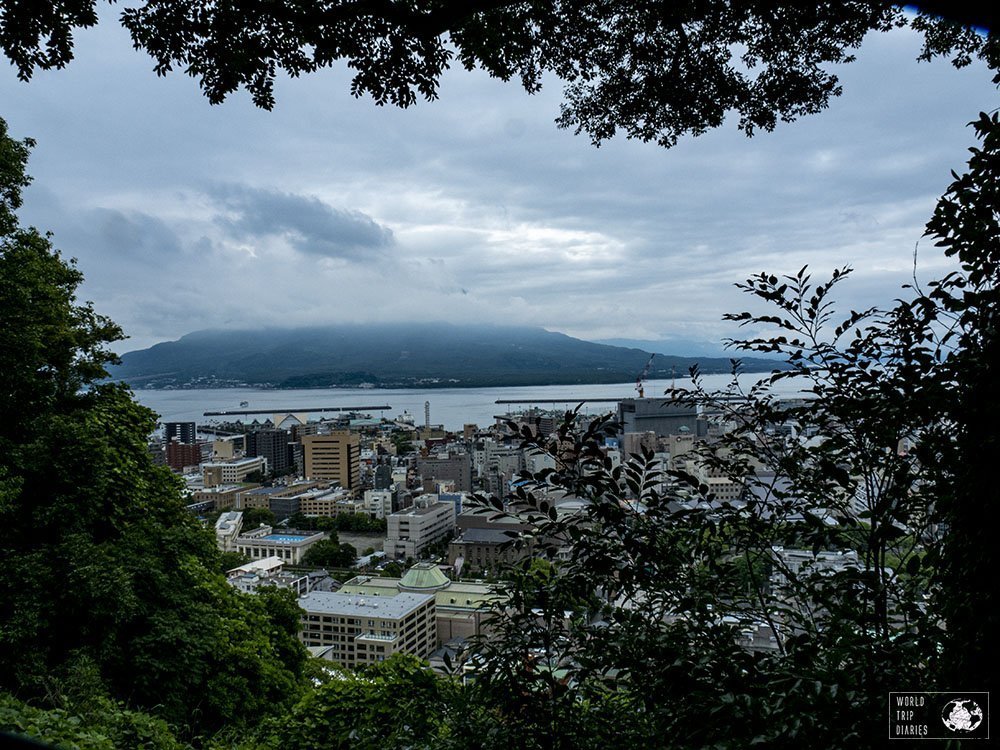 There's this island near Kagoshima, called Sakurajima. It's iconic because of the Sakurajima volcano, visible from all of the city.
Sakurajima volcano is this cute little over active volcano – it has over 100 eruptions PER YEAR! According to their information center, they had over 200 eruptions in 2018!!!
But 2019's been a slow year and it's not THAT active.
They handle these instructions that explains what to do when there's ash rain, eruptions, etc. They're funny, but useful should you have the chance to experience them.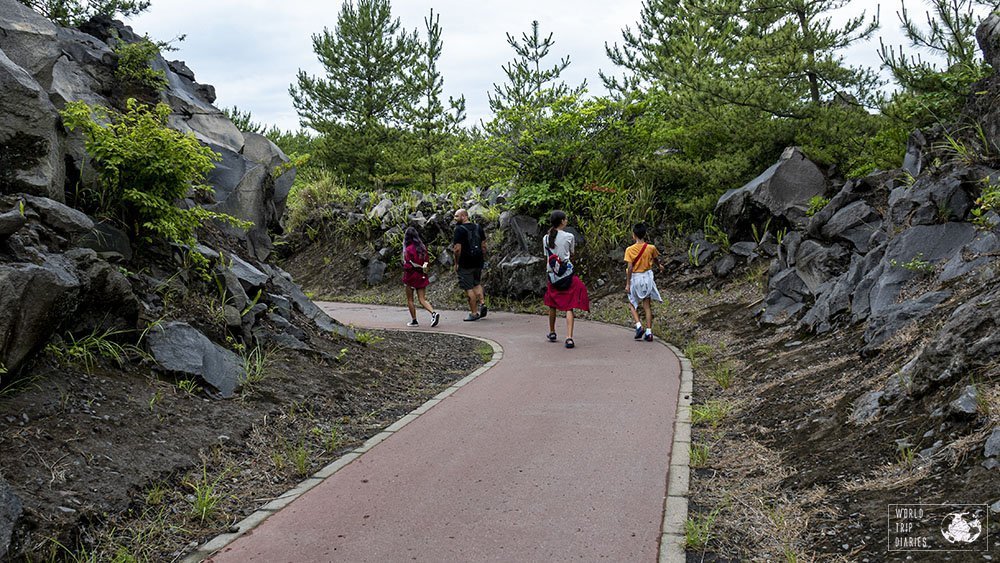 The island has many lookouts, huge lava formations and fields, farms, and more to do there. This is the best day trip from Kagoshima!
How to get to Sakurajima
You can drive through the bridges – it's a longer trip. From central Kagoshima, it takes around 1 hour through this route.
Then, you can also take the Sakurajima ferry. Though this route, it's a 20 minute trip.
The Kagoshima ferry to Sakurajima departs from the port and it's easy. They depart several times a day (once per hour, mostly) and they also have the longer, more scenic trip, called Yorimichi cruise. The scenic ferry departs once or twice per day only, so check their signs and websites for more info.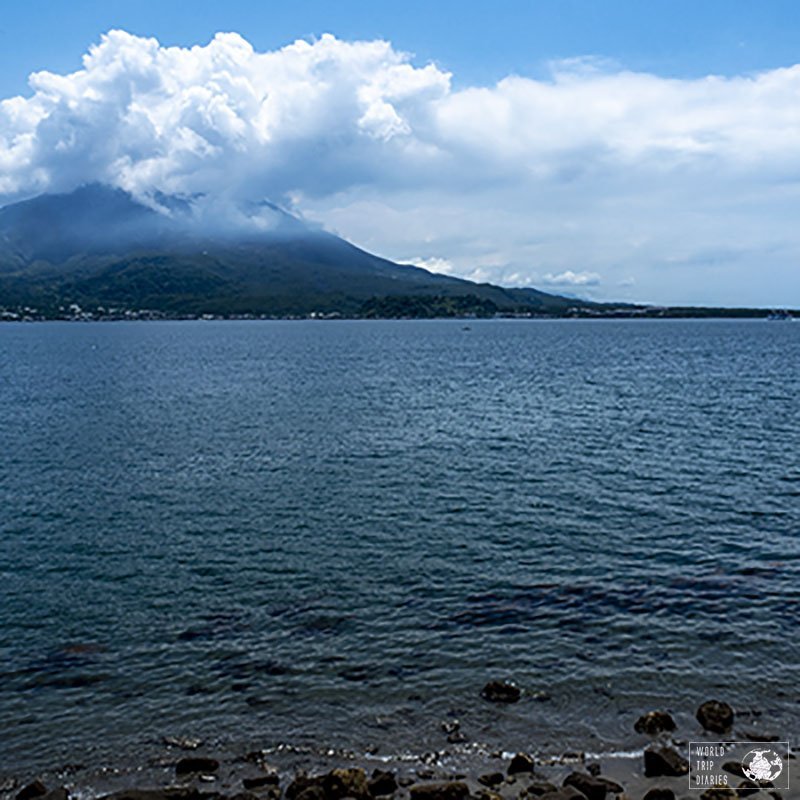 You pay in Sakurajima on arrival and departure, so it's easy and not confusing. It's very cheap, ¥160 per adult and ¥60 per child (up to 12 years old). If you take the car, it's more expensive, and you pay by car size. Ours was between 4 and 5 m long, so we paid ¥1600 for the car+driver, plus the fees for the rest of the family (3 adults and 2 kids).
What to do in Sakurajima
A drive around the whole island takes around 1 hour. With many stops, it's still easily done in a day. Find below the best things to do in Sakurajima!
TIP: if you like cats, take a few cat-friendly foods there and spread the love. There were many cats there, and they were all starving. It was quite sad. (there wasn't anything saying not to feed them in the island)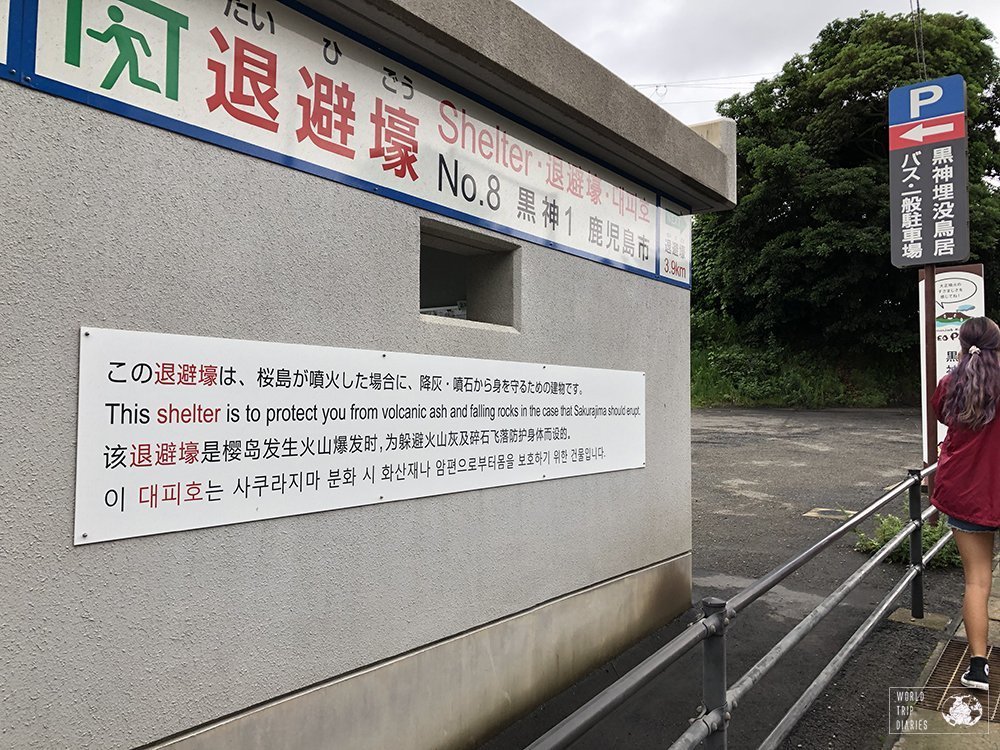 View the volcano, of course.
There are many places to see it from, even from Kagoshima mainland. I actually had the best view from a little residential street. The volcano rose from between the houses to above them, and it was smoking. But I was just looking at it mesmerised and forgot to take a photo.
So wander around and find your favorite spot.
Visit the Tourist Information Site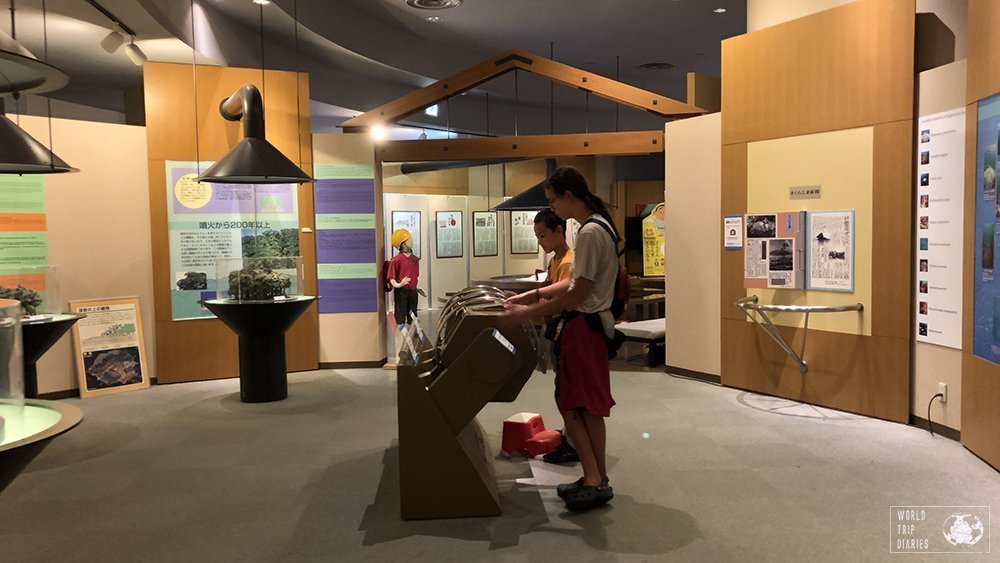 It's a pretty cool site with a tiny museum in it. We learned a lot about that particular volcano. You can also buy little things, and they had this vial to fill with volcanic sand that was tempting, but I don't think we'd be able to enter NZ with it, so we didn't buy.
And there was this little basket where the elderly people in Sakurajima leave their handicraft. You can get one and leave the money in the honesty box beside it. I thought it was cute. Make sure you're leaving enough money to be fair or don't take anything at all!
Visit a turnip farm
Apparently, the Sakurajima turnips are the biggest in the world. Harvest time is January and February!
Visit a Sakurajima mandarin farm
Opposite to the turnips, the Sakurajima mandarins are tiny! Harvest time is in December and January!
See the buried torii gate
The Kurokami Torii is just beside the school. It's a tiny path and right by the road. It's buried so deep that it'd be easy to overlook. Make sure you visit it – it does show you how scary volcano eruptions can be.
Sakurajima Dinosaur Park
Sakurajima has this playground where there are dinosaur statues (and some other random animals), and the highlight is the 50 m long dinosaur slide (164 ft).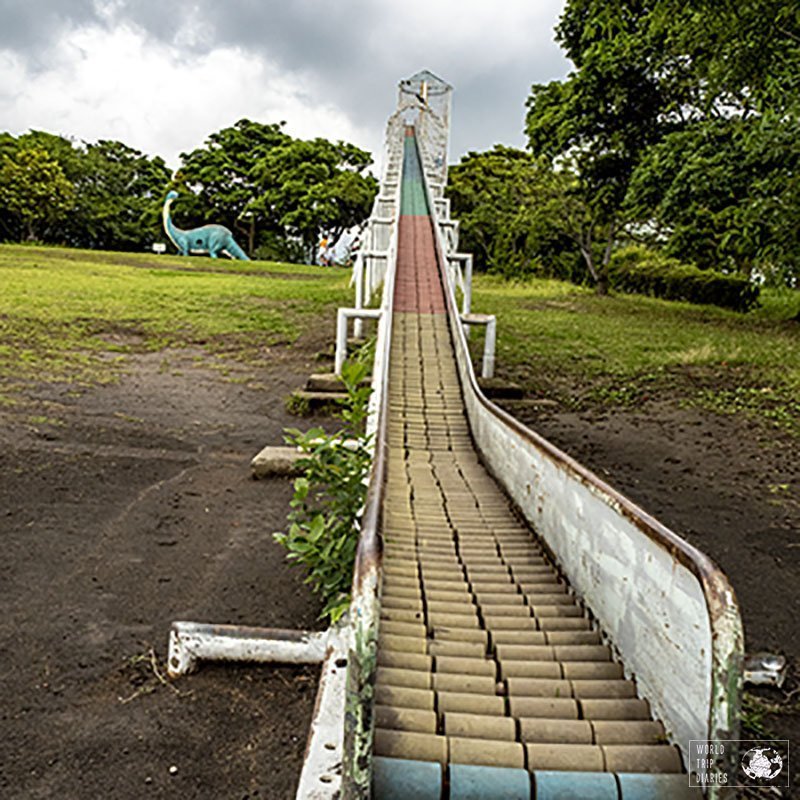 It's hard to get there, as the path is narrow, upward, and long.
The park is… OK. My kids went straight to the giant slide and they came out full of… bird poop. Funny, I couldn't stop laughing (they were laughing too) but yuck.
So, make sure you check before you slide. 😀
Akamizu Observatory Square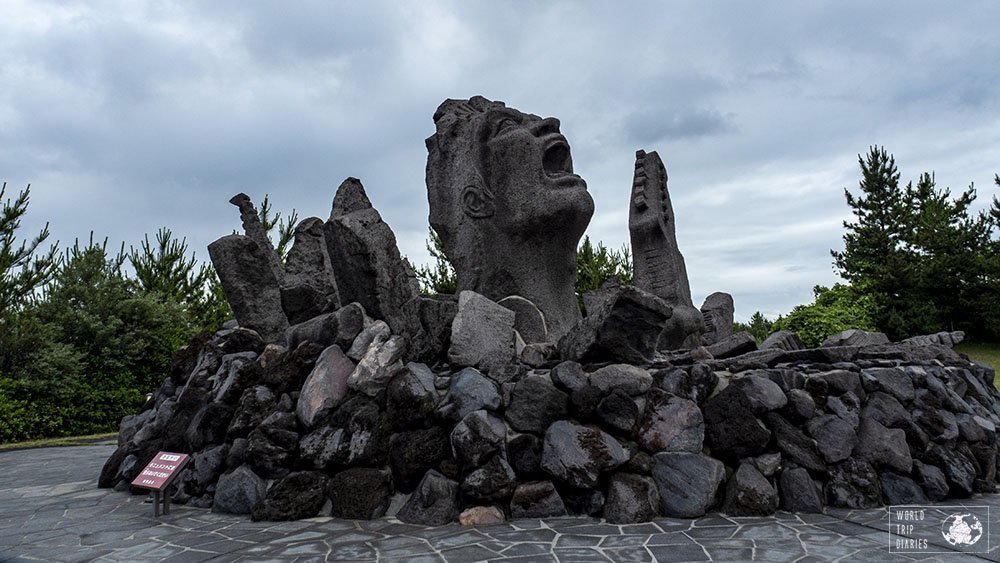 This huge sculpture is iconic and it's a celebration of a concert that filled up Sakurajima.
There are also great views of the volcano and the cutest kittens there. There's also a nice sheltered area where you can rest, have a picnic, and enjoy the views.
Best view of the Sakurajima volcano
'Best' is highly subjective, by the way. But this was my personal favorite.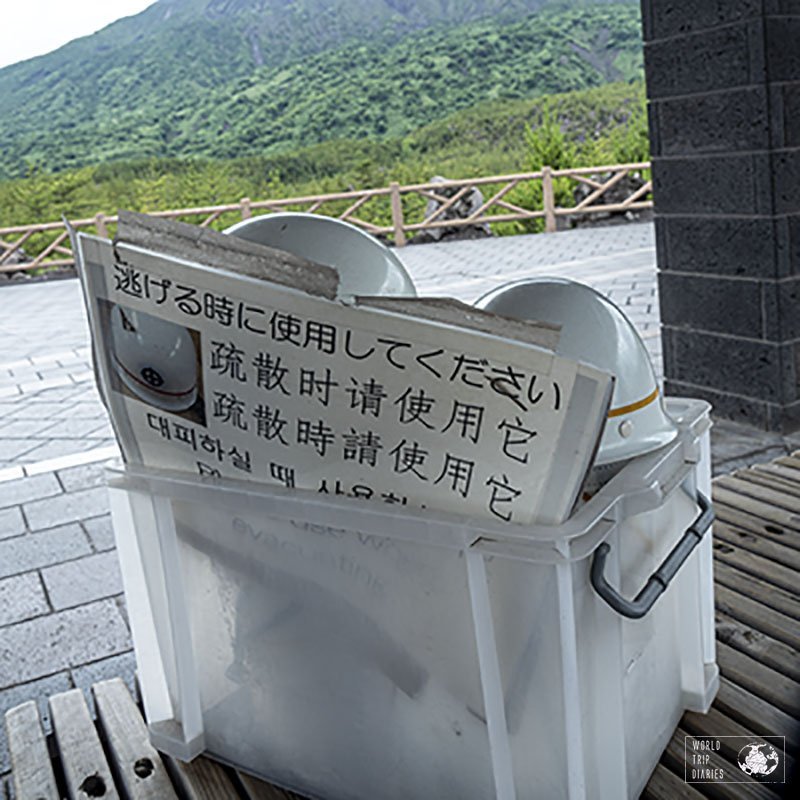 Yunohira Lookout
This lookout point is high and close enough so we can see both craters (YES, this volcano has 2 craters) and the debris flow control system. When we were there, the South Crater was smoking a lot/ Then it stopped and the North crater decided to smoke.
It was very, very pretty.
It's quite amazing that people can live there like they do.
Where to stay in Kagoshima
We spent our days in Kagoshima in the My Stays Kagoshima. We needed 2 rooms for our family of 6 so it was a little pricey, but fine. Breakfast was good, and the staff was really nice.
Even though they do have a parking lot, it's for small cars. Ours couldn't enter, so we were directed to the parking lot in front of the hotel, which was paid, but fine.
It's well located with great views of Sakurajima (depending on the room you get, of course).
The beauty product samples they offered were great and a really nice bonus!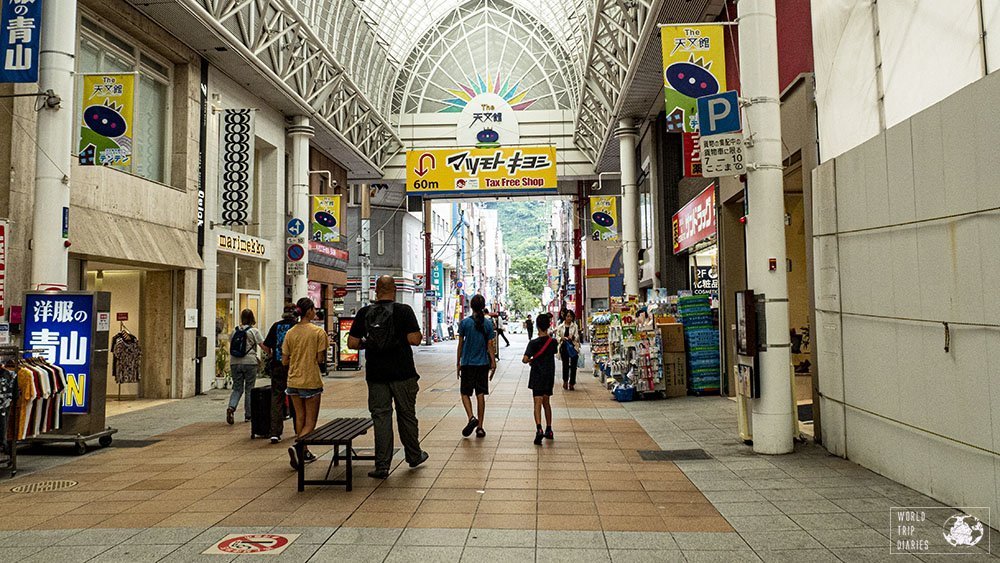 Kagoshima food: what to eat
Kagoshima is famous for its citrus fruits and mangoes! They were all over, delicious, and… expensive.
Try out them all. We loved Hyuganatsu (sweet lemon kind of thing), and even the slightly bitter oranges.
They're also famous for their satsuma age (a deep fried fish cake) and the kurubuta and the kuroushi – the black fur pork and beef that thrives in the region.
For the more gastronomically adventurous, there's tori-sashi (chicken sashimi).
To finish… Kagoshima best attractions for families
We enjoyed Kagoshima, it's so green and warm (it was late spring, so obviously it'd be warm) and pretty! Sakurajima gives a nice touch to the city and there's still a lot left for us to explore on our next trip to the city!
Find out more about Japan with kids here!
City / Country

Minimun Stay
$ ~ $$$
Child-friendlyness
Best local transport option
Safety
Do we recommend it?
Kagoshima / Japan

2 days
$$
Super child-friendly
Trams and buses
Super safe
YES!
https://www.worldtripdiaries.com/wp-content/uploads/feat-kagoshima-japao-filhos.jpg
287
815
Thais Saito
https://www.worldtripdiaries.com/wp-content/uploads/wtdlogo.jpg
Thais Saito
2019-08-18 16:59:30
2019-08-16 00:14:48
The best things to do in Kagoshima, Japan, with kids