The best of Kyoto for kids
When people think Japan, they're mostly either imagining Tokyo or Kyoto. While Tokyo is the center for technology and neon lights, Kyoto is known for its temples and natural beauty, Discover here the best of Kyoto for kids!
* this post contains affiliate links – they don't cost you anything but give us a small commission
You may also like: All about Japan Travel for families!
Where to stay in Kyoto with kids
Because of its popularity, Kyoto is one of the most expensive places to stay in Japan. While we'd love to have splurged (yet again, see our Yufuin guide!) in a ryokan, we couldn't and settled for a budget hotel in a convenient location.
We stayed in the Vessel Hotel Campana Kyoto (I'm not sure why they put this very long names on the hotels), and, honestly, I'm SO SO glad we did.
It was a great hotel. It was clean, it was comfortable, it was conveniently located near Kyoto downtown.
You may also like: Ryokan with kids!
I absolutely loved their huge array of ammenities, with all the possible skin care stuff (from face wash to face masks) and their great restaurant.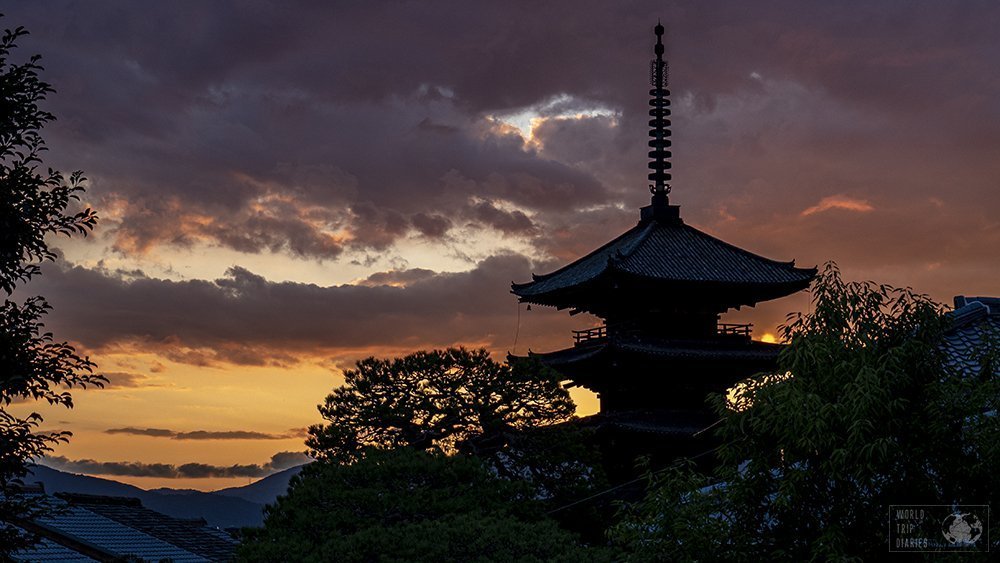 The restaurant in itself was only open for breakfast BUT they kept the doors open and we could buy food, bring to the hotel, sit at one of the tables and drink their machine drinks (usually soft drinks, a few juice options and teas. It was a great time and it allowed us to rest while keeping to our budget. It also helped that there was a convenience street in front of it.
The staff was lovely all the time and the laundry there was huge. There were so many washers and dryers, I don't think they'd ever had any problems with people not being able to do their laundry pronto.
Breakfast was lovely. It was lovely, but it was very, very Japanese. I adore it and ate everything I could, but some of my kids were a little tired of salad and vegetable pickles and miso soup. Well, can't please everyone, can we?
Check their latest prices here!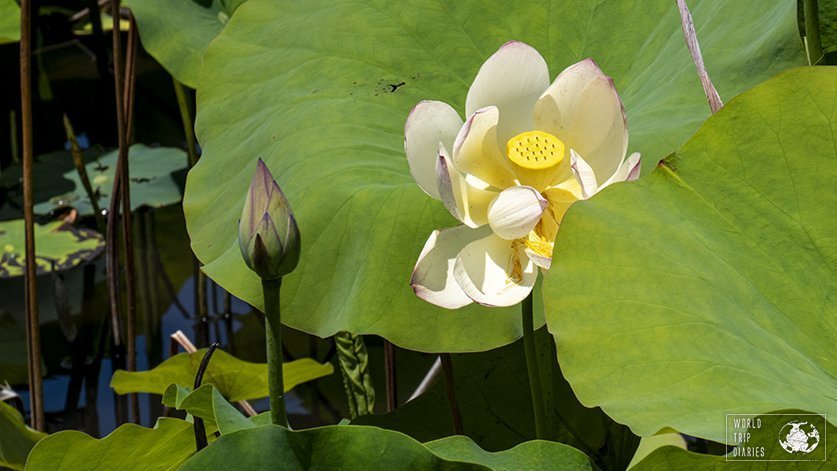 Things to do in Kyoto with kids
Just 2 tips before we start:
Kyoto is highly touristic and crowded. Visit everything as early as you can or as late as possible. It can be the reason why we didn't like it. It was always too hot (it was summer), the sun too bright, too many people (sweating and, sometimes, smelling) shoving around, lots of traffic, expensive parking and stuff. Take into consideration the opening and closing times of everything and allow at least 30 minutes between each attraction (unless they're in walking distance).
Also avoid driving – if you can, use public transport. Parking as so expensive and hard to find it would've been easier to take taxis, seriously.
~ Temples and shrines
One of the things one must do in Kyoto is to visit their temples, right? There are many. Too many. Most charge an entry fee, so if you travel on a budget, choose the ones you can't miss and leave the others behind. Expect way more than just the temples – the temples in Kyoto are whole villages worth of exploring. That's one reason why you probably won't be able to visit them all.
* Kinkakuji
Starting from the most famous Kyoto temple, the Golden Pavilion. It's golden, really golden. And it's also very crowded. It's beautiful, and the surrounding gardens are stunning, but I don't know if it lives to the hype.
The entry ticket is quite cool, though, and we all kept ours to decorate our house/scrapbooks/rooms.
Where: 1 Kinkakuji-cho, Kita-ku, Kyoto 603-8361 Japan
When: It's open all year round, from 9 am to 5 pm
Cost: Adults (15+) ¥400 and kids (7~15) ¥300
* Ginkakuji
This is the Silver Pavilion, except that it's not silver. The wooden simplicity of it, though is amazing. We missed it due to the lack of time (I'll talk more about it later) but I'd visited it before, though no photos, sorry. They have more things to see, like tiny waterfalls and an observatory.
Very close to it there's the Philosopher's walk Tetsugaku no Michi, which is a stunning stone path. During the cherry blossom season, the trees form a canopy covering the path, which must be stunning
Where: 1 Kinkakuji-cho, Kita-ku, Kyoto 603-8361 Japan
When: from March 1 to November 30, it's open between 8:30 am and 5 pm. From December 1 to February 28, it's oepn between 9 am and 4:30 pm
Cost: Adults (15+) ¥500 and kids (7~15) ¥300
* Shokokuji
Another stunning temple, full of things to see within it, that we missed. This one was due to the cost, really. So find out more about it here.
Where: 1 Kinkakuji-cho, Kita-ku, Kyoto 603-8361 Japan
When: from 10 am to 4:30 pm
Cost: Adults (15+) ¥800; Seniors (65+) and middle school kids (12~15) ¥700; kids (7~12) ¥400.
* Tenryu-Ji
We visited this one because it has one of the most beautiful Japanese gardens in the world (it's another UNESCO world heritage site), and it served as inspiration for many other Japanese gardens after that. It is stunning, really, and also very crowded. The best of this temple is the Vegetarian restaurant, which I really wanted to have tried but my kids refused to have a vegetarian AND Japanese meal.
The garden is really stunning. Simple, yet magical. It's meticulously kept, and awesome. It's also very, very close to the Arashiyama Bamboo Forest.
Where: Ukyo Ward, Sagatenryuji Susukinobabacho, 68
When: from October 21 to March 20, between 8:30 am and 5 pm. During the rest of the year, from 8:30 am to 5:30 pm
Cost: Garden only ¥500 for adults (15+) and ¥300 for kids (7~15). To see the buildings too, add ¥300. To visit the Dharma Hall, it's an extra ¥500. See when I say you need to choose carefully?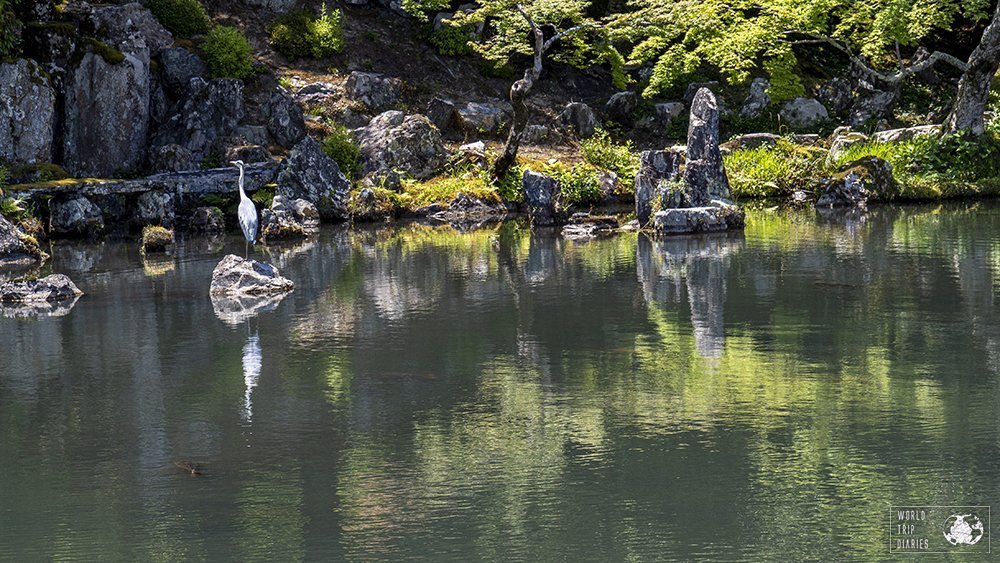 * Kiyomizu-Dera
This stunning temple on a cliff was one of the things we decided not to do because it's under restoration. Visit it early to avoid the crowds!
Where: 1-294, Kiyomizu, Higashiyama-ku, Kyoto-shi
When: from 6 am to 6 pm, with special night viewing some times that go from 6 pm to 9 pm. Visit the site for more information!
Cost: ¥400
* Yasaka Jinja and Pagoda
The main shrine in Gion is this one and it's FREE!
It's a beautiful one, all read and shiny, and it's worth a visit. It's crowded (yeah, it's free) but it's a nice place to visit anyway.
The incredible Yasaka pagoda, just a few blocks up, is the best place to grab some sunset photos. Everyone seems to know, as it gets quite a huge crowd of people taking photos, but it's very worth it!
When we were there, it was a weekend and it had a food market just finishing right when we arrived. We didn't manage to buy anything to eat, unfortunately. So make sure you arrive before they close (it was around 5 pm) but ask on your hotel or host if there's something going on before you plan your day.
In July, there's the incredible Gion Matsuri, being held for over 1000 years. It's one of the biggest festivals in Japan and it should be incredible.
Where: 625 Gion-cho north sides, Higashiyama Ward
When: Go after touristing around, but leave before sunset to get to the pagoda in time for it. Then spend a few moments looking for geishas, if you want!
Cost: Free!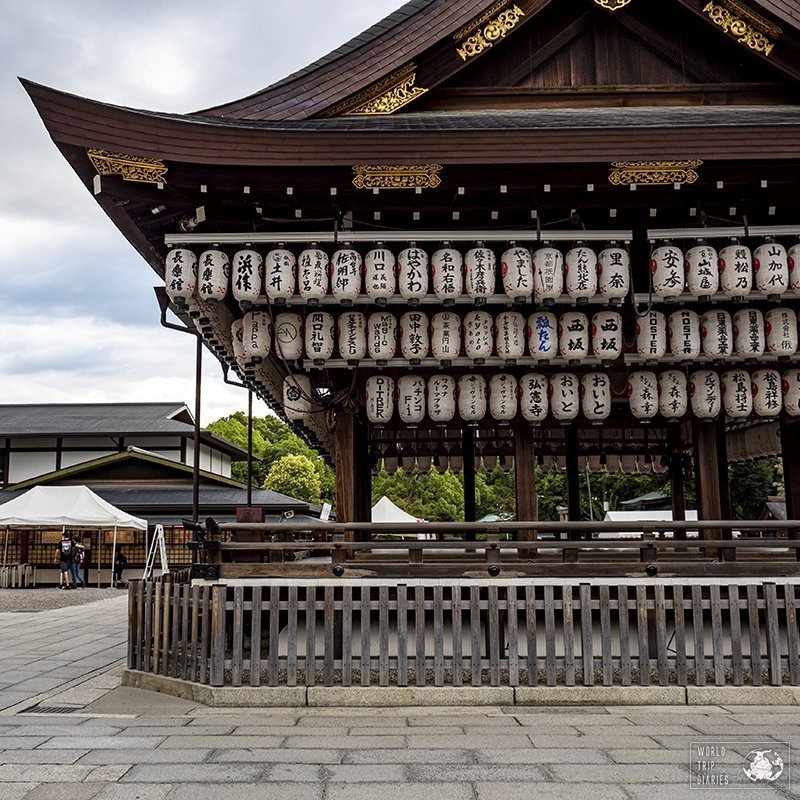 * Fushimi Inari Taisha
Famous for its fox statues and the 10 000+ red torii gates, this is one of the symbols of Kyoto.
We missed it because it was out of the way and we honestly thought it'd close at the same time as the others, so we didn't even try. Next time, we'll walk the 2~3 hours (or more, since we have kids) to the mountain.
There are restaurants serving traditional food on the way and the further, the less crowded, of course.
Where: 68 Fukakusa Yabunouchi-cho, Fushimi-ku
When: Any time. It's one of the only shrines that's always open
Cost: Free!
~ Visit Arashiyama
The whole Arashiyama neighborhood is beautiful and more nature-centered. It's one place full of things to do with kids in Kyoto. A lot of it is free too, which is good.
Just a walk around Arashiyama is amazing, you can try some different foods, visit the Kimono forest (tall lanterns in kimono patterns), some beautiful old buildings, and great places to get souvenirs.
* Arashiyama Bamboo Forest (or Arashiyama Bamboo Grove)
It's very close to Tenryu-ji and you can cross from the temple to the bamboo frove (though you can't go back unless you pay your fee again). The bamboo grove is all protected and you can't reach it but you can walk through the path in the middle. There are just so many people taking photos there, it's kind of hard to walk around but it's pretty cool.
Where: Arashiyama, Ukyo-ku
When: It's open all the time
Cost: Free!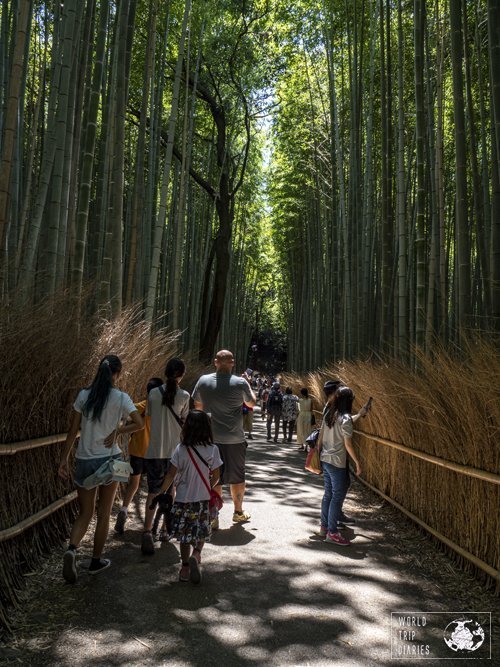 * Arashiyama Monkey Park (Iwatayama)
This is a protection area for the Japanese macaques. We'd love to have visited it, but didn't due to the lack of time.
And because it's a long upward hike. It's from 30 minutes to 1 hour climbing up a mountain and it was so hot we didn't think we would be able to. Since we'd visited the Monkey Park in Beppu, we felt like it was fine to miss this one. But they allow you to feed the monkeys on this one (food must be purchased there and given in an enclosed area), which we couldn't do it in Beppu.
Where: 6 1 Arashiyama Nakaoshitacho, Nishikyo Ward
When: from 9 am to 4 pm
Cost: ¥550
* Togetsukyo Bridge
This wooden bridge is over 400 years old, and it's very famous and important in Japan. Between Arashiyama mountain and Katsura River, it's a beautiful thing. It should be even prettier during fall and winter, when the trees are colorful and even better looking, but it was pretty during summer too.
We enjoyed spending some time by the river watching the boats and the people more than we enjoyed crossing it, to be honest. It felt just like any other bridge.
Where: Tenryuji-susukinobaba-cho, Ukyo-ku
When: Any time!
Price: Free!
~ Maruyama Park
The oldest Kyoto park, this is a beautiful, beautiful park. Even when the cherry blossoms aren't in bloom, it's stunning. This is the place where we saw our first snake, though it didn't do anything and hid from us as best as it could.
It's in the Higashiyama area, very close to Yasaka Jinja. For those wondering what to do in Kyoto with kids, this is a great place to let them run, play, and let off the steam.
Besides all the beautiful trails and walks and scenery, it also has restaurants, cafés, and little shops all around.
Where: 473 Maruyama-cho, Higashiyama-ku
When: Open all the time!
Price: Free!
~ Nishiki Food Market
We visited it because it's one the things one must do and we were hungry but we ended up leaving just as we entered. I mean, we walked for around 20 minutes while being pushed and shoved by tourists (what's wrong with us, tourists, honestly! Where are our manners). It was scary and the kids were really annoyed and getting cranky and we decided to leave and eat somewhere else.
But it's a cool place, there's a lot of stuff to see and eat if you have the patience and the good humour.
Where: 609 Nishidaimonjicho, Nakagyo Ward
When: from 9:30 am to 6 pm
Cost: Free to enter!
I'm a manga addict. I've been reading them since I was 9 and I love them. So we couldn't miss this one, could we? So we went.
But besides the huge array of manga (I think they have every single manga ever released) that you can sit and read (mostly in Japanese, though) for as long as you want, it's not for everyone.
I loved it because I love manga and I'm very interested in everything that goes behind it. Melissa (15) enjoyed it because she's an artist. Coral (7) liked pulling out random manga and leafing through them, but she was bored after around 30 minutes. The boys just went around following us and trying to read the titles.
There are things to do there, like the paper theater, which was honestly awesome (in Japanese, but the dude there translated as best as he could). You can also try your hand at drawing, coloring, making pins, or even having your caricature done manga style. We wanted to try them all, but nothing was working while we were there. Nah, the caricature lady was, but she had a sign saying that the next time available was around 4 hours later and it'd be impossible to entertain the kids for that long.
See if it's something that suits your family before visiting.
Where: Karasuma-Oike, Nakagyo-ku
When: from 10 am to 6 pm. Closed on Wednesdays.
Cost: Adults (18+) ¥800. Kids between 12 and 18 ¥300, and kids between 7 and 12 ¥100. Younger kids go for free.
~ Toei Eigamura (Toey Kyoto Studio Park)
This theme park is all about Japan's Edo period. You see a tradicional village (replica) complete with samurai, ninja and geisha.
It's often used as set for Japanese movies and, if you're lucky, they may be shooting one while you're there!
Besides all that, they have many experiences you can try, like watching shows, throw ninja stars (shuriken), 3D theater, costume rental and more.
Where: 10 Uzumasa Higashihachiokacho, Ukyo Ward
When: Weekdays from 9:00 ~ 17:00 and weekends from 9:00 ~ 21:00
Price: ¥2200 for adults (18+), ¥1300 for older kids (13~18) and ¥1100 for small kids (3~13)
~ Dress up in kimono!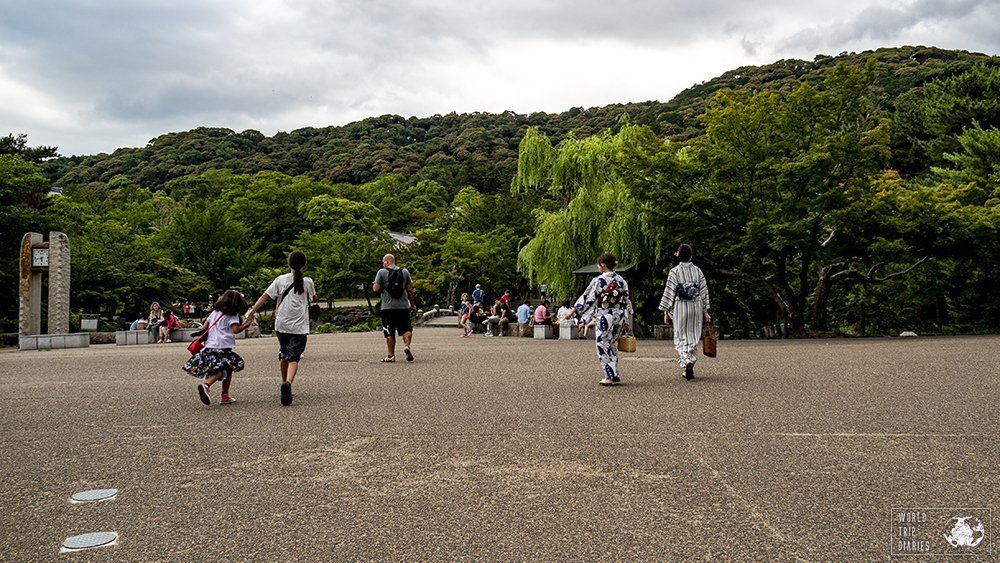 Well, one of the things you won't have a problem finding is a kimono rental shop. They were everywhere, especially in the Gion area.
We didn't do it because my kids are boring and because it was too hot for that, honestly, but maybe next time.
If you'd like to try it, book your kimono rental here!
Who would have know, this is the world's tallest non-steel-frame construction. It's on top of Kyoto Tower Hotel and it has a tourist information center, restaurants, bar, AND an onsen. Imagine that. There are 3 observation decks and shopping floors.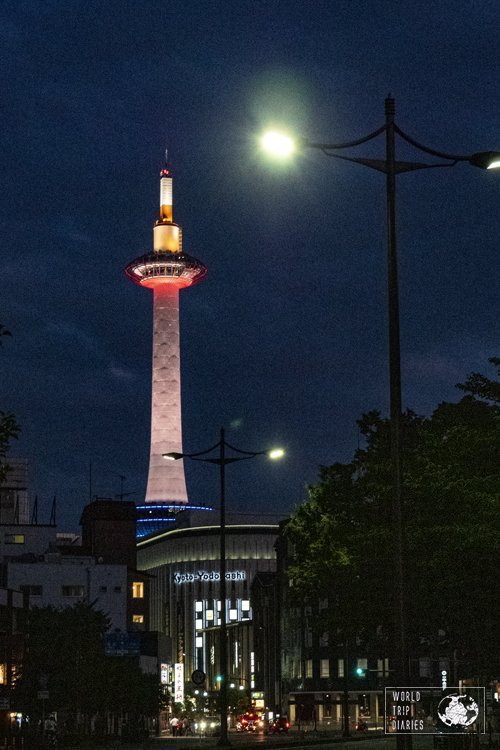 As always, I suggest you visit it right before sunset to have a glimpse of the city during the day, the sunset, and at night.
Where: Shichijo-sagaru Karasuma-dori,Shimogyo-ku
When: 9 am to 9 pm (last entry 8:40 pm)
Cost: Kids under 7 ¥150. Kids between 7 and 15 ¥520). Kids between 15 and 18 ¥620. Adults ¥770.
~ Other things to do in Kyoto with kids
There is so much more to see and do, like the Museum of Traditional Crafts, the Shosei-en garden, the oldest tea farm in Japan, and more. Unfortunately, things aren't really close to each other, nor the traffic is helpful. And finding a parking spot in Kyoto is pretty hard (and pricey).
It gets quite expensive to travel around and do the things you want to do. Choose wisely, see what can be done in one stop and how much you can spend. Find more information on the Kyoto city and Kyoto Prefecture websites.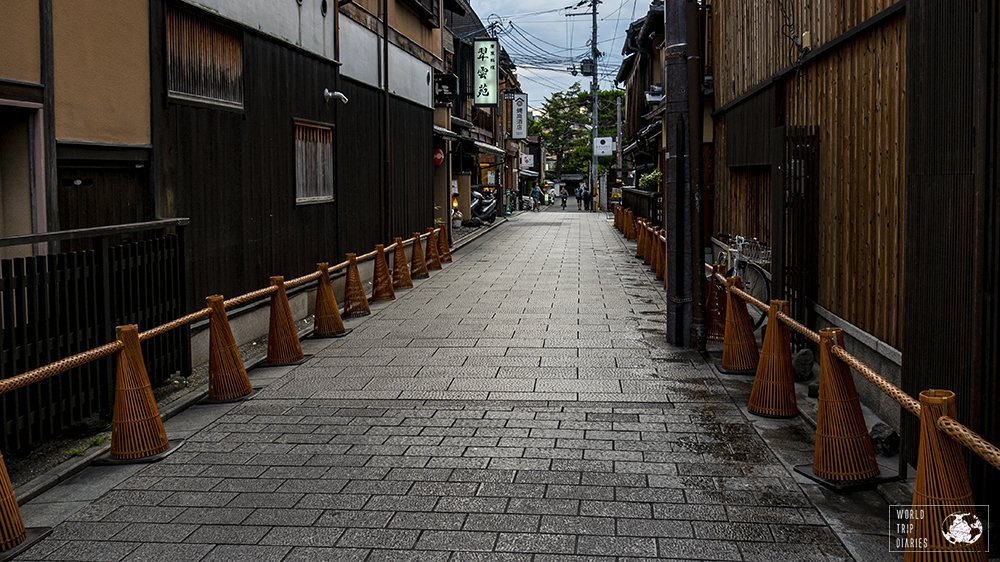 Where to see the Geisha in Kyoto?
Gion is where you'll see more geishas. They often come out at night (around 7 pm) and we even considered looking for them BUT the streets were full of people sitting down to watch them (something like a Disney parade, seriously). It was hard to find a spot, and we didn't feel like waiting since we may catch a glimpse or not.
It can be Geisha (experienced entertainers) or Maiko (geisha in training), and you can MAYBE see them.
One option is to watch a Maiko dance (book your experience here!) or have dinner with a Maiko (check the latest prices here!). It's guaranteed and you'll receive more attention – and learn the rules in interacting with them.
Remember – don't touch them without permission, don't get near them to take photos without permission, and don't ever pull their hairs or clothes. They have signs all around Gion, so I'm guessing people do that a lot. Be a nice person and don't do to others what you wouldn't like done to you. Seriously.
Gion is the geisha area and it's beautiful BUT it's super touristic and everything is absurdly overpriced.
To finish it: what to do in Kyoto for kids
My kids were not too enamoured with Kyoto, to be honest. Neither were we. Everywhere was super crowded, super hot, there were traffic jams all over, finding parking was hard and temples start looking the same after a while.
They didn't even enjoyed the food. Their happiest time in Kyoto was at the hotel, when they could drink the free soft drinks for hours while having cheap snacks from the convenience store. A little sad, but it is what it is. We probably need to revisit when it's not that hot, so they'll be in a better mood.
Make sure you use public transport, as parking is super limited all over the city and it's very, very expensive. And the traffic is horrible.
But it's a beautiful place, no doubts about it. If you want tradicional Japan, or religious Japan, this is a convenient (yet very expensive) place to visit.
City / Country

Minimun Stay
$ ~ $$$
Child-friendlyness
Best local transport option
Safety
Do we recommend it?
Kyoto / Japan

3 days
$$$
OK for kids
Trains or buses, as parking is expensive and the traffic is bad
Safe enough
If you want really pretty photos…
https://www.worldtripdiaries.com/wp-content/uploads/feat-kyoto.jpg
287
815
Thais Saito
https://www.worldtripdiaries.com/wp-content/uploads/wtdlogo.jpg
Thais Saito
2019-09-18 18:11:58
2019-09-17 22:15:57
The best of Kyoto for kids