The best minimalist travel bag: Pakt review
Have you ever thought about doing a one-bag travel? It basically means that you'll carry only one bag, obviously. No checked bag, no hand bag, no computer bag. It may sound impossible, but let us show you that it's actually not. Keep on to find the best minimalist travel bag: Pakt review!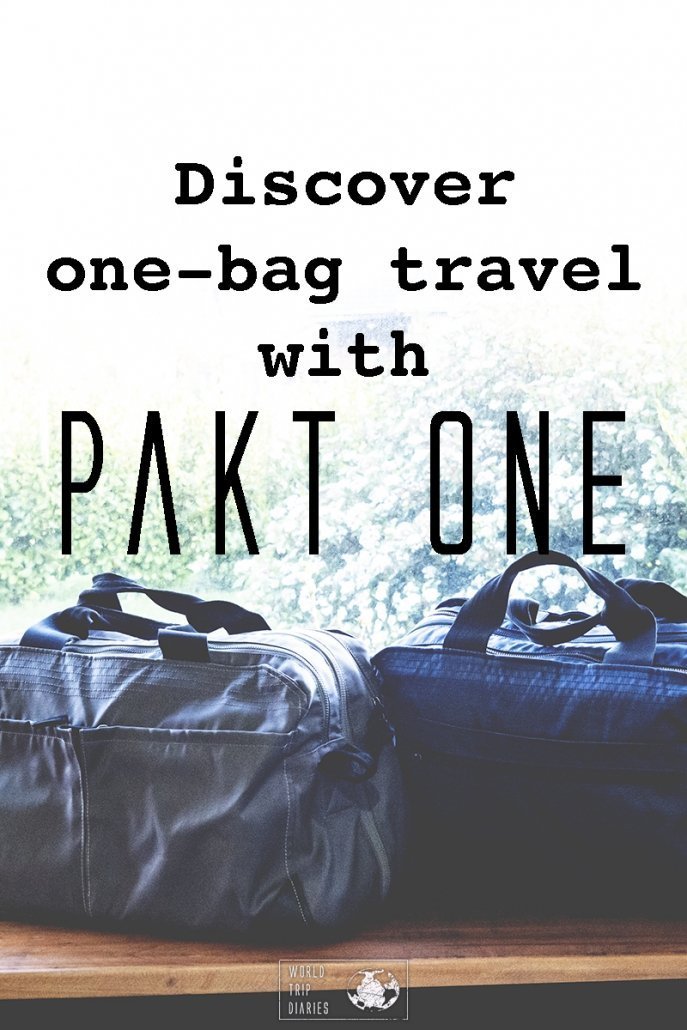 * this post contains affiliate links – they don't cost you anything but give us a small commission
** this is a sponsored post. Pakt sent us 2 bags to try!
What does 'minimalist travel' mean?
It means carrying only the necessary.
If you don't need that extra pair of shoe, that beautiful new hat, that set of pens, or whatever else, leave it.
Find the Pakt One prices here!
What the bare minimum is will depend on where you're going, when you're going, but very, very rarely on how long you're staying. Nowadays, we can find a laundromat or somewhere to do our laundry everywhere, so we don't need 12 tops.
Usually, it pairs up with the term 'carry-on travel' – which means traveling with only carry-on bags (up to the limit of the airline you'll be using).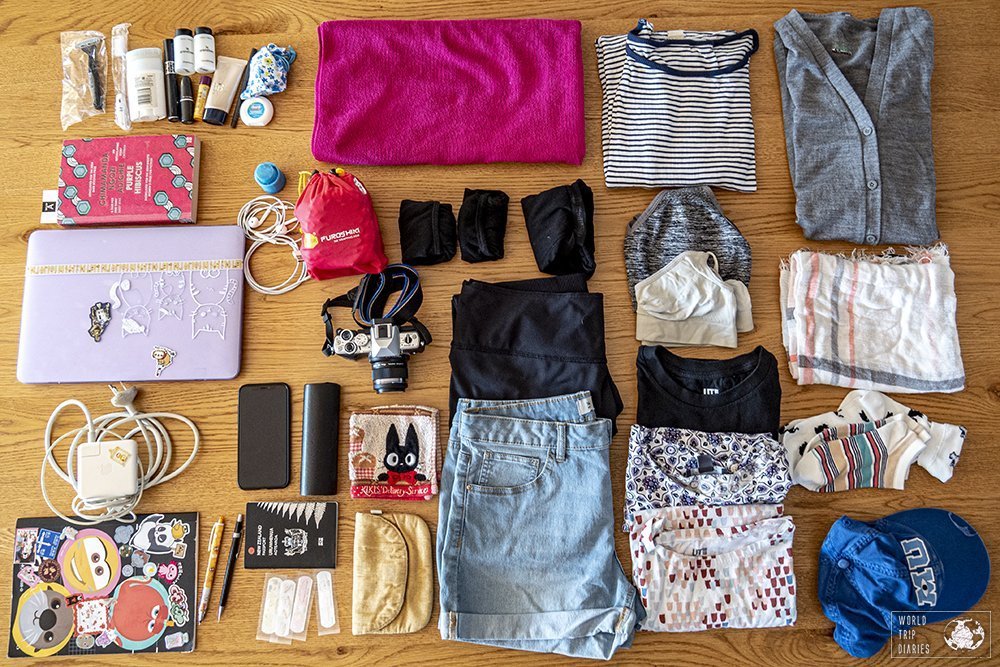 Ultralight travel
Some people take it to another level and travel only with an even smaller bag. It usually means no computers, no big cameras, around 2 changes of clothes, and that's it.
Know that you don't HAVE to travel ultralight to be a minimalist, but it sure is easier. I mean, no trouble to get the bag on the overhead compartment, you can just pop it under the seat in front of you. No fear of having the bag weighed or measured.
Why travel light?
Well, for starters, it's easier. You pack less, organize less, unpack less.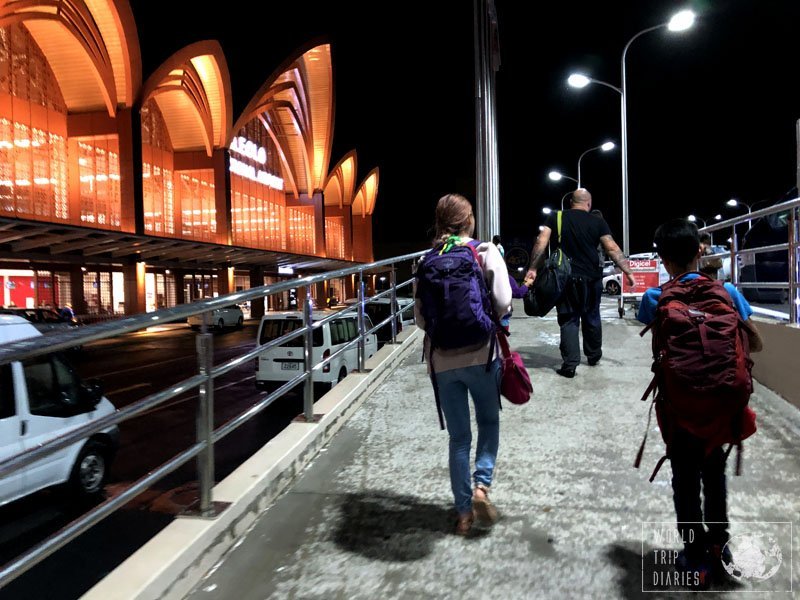 You won't have to check your bag in – and then pick it up. I hate it. Just this makes our airport time reduce by over 1 hour.
Then you have all your things with you. At all times. The baby vomited and you need to change? Clothes are all there. Need to brush your teeth or take a shower or change shoes? It's all there. No one is going to touch it, no one is going to open it, or take your bag away, or anything. It's all there.
You won't have space to buy much – good as it saves us money. If you really want that painting or that vase or whatever, you can always mail it home. Worst case scenario, you'll end up checking a box as your luggage.
If you travel low-cost, you'll save money.
Then, it's the space problem. If you have one (or more) huge bags and you're in a tiny hotel room (hello, Japan), it's a hassle. The minimalist carry-on bag is smaller and can fit under the chair, under the table, behind the door.
Do you have a reason we haven't listed? Comment below and let us know! Leave a valid e-mail address if you have a blog!
Minimalist travel gear: what to pack?
It depends on where you're going and what kind of packer you are.
I, for instance, can never travel without my computer and my camera. It means that at least 3 kg (6.6 lb) of my luggage is already taken.
For that reason, I tend to always pack very close to the 7 kg (15 lb) most airlines accept as the limit for the carry-on.
Then I bring a small handbag with the passports, wallet, and things like that. I also wear all my heavy clothing (jeans, scarfs, hiking boots) on the plane.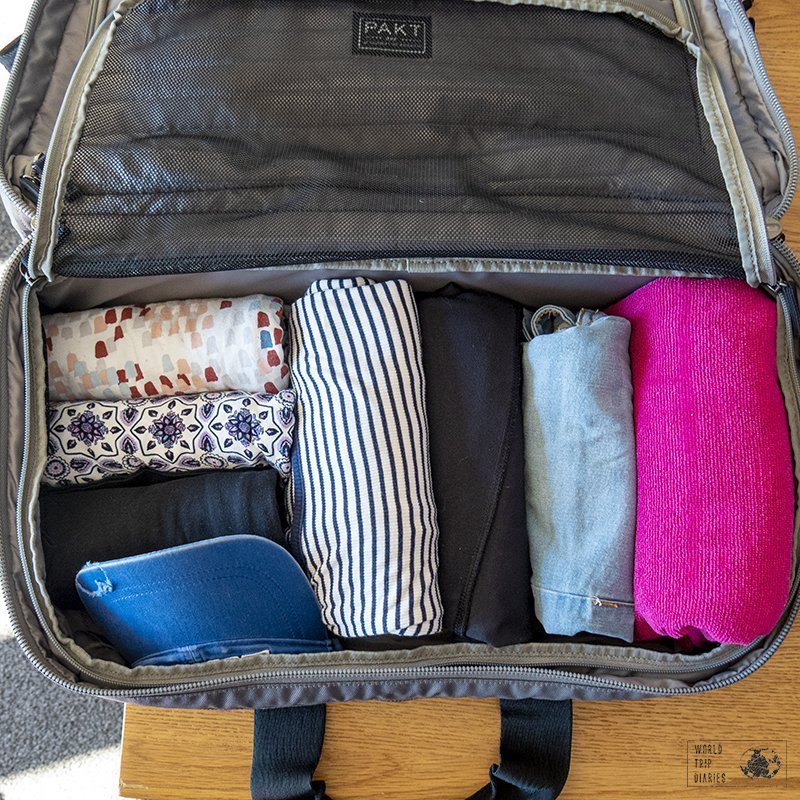 It also depends on where you're going. So I'll divide below as best as I can.
~ What you'll need all the time:
Passport (or ID for domestic trips)
Money, credit cards
International driving license (it's best to have if you're impulsive like us)
Phone (+ charger)
Toothbrush
Medicine (if you take any)
Glasses/sunglasses if you need them
Deodorant
~ What you may need that is location or season dependent
Mosquito nets
Laundry line
Travel towel (if you're staying in hotels or resorts, you probably won't need it)
Universal plug adaptor
Raincoat
Sunscreen (remember, it needs to be under 100 mL (3.4 oz))
Special meds, like anti-malaria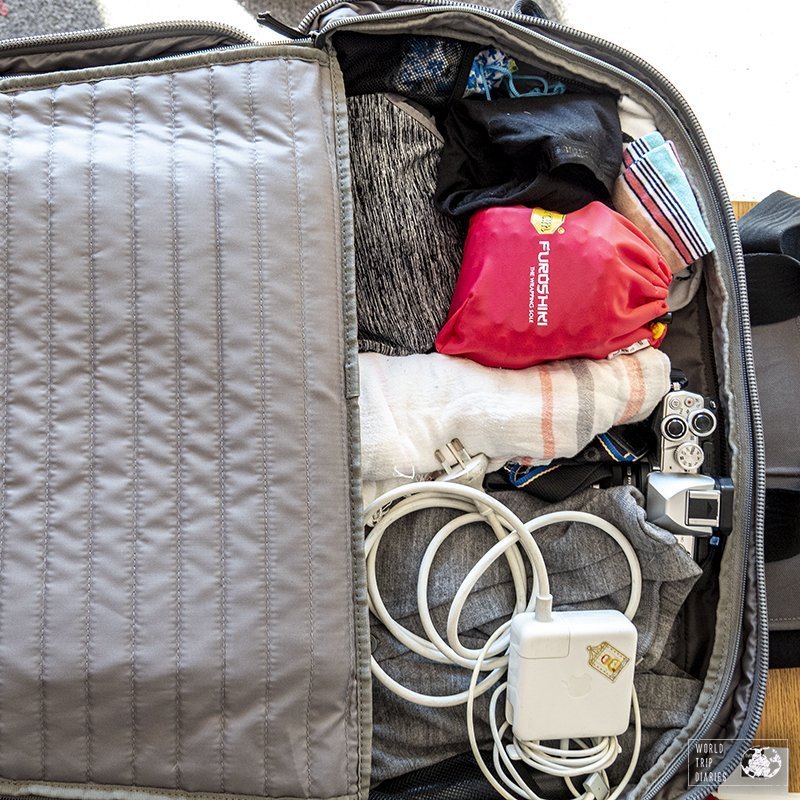 ~ Minimalist summer packing list (or anywhere with warm weather)
3 undies (if you wear bras, take them too)
2 pairs of socks (1 if you're wearing one on the place)
3 tops
2 bottoms
1 pair of sandals (you'll wear your hiking or heavy shoes on the plane)
1 swimwear
1 sarong or scarf that can double was everything
1 hat
1 cardigan (that you can wear on the plane)
~ Minimalist winter packing list
It's harder to pack for winter (we have a light winter packing guide here) because of the bulk and the weight of the clothing. Prefer merino wool and take things that can be worn layered. Also, wear the heaviest things on the airplane, if you can. You can always use them as pillows.
3 undies (if you wear bras, take them too)
3 pairs of warm socks
3 warm tops
1 extra sweater/jumper
1 bottom
1 pair of extra shoes (warm and light ones preferred – such as the Vibram Furoshiki boots)
1 scarf (which you CAN wear on the plane, therefore, not needing to pack)
1 hat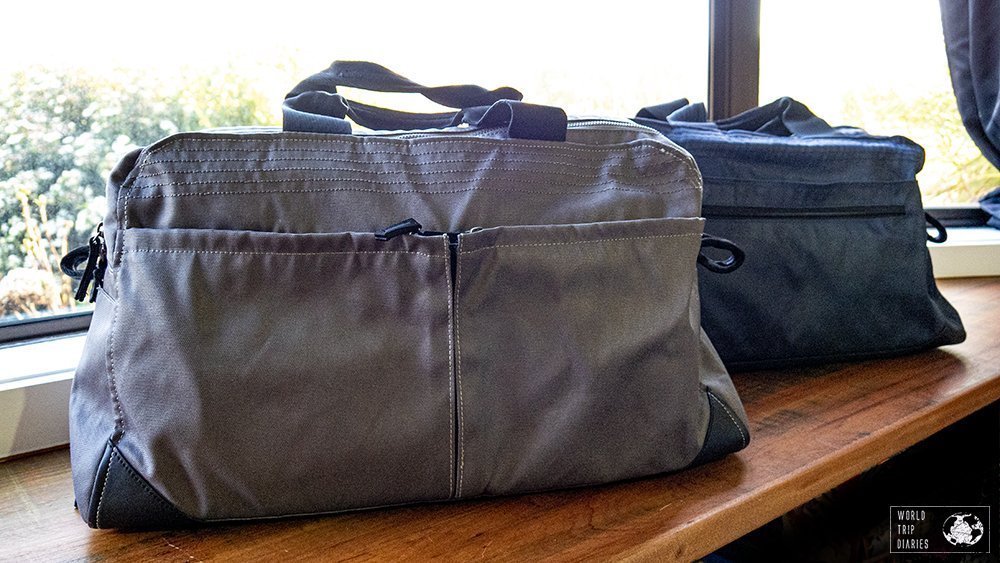 ~ Minimalist mild climate packing list
3 undies (and bras, if you wear them)
2 pairs of socks
3 tops
2 bottoms
1 pair of sandals or all-around shoes, like the Vibram Five Fingers or Furoshiki)
1 merino wool sweater/jumper as it's not too warm nor too cold
~ What we always carry
Computers + cables
Camera + extra SD card
Medicine (I always have activated charcoal and echinacea, and some pain relief)
A menstrual cup (for those who menstruate, of course)
A small notebook + a couple of pens
A book
Hand sanitizer
A pack of paper tissues
A handkerchief
A lip balm (the dry air of the airplanes make my lips crack every single time if I don't have it)
Minimalist kids
Besides the clothing items, it's always nice to have something they like playing with (or that will help them spend their time). It can be a phone, a travel game (check out the best options here), a drawing book and a pen, an iPad, or a book. Whatever your kids enjoy the most.
Let them choose – just guide them gently observing that the giant teddy bear would have to be checked in or if they decide to bring the Game of Life, there won't be space for their clothes and it may be better to take UNO instead, etc.
Also, they need their clothes – the same as the adults, unless they're toddlers or infants – in that case, pack 2 extra clothes for them. You can buy nappies everywhere, though they can be a little overpriced depending on the location.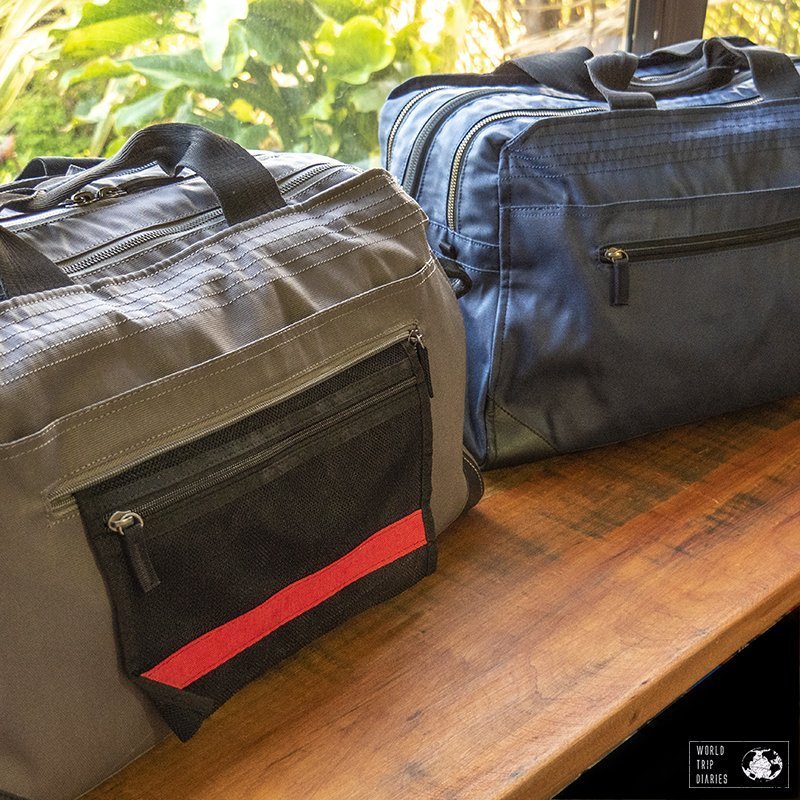 A review of the Pakt One travel bag
The Pakt One is the minimalists travel bag. It was made for minimalist travelers, so it couldn't be a bad one, could it?
We received the Pakt One bags to try and we've used them on 2 trips: to Australia and Japan.
It's a great minimalist carry-on luggage. It's small enough to fit most (if not all) airlines restrictions. It fits under the seat on most flights too. It's pretty and simple, as it should be.
What I love most is that there are many compartments, many pockets, and they're all easily accessible. Need your computer mid-flight? Just open the middle zip. It's easy to get it in and out. Same for every other thing. They even have the TSA approved size mesh bag stuck to the bag – no need for plastic zip bags and it won't go missing. There's no need to remove all your clothing to reach that little thing.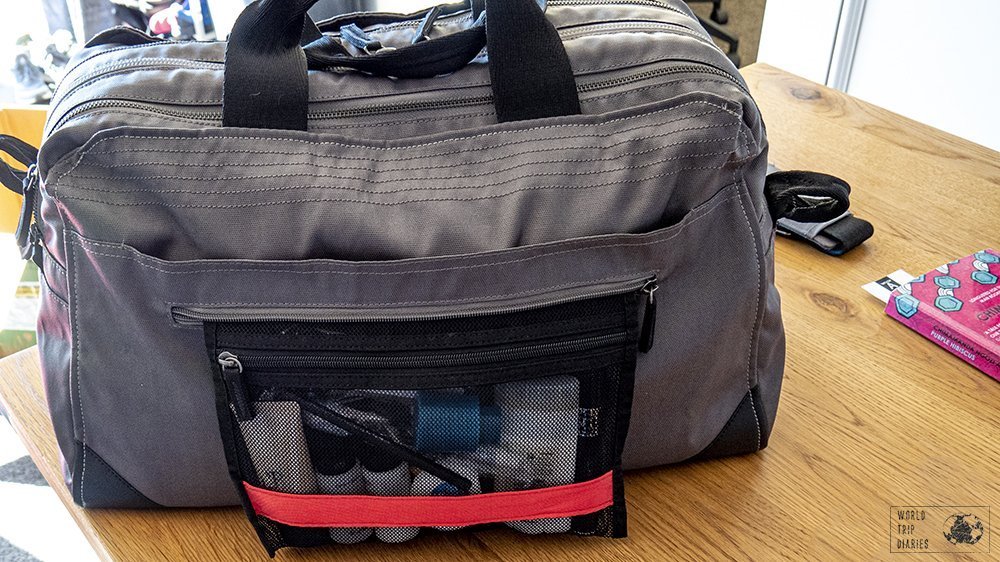 Oh, it's also great because I use it as a drawer. It opens up completely, making it 2 big packing cells – so no need for packing cells, everything is organized and neat. All the time.
If it wasn't for the weight of my electronics, I could travel with one bag only for sure with it. It's super spacious and fits everything.
The only problem is that it's not a backpack. It's, at most, a one-shoulder bag and it does get heavy if you have to carry it for a long time (not great when you need to take a long journey on a crowded train, for instance). That's one problem I didn't have with my Osprey Farpoint 55. If you rarely carry it for long, take taxis, or rent cars, or have a strong core, then you'd be fine with it, though.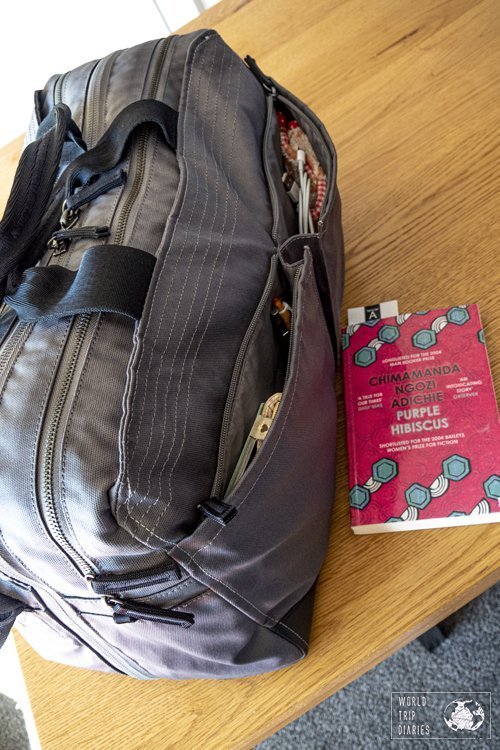 Though the Pakt looks smaller and we never had to stop and fit into the size measuring compartment, which I often did with the Osprey.
I'd say it's the best one-bag travel bag (haha, it ended up sounding funny) but it truly is an awesome, awesome bag.
Other options of minimalist luggage
Even though it's NOT a minimalist travel backpack, the Osprey Farpoint 55 is another great option. It lacks pockets, so I always use it with packing cells. It's also a little bigger than most airlines sizing limits, but it still passes most of the times. It's not a one bag travel backpack because it doesn't have a computer compartment nor pockets to place passports and things we need to have easy access to.
Find the Osprey Farpoint 55's latest prices here!
But it comes with a day pack full of pockets. You'd need to carry both, but they attach and can be carried like one. It'd be weird as the computer would be far from your body, but it still works, I think.
What I like most about it is that I could probably hike with it and the weight would be perfectly distributed, and I wouldn't feel it. It never felt heavy.
Find the Osprey Farpoint 55's latest prices here!
We also have a whole post with travel backpacks – the ones we use when we travel, and it's always carry on. We switch around, sometimes we exchange bags to see how they fit on other people and all, and they're all great options.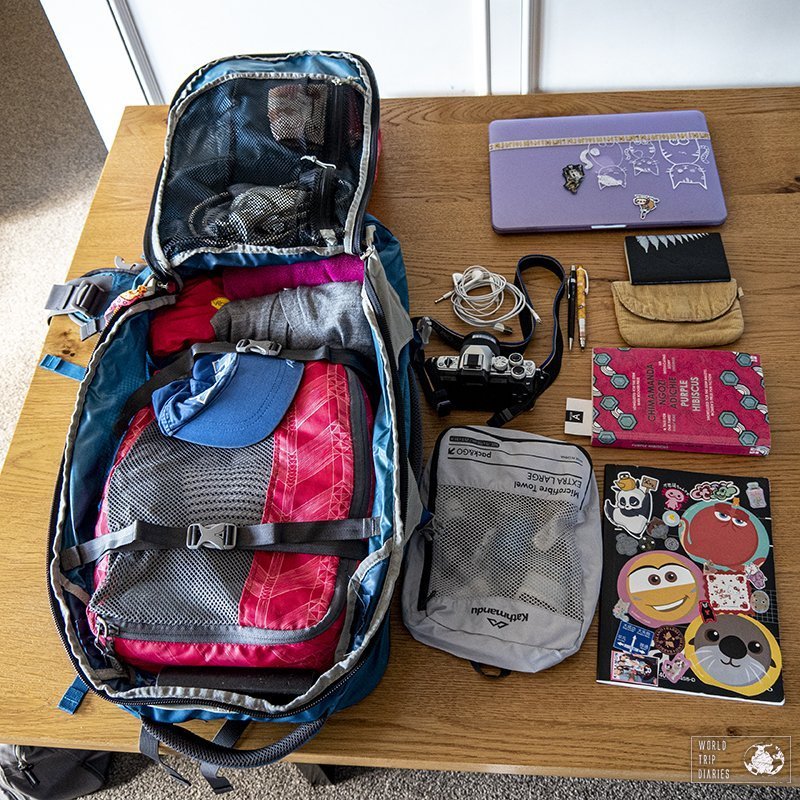 https://www.worldtripdiaries.com/wp-content/uploads/feat-pakt-one.jpg
287
815
Thais Saito
https://www.worldtripdiaries.com/wp-content/uploads/wtdlogo.jpg
Thais Saito
2019-09-13 21:36:37
2019-09-16 19:13:36
The best minimalist travel bag: Pakt review