The Best Kids Activities in Hong Kong
Hong Kong is a great stopover for families. We had the chance to spend a week there with our kids in May 2018. In this post, we'll talk about the best kids activities in Hong Kong for families!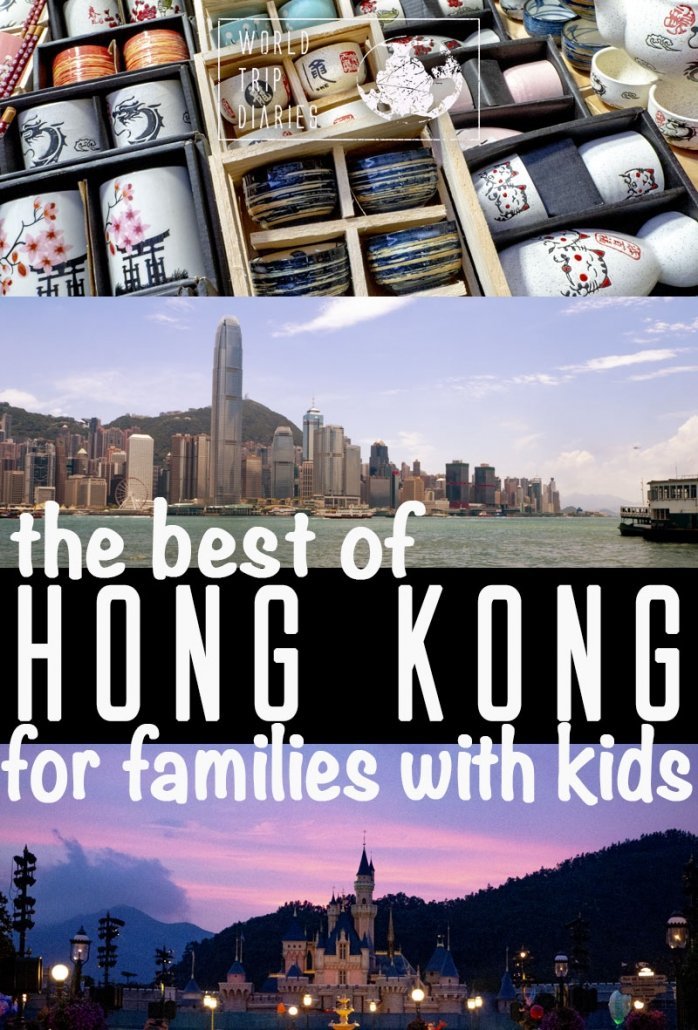 We had a week, but we spent 3 full days at Hong Kong Disneyland so we only had 3 days in Hong Kong and, on one of them, one of my kids had a heat stroke and we didn't leave the hotel.
Therefore, I've conjured some help from our blogger friends and they shared some of their favorite things in Hong Kong!
Keep scrolling for more!
A family friendly place to stay in Hong Kong
Hong Kong is one of the most family-friendly places we've visited so far and finding a hotel that could have the 6 of us comfortably and that wasn't extremely expensive wasn't hard.
We spent 4 of our nights at the Nathan Hotel. It's actually a very nice hotel, in Kowloon (which is China mainland), well located and close to the MTR (the metro system).
It's also within walking distance to the Avenue of Stars, Kowloon Park, Temple Street Night Market, and many restaurants. Click here to see the latest prices!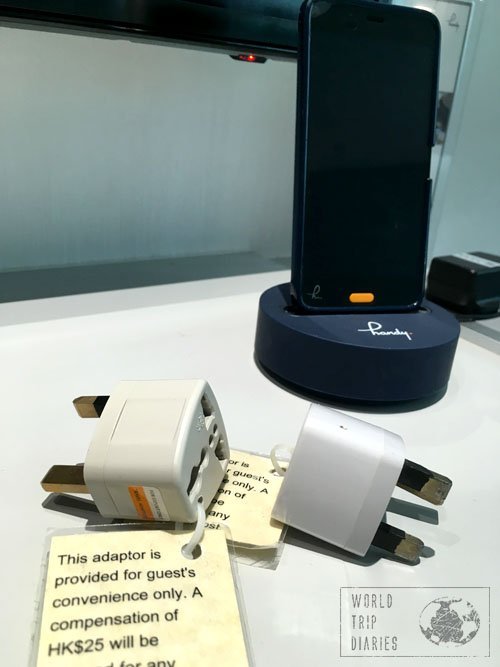 The air conditioning is delicious, the room was great, and the beds were super comfortable. It was very clean, the staff was very helpful and they offer a free smartphone for you to use while you're there – with the internet!
There are 3 restaurants inside the hotel, and there's even a Starbucks. The kids loved having a good familiar latte for breakfast.
There aren't many amenities, but there's a gym for those who like to exercise.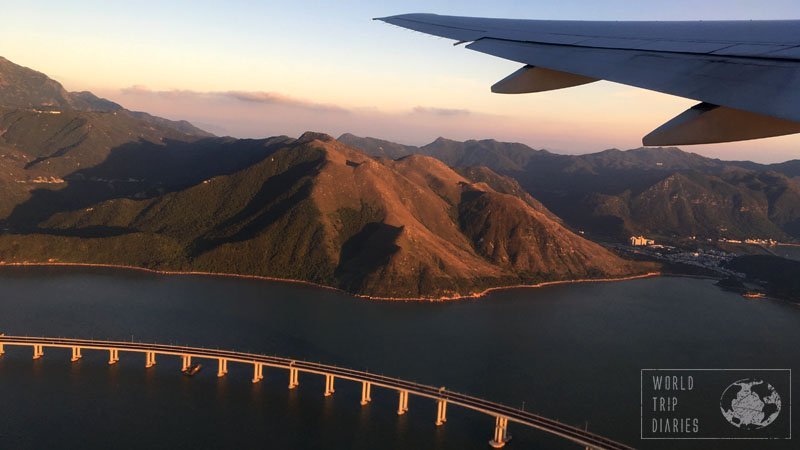 My kids were so tired due to the heat (it's really hot there. We were there in May and it was unbearable) that all they wanted to do when we got back to the hotel was to lay down and watch Cartoon Network.
So it's a pretty good hotel for those who don't need a pool, childcare, and massage. For budget travelers, like us, it was perfect!
Take a look at the box below for some other options!
The best kids activities in Hong Kong
Hong Kong Disneyland
We already have three whole posts about Hong Kong Disney Resorts (click here to see them!), so I'll be very succinct here.
We LOVED it!
It's a small park, easy to navigate, the lines were way shorter than we thought they'd be (mostly under 30 minutes!) and full of the most amazing characters!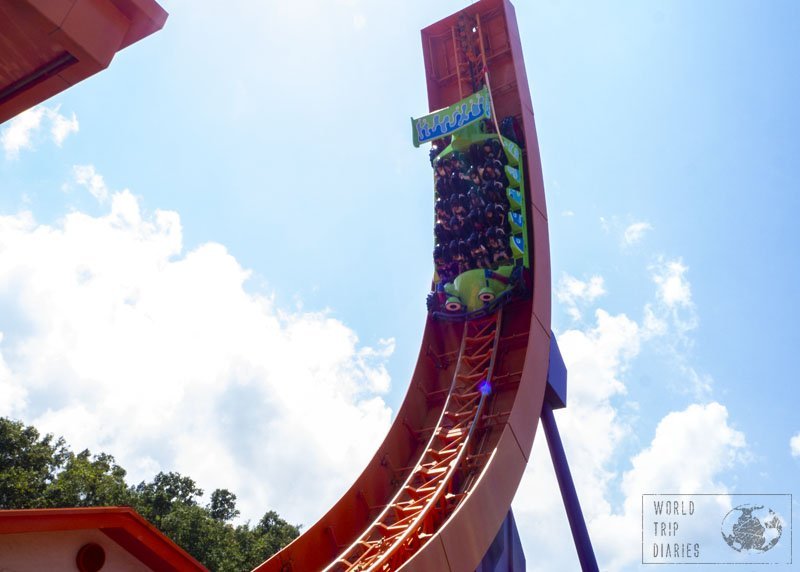 Everything is highly organized, making it the perfect Disney park for families with small kids, but don't let that statement fool you! My teens also loved it – and so did we!
Dragon's Back hike
The Dragon's Back is the most famous hike in Hong Kong. It is a relatively easy hike with fabulous views – and it ends on a beach. What more could you ask for?
After the initial ascent of around 200m, it is an easy ramble along the undulating spinal ridge of the mountain, which gives the 'Dragon's Back' its name and is manageable for kids from around 5 years old. The hike is renowned for its amazing views – over beaches and out to sea on one side, and over the mountains to the other.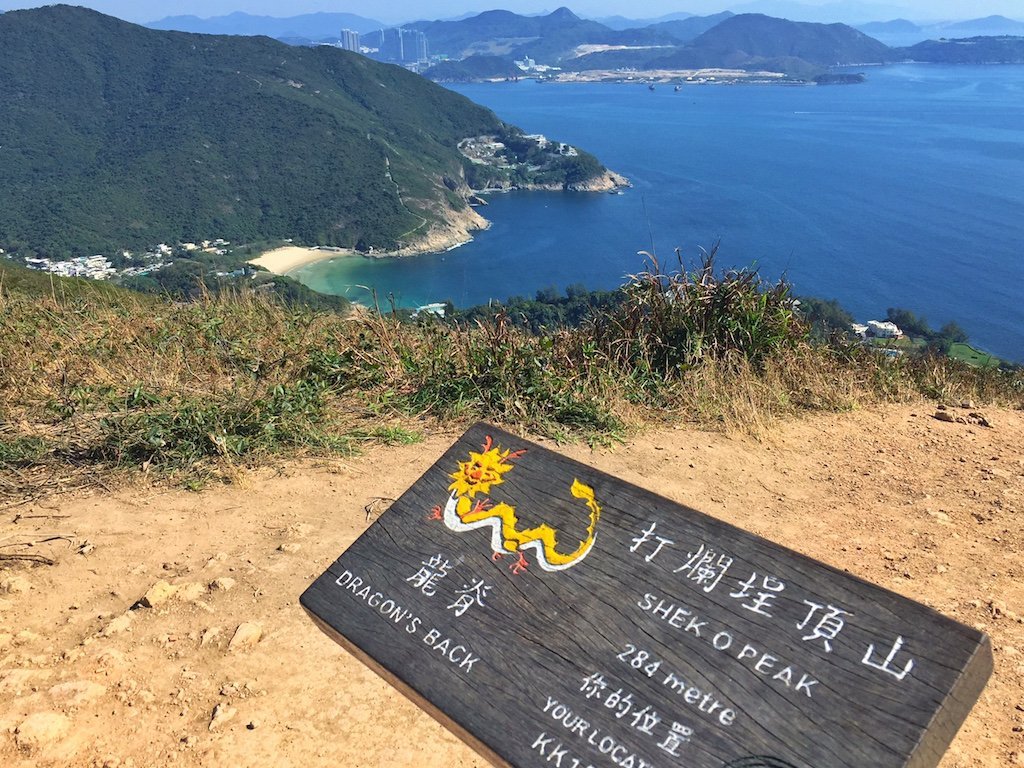 The highest point of the trail is Shek O Peak at 284metres, and from here you have views in all directions. The Dragon's Back hike finishes on the beach in Big Wave Bay, where the kids can play in the sand while mum and dad rehydrate to the sound of the crashing waves.
Marianne from Mum on the Move. Check her Instagram!
Big Buddha
Visiting The Tian Tan Buddha, aka the Big Buddha, frequently features on people's Hong Kong bucket lists. One of the largest seated Buddhas in the world at 34 meters high, the Big Buddha is made entirely of bronze.
Be aware if you are traveling with young kids that you have to climb 268 steps to reach the Buddha – but the feeling of being so close to this enormous statue is worth it. You can bribe the kids with ice cream from the shop at the top!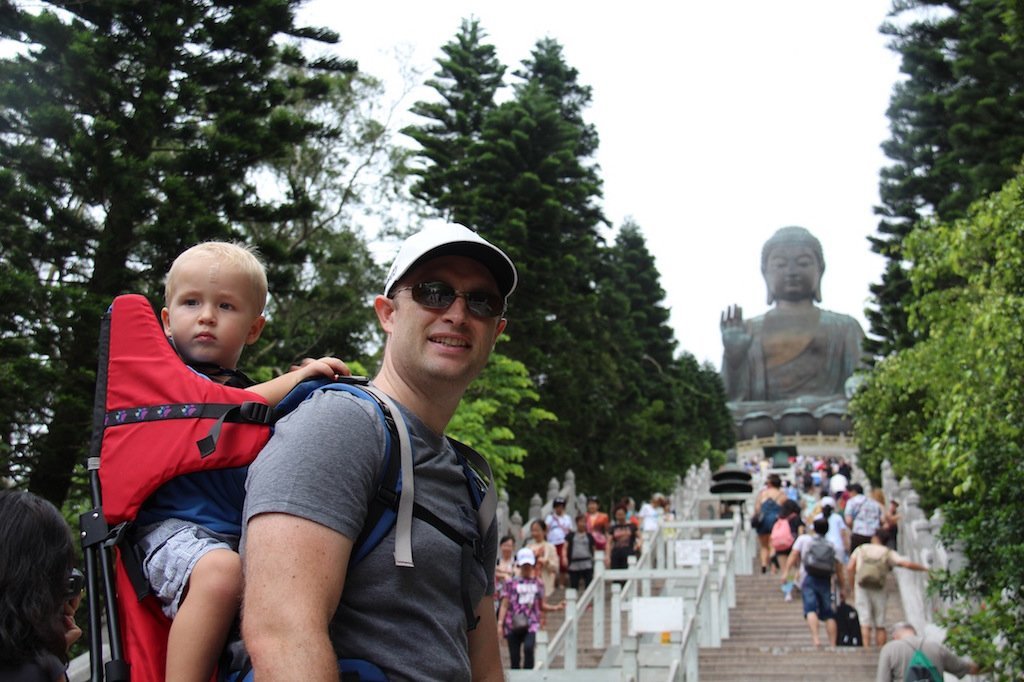 Half the fun in visiting the Big Buddha is getting there – via a 25-minute cable car journey aboard the Ngong Ping 360, which offers spectacular views out over the South China Sea. The kids will love the ride and watching the planes taking off from the airport below.
Keri from Little City Trips. Find them on Instagram!
Wandering around Mong Kok
Wandering the crowded streets of Mong Kok is definitely something else and one of the must things to do in Hong Kong. The area is one of the most densely populated neighborhoods in the world. And each night, the neon signs are lighting up the streets here.
Even though many of them no longer have the classic neon signs, there are still so many that I've never seen anything like it elsewhere in the world.
Mong Kok is filled with shopping, restaurants and people!
Alex Waltner from Swedish Nomad. Find his Instagram here!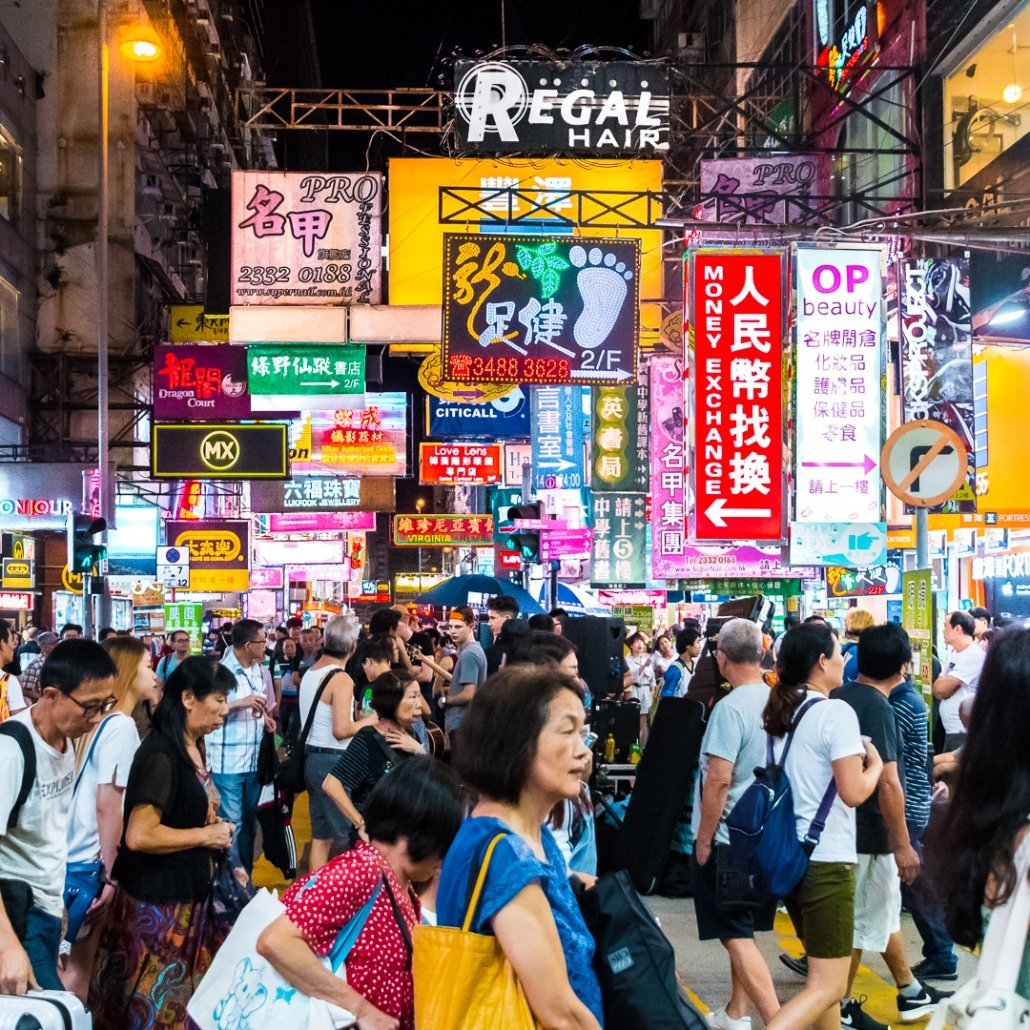 Lamma Island
While most people think about skyscrapers when hearing Hong Kong there is also another side – fun places to see and visit in Hong Kong with kids.
Visiting Lamma Island is a cool thing to do with children and here is why: The former fisher´s village is now a laid-back community with nice beaches and hiking trails.
Some small restaurants and shops along the beaches are perfect for a nice stop after discovering the island – a place that is so peaceful and quiet that kids and adults will love.
It is a perfect day trip to escape the craziness of Hong Kong – and which kid doesn't like some beach time?
Arzo Nayel, from Arzo Travels. Here's her Instagram!
Hong Kong Science Museum
Found yourself in Hong Kong during the typhoon season or heavy rain? Don't worry, there are indoor activities you can do to entertain young kids without resorting to the shopping mall or cinema.
Hong Kong's Science Museum may not be the biggest are the grandest in the world, but it's a lot of fun for young kids. The museum is extremely interactive so young scientists can get hands-on with all the experiments and displays. They also hold workshops, exhibitions and classes around the year.
You can find more information on their website.
How to get there: Get yourself to Tsim Sha Tsui MTR station, or Tsim Sha Tsui East MTR station and use Exit P2 and walk roughly 10 minutes to get to the front doors.
The museum is open at 10am everyday but Thursdays.
How much it costs: A regular ticket is $20 HKD or you can visit on a Wednesday to get free admission!
How long will the activity entertain your kids: Young kids can easily spend the entire afternoon here, but older kids may find the place a little boring after an hour or two.
Winnie from Million Dollar Winnie.
Star Ferry
The Star Ferry in Hong Kong is an iconic passenger ferry linking Kowloon to Hong Kong Island running across Victoria Harbour. This ferry had been in operation since 1888. Even though Hong Kong now has a train between Kowloon and Hong Kong Island, the Star Ferry still carries approximately 70,000 passengers per day.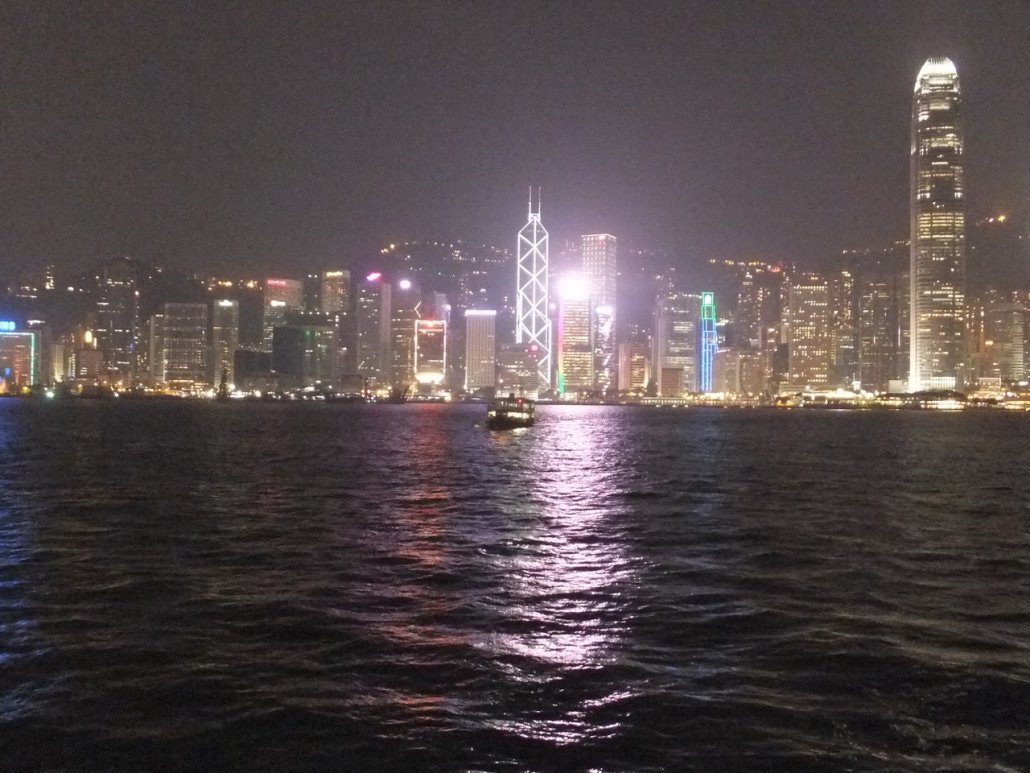 The Star Ferry runs on a first come, first load theory and they run regularly across Victoria Harbour. It's very cheap, costing only a couple of dollars for a return trip and at night time provides the best and cheapest view of the Hong Kong skyline. I think it's a 'must do' attraction when visiting Hong Kong with kids.
Sally from Our 3 kids vs the World. See their Instagram here!
Ride the Ding Ding
Imagine sitting on an old tram, the windows are open, letting the breeze in and your kids are sitting in the very front watching the bustling city of Hong Kong passing by. Riding the Ding Ding in this Asian metropolis is THE thing to do. Why? Well, it's cheap, it's classy and this tram has been here for years. It's also called 'the old lady' as it is slow, wooden and, well, not the comfiest thing, However, it's a beautiful way of getting to know the areas Causeway Bay, Central and even more districts of Hong Kong Island.
Fun fact: The Ding Ding and in that sense Hong Kong tramways is the world's largest fleet of double-deck trams and it carries an average of 200.000 passengers per day. Our advice: Board the Ding Ding at the stop Kennedy Town, pack some snacks and drinks and enjoy the ride all the way to Shau Kei Wan, which takes a little more than one hour.
Clemens, from Travellers Archive. Find him on Twitter!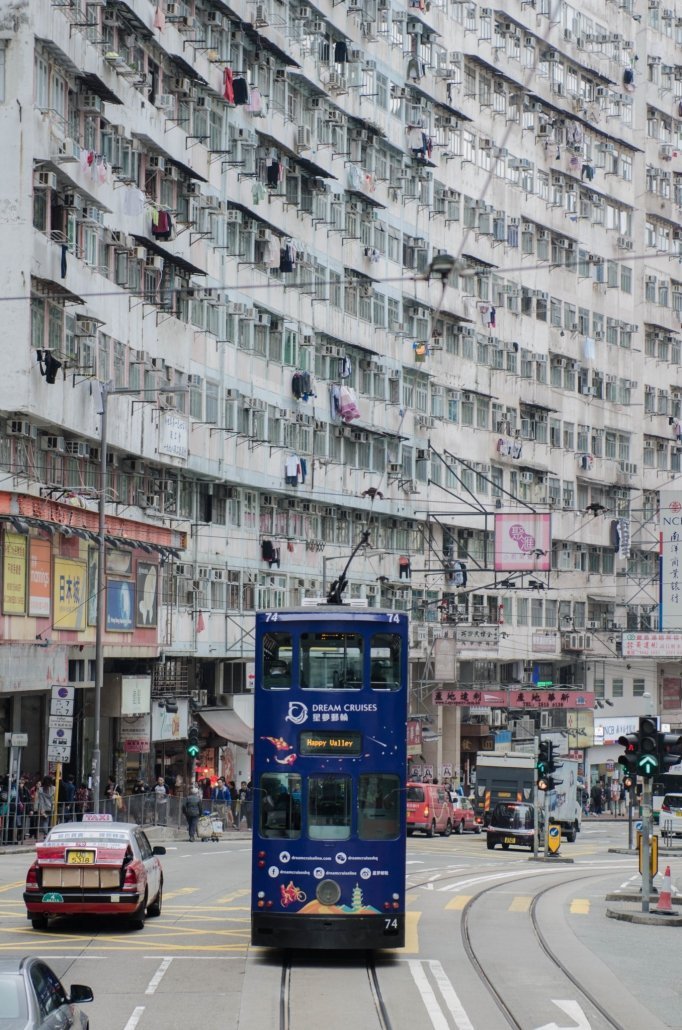 Ngong Ping Cable Car
One of the best attractions in Hong Kong for kids is the Ngong Ping Cable Car between Tung Chung Town Centre and Ngong Ping on Lantau Island which is home to the large Tian Tan Buddha statue.
The gondola cable car ride journey is 5.7 km long and takes 25 minutes during which time kids can enjoy impressive 360-degree panoramic views of Lantau Island and the South China Sea including the Big Buddha and Hong Kong International Airport.
Families might want to pay a little more than you would pay for a regular cable car and ride in a private car or one of the special glass-bottom cable cars.
Matilda, from The Travel Sisters. They're on Facebook too!
Mid-Autumn Festival
The 15th day of the eighth lunar month, Mid-Autumn Festival takes place in Hong Kong and brings a festive atmosphere to the city. During this day you can attend the Fire Dragon Dance and see both Lantern Displays and Lantern Carnivals.
It's in the Tai Hang Village in Hong Kong that you can spot the famous Fire Dragon Dance, which has been a tradition in the village since the 19th century. Since then they have kept this tradition and are dancing around the streets of Tai Hang Village with a 67-metre long fire dragon dressed with 70.000 incense sticks.
The Lantern Displays & Carnivals are also something you shouldn't miss. It's very beautiful, and it's also fun for the kids to have a look at all the cool lanterns. The main carnival is the Mid-Autumn Urban Carnival in Victoria Park, and for the Lantern Display I can recommend the Mid-Autumn Thematic Lantern Display at the Cultural Centre Piazza in Tsim She Tsui.
And don't forget about the Mooncakes, which is something delicious and traditional to eat during this festival!
Christine, from Christine Abroad. Her Twitter's here!
Avenue of Stars and Avenue of Comic Stars
The Avenue of Stars was under refurbishment, and therefore, closed. They moved all the statues and more to a nearby square, so we were able to see them and even take a few photos posing as directors.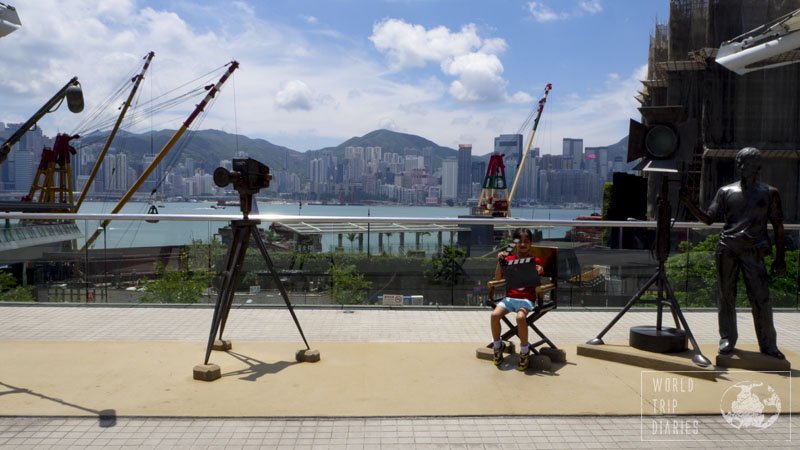 There was a little kiosk there selling treats and cold drinks, and the lady there lent us a clapperboard and some other fun props (and showed us photos of her trip around New Zealand, haha).
The Avenue of Comic Stars had many fun statues of many famous characters of Chinese comics. Unfortunately, we didn't recognize any one of them. We need to work on our Chinese comic knowledge.
Thais Saito, from World Trip Diaries. Find them on Instagram! (haha)
Temple Street Market
This one is a classic. The whole Temple Street becomes alive in the evenings with stalls, selling all kinds of things: from Chinese tea sets to fake Legos, underwear, and handicraft.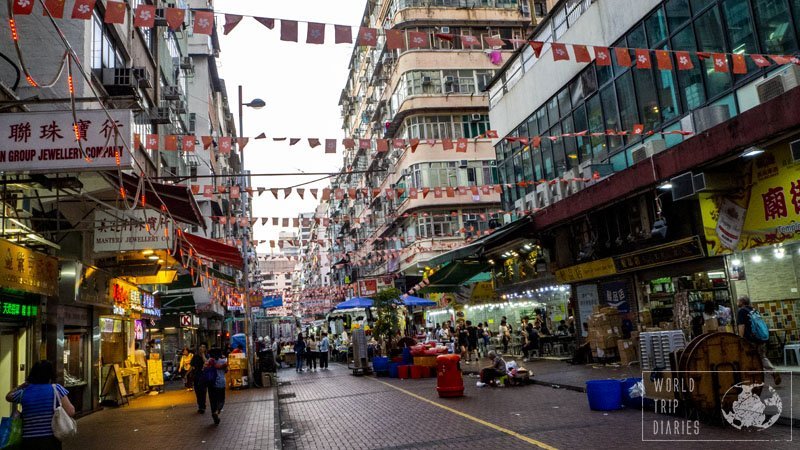 It's pretty cool but maybe refrain from buying too much because, you know, the quality isn't the highest.
Grab an insect repellant and enjoy the cooler weather of the evenings while having a treat or two…
What to eat in Hong Kong with kids
Food is important and, while in Hong Kong, try some of their traditions!
Dim Sum in Hong Kong is bite-size fun for kids!
My two favorite things about eating dim sum with kids in Hong Kong are:
1) portions are bite-size and easy to order as small plates, and
2) most dim sum restaurants focus on mid-day hours when kids need a healthy and filling snack. Hong Kong food is famous for diversity and elegance, but dim sum is the best option for food with kids in this bustling city. Dim sum is approachable for even the pickiest eater!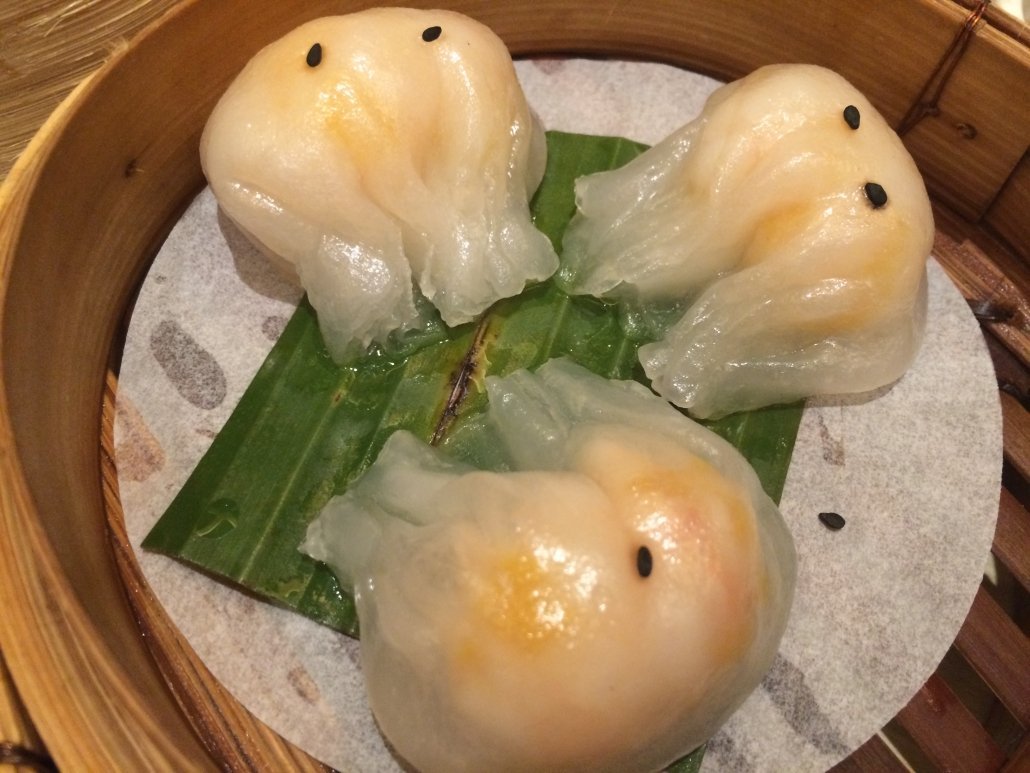 Bamboo steamers arrive in small batches just waiting for the lid to be lifted revealing several amazing bite-size items. Juicy shrimp dumplings, Siu Mai pork "meatballs" in a rice paper wrapping or barbecue pork buns appeal to kids and parents alike.
Dim sum, which means "to touch the heart", is a group meal perfect for family dining. You can order more by marking a menu that typically stays at your table. Try using chopsticks or it is okay to ask for a fork, too. For fun, kids can participate in a common dim sum tradition of pouring tea for elders at the table!
Hong Kong offers so many choices from Michelin-star restaurants to neighborhood favorites. A popular place to try with kids is Dim Sum Icon which offers dim sum in little animal shapes! Yum Cha also creates character pieces and tasty dim sum that will appeal to kids. Enjoy sampling all that Hong Kong offers!
Cerise, from Enchanted Vagabond. Check her Pinterest here!
Egg Puffs
We found it first at Disneyland, but then when we were wandering around Temple Street Market, we found them there so, of course, we'd have it again.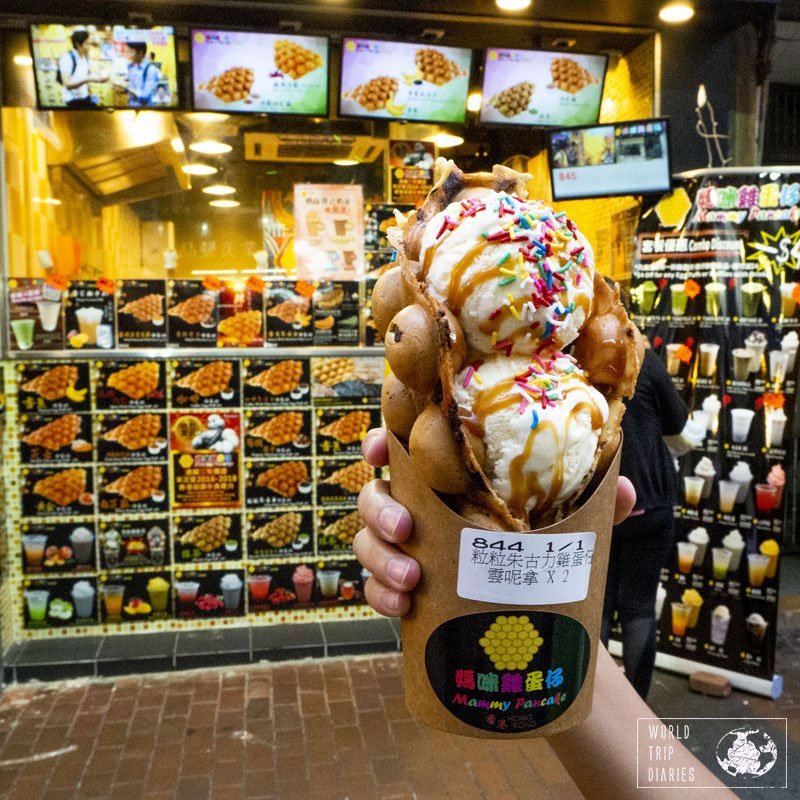 It's an eggy dough, and it comes as many bite-size balls connected with extra dough. hahaha. Well, it's hard to explain for me. English isn't easy, you know, for non-natives. (excuses, excuses) The photo should give you a better idea.
So this one had a signs saying they were Michelin recommended, and it was our first Michelin experience. It was SO GOOD! The ice cream cooled us and the dough was perfect! Crunchy on the outside and super extra airy and fluffy on the inside. Yum!
The place is called Mammy Pancakes and it's worth a try. If you don't feel like going all the way there, try any other – I don't think people can ruin it.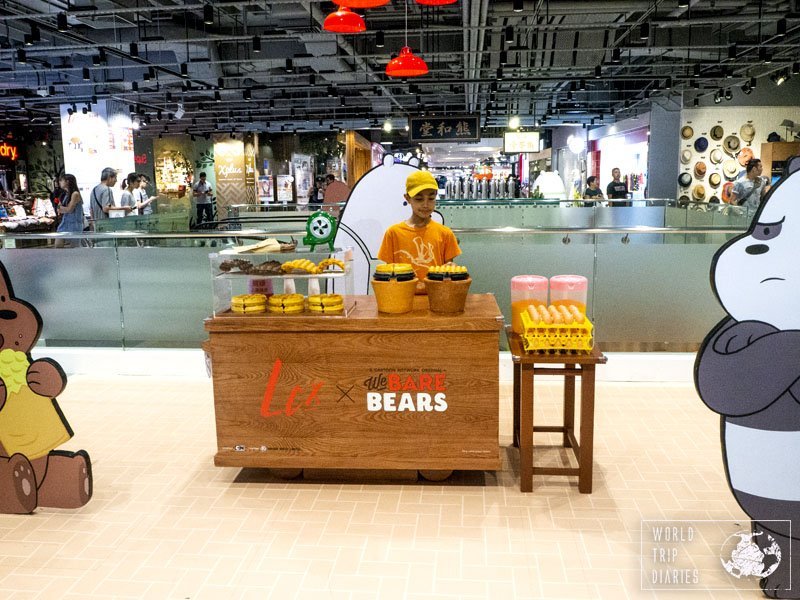 The best time to visit Hong Kong for families
Just avoid the hot, hot summer. It's really hot and humid. We were able to stay outside for 1 hour, and then we'd need a break somewhere cool and air-conditioned.
From October to April is fine.
According to Travel China Guide, it has cyclones and storms between May and November, and typhoons in September.
From late September (autumn) to February (winter), it's mostly dry and not too hot, so it's the ideal weather.
Summer (late May to August) is unbearably hot and humid and there can be typhoons and storms (though we didn't encounter anything on our week), but it's low season, which means lower prices.
Spring is shoulder season, and there can be typhoons and storms, but fine otherwise.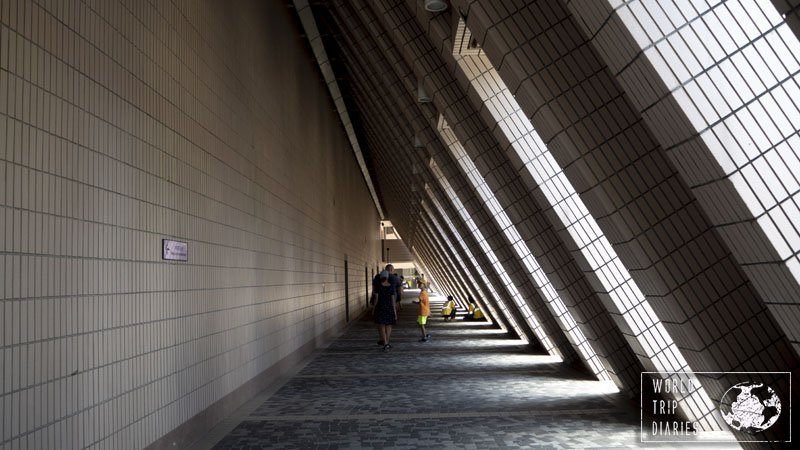 It's a nice and warm place to be almost all year around.
Decide if you'd better have the dry weather or if you'd rather pay less and just go!
Traveling in Hong Kong with kids
Well, as long as you're close to an MTR station, you'll be fine. The metro (or subway) is extremely organized and easy to use, even for English speakers.
We used it most, and we loved it! It's super fast, super efficient, and very economical.
Prices vary according to the distance, but kids between 3 and 11 pay a discounted rate. Children 12 and older pay the full price.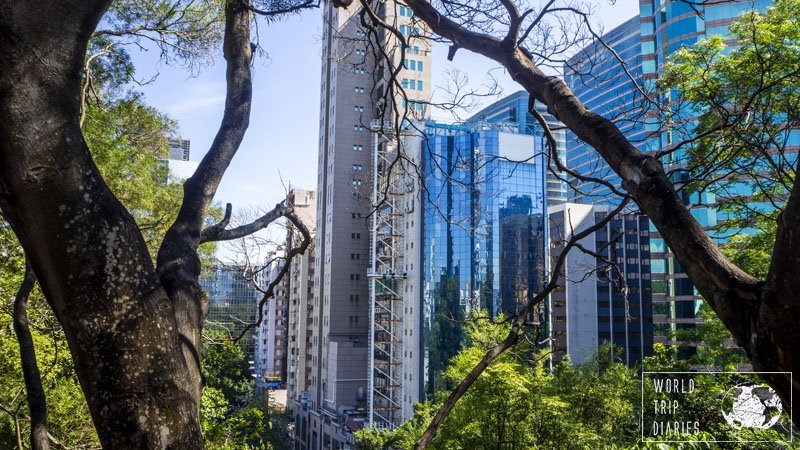 If you're staying for longer, you can purchase an Octopus card – which is the pre-paid card with discounted rates. They can be used on buses, the trains, and some ferries. We didn't buy it.
Then there's the option of taxis and Ubers. We used both, both very easy to use.
The taxis we took from the airport to Disneyland were very cheap but also very old. We needed 2 because we're in 6 people. The cab I took needed a string to close the trunk. Our bags came perfectly fine, but know that they also charge an extra for the bags.
They use the meters and even the extras are included there, so no need to worry. You can see how much you'll need to pay.
The Uber we took from Kowloon to the airport was a lot nicer and bigger – we asked for a big car to take us all together because it was a longer trip. Price-wise, it was more expensive than the MTR but we really didn't feel like walking with our bags on our backs through the boiling heat waves of Hong Kong, so it was worth it.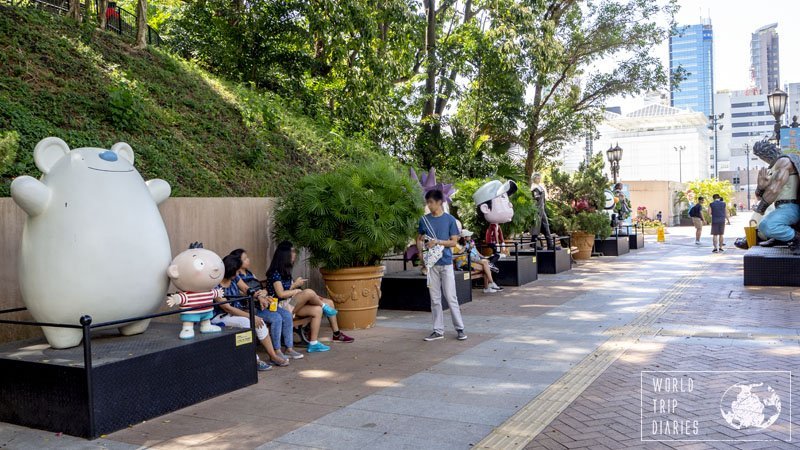 To finish it…
We think Hong Kong is pretty awesome. It offers so much and it's a lovely and affordable place to be.
It was a bit difficult to chat with the people, unfortunately. We had problems even in touristic areas, but if we managed, you'll manage too.
We've decided that Hong Kong is the perfect stop over city!
City / Country

Minimun Stay
$ ~ $$$
Child-friendlyness
Best local transport option
Safety
Do we recommend it?
Hong Kong / China

A week
$$
Very child friendly
MTR!
Super safe!
Yes!!!
Click here to see our Youtube channel with videos from all over the world!
SaveSave
SaveSave
SaveSave
SaveSave
SaveSave
SaveSave
https://www.worldtripdiaries.com/wp-content/uploads/FEAT-hong-kong-pt-1.jpg
287
815
Thais Saito
https://www.worldtripdiaries.com/wp-content/uploads/wtdlogo.jpg
Thais Saito
2018-07-24 16:54:59
2020-07-07 20:28:59
The Best Kids Activities in Hong Kong