Savai'i Island: Samoa with kids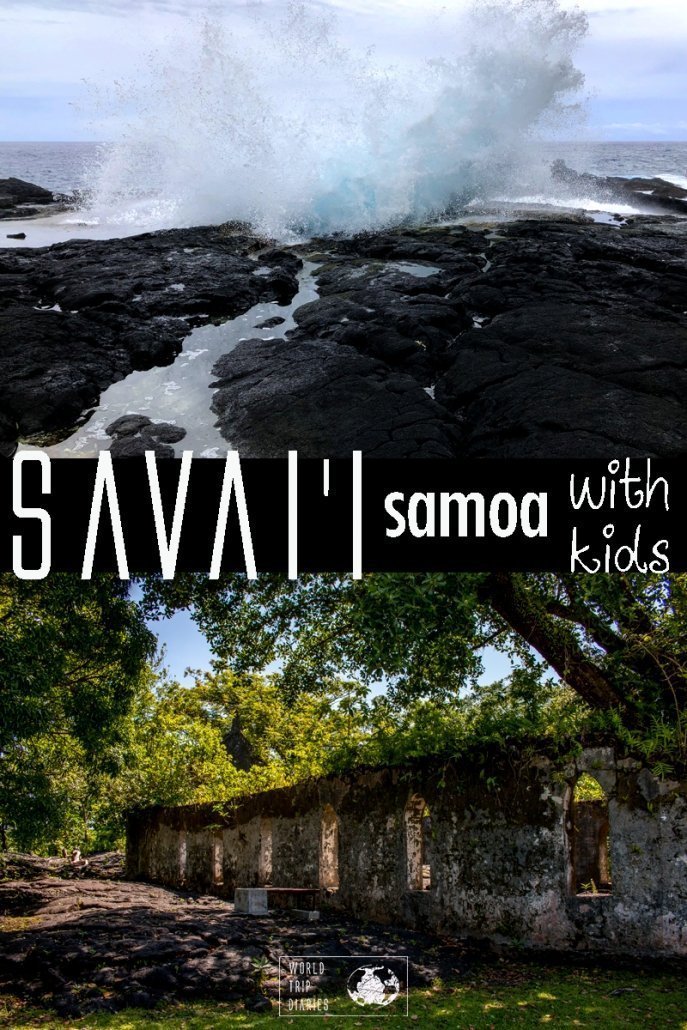 Samoa is a country with 2 main islands, Upolu and Savaii. It's on the Pacific Ocean, and it's part of Polynesia.
It's famous for its pristine beaches, forests, and waterfalls. You can see our post about Upolu here and the wider one, about Samoa, here!
Savaii, Samoa, with kids
Savaii Island is the second biggest island of Samoa. It's amazing, but a little bit off the beaten track, with less commodities, less comforts, and more wilderness. It doesn't mean less stunning.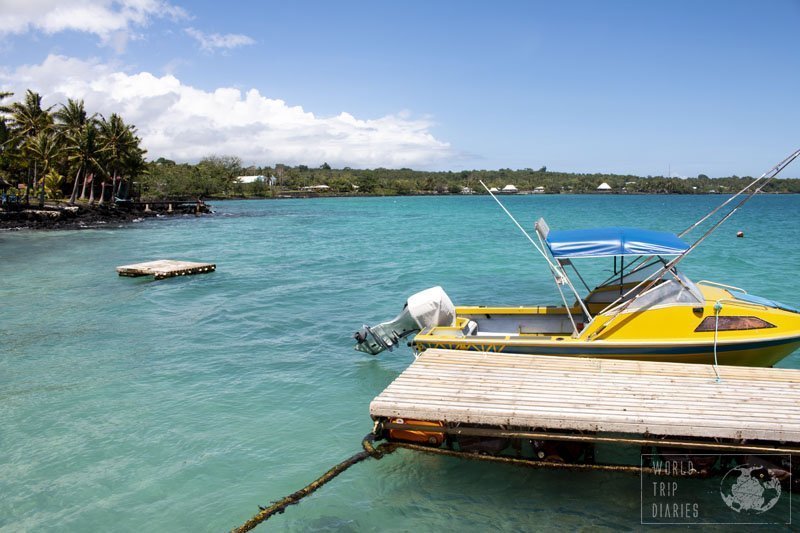 As soon as we arrived by ferry, we were in love. It was all decorated with colorful banters and painted coconut shells, beautiful gardens, one after the other.
While Upolu has so much around, Savai'i is less touristically developed so some market owners only speak Samoan and many of the most beautiful places are still undiscovered.
This is the island with the country's only volcano and almost every soil is black: from black sand beaches to volcanic cliffs and lava fields.
It was a lot sunnier than Upolu, too, which was great!
Check below some of the things to do in Savai'i!
Accommodation in Savaii Island, Samoa, for families
We only used one accommodation in Savai'i, and it was the Va'i Moana Seaside Lodge.
It's on the other side of the island, from the ferry, which meant we had a long drive from one place to the other (well, it took us around 2 hours with stops!).
It's a lovely place. The beach there is stunning but full of sea cucumbers. The kids didn't want to touch the floor because they would, invariably, step on one. The good thing, though, was that the water was so clear that we could see from above if there was a sea cucumber there and, therefore, avoid stepping on it.
There wasn't a pool, but the beach made up for it. We had the chance to do some kayaking (free for guests) and some SUP (paid), swim every single day with the sun shining all the time.
The best was that breakfast and dinner were included and they were delicious!
While there, we did the cacao farm tour with a weaving demonstration with the people from the lodge, which was pretty cool. The farm was just across the street and easy enough.
This was, though, the only place where there was no water available for the guests: no filtered, no bottled. We had to buy them and we've had to drive around to find a place with enough water for the 6 of us. There wasn't any shampoo either – luckily we had some from the previous hotel.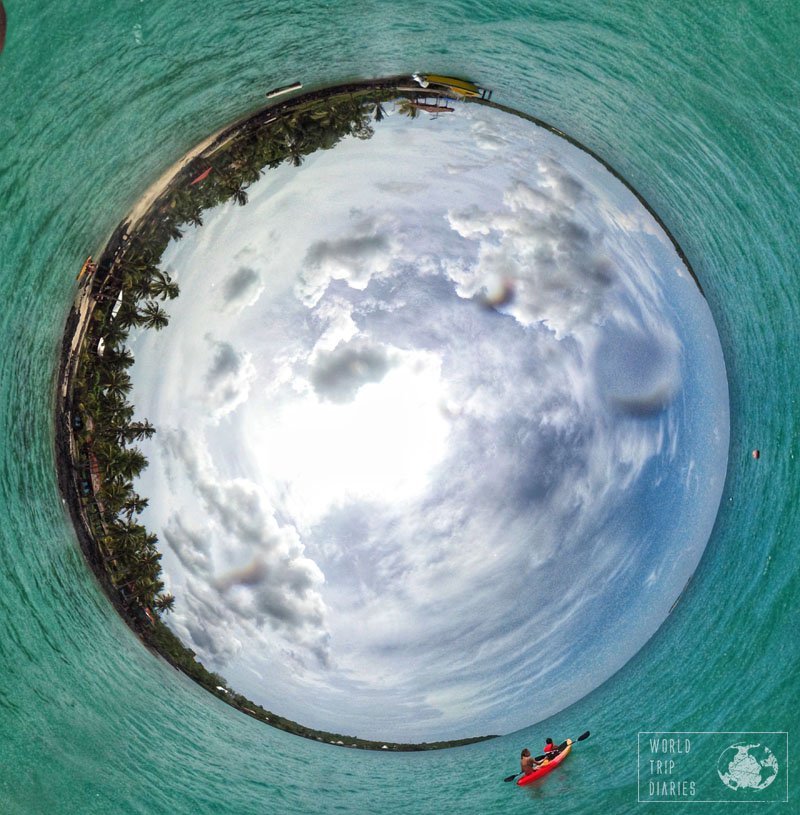 No internet, but that was expected.
Overall, everyone was super friendly, the beach was gorgeous, the food was delicious, and we've had the best time there!
(just make sure you throw out your rubbish on the bin outside to avoid ants)
Find out the latest prices for Va'i Moana Beachside Lodge here!
Things to do in Savaii with kids
There is a lot to do in Savai'i, but not as much as Upolu. I think a shorter stay there is fine.
We had 4 days and they were almost full, but we do things slowly, so you might be able to do it in a shorter period.
Of all the 200 things we wanted to do, we ended up doing 2 because: the kids were too tired and they wouldn't leave the beach.
But that's fine, I'll list what we wanted to do here too.
We weren't expecting much, just a big blowhole. But oh, how we were wrong!
It's a long way on the coast where the waves crash and the water blasts through many blowholes and it's awesome!
We drove all the way to end of the track, stopped a few times along the way and we had a blast! In some places, the water blew high enough to spray water all over us, which was just the best! Just be careful and stay away from the edges – the water can be strong enough to carry you.
There are 2 charges: one at the entrance of the drive to the blowhole (ST$ 5 per person) and then one near the viewpoint and the biggest blowhole, where there's a parking lot (ST$ 5 per car or ST$ 10 for the coconut throwing).
If you don't stop at the blowhole, you don't need to pay again but it's a symbolic charge and I recommend you do. It's super cool.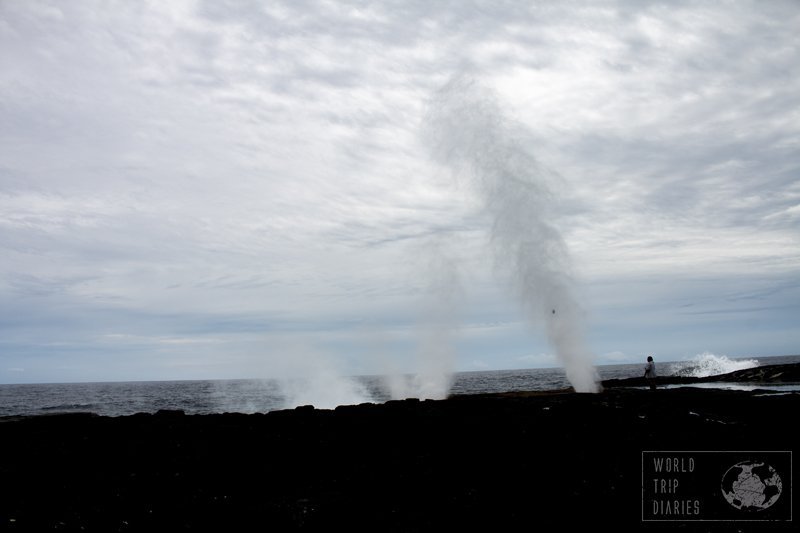 The lady at the blowhole threw a few coconuts until one went high enough – it blew around 5 meters (16 feet) up at the highest! But our favorite parts where a bit away from the blowhole, closer to the cliffs at the end of the drive. It was amazing!
Where: in Taga, Southwest Savai'i.
Cost: ST$ 5 per person + ST$ 5 per car to park. If you want to see the coconut fly, then it's ST$ 5 extra.
Saleaula Lava Fields
Once upon a time, Mount Matavanu erupted. For 6 years, non-stop. It buried 5 villages on the way, with no fatality.
Nowadays, it's a huge field with buildings and graves and trees, all covered in black hardened lava.
We arrived, Coral started to feel sick and decided she didn't want to see it so I stayed in the car with her (thank you, air conditioning). Meanwhile, Angelo took the older kids to see it – with a guide.
They came back in less than 10 minutes, seriously.
Well, apparently, they couldn't walk around unattended, and she was in a hurry, couldn't answer any questions, and not being able to tell them anything at all.
So, even though the place is stunning and interesting, it could've been a lot better. Luckily I'd researched about it beforehand and I told them what it is about.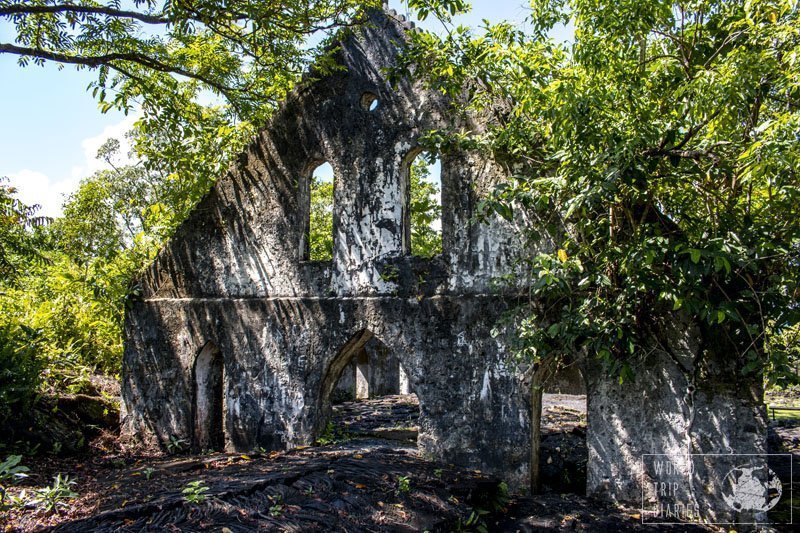 Where: in Saleaula, Northern Savai'i
Cost: ST$ 5 per adult and ST$ 3 per child
Afu Aau Falls
A waterfall in the middle of the jungle with a lovely freshwater pool that locals and tourists alike use to escape from the heat. You can jump in from a cliff if you dare to!
We missed it because the small road that took to the waterfall was closed. Too bad, really.
Where: Southeast Savai'i, on the South Coast Road
There is a price, but I don't know and I couldn't find anything recent.
Manase Beach
Apparently, this is the best beach for spotting turtles in the wild. We wanted to visit it but Coral was feeling a little sick and we just ended up missing it, going straight home after the Lava Fields.
We drove past it, but it had resorts on both sides, which prevented us from seeing the beach itself.
Paia Dwarf Caves
That's another attraction we wanted to see when we went to the lava fields and, guess what? Nope.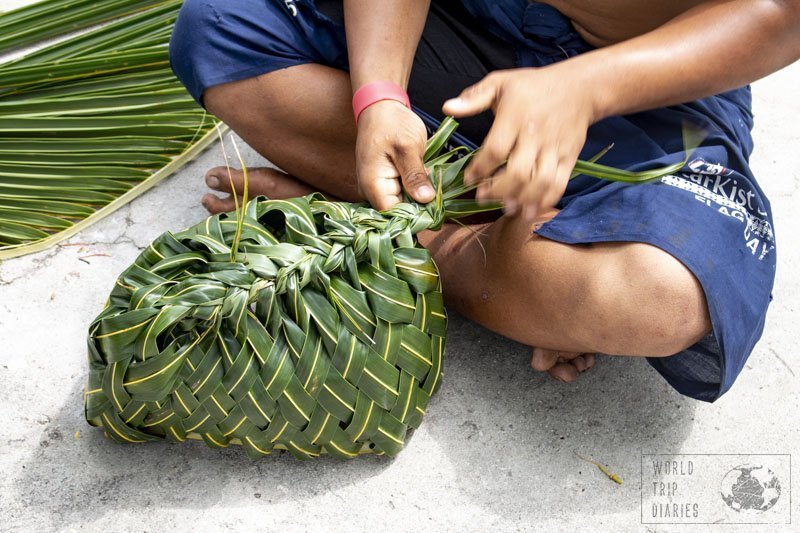 Well, it's a cave – a 1 km long (0.6 mile) cave, so bring along some good shoes and a torch? They say there are footprints belonging to the dwarves and one from Moso, the giant.
The turtle things

There's a sea turtle 'sanctuary' in Sato'alepai village, where you can swim with them in a pool. Well, see, I think that's wrong, keeping healthy wild animals in captivity and feeding them stuff that isn't their natural food, submitting them to things they wouldn't do (like asking humans for food). So we skipped it altogether.
But there's the option, you have it.
Samoa Cocoa Export Improvement Programme
We had a cacao tour, where we saw all the process from the fruit until the bean is ready to be transformed into chocolate.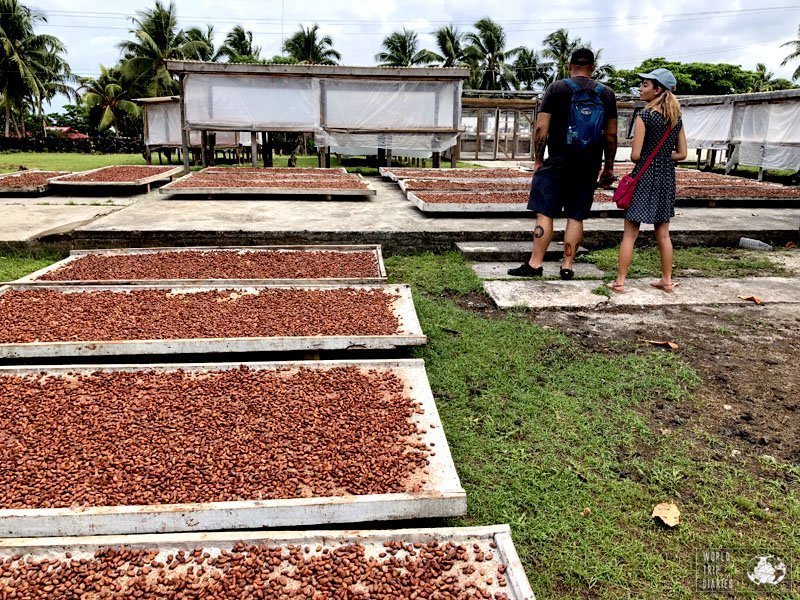 Samoa is one of the cacao producers for Whittakers, just the best popular NZ chocolate brand, and we really wanted to see it. It was pretty cool, to see the trees and how they use every part of the plant.
We saw the beans in every stage of the process, which the kids found gross (well, let's just say there's a lot of fermenting going on), it was the other side of the chocolate making process we started in Peru!
Other options in Savai'i
You could do everything in 2~3 days, depending on how fast you do things, or you could take a tour and do everything in one day. The distances aren't huge, so it's doable.
Find bellow some tour options!
Family Friendly places to eat in Savaii, Samoa
We haven't eaten out in Savai'i, except when we were going back to Upolu. That's when we stopped to have lunch just before boarding the ferry.
Lusia's Lagoon Chalets
We stopped by quickly just to eat. We had around an hour until the ferry and it was close enough to eat and go back. So we ordered some grilled fish and taro fries, but it came wrong, with regular fries.
They made another bowl, this time of taro fries, and it was delicious but we'd run out of time so we ate only half.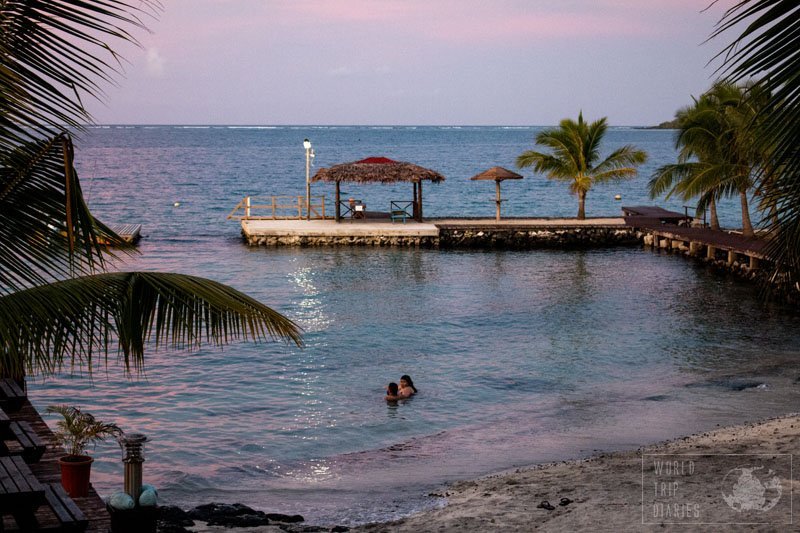 Even though we had some trouble communicating (which we thought we'd avoid by going to a hotel), the food was delicious and they were very friendly. The toilet was also very clean.
So we recommend it – but go when you're not in a hurry!
Where: South Coast Road, Saleloga – around 5 minutes driving from the wharf
Transport in Savai'i
We saw very few buses in Savai'i. If you can, I recommend hiring a car. If not, a taxi should do it.
There are buses, but very few, so make sure you ask the locals about the bus route so you can catch it!
To finish it…
We found Savai'i extremely beautiful, a little more rustic than Upolu, but we LOVED it!
It was sunny, authentic, and very worth the visit!
There isn't To Sua Trench, but there is a lot of stunning stuff around!
Island / Country

Minimun Stay
$ ~ $$$
Child-friendlyness
Best local transport option
Safety
Do we recommend it?
Savai'i / Samoa

2 days
$$
Super child-friendly
Car
Safe!
YES!
https://www.worldtripdiaries.com/wp-content/uploads/feat-savaii-samoa.jpg
287
815
Thais Saito
https://www.worldtripdiaries.com/wp-content/uploads/wtdlogo.jpg
Thais Saito
2018-12-18 15:26:19
2019-08-12 22:08:42
Savai'i Island: Samoa with kids