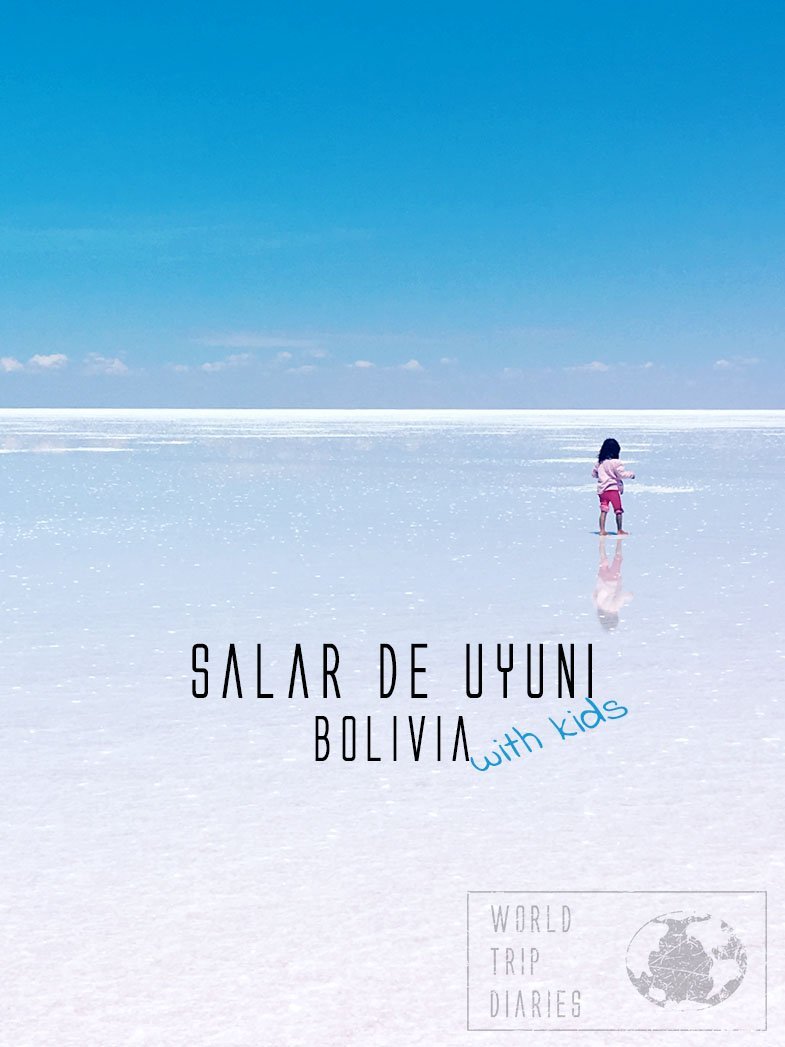 One of MY travel dreams was the Bolivian salt flats. After skipping the Atacama desert and Patagonia in Chile, this one was just NOT going to be missed. I'm so incredibly glad we went, it was the most amazing adventure EVER!
A big one, I must say.
We visited it in March 2017.
Let's start at the beginning – get ready for a loooooong post here. I wonder how many photos I can post here without making you all think it's a photo album.
– we received discounts from Tickets Bolivia and Hotel de Sal Sumaj Rijchariy, but the opinions are 100% ours –
We contacted Tickets Bolivia for the trip from La Paz to Uyuni and they replied super fast (which is uncommon, very rare in Bolivia). We had tons of questions and they were all answered very quickly and professionally that we decided to buy straight from them. We wanted to go from La Paz to Oruro by bus and catch the train from Oruro to Uyuni. They offered us a good price and their service is very good, I highly recommend it!
The way to Uyuni
We woke up early, caught a taxi to the bus terminal and waited for our bus. We found out that we had to pay to use the terminal (1,5 BOB per person, cheap, but we didn't know it and would've been stopped at the exit of the terminal if Angelo hadn't gone to ask), paid and waited. It was March and it was COLD there. Waiting in the cold was terrible. People take blankets (smart people, not us) and sleep there. We didn't so we put on all of our sweaters (2 each) and started freezing little by little.
Luckily, it wasn't long until departure, so we also went to find a toilet. It's all the way at the end of the terminal and the female toilet was packed (as always) and there was a 1BOB charge per person (includes a bit of toilet paper, handed to you at the entrance of the toilet). It was in horrible condition and there was no soap, as usual in Bolivia. We had to, basically, wrestle our way into one of the cubicles as nobody respects the line there.
Then it was time and we headed to the bus. It was a double deck bus and we were on the upper floor. We sat (no seat belts, people, ever) and made ourselves comfortable – our plan was to sleep but, well, things happen. Our bus trip was supposed to last around 4 hours.
The luggage holder above my head was loose and kept making noises (I mean a very fast tac-tac-tac noise), the crew chatted loudly and the freaking bus spent over an hour stopping in every freaking bus stop and corner in La Paz calling out for more passengers. Seriously. It was annoying. Plus, I don't understand why, but they keep honking ALL the time. There are no 2 minutes between honks. And there was our driver honking and all the other cars, buses, and trucks honking too.
And it was freezing cold there, I don't really know why they turn the air conditioning on. But they did.
When they stopped screaming 'Oruro, Oruro', I finally managed to sleep. Coral was sitting beside me asleep, so I managed to have 20 minutes of peaceful sleep until I woke up because the bus was stopped. Again.
There'd been an accident on the road, blocking all of it so our driver decided to try to go on through the wrong way. Turns out the bus was way too heavy and it got stuck on the grass area between the lanes. When I woke up, people were getting off of the bus trying to put rocks to make a path for the bus to go back to the place where it should've been – the road.
It took it around 30 minutes to get back on the road, and on the right side so it decided to just wait for the road to be cleared (it looked like it was finishing, so it was fine) when 2 cars crashed into the bus. The bus we were in. There was some serious fight (with punches and kicks), yelling, and while we didn't even see it, the road was cleared partially so our driver decided to just go and leave the crash scene. I don't really know how those things work, but nobody was hurt that we could see.
Then we had another nice freezing sleep time until the bus stopped again and one of the guys from the crew started yelling 'Bloqueo, bloqueo!'. I didn't want to believe it, but it was real. There was a road block and no buses were able to cross. He said he couldn't go, sorry, and that was it. We were like an hour from Oruro and he said we should cross the roadblock on foot and find another form of transport on the other side.
I didn't really get it, as cars were crossing the road blocks slowly, but not the buses or trucks.
We picked up all our bags and left the comfort of the noisy and freezing bus to walk to Oruro. We were ready to walk, we had 4 hours until the train, it'd be fine.
But luckily the taxi drivers in town all knew what was going on and were popping up right after the road block to pick up the lost tourists. We walked for around 5 minutes until one taxi came to us and offered us a ride. He charged us a lot, but well, at least we wouldn't have to drag our bags for hours.
It was a scary ride. He was driving very fast and dangerously as he wanted to go back and get more passengers. And it seemed to take forever (it was around 15 minutes of a horrible ride) to get to the train station. But it arrived and we were alive.
It was 4 hours since we'd left La Paz, so we just understood that they count all those events as part of life because, otherwise, it should've taken less than 2 hours.
Oruro Train Station is very small. There's an office, where we had to go and check-in, with chairs, but other than that, there's nothing. Not even a toilet – there is one, but it's by the tracks and we weren't allowed inside until boarding time. There is, though, a public (but paid) toilet just outside of it. We were tired, hungry, and decided to go find something to eat. There was a lot of stalls and several little restaurants, so it's easy to find stuff to do. Not so easy to do it carrying huge backpacks, in midst of the chaotic Bolivian traffic, though.
We found a little diner with a soda fridge (also rare in Bolivia) and went in without doubts. We didn't really want to figure out what all the strange and unfamiliar things on the menu were so we ordered chips and Coke. The Coke arrived warm. We asked for a colder one. They said that they have none because the fridge is off. Fun. So we had room temperature Coke (after going into the fridge to find the less warm one).
The chips were fine, the Coke not so much, but well. It was what we had. When we were finished and less tired, we decided to walk around a bit. We still had a lot of time.
It wasn't easy – Oruro is super full of people and cars – but we managed. We went inside a little stall market and just wandered around. Then we decided to head back to the station and wait. It was a bit over an hour left.
Luckily again for us, there was a lady selling snacks there so we bought some M&Ms for the kids and waited.
The wait was fine until we saw a couple who was with us in the hell bus carrying supermarket bags. Angelo decided to go buy water and snacks for us, but when he arrived at the market, it was closed for lunch. Hahahaha. When he came back empty-handed, Coral wasn't happy.
We went with Expreso del Sur and it was comfortable and clean. There was, though, some serious annoying and never ending music videos on the TV. After they ended (around an hour of agony), the guy in charge of it came and changed to Blood Father, which is a very age appropriate movie with drug use, lots of blood, prison, and well, all the things we want our kids to see. We told them to play on their tablets, but of course, they were all watching it.
I even tried to get them to go to the toilet (everything you do in there goes straight to the tracks – which is apparently allowed there), but no luck.
Then we had a few other movies, but they weren't as bad.
The train ride is incredible, though. The landscape is amazing from beginning to end, I guess – we didn't go until the end, so don't really know. We were told by our hotel that we should get off of the train in Colchani so we asked the crew and they were like 'What?'. We got a bit terrified and tried to contact the hotel to be sure, but there was no signal most of the way. The crew, though, was super helpful and let us know around 10 minutes before Colchani that we should start getting ready and helping us off of the train. They don't usually stop there, so make sure you ask if you need to do the same!
Our transfer was there waiting for us, so we breathed in relief and got in the warm car.
The hotel
We stayed at the Salt Hotel Sumaj Rijchariy and we loved it. We were a bit scared because they take around a week to answer any e-mail and the reviews weren't all so great at Booking.com but it was awesome. They had dinner ready for us, and since we were the only guests that night, we had all we could ask for. We had 2 rooms, next to each other, and it was perfect.
The staff – and it's everyone – was great. Super helpful, polite, dedicated, and we felt really welcome. The internet, though, is a problem. It only worked in a few spots – that were not the rooms – and Angelo had to work, so he had to sit on a chair in the hallway. They did turn on the heater and placed a warm mat just for him, though.
The food was always delicious. We had some pretty awesome meals there, I think it's worth going just for the food. My kids (my picky kids) were all happy every time we said we were going to eat. Their fried trout is the best I've ever had, and I've been having quite a lot of it.
We only had 3 days and I wish we had more. We all do, including the kids.
Just don't expect the internet to work. It works sometimes, but most often than not, it doesn't.
The 1-day tour
We slept heavily on our first night and woke up early for our Salar tour. When the guide arrived, we were called and met Nestor.
He first took us to see the Train Cemetery in Uyuni, which was pretty cool but I'm not really sure we really wanted to see it. He drove us and told us that we could roam freely for 20~25 minutes, so we did. When we got back, he was waiting for us.
A quick stop in Uyuni city center, where we bought water, snacks and Angelo got a SIM card for him to work – the internet at the hotel wasn't the best and Entel is the only company with a signal in the Salar.
Our next stop was the Colchani Handicraft market. We spent an hour there, and it was pretty fun. I even bought myself a pretty alpaca wool scarf for 120 BOB (which we could've bargained but it was cheap enough so we paid for it). We also bought the postcards to our newsletter subscribers, so go ahead and subscribe too!
There we saw a little salt factory there and how it works, all guided by the owner. It was very cool to see the salt as they collect from the Salar until how it's packed. We bought a few packs of salt too. Yum! Not very fun to carry, though. We wouldn't know about the factory, had Nestor not told us about it. It's inside an alleyway behind the stalls. Be sure not to miss it.
And right after, we were taken to the most incredible place in the world: the Salar.
Right at the entrance of it (not that there are gates, but where it starts), there were some colorful little ponds with bubbling water – cold water, unexpected as it is – as we enjoyed our first moments of Salar. We took little pieces of salt in our hands, crushed it, smelled it (yeah, I know, we're weird). We felt the water (and it does smell like sulfur – or fart).
But I just wanted to go deeper into it.
We drove until we reached the dry part of the Salar, the part where people take those funny photos. But Nestor didn't stop. He said we'd keep driving until we were in the best lunch spot so we just trusted him. Little by little, the sky started reflecting on the floor. And it was getting slowly sharper, stronger, more and more beautiful. Until we were just in awe. We had no words. We were in the middle of the sky, with clouds over and under us.
When Nestor stopped the car, we just flew outside. We really wanted to be there.
It came as a great surprise that the floor was incredibly filled with sharp and painful salt crystals. We thought it'd be smooth, or even fluffy like the clouds, but no. It was painful. We wandered a bit like that, relying on the full will of wanting to feel it completely, but we gave up eventually. As Nestor was fixing up our lunch, he also put out a few pairs of flip flops that we gladly shared. We could've gone out on our hiking shoes, but I'm kinda glad we didn't. It was pretty messy.
The hotels usually lend boots, but since they didn't have anything for the kids, we just didn't bother.
I kind of regret it, but I also don't. I don't really like wearing people's shoes.
We had a delicious home cooked Bolivian meal by Nestor's sister in the middle of the Salar. The best meal ever!
I've heard of tours where the guide takes chairs and table but this wasn't one. The kids ate inside the car whereas Nestor, Angelo and I had our lunch chatting and standing (on the painful salt crystals) behind the car. It was worth it, though. It is the best place in the world to eat!
While Nestor tidied everything up, we tried to soak up everything we could from the place. But the kids started getting tired and we decided it was time to move on.
We were starting to get back by then. It was very sad, but it was time for the horrific 'funny' photos. By the way, they're way harder than they look. We didn't really manage to take one good one, and we tried for an hour. By the end of this hour, Coral was complaining, refusing to take any photos, and we knew our day was over.
We thought the 'dry' part of the salt flats was drier, but it's not. We ended up all wet and full of salt on our clothes.
– Be careful because there are holes, from where the gas from the volcano comes off. They're deep and full of water and they hurt. Angelo stepped inside one by accident and his knee has a scab for over a month. –
The next stop was at the first salt hotel, that's now deactivated. It was a great time for a bathroom stop, although it was the most expensive toilet we've ever paid (25 BOBs, 5 per person) for a long drop without any water to wash hands. Luckily we had water and hand sanitizer.
Outside of the hotel, there were salt mounts made by the tourists, where we had fun jumping and taking photos, the flags of a lot of countries (NZ had one sticker flag – very sad and tiny), and a Dakar statue. When Nestor told us around 50 minutes there, I thought it was too much, but it wasn't. We did have fun playing there.
At last, we were taken to the entrance of the Salar again, where we'd watch the sunset. It was amazing. Just amazing. Next time and there will be another time when the kids are older, I want to do the many days tour just to watch the stars at the Salar. It must be something out of this world.
Expresso del Sur x Wara Wara del Sur
We went to Uyuni with Expresso del Sur and left with Wara Wara. The price is pretty much the same, the snack they serve is exactly the same. Expresso del Sur was newer and more organized. When we entered Wara Wara (it was the 1 am train), there were people sleeping on our seats. We had to ask the dude from Wara Wara to come sort it out, as people were sleeping soundly occupying 2 seats each. When they left, they left used blankets and pillows (provided by Wara Wara for the trip) scattered.
But then, the staff was super sweet. The guy came around taking all the used stuff and bringing us new and fresh pillows and blankets, helping us settle, it was ok.
The Wara Wara train was a bit less organized and less comfortable, but it was fine. We all slept throughout the journey.
The way back to La Paz
We reached Oruro in the morning and took a cab to the bus station – it's far away from the train station. There are taxis waiting for the passengers. We took a taxi that was so old we thought it wasn't going to make the trip so full and heavy, but it did. By the way, taxis are very cheap there, as in all Bolivia. We paid a lot only when taking a night-time cab (until 6 am) and when going and coming from the airport. Other than that, it was never over 8 bolivianos.
The bus on the way back had the same rattling noise, but it was smoother and we had no problems. It was overly hot, though. We arrived in La Paz sweating.
And then we took a cab from the bus terminal in La Paz to the house with no problems, except for a large detour due to a parade.
So now, tips for you, wishing to visit it!
– Wear sunscreen. Reapply often. It's very important, the sun reflects on the salt and it BURNS a lot. We applied it once in the morning, but it wasn't enough. We all ended up all burned – aside from the sunglass shape and it was so pretty…
– Wear also lip balm. Our lips were all chapped and gross for over a week after! And reapply it often, or wear some really nice lip balm all the time.
– If you don't mind wearing the boots someone else wore, fine, but if you do (or if you have kids), bring boots. If the weather isn't too cold, flip flops will do. It really does hurt.
– WEAR sunglasses! Even though we were wearing it (besides Melissa and Angelo, who dislike them), our eyes were very tired after the whole day in the super bright salt flats. I can't even tell how Angelo and Melissa weren't blind afterward because it was super super super super bright.
– Take a rubbish bag with you, don't be a jerk. We saw a lot of litter there and it was heartbreaking. Plus pick up the litter you see scattered.
– Wear clothes in layers, because it's chilly in the morning, hot in the middle of the day, and as the sun sets, we feel like it's snowing.
– Most importantly, enjoy. Let your kids be kids, don't make them pose for too long or look at things that don't interest them. We've learned that one.
– Get a reputable tour guide: our car was in great condition, but if the car breaks, there will be a long time until another comes around, and then they'll have to find you in the middle of the desert. Do your research.
– Watch your camera equipment. Our camera ended up full of salt, even though we used a tiny tripod. Our hands, our clothes, our bags, they were all full of salt, so I can't really expect the camera to be free of it, but we'll have to take it to be cleaned soon.
– Take bits of salt in your hands and see its shape! It's amazing! They form incredible geometric shapes and we were all amazed!
– Maybe take some spare clothing, because we kind of needed it. I don't mean to the tour, but to the stay.
– It's quite high up (altitude-wise, it's 3,656 meters or 11,995 ft) so take lots of coca tea, and, preferably, acclimatize before you reach Uyuni. We were in La Paz for a bit over a week before it.
– Even though the bus is super cheaper and faster, take the train!!! The view is awesome all the way. Just take the day trip, because, on the night trip, you can't really see a thing. You can check the schedule here.
– The buses don't have a working toilet. They probably work, but they won't let you use them. Go to the toilet before embarking.
– Road blocks are pretty common, so take that into account when planning your trip.
When to visit
We didn't get to see Isla Incahuasi (Incahuasi Island) because it was the wet season and unreachable. There weren't any salt mounts also because of the rain, but we saw the flats turned into the crazy mirror and it was worth it!
The wet season is from December to March and that's the time when you get to see it reflecting the sky, but the weather seems to be unstable we had 3 clear blue sky days). During the wet season, landslides are more common too, so it's also more dangerous.
In winter (May~August) it can be really cold, but the roads are safer.
We decided to use the train because most roads can be blocked for safety reasons during that time of the year and we really didn't want to end up without a way to get there.
It really depends on what you want from it. I wanted the mirror and that was it, but we didn't plan it – we were just lucky!
You may be lucky and see the mirrors during the dry season too, though.
Cost
It was super expensive. In total, we spent a bit over NZD 1500. It was NZD 850 with hotel and food, NZD 200 for the tour and NZD 450 for the transport La Paz-Uyuni.
We had 3 nights at the hotel, 2 trains, 2 buses, and a lot of taxis in between. The meals at the hotel were cheap enough and delicious, so we didn't really bother with the food unless we weren't in the hotel.
Our tour was with Turismo Relampago, and Nestor seemed to be very tired and didn't really talk to us unless we spoke to him but he was sober, drove safely, and didn't had the music on (it was great having the silence). The food was also good, so it was a nice 1-day tour. Their review online is really bad, though, so I wouldn't really book with them if doing a longer tour. Since we booked through the hotel, it was expensive (NZD 200 + tip).
In the end…
It was totally worth it! I'd do it again in a heartbeat!
We didn't feel sick at all in Uyuni (even though it did come back in La Paz), which was amazing! The food was great and all the handicraft is super cheap.
We left La Paz carrying only 3 changes for each and it was a mistake. Sure, we carried one 40L backpack and one day pack, but we should've taken at least one more change as spare and the flip flops. It was fine, but we had one whole day at the end, where we could've done something else but we didn't want to dirty the last set of clothes we had and travel the 12 hours in cold, wet, and hard clothes (yeah, the salt makes the clothes go all hard when it dries).
We LOVED it!!!
Have you ever been there? Tell us what you think!
SaveSave
SaveSave
SaveSave
https://www.worldtripdiaries.com/wp-content/uploads/FEAT-uyuni.jpg
287
815
Thais Saito
https://www.worldtripdiaries.com/wp-content/uploads/wtdlogo.jpg
Thais Saito
2017-05-16 17:06:03
2019-08-12 16:43:09
Salar de Uyuni (Uyuni Salt Flats), Bolivia, with kids