Reasons to take your kids to Montevideo, Uruguay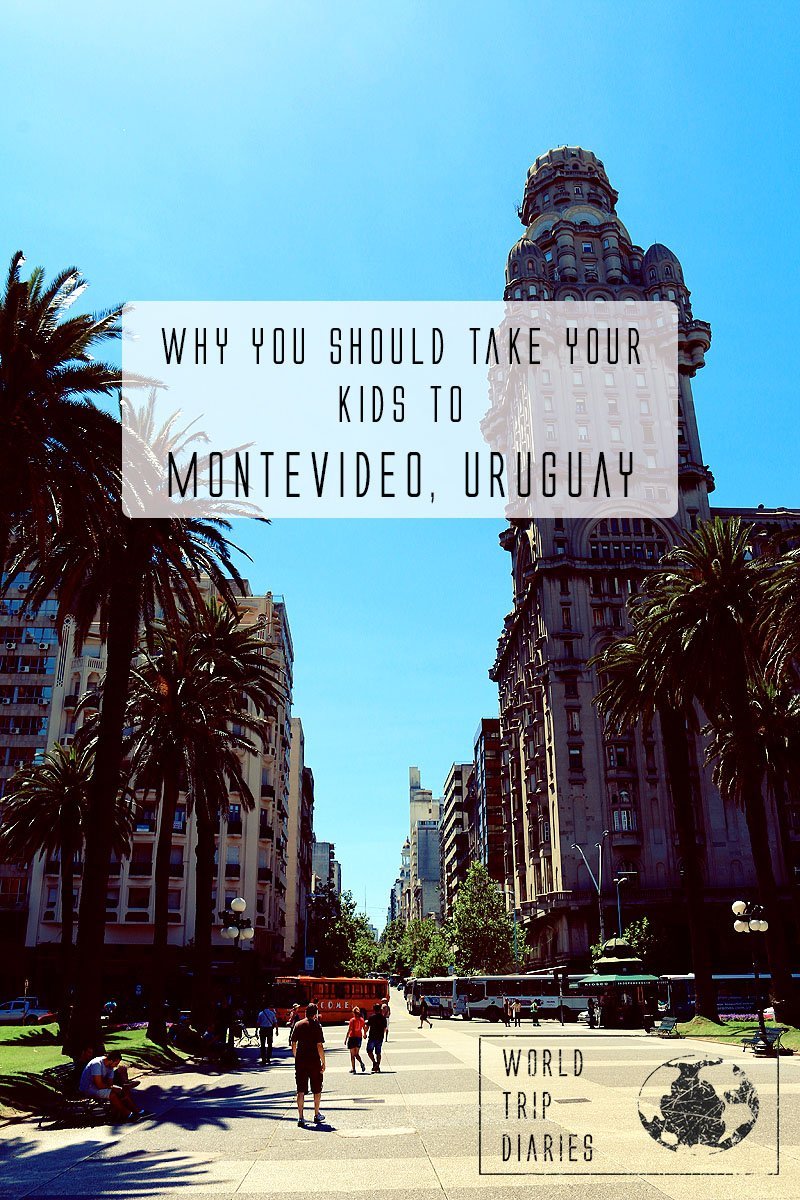 It's not a very well known place. It doesn't have anything fancy or a 'must do' bucket list experience. But the city in itself should be on your bucket list. Better yet, 'Take the kids to Montevideo' should be on your list.
First of all, the internet there is great, so you shouldn't have problems with Netflix. OK, even though the internet is great there, and Netflix is also great, there's a lot more there than that.
Summer is wonderful in Montevideo. The sun shines a lot. I mean A LOT. It's hot. Even though there's a great need for sunscreen (even on the feet, trust me – It's been 2 months and my feet still have the beautiful sandal pattern burned on it), there's a lot of shade. Trees, trees everywhere! How not to love it?
There's a lot of space to walk around. A lot. There are many parks, playgrounds, the streets are great, there's Ciudad Vieja and La Rambla. My kids would come home, shower and fall asleep almost instantly. The night was mine – to work, mostly. But it was silent and I liked it.
And it's great because everything is silent at night. Well, OK, not during Carnival season, but still.
It's reasonably safe, so we could let the kids run ahead and keep the camera out at all times. And it's so beautiful we wanted to take tons of photos of the kids there. We even walked around at night with the camera. The only person who approached me was to give shampoo samples (and it was greatly appreciated as they're small).
It's got beautiful architecture, lots of museums, tons of cultural activities – just don't expect to find animations or kids' movies in English. They're all dubbed.
The bus system there works perfectly, there's no need for taxis (unless in an emergency). The health system also works – but do have a travel insurance because it isn't cheap.
Food, ah the food! I love the food in Uruguay. It may take a few tries to find a good place, but there are some pretty delicious ones out there. We have some listed here. My kids had no problem at all eating there. And there are all kinds of food, so no need to be scared.
Carnaval was great as we were able to talk about a lot of stuff, from culture to arts to sexism. It was a bit loud, though. Fun, nonetheless!
Uruguayans are friendly and welcoming, and almost everyone that crossed our way was amazing. It's rare in South America, a place where drivers are patient and nice, but that's what we had. They'd wait patiently for us to cross – or even apologize for interrupting us watching the ants or chasing fairies (little dandelion kind of thing that floats around). We never heard a honk or anything there.
They're also very different, as EVERYONE carries a thermos and a mate (the cup filled with herb to drink throughout the day). We knew when someone wasn't local because they weren't carrying their mate set. It's super bitter, and I have 2 little kids that enjoyed it a lot more than I did.
Water is good there, so there's no need for watching if the kids are drinking water during the shower (is it only my kids?) or washing the salad with bottled water.
There are supermarkets, little shops, and street fairs everywhere – handy to buy healthy food and dulce de leche La Pataia. Seriously.
There are beaches, and there's the river – swim, fish, anything but diving, I think. The water isn't clear there due to the muddy river. They're warm, though!
There isn't much to worry about but the price of things. Almost everything is expensive. It's doable but expensive.
I dare you to visit and not fall in love. I did. Badly.
If you're decided to do so, here's our guide so you can start planning right away!
https://www.worldtripdiaries.com/wp-content/uploads/FEAT-montevideo-love.jpg
287
815
Thais Saito
https://www.worldtripdiaries.com/wp-content/uploads/wtdlogo.jpg
Thais Saito
2017-03-29 17:16:45
2019-08-12 17:08:21
Reasons to take your kids to Montevideo, Uruguay