The best things to do in Queenstown with kids + surroundings: Arrowtown, Wanaka, Kingston, Tekapo
We live close by, and we always come around Queenstown quite a lot. So this is our guide to the Southern Lakes of the South Island of New Zealand, with the best things to do in Queenstown with kids + surroundings: Arrowtown, Wanaka, Kingston, Tekapo. Continue scrolling for more!
Queenstown and the Southern Lakes region is absurdly stunning and you just can't miss. It's no wonder that it's one of the biggest tourist areas in the country.
This means 2 things: it's very expensive and very, very beautiful. It's worth it, even if you just stop by – but be there from sunrise to sunset is a must. It's true.
*this post contains affiliate links. If you buy something by clicking on one of them, you won't be charged any extra and we'll receive a small percentage.
Family accommodation in Queenstown and surroundings
Accommodation in Queenstown is VERY expensive. Very. Just absurd. Honestly. That's one reason we never, but never stay in Queenstown.
BUT if you're willing to stay in the area, click here to find some accommodation! We've visited the Jucy hostel and it was impeccably clean and tidy, very nice, but very, very small. It's expensive for families, but if you wanted to have the kids in one room and one room for the grown ups, it may be a good option! Find out the latest prices here!
We did stay in Kingston, a town very close to Queenstown, just on the other end of the Devil Staircase (photo below). We liked it because it was so quiet and peaceful, the house was wonderful, and lake-front – besides, it was low season and we had the whole lake for ourselves.
The downside of it is that Kingston is very small, so we had to go to Queenstown for everything and that trip took around 30 minutes each way.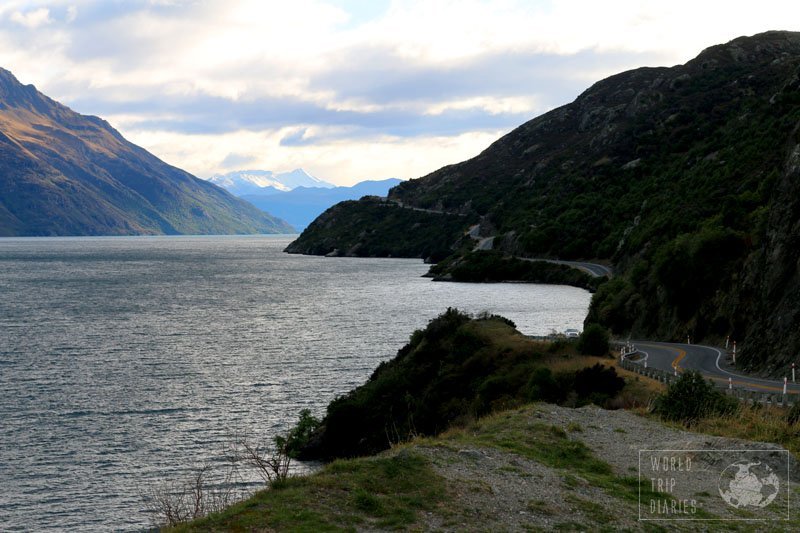 We also spent some time in Wanaka – and how we absolutely LOVE Wanaka! Lake Wanaka is a wonderful place for a swim, and a lot calmer than Wakatipu (the lake in Queenstown), so we could SUP, kayak, swim, and sunbathe. See more about our Wanaka trip here!
What to do in Queenstown for kids
It's a very, very touristy city. Probably one of the most tourism-oriented places in New Zealand (along with Milford Sound). This makes it one of the most expensive cities, and I mean that EVERYTHING, absolutely everything you want to do, will be very pricey.
Free or cheap things to do in Queenstown
Let's start with the lake. Well, if you want a cruise or a jet boat ride, or even to rent a kayak, it'll be expensive. But you can still enjoy it.
For instance, we love having a picnic on the grassy area near the lake. If the sun is strong, we enjoy the shade of a tree, and if it's cloudy, we stay anywhere. There are small bags with food for the ducks, seagulls, and pigeons all around the lake and they're quite cheap (between NZ$ 1 and 2).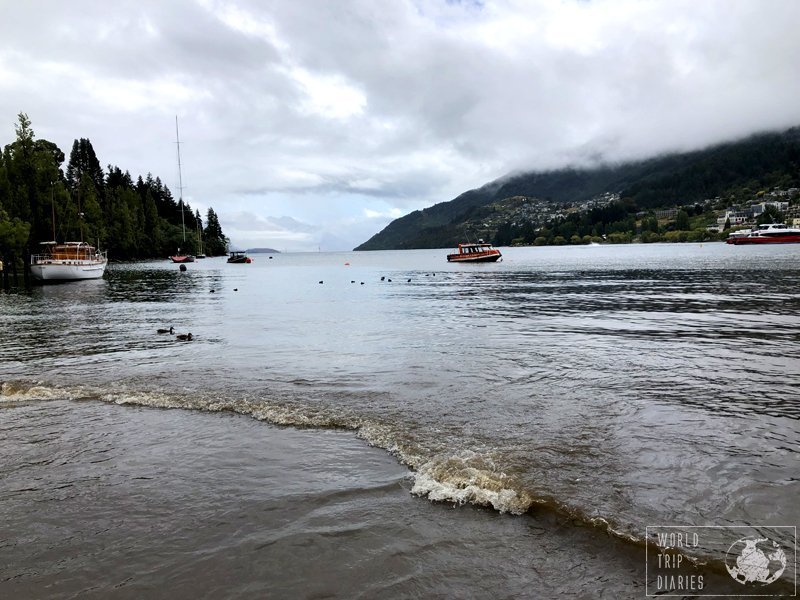 The only problem with that is the rain. When it rains, there's nowhere to cover. Avoid the rain.
The park is free, and you can walk around, use the playground or on the trees. Some areas of the park (closer to the lake) are more crowded, while others are quite empty. The bridge on the photo below is in the park.
For a small fee, you can also play frisbee golf there! It's harder than it looks, and fun!
It's a pretty park, so you can spend a few hours just enjoying it. It's also a hill, so you have views are a bit different from the ordinary photos everyone takes.
ALSO, window shopping is free. Buying stuff isn't, but you can just look around, you know? Some people might enjoy that. Some people who don't have kids running wild inside stores, for instance.
The hikes are also free, they're all well marked and signaled. Make sure you check the DOC website before you go hiking with kids to see what is a good hike for your family hiking levels!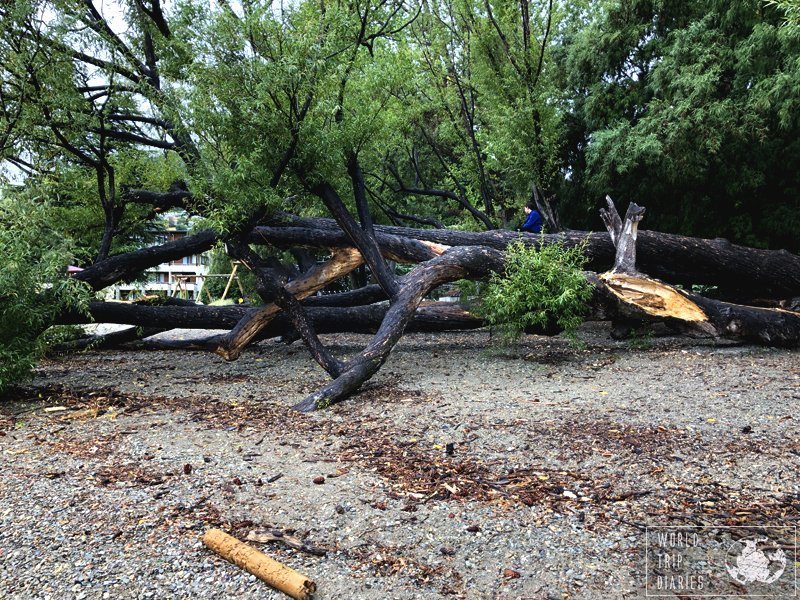 Indoor activities Queenstown
When it rains, it gets really hard to find something to do in the city. Unfortunately, all the options are paid, but it's a fun way to enjoy anyway.
You can do some indoor go-kart, play laser tag, try to solve an escape game, etc. That we know of, there's Thrill Zone right in the city, or Game Over in Frankton, near the airport. If you have a flight in the afternoon, for instance, Game Over is well located and a great last-minute stop!
The cruises, yeah, aren't indoors, but they're covered so you CAN do them, just as the gondola. Even though nothing of the above is very authentic and unique, it's still some of the fun things to do in Queenstown.
The movies work, it's not the best theater, but it's fine and good for a rainy day.
Other than that, I'm sorry, not much is left. Well, for the older kids or grown-ups only, there are the haunted mansions, and things, which sound REALLY creepy and we never do.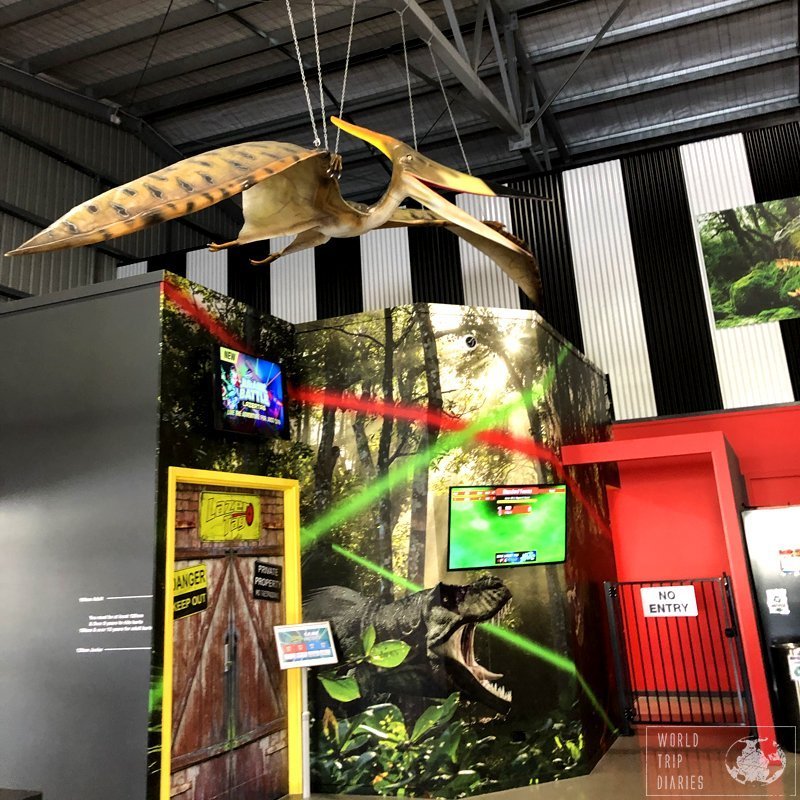 Queenstown winter activities
Even though there are things one can do in every season, some things are seasonal. This is a seasonal city, even though it's busy year round.
Winter in New Zealand is from June to August, and even though it's a mild winter, it's quite windy and Queenstown is one of the chilliest places in the country. You can enjoy snow sports from June to October – or while the snow lasts! Coronet Peak and the Remarkables are the places to go!
One of the things to do in Queenstown in winter is practice winter sports! They have some of New Zealand's best ski mountains and they get quite busy during winter. You don't need anything, as you can rent all the gear (including all the clothing) on one of the many tour stores in the area.
Things to do in Queenstown in summer
There are many activities you can only enjoy during summer in the city, a lot more than the winter activities, so I'll list what to do in Queentown in summer below:
White Water Rafting Queenstown: they have all levels of rafting, even for families! Kids over 3 years old can join the fun on this tour!
Play in the lake – well, it's not that you're forbidden to play in the water during winter, but it's a lot more pleasing during summer. You can kayak, SUP, raft, etc.
Bike riding. Some of the snow mountains open up during a few months in summer for bikers and some parts of those trails are fine for families with kids too!
Stargazing is definitely easier to do during summer, just know that even in summer, the nights tend to be a little chilly.
If you (or someone in your family) is up for it, you can also bungee jump with a dip – you fall face first inside the water! – which is best done during summer, of course.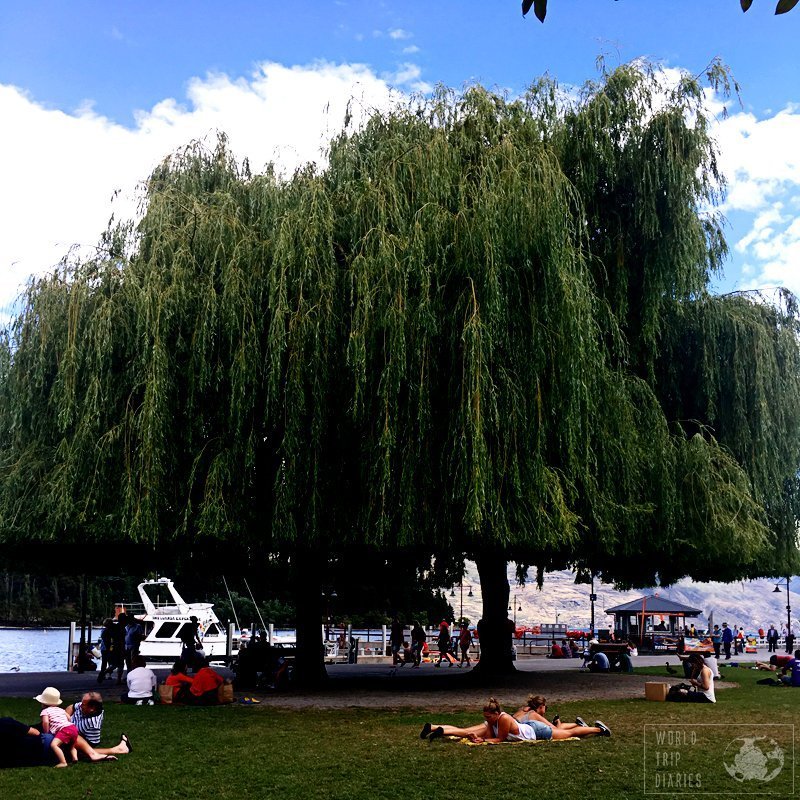 Queenstown family activities
If you don't mind spending some money, there's a lot to do there! Below are the best kids activities in Queenstown (+ all the things already mentioned above):
Gondola + Luge: It's an amazing activity for all and the best Queenstown tourist attractions. It's not cheap, A family pass with the Gondola ride (return) + 2~5 luge rides costs from NZ$ 210 ~ 250. But it's a lot of fun and they're open in all weather! Kids over 6 years old can ride alone and it's safe and fun for everyone!
Parasailing: I know it's not for everyone, but for older kids, it's amazing. Not cheap, costing over NZ$ 200 + the gondola, but worth it for a once in a lifetime experience!
A helicopter ride is pricey, but it's undeniable fun!
A Shark boat ride: it's a small enclosed jet boat that dives in the lake.
The Underwater Observatory Queenstown is a cheap activity in Queenstown, costing only NZ$ 20 per family of 4. In it, you can see the inhabitants of the lake.
The Ice Bar, which I know it's a BAR, but kids can enter and have a little chilly fun – while having a soda.
The Remarkable Sweet Shop, because it's just AWESOME. There's so much inside that shop, you can't miss it. And try out their free fudges!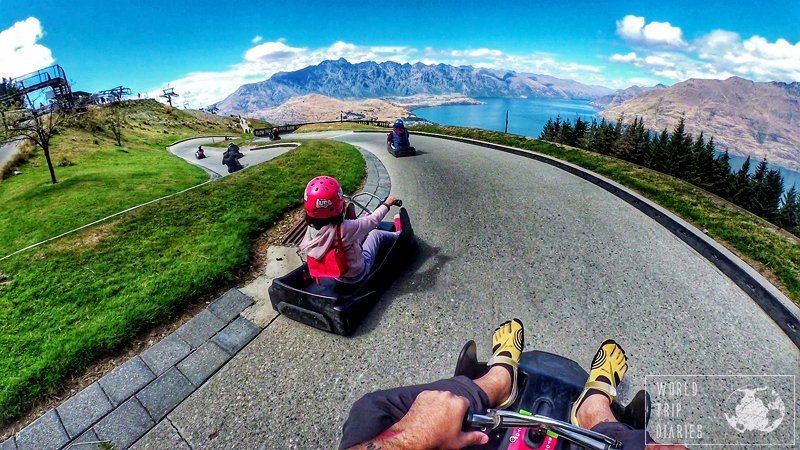 Best Queenstown restaurants
The most popular place is, undoubtedly, Ferg Burger. We have a love and hate relationship with them. The shop is always, always, always absurdly crowded. It's ridiculous. I mean, the lines are huge and can take up to an hour (seriously), and then, you have to take your food outside because there are no tables. I mean, there are, but so few.
Then, right beside it, there's Ms. Ferg's bakery and ice cream shop, which is a lot more reasonable. Still no place to sit.
Then, there's Patagonia and its sweet, sweet desserts! Chocolate everything, please. It does get quite crowded, but it's a nice place to sit and rest for a bit.
But our favorite place ever, and one that we never, ever miss, is the Cookie Time Cookie Bar. Seriously. I know they sell those cookies in the supermarkets BUT don't be fooled. There's nothing as good as a freshly baked cookie. If it comes with a cute milk bottle filled with delicious chocolate milk, then, even better!
Best time to visit Queenstown
The best time to visit Queenstown is, honestly, whenever you're around. It's gorgeous during winter and summer, and throughout the whole year.
It's also very crowded year-long, so it doesn't make much of a differente.
What makes a difference is what you want to do there. If you'd like to do some rafting, summer it is. But if you're into snowboarding, go during winter. If you just want to do some sightseeing, anytime is a good time.
MY personal opinion is that it's better during summer. I love getting my food and going to eat by the lake, which is one thing hard to do during winter. The food would get cold and yuck before we ever got there. And sitting there wouldn't be half as pleasant.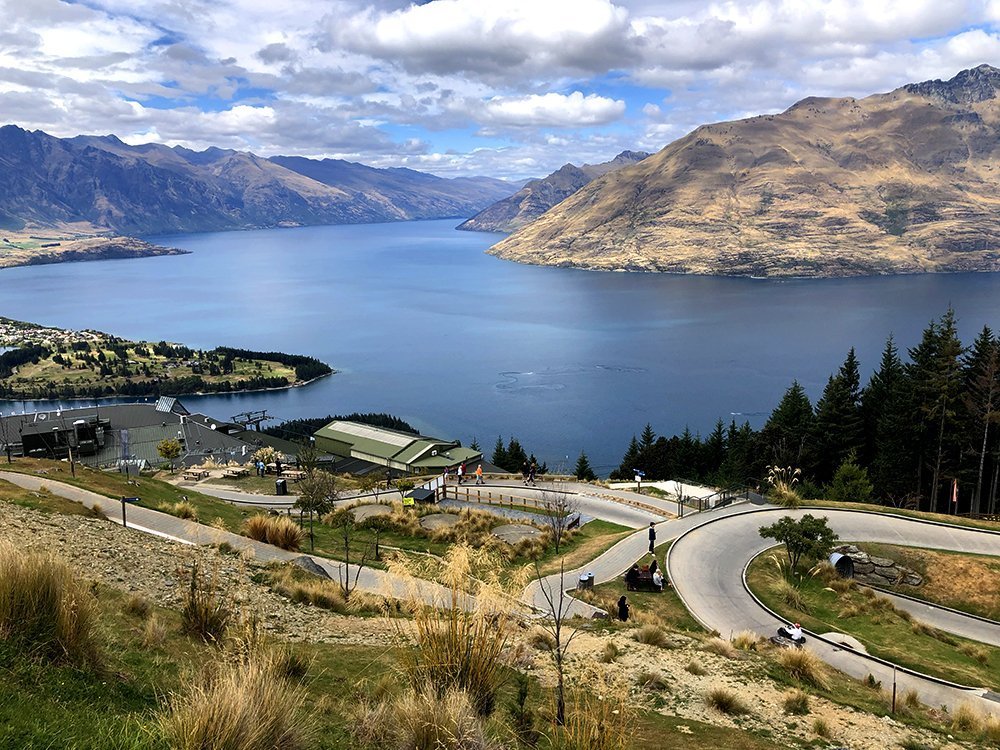 Kingston with kids
We absolutely adore Kingston. It has nothing, absolutely nothing. One store that's everything, from the chemist to the convenience store, to the restaurant and the tour guide, and just everything the town needs.
But the lake. Oh, the lake. It's the same Lake Wakatipu from Queenstown, and yet, it looks cleaner, clearer, calmer, even more inviting. We just could never have enough of it.
There isn't much to do besides walk, go to the store, and the lake, but sometimes that's all we need.
It was quiet, peaceful, joyful, and complete. I highly recommend you stop there sometime. Maybe spend the night. Gorgeous!
It's around 30 minutes driving to get to Queenstown through one hell of a scenic drive!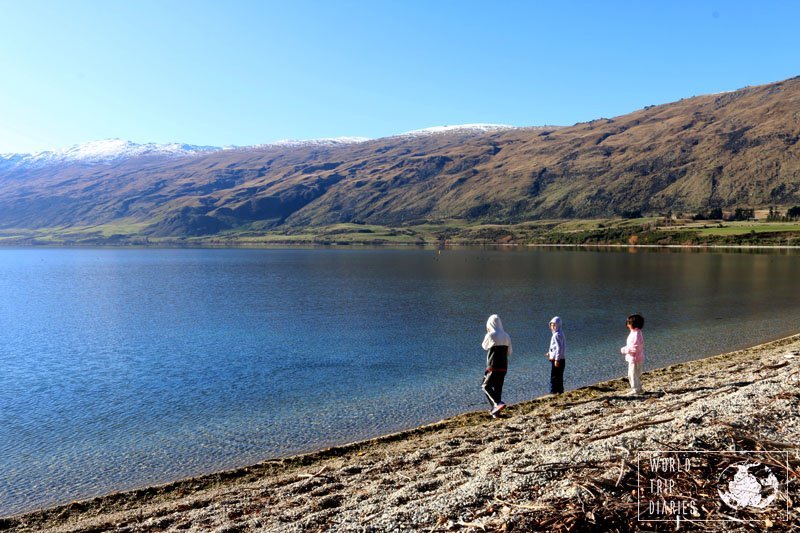 Things to do in Arrowtown
It's a great day trip from Queenstown, being between 30~60 minutes drive away. It's one of our favorite towns in the area. Visit it!
Lakes District Museum and Art Gallery: it's small, charming, and indoors.
The Chinese Settlement Village is a historic outdoor museum which shows how the first Chinese immigrants lived when they moved to New Zealand. It's heartbreaking and real, a History class on its own.
The Remarkable Sweet Shop, because, how not? Free fudge tasting, a wide variety of fun and unique lollies, it's fun to go in and just look!
There are many, many walks around in nature too!
You can try out your hand by mining gold if you want.
There's a tiny cinema there too.
If you're lost and don't know what to do in Arrowtown, just go for the best, which was to walk around town. It's just so pretty and quaint and… lovely!
Click here to find somewhere to stay in Arrowtown! (affiliate link)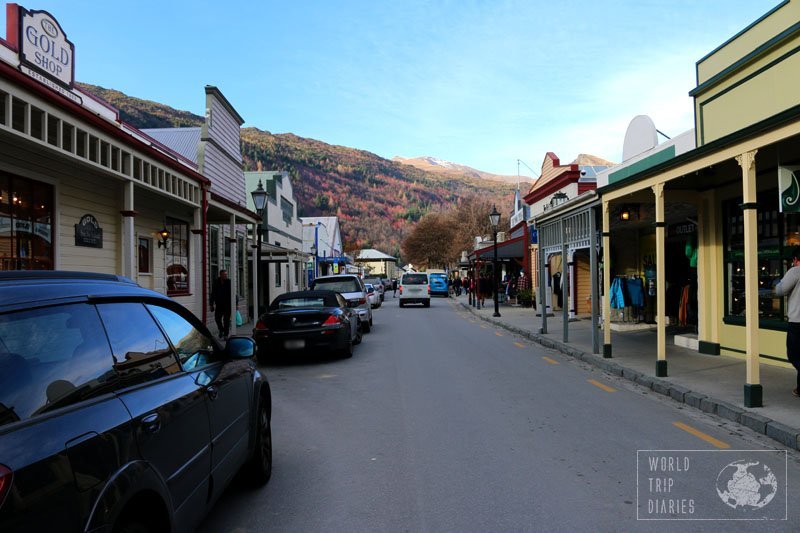 Wanaka with kids
We have a full post about Wanaka here! Click to read it!
Wanaka is another 50 minutes drive from Queenstown, but it's our favorite place in the area! Everywhere you look, it's stunning. Everyone is friendly. It's just amazing. Don't miss the following:
Lake Wanaka, for a swim, to practice water sports, or just to hear the sound of the water. It's lovely.
Cardrona for snow sports (during winter).
Take a photo with the Wanaka Tree, you simply can't skip this. This tree is a lone tree growing in the lake. I don't know if it's the mountains the background, the blue waters of the lake, of the tree in itself, but everyone takes a photo with it. And it's pure beauty.
You can paraglide, mountain bike, and all that.
Hiking, because the trails there are breathtaking! Be prepared for a lot of going up and down mountains, though.
Puzzling World for some offline fun. Giant maze, anyone? We took around one hour to get out of it.
Lake Tekapo for families
Well, lastly, Lake Tekapo. You can find our post here.
It's around 2 hours drive from Queenstown and it's the prettiest place on earth. It's pretty year round, but during summer, it's all surrounded by colorful lupin flowers and it's unbelievable.
The lake has this tone of blue that's simply fake. It can't be natural, but it is. Apparently, it's due to the heavy mineral content. But it's so blue it's blinding.
And it's one of the world's best place for stargazing. Then, there's the little church. It just couldn't be better.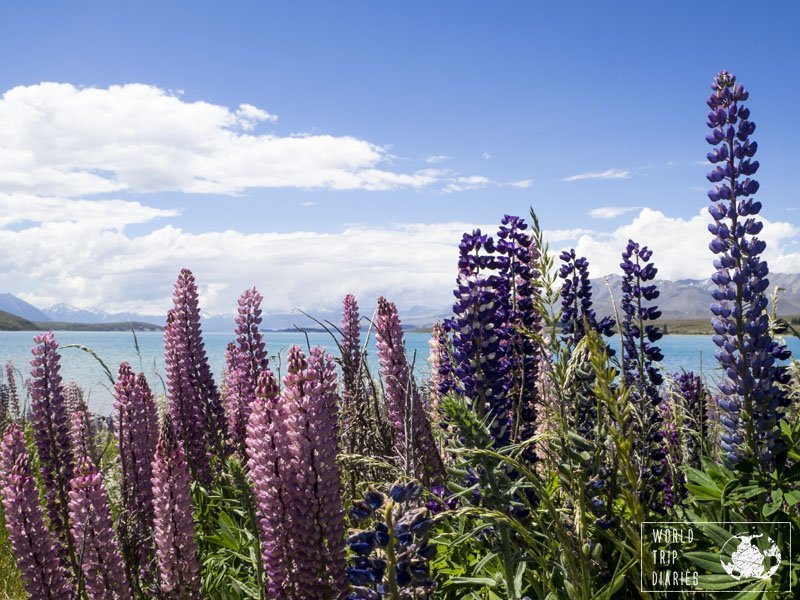 To finish it…
The Lakes District is simply the prettiest place in NZ. There are many amazing places in this country, but this part of it goes beyond what's possible to imagine. It's incredibly gorgeous.
The mountains surrounding the lakes – and, by the way, every lake has a different color, from the deepest blue to the most turquoise blue – with loads of trees of different colors, and roads, not counting, of course, the sky, which gives up a different show at every hour.
Even though we didn't really love Queenstown, we can't deny its beauty.
City / Country

Minimun Stay
$ ~ $$$
Child-friendlyness
Best local transport option
Safety
Do we recommend it?
Southern Lakes region / New Zealand

3 days
$$$
Highly child-friendly!
Car
Super safe!
YES!
Did you subscribe to our newsletter yet? Don't forget to do it, as we send out 3 postcards a month for 3 lucky subscribers!
Below you can watch our video. It shows a little bit of each place!
https://www.worldtripdiaries.com/wp-content/uploads/FEAT-southern-lakes.jpg
287
815
Thais Saito
https://www.worldtripdiaries.com/wp-content/uploads/wtdlogo.jpg
Thais Saito
2016-07-20 17:38:58
2019-08-12 21:33:29
The best things to do in Queenstown with kids + surroundings: Arrowtown, Wanaka, Kingston, Tekapo