*edited in December 2017
We spent 6 days in Osaka, Japan, in September 2016 (summer) and 10 days during December 2017 (winter).
The first time in Osaka, Japan, with kids
It was probably not the best week. It rained most days, we had a typhoon on our second day, it was still super hot and humid and the kids were just tired and sad after leaving my dad. We had to skip many things we wanted to do due to the lack of time. The typhoon really did kill 2 days of our already short week. We also had 2 holidays on this week, which meant crowds everywhere. But also cheaper train tickets.
We still had fun, though.
We spent our days in a small, but clean and comfortable apartment. The owner is great, accommodating and very helpful! We loved it. My kids had fun with the Super Nintendo on super rainy days. It's very close to 2 convenience stores, many restaurants, and train station. It's also the end of the line, which means empty trains.
We rented it through Airbnb but the listing is, unfortunately, no longer available.
(If you're new to Airbnb, click here to receive a discount on your first booking – and we receive one too, without any additional cost to you!)
The second visit to Osaka, Japan
It was winter and, therefore, super cold. But this time, we had great weather, nearly no rain. It was great, since we arrived in Osaka from New Zealand, this time.
We stayed in this house, which is a lot bigger than most houses in Japan, but in a super residential area, which means we had to keep ourselves a lot quieter. We rented it again through Airbnb, and if you're new to it, register through this link and receive a discount on your first booking (affiliate link).
But it was a great house, super comfortable and clean, close to the Loop Line, easy to visit Universal Studios.
We also ate a lot. I mean, a lot. We missed Japanese food.
About Osaka
Osaka is a big city, with loads of people and sensory overload. It was a bit easier getting around than Tokyo, and we found that people in the Osaka train stations were a bit more willing to help (in English) than Tokyo ones.
The people were also a bit louder in Osaka than in Tokyo. It was great not having to shush my kids everywhere, but a bit annoying when we were trying to understand something.
Osaka is famous for its takoyaki (little dough balls with a piece of octopus), okonomiyaki (a savory pancake-like thing where you add as many toppings you want), and crabs.
What to do in Osaka for families with kids
Visit the Pokémon Center in Umeda. It's a little smaller than the Tokyo Mega Store, but it's still big with a huge variety of Pokémon goods. They are pretty expensive, though. There are many stores that aren't Pokémon branded and sell Pokémon goods for a fraction of the price and they are everywhere. Of course, you're not going to find all the selection or the exact same thing, but if you're not picky…
Walk around Nanba and Shin-Osaka. There isn't much difference there, loads of shops, walks, and restaurants.
Ride the Hep Five Ferris Wheel and it wasn't cool. I don't know about you, but being hanging inside a metal compartment isn't the best activity for me. It started raining while we were up there (I'm very glad it wasn't too windy) and my girls wouldn't stop dancing and pranking me. Horrible.
But then again, I'm happy we didn't go to the Temposan Ferris Wheel. Glass bottom compartment? No, thank you.
Inside Hep Five, there are 2 huge (fake) red whales hanging from the wall, one adult, and one baby. Coral loved watching them from all angles.
Spend some time in Kuromon Market to get something to eat. We had lovely takoyaki and okonomiyaki there. If you visit it during lunch time (from 11 am to 2 pm) or dinner (from 5 pm ~), you'll see a lot more action and have more options than we did on our first time. There were many fish stalls there, and some of them had little octopuses on a stick, they really did look like lollipops. And it did smell like fish, so if you don't like it, avoid. We had fun there, watching all the super different things, the people working and walking by, the seafood….
Take a day trip to Nara and saw the temples, the deer park (and the deer) and had an awesome time.
And, of course, a trip to Universal Studios Japan – read more below.
Take a selfie with the Glico Man, in Namba. It's not fun during the day, but pretty cool at night. Plus, there is a lot of fun to be had in the area. There are many shopping streets in the area, you can take a boat through the river, and enjoy Japanese food all around!
Watch the sunset from the Umeda Floating Garden Observatory in Umeda Sky Building. To be really honest, I never have too much fun on these observatories, but it was pretty cool to see Osaka from above. It also gives a pretty good look at the Beehive (the building that has the road crossing through it).
Osaka Castle. We missed it for our first time in Osaka but managed a visit on our second time. It was super crowded but it's pretty. The inside doesn't look like a castle, it's more of a museum, but the park is great for everyone.
Who'd have thought there was a thing such as the Cupnoodle Museum? Well, there is. In Osaka AND Yokohama. We visited it and we had A LOT of fun! Seriously, who wouldn't love making their own cup noodle? The cups we made are going home with us and the ramen is eaten. It cost US$ 3 each!
Q's Mall Morinomiya is a lot smaller, it's an open-air mall, but the taiyaki stall there was delicious. We also ate at Green Cafe and had some weird drinks, such as the sweet potato smoothie (it was more like a soup).
Spend some time on a Yodobashi Camera. Even though it's one store, it usually occupies a whole building and it offers a lot more than cameras. We had a lot of fun in the stationary and toy areas. Some branches even have arcades and restaurants.
We visited Abeno Harukas' Art Museum this time because there was a Ghibli Architecture Expo going on and we just couldn't miss it. It was amazing, but very crowded and non-Japanese speakers missed a lot of info. If it's on while you're there, I think it deserves a visit. The observatory there is pretty cool too.

Waste some money in an arcade. How not to? There are many all around.
In Namba, there's a huge Daiso store – 5 floors of it. Great place to buy souvenirs.
Visit a Don Quijote store. It's HUGE, cheap, and it was a lot of weird and funny stuff. AMAZING place to get some souvenir.
Where to eat with kids in Osaka, Japan
Grab a giant rainbow candyfloss in Totti Candy Store, in America-mura. It's a short walk from Shinsaibashi and Namba (where the Glico Man is), so enjoy it.
Also have some Kobe beef while you're there, right in front of the candy floss shop.
Have a ramen. The best we've tried… well, I'm gonna put 2 here because I can't choose. Sanki, in Morinomiya, is a small restaurant but serves delicious ramen and dumplings. Gatton is in Namba and you just need to try it. The black ramen is AMAZING.
Royal Host is a family restaurant. It was super close to the house we rented in Morinomiya so we visited it quite a lot. It's a bit pricey, but the food is good, there's a good selection, it's warm, and service is impeccable.
Tonkatsu Hanamura was just the best tonkatsu (crumbed deep fried pork) we've ever had. It's near the Cupnoodle Museum, you need to visit it.
Visit the Gudetama café in Hep Five Mall. Well, we didn't even get to see our food, as Coral dropped the hot chocolate all over her and we had to race to clean her and get her some new clothes (guess what? Only one store in the whole mall sold children's clothes).
Kuromon Market is great for trying out different stuff. Grab a portion of everything – there is takoyaki, okonomiyaki, sushi, udon, Kobe beef, a lot of seafood, weird fruits and veggies, ramen, and a lot more.
Universal Studios Japan
My dad gave the kids money and they were able to pay for their tickets on our first time in Osaka. They really wanted to see The Wizarding World of Harry Potter in Japan, which has little extras (but only Hogsmeade, not Diagon Alley, like Disney World). It was Halloween on our first visit there and there were zombies all around. The Death Eaters at the Wizarding World weren't scary, but the zombies had my kids crying. Not fun. We finished our day earlier than we wanted to because they didn't want to leave the kids' area.
Then we visited it again in December 2017 because we wanted to see the park all decorated for Christmas. Well, turns out they didn't decorate it much. But it was great because the park was a lot more empty than during Halloween and we had lots of fun.
To finish it…
City / Country

Minimun Stay
$ ~ $$$
Child-friendlyness
Best local transport option
Safety
Do we recommend it?
Osaka / Japan

3 days
$$
SUPER child friendly
Trains!
Super safe!
YES yes yes!
Have you been to Osaka before? Would you like to? Check out our video and get your bags ready!
If you want to know the other places we visited in Japan, click here!
And you can pin it to read later! Choose one of the pins we've made for you!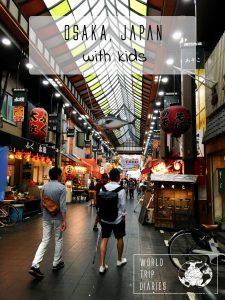 Save
Save
SaveSave
SaveSaveSaveSaveSaveSave
SaveSave
SaveSaveSaveSave
SaveSave
SaveSave
https://www.worldtripdiaries.com/wp-content/uploads/FEAT-osaka-japan-world-trip-diaries.jpg
287
815
Thais Saito
https://www.worldtripdiaries.com/wp-content/uploads/wtdlogo.jpg
Thais Saito
2016-10-12 17:42:03
2019-08-12 18:49:16
A guide to Osaka, Japan, with kids