Things to do in Osaka with kids
Osaka is a wonderful city – vibrant, colorful, with amazing food and people. It's basically the perfect city. Discover below the best things to do in Osaka with kids, including what and where to eat, where to stay, and more!
*edited late 2019
* this post contains affiliate links – they don't cost you anything but give us a small commission
The best time to visit Osaka
Just like Japan in general, Osaka during summer is hot and humid. During winter, it's dry and cold. Spring colors the city with the pink of the cherry blossoms and fall gives the city that lovely autumn hue.
Spring and fall are high season. While summer isn't necessarily high season, during August, things get quite crowded due to the school holidays. Winter is low season, but it can also see crowds near the end of the year holidays.
Our favorite time is late fall, almost winter because it's not too crowded, bit still not too cold to be outside. And the food is amazing everywhere. Ah, Osaka food is just the best.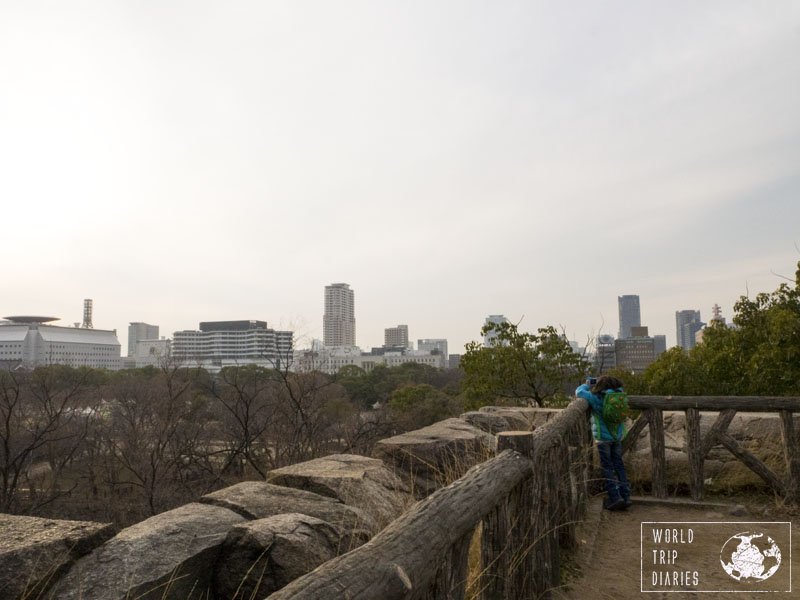 Where to stay in Osaka with kids
We often choose to stay in Airbnbs while in Osaka as they're often very cheap and Osaka has great public transport, making it easy to stay anywhere and still be practical.
Unfortunately, all the Airbnb's we've rented aren't there anymore, so I can't recommend you one in specific but we've stayed in around 5 of them and never had any problems (in Osaka), so I'm guessing it's an easy city to stay in.
If you're new to Airbnb, grab your discount here – for your first booking!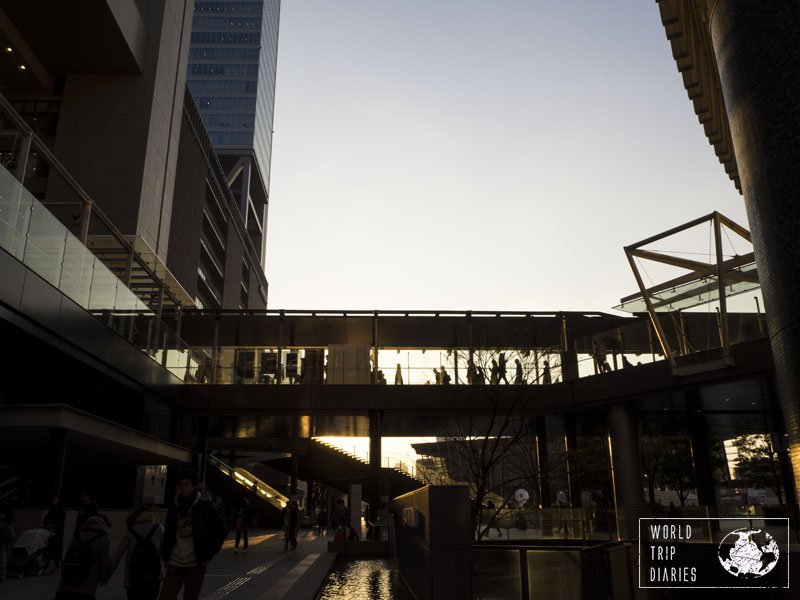 On our last visit to the city, we decided to stay at the Nikko Kansai Airport Hotel, which is the airport hotel. It was great because we returned the car right there, after checking in at the hotel, then dropped the mobile wifi routers at the airport, bought something to eat there and took to the hotel.
The hotel breakfast was pretty amazing, and the special local juices were awesome. I'd love to stay there again just for the breakfast. But the rooms were huge, the internet worked perfectly, it was all clean and tidy. We really enjoyed it.
Click here to find their latest prices!
You may also like: The best of Japan with kids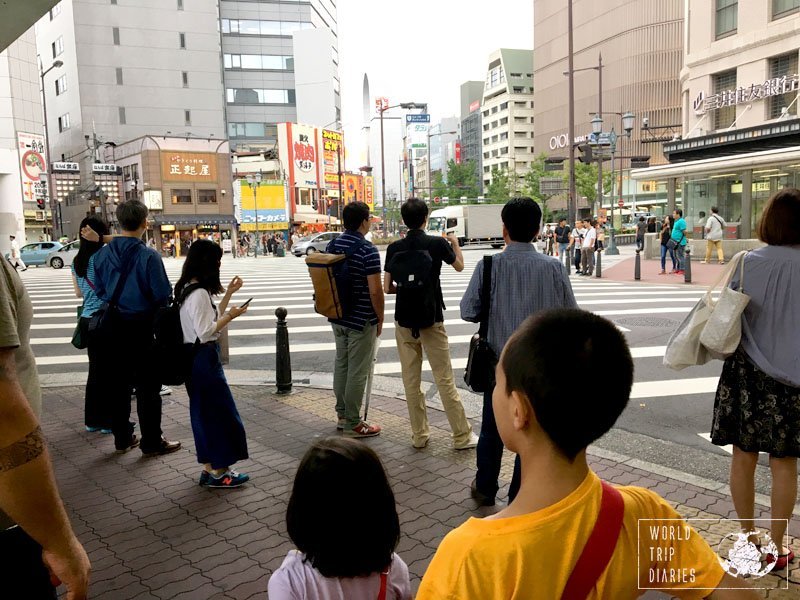 Things to do in Osaka for kids
There's so much to do in Osaka, I think a normal family could live there a lifetime and still not cover it all. Anyway, we've had quite a few visits to the city and I think we can show you what we liked best and the things we thought were just… meh. Anyway, bear with us because it's A LOT.
What to do in Osaka with kids
~ Walk around Namba and Shin-Osaka
That's where people work and live and do their things. It's also the place with the biggest and most famous shops and restaurants (like the international chains). It's a great place to find something to eat – try the smaller places in the alleys, they never fail.
Even though museums may not be a big hit with kids, this one is pretty cool. It shows the evolution of the housing in Osaka from the Edo period until now. They have miniature displays that change to show the outside and the inside of a house, an interactive exhibit, and a life-size Edo period village, where you can try out some toys and even rent a kimono to walk around in.
It's closed on Tuesdays and it costs ¥600 per adult, ¥300 for a student (15~21, but must have a national student ID – if you don't have one, then you'll pay full price), and free for kids under 15.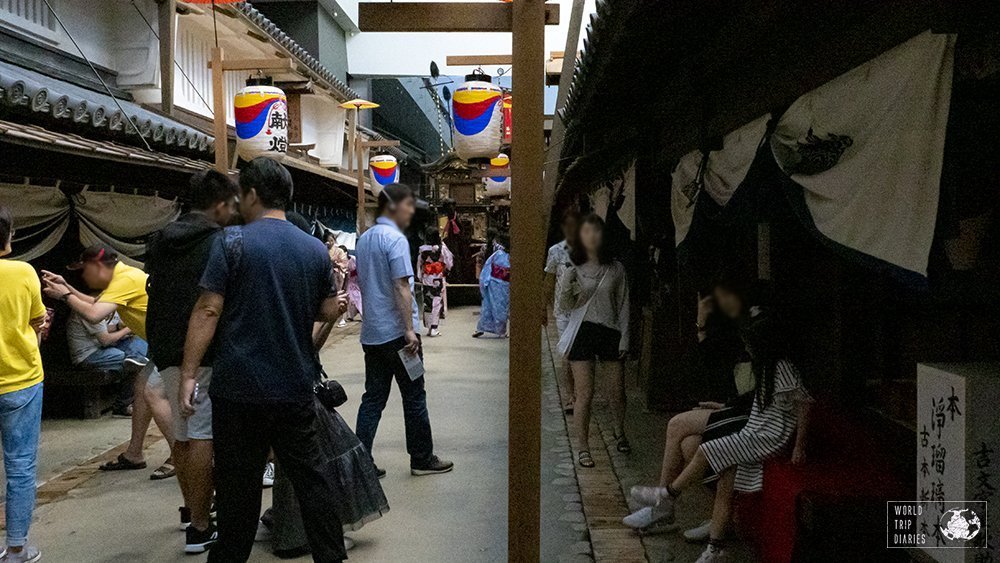 ~ Pokémon Center
Visit the Pokémon Center in Umeda. It's a little smaller than the Tokyo Mega Store, but it's still big with a huge variety of Pokémon goods. They are pretty expensive, though.
Many stores aren't Pokémon branded and sell Pokémon goods for a fraction of the price everywhere. Of course, you're not going to find all the selection or the exact same thing, but if you're not picky…
You may also like: The complete guide to Tokyo with kids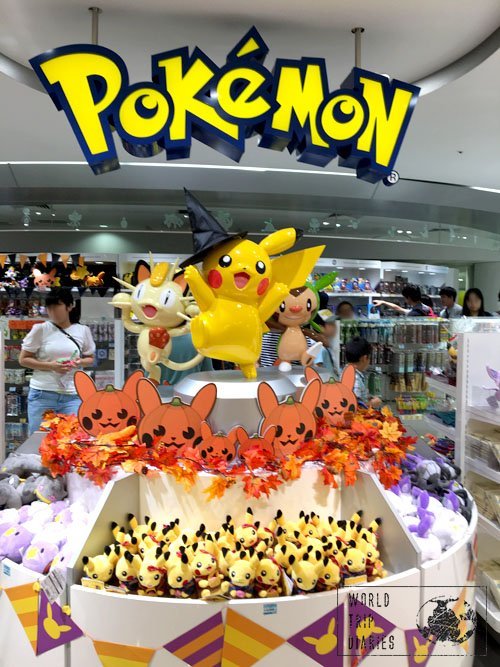 ~ Ferris wheels
So there are 2 famous Ferris wheels in Osaka: the Temposan and the Hep Five. The Hep Five is smaller, simpler, on top of the Hep Five shopping Mall. We were there because we were going to the Gudetama café (yep, it's a thing. Read more about it below!) so we rode it. It offers nice views of the city, but that's about it.
The Temposan Ferris wheel is a huge one (over 100 m diameter) and you can even choose a glass-bottom car. No, thanks. But anyway, at night, it lights up but not just simple lights. They make designs and stuff. I decided to steer away from it, so we didn't even see it. It's beside the Osaka Aquarium.
Temposan costs ¥800 per person (everyone over 3 pays the same price). Hep Five charges ¥600 per person – kids under 5 ride for free.
~ Kuromon Market
Spend some time in Kuromon Market to get something to eat. We had lovely takoyaki and okonomiyaki there. If you visit it during lunch time (from 11 am to 2 pm) or dinner time (from 5 pm ~), you'll see a lot more action and have more options than we did on our first time.
There were many fish stalls there, and some of them had little octopuses on a stick, they really did look like lollipops. And it did smell like fish, so if you don't like it, avoid. We had fun there, watching all the super different things, the people working and walking by, the seafood….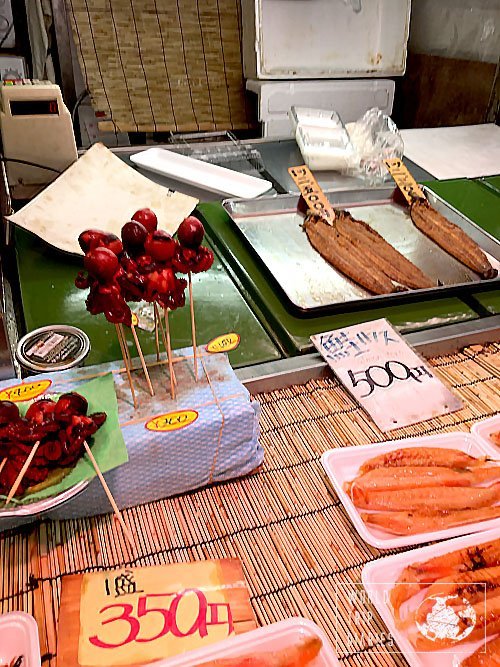 ~ Dotonbori
You know the Glico sign with the running man? It's a classic Osaka. Everyone goes there to take a photo with him. Make sure you visit at night, otherwise he won't be moving.
But anyway, besides Glicoman, you need to have some street food (even though it's more expensive there) by the river, go do some shopping at the Don Quijote store, and maybe even enjoy a short cruise around the river!
We love that area, even though it's super crowded. It's a place where something's going on all the time. Last time, it was a live performance of one of the girl bands, and I have no idea which. But people were wild there. It was fun to watch. And free.
~ Umeda Sky Building Floating Garden Observatory
If you like to watch the city from above, then the best place to do so in Osaka is Umeda Observatory. You go to the 39th and 40th floors for the best views of Osaka. It's quite nice to see the city from above without being hanging in a metal cabin.
It has shops, restaurants, photo ops, vending machines (of course), and a lot more. There are even very comfy chairs where you can sit and watch life from above.
It costs ¥1500 per adult (12+) and ¥700 per child (4~12). As always, I suggest you go right before sunset so you can see the city during the day, watch the sunset, and view the city at night. All in one. 😀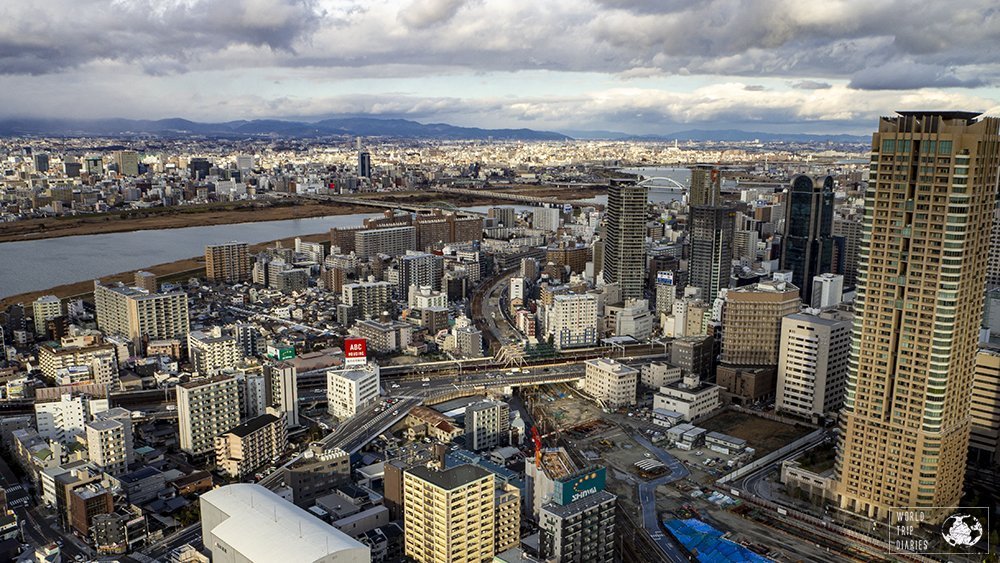 ~ Osaka Castle
This is one of our favorite castles in Japan. It's always crowded and the climb of 2000 floors by stairs is a killer (OK, I may be exaggerating). The inside is a pretty cool museum that's very worth a visit.
Although trust me, if you've entered a few castles already in Japan, then you probably don't need to enter this one too.
A visit to the gardens, though, is a must. The gardens are awesome, the views are stunning, and everything is perfect. Go watch the sunset from the castle grounds – it's to die for!
It costs ¥600 per adult (15+). Kids under 15 may need to show proof of age, like the passport.
~ Cup Noodle Museum
Hah, who would have thought such a thing existed?
We were seriously skeptical because it couldn't be fun, could it? But it was. Oh, man, we had fun. Not the cup noodle exhibition, where they have all the cup noodles ever to go into the market on display, but everything else. The olden days' noddle making houses, interactive games, and all that.
The best part was the making of our own cup noodles. We decorated the cup, then filled it with whatever we wanted, sealed it, and packed it. Cool as. We even received some souvenirs.
Entry is free but if you want to make your own cup noodles, you pay ¥300 per cup noodle. If you want to make your chicken ramen, it costs ¥300 per child (up to 12) and ¥500 per adult (over 12).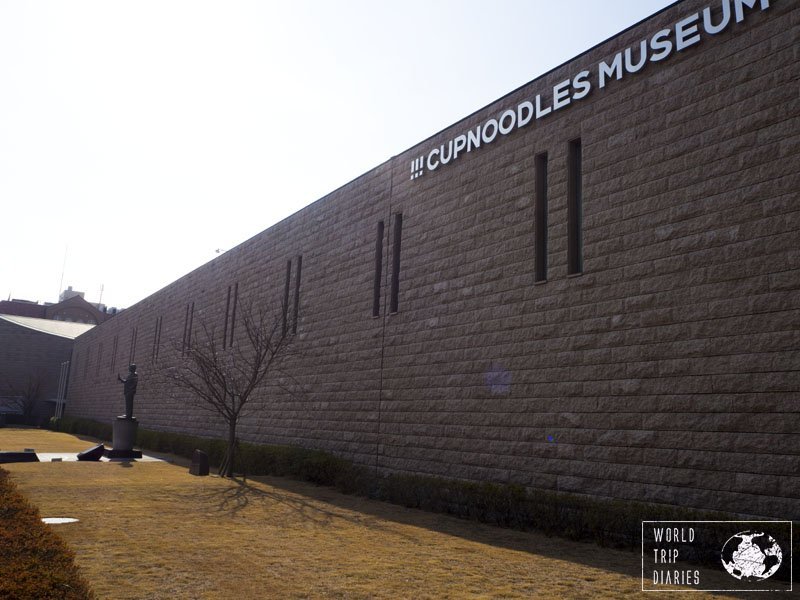 Best day trips from Osaka for kids
There's a lot going on around Osaka. If you're not buying the normal JR pass, consider grabbing the local Kansai JR pass for unlimited JR trains in the region.
~ Universal Studios Japan
Every single time we go to Osaka, we stop at USJ for a day. We always love it. The Wizarding World of Harry Potter is amazing, one of the best Osaka attractions for kids. But the whole park is amazing. Winters are less crowded. Halloween season is super scary (see more about it here). Summers are quite hot and crowded.
But it's always a good Universal Studios day. Now Coral's tall enough to ride all the rides in the park, we enjoy it to the max. Check out our guide to USJ here!
Grab a discount by buying your ticket here!
~ Nara
Nara is a day trip that can't not happen. It's a city famous for its enormous bronze Buddha statue, but most of all, for its wild deer. They're everywhere in the city, and they're absurdly gorgeous.
It's another place we always visit, and the kids love the deer. They're super gentle and polite, though they can try to catch your attention by pulling your clothes.
See our guide to Nara with kids here!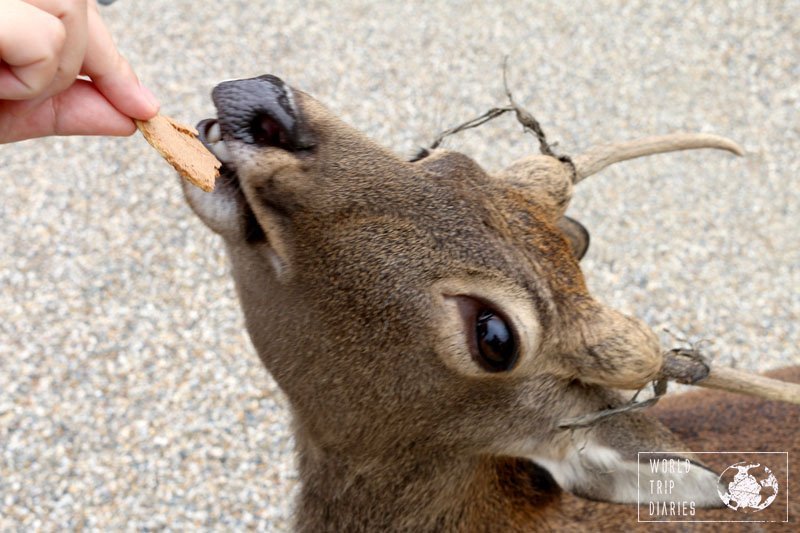 ~ Kobe
We visited Kobe for the first time in 2019 and we can say it's a beautiful city. If you're not vegetarian, you may enjoy the world famous Kobe beef in one of the many restaurants in the city. It's a city small enough to be enjoyed in one day.
Make sure you stop by the Iron Giant and watch the city at night, as it has one of the best night views in Japan.
Find out the best of Kobe for kids here!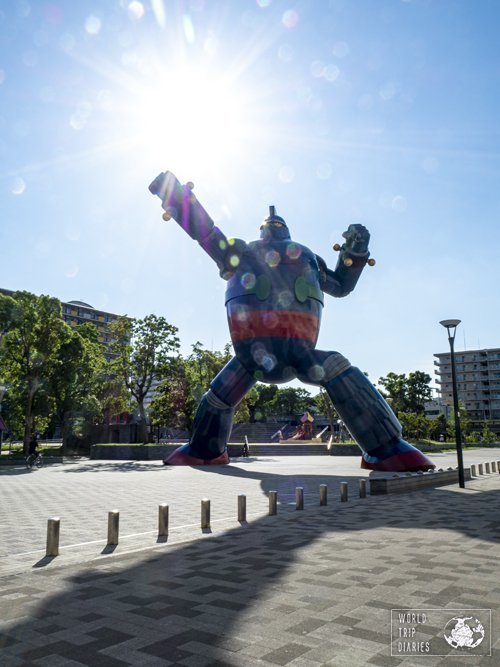 ~ Kyoto
Kyoto is super famous, I think I can skip an introduction.
It's a pretty big place and all the attractions are scattered far away from each other. It makes it a little hard to view it all in one day BUT as one of the most expensive cities in Japan, I think a day trip may be a good call for budget travelers.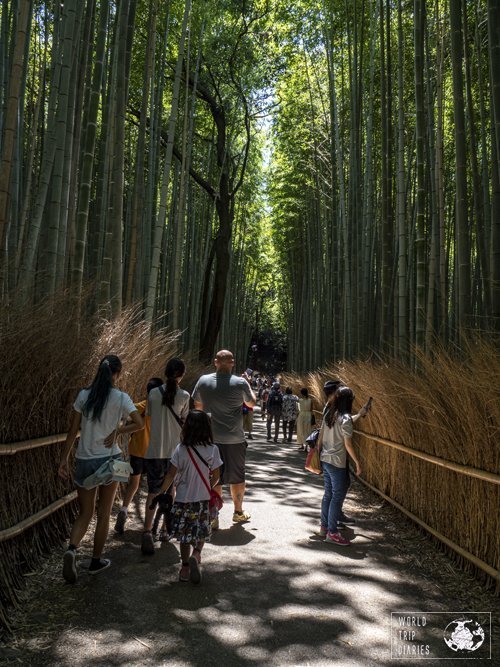 What and where to eat in Osaka with kids
Grab a giant rainbow candyfloss in Totti Candy Store, in America-mura. It's a short walk from Shinsaibashi and Dotonbori (where the Glico Man is), so enjoy it.
Also have some Kobe beef while you're there, right in front of the candy floss shop.
Have a ramen. The best we've tried… well, I'm gonna put 2 here because I can't choose. Sanki, in Morinomiya, is a small restaurant but serves delicious ramen and dumplings. Gatton is in Namba and you just need to try it. The black ramen is AMAZING.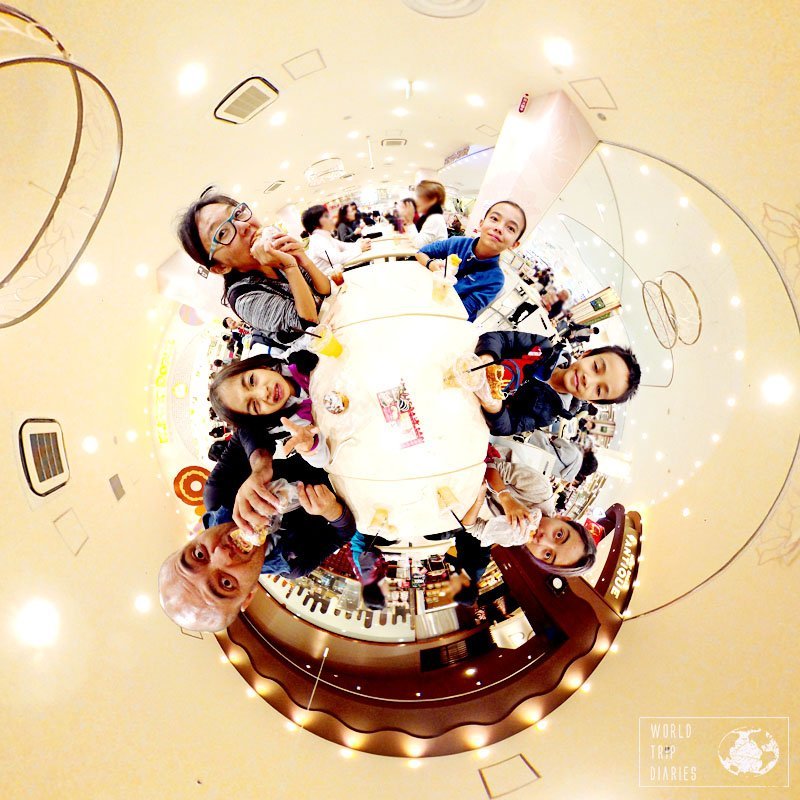 Royal Host is a family restaurant. It was super close to the house we rented in Morinomiya so we visited it quite a lot. It's a bit pricey, but the food is good, there's a good selection, it's warm, and the service is impeccable.
Tonkatsu Hanamura was just the best tonkatsu (crumbed deep-fried pork) we've ever had. It's near the Cupnoodle Museum, you need to visit it.
Visit the Gudetama café in Hep Five Mall. Well, we didn't even get to see our food, as Coral dropped the hot chocolate all over her and we had to race to clean her and get her some new clothes (guess what? Only one store in the whole mall sold children's clothes).
Kuromon Market is great for trying out different stuff. Grab a portion of everything – there is takoyaki, okonomiyaki, sushi, udon, Kobe beef, a lot of seafood, weird fruits and veggies, ramen, and a lot more.
Rikuro-ojisan is famous for its cheesecake. It's a sponge-cake mixed with cheesecake. I mean, it's creamy, airy, fluffy, crazy good. I loved it, while the rest of my family didn't. Try one. Yum!
Umaiya is the takoyaki from the video above. It's just THE BEST takoyaki in the world. So good, I could eat it all day. Even if you're not a fan of octopus (it has pieces of it inside), you won't regret trying this one.
Floresta Donuts has the cutest donuts in the world. It's all-natural and stuff, so we didn't like it. We could taste the baking soda and the dough was a little too dry. But cute. So cute.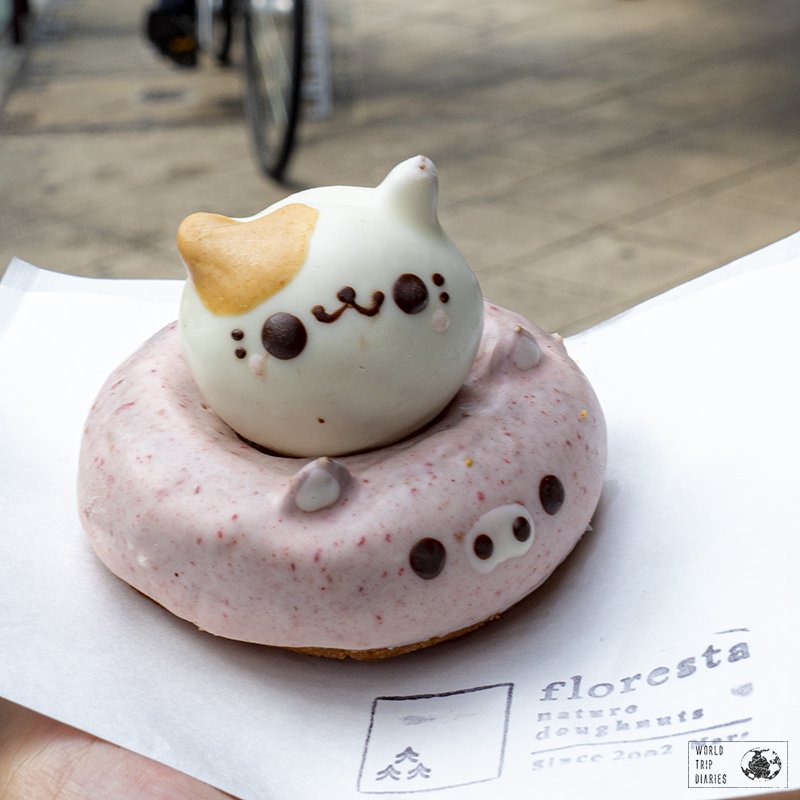 Public Transport in Osaka
Public transport is perfect in Osaka. There are trains, buses, subway, taxis, everything. It can be a little overwhelming, but you can grab a Kansai JR pass and use all the JR services without any worry or you can brave it up and try it.
We found that the staff at the train and bus stations in Osaka to be a lot friendlier than the ones in Tokyo. They were always willing to explaing and help uo use the machine and find our right fare. Most stations have all the names written in both Japanese and in roman letters, so it's not too hard. We have a public transport guide here!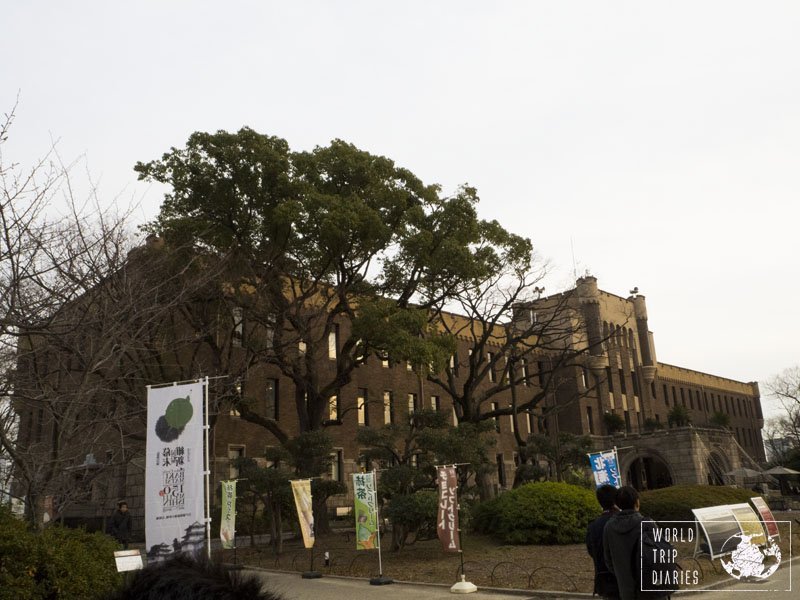 To finish it…
The people were also a bit louder in Osaka than in Tokyo. It was great not having to shush my kids everywhere, but a bit annoying when we were trying to understand something.
Have you been to Osaka before? Would you like to? Check out our video and get your bags ready!
City / Country

Minimun Stay
$ ~ $$$
Child-friendlyness
Best local transport option
Safety
Do we recommend it?
Osaka / Japan

3 days
$$
SUPER child friendly
Trains!
Super safe!
YES yes yes!
And you can pin it to read later! Choose one of the pins we've made for you!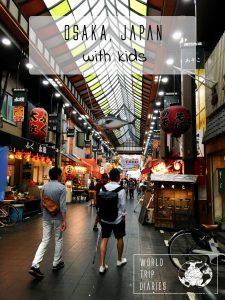 SaveSaveSaveSave
SaveSave
SaveSave
https://www.worldtripdiaries.com/wp-content/uploads/FEAT-osaka-japan-world-trip-diaries.jpg
287
815
Thais Saito
https://www.worldtripdiaries.com/wp-content/uploads/wtdlogo.jpg
Thais Saito
2016-10-12 17:42:03
2019-10-09 22:21:05
Things to do in Osaka with kids