There's this little island in Hiroshima called Okunoshima Island (Japan). It's an island full of rabbits. We visited it and I'm going to share all about Okunoshina: Rabbit Island (Hiroshima, Japan). Read more about Japan here!
* this post contains affiliate links – they don't cost you anything but give us a small commission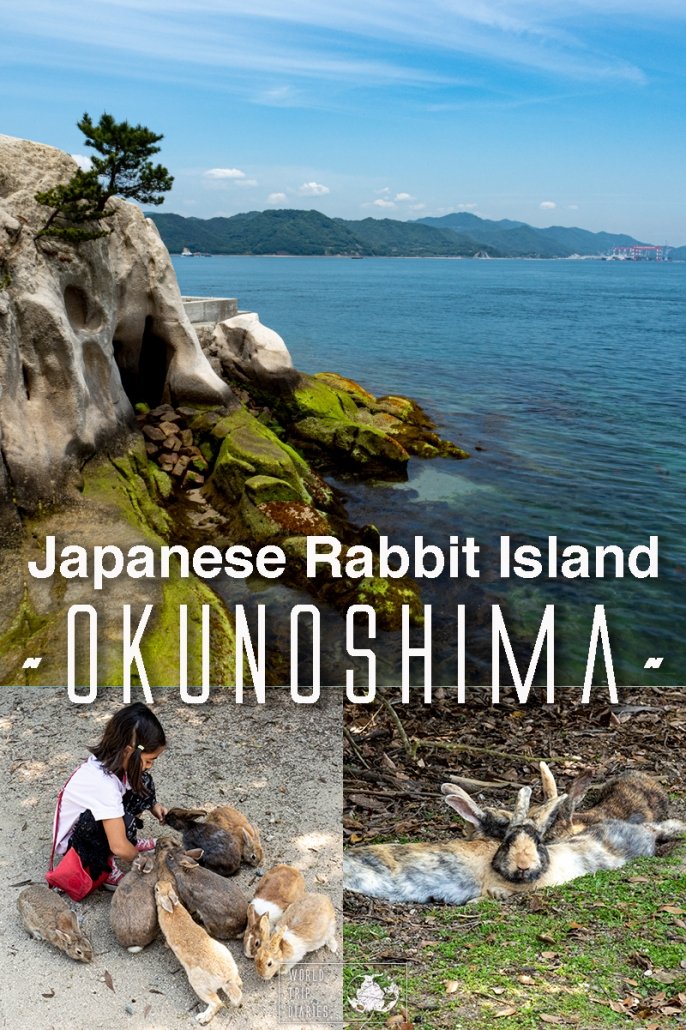 Japan's Rabbit Island – facts and info
Okunoshima was an island where Japan produced poisonous gas during WW2. They probably had the bunnies there to test the gas.
But then, the war ended, the gas factory was abandoned and the bunnies were left to their own devices. And, as rabbits do, they procreated. A lot. And now, Bunny Island is one of the most famous tourist attractions in Hiroshima.
The island is free to visit, but you will need to ride a ferry, have some rabbit food, and get to the ferry terminal. Keep scrolling to find out more!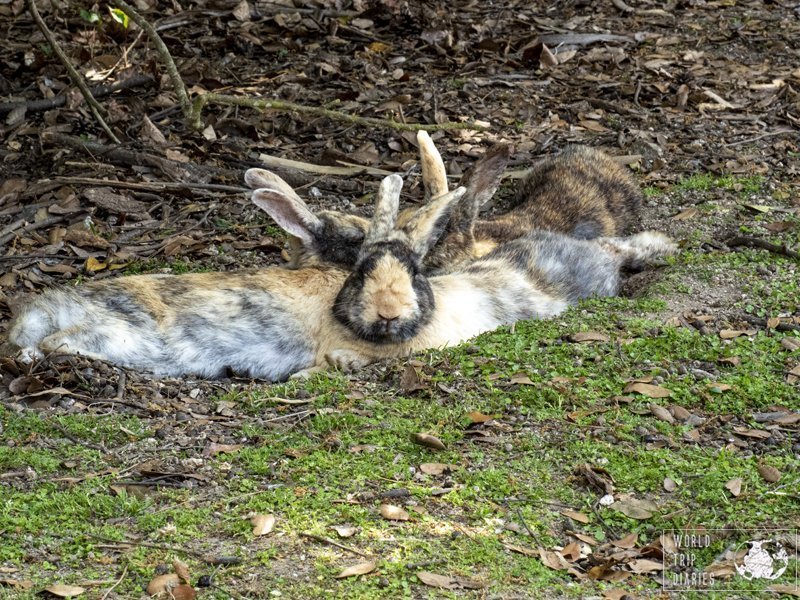 Things to do in the Bunny Island (Japan)
There isn't much but it's enough to fill up at least half a day if you want to do it all. If you're staying in Hiroshima, then take a whole day for it.
The main attraction is, of course, feeding and playing with the bunnies. There are many and you'll have plenty of opportunities. Don't fret on hanging out with the first ones you see.
There are many hikes around the island, most of them short (around 20 minutes). And the trip around the whole island takes around 2 hours.
You can cycle, which is a faster way to do it but it does limit your bunny-time.
And you could swim, if you wish (and the weather is good), on the small swimming beach there.
Take a moment to visit the poison gas museum (paid). It costs $100 per person and the visit should take no more than 30 minutes.
Then there's the hotel with a restaurant and a cafe for a rest and a snack.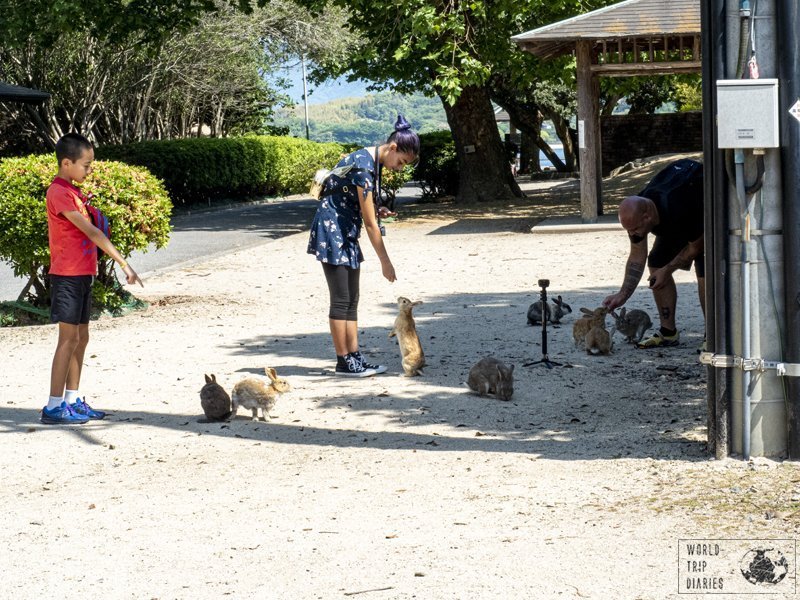 Is it worth to visit Hiroshima Bunny Island?
The Okunoshima rabbits are adorable, there's no doubt about it. They aren't mistreated or anything, but they're just left there. Apparently, some people take their pet bunnies there when they don't want them anymore too, so it's basically an island for the unwanted rabbits.
So while some bunnies are cute and happy and healthy, others are sick, injured, and in a very sorry state.
If you aren't the kind of people to get all sad and broken-hearted, then it's a cool place to be. If you're a sensitive person, you may be a little bit impacted.
VERY honestly, it's a once-and-done kind of thing, but the kids did have a lot of fun.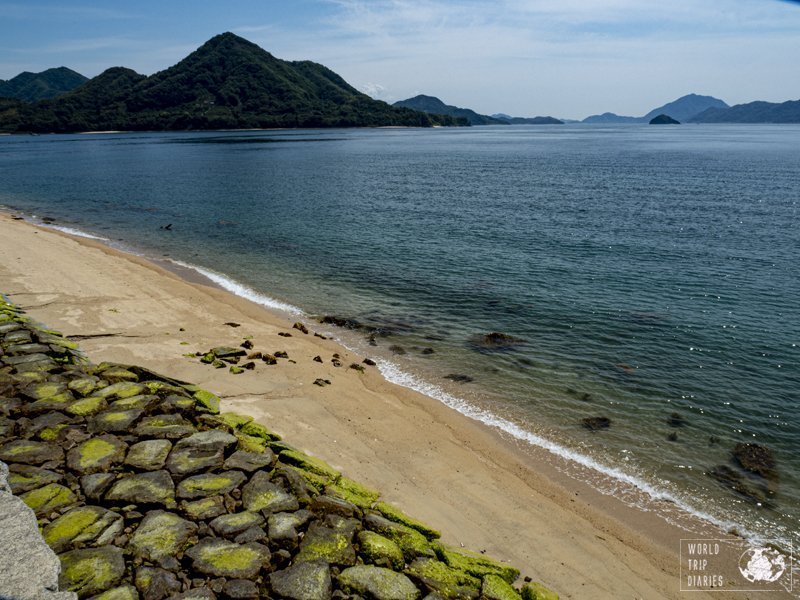 Visiting Japan's bunny island with kids
We took our kids there and, at first, we were very excited and happy. The first bunnies to come to us were happy and tiny and cute and healthy. But the more we spent around the island, the more we saw the bunnies in bad shape. After an hour, we were ready to leave.
The kids really loved feeding the rabbits, watching them play and sleep, and we had instructed them on being gentle and kind to the animals.
But on the island, we saw kids chasing and hugging the poor bunnies in a way that wasn't at all nice.
So, this is a very family friendly activity in Japan, but you must help your kids to be respectful to these animals, and remind them all the time of it.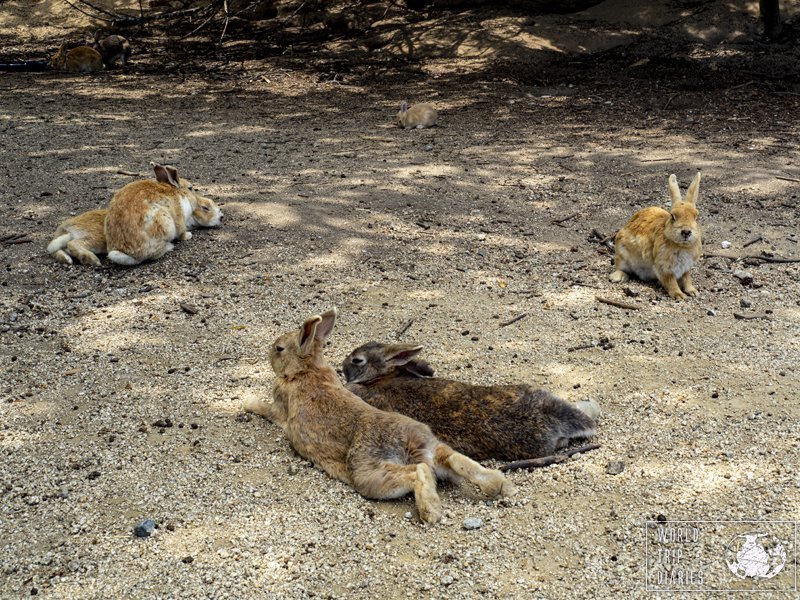 How long to stay in the Rabbit Island, Japan?
I'd say around 2 hours would be enough, honestly. It's enough to go around play and feed the bunnies, see the stunning island, visit the museum, and have a drink. Make it 3 hours if you'd like to have a proper meal at the hotel. Or make it 5 hours if you want to do the trails and walk all around the island.
Best time to visit Okunoshima, rabbit island
A sunny day. Any sunny day will do, because there isn't much shelter on the island.
Early mornings or around sunset are also the best times – less crowds, better light for photos, and all that.
But if you can, visit on a sunny spring day – spring is the time for baby bunnies, and they're freaking adorable! (by the way, spring in Japan is from April to June)
You can visit them even during winter as – we were told – they don't hibernate!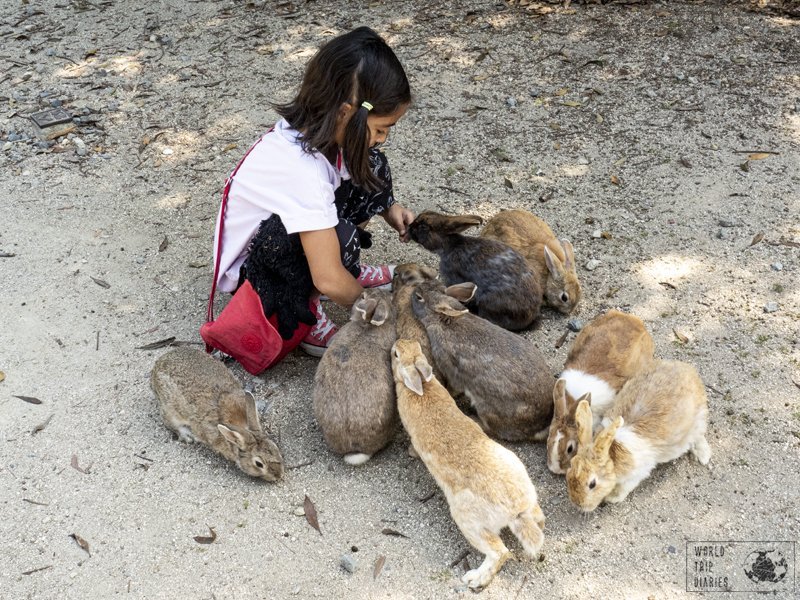 How to get to Okunoshima
It's around 1h 30 min from Hiroshima to Tadanoumi port. From there, you get a ferry (¥ 600 adult, ¥320 kids – return trip) to Okunoshima.
The ferry takes around 10 minutes.
Tips and tricks for visiting Okunoshima Rabbit Island
Visit it on a sunny day. It can even be a cloudy day. Just not on a wet day.
Buy bunny food prior to going as there's no bunny food for sale on the island.
You can grab a little bag of rabbit food at a pet shop OR you can buy a head of lettuce and some carrots and bring them. We saw many people doing it and, honestly, we wish we'd done it too. The bunnies seem to prefer natural food better too! As a last resource, you can buy rabbit food in the store where you'll buy the ferry ticket!
Don't feed them human food.
There's human food on the island, also many drinks vending machine. No need to worry about your own food.
Bring up some water to refill the bunny water bowls around the island. You can refill the bottle on the taps, and then use it to fill up the bunny bowls. Some of them are far from the taps and tend to be left empty for a while.
Watch where you step – there are rabbit holes and poop everywhere. Also hopping bunnies.
Check the ferry times and plan your visit around it.
Remember to bring hats and sunscreen because there are very few shelters from the sun.
Also, have hand sanitizer. There wasn't soap anywhere besides the hotel and we really wanted to wash our hands properly before heading home.
There's no rubbish bin in the island, you'll need to take your trash home with you. Have a little bag for it!
Lastly, remember to feed the shy, injured, sick, or old bunnies too!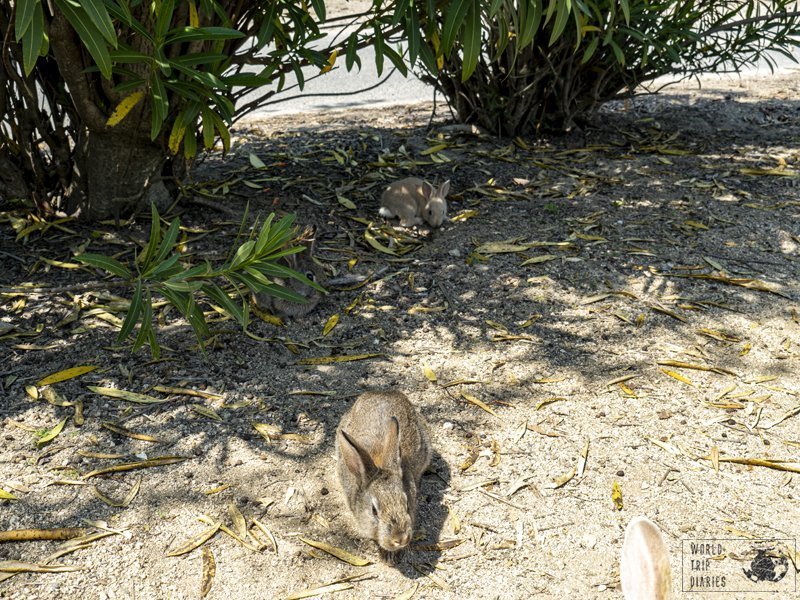 To finish it…
We're not going back there, but it was a day very much enjoyed by most of our kids. They've never had the chance to see (live) wild rabbits like that before and they had lots of fun.
The Okunoshima bunnies are super friendly and not at all scared of humans, which made the trip even more memorable.
City / Country

Minimun Stay
$ ~ $$$
Child-friendlyness
Best local transport option
Safety
Do we recommend it?
Okunoshima, Hiroshima / Japan

1 hour
$
Very child friendly
walking!
Very safe
Maybe.
https://www.worldtripdiaries.com/wp-content/uploads/feat-bunny-island-pt.jpg
287
815
Thais Saito
https://www.worldtripdiaries.com/wp-content/uploads/wtdlogo.jpg
Thais Saito
2019-05-25 17:00:59
2019-08-12 21:54:43
The best of Okunoshima: Rabbit Island (Hiroshima, Japan)