Motopia: the Suzuka Circuit Park
The F1 GP in Japan happens in a city called Suzuka. It's not a very tourist-oriented city, being small and seeing the crowds only when the GP is happening. While the race isn't something most kids will enjoy, there's the F1 theme park right there. Keep scrolling to find out all about Motopia: the Suzuka Circuit Park. The best of it is that it's not only for kids.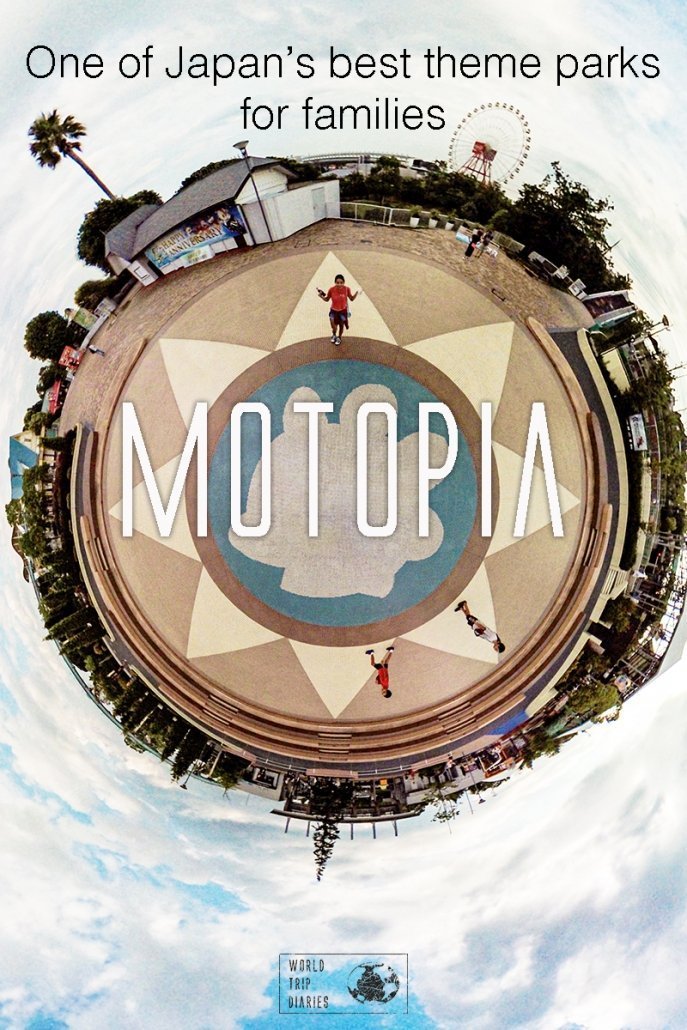 * this post contains affiliate links – they don't cost you anything but give us a small commission
Where is the Suzuka Circuit?
Well, it's in Suzuka, Mie Prefecture, Japan.
Now, where's Suzuka, Japan? Suzuka is a small city near Nagoya. From Nagoya to Suzuka Circuit (or to the city, as they're very close) it's around an hour. A bit more or less, depending on traffic and the route taken. The motorway is faster but it's a toll road. You can cross through the cities and avoid all tolls, but then it takes a little longer, around 80~90 minutes.
I like the way through the cities, as it's prettier and you cross through the smaller cities but if time is important, then take the toll road.
It's also around the same time driving from Osaka, but to go by train, you'll need to stop in Nagoya anyway.
You may like: Things to do in Mie, Japan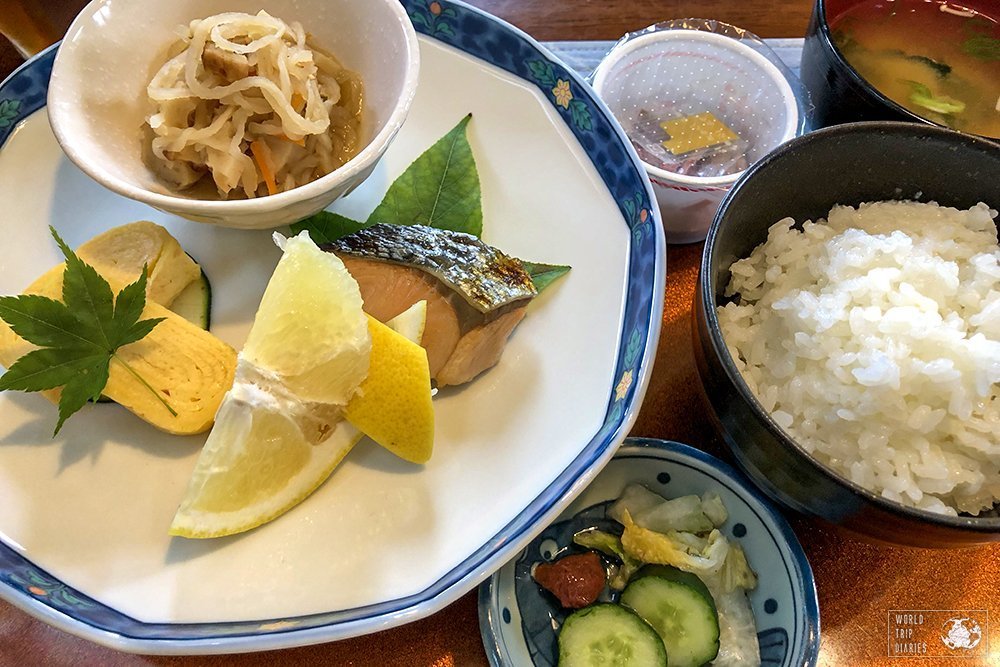 Suzuka Accommodation
Anywhere in the city of Suzuka is close enough to the Circuit, honestly. Find below some options of hotels near Suzuka Circuit, Japan.
We stayed at the Suzuka Royal, which was clean and comfortable. We had the Japanese style room, which was great – comfy futon instead of beds – and a private bathroom. Though the bathroom was outside of the room, we had had the key to it – and the people in the other room had the other bathroom. Breakfast was delicious, we could choose between Western or Japanese style and both were delicious. We highly recommend it. They have free parking (limited, though) and it's close enough to a convenience store.
Check their latest prices here!
Motopia, Suzuka Circuit Amusement Park
The Suzuka Circuit theme park is a different park in the country, all vehicle themed. We knew it was great for the little ones (up to 10), and we'd taken the kids quite a few times there when they were younger. Now we were a little hesitant because we thought it'd be boring.
We even considered taking only Coral, the youngest, and leaving the older kids at 'home'. But I'm glad we decided to take them all, we all had so much fun!
Japan amusement parks tend to be incredible, and this one is too. It's always evolving, improving, and making things better for everyone.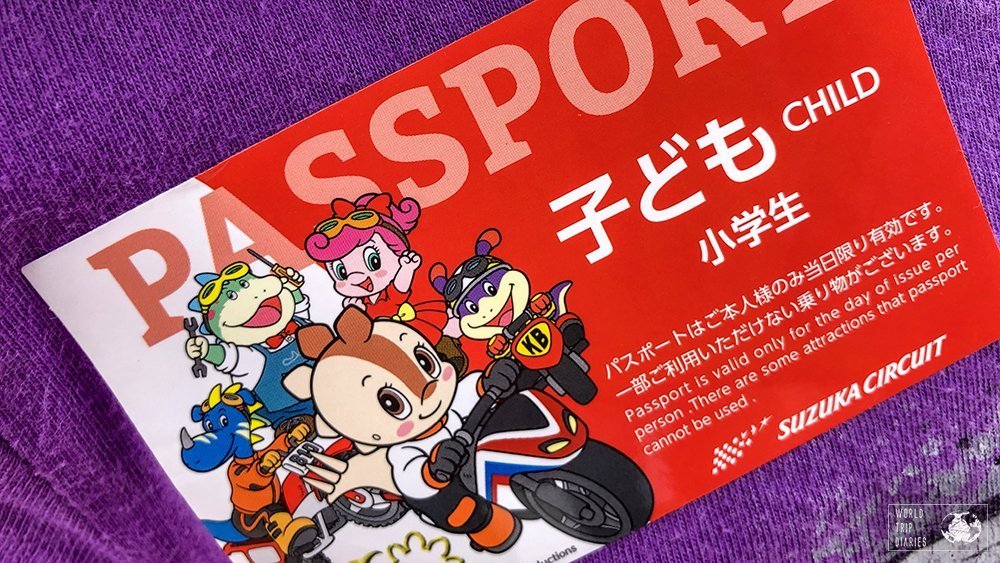 It lacks on a good roller coaster (it does have ONE, but it's a mild one), but it's great for kids to learn (Japanese) traffic laws, train their skills, and just have fun. They have a lot of playground areas where kids can play freely, and the park is divided into areas. I'll talk about them next! 
You may like: The best of Japan travel for families
Suzuka Amusement Park Prices
First we need to talk about ticket types. There are 3.
Admission only is just the entrance fee. You pay for everything else you want to ride. It costs ¥1700 for adults (13+), big kids (7~12) pay ¥800 and small kids (3~6) pay ¥600.
Motopia Passport gives you the entry fee + most of the rides. This is what we always get. It costs ¥4300 for adults (13+), ¥3300 for kids between 7 and 12, and ¥2100 for kids between 3 and 6.
Since it's not such a big park, we can imagine that you'll do the whole park in half a day, but it's not possible. We didn't finish the park in one full day.
During summer, they have the water park. It looks cool, but we've never managed to use because of tattoos. If you don't have any, or only have small and coverable ones, you can visit it. I recommend that you either visit the park in 2 days (one for the water park, one for the attractions) or accept that you won't be able to see it all.
View detailed prices here!
Prices don't cover the Puto's Vehicle Lab or Circuit Challenger. We'll talk more about them below.
Another thing: online tickets are more expensive than the ones bought on the day. Prices above are for online tickets. Bought in person, tickets cost around ¥300 less. 
Suzuka Theme Park Areas and Rides
Most rides in Motopia give whoever rides it the chance to have a drivers license make. The license is paid apart, but it's quite fun and you don't have to make them all. We often collect the paper cards they give you at the end of the ride and use them to play at home. Each license costs ¥300. 
There are licence stations in every area of the park, so choose which card you want to make and head to the area you want. Some special licenses need to be bought in special stations, but if you want the common ones, you can get them anywhere. 
~ Pipira's Moto Field
This area is all about motorbikes. The fun part is that you can actually learn to ride a motorized bike and ride it on an off-road track. Kids fall, yes, it happens. The floors are cushioned and it doesn't hurt much. My kids fell a lot and they still had lots of fun.
Fast Ride is available here since the waiting time is so long. It costs extra ¥600 per person but it allows you to schedule a time and return when it's your turn, as opposed to having to wait in line. 
* Kids Bike Training
Kids can learn how to ride a motorbike. They receive knee and elbow pads, helmets and are taught the rules. Then they practice riding the bike on a small section, one at a time. When they're ready, they're taken to a track where they ride it for around 3 minutes. The whole thing takes around 20 minutes. What's cool is that they take a photo of each kid geared up and riding their bikes, so you can choose to make the license with their special photo!
For kids from 3 to 12 who can ride bikes without training wheels.
Fast Ride Available
* Moto Fighter
A race track where you can learn how to ride a bike, trial it, and then race it. It's through a track inspired on the Suzuka Circuit F1 track.
Kids over 9 years old or those over 6 with an A license for the Kids Bike Training.
Fast Ride is Available
* Acro Bike
This gives you the chance to ride a motorbike at the off-road track. It's pretty cool, you get to wear all the gear and ride on your own. The problem is that there's a lot of explaining, and it's mostly in Japanese. The lines end up quite long – when we were there, it was over 90 minutes wait.
9 years old + or those over 5 who have an A license at the Kids' Bike Training
* Pinky Bike Plus
For the little ones, they have the chance to ride a bike that looks like those mobility bikes. They'll learn how to control pedals, accelerate and brake, turn, etc.
For 3 year-olds +, but not for older kids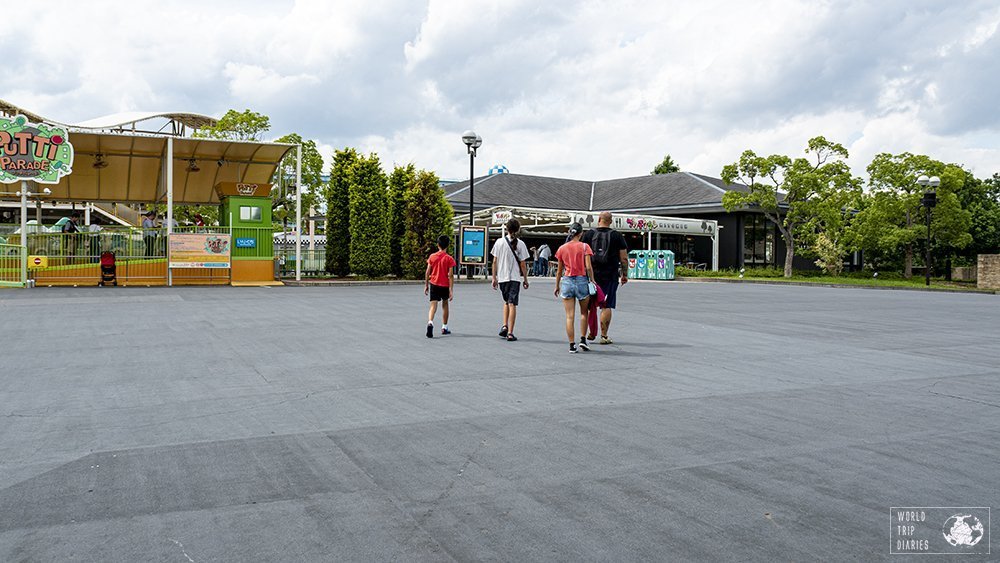 ~ GP Field
All about racing! This part of the park is reached by crossing a bridge. We didn't even have the time to get there. When we were finished with the main side of the park, it closed and we had to leave. Sad. 
* Duel GP
Up to 2 people ride in each car and you race the other car through a track identical (smaller, though) to the Suzuka Circuit F1 track. The winning team gets a Winner Card. 
For people 120 cm (3.9 ft) or taller
* Moto Fighter
A motorbike race, similar to the attraction above.
People over 9 years old or those over 6 with the Kids Bike Training A License.
* Racing Theater
It's a 4D movie theater with more. The film is a race, of course, and you hear and feel as if you were in the car.
There's a lot more, like exhibits, and places where you can test your skills – the ones the racers need to be good.
Everyone can go, but kids must be over 3 to watch the movie.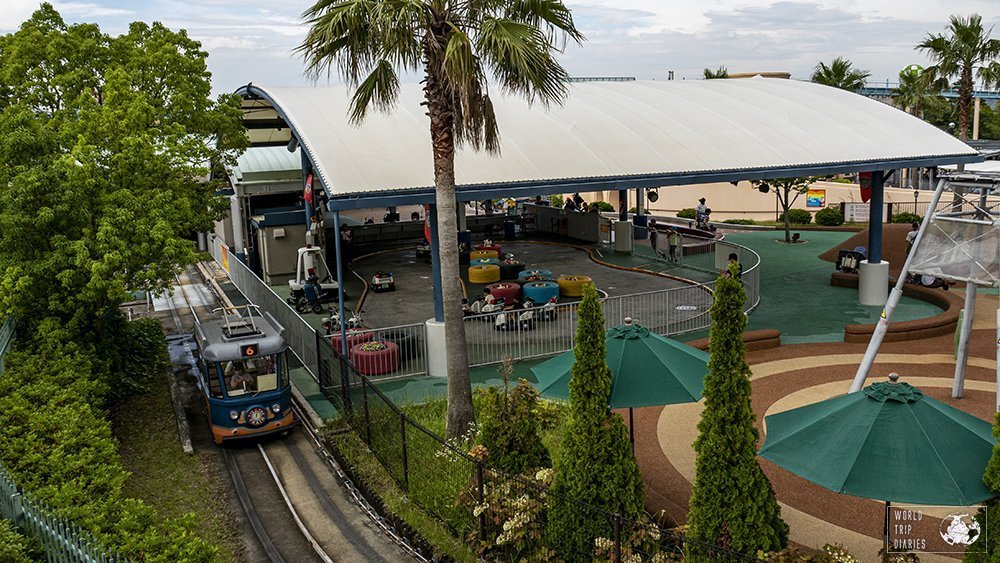 * Circuit Wheel
The Ferris Wheel. Great for the views but that's it. The same as any other Ferris Wheel.
Kids over 7 can go alone, and kids under 7 can go accompanied by someone over 13.
~ Kochira's Putti Town
Except for one ride, this is all about learning to drive in the real world. With driving 'schools', trains, and things like that, it's a great place for the little ones and the big ones to play. I love it.
* Putti Grand Prix
OK, so this is the different one. It's a race, but a mild one. It's fun, actually. We all rode it in different cars, and we all loved it! You actually drive it, and you can go as fast (not too fast, anyway) or slow as you want.
The track is a miniature of the Suzuka Circuit track.
Kids over 7 can ride alone. Kids 6 and under must be accompanied by someone over 13.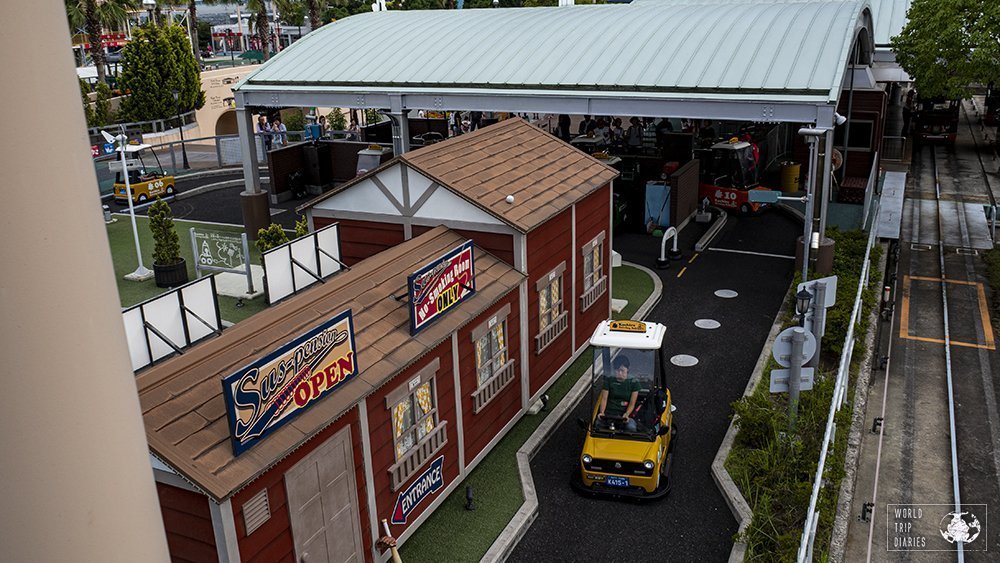 * Kochira's Driving School
A city track where you drive and see if you know the traffic rules and manners. You have to flash the lights, use the horn, stop on the traffic light, slow down, etc. If you do most things right, you get the Platinum Card. If you're OK, you get the Gold Card. If you're just clueless, you get the regular card. I got the regular, ahaha!
It is quite a few things to do, and it's super fun. It's a little small for big people (or people with long legs, but you can fit. It may not be comfortable.
Kids over 5 can ride by themselves. Kids under 4 need to have someone over 13 with them.
* Putti Patrol
You ride a little police car through a track trying to find a lost kitten. If you find it, you may receive a reward. Only Coral (7) rode this one. The older ones refused, even though even adults can ride.
Kids over 3 can ride. One person per car.
* Tic-Tac Train
You need to reach the station in 3 minutes and 10 seconds to receive the driver's license on this ride. You can speed up and slow down, but the goal is to run the course smoothly. 
Kids over 7 can ride alone, and kids 6 and under must have someone over 13 with them.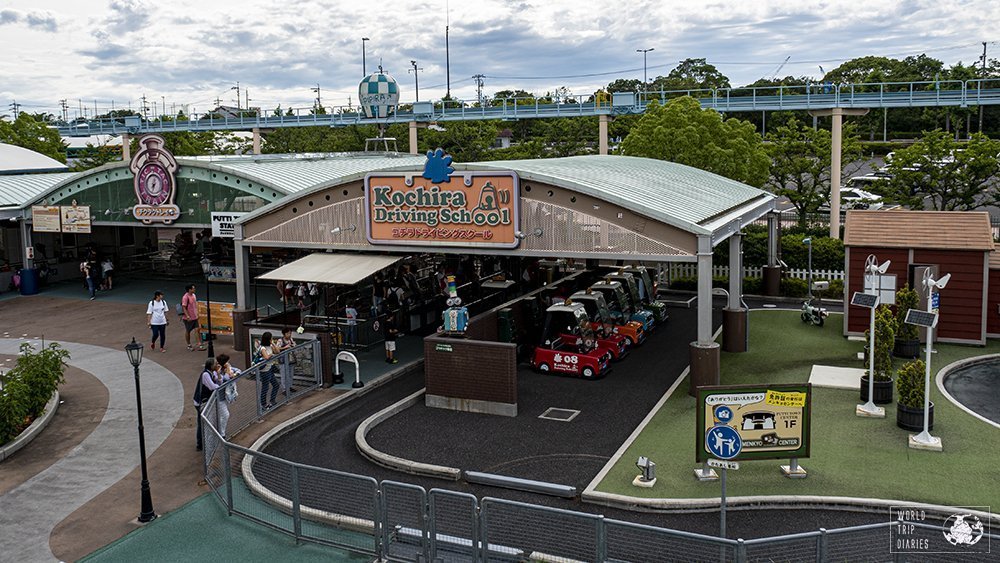 * Test Flight
It's one of those rides where you can go up or down but with a little twist. It's a plane for 2 people and one moves the plane up and down, the second shoots. It's teamwork, the first person must reach the target level, the second must shoot with good timing.
If you get over 100 points, you receive a pilot license!
Kids over 4 can ride alone, and kids 3 and under must have someone over 13 with them.
* Putti Power Shovel
Control a little digger and score points! Whoever scores over 50 points receive a driver's license!
Kids 3 and above can ride alone, and kids 2 and under must have someone over 13 with them.
* Run-run Balloon
OK, so this one is a fake hot-air balloon ride. It's nothing really cool, really, except that, in the end, you get to shoot a little ball at a target. If you hit 100 points, you get a special coin that can be used at the stores there. 
Each balloon can take up to 4 people, but we usually ride alone to have more chances and compete with each other. Kids over 7 can ride alone, and kids 6 and under must have someone over 13 with them.
* Putti Parade
This is the 'teacup' ride, where you enter a little car that spins and spins. You can push the buttons that make sounds, but that's about it. 
Kids over 5 can ride alone, and kids 4 and under must have someone over 13 with them.
~ Puto's MobiPark
* Ene-1
A car for up to 4 people where you have to complete the course with the energy you make while you ride. One person controls the wheels and the other stores and boosts energy. If your energy runs out (it mostly do), it's OK, the car will keep on going but you won't receive the special license.
Kids over 9 can ride alone, and kids between 2 and 8 need to be accompanied by someone 13 or older. Kids under 2 can't ride.
* Dream R
A kart race, really, but only one person at a time, so you can't overpass anyone. It's really cool BUT tall people will have problems (Angelo is 6 ft 2 and didn't fit in the car).
Kids over 9 AND at least 120 cm (3,9 ft) tall can ride.
* Acro X Evolution
Up to 4 people ride a car and drive it through rough roads and challenges. It's actually hard and pretty cool, we had lots of fun. You get points for clearing or overcoming the obstacles and if you have enough points, you get the S license, which is a special one. 
Kids over 9 can ride alone, and kids between 2 and 8 need to be accompanied by someone 13 or older. Kids under 2 can't ride.
* Puto's Machine Laboratory
You have the chance to assemble a cart – with all the parts, including the electric parts of it. Then you can drive it, and put it apart again. It takes around 1 hour from start to finish dismantling. 
Kids who clean up their mess and put things in the right place receive one coin that can be used to trade for candies or souvenirs at specific shops in the park.
It's not included in the Passport price, and it costs ¥1000 per cart. ¥800 for those with the Motopia Passport ticket. 
After that, depending on how well you made it, you received a mechanic license that can be Grade 2, 1 or Special.
Kids over 3 can participate.
You'll also have the option of building a wooden car – to take home. It takes around 20 minutes, and you build your little toy car and test it on the track.
It costs ¥800 per set and you can take your car home. If you have the Motopia Passport ticket, you pay only ¥500 per set.
Parents must be with the child thorough the process – it takes around 20 minutes.
Kids over 3 can participate.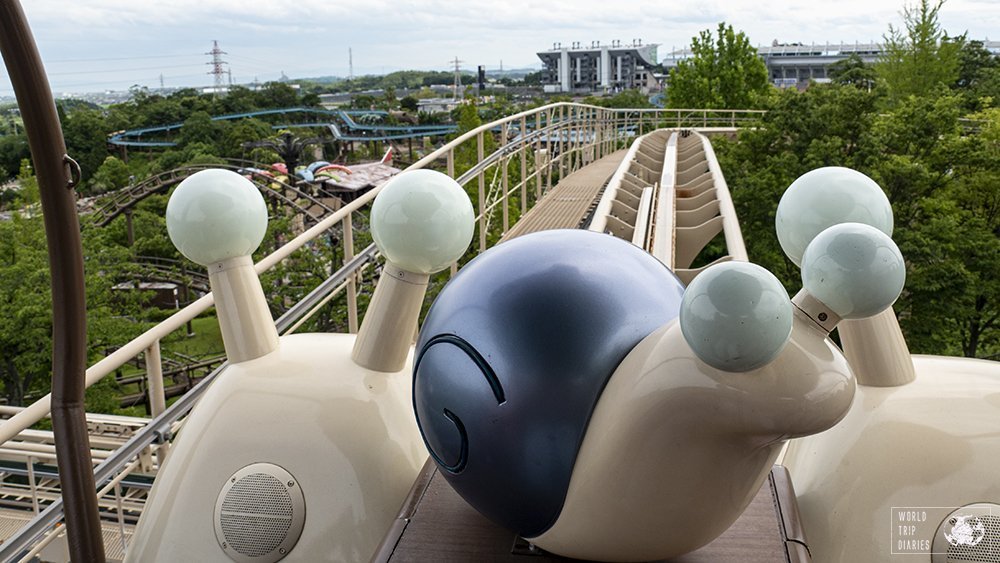 ~ Chirara's Hello Garden
This is the small kids' area, where the little ones are welcome in all the rides. It's all colorful and pretty. This is where we spent less time because the rides are too tame, even for Coral's 7-year-old body. They're all very slow rides.
* Bun-Bun-Bee
You climb onto a basket and help the bees by pointing (with buttons) to where the flowers are. It's slow but going round and round kinda ride (in the air, not on the floor). Each basket holds up to 4 people (maximum of 2 adults).
Anyone can ride, but kids between 0 and 4 must ride with someone 13 or older.
* Chirara's Flower Wagon
It's a little cart ride that goes around through Chirara's flower garden. It's super pretty, but my kids said boring. You can press on buttons to hear different information and things, but it's all in Japanese. 
Kids from 7 can ride alone and kids under 7 must be with someone 13 years old or older.
* Den-Den-Mushi
A 4 people cart in the shape of a snail (snail is den-den mushi, in Japanese) that travels on an elevated trail. It gives out good views of the park and the surrounding areas, as well as the circuit. The snail tells a few curiosities and tips for taking care of the world, but it's all in Japanese. Not for those who dislike heights.
Kids from 7 can ride alone and kids under 7 must be with someone 13 years old or older. Babies need to be able to sit alone to ride this.
~ Circuit Challenger
This is what we wanted to do and we completely missed because it was closed. Well, there was a race going on.
You get the chance to drive an electric kart through the main Suzuka Circuit track. It sounds pretty cool, and you receive orders from the cockpit. As you manage to complete them, you get points that will give you a certain license card.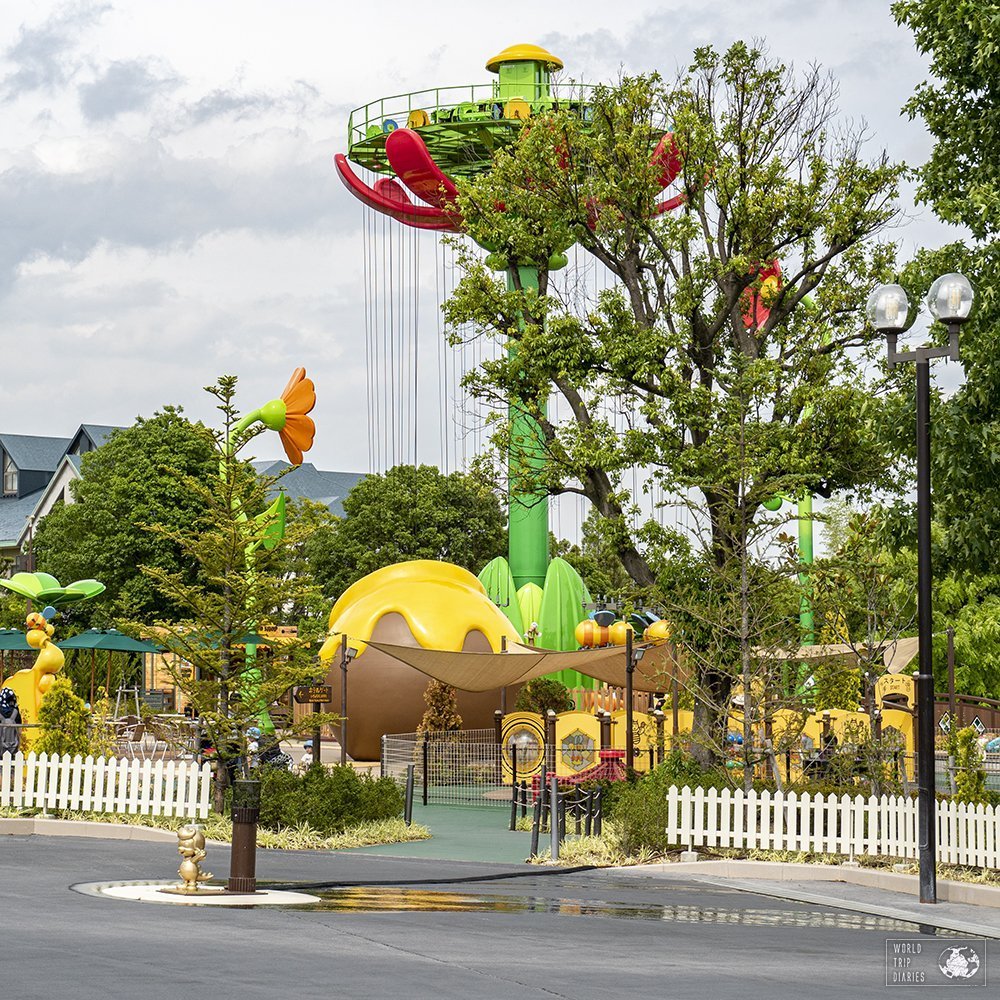 Each kart can hold up to 3 people (2 adults and 1 small child).
You control acceleration, brake, and gears.
It's paid and you should really check if it's working on your day there, as it depends on the track schedule and weather. It costs ¥1500.
Kids from 2 to 6 can ride accompanied by someone 13 or older. Kids from 9 to 11 can drive if accompanied by someone 13 or older. Kids over 11 can ride by themselves.
~ Batto's Adventure Village
This is probably where we spent most of our time. It's where the roller coaster is, and all the other more adventurous rides are. But we spent most of our time at the roller coaster. We must have ridden it 10 times – no lines, so that's good, isn't it?
* Adventure Drive
Up to 4 people per car drive through the rough track to find the 'power ring'. If you shout 'Power' when the ring is red (it's usually blue), your energy charges up and it speeds up too. 
For kids over 7 AND over 100 cm (3.28ft). Kids under 7 who are taller than 100 cm (3.28 ft) can ride when accompanied by someone 13 or older.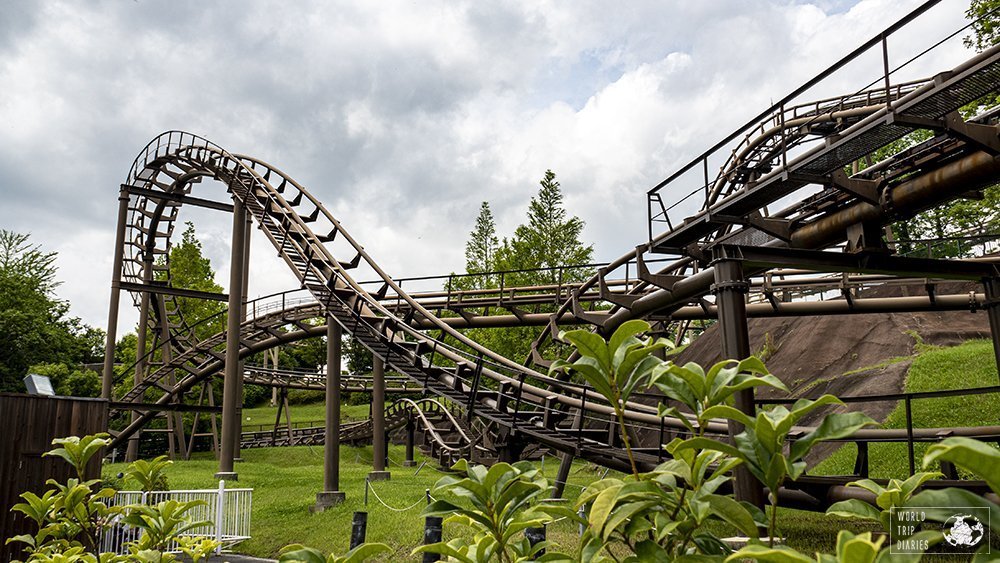 * Batto's Power Crystal Hunt
You get on a cart and shoot lasers at the 'Power Crystal'. The more points you get, the better your points. The thing is that the lasers are a bit weird and shoot to weird places but it's fun nonetheless – if you're not competitive, that is. 
4 people per can. Kids from 7 can ride alone and kids under 7 must be with someone 13 years old or older.
* Adven-Boat Frontier
You pilot a boat through the lake. You need to find the power ring here too, but here you press a button when you see it. It's an OK ride, and even though it's in the water, you don't get wet at all.
Up to 4 people per boat. Kids over 9 can ride by themselves. Kids between 2~8 can ride with someone over 13 years old.
* Flying Ship
It's a pirate ship suspended roller coaster. It's mild, but it's a lot more fun than it looks. My kids were like 'uh, no thanks' but then they all enjoyed it. Each boat can hold up to 3 people. 
Kids older than 8 can ride alone. Kids under 8 need someone over 13 to accompany them. Babies must be able to sit by themselves to ride this.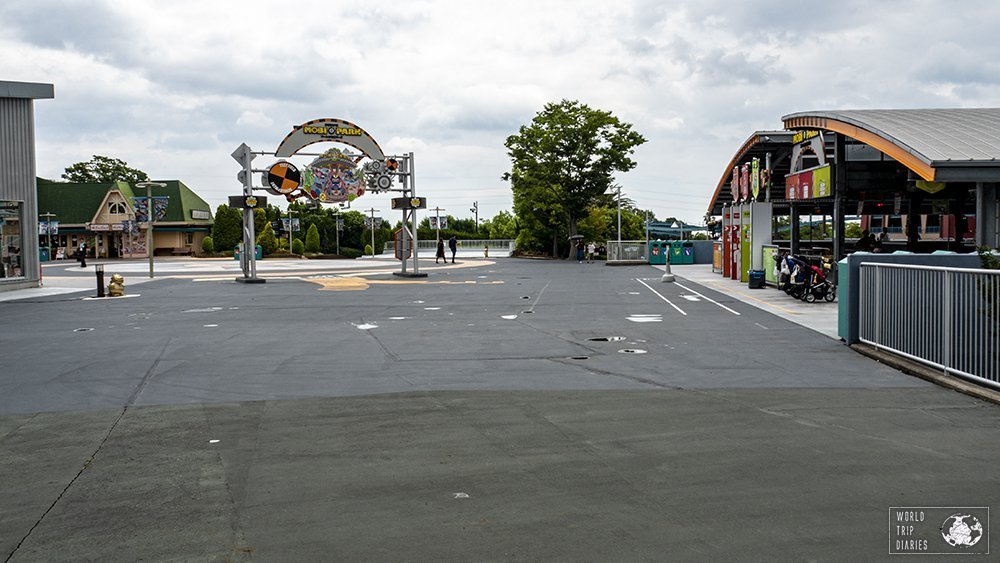 * Para-Sailor
You know those suspended swings that go round and round? This is it. A normal one, nothing different or special. 
Fun, though, and no lines ever.
Up to 2 people per swing and kids over 5 can ride by themselves. Kids between 3 and 4 can ride when accompanied by someone over 13. 
* Rocky Coaster
This is the rollercoaster. The first seats of the train are forward-facing, and the rear ones are facing back. Ride both, as there aren't many lines. It's fun, but rough on the neck – as with any rollercoaster. 
You need to be 120 cm (3.9 ft) or taller to ride this.
Tips and Tricks
You see that there's a lot to do. If you have little kids, you may want to avoid the Adventure Village, and if you have teens, you may skip the Hello Garden. But if you have the time, visit it all – even if for taking photos, as they're all pretty and different.
It's a different kind of Japanese amusement park.
The waterpark is open only during the summer. It gets crowded. We love it because the rest of the park is usually empty. The thing is that tattooed people can't go in unless you're able to cover your tattoo completely.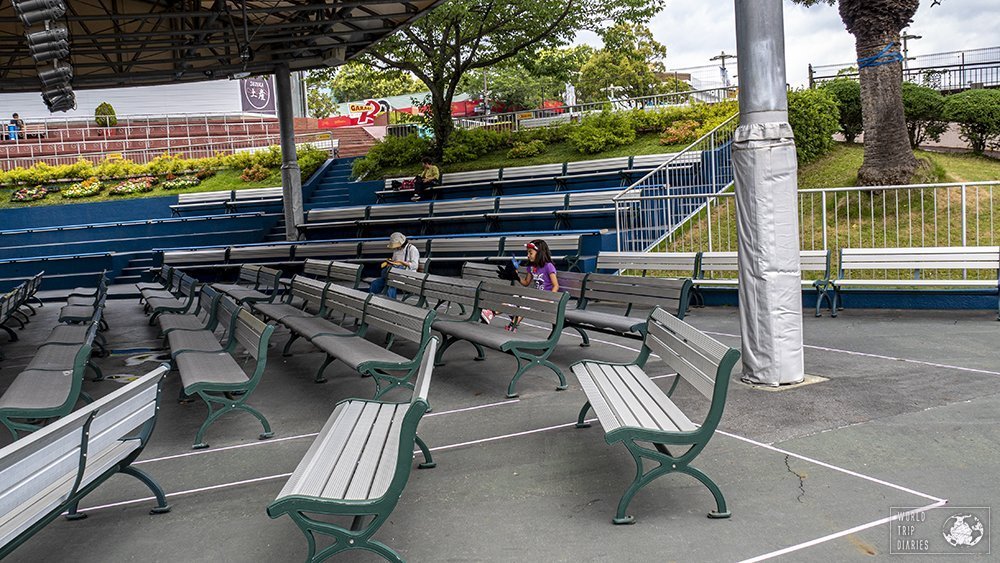 The same goes for the onsen.
They have a bowling alley, a fancy restaurant, and a hotel there too, but we never stayed there as the city is small enough and rarely sees traffic enough to justify paying double to stay there.
Food and Restaurants
They have quite a few fast-food restaurants there – Japanese fast food – and they're not too bad. You can bring food from the outside, you can even bring a cooler with everything you want. They'll check it, but it's fine. We usually bring our water bottles and refill them in the water fountains. 
Parking
The parking lot is huge and extremely organized. It's paid, though. When there's a race going on, it gets quite crowded. Don't park on the streets, though.
Putti Coins
In the end, you may have received a few coins – you get them for tidying up after yourself at restaurants (well, kids under 13 receive them), at the Machine Laboratory, and for clearing something special, like getting 100 points on the Balloon ride.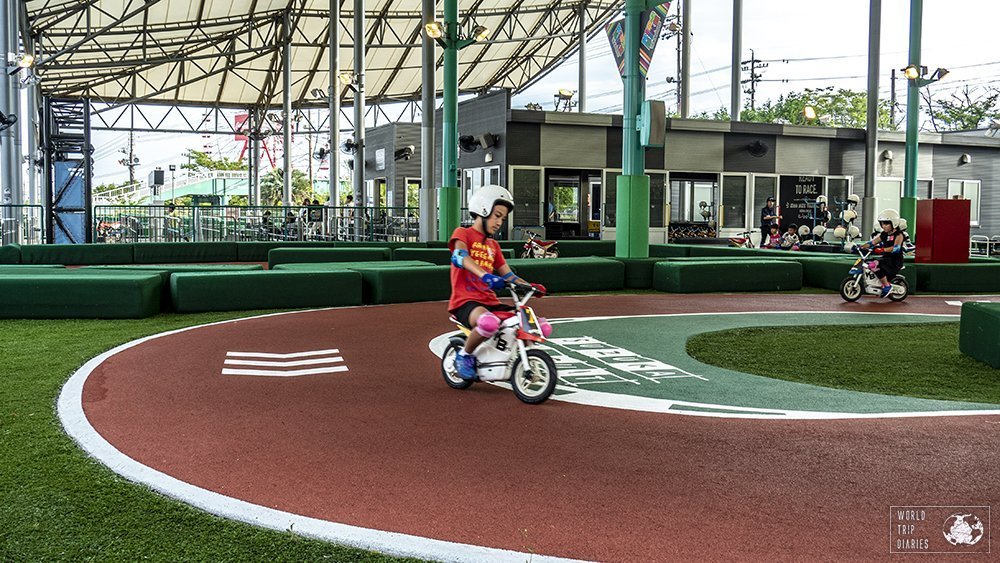 So take those to one of the shops that accept them (they have maps and info outside of every restaurant and attraction that gives them out) and exchange them for something – usually like candy. You can top up with money if you wish, but the fun is that the kids managed to get something with their good deeds. 
If you didn't receive enough, you can just insert them into a special tree and they plant a tree for every coin. I don't know if they really plant them, but…
Is it worth visiting Motopia?
Well, I'd say so. It's fun, even though it's small and not as thrilling as most.
We really love testing our driving skills and the younger kids had lots of fun learning to ride motorbikes.
Even though it's not really well equipped for non-Japanese people, it's still easy to do it all. My kids don't speak any Japanese and they managed to ride everything alone.
If you've been to Japan before or don't want to do Disney or Universal Studios, and your kids aren't up to the roller coasters of Fuji Q and Nagashima Spa Land, this is your place.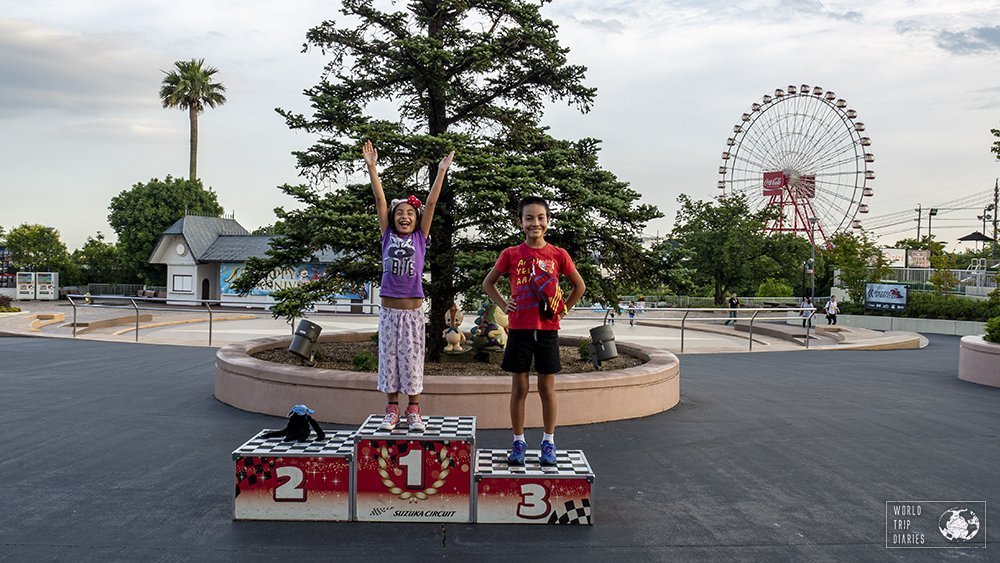 https://www.worldtripdiaries.com/wp-content/uploads/feat-motopia-suzuka-circuit-japao.jpg
287
815
Thais Saito
https://www.worldtripdiaries.com/wp-content/uploads/wtdlogo.jpg
Thais Saito
2019-09-25 16:58:21
2019-09-24 23:09:59
Motopia: the Suzuka Circuit Park