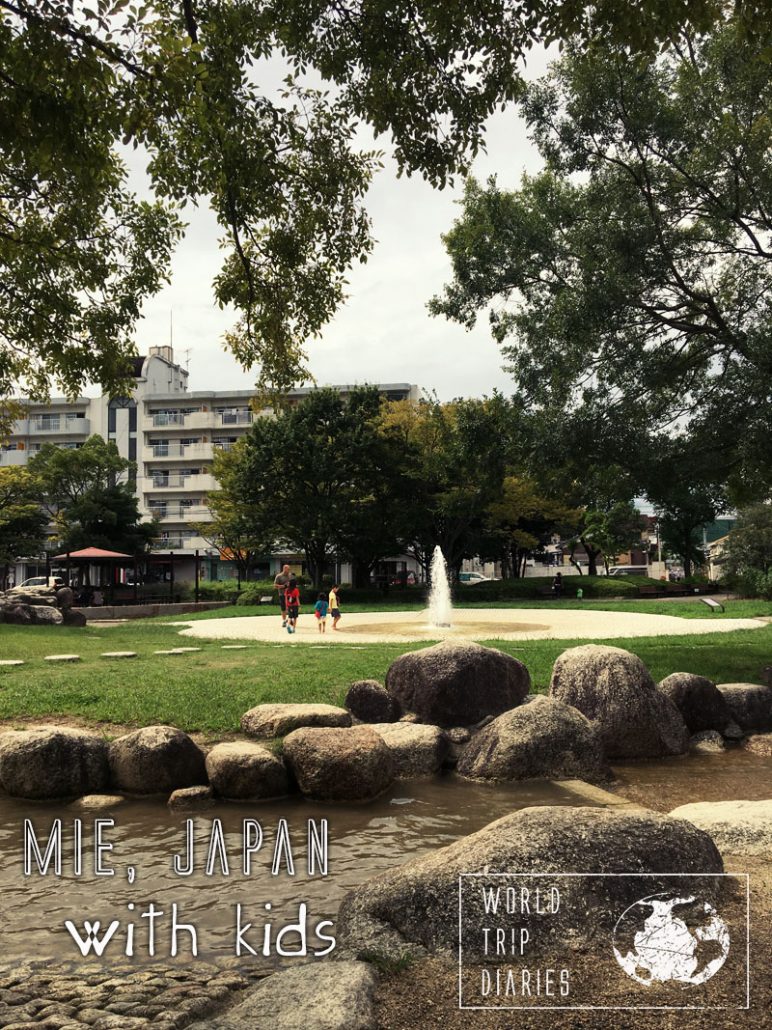 Mie Prefecture is a relatively unknown place, being a great off-the-beaten-path destination in Japan. It's close to Osaka and Nagoya (around 1 hour from each), making it a great place. It's home to Ise-Jingu, one of the most important shrines in Japan, and also the Suzuka Circuit, where the car races (including F1) happen! See the best of Mie, Japan, with kids below!
We lived in Suzuka for 2 years a long time ago. And I also lived there when I was a kid. It's a place filled with memories. Plus, it has my dad.
It's not fancy like Tokyo, nor historical like Kyoto, nor is it the prettiest place on earth, but it's still great. If you want somewhere more relaxed, with history, a beautiful beach, and off the tourist-route, then Mie may be for you! Keep scrolling to find more about it!
You may also like: the best of Japan with kids
* this post contains affiliate links – they don't cost you anything but give us a small commission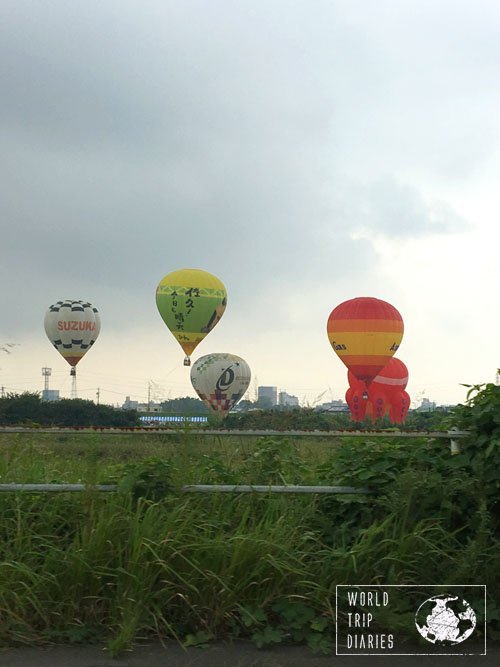 Where to stay in Mie with kids
Okay, so even though we usually stay with my dad, we decided to try out a hotel there for one night and spend a couple of nights in the city of Ise-Shima. It was hot and we wanted to go to the best beach in the mainland (at least our very favorite) Japan.
Family-friendly accommodation in Suzuka
We spent a night at the Suzuka Royal. It's a nice and small hotel, with Japanese-style and Western-style rooms. It's on the main road in Suzuka, very close to the shopping malls. Even though it's not walking distance, it's super easy to reach Suzuka Circuit.
The breakfast is amazing, beautifully done, and super delicious. We had no complaints at all. The toilet is actually outside of the room, but a few steps away only. It's also private, just not inside the room.
One of my favorite things there was that the washing machines were free to use. Right beside it was also a sitting area with coffee and tea and many mangas, the Japanese comics.
Check their latest prices here!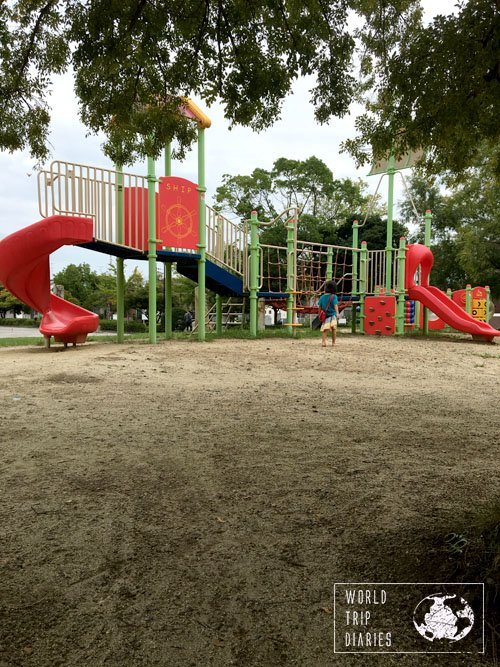 Family-friendly accommodation in Ise-Shima
Ise-Shima has just the best beach in Mie, but it's not only that. It also has Ise-Jingu shrine, and Spain-Mura, so we decided to stay there one night to try to see as much as we could. Unfortunately, there was a typhoon and we had to stay most of the time indoors.
Luckily, we stayed at the Villa Daioh, and the room was huge. It had a large living area, a simple kitchen, a big bathroom, and 2 bedrooms. It also has free wifi and TV, and a communal living area, with fish tanks, pool table, and things like that.
The breakfast was super delicious, very home-made, super fresh. The service was great and they offer you the option of dinner there – they fish and serve the famous Ise-ebi, the lobster only found there. It's a little far from everywhere, but if you're driving, it's perfect!
Check their latest prices here!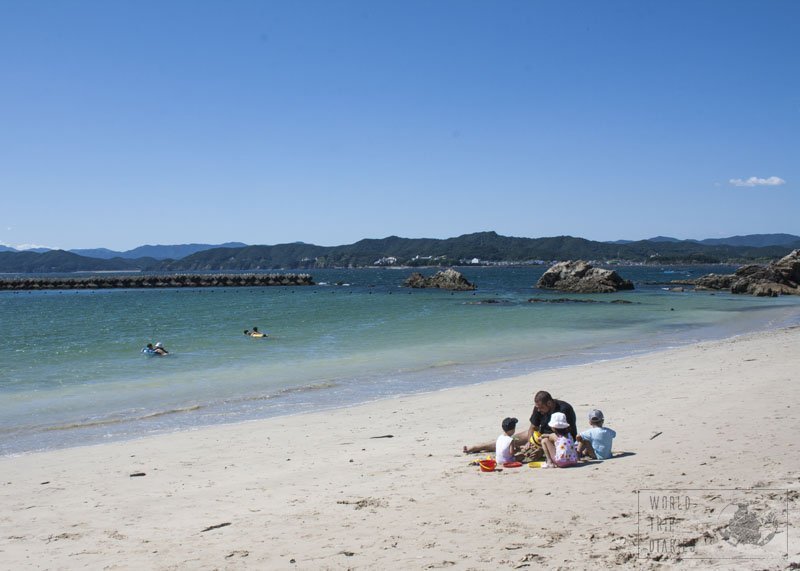 What to do in the Mie Prefecture
The Prefecture is quite big, so I'll try to divide it into cities. Continue below!
Things to do in Suzuka with kids
~ Spend a day at the Suzuka Circuit theme park, Motopia
Motopia is this great attraction park in Suzuka. It's all about motorsports and all kinds of vehicles. You can read all about our visit to Motopia here! Drive cars, buses, trains, and even pilot motorcycles!
It's usually not too crowded, and you can do a lot in one day, but don't be fooled: it's not tiny enough to spend only a few hours in. We arrived before the park opened and didn't manage to see it all!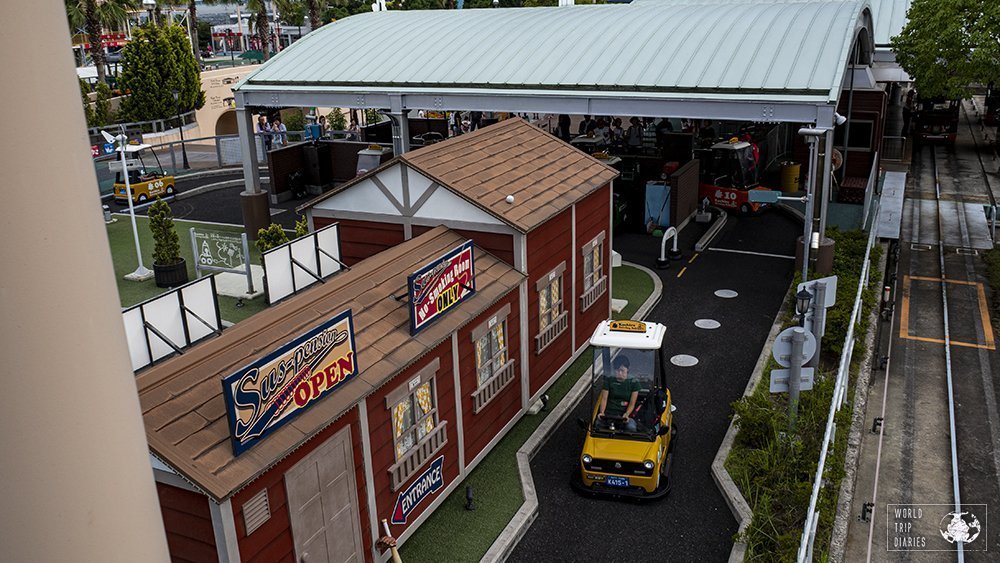 ~ City Hall Observatory
You can view the city from above at the City Hall Observatory for free. Admittedly, it's NOT the prettiest of the views, as the city is simple and small, and there isn't much going on but it's free. 😀
~ Visit one of the playgrounds
There are many playgrounds, but our favorites are Flower Park and Bentenyama Kôen. They're both fun, though they're different.
Flower Park is a bit far, not easy without a car, but it's massive. We all love it. Bentenyama Kôen is just behind Hunter mall nearby Hirata-chô train station, smaller but with water plays. 2 fake geyser-like things where kids can play and one artificial creek, which is super fun.
~ Visit the Firefly Village
If you're there during the firefly season (May~June), don't miss it! There's this green area that gets full of fireflies!
We got there a week too late and only found a few fireflies, but the person in charge said that the week right before the rainy season is the best every year. It's roulette, as it changes every year and we never really know when it's happening. I can tell you that it's usually late May or early June.
They charge an entry price. In 2019, it was ¥200 per adult. Check the firefly radar here!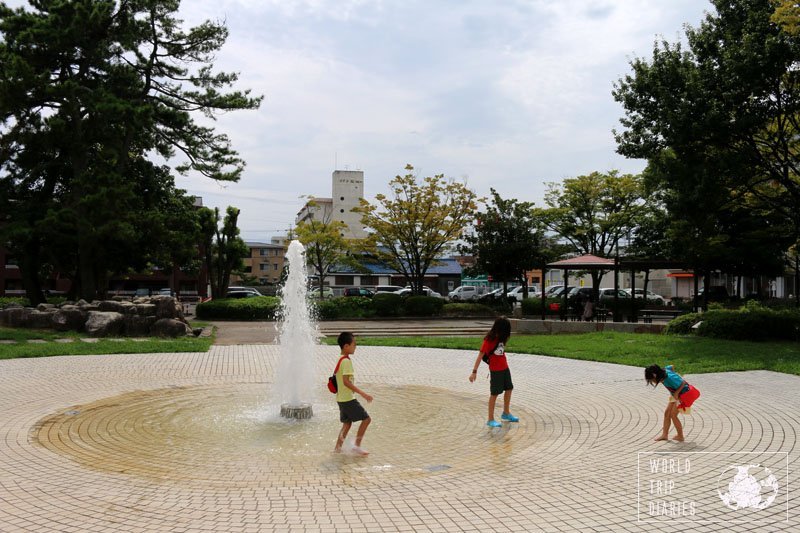 ~ Malls…
If the weather is bad and stuff, you can always visit the malls, watch a movie (in Japanese!), grab something to eat and stuff. The 3 malls in Suzuka are Aeon Mall, Lock Town, and Hunter.
While Aeon is bigger and more modern, Hunter is where the old folks go. We often visit Hunter due to the park from the photo above and Mister Donuts, which is right there. Lock Town is the smallest and since it's not enclosed (it's covered, but no walls around the mall), we avoid it during winter. They do have Uniqlo, though. Aeon is the biggest, where the movies are.
Things to do in Ise-Shima with kids
~ Go to the beach!
Shima-shi is home to Goza Shirahama Beach, which is stunning. Last time we visited, the weather was foul BUT on 90% of the time we were there, we had the most beautiful weather there. It's also a great place to see the ama divers at work – there are many ama experiences there, just enquire at the car park!
ama divers are the women who fish traditional style in the region. They gear up and dive with no oxygen tank. Pretty awesome stuff!
~ Ise Jingu Shrine
In Ise city, you'll find Ise Jingu, which is not only a shrine but a complex of shrines. It's one of the most important places for the Shinto religion and receives tourists from all over Japan.
It's free to enter most of it, and they even have a rest area where you can have a free cup of tea. Delicious.
It's a huge, huge place, and so beautiful and peaceful! It's a forest, and it's breathtaking. Even though we don't enter many shrines because they end up looking the same, this one felt a lot like a park.
~ Visit Spain Mura
We didn't. Ever. But, I mean, we lived in Spain and we honestly never saw the need of, you know, visiting a Spain themed park. Maybe next time.
~ Meoto Iwa (Wedded Rocks) and the Frog Shrine
In the town of Futami, there are these 2 enormous rocks in the ocean, and they are named Meoto Iwa, which translates to Wedded Rocks. They're easy to get to and free to see.
From the car park to the rocks, you cross Futami-Okitama Shrine, which we renamed as the Frog Shrine. There are just so many frog statues (people say frogs bring people/stuff back).
It's nothing much, honestly, but maybe if you're very early, you can get to see the sunrise behind the rocks, which is said to be stunning!
Things to do in Iga-Ueno with kids
There's a lot to see in Iga-Ueno. It's said to be the village where ninjas were 'made', but there's also another city, Koga (also in Mie) which claims the same. We only visited Iga-Ueno, so we'll focus on that.
When in Iga-Ueno, visit the Ninja Village, of course. We have a whole post about our visit to the Ninja Village, check it out here! You'll find the ninja house, a ninja museum, performances, and games (like throwing real ninja stars, anyone?).
But you'll also find a lot about the traditions of Iga-Ueno, like the festivals, and the castle. It's a cool place to visit, and you can rent a ninja costume and spend the day being silent and mortal. Or not.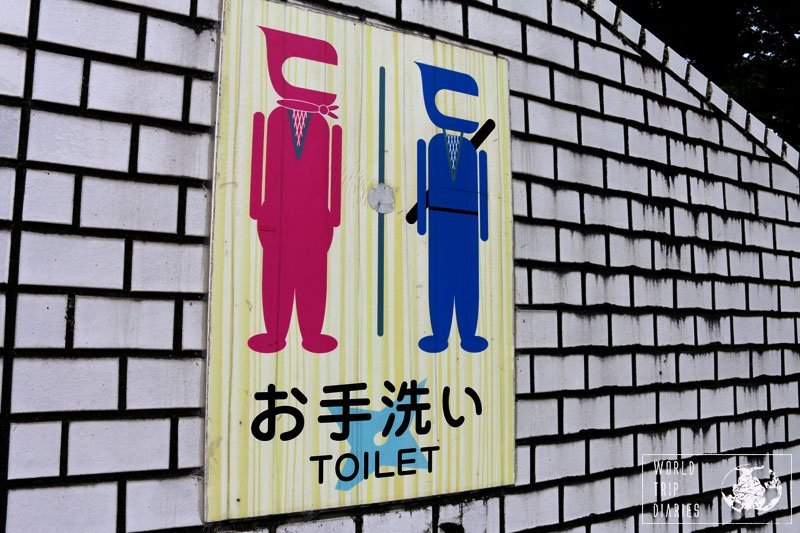 Other places to visit in Mie
~ Mount Gozaisho
In the town of Komono, there's this awesome ski field. It gets all covered in snow (seriously) during winter, but it's also as stunning during summer. There are many walks and things for all the weather.
The bad thing is that you need a cable car ride and it's a very, very tall and long one. Stunning, yes, but scary as.
At the bottom, there's Yunoyama Onsen – if you don't have tattoos, you may enjoy some nice and warm thermal baths after the cold snow sports.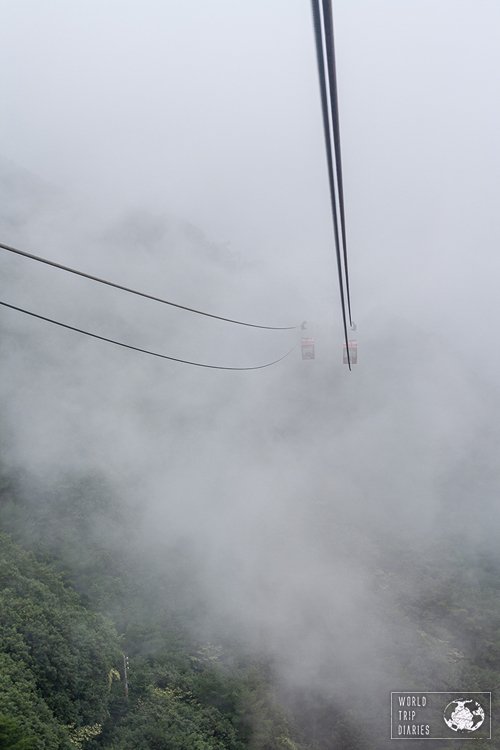 ~ Matsuzaka
Even though we've only stopped there briefly, this is home to one of Japan's most prized beef. I mean, you can get it throughout Mie Prefecture, so there's no need to visit the city just because of it. But if you have the time…
~ Nagashima Spa Land
Mie Prefecture, Japan, also has this awesome complex. It has an attraction park, the light tunnel (Nabana no Sato), etc. Nagashima Spa Land is actually the name of the theme park because it came first. It's famous for its thrill rides, so we haven't taken Coral there yet.
We did take the kids when they were little and they did not enjoy much, so we are waiting until they can (and want to) ride everything. Otherwise, it's too expensive to just be there and look.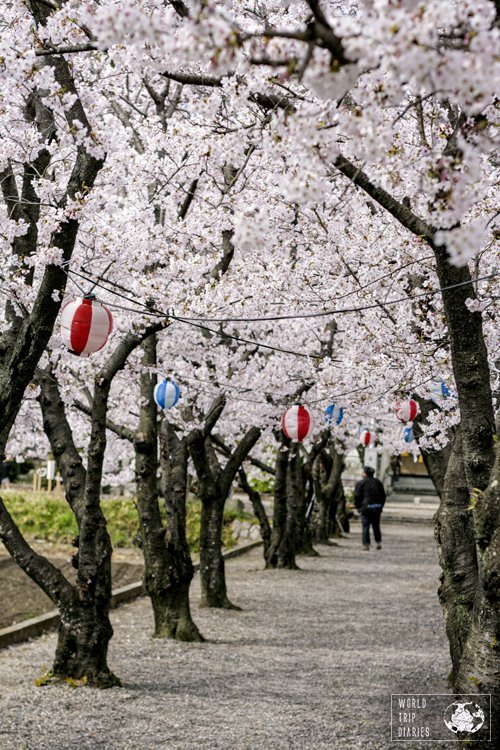 ~ Tsu, the capital
Then there's Tsu, Mie Prefecture's capital city.
There's a lot of nature, with beautiful parks and mountains, shrines and museums. We haven't been there, so I'll just stop here. Maybe next time!
Would you consider going to a small town like Suzuka if ever going to Japan? Let us know!
City / Country

Minimun Stay
$ ~ $$$
Child-friendlyness
Best local transport option
Safety
Do we recommend it?
Mie / Japan

1 day
$$
Super child-friendly
Car
Very safe
Oh, yes!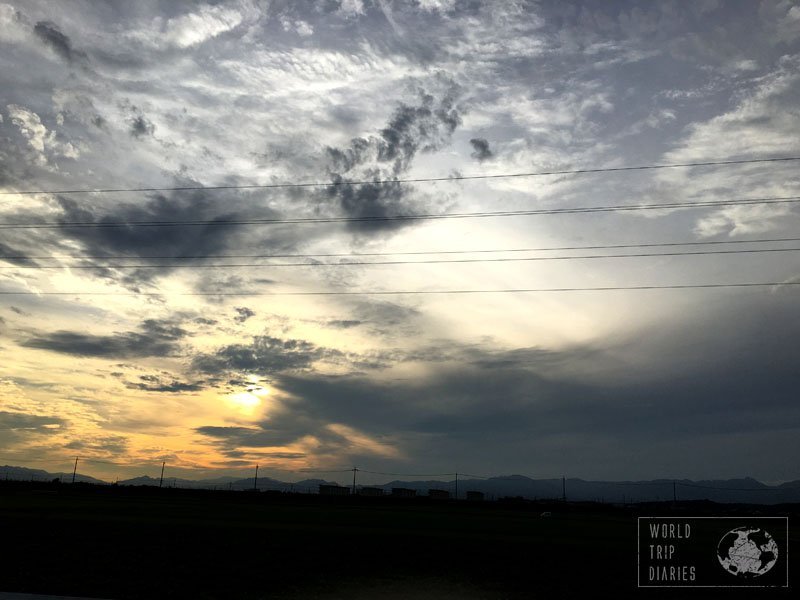 https://www.worldtripdiaries.com/wp-content/uploads/FEAT-suzuka-japan-world-trip-diaries7.jpg
280
815
Thais Saito
https://www.worldtripdiaries.com/wp-content/uploads/wtdlogo.jpg
Thais Saito
2016-09-28 17:11:09
2019-10-23 00:58:09
The best of Mie, Japan, with kids