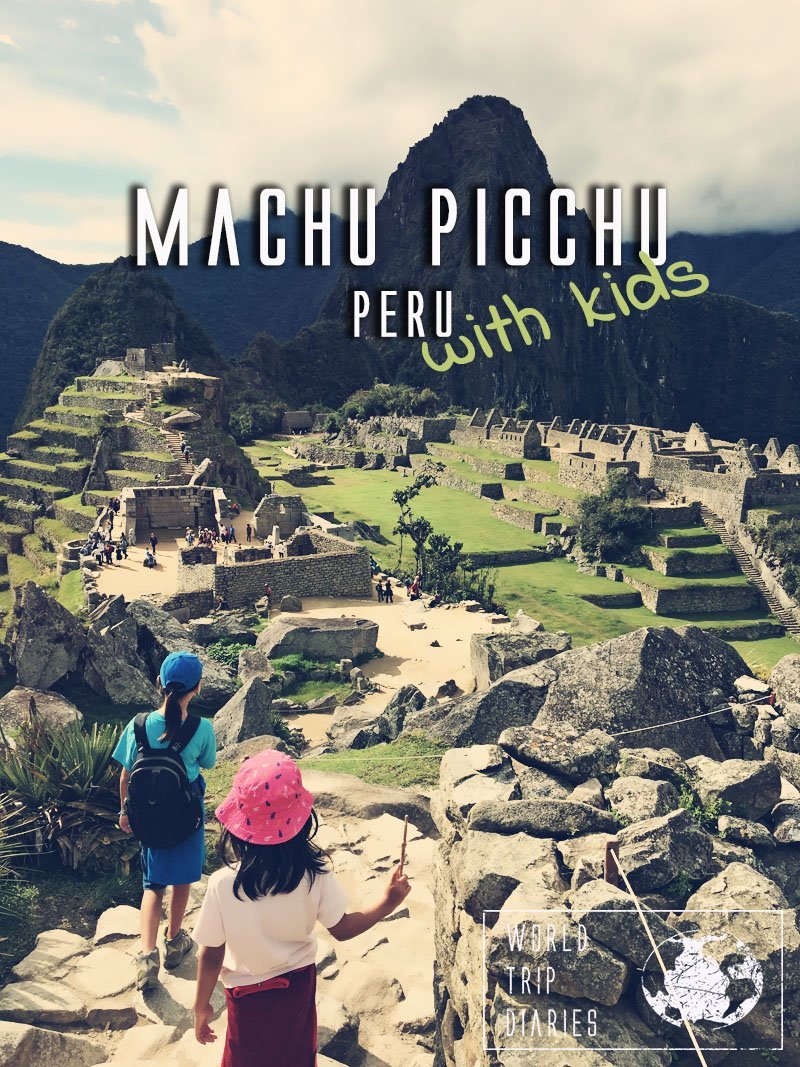 Taking the kids to visit Machu Picchu was one of the most memorable moments of our trip so far. It was CRAZY, it was emotional, it was intense.
We visited Machu Picchu, Peru, in April 2017, with kids. On this guide, I'll tell you all about it, from planning, to transport, costs, food, weather, … Pretty much everything about it!
It's gonna be a long post!
High altitude alert!


Machu Picchu is located at 2430 m or 7972' above sea level!
Planning
When we decided we'd go to Peru, we knew we'd go visit Machu Picchu. Of course, we would. But then I injured myself, and we didn't know if I'd manage. After a visit to the hospital, certifying nothing was wrong with my brain, and having received a medication for the dizziness, we decided to go. We started running around trying to get tickets, book places to stay, trains, and figure out what to do, how long to stay, etc.
First thing, you do need to know that the Sacred Valley, where Machu Picchu is, is in high altitude. (7,972' or 2430 m). It shouldn't cause anyone much problem, as it's not too high up – just take some precautions (like drinking lots of water AND taking it easy).
We decided to stay in Cusco first since it's higher, and we were coming from La Paz – pretty much the same altitude), and from there, go to the Sacred Valley.
Since we don't like things to be rushed, we decided to go from Cusco to Aguas Calientes, stay a few days, move to Ollantaytambo and spend a few days. Then head back to Cusco to fly to Lima. It worked out pretty well.
Buying the entrance ticket to Machu Picchu
Now, with a rough plan in mind, we headed to the website of Ministry of Tourism in Peru to buy our Machu Picchu tickets. Kids have a cheaper fee, but we couldn't buy from the website if we wanted to pay the cheaper fee. We contacted our host in Cusco and she put us in contact with Adamo, who is an agent, and he bought the tickets for us (after we sent him all the passport copies). Adamo delivered the tickets to us in our Cusco apartment. Easy!
The website is pretty cool, you can check out how many tickets are still left for each day and from years prior – so you can decide if you want to buy your tickets when you get to Ollanta or Aguas Calientes, or if you really need to buy them beforehand. It does take a long time to load, though.
Transport to Machu Picchu
Machu Picchu isn't actually so easy to get to. From Cusco, it meant a taxi drive from our place to Ollantaytambo (between 1~2 hours). Then a train ride from Ollantaytambo to Aguas Calientes (also called Machu Picchu Village) of 1,5 hour. It's also where the Machu Picchu station is located. From Aguas Calientes, there's a bus that goes to Machu Picchu itself, and the ride takes around 20 minutes.
When it's not wet season, the train departs from Poroy, just outside Cusco. It'd mean missing out Ollantaytambo, though.
We bought our tickets online but asked Adamo to fix us a ride to and from Ollanta.
All the way from Cusco to Aguas Calientes, the view is breathtaking! Very worth going during the day so you can enjoy the incredible views.
The train
There are 2 companies taking people to and from Aguas Calientes: Inca Rail and Peru Rail. We took Inca Rail because it was cheaper. It was still a great train, a nice ride, and the snacks were pretty good. The drinks were awesome.
Peru Rail offers more options, though, including the super fancy Hiram Bingham.
One thing to note is that Inca Rail told us that we could only take one 5kg bag (10lb) per person but after talking to them a lot, they told us to take all our luggage. I mean, we were staying in the Sacred Valley for a week, we couldn't leave our stuff anywhere because we'd need it. Turns our, everyone took their huge luggage, we just had to leave them in a rack at the entrance of the carriage (or carry with you, though it'd be a bit uncomfortable).
The views are amazing all the way and we could also see some ruins from the train. Pretty awesome.
Ah! We went to the Cusco Inca Rail store to get our tickets because we were in Cusco, but they have stations in Lima and in Aguas Calientes too. Bring passports!
The bus ride
The bus ride from Aguas Calientes to Machu Picchu ruins site is a zigzag up a mountain. I felt terrified all the time, but the kids had a great time. It's a 20-minute ride and buses depart from each end every 20 minutes or so. It costs US$ 25/adult or US$ 12,50/child the round trip. You can buy only one way and do the other on foot. We didn't.
The tickets can be bought at a booth by the river (everybody knows, you can ask or just buy as you walk by – because you will). Bring passports! Ask the seller about the best time to depart, because it changes. We were told that at 5 am, there was a huge line that took up to 2 hours to clear, so the best time was from 7 am onward. We took the 8 something bus and had no line at all, though it was nearly full.
The site
We left the bus, and still saw no sign of it. There were the toilets, the restaurants, and a huge crowd. Many guides were there offering their services – you can hire one there. We didn't because we wanted to see it, and if we felt the need, we'd hire one after lunch. In the end, we didn't at all.
There was a fast moving line at the entrance, where we show our entry tickets and passports (yep, you'll need it!). Then we walked for around 5 minutes to actually see IT.
When we saw it, we were all in awe. It's huge, it's stunning and breathtaking. And full of people.
There were 20~30 people groups all going up, so we decided to go the other way: down.
We walked, just walked. I have no words for it. So incredible! We entered rooms, saw walls, the amazing views, it's just perfect.
Monitors roam around the site making sure people aren't doing anything damaging or stupid, and they use their whistles. You hear a lot of it all the time. Melissa was told off twice: once because she was standing on a rock (a pretty big one) and once for drawing in the sand. Other than that, we were fine.
I found it pretty incredible that everything was beautifully lined, organized, and clean! I saw only one candy wrapper, that we took to the hostel with us.
There is the hike to the Gate of the Sun, which takes around 2 hours each leg. We didn't do it because, when we found out it takes 4 hours minimum, it was already a bit too late. It was still beautiful.
João, Melissa, and Angelo also went up to the Inca bridge. José, Coral, and I walked until half way but decided to stay there because we were tired and kind of scared. It's a pretty high and narrow path in some parts. The bridge, apparently, is a bit disappointing.
There are also lots of stairs everywhere. EVERYWHERE. My knees hurt after that day.
What else can I say? It's SO beautiful but so beautiful! I loved it.
It did raina bit in the afternoon, and the site looks even prettier when it's raining. Just stunning.
Coral (5) loved running around the rooms and playing hide and seek or tag. Melissa (13) wasn't impressed at all. After being told off in the first 15 minutes of our entry, she decided she didn't like it. José (9) was like 'it's cool, but it's all the same'. The only kid really impressed was João – he was willing to do all the strange paths, go up and down multiple times, and always had something to say.
Llamas
There were llamas there. We were, though, expecting them to be everywhere, and they weren't. They were all clustered together in the same spot. When one moved, all of them moved along.
It was one of the best things there for the kids. The llamas tried to eat our backpack, Coral got many nice photos of them, as they didn't really mind us there. And once, while we were waiting for Angelo, they charged and nearly run over the boys. They (the boys) were smart enough to get out of the way before they reached them.
Then once, as we were going back from the Inca Bridge, one of the llamas was trying to eat the leaves of a tree right in front of us and kept going on its hind legs. It was fun to see.
The weather
The rainy season is from October to April, and the dry season is from May to September. We were there late April and got a bit of rain in the afternoon on the day we were in the archeological site. Other than that, we had sunny days all around.
Dry season sees more crowd (the highest being in July and August).
In the morning, it was chilly. Around noon, we were pretty hot, everyone was in tees. Then later, when it rained, it
cooled down again. Dress in layers and take a rain coat with you: you should be fine.
Food
At the site, there are 2 restaurants, one buffet type restaurant and a café. The buffet cost US$ 42/person, which was WAY above our budget, so we went to the café. It wasn't cheap, and the food wasn't really too good, but it was fine and helped us not to carry food throughout the day. It's covered, but the sides are open, so we could eat while watching the beautiful views of the place.
It was pretty full, though, and we had to wait for a table and sit while people were still getting ready to leave.
*edited July 2017 – the new rules
There are new rules for those visiting Machu Picchu starting on 1 July 2017. The whole stuff can be read here (in Spanish, but it's the official stuff).
In short, you'll need to visit it either in the morning (6 am ~12 pm) or in the afternoon (12 pm ~ 5:30 pm), have a guide and choose a circuit (there are 3, apparently). No roaming around allowed anymore. You won't be able to re-enter the site, so I'm not sure how they'll deal with people needing the toilet as it's located on the outside of the site (or at least it was when we were there). Make sure you visit the loo before entering, just to be sure.
Aguas Calientes (Machu Picchu village)
The town is VERY small, we walked across it many times. We did it all on foot, and it wasn't tiring at all.
The food there is pretty good, but it's pricier than anywhere else in Peru. We paid around US$ 100/meal. The farther you go out of the center, the cheaper it gets.
While we were there, we stayed in hostel Urpi, which was just ok, to be really honest, and was pretty expensive. It could be cleaner, it could be warmer. It has no kitchen at all, so we went to the store underneath it to be taken to where the breakfast would be served that day. Breakfast wasn't too good either, with one bread per person, margarine, jam, tea, coffee and juice (we had 2 days of box juice and one fresh delicious juice). Make sure you join Booking.com through this link, so we can receive a small comission at no cost to you.
It was a lot noisy on the boys' room, though, because it was just by the outside window. The girls' room had no windows at all.
There are many massage places, markets, and restaurants, but other than that, only the thermal pools (which we didn't visit).
It's pretty, though, and deserves a day of your trip. Not more than that, though. Take a day to see the town and a day to see Machu Picchu. That'd be enough.
Ollantaytambo
If you're taking the train from Poroy, you'll probably miss it altogether, but let me tell you that we LOVED Ollanta!
We stayed in the Tumy House B&B and it was perfect! It was super clean and the breakfast was delicious, it was super family friendly! It was close to everything. The staff was super helpful. Highly recommend it! If you've never used Booking.com before, sign in through this link so we can get a small discount on our next booking, at no cost for you!
Ollanta is a super charming town, all cobbled, rock walls, and ruins. Very worth a few days of your trip. The food there is also GREAT and a bit cheaper than Aguas Calientes.
The ruins there seem to be pretty cool, but they can be seen from the town. We skipped it, as Melissa was pretty much fed up with ruins, and it was a bit too expensive for us after all we spent to see Machu Picchu.
By the ruins, there is a small market with handicraft and the incredible Chocomuseo. Worth the visit.
There's also an Inca Bridge there too, but this one isn't really worth visiting, unless for the view of the river.
We were picked up from the station by moto taxi – it was so cool! We spend 3 days there, and we loved each one of them!
What to take
– some warm clothes, at least to sleep in, because most places have no heating and it is a bit chilly at night.
– sunscreen and hat! The sun burns a lot here, remember to reapply often, even when it's cloudy or chilly.
– raincoat because it can rain, and since almost everything is outdoors, you'll need it.
– passport. You'll need it for the train, for Machu Picchu, for the bus. Take it.
– insect repellent because there are so many mosquitos! Annoying little things.
– camera! Don't forget it!!! – and charger and memory cards!
– a comfortable walking shoes – it doesn't need to be for hiking because the trail is pretty safe and stable. A closed one is better.
Tips
– We were there late April, saw very little rain (it was more of a drizzle and lasted for half an hour) and the crowds were super light (according to the people there. We thought it was pretty full). I recommend this time of the year, but the most crowded times are in July and August.
– There's a limit on the number of people that can visit the site each day, so check out the website and buy ahead of time if you think it's risky.
– There are NO rubbish bins there, so take a bag from home and dispose of your trash at the hostel/hotel.
– If you wish to climb Huayna Picchu, you NEED to book ahead of time, as it does get sold out often – just beware it's not a path for everyone. We gave up after seeing some photos of the trail.
– You can do the 4 days trail to get to Machu Picchu, but if you have kids, you're probably not going to so I'm not gonna get into details here – as we didn't do it ourselves.
– I would suggest you'd go straight to Ollantaytambo or Aguas Calientes, spend a day or 2, go to Machu Picchu (altitude 7,972' or 2430m) and only go to Cusco after acclimatized.
– You can enter the site up to 3 times with the same ticket (on the same day), so make sure you go to the toilet and eat all in one exit.
– There are many guides there at the entrance, there's no need to book one ahead of time. The site is so beautiful, you don't need a guide to enjoy it BUT it'd have been a lot more informative if we'd hired one.
– Machu Picchu is not the only ruin in Peru, it's just the most famous. There are many others that are cheaper. I still think you should go, though.
– The water in Peru isn't safe for drinking, so you'll need to buy some. We bought a big gallon and refilled our reusable bottles.
– Remember to bring all the stuff I've mentioned above on 'What to take'.
– Let the kids be kids, just watch them so they don't do anything dangerous.
– Rest. Take a book to read, or just sit and enjoy it. It really is worth it!
– Early morning or late afternoons are less crowded.
Costs
It cost us NZ$ 624 for the hostels. The entrance to Machu Picchu cost NZ$ 222. The buses added to NZ$ 170. The trains cost NZ$ 780. The taxi from Cusco to Ollantaytambo cost 400 soles (around NZ$ 172).
The total was NZ$ 1968 (around US$ 1400) – not counting food, though – for the week we had at the Sacred Valley.
Definitely not the cheapest of the outings, but well worth it!
---
Subscribe to our weekly newsletter and be in the draw to win one of the 3 postcards we send out to our readers every month! + get access to a subscribers only area! It's all free!
SaveSaveSaveSave
SaveSave
SaveSave
https://www.worldtripdiaries.com/wp-content/uploads/FEAT-machu-picchu.jpg
287
815
Thais Saito
https://www.worldtripdiaries.com/wp-content/uploads/wtdlogo.jpg
Thais Saito
2017-06-13 16:45:05
2019-08-12 16:39:09
Machu Picchu, Peru, with kids: the guide