Little guide to Medellín, Colombia, with kids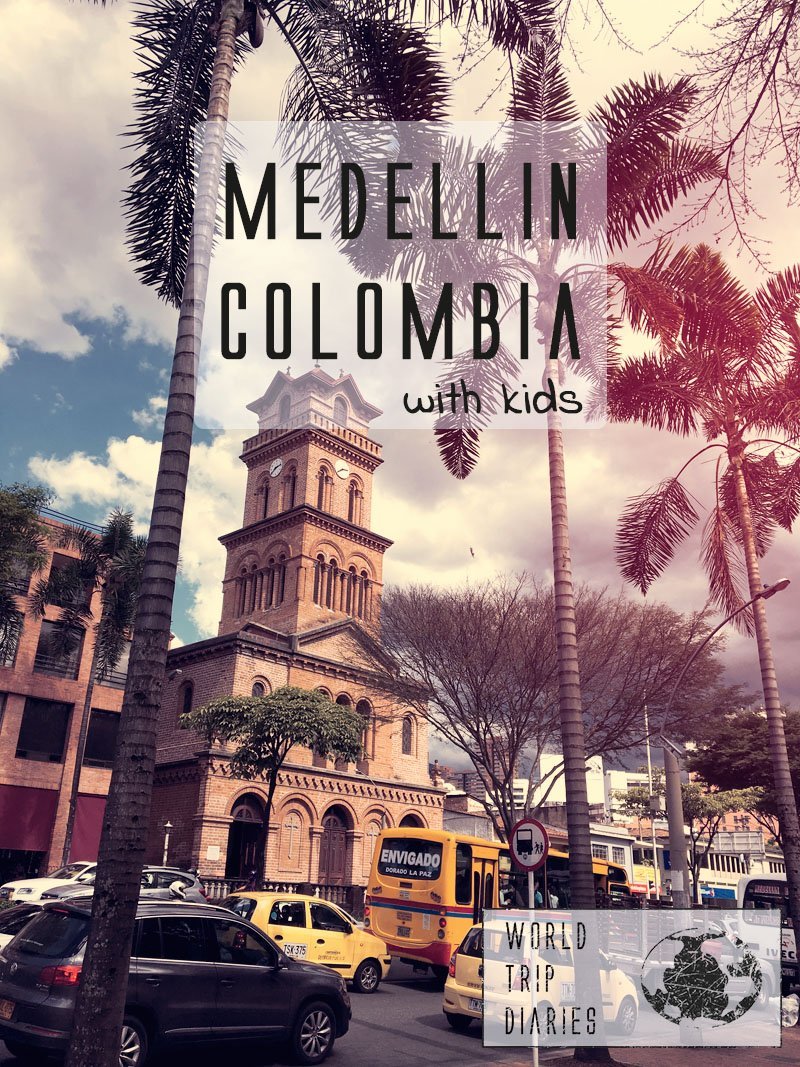 We had 2 lovely weeks in Medellín, Colombia, between May and June 2017.
After 2 chilly weeks in Bogotá, we flew to Medellín. The flight with Viva Colombia was a bit stressful. They charged for Coral's toddler size school bag because of the handle – too big, apparently, even though it was under the weight limit – and there was no size limit to the bags on the website. The didn't, though, charge for José's 35L backpack even though it was considerably bigger than Coral's. They did change the time of the flight a few times before the day, but it was always less than an hour difference, so it didn't matter to us BUT be aware that this can happen, so book with a lot of spare time between the flight and any activity.
As soon as we landed, we felt the lovely Medellín heat – delicious thing. It was sunny and it was warm. We all took our sweaters off and I was already in love.
No wonder Medellín is called the city of the eternal spring – what a lovely weather it has! In our 2 weeks there, we've had a little drizzle and one night of rain. Other than that, lovely sunny weather all around!
We spent our days in this apartment, in the lovely neighborhood of Ciudad del Rio. The apartment was clean and our hosts, Anna and her mom Martha, were lovely from beginning to end. Coral got a fever while we were there due to a cold, and they brought us tea and some natural meds. Whenever we needed something, they'd come to us lightning speed. The apartment was clean, everything was working nicely, the beds were comfy, we had no problems at all.
The neighborhood is the best! There's a park right outside, always full of people enjoying it. There's a street full of food trucks – great food and the perfect way to enjoy the delicious weather. There's Mercado del Rio in walking distance, supermarket, even a mall. There's a train station and bus stops all around. Just perfect!
(If you're new to Airbnb, click here to receive a discount on your first booking – and we receive one too, without any additional cost to you!)
So, let's start this!
What to see and do
El Poblado is a nice and central neighborhood, where most museums are. It's full of restaurants, it's got a few parks, nice walks, nice parks, full of cool stuff. We spent a couple of afternoons there, and it just doesn't get boring!
The city center isn't as pretty as El Poblado, it's full and noisy, but it was fun. Lots of cheap eats, people selling pineapples and watermelons, souvenirs, and Plaza Botero.
Plaza Botero, a square with many statues made by Fernando Botero, a famous Colombian artist. They're easily recognizable because he only makes chubby people and animals. Even the inanimate objects are chubby. As per his words, 'sexy and voluminous'. There are a lot of people selling stuff, some of them are a bit aggressive, though. And lots of tourists.
Museo Antioquia is a museum with loads of Botero's work. There is work from other artists, too, but the Botero area is bigger. The kids' areas are pretty fun. We couldn't roam freely, as we had to follow a certain way and there were many monitors there taking people to the right path. It was cool and the air-conditioning was a blessing on the midday sun.
Ciudad del Rio, a super nice neighborhood, there were markets some days, on weekends, the food truck street filled up with options but there were some even on weekdays. The Modern Art Museum is there too, but we didn't visit.
Where to eat
Mercado del Rio
On our first night, we went there t grab dinner. It's a foodie's paradise, seriously. So many options, we haven't had one bad thing there. We tried Parmessano, fancy Italian food, delicious. We bought a whole creme caramel there once and took home, where it lasted for 2 days. So good.
Mr. Pig was another delicious option for the non-vegetarians. Bacon everything, we felt in paradise. The salad, oh the salad! That was my favorite, even the kids loved it.
Food trucks
At the food trucks nearby, we loved most the Medellín Burger Company. Yummy burgers, good fries, and excellent service. The choripan was my favorite. The drinks, though, come in varied sizes. Sometimes we received the 600mL bottles, in other the 320 mL cans, in others, the glass bottles. It's what they have available.
Another good option there was the Mexican food truck, it was delicious. My kids don't really love Mexican food, but they ate this happily. It was super nice having lunch at the park. Can't remember the name, though!
We also had a burger, an incredible one, from a bike truck. The dude had no name but some killer burgers! Worth trying too!
We had Dunkin Donuts at the center and it was exactly the same thing as everywhere else.
Crepes & Waffles is a big chain there. We had it once as it was when we were waiting for our movie time. Delicious ice cream, waffles, and all else. We only had the dessert that time. It made 6 people happy.
Then once again, at the airport. This time, we had dinner and it was delicious! We all ate well and were very satiated and happy afterward.
Juan Valdez is a coffee chain all over South America. Easily found in malls. We left it for our last day, in our last moments. Yum coffee, delicious drinks. Worth trying! Very worth all the money!
Mondongos was my favorite restaurant. Everyone, including our hosts, recommended it, and they were all right. Delicious Colombian food, huge servings, incredible staff, right in the heart of El Poblado, all perfect! We could've had shared one plate in 2 easily as none of us managed to finish it. Even the kids' were big. Must visit! Try out the bandeja paísa, perfect in every way – for the non-vegetarians, that is.
Shopping
We visited 2 malls while there. Things are more expensive there than most places, but it was, overall, fine.
Santa Fé because we wanted to watch Wonder Woman and they had it in English. It's a biggish mall with tons of options.
Premium Plaza because it was within walking distance from the apartment and the supermarket there was bigger. We also went looking for a post office and the one there wanted to charge NZ$ 50 per postcard. Hahaha, we laugh about it now, but it wasn't funny then.
Exito was the supermarket right by the apartment: small but with everything. We went there a lot of times.
Public Transport
We used public transport when we couldn't or didn't want to walk. It was reliable, fast, and it went everywhere. It gets full – very full – from 5~7 pm, but otherwise, it's fine. If you have a big family, we recommend that because taxis won't take 6 people and there just isn't a big taxi there. Nonexistent. We used a regular 5 people cab to drive us from and to the airport – the same driver, both times – the only one who accepted taking us. Traffic is heavy during rush hour, but it's not crazy, so you could even drive.
Others
We wanted to do a lot of things, but ended up not managing, as Coral (5)was a bit sick for a week.
There are coffee tours, chocolate making workshops, street food walks, graffiti tours, Parque Arvi, Parque Explora, the cable cars, and many other things. If you're ever in Medellín, you'll have so many options it makes it hard to choose! Go research what fits you best!
Tours
We visited Guatapé and Peñol with Turibus, but I'll get into details about it on Thursday! Come back then!
Overall
Medellín was one of my favorite cities ever. It was cheaper than most places, the food was super good, the weather was perfect, it's full of life, there are loads of things to see and do, public transport works great, it was just perfect! If I could choose one place to revisit, it'd be Medellín for sure!
It's a perfect family destination!
Complaint
There's only one complaint here and it's the pedestrian crossings. They're in zigzag so we can't ever cross a road in one red light. We'd had to cross one, then go perpendicular, wait for the other red light and cross. Terrible unsafe thing. People crossing never respected that and we nearly saw deaths right in front of us.
Subscribe to our newsletter so you can receive our more personal e-mails, plus you get access to our favorite travel recipes!
https://www.worldtripdiaries.com/wp-content/uploads/FEAT-medellin-pt.jpg
287
815
Thais Saito
https://www.worldtripdiaries.com/wp-content/uploads/wtdlogo.jpg
Thais Saito
2017-07-11 16:42:47
2019-08-12 16:35:52
Little guide to Medellín, Colombia, with kids