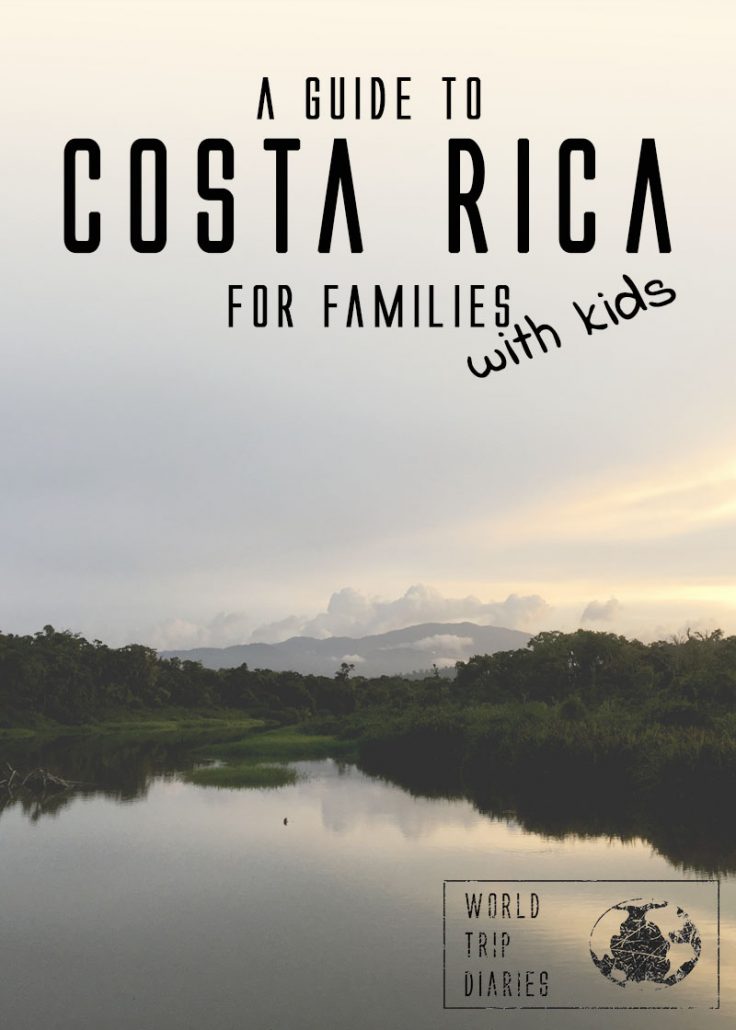 We had 3 wonderful weeks in Costa Rica with our kids in August 2017. It was really hot and yet, we enjoyed it a lot. We did have some problems with FedEx, the internet, and car rental, but other than that, it was beautiful. Below is our guide.
The best of Costa Rica for families with kids
We had a week in Manuel Antonio, where we visited the National Park and saw sloths, monkeys, and many lizards and beautiful insects. We have a complete post about Manuel Antonio here! We loved it, the park is definitely a must for animal lovers. Another great thing there is the food – awesome food everywhere!
Then we had a week in Punta Uva, where we found the best beach in the world and caught a sloth crossing the road. We loved it a lot and it was one of the best places for us to see wildlife. We did rent an Airbnb in the middle of the bush, though, so that was the reason for it.
(If you're new to Airbnb, click here to receive a discount on your first booking – and we receive one too, without any additional cost to you!)
Our week in San Jose was for rest, mostly due to the rain. It seriously rained while we were there, and some heavy rain that prevented us from going out and exploring. But it was still fun. San Jose was renamed by us as the capital of international food. Oh, we ate a lot there.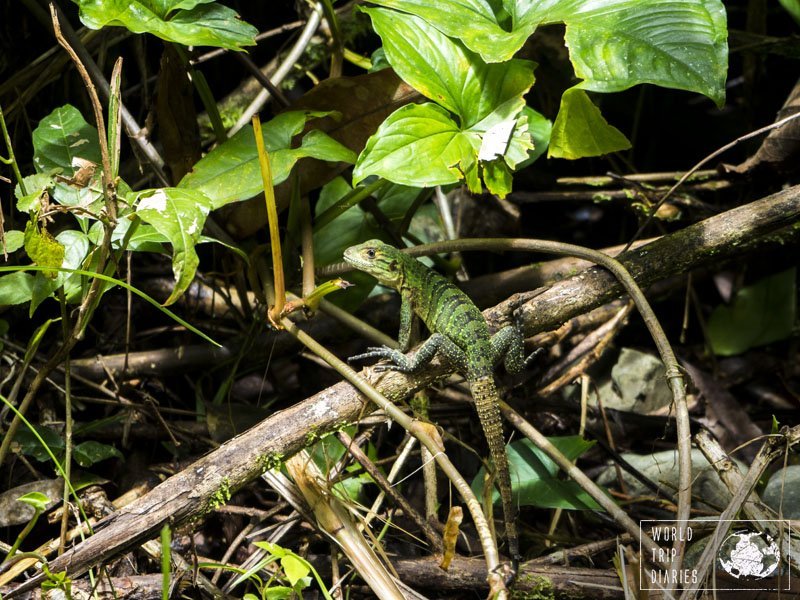 What not to miss in Costa Rica
– Don't miss the wildlife! It's just everywhere and it's an incredible opportunity for learning and seeing the real stuff. It's very unlike zoos and rescue centers! It's also not guaranteed. You may or may not see what you want to, but it's all part of the deal.
– The beaches! Most beaches are great there, the waters are warm and yes, you need to be careful with the RIP currents, but it's still delightful! Our favorite beach is in Punta Uva, though. We found the Caribbean beach there to be just perfect.
– The great food, because it's really great. It's expensive, though. Very expensive.
– The forest meets the sea setting! It's pretty, and it's amazing, and it's different!
– Zip lining! It was one of my family's favorite activity ever and they still ask for it. They are very safe and they're great fun!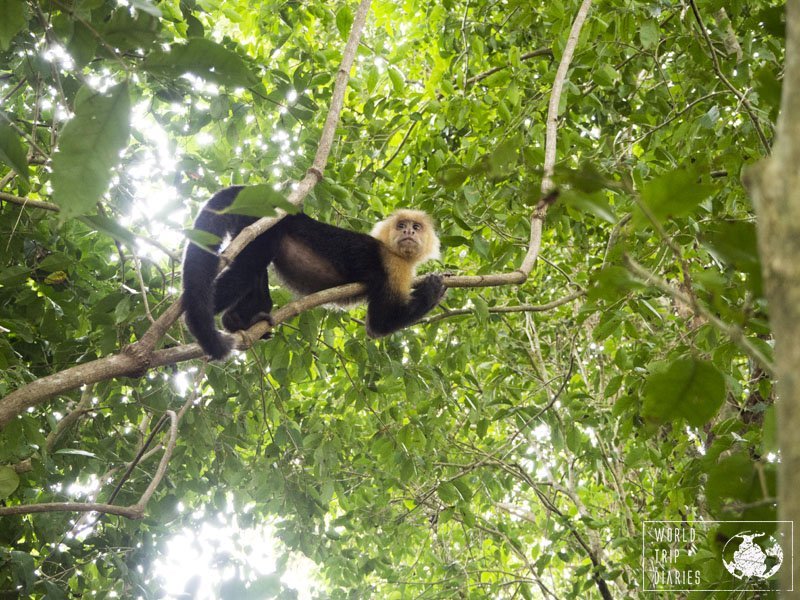 Tips for families going to Costa Rica
– It's a country for tourists, so everything is very expensive. Everything. It was the most expensive country we've ever been to so far – it tops Uruguay and Canada.
– It's hot, very hot. Luckily, there are beaches – good ones.
– Bring along some mosquito repellent. You won't need it all the way, but in some places, they're essential.
– Britt's known for its coffee, but the chocolate, my friends… The chocolate is divine.
– Although coffee is offered everywhere, tea isn't. Every place we stayed had free coffee, but not tea. Wonder why.
– We had a lot of problems with our credit card there. None of them worked in a lot of the machines. My tip here is always bringing some cash, at least enough to pay for a meal.
– Try the local fruits! We'd never seen mamones injertados, and we tried it there. It was good, tasted somewhat like grape or lichees. It wasn't expensive.
– Be ready to haggle, more so if you're doing something expensive, like zip lining, kayaking, or any tours.
– The internet is often not the best.
– SHOWERS ARE COLD. In some places, very few of them, the water can be hot. In most cases, the shower is cold. It may not be a problem because it's a hot country, but for hot shower loving people like myself, it's bad enough. Taking showers on the afternoons often worked out best.
– Be alert! If you hear a rustling in the trees when it's not windy, or if you hear splashing on the water when it's only you swimming, there may be something there. We loved looking out for monkeys and fishes! They rarely disappointed us! And also be aware because, you know, there may be poisonous stuff, or stingrays, or something that can hurt.
– If you're driving, be always aware: people don't care about rules or kindness while driving. Seriously. Plus there are holes (including open potholes) that can be dangerous.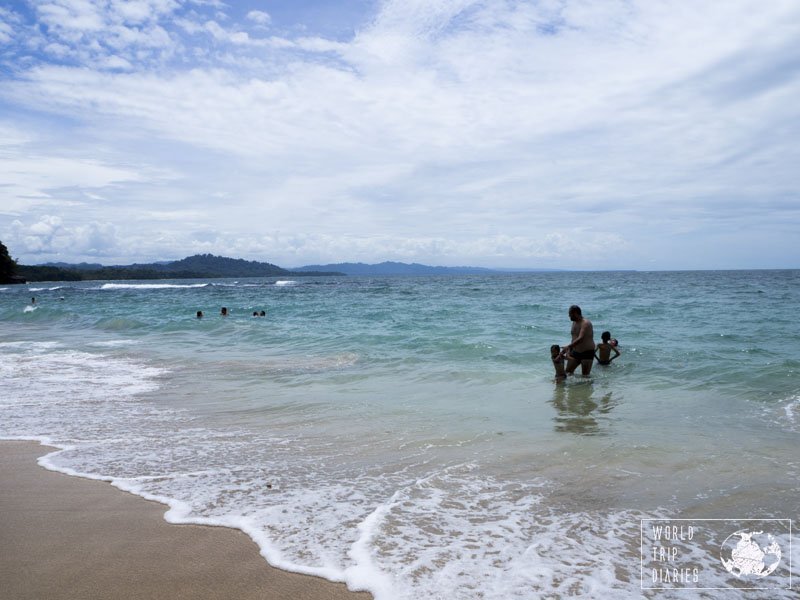 Overall, a review of Costa Rica for families
It's a beautiful and family-friendly place BUT it's super expensive. For big families, this is a huge minus.
We found it to be safe – we had no trouble with anything, not even leaving stuff unattended at the beach. We even went to lunch with the car packed with all our stuff. No problem at all.
But, you don't need to be us. You can be aware of things without going paranoid – if going for a swim, you can always ask one fellow tourist to watch your stuff, you can just take nothing at all, enjoy your swim and go back to the hotel. We've seen people using this fabric bracelet thing with the cash and passport copies inside a ziplock bag, but we've never really bothered. When we go, we take everything we need (towels, a bit of cash, scarf (we use ours as a mat at the beach) inside a supermarket plastic bag. People rarely take a second glance at our stuff. Plus, we don't wear anything flashy, we're low budget when it comes to clothing items too.
If you take all things into consideration, I'm not really sure we'd go back. It was amazing, but it was way too expensive for us.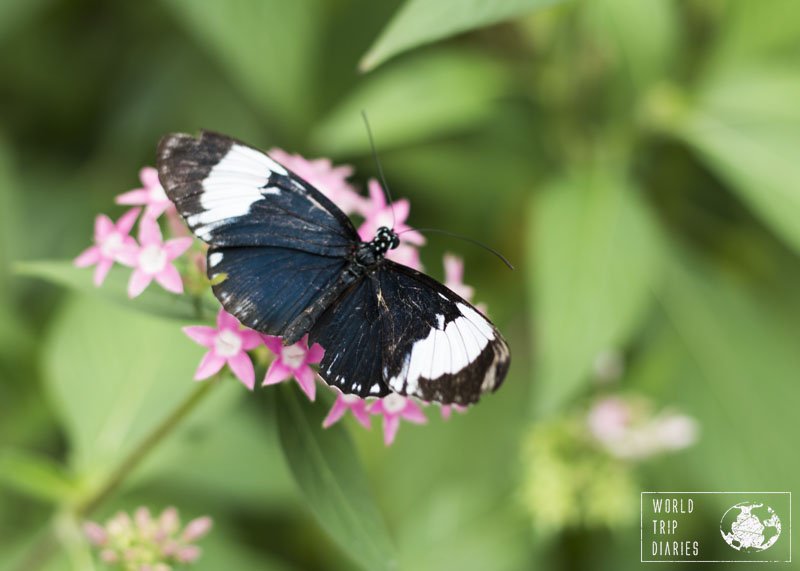 Have you ever been to Costa Rica? Did you, like us, think it was too expensive? Comment below!
https://www.worldtripdiaries.com/wp-content/uploads/FEAT-costa-rica-guide-pt.jpg
287
815
Thais Saito
https://www.worldtripdiaries.com/wp-content/uploads/wtdlogo.jpg
Thais Saito
2017-10-10 17:00:31
2019-08-12 16:16:49
A little guide to Costa Rica for families with kids