Kumamoto city (or Kumamoto-shi) is Kumamoto Prefecture's Capital. It's the biggest city in the Kyushu Island in Japan. It's a pretty city surrounding the castle (Kumamoto Castle). We spent a few days there. Find below the best of Kumamoto travel with kids!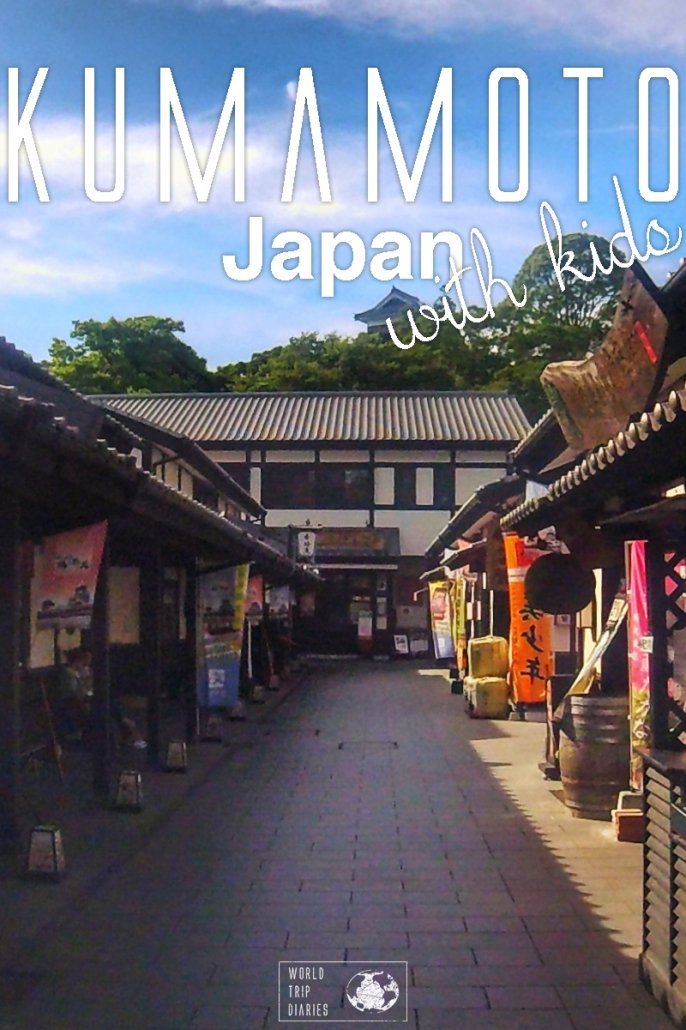 * this post contains affiliate links – they don't cost you anything but give us a small commission
This post is written by people who travel with kids – which means there's no bar hopping or anything saucy BUT it can be used for everyone. I'm sure you're able to find the young grown-up things by yourself there 🙂
Where to stay in Kumamoto with kids
We rented this Airbnb, which was lovely.
It was within 10 minutes from the castle, clean, tidy, and super comfy. The owner has a miso shop right across the street, and she invited us to a miso making workshop she was giving. She was super easy to talk to and responsive to our requests and needs.
It may need some better curtains to block the sun and a few cleaning supplies would have been useful but there was a cleaning mid-stay.
If you're new to Airbnb, grab your discount here – for your first booking!
Kumamoto: Things to do
Sakae Dori (Sakae Street)
This huge arcade is an awesome place to wander around and get lost for a bit. It has everything – e-v-e-r-y-t-h-i-n-g. Including a store just about Kumamon, the Kumamoto mascot. And the food stalls are also great.
Beware of the sideway alleys after sunset as they have quite a number of host/hostess clubs that are NOT aimed at families.
Where: Chuo-ku, right in the middle of the city
Cost: Free to enter, but whatever you consume or purchase is paid. 😀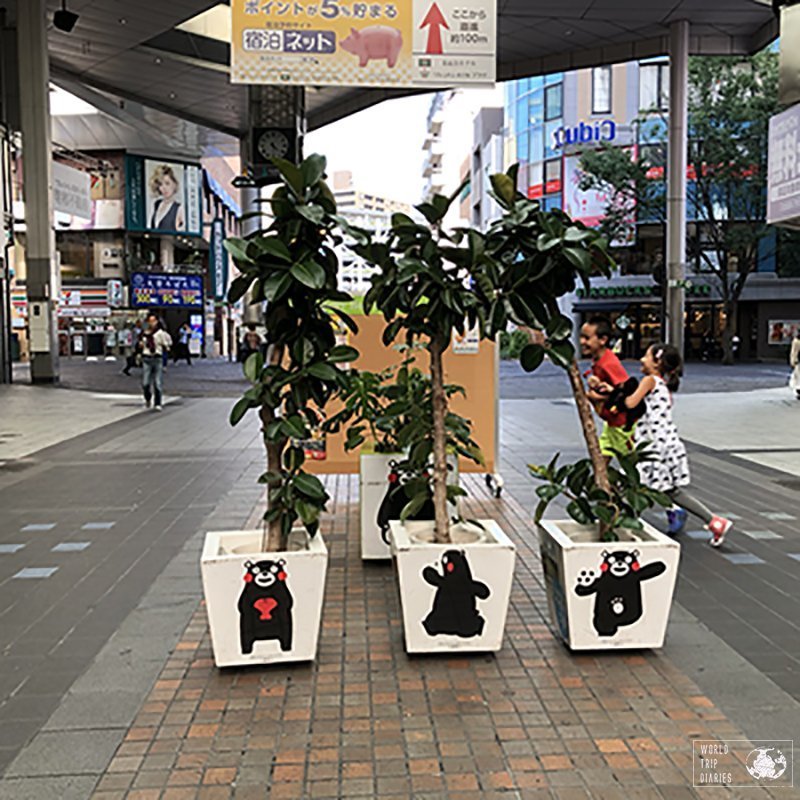 Kumamoto Castle, Japan
Kumamoto-jo is stunning but, unfortunately, it's closed. The last earthquake really had an impact on it so it had to be closed for restoration. Parts of it – like the temple and the gardens were kind of open, but nowhere near the castle was available.
It's a pretty big castle and you can see it from almost everywhere in town.
How to get there: Use the free shuttle bus service from Josaien to Kumamoto Castle (Ninomaru Parking lot)
Cost: Unknown as it's not open to the public yet – we'll update when it reopens!
Kumamoto City Hall
This is where you should go for the best views of the Kumamoto Castle. The 14th floor of the city hall is open for visits – and the best, it's free. Admittedly, 14 floors is not enough for a killer view of the city but it's right in the center of the city and you're bound to cross it sometime, so enjoy it.
Where: 〒860-0808 熊本県熊本市中央区手取本町1−1 (1-1 Tetorihonchō, Chūō-ku, Kumamoto, 860-0808)
Cost: Free!
Opening Hours: Mon~Fri: from 8 am to 10 pm (after 6, only the South-entry elevator will be operating). Weekends and holidays, from 9am to 10 pm through the south entry elevator. Closed from Dec. 20 to Jan 3.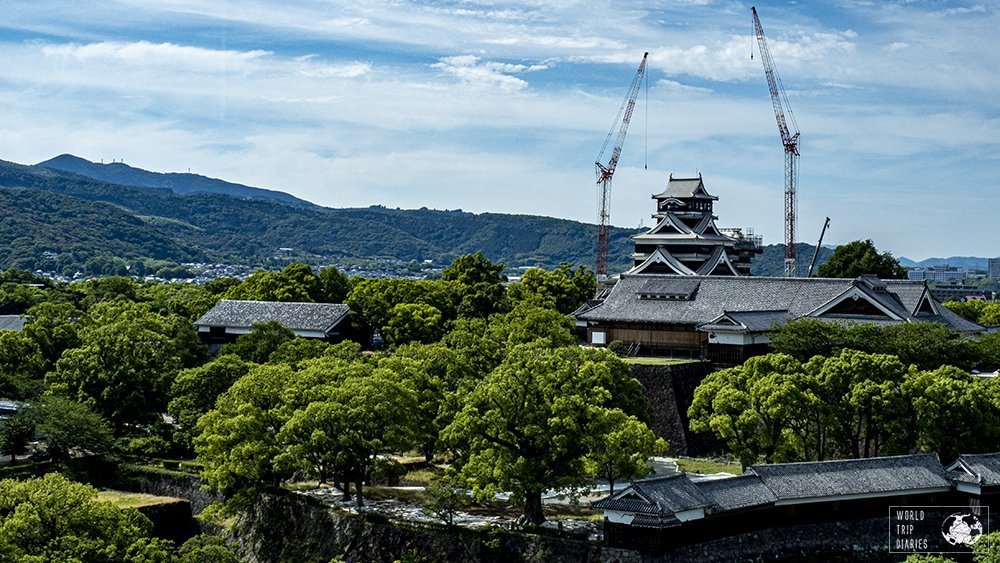 Kumamoto Prefectural Traditional Crafts Center
This awesome place may NOT be the best place for little ones who can't keep tiny hands off things. This craft center has many handicrafts from local artists and people for sale.
They're out there where you can touch and they're mostly absurdly priced, so unless you have a lot of budget to spare, do a quick visit, talk to your kids about not touching and keep your eyes on them throughout the visit, or skip it altogether.
The second floor of the building has some art exhibits, and it's paid, but my kids had had enough of not being able to touch any of the cool things and we had to leave.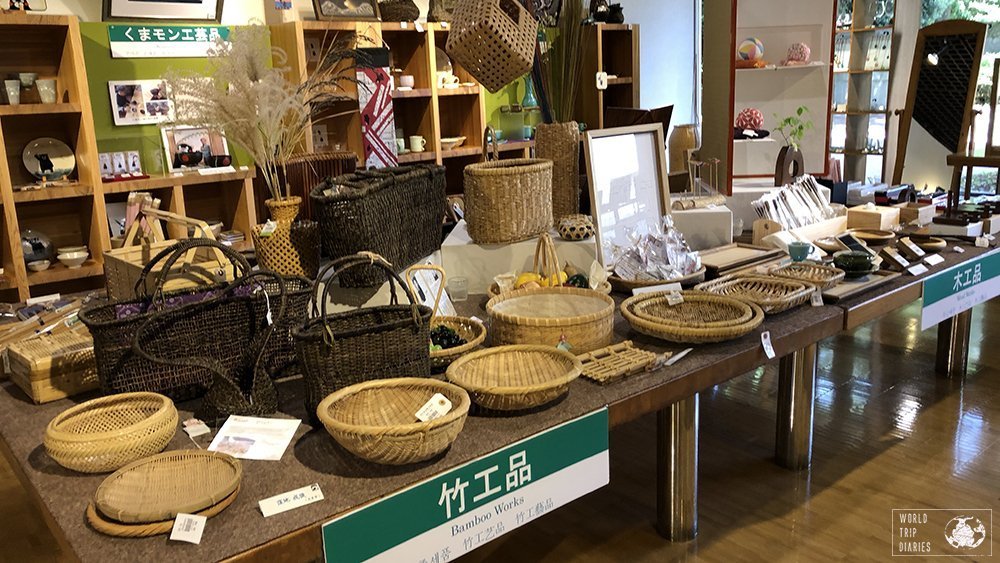 They often have workshops, but they do sell out quite quickly. You can always try your luck!
Where: 〒860-0001 熊本県熊本市中央区千葉城町3−35 , (3-35 Chibajo-machi, Chuo-ku, Kumamoto-city, Kumamoto, Japan) very close to the castle!
Opening hours: 9 am to 5 pm. Closed on Mondays
Cost: The first floor is free. The special exhibits cost ¥ 210 adults, ¥ 140 18+ students, kids under 18 go for free.
Sakuranobaba Josaien
One of the biggest Kukamoto attractions, Sakuranobaba Josaien is a beautiful shopping arcade that's clearly made for tourists.
Despite it serving tourists mainly, it's a pretty cool sightseeing spot in Kumamoto. That's the place to go if you want to try out the local food specialties or even tour the castle with VR or try out some costumes.
Don't miss the delicious Yuzu soft serve ice cream at the tea stand!
Where: 〒860-0008 熊本県熊本市中央区二の丸1−1-1 (1-1-1 Ninomaru, Chuo Ward, Kumamoto, 860-0008)
Opening hours: 8 am to 10:30 pm. Last entry is at 9:30 pm.
Cost: Entry is free – but you pay for everything you want to eat or see.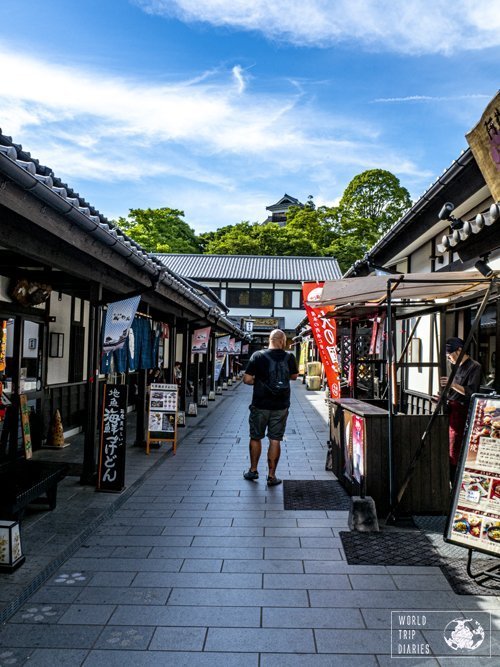 Kumamon Square
If you want to meet the black bear Kumamon, Kumamoto mascot, this is the place to go. Even though you'll see drawings and statues of it everywhere in the city, this is the place where he'll dance and wave and even hug. It's absurdly crowded, though.
You can see Kumamon's office (seriously), interact with him, spend your money on some original Kumamon goods, grab a Kumamon snack, and more.
Where: at the 1st floor of Tetoria Kumamoto Building (by Tsuruya Department Store)
Opening hours: find his appearing hours on the website. When he's not there, you can see the office, eat, and spend your money there.
Price: Free – unless you want to buy or eat something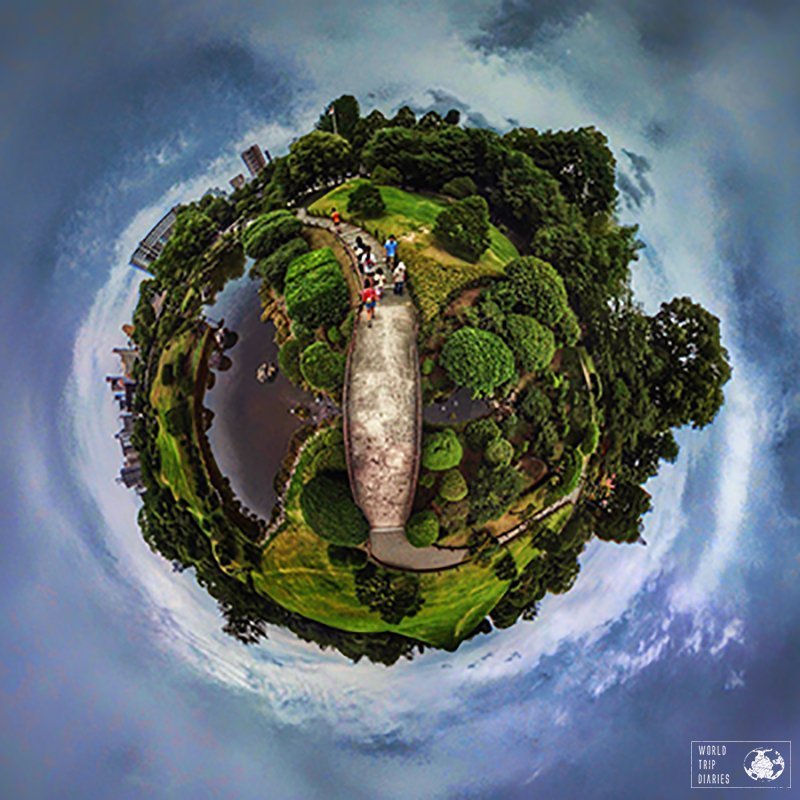 Suizenji Jojuen Garden
This lovely Japanese garden is breathtaking. It's like stepping back in time, being surrounded by the trees and the pond, the Japanese bridges, and the small temple.
You can spend quite a few hours there – you can have matcha and a Japanese tea by the lake side, or try out some of the local fruits, feed the pigeon and the koi fish, or just walk around. A walk around the whole park, non stop, should take around half an hour.
It should be stunning during cherry blossom season and when the fall foliage is up. But it was beautiful enough with the infinite shades of green of summer.
Where: 〒862-0956 熊本県熊本市中央区水前寺公園8−1 (8-1 Suizenji Kōen, Chūō-ku, Kumamoto, 862-0956)
Opening hours: From March to October 7:30 am ~ 6 pm; from November to February 8:30 am ~ 7 pm. Last entry is 30 minutes before closing time.
Price: ¥ 400 (16+), ¥ 200 (6~15), and free for under 6s.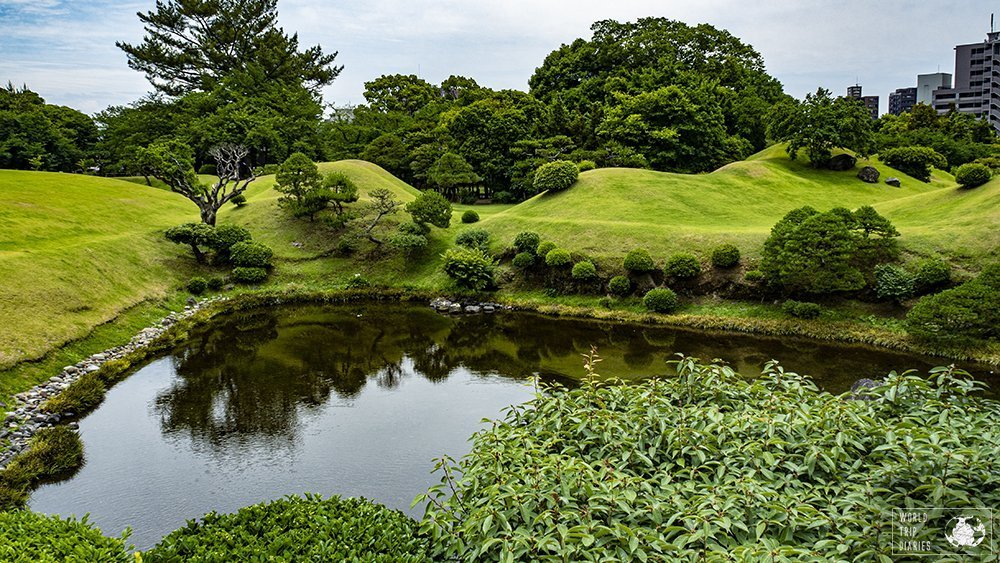 Lake Ezu (Ezu-ko)
Lake Ezu is the perfect spot for a hot summer day – you can swim a bit in the shallow waters of the lake, have a little fun in one of the paddle boats, fish, or just walk around.
We went there after a whole day sightseeing and we were tired, grumpy, and hungry so we didn't enjoy as much as we could have but it was still a lovely time. If only we'd taken some food with us.
This is a favorite with the locals, so you'll be able to see how the Kumamoto people enjoy their free time. Prepare yourself for an overload of tiny kids in bikes, running around or swimming. It's too cute.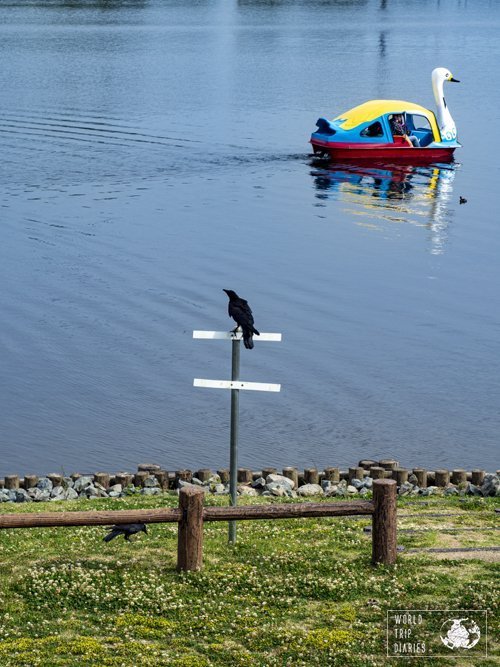 The park is quite big, so be prepared to spend a lot of time or choose one spot or another only.
Where: 〒862-0909 熊本県熊本市東区湖東3丁目11−8 (3 Chome-11-8 湖東 Higashi Ward, Kumamoto, 862-0909)
Opening hours: Open all the time.
Price: Free entry
Unganji and Reigando
This stunning temple and cave are amazing. It's tucked away and not very easy to find, but very worth the trip. I recommend you drive there because the drive is beautiful and the destination is also incredible.
The temple in itself is simple. The setting is mystic and unique. On the hills, there are the statues of the 500 disciples of Buddha (they're all different, hand carved, and most of them are missing something – like the head), all covered in moss.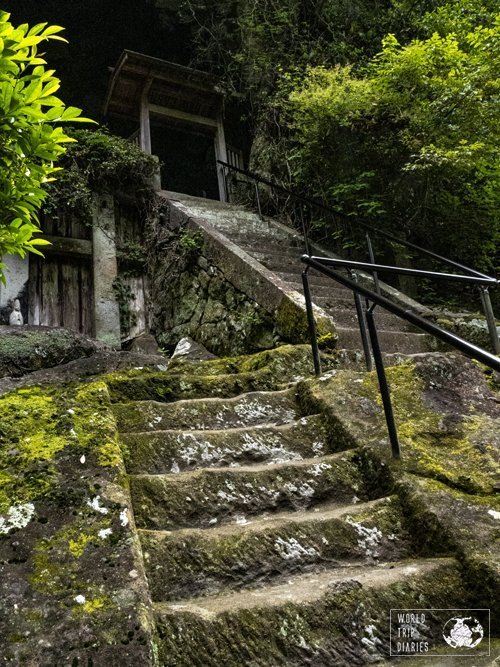 Then there's the Kannon statue, which is said to have been taken from there and put on a boat. The boat sunk and the only thing that survived intact and miraculously returned to its place was the statue.
Lastly, there's Reigan Cave (or Reigando), which is famous for being the place where one of the most important samurais in Japan (Miyamoto Musashi) spent his alone-time, writing his book.
Warning: there are many, many stairs and they're irregular and kind of slippery. I'm not saying we had an accident there, but I'm not denying either. It happens, hold your kids, and hold the handrails.
Where: 〒861-5282 熊本県熊本市西区西区松尾町平山589 (589 Matsuomachi Hirayama, Nishi Ward, 熊本市西区 Kumamoto 861-5282)
Opening hours: 8 am ~ 5 pm
Price: Adults ¥200, kids ¥100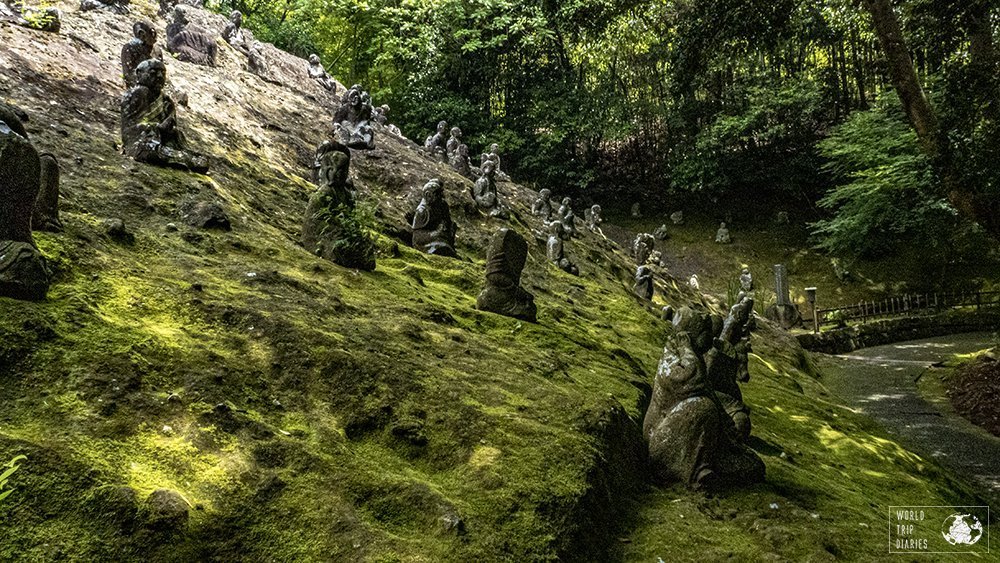 Mifune Dinosaur Museum (Mifune-cho Kyoryu Hakubutsukan)
When we found out that Kumamoto was rich in dinosaur material, we had to take our dino-crazy kid there. Mifune is the place where most fossils were found and now they have a Dinosaur Museum.
The whole town is full of dinosaur statues and signs, which is fun, but the huge T-rex at the museum is the best.
The museum in itself isn't really big, but it's very well thought and, besides the areas where we can see the skeletons and models, there's also the area where you can watch the archeologists do their work, and even try out excavating.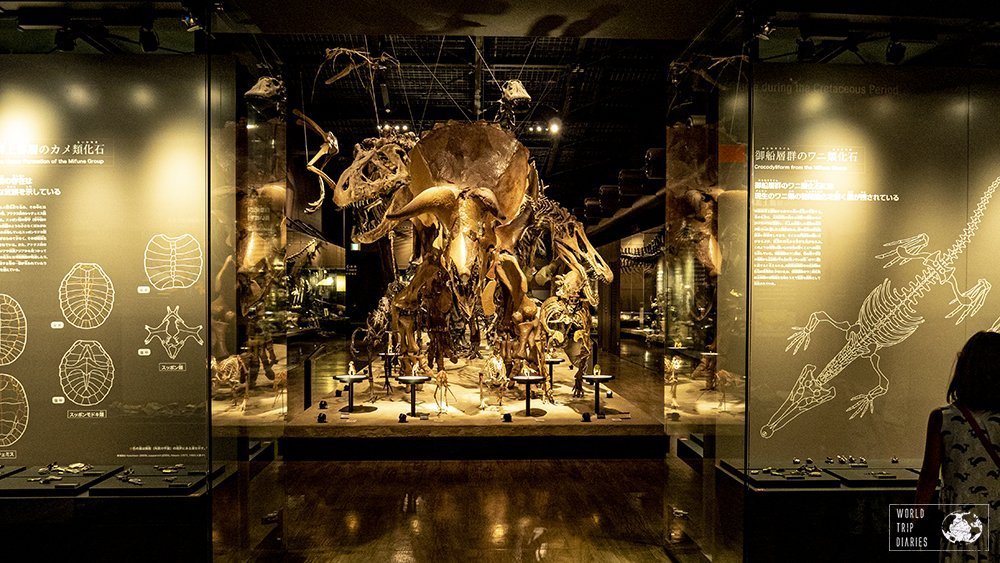 We enjoyed it – but mostly every bit of information is in Japanese only.
Where: 〒861-3207 熊本県上益城郡御船町大字御船995−6 (995−6 Mifune, 大字 Mifune, Kamimashiki District, Kumamoto 861-3207)
Opening hours: 9 am ~ 5 pm (last entry 4:30 pm). Closed on Mondays.
Price: Adults (18+) ¥ 500; Students (16+) ¥ 300; Kids (6~15) 200. Kids under 6 go for free with an adult.
Mt. Aso
Mount Aso is this incredible volcano in Kumamoto. Unfortunately, it's active and when it's very active, visitations cease. Well, guess what. When we visited it, it was closed due to high volcanic activity. Check before you go.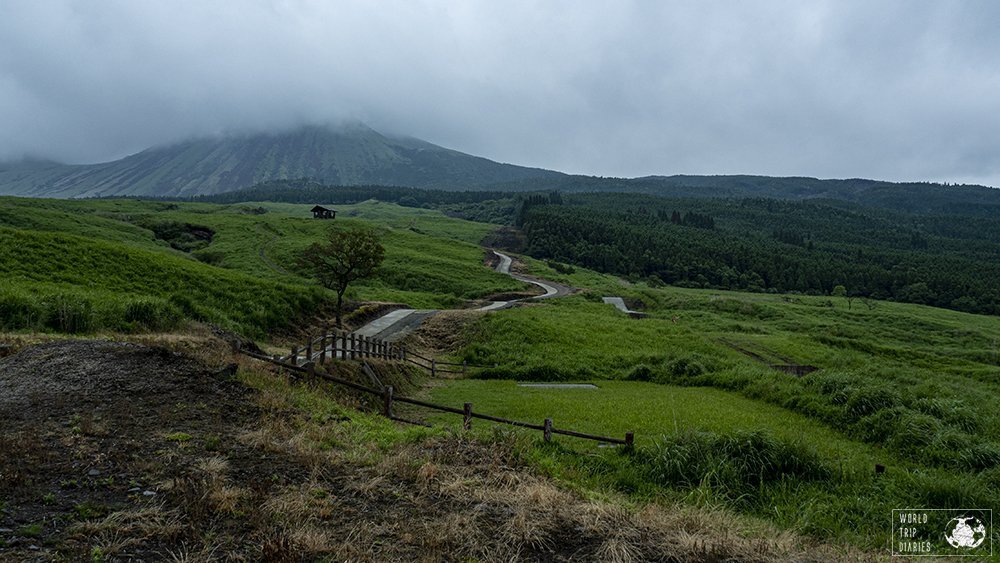 It was a little sad. OK, very sad.
This is one of the volcanos where you can actually peak at the crater and see the lava, so it sounded pretty much fun – after not being able to see it when we were in Nicaragua, it was worth a try.
Near the top, there are a few shops and the bus that goes to the top of the volcano. A little bit further down, there's the museum and a few more shops.
There are many hikes and beautiful sceneries everywhere – real highland feel, with pasture, green, cows, and etc.
Where: 〒869-2223 熊本県阿蘇市竹原 (Takawara, Aso, Kumamoto 869-2223). From Kumamoto to Aso, it's around 1 hour drive.
Opening hours: From March 20 to October 31, 8:30 am to 5:30 pm. During November, from 8:30 am to 5 pm. From December to March 19, from 9 am to 4:30 pm.
Price: Free.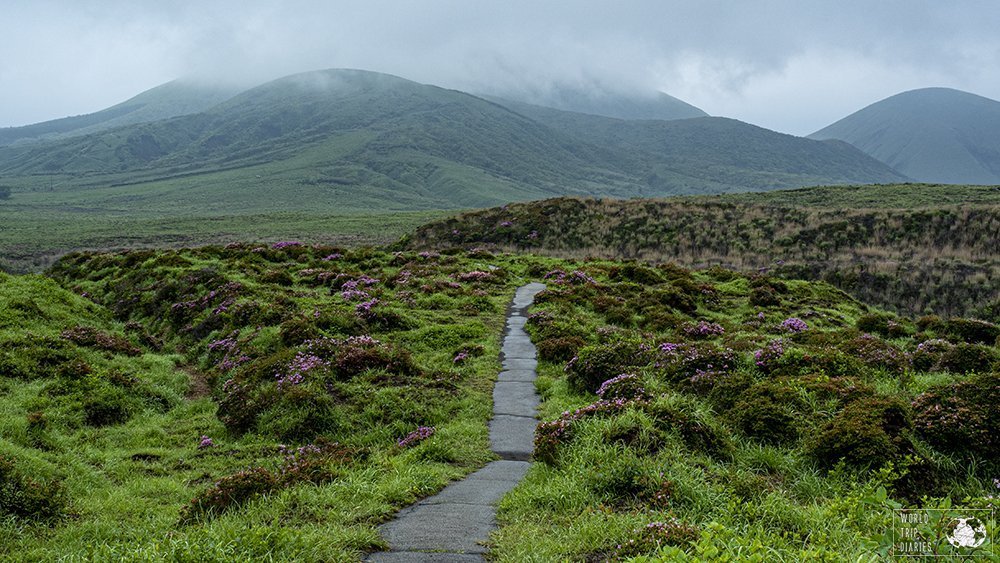 Kumamoto Food
Kumamoto is a very fun place to eat. There's so much local specialties that it's hard to skip this part of the post. Continue with us!
Kumamoto Ramen
We ate ours at Dendyu Kumamoto Ramen – Ramen Den by Ajisen, just by Sakae Dori. It's a very pretty ramen shop and the ramen was gorgeous to look at. They're different, colorful, and delicious. YUM!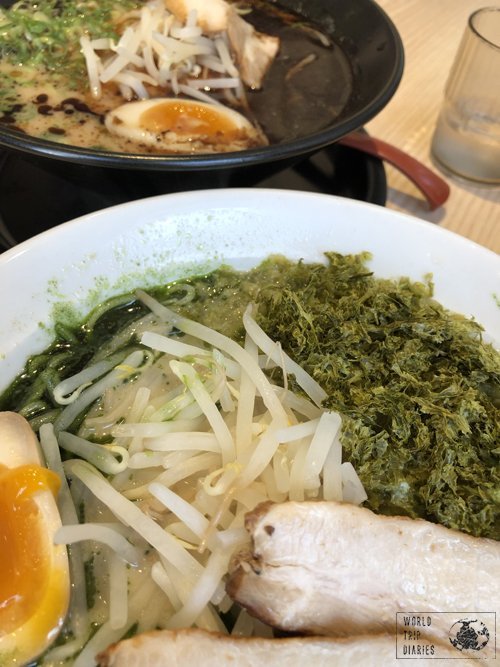 Karashi Renkon
Lotus root (have you ever had it? It's a starchy kind of veggie and it's full of holes – yum) filled with karashi (a kind of a Japanese mustard). It's then deep fried and served. It's super spicy, but delicious. Really try it, unless you're not the spicy food kinda person. We had ours at Sakuranobaba Josaien, but you'll find it everywhere.
Horse meat
Horse sashimi, anyone? What about steamed buns filled with horse meat?
Well. I'm gonna tell you I wasn't brave enough to try it but Angelo and some of the kids did and they really liked it. It's also everywhere.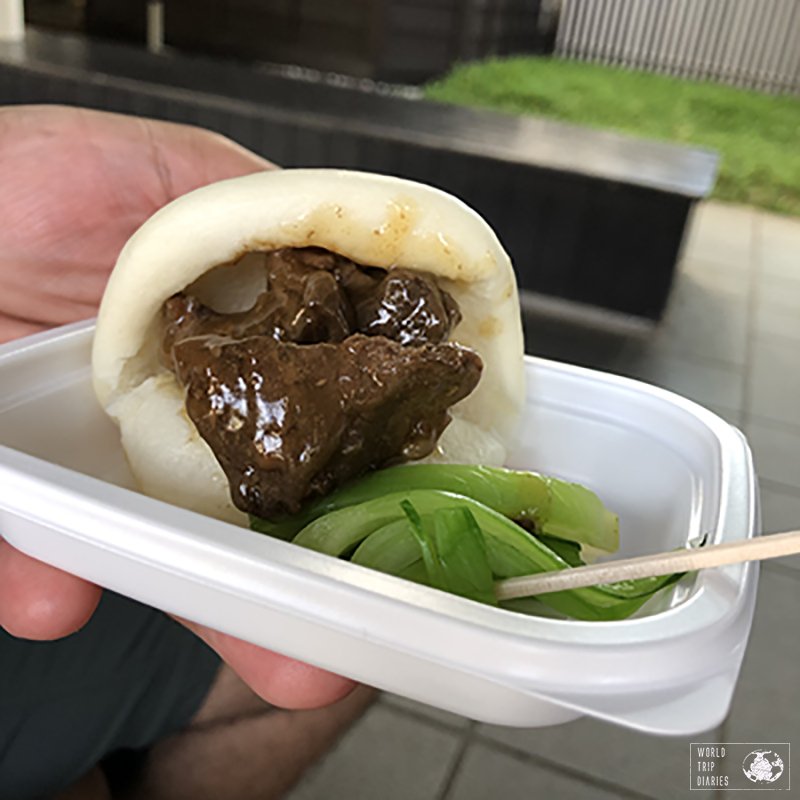 Another places to eat in Kumamoto
This is NOT a local thing but this restaurant right off Sakae Dori was delicious. It serves katsu, which are the breaded and deep fried meat the Japanese do so well. It's not cheap, but it comes very well served and you can ask for more of everything (except the katsu).
For those not familiar with the most delicious cake in the world, the baumkuchen, I'm going to describe it. It's a cake where thin layers of cake are baked one over another until it's a full cake with a hole in the middle. It's fluffy and tasty and delicious.
We stopped at this store near Mt. Aso because we've had quite a deception there and we needed some comforting. What better than cake? It didn't disappoint. This family owned and operated restaurant is fully decorated as a German toy box and it's a fairytale. The cake is also delicious. Very worth the visit!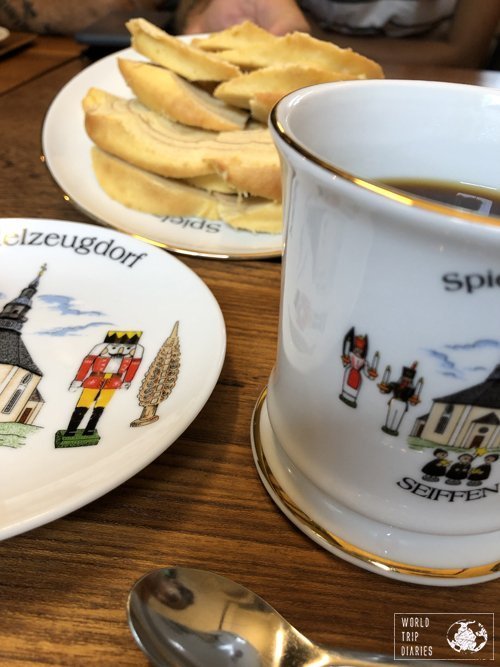 Transport
Public transport in Kumamoto is efficient, just like everywhere else in Japan. You have the options of bus, trains, trams, and taxis.
You can use Google Maps or Hyperdia to find your way around the city. They've never failed us, but you'll either have to plan it all out before you leave, find a free wifi spot, or rent a mobile internet modem. We rented ours with Ninja Wifi.
If you're thinking about renting a mobile internet in Japan, click here or use the code WTD10 at the payment page to receive a 10% discount with Ninja Wifi!
We mostly walked, but rented a car to go to the farther places, like Reigando and Mt. Aso. It's highly doable.
Parking in the city can be quite expensive, so plan well.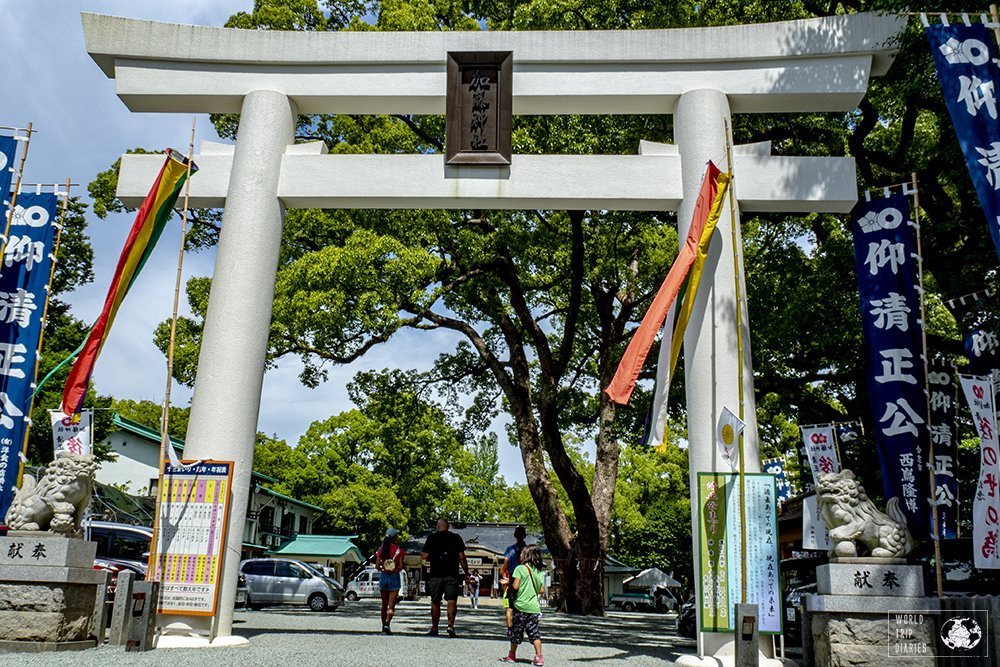 To finish: Kumamoto, Japan, guide with kids
We loved our Kumamoto travel, it's a big city that's laid back, with delicious food and friendly people.
There's a lot to see and do there, and you can easily spend a week!
It's rich in culture, history, and fun.
City / Country

Minimun Stay
$ ~ $$$
Child-friendlyness
Best local transport option
Safety
Do we recommend it?
Kumamoto / Japan

2 days
$$
Super child-friendly
Trams!
Very, very safe
Yes!
https://www.worldtripdiaries.com/wp-content/uploads/feat-kumamoto-japao-familias.jpg
287
815
Thais Saito
https://www.worldtripdiaries.com/wp-content/uploads/wtdlogo.jpg
Thais Saito
2019-08-13 16:57:06
2019-08-12 13:47:35
Kumamoto Travel with Kids