NZ's South Island: Southland with kids
* This post has been updated in 2019.
* It also may contain affiliate links, which don't cost you anything but gives us a small comission.
We didn't know much about Southland, except that it was the southernmost point in South Island's mainland so were in for a surprise. It was a good thing. We were expecting farms and nothing to do, but we absolutely loved it! Here's our guide to NZ's South Island: Southland with kids.
We were super excited because we were going to the southernmost place in NZ – except for the small islands. We'd been to Cape Reinga, the northernmost point of NZ, in early 2013, so it would be awesome to have those 2 extremes covered.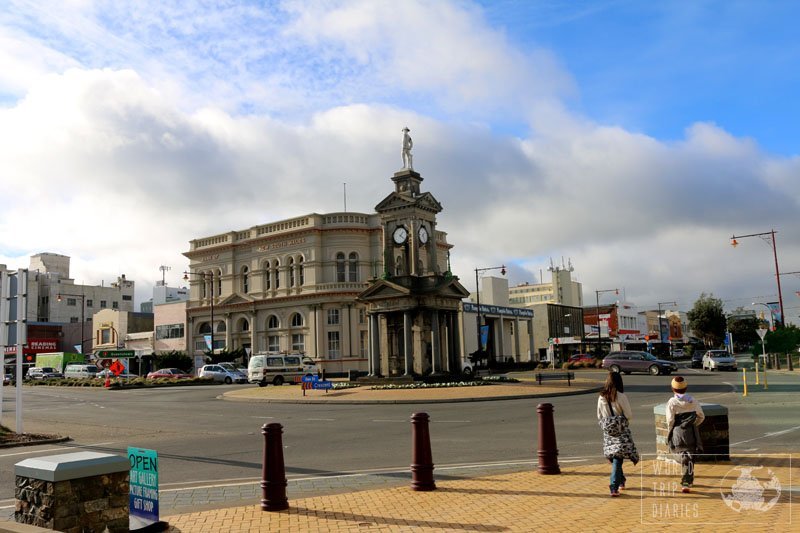 Invercargill accommodation for families
Even though it's difficult to find accommodation with reasonable prices in Southland, we found a few and they were both some of the best holiday rentals we've had so far.
One of the places we've rented was a lovely house in Omaui, just south of Invercargill. It was the perfect house, but it's out of Airbnb now.
And then, on our other visit, we also spent some time in this house. It's big, sunny, very well equipped, and, well, very close to the city of Invercargill. It had things like coloring books for kids, and the owner even let us take 2 books with us to return later.
They were both lovely and those are the moments when we're very glad for Airbnb.
If you're new to Airbnb, click here to receive a discount on your first booking! (affiliate link)
Things to do in Invercargill with kids
It's also true that there isn't a lot to do there, but what's there is enough for a few good days of fun. Continue below to see all the fun things to do in Invercargill!
the city walk, of course. Invercargill has a small center, so you can do it all on foot. It's charming, with buildings from different times, which makes an interesting view.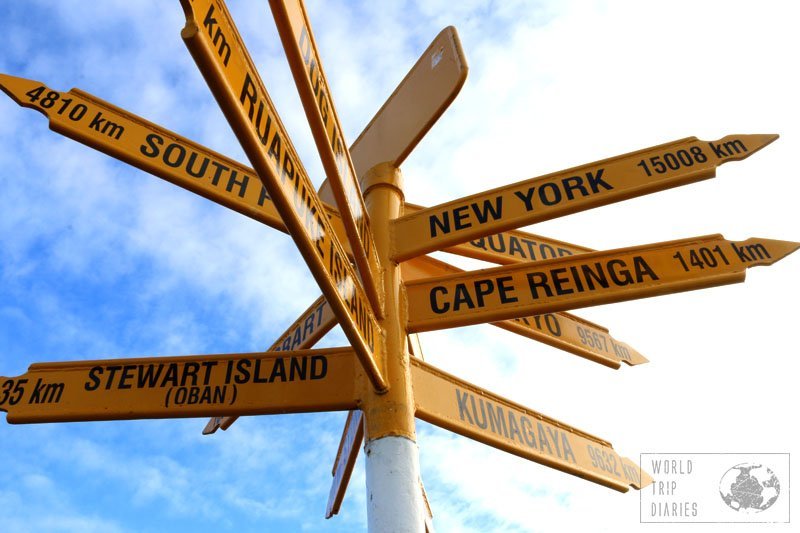 Queen's Park was probably my favorite place there! Beautiful park, with an amazing playground. There are many different gardens, loads of space to cycle, run, walk, skate and everything else. There's even a little farm animal zoo and a museum there. The museum is closed for the moment, but you can go check on Henry, the tuatara. He's still at the back of the museum!
Even though the Southland Museum is closed, there are still many options, like the Art Gallery, the Fire Museum, Bill Richardson Transport World, Classic Motorcycle Mecca, etc. They are a bit pricey, though. You can go to the Transport World just to eat at the cafe, which is pretty good! Just visit before 3pm or they won't have anything left.
Demolition World is another fun place – though a little creepy with manikins all around. It's a demo yard with birds, donkeys, alpacas, a Victorian (?) village, and a great playground. Entry is by donation (usually around NZ$ 2 per person). Plan for around half an hour for a visit.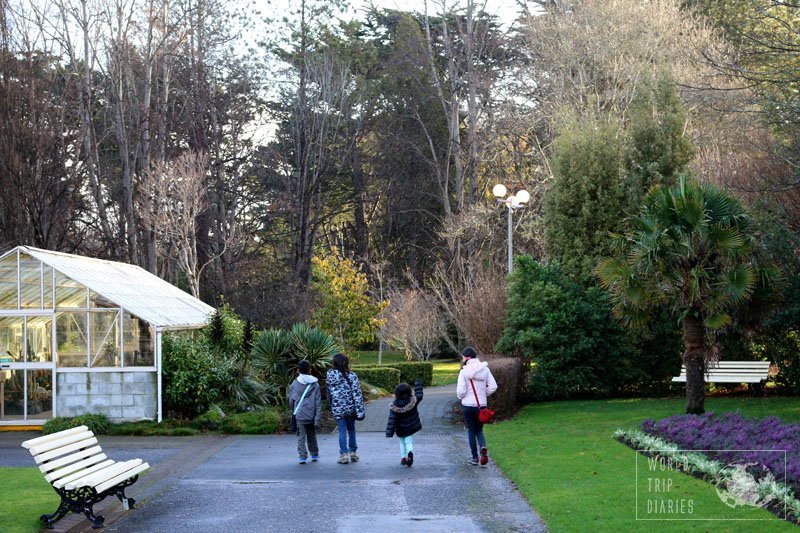 Thomsons Bush is a great little swamp reserve, very pretty and the walk is short and easy for even the littlest. Around half an hour on a loop track.
Reading Cinema, to watch Finding Dory, because we had to. Loved it. The cinema is clean, nice, the sound is clear and the image is good. And the movie was amazing. Then in 2018, we went to watch League of Justice and it was still great!
we stopped by the War Memorial, but we didn't stay for long, just passed by. It's the memorial for the people from Invercargill who fought on the war. Great point for Pokémon Go players, though!
Otatara has an awesome beach to see the Southern lights, though it's not as great for swimming (COLD as heck). And around it, there are many little reserves and walking trails that are perfect for a day out. On Tuesdays evenings, if the weather is good, there's an archery club you can try out too!
On Sunday mornings, the farmers' market at the Masonic Centre is a must! Great street food and local produce, local crafts and music!
Civic Theatre is an iconic building in the city and it's home to most of the plays in Southland. Pay a visit, even if it's just to see the decor! Maybe find something to watch while you're there?
E-Hayes is a store (it has almost everything) but it has many vintage motorcycles and cars in display. It's actually pretty cool to see! And stop by the souvenir section to find something for you!
Solve it and Escape for the families into Escape Rooms. We didn't try this one, though!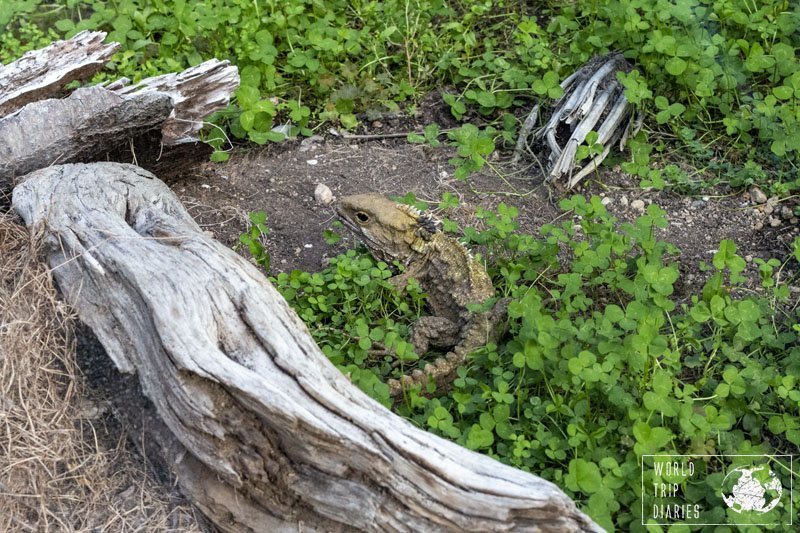 Dig This for those into heavy machinery. A playground where you can 'play' with cranes and bulldozers and stuff like that. It's pretty expensive, though.
Invercargill Brewery for those interested in craft beer. They have tours and stuff, but we don't do beer and have no interest, sorry.
So if the weather is good, a swim at Oreti Beach? It's also a great place to see the Southern Lights but also too cold for a swim. Locals swim there, though.
And then, if the weather is bad but you're still into swimming (or if you don't like cold waters, like us), then head to Splash Palace for an indoor pool!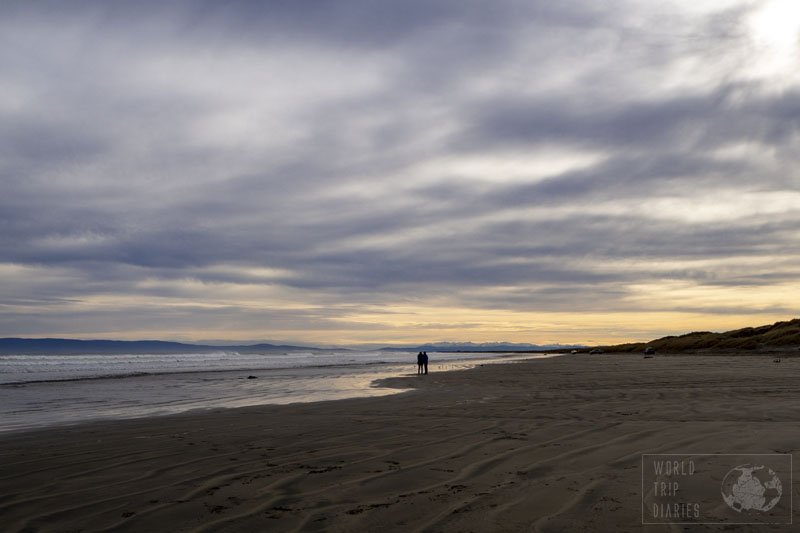 If it's raining nonstop for days, well, you can do some bowling or kart (kids over 8 can do it). Make sure you book in advance or you risk not being able to play.
The library is pretty nice too, with games scattered around, areas to sit and read nicely, computers and wifi.
Take a photo at Invercargill Starbucks – there's a sign similar to the direction signs in NZ inside the store, and also one saying that that is the Southernmost Starbucks in the world.
Have a coffee (or a meal) at the Zookeepers Café – a restaurant with the quirkiest decor. And the food is good too! It's a great place in Invercargill to eat with kids!
At the Blue River Sheep Café, you can try out one of Southland's specialties, the cheese rolls (basically a rolled cheese sandwich) with sheep cheese, which is surprisingly delicious! You can also try out some different cheese, grab some sheep milk soap and things like that.
For cafés, we loved The Batch and The Auction House, Also, don't miss The Seriously Good Chocolate Company. They even have a chocolate making class or a factory tour. Not for little kids, though.
Things to do in Bluff with kids
Bluff is the next city right after Invercargill. It's TINY but so cute, we love it. It's also home of the world famous (in New Zealand) Bluff oysters. It's usually very windy, though, so even if it's warm and good everywhere else, it pays to have a little windbreaker.
Stirling Point, the place where the distance signs are. It's NOT the southernmost point, but it's close enough. We walked to Foveaux memorial, through a nice track, though not a loop. It's a super nice and easy walk. It took us around 1 hour each way. Walking, we saw a fur seal, many fantails, seagulls, and shags. It's a popular place to watch the Aurora, too.
Take a photo at the Bluff sign, because how could you not? We climbed it every single time we crossed it. Fun things. There's nothing around, though.
Go see the Bluff Lookout Point! You can go walking through a track from the sign above or you can drive there, you know, like normal (lazy) people do. I'm not gonna tell you how we got there.
Stop at the Lighthouse Gallery and Café for a nice cheese roll or a great tomato soup. It's cute, cozy, and you can even buy yourself some art while you're there.
Omaui beach is a lovely beach in any weather.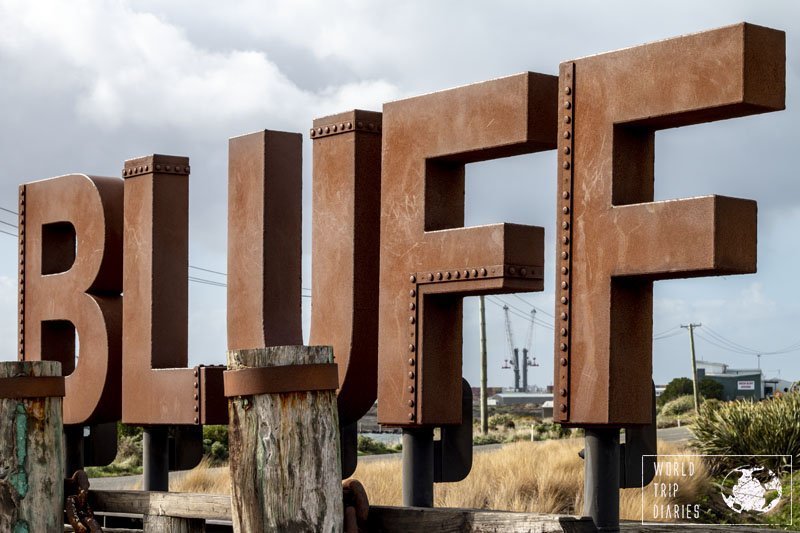 Fiordland National Park and Milford Sound
It's still in Southland, on the west coast. It's stunning, with plenty to see and do (mostly hikes, though), and very worth the time and the gas.
You can see exactly what we did and saw at Fiordland National Park and at Milford Sound here. If you can, plan to stay in the area for a day or two because it's a lot to see and a lot of driving in between.
If you haven't seen any keas around, then you MUST check them out there. There are many, many of these NZ native parakeets.
Other Southland locations
We didn't visit many, because we were short on time and all. But see below what we found.
In Riverton, Henderson Bay is lovely, just as the whole of Howells Point Recreational Reserve. The Rocky Highway is stunning and a different type of scenic road.
Gore has an ice rink and it's a pretty big city. There's also the giant trout statue, which is… unique.
The Caitlins National Park, which we missed, but is supposed to be one of the most beautiful places in NZ. We'll get there sometime this year!
NZ Southland Events
Even though it's not a super popular destination (except for Milford Sound, that is), Southland is very rich in events throughout the year. Below are some of them, but you'll need to visit it and check what's on for yourself!
Bluff Oyster Festival
It happens every year between May and June. We missed it, but even though we don't like oysters, there's plenty more to do! Find out when, where and what here!
Burt Munro Challenge
During this weekend, the city of Invercargill is filled with motorbikes and bikers in honor of Burt Munro. He was a Southlander who was a legend because of many motorbike world records. All around Invercargill, you can see replicas of the 'Fastest Indian', his motorbike. There's a rally, I think, but it's very cool to see the number of bikes that appear out of nowhere. They are noisy, though. See more.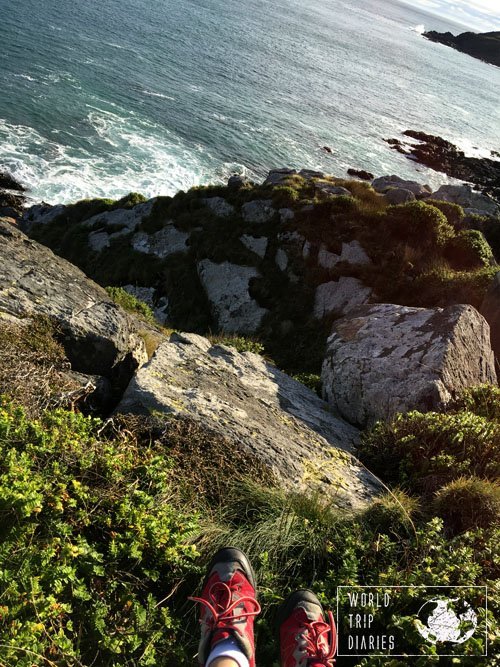 Tour of Southland
Imagine Tour de France, the bicycle race. Well, it's the same thing, but around Southland. It's supposed to be pretty cool, but we really don't know.
Other Southland Events
There's a lot happening everywhere, to be honest, and it's hard to keep track or see everything. In any case, check out the official website for upcoming events and plan you visit accordlingly!
The Southern Lights
They said that you have high chances of seeing the Southern Lights from Southland. Especially during winter. Well, we didn't. Too bad, isn't it?
What you need, they say, is a place far away from light pollution: a beach (Omaui, Oreti, etc) or a hill (Bluff Hill is perfect), and patience. Also, persistence, because chances are you won't see it for a reason or another.
I mean, you need clear skies, a faint moon (full moon is not good for this), and strong solar activity.
Remember to bring up something to drink, something to eat, something to pass the time with, and a compass (your phone should have it) to find South.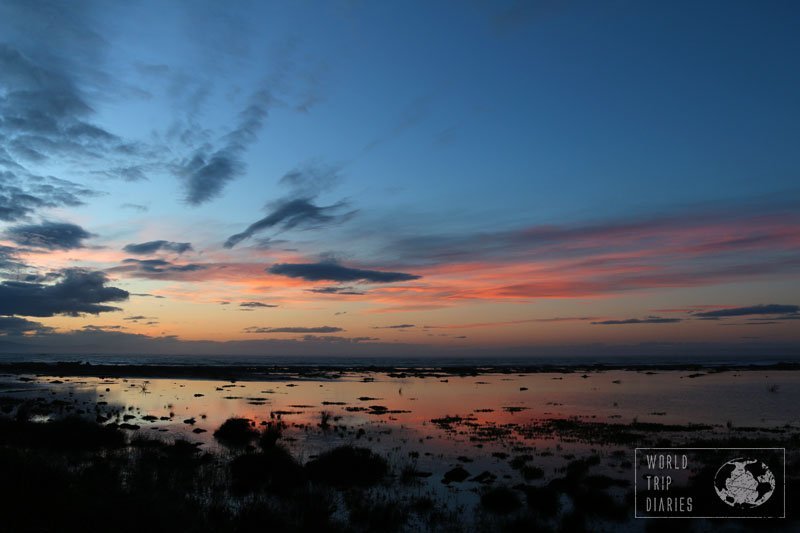 To finish it…
Well, we loved it! We didn't do lots of things because of limited budget and time, but it's a pretty cool place and with way fewer tourists and touristy things to do than other places.
There will be a lot of driving, though.
City / Country

Minimun Stay
$ ~ $$$
Child-friendlyness
Best local transport option
Safety
Do we recommend it?
Invercargill / New Zealand

2 days
$$$
Very child friendly!
Car, unfortunately…
Super safe!
Yes, we do!
And our video!
https://www.worldtripdiaries.com/wp-content/uploads/FEAT-invercargill.jpg
217
815
Thais Saito
https://www.worldtripdiaries.com/wp-content/uploads/wtdlogo.jpg
Thais Saito
2016-07-06 17:47:39
2019-08-12 20:56:04
NZ's South Island: Southland with kids