How to have the best family vacation in Switzerland
Switzerland is a great destination for any traveler, but it's no secret that it's one of the most expensive countries to visit. If you're a lone traveler, it's easy to skimp on your trip like staying in hostels or walking as far as you can. But when you're taking your whole family with you, the story is a little different. Keep scrolling to find out how to have the best family vacation in Switzerland!
Bringing along your kids or their grandparents can be tricky anywhere. However, with good planning and some helpful tips, even Switzerland can be an accessible, enjoyable, and definitely memorable destination for the whole family.
The Best Places to Visit in Switzerland with kids
Switzerland offers an endless list of attractions and activities. You can pretty much enjoy breathtaking scenery anywhere you look. Each city and town has its own unique twist to architecture, culture, and outdoor adventures. But if you have little ones in tow, some cities are more family-friendly than others.
Here are some of the best places to visit for some quality family time during your trip.
Geneva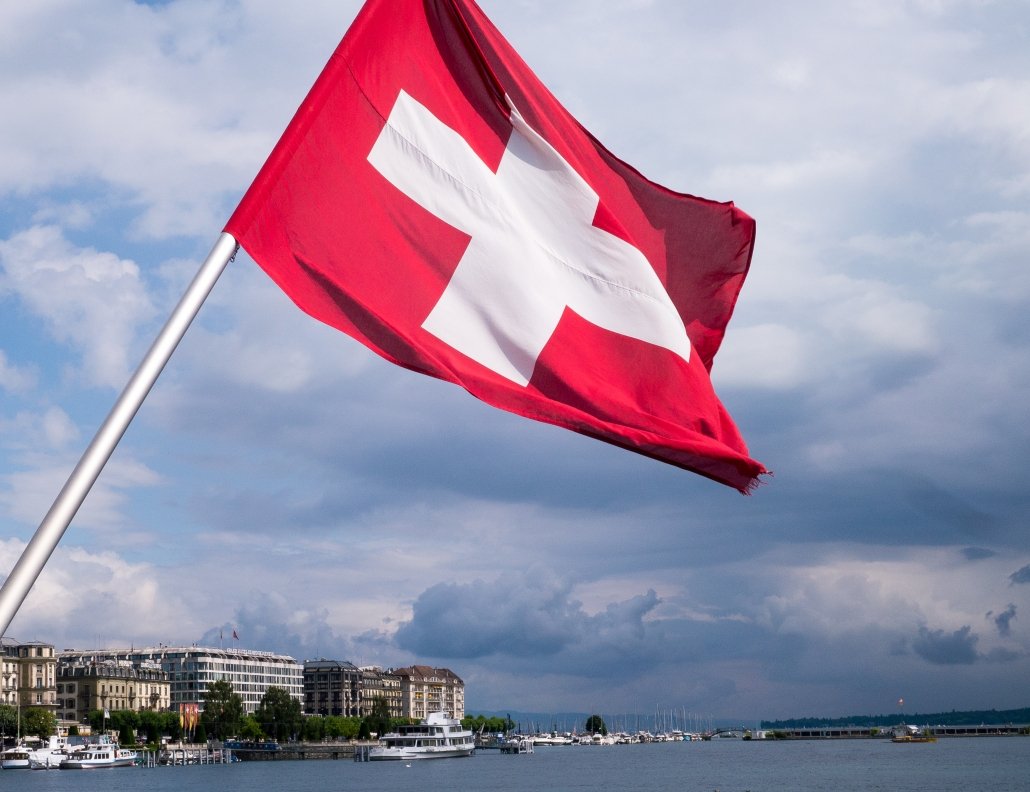 When it comes to Switzerland's great cities, there's always a bit of debate on which one to visit: Zurich or Geneva? While Zurich is exciting and offers great shopping, Geneva is just a little more peaceful, a little more mellow, and quite easier to manage when you're traveling with the whole family.
If you're traveling from another continent, Geneva will be an extremely convenient first stop since this is most likely where you will land in the country. After long hours of plane travel, the whole family deserves to take a breather.
Take everyone towards Lake Geneva and have a picnic. During the summer months, you can take a dip in the crystal-clear blue water. Surrounding the lake are many parks and gardens to explore on foot or with a rental bike if everyone knows how. Behind the lake are views of the Alps and there's nothing better to welcome you to Switzerland.
There are many attractions around the city, but a visit to CERN will definitely let your kids' imaginations go wild. There are many exhibits and tours at CERN that showcase the wealth of knowledge the center has discovered throughout the years. Most of the exhibits are interactive and will surely keep the kids busy the whole day.
Lucerne
Lucerne is a great destination to have a satisfying mix of city, Old Town, and the Alps. Historical landmarks like the Chapel Bridge and Museggmauer are extremely well-preserved, and a walk through the Old Town is easy enough to navigate even with eager children.
As nature would have it, Lucerne also has its own lake, Lake Lucerne. With this comes a whole slew of activities both on and off the water. Just like in Geneva, you will find many spots to just sit down and play by the shore of the lake. A very popular activity here is to take a tour via Paddle Steamer towards the other end of the lake and back. You can disembark at Brunnen for a quick tour before returning to the city, or simply enjoy the views and the experience.
Another great thing about making Lucerne your home base is how easy it is to visit other places from here. There are several day trips you can take from here to make the most out of its convenient location. There are several mountains to visit and most of the have easy and family-friendly hiking trails.
The best day trip you can take is to Jungfraujoch. As the highest train station in all of Europe, a trip to Jungfraujoch brings you to the heart of the Bernese Alps for the most impressive views you can imagine. There are several ways to reach the top, but the trip is well worth it. On top of the exhibits, attractions, displays, and shops, simply being that high up and almost eye level with Alpine peaks is an experience worth having.
Zermatt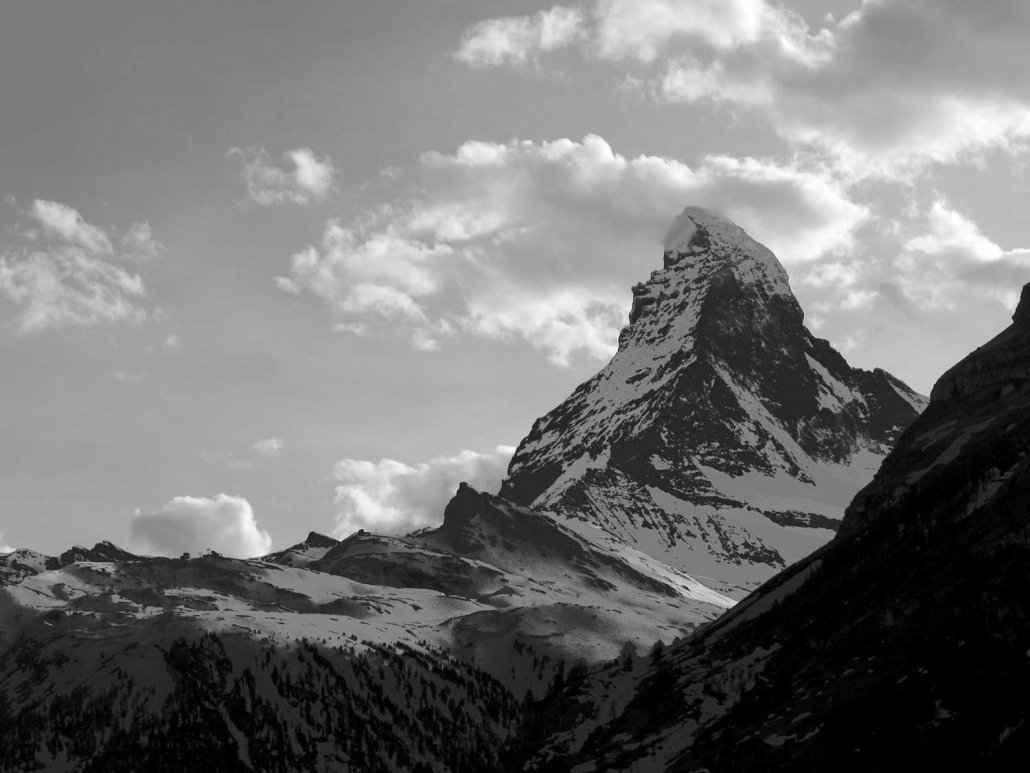 If there's one peak you need to see in Switzerland, it's the Matterhorn – the country's most iconic Alpine peak. If your family is the type that needs to be on the move all the time, Zermatt is an ideal location because there are simply so many things to do.
If your kids are still small, the best place to hang out will be at Sunnegga. The funicular ride takes less than five minutes from Zermatt and brings you to a sunny platform with perfect views of the Matterhorn. Directly at the site are playgrounds and barbecue areas, but you can also take a quick and easy hike to Leisee Lake. There is also a marmot-watching station for the kids to spot wild marmots trotting around the area.
If you have older and more active kids, you can have a bit more fun at Zermatt. There are countless trails you can take for a day hike through mountains or towards lakes. Skiing is also popular here around winter time and there are many slopes to try out for every skill level.
Interlaken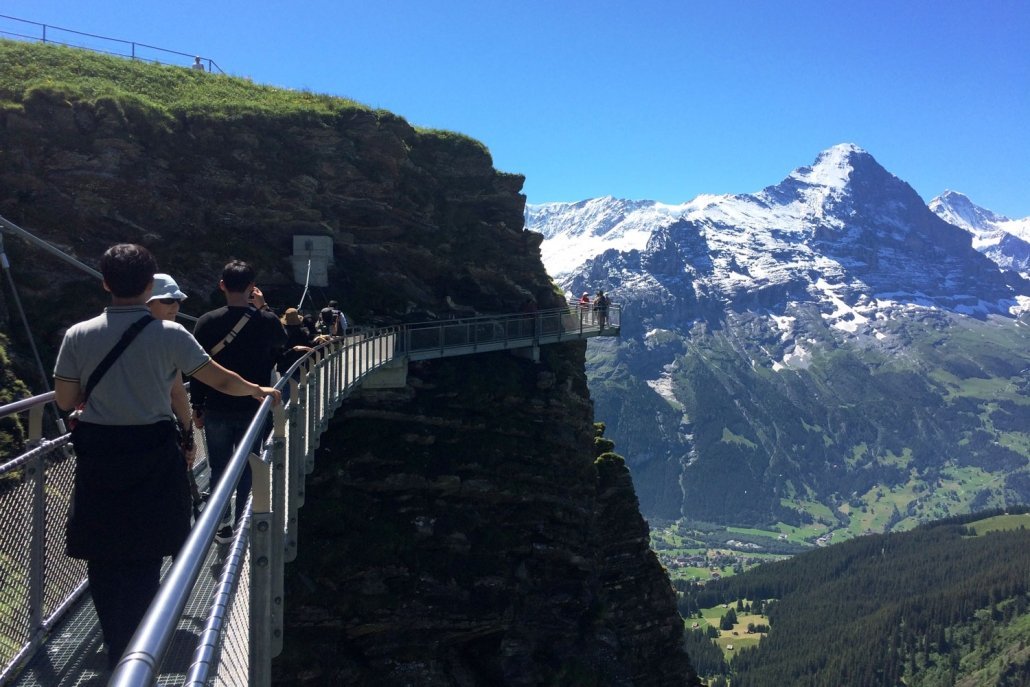 Interlaken is the heart of all outdoor activities in Switzerland. This is where adrenaline junkies go to jump off cliffs for paragliding, bungee jumping, mountain biking, skydiving, and the list goes on. While you may not have the same plans for your family, Interlaken is a beautiful town surrounded by beautiful mountains. It's also a relatively small place, so it will be easier to explore.
The biggest draw of Interlaken is all the outdoor activities you can enjoy. A great place to take the kids is the Interlaken-Harder Alpine Game Park to see some Ibex and Marmots. Right next door is Harder-Kulm Cableway where you can sit and relax while enjoying the views of Lakes Brienz and Thun as well as the Jungfrau and Eiger peaks.
But if you don't want to get too crazy on your adventures, the city itself has a lot to offer. Stroll through Hohenweg Promenade to look at shops and try out different restaurants. You can also marvel at the 13th century buildings in the Old Town or visit several museums for a more educational trip.
Tips for having the best family holiday in Switzerland
There are so many options right now when it comes to accommodation. Choosing the right place for your family to stay depends on many factors. The first step is to determine the towns and cities you want to consider.
Switzerland is one of the safest countries you could be in, but some common sense and vigilance never hurt anyone. I still carry around a theft-proof backpack, even if some people think I am mad.
Once you've laid out your itinerary, weigh-in the pros and cons of staying at hotels, hostels, and AirBnBs. Look beyond the price and consider which factors will be most suited for your family.
Taking advantage of Swiss train passes
Just like anywhere in Europe, the best way to travel is by train. It's easy, always on time, and you can get yourself to any city in Switzerland within just an hour or two. Most importantly, train rides offer scenic views of the lakes, mountains, and include lots of fun tunnels. While you can't do everything in one trip, traveling by train is an excellent way to take in as much of Switzerland as you can.
Train rides can be expensive, but the key is getting the right pass for you and your family. The first thing you need to do is plan your itinerary to know which pass will be the best to use. If you have the patience to get into the details, you can sum up regular ticket prices between all your destinations and compare it to all the applicable discounts and passes. Unfortunately, not everyone can do that, so here's a general overview of train passes you can take advantage of.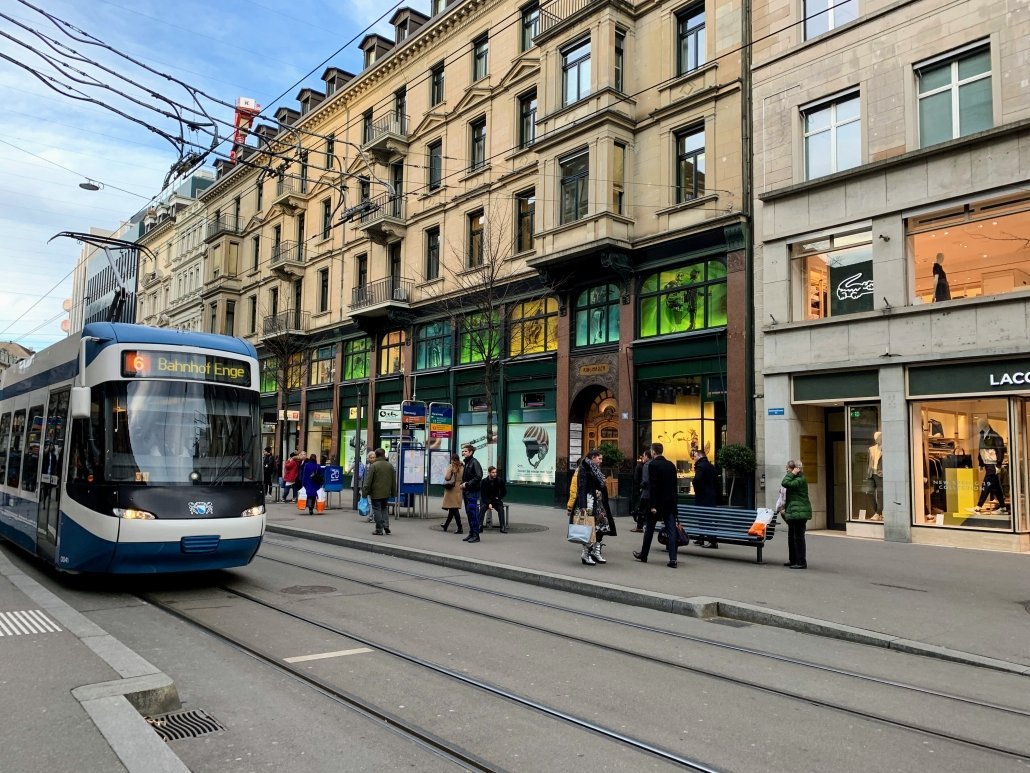 The most popular one and so far most convenient is the Swiss Travel Pass. Not only does it cover unlimited transportation via rail, bus, or ferry, it also provides free or discounted entrance fees to museums and attractions. It's great for spontaneous travelers that do last minute bookings, or for families that plan a lot of traveling. For those under 26 years old, they can get a Swiss Travel Youth Pass with the same benefits but at a discounted price. Children up to 5 years old also get to travel along for free.
But if you won't be covering a lot of ground, perhaps consider the Swiss Half Fare Card. As the name suggests, it gives you a 50% discount on transportation tickets and children up to 5 years old can still travel along for free. It's valid for one month and if your itinerary involves short trips, it might turn out cheaper than the Swiss Travel Pass.
If your kids are aged between 6 and 15, they can travel along for free with the Swiss Family Card. The parents need a Swiss Travel Pass or a Swiss Half Fare Card for the kids to get a free ride, but the Swiss Family Card is free of charge.
There are still many other kinds of rail passes you can try, but the Swiss Travel Pass and the Swiss Half Fare Card are a good start.
How to eat without breaking the bank in Switzerland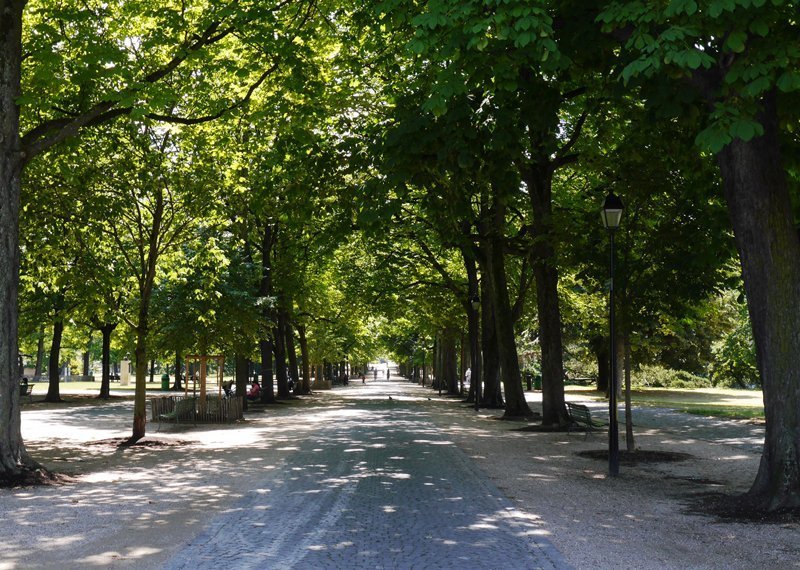 Food in Switzerland is always fresh and high quality. The dishes are also as diverse as its regions. The country also has some of the best restaurants in the world and you wouldn't want to miss out. Unfortunately, it's very expensive, especially when you're traveling as a family. A meal at a fastfood chain will cost you around 10 euros, and double or more when you go out to a proper restaurant.
The best way to make mealtimes affordable but still satisfying is to go direct to the supermarkets. This doesn't mean you'll have to whip up dishes yourself. Most of the supermarkets have a take-away section where you can bring home prepared dishes. Look out for Migros, Coop, Aldi and Lidl. They're everywhere in Switzerland and will give you many options no matter how picky your kids may get.
If you do eat out, there are still several ways to bring the bill down. Most restaurants have lunch specials so you can enjoy the same good food at a cheaper price. Also consider dining at ethnic and Asian restaurants as their servings are generally larger. If you're staying at a hotel, consider taking advantage of their hotel menus. Sometimes these turn out to be cheaper than standalone restaurants.
Making the most out of your family holidays in Switzerland
Taking a trip with the whole family is both exciting and daunting. Experiencing different parts of the world with the people you love most spells a world of difference from visiting destinations by yourself. It will be stressful to prepare and do everything with everyone, especially little kids, in tow, but taking time to plan ahead as much as you can will give make the trip easier on everybody. Leave a little room for some flexibility, figure out what you want to do as a family, and just enjoy the special time you have in Switzerland.
This post was written by…
Anna was born to travel the world having studied languages all her life. Although she has traveled the world, she now calls Switzerland home and spends her time writing about her experiences on her travel blog with her husband.
https://www.worldtripdiaries.com/wp-content/uploads/feat-family-vacation-switzerland.jpg
287
815
Thais Saito
https://www.worldtripdiaries.com/wp-content/uploads/wtdlogo.jpg
Thais Saito
2019-05-21 01:28:42
2019-08-12 21:49:28
How to have the best family vacation in Switzerland