Holidays in Ireland with kids – a guide for families
If you're visiting Ireland with kids, this is your guide to have the best holidays in Ireland with kids! We had 3 weeks in Ireland between March and April 2018!
Ireland is one of the best places to visit with kids – full of beautiful sights, fun things to do, historical sites to see, and super friendly people. Keep reading for more!
* this post contains affiliate links – they cost you nothing but give us a small commission. 
What to do with kids in Ireland
I'm gonna start with the fun facts: Ireland isn't part of the UK, while Northern Ireland is. Therefore, it uses Euro as its currency. Not very practical, but it is what it is. 
Still, it's just as beautiful as Northern Ireland, albeit larger and therefore, harder to see it all. 
There are many things to when you travel to Ireland for kids, from horseback riding, archery, pottery, hikes, movies, theaters, and more. 
Below is a list of what we did during our trip to Ireland with kids, so keep on scrolling for more!
The best place to stay in Ireland with kids
We tried booking different places to stay and we really did want to spend longer in Dublin BUT the prices were exorbitant and we nearly considered not stopping there at all. Why is Ireland just so much more expensive than the already expensive UK?
So, luckily, we had a great friend who let us use his house for 2 weeks and we were able to include the country in our trip.
The house is in the calm and quiet town of Castlegregory, in Co Kerry. It's super small and not much happens there in low season BUT the beach is astonishing – great for some much-needed peace and quiet. 
Thank you, Seamus and family. It was lovely. 
So this is the house, and we highly recommend it – even though it doesn't have the internet. It's really the only downside of this house. The house is big, very well equipped, clean, warm, and I must say: THREE toilets. We were so spoiled, it was hard to get used to sharing a bathroom after that. 
Ah, and you do need a car to get there. 
If you're new to Airbnb, click here to get a discount on your first booking! (affiliate link)
By the way, Co Kerry is full of gems, it's an awesome place to stay when you travel to Ireland. With kids, even more so!
If you prefer hotels or hostels, find some in the box below!
Places to Visit in Ireland with kids
I'm gonna divide it here by counties because I really think it's easier, but we based ourselves in Kerry, so almost everything we did was around the West Coast of Ireland with a very quick stop in Dublin. It includes the best kids attractions in Ireland. 
Things to do with kids in Kerry
Kerry offers A LOT for families, so this is going to be the longest section. Here's what to do in Kerry for kids. 
Ring of Kerry
We basically took a day to drive around the stunning Ring of Kerry (which, let me tell you, made my kids talk a lot about NZ – they are very much alike). It was a bit tiring, but if you don't stop, you should drive around the Ring in around 3 hours. We stopped often and even detoured a bit to drive around Skellig Ring, so it took us a whole day. 
We didn't actually stop there, just drove past it. It's a Heritage Center with many exhibits. My kids weren't interested in the least, so we didn't even stop. Maybe next time. It's pretty and looks very much like a castle. 
Reenard Point (with the optional ferry to Valentia Island)
This is also just a drive-by place, but it was stunning! With mountains, the sea, bridges, and boats, make sure to drive by. 
This is the ancestral house of Daniel O'Connor, a very important figure in the Irish history. 
It's a museum inside the Derrynane National Historic Park. 
We also didn't enter – but it may be a good stop to stretch the legs and learn a bit more about the local history…
(Visits cost €5 per adult, €3 per child, and a family pass costs €13. It's free for Heritage Pass Holders)
I'm not sure what we were expecting, but we stopped there to see. They're boulders arranged in a circle, with a burial ground in the center. It's said to have been an important ceremonial place during the bronze age (2200 – 500 BC). 
Entry costs €2 per person. 
We had fun BUT it's not as impressive.  
This was another fun thing. It's basically a pass in the middle of 2 mountains. And that's it. 
It's impressive, very beautiful and all, and we were hoping to stop for coffee and toilet BUT nothing was opened at 6 pm. 
It's worth to pass by, though. 
I enjoyed stopping there quite a lot. It's one stunning viewpoint of the surroundings – seriously. 
We were there about an hour before sunset and the place was incredible, the lighting was perfect, everything was awesome. 
A bit from the viewpoint, we saw some deer roaming around – the kids loved it! 
And of course, we needed to see at least one of the waterfalls in the area, right?
So Torc Waterfall for us! 
It's easy to find and there's a carpark and a toilet – all free. 
The waterfall is a VERY short walk from the carpark (around 2 minutes if you walk as slow as we did) and it's stunning!
The whole – very – short walk is just as stunning. 
Waterfalls have a magic: they always make us feel better and less tired. We took our time there, it was great.
And by the way, I've just found out that it has steps beside the waterfall, and from the top, you can see the beautiful Lake Muckross.
We were just leaving the waterfall when Melissa told me to look at the sunset. Oh, was it gorgeous! 
It was colorful, bright, serene, and perfect. Besides, it was reflecting on the lake and we had to go there to look at it better. 
So we walked from the carpark of the waterfall to as close as we could get to the lake and watched it for a while. 
Breathtaking. 
if you have the time, take a walk around the park – it's lovely. 
It was already night but we stopped at Ross Castle anyway. It's open to the public (not all of it, at night, though) and we could enter through the gates and play in the courtyard. 
My kids are silly and they had lots of fun making shadow shapes onto the castle walls. 
(Visits cost €5 per adult, €3 per child, and a family pass costs €13. It's free for Heritage Pass Holders – the courtyard is free)
Skellig Ring
Right after we went to Reenard Point, we saw a sign pointing to the Skellig Ring. Well, we had to go, right? A couple of hours more wouldn't make such a big difference anyway. 
This is a lovely village where you'll find the ferry that goes to Valentia Island (there's a bridge too, for those who don't really enjoy ferries). It's pretty, and it's also full of people waiting to see if their boats to Skellig Michael will leave. 
Since we don't like ferries, we took the bridge to Valentia Island. It's super quick and easy (and free). And it's a lovely drive. 
– Bray Head 
Our first stop was Bray Head. It's a mountain, basically with a beautiful loop walk to the tower. We stopped at the carpark willing to walk but the kids wouldn't budge so we gave it up. It's a 2~3-hour walk, easy, but it was very cold and windy and the kids were already tired of the drive. 
– Geokaun Mountain & Fogher Cliffs 
Then we went to Geokaun Mountain and Fogher Cliffs. 
It has a walk, a carpark, and many stunning views. 
It costs €5 per family and you can drive your car up to the summit or climb it on foot. 
We drove. We're lazy. It was stunning, very windy, very cold. 
The cliffs are stunning, impressive, and it's worth the time. 
The Kerry Cliffs are stunning. It was one of the places where we spent the most time (and maybe because the walks were longish from the carpark). 
It cost €14 for my family of 6. 
But just a warning here: you need to walk a bit over half a mile (or 1km) from the carpark to the first viewpoint, and then another half a mile to the other viewpoint. And they're all upwards. It's not very hard, but it wasn't easy peasy either. 
People with mobility difficulties can drive closer to the viewpoints, but otherwise, it's a walk. 
We were driving when we saw this place and, of course, we had to stop. We entered and were looking around when a very nice lady invited us to try some samples. Well, of course, we wanted to. And we LOVED every single sample we were given. Oh lovely.
We ended up buying more chocolate than one can eat – and we finished them all in less than 3 days. Delicious! And no regrets!
Visit it, you won't regret it!
Ballinskelligs Bay and Castle
And our last stop on this very long driving day was Ballinskelligs Bay with a stop to see the Castle. The ruins of the castle weren't very impressive, after the many stunning ones we'd visited, but it's always nice to have a while at the beach. Even when it's freezing cold. 
We loved walking on the sand and playing with the seaweed.
Skellig Michael
It's the ruins of a monastery. It's beautiful and a Unesco World Heritage Site BUT you can only see around the island if the sea conditions are good and you can only land in the island between May and October – and only a certain number of people. 
We missed the time, but as far as we read, it's a bit of a scary hike to the top of the island, maybe not for the little ones. 
Our reason to visit it: Star Wars. That's where Luke's village was filmed – on the last movies.
Castlegregory
There isn't much besides the beach BUT it's a glorious beach and the sky there is lovely. 
You can rent some gear and surf, or do many of the watersports offered in the area, or learn pottery in one of the shops. 
Most places don't open unless it's high season or a holiday, so try to schedule your trip for sometime when something's up. 
Crag Cave
We wanted to visit a cave and Crag Cave was the closest to us. 
The cave is big but we're only allowed in a part of it and it's only in guided tours, so it's a short visit to it. The tours take around 30 minutes and a family pass (2 adults and 4 kids) cost €35. 
I must say, it's a very nice tour, full of astonishing sights and learning, and worth a visit – but it is a bit pricey. 
Then, there's the Crazy Cave, which is just a huge indoor playground for kids under 12. It's an extra fee of €6 per child and it's only good for 2 hours. 
Coral (5) LOVED it and she spent the whole 2 hours running around like crazy. 
There are a café and lots of seating areas, great for the bored teenagers in the family. 
Things to do in Killarney with kids
Killarney is so pretty – must visit! We had a quick stop, of around 4 hours, and we loved it. It's a big city – probably the biggest in the area. 
Walk around downtown, get lost, just enjoy. It's pretty and a nice stroll. Get lost in the alleys and streets, enjoy the scenery, watch the people, and have fun. 
You can catch a movie or spend some time in a pub if the rain gets heavy.
Coral (5) said she wanted to see the inside of the church and so we went. The bored teens didn't want to, but they took their time reading the signs outside the church while the little one explored it. 
She liked it. 
It's a beautiful church for sure. 
We had lunch at this place. It's very much like Johnny Rockets, even on the decor. 
The burgers are good, the shakes are OK, and the service was great. 
The best, though, was that the kids were given a pretty rich sticker book and oh, they had fun with it. Silly kids, happy kids. 
This is a very stunning place – but super creepy too. 
It's in ruins and it's free to visit. 
Walk around, and find the stunning tree in the courtyard. Lovely, lovely thing. Just try to visit during the day. When we went, it was nearly sunset and it left everything a little scarier.
After the Abbey, we went to Lake Leane (yes, the same from Ross Castle above) and it was just as lovely. We caught the sunset again, which is always lovely. 
There are pretty walks around, but very few places to sit and rest – it was muddy and we just couldn't stay for too long with 'tired' kids. 
Dingle Peninsula
Dingle is a pretty, lovely, and colorful little town in Kerry. 
It's quite big for the region and it's very worth a visit! 
Walk around, enter one of the pubs, or even take a boat to see the lonely dolphin (Fungie). 
Have an ice cream or two, and just get lost! It's a pretty place to be!
Slea Head Drive
It's said to be one of the most beautiful drives in the world. I mean, it's beautiful, but so is The Ring of Kerry or any drive in NZ (home for us), so nothing too impressive there for us but some really pretty cliffs. 

Things to do in Clare with kids
With only a day trip to County Clare, we had to squeeze a lot in one day but it was still fun and worth it!
This was my only 'must see' on this trip, and was it worth it! I guess it's on the itinerary of every person traveling to Ireland with kids or without. 
The 3-hour-drive as totally worth it, it's as beautiful as it looks in the photos. 
Between our 4 hours there, we had one hour on the parking lot line – seriously. The lines were super long and slow, and then they wouldn't let us park on the spots we'd found and we had to go around the parking lot 3 times to find a place to park. 
Make sure you visit early in the morning or after 3 pm – that's when the lines are shorter.
But it was great. 
Visiting the Cliffs of Moher with kids
The first thing to note is that it's quite full. It was the low season when we visited, and it was still very crowded. 
Then the viewpoints are great, but the walks are mostly not very nice and they have loads of scary warnings, like 'from this point on you're on your own' or something that sounded like that. 
I'm not very fond of heights, and it made me even more fearful. 
Most of the official path beyond the National Trust borders isn't very good for sightseeing and people often jump off the fence to get a closer look at the cliffs. We did that too because there was this very narrow part where we couldn't continue unless the people coming passed first and it was a terrifying moment for me. 
To be really fair, there's quite a bit of space between the fence and the cliff border, so it's safe enough anyway BUT the ground is very soft and it seems like it's gonna fall apart at any minute. 
But it all ended well. 
I'd suggest you keep yourself and your kids to the area maintained by the Trust and enjoy it, it's just as pretty. 
Entry costs €6 per adult and child under 16 are free. Each adult can bring up to 4 kids for free.
Ailwee Cave
We didn't visit it, as we'd already seen Crag Cave and Coral started complaining of tummy ache in the car. Haha. The joys of road tripping with kids, right?
It's said to be beautiful and the tour takes around 35 minutes. The price varies, but a family ticket (for 4) costs €29. 
An ancient tomb marked by 2 standing boulders and one on top. It's pretty impressive, but the best of it was the floor. WOW. 
We had a blast playing on the beautiful limestone floor. 
It's free to visit – great!
Burren National Park
The Burren National Park is stunning. We actually only drove past it, but it's stunning. 
It's a very rocky path and it's very worth a visit. 
Unfortunately, we had a child complaining of tummy ache and had to hurry back home. 

Dublin
We didn't linger in Dublin. The prices for accommodation were absurd and, honestly, it was way out of our range.
We did spend a few hours on our first day and had lunch at this pub called Bóbó's, with good burgers and fries. 
Then, on our last day – we arrived in the afternoon, had lunch at Friday's because it was close to the hotel, and left in the morning. We stayed in Premier Inn because we found good rates, but it's not a place to stay for longer, as it's far away from everything. 
Luckily, I know who has, so here is what some awesome bloggers have to share about Dublin!
Sheep Hearding Demonstration
There is no doubt that children love animals and besides witnessing the adorable interaction between the two, it can also be very educational. In a city where the Pub culture is prevalent, it is nice to know that there are fun activities that can be enjoyed by both parents and children. 
Michael Crowe, a well-known sheepdog handler, in County Wicklow is incredibly passionate and knowledgeable when it comes to sheep herding. During the demonstration, he explains how the Border Collie, the most intelligent dog in the world, is trained from a very early age to herd the Cheviot Sheep. These are indigenous sheep to the Wicklow Mountains, located about an hour outside of Dublin.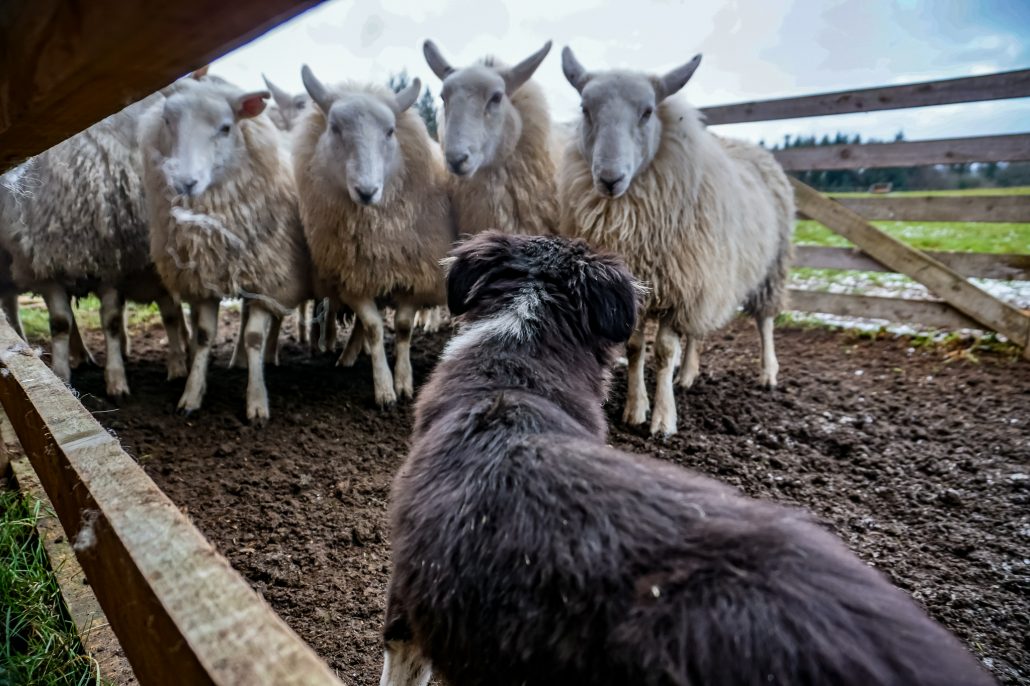 You will get to interact with Dale, an 11y/o border collie and if you are lucky you'll also get to see a puppy in training. We had the pleasure of seeing little Maggie, a four-month-old puppy, in action. Watching Michael and the dogs rounding up the flock through various whistles and calls is a truly exceptional experience! If you are a dog lover, you'll really enjoy this authentic Irish experience. 
By Travel like a Chieff
Butlers Chocolate Factory
Getting off the beaten path in Dublin is easy when your destination includes chocolate! One of Ireland'smost famous chocolate brands, Butlers Chocolates, offers a fun interactive tour of their working factory. On the tour, visitors will get the opportunity to decorate their own chocolate elephant (or other forms!) with even more chocolate! One lucky kid may also be chosen to help pour chocolate in molds as part of an up close demonstration on how the small chocolates are made.
Butlers Chocolate Experience Tour takes visitors through every step of the process as you learn about the origins of chocolate, how the factory operates and how chocolates are made all while soaking up the fabulous aroma of chocolate!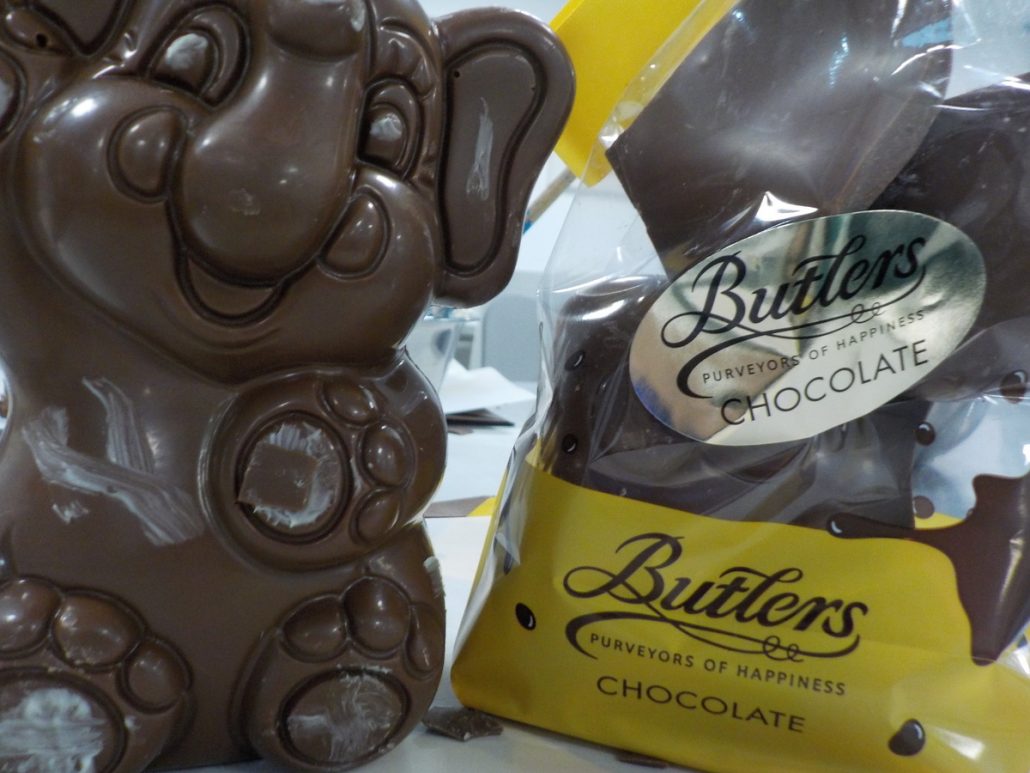 Tours are offered on a regular basis but must be scheduled and booked in advance. The tour costs €13.50 per person or €50 for a family of 4.
Trust me, visiting the Butlers Chocolate Factory will be a fun experience for everyone in the family, but especially for chocolate lovers!
By No Back Home
Saint Stephen's Green
Saint Stephen's Green is located in the heart of Dublin and is the perfect thing to do with children in the city! Saint Stephen's Green is a free and family friendly park that is open from sunset to sundown. During the warmer months, it is the perfect place to take the kids in Dublin to let them run loose after a day exploring with the adults. The park offers little gazebos, plenty of green space, ponds and pools, fountains, beautiful flowers, and plenty of wildlife! Kids will love feeding the ducks in the park, just be careful as the ponds do not have any railing so keep an eye on children at all times.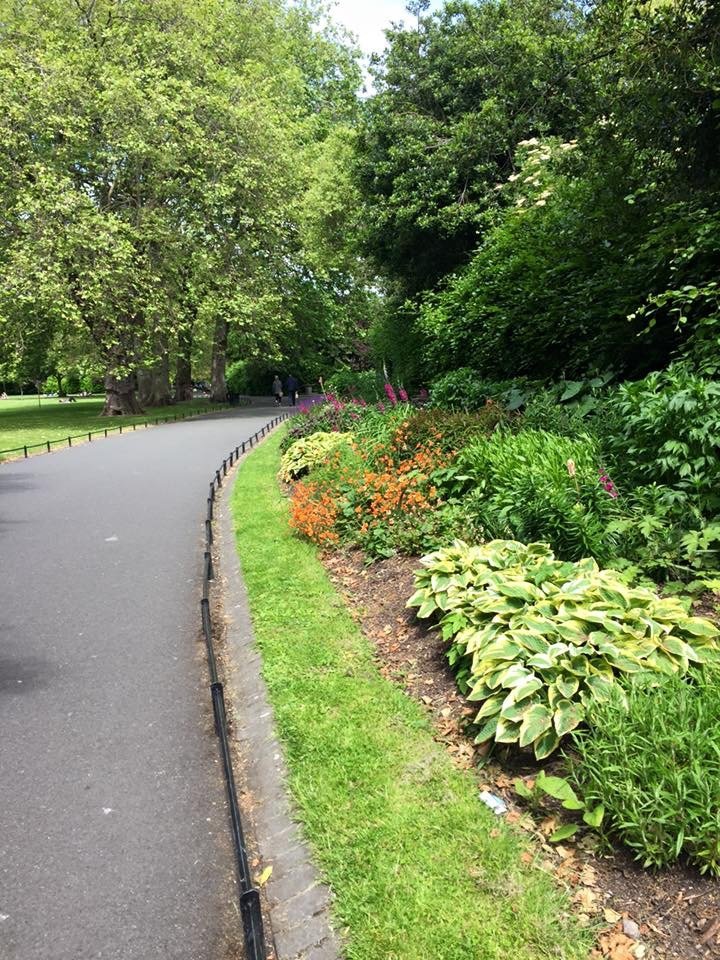 Saint Stephen's Green also has a playground for toddlers and older children complete with rubbery ground to cushion children from any falls off the equipment. There are plenty of benches and winding paths for families to explore and if you have stroller age children, the paths are perfect for pushing a stroller as well! Saint Stephen's Green is one of the fun and free things to do with children in Dublin!
Dublinia (the Viking Museum)
Dublinia, the Viking and Medieval Dublin museum, is a great way for kids to experience what it was like to live in Dublin during the early days of the city. Located at the crossroads of the medieval city of Dublin near Christ Church, Dublinia is easily accessible from most of Dublin. Kids (and adults!) can try on Viking clothes. pretend to sail in Viking ships, watch demonstrations by period craftsmen, and even see what it would have been like to use the W.C.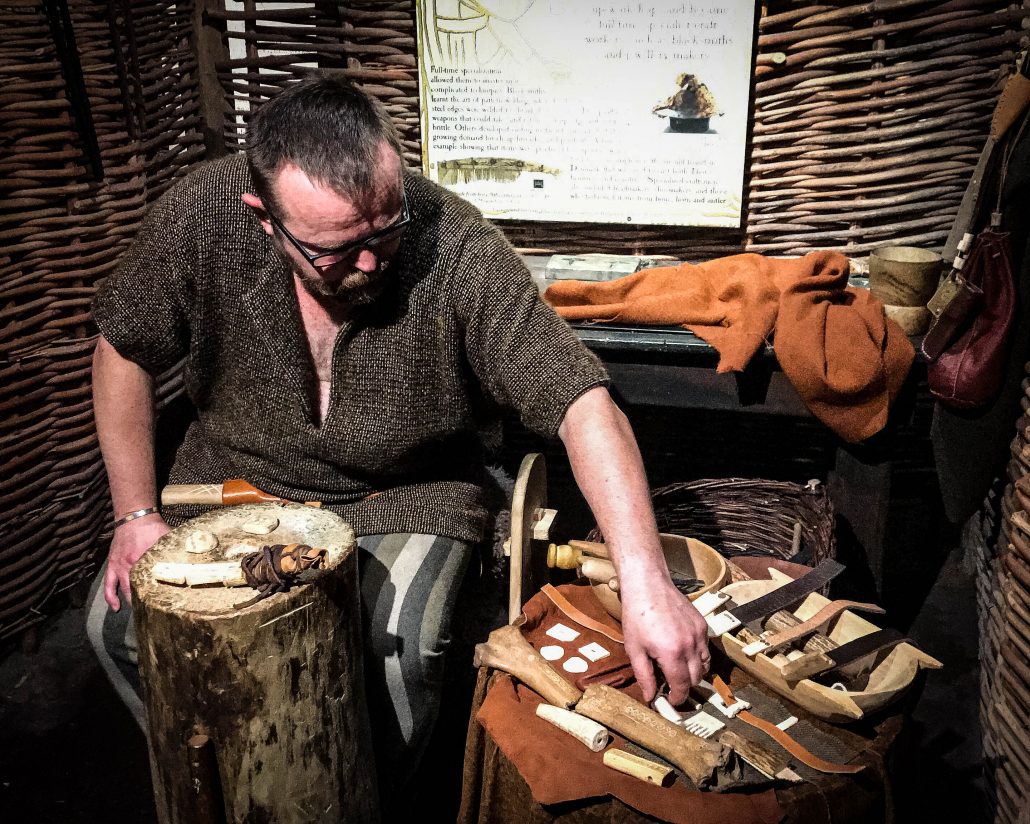 In medieval Dublin, kids can learn all about everyday life, from how medicine worked (or didn't work), crime and punishment, and what happened to a poor soul who gets a toothache. The museum does a great job of combining gritty reality with age-appropriate information and adding in some imagination and fun. Kids are entertained throughout while learning about the history of the interesting city. And while the museum is primarily aimed at kids, even adults can have a great time while learning about Dublin's interesting past.
Natural History Museum
If you're looking for an inexpensive activity to do with your family while visiting Dublin, consider checking out the National Museum of Ireland – Natural History Museum which has been welcoming visitors since 1857!
Also known as the "The Dead Zoo" or "The Museum of Museums", this historic museum houses a variety of mammals and an extensive insect exhibit.
The "Irish Room" features mammals from Ireland like the giant Irish deer (skeleton) and puffins while the upper floors showcase mammals from around the world like whales, goats, bats, zebras, lions, giraffes, elephants, primates and more.
There's so much to see at the Natural History Museum in Dublin that you can easily spend anywhere from one hour to a few hours here.
By the way, admission is free and the museum is closed on Mondays.
A day-trip to Kildare
Sometimes the best thing to do in a city with kids is to get out of the city.  Kildare is a village about 30 minutes southwest of Dublin. It has a number of sites and locations that are intriguing, but children love National Stud.  This is Ireland's premier horse breeding and training center, and it is open to visitors. There are stables and training areas, and a number of horse care chores than can be seen.  A map is given with admission, so it is clear where to see specific types of horses. We were most interested in the foals, and spring was the perfect time to see them.
In addition, National Stud houses two world class gardens, the Japanese Garden, and St. Fiachra's garden.  Both gardens are lovely with lots of hidden corners to explore, and they are wooded enough to seem like an adventure.  Of course there is also a children's playground area that is always popular with little ones. To complete the National Stud experience there is a horse museum, where the entire skeleton of a championship steed can be seen, and a cafe for some delicious snacks.
So these were the best places to go with kids in Ireland!

Travel in Ireland by Car
Ireland, unlike Northern Ireland, is a big country. It's easy to travel from one place to the other, but the best way to travel in it is by car. Road trips are awesome anywhere, but in Ireland, it's epic. 
Ireland is a freaking beautiful and it wouldn't have been easier or better to have traveled by public transport or tours. 
And we had the chance to stay in far away places (like Castlegregory) free of worries. 
What to know when you road trip in Ireland
Well, you need to know that roads in Ireland are narrow. Some places are so narrow that only one narrow car can fit nicely – but they're still two-way roads. 
The other thing to note is that most of the fences are made of rocks – some of them are pointy and you may have a flat tire here and there. 
Get a full insurance, even if you never do. Seriously. 
It's not worth the trouble. 
OH, and bear in mind that you drive on the left side of the road and the driver sits on the right side of the car. It's the British hand – easy for the Australians/Kiwis/Japs, harder on the rest of the world. 
To make matters easier, the norm is the manual transmission cars. You'll probably have to drive on the opposite side you're used to and use a manual gear. Think if it's worth for you to pay more, but have an auto-transmission. 

Ireland and Northern Ireland Border
We were in Northern Ireland and went to Ireland by bus. I thought we'd have to do immigration stuff and we were ready. I mean, we'd be exiting the UK and entering EU, so there must be something, right?
But no. It was like traveling within the UK: no worries, no bureaucracy, no troubles. Easy as. 
There was literally NOTHING. 
I loved it. 
The kids were complaining that they had to tidy things so well to be able to show if immigration asked and blah blah blah, but it was better than actually having to pass through security. 
 



Heritage Pass

There's a thing called a Heritage Pass in Ireland, which is a pass that allows you to visit a lot of the historical sites for one set price. It's usually a better price than if you visit them and pay for each separately – but you do need to visit a few of them to be worth it. 

We didn't get it because we weren't gonna visit that many sites but check out their site and what they include to see if it's worth it. 

Ireland vs Nothern Ireland
If you absolutely must only one of them, think carefully. They're a bit different, as Northern Ireland is part of the UK and Ireland isn't. 
The currency is different also, with Euro being used in Ireland against the Sterling Pounds of NI. 
NI has the Giant's Causeway (my favorite place in the UK, to be honest) whereas Ireland has the Cliffs of Moher. 
Ireland is a much larger country and it takes a while to travel around it, and Northern Ireland is a smaller country – easier if time is short!
Aside from that, they're VERY similar and great. 
If you can visit both, do it. 
(We found the food in Ireland to be extremely more expensive than anywhere else we've been so far, though)

Travel tips for Ireland with kids
Below are some tips to make your Ireland holidays easier, smoother and better. 
Ireland has a mild weather, usually: not too cold, not too warm. We got lucky, and when we were there, it was freezing.

 

It's a rainy place, as is the whole UK, so bring on some rain gear: at least a raincoat that protects from the wind.

 

We didn't have any special footwear, just regular winter shoes – which we waterproofed with spray bought in Scotland. Easy, cheap, and efficient.

 

Almost every activity is outdoors, so better be prepared for the weather, which is crazy. We had warm springy days with super chilly nights and very chilly weeks. Haha. It was winter.

 
To conclude Ireland for kids:
It's a country filled with castles, ruins, and nature. If your kids don't like those things, chances are… they aren't gonna like it much. 
Of course, there are the usual things, like movies, arcades, malls, restaurants, the internet, bowling, and many other activities kids may like but mostly, it's mountains, cliffs, nature, and rain. 
Our kids were torn. They said it's way too much like NZ – and not worth all the travel for it – but it's cool to visit castles and abbeys and see the differences. 
Try including stuff they like. We did all the drives and visitations and included the stuff they liked too. 
You can read a bit about every place you intent on visiting so you get to know bits of its story and curiosities and tell the kids as you see things – that may sparkle some interest in them too. 
Country

Minimun Stay
$ ~ $$$
Child-friendlyness
Best local transport option
Safety
Do we recommend it?
Ireland

A week
$$$
Super child-friendly!
Car for the small towns and the freedom!
Perfectly safe
YES!
SaveSave
SaveSaveSaveSave
SaveSave
SaveSave
SaveSave
SaveSave
SaveSave
SaveSave
SaveSave
SaveSaveSaveSave
SaveSave
https://www.worldtripdiaries.com/wp-content/uploads/feat-ireland-pt.jpg
287
815
Thais Saito
https://www.worldtripdiaries.com/wp-content/uploads/wtdlogo.jpg
Thais Saito
2018-04-27 16:53:10
2020-07-07 23:08:53
Holidays in Ireland with kids – a guide for families