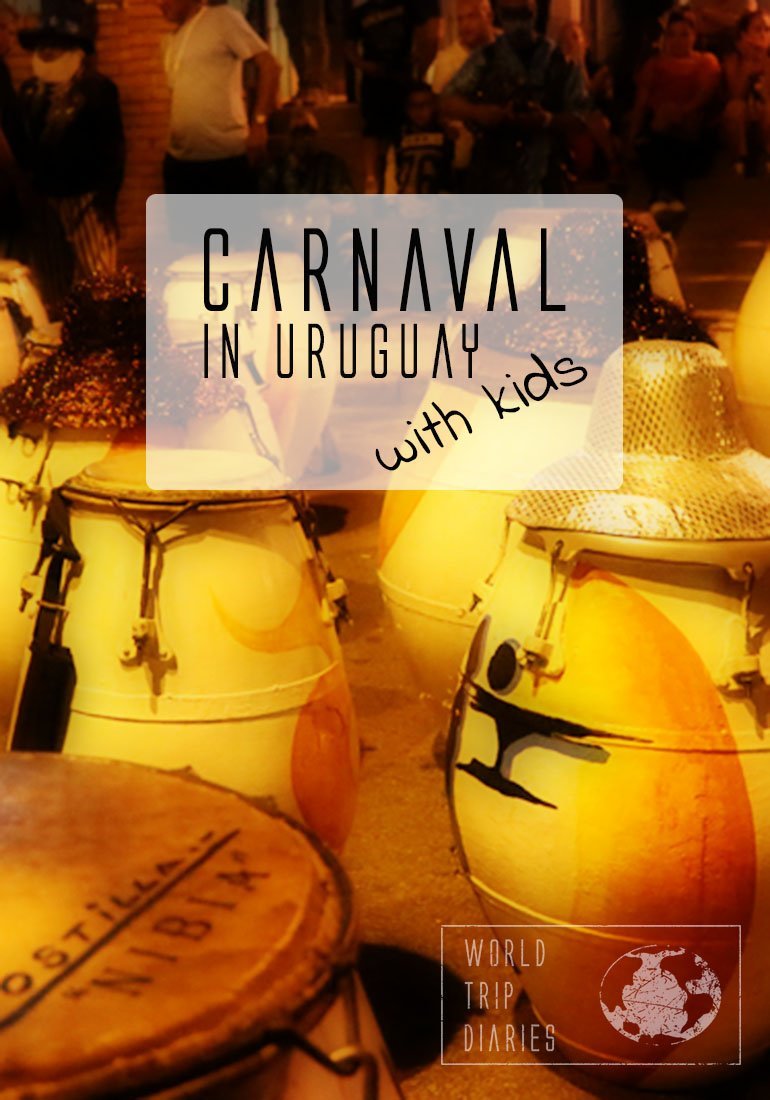 We spent 4 weeks in Uruguay, between January and February 2017, right on Carnaval time. In this post, I'm going to tell you what was the experience like for us, with our kids.
Carnaval (it's how Carnival is called there) in Uruguay is a big deal. Well, it's the longest celebration in the world: around 40 days. It gets kind of hard to avoid it during summer months. It has parades, shows, murga and loads more. It's fun, energetic, and noisy.
There's Museo del Carnaval where we were able to see some costumes from the past years, see the big head masks some of them wear and learn a bit of the culture. It was hot and a bit spooky there, though. Coral wanted to leave right after we entered. It's not a free entry, but it was cheap enough that we entered just for the shade.
I loved being there during Carnaval, but some of our kids didn't. They said it's hard to sleep, it's too noisy when we pass rehearsals, and it's just too crowded. Well, it is.
We were lucky enough to be in this apartment in Montevideo, from which we could watch the parades and rehearsals. (Click here to join Airbnb and receive a discount on your first booking – we receive a discount on our next booking too!) It was a great and relaxed way to participate without the need to watch the kids or even change clothes. But it means that we could hear the drums from beginning to end. I like it, but some people don't (like Melissa).
The parades are the biggest event (I believe). We wanted to watch it (for free) with the crowd but no luck. We walked quite a bit and, like us, there were tons of people trying to catch a glimpse of the parade for free through the little gaps. By the way, there are lots of space for people who did not buy a seat, though you'll need to stay standing and try to find a gap in between the other 300 people there. Since we had kids, we'd need loads of space for them to watch or they'd be watching people's backs.
Well, I was watching people's backs because I'm a shortie.
Once I even found a pretty cool place, from which both Coral and I had a great view of the parade BUT I'd asked for some hotdog and had to leave the place to eat. When we finished, there were around 20 people there.
If you plan on watching from wherever like us, you'd need to arrive early, I'd say at least an hour before it begins.
If you wish to buy a ticket, just find a Redpagos store (they're everywhere, really) and buy your seat. If you have kids, think carefully because it goes until late, it's very loud, and it's crowded. I didn't buy it because I knew the kids couldn't take it and I'd feel bad about paying for it and staying for just a little.
So, really close by the apartment is where people were getting ready to enter the parade and we decided to go there and watch them there, even though it meant we'd lose the parade – that we weren't being able to see anyway.
It was great!
We'd see people putting their makeup on, finishing up their costumes, having a bite, meditating, trying to relax, chatting, practicing and see how their beat begin.
They were warming up their drum leather in an open fire, and it amazed my kids.
People would walk around in their costumes, super high high-heels, stilts, huge headdresses and they'd be checking if their allegory cars were perfect.
It was pretty great. The energy there was amazing.
We were able to walk amidst them and really feel like a part of it (even though we weren't, really).
At Teatro de Verano Ramón Collazo there are many presentations throughout the summer months. We didn't see them because the tickets were all sold out (we found out about it on our last week, which was like day 30th of Carnaval).
The rehearsals, though, happen where the parade happens, and it was very less crowded. There was no costume and makeup but it was one of the things I enjoyed most in Uruguay. It was amazing to see the people all giving their best, doing something they love. It was just beautiful.
We caught the rehearsals in both Colonia and Montevideo, although we only watched it from the window in Montevideo.
OK, but let's not get too excited! Carnaval=summer=high season. It means super high prices. I've heard that food prices don't increase BUT accommodation does. It increases significantly. Like 200%. Check out the prices before you book. Learn from our mistakes. Uruguay ended up being the most expensive place we've been to because of those accommodation prices. It's rather prohibitive. But also worth it.
The weather is beautiful (don't forget to wear a hat and sunscreen, though), the energy is incredible, and Carnaval is just beautiful there.
Would you like to see it? Let us know in the comments!
https://www.worldtripdiaries.com/wp-content/uploads/FEAT-carnival-uruguay-world-trip-diaries-10.jpg
287
815
Thais Saito
https://www.worldtripdiaries.com/wp-content/uploads/wtdlogo.jpg
Thais Saito
2017-03-24 16:51:35
2019-08-12 17:09:20
How to enjoy Carnival in Uruguay with kids