DEPRESSING SIGNS, by Melissa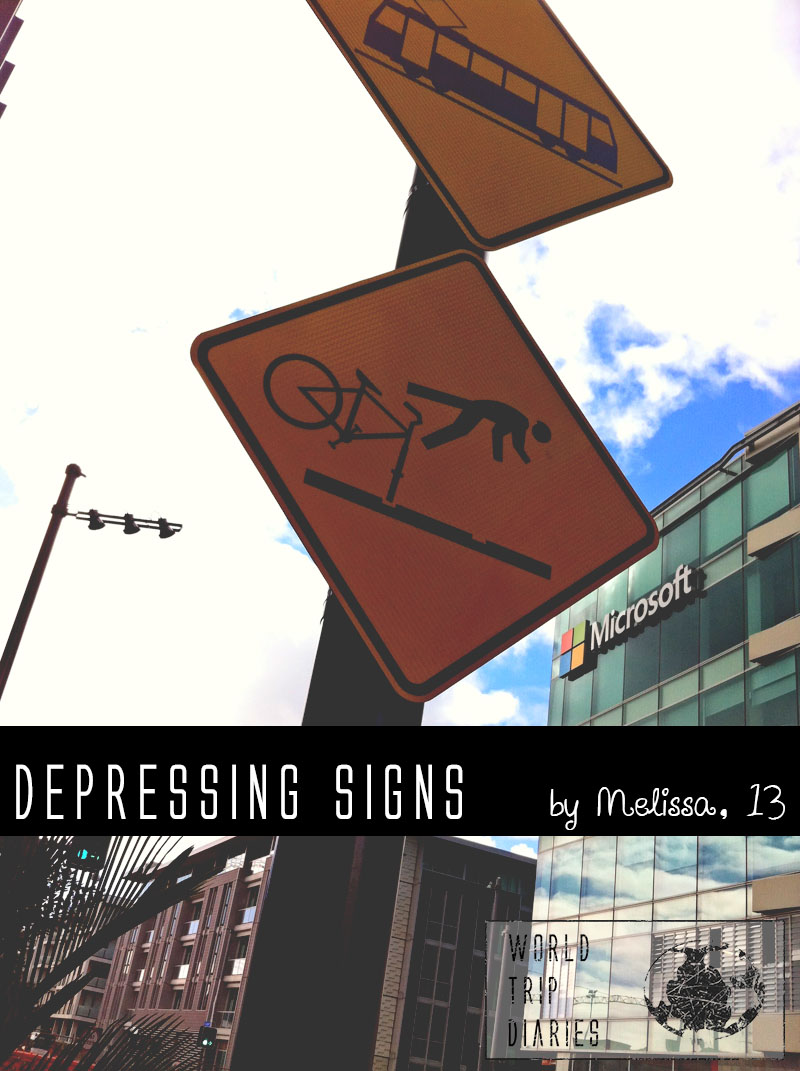 Yes, finally, the post I have been awaiting to write for the longest time now.
Just because, this world is depressing and it just has, depressing signs.
I have spent one year finding these peculiar signs.
I'm exited, are you ready to be revealed to this world of depressing-ness?
So, while traveling I've noticed a few things… Very, odd things. Depressing things. I have collected a few to share with you guys because they're too good to keep to myself.
We're gonna go back in time guys, FLASH BACKS!
The Zoo Keeper Say
This sign is true, but… LOOK AT THE MONKEY ON THE LAST PICTURE!!!
WHAT THE HELL?!
WHY?! Hahahahahahaha!
First, can we appreciate that the Zoo Keeper looks like the person feeding the monkey, except on one he's wearing a beanie and on the other he isn't?
Oh my, zoo keeper, do you have something to tell us?!?! Were you the one feeding the monkeys?!?!?!??!?!?! Is this why all our monkeys are at the zoo vet?!?!?!??!
THE DAM GOOD COFFE:
This one's not exactly 'depressing' but it's great: it gets a place in my post.
Apparently, Coopers Catch knows exactly what good coffee is. It also knows that they have some DAM GOOD COFFE.
HAHAHAHA! Okay this one's great, every time it makes me laugh sooooo bad!! XD  This is so great… Best post idea ever!
Who wants some DAM (Not damn) GOOD COFFEE?!! EVERYONE HAVE SOME DAM GOOD COFFEE!
This is great, Coopers Catch you're great. (so is your fish'n chips!)
Don't, just don't sit on the barriers:
Don't sit on the barriers, don't be dumb. You saw what happened to the lady who sat there. Do you have a death wish or something? Or do you just really want to fall on top of a geyser?
I don't even know how I feel about this one.
Hahahaha!
DANGER:
Beware, guys, the gravel is loose. You really don't want to slip all the way don't there, it's a long way down. Annnnnd there's a river down there.
Ouuuuuuch, that must hurt…
The dude in the picture, looks like his hair on fire which is odd.
You also don't want to drop the delicious Kumaras (sweet potatoes), They're just too good to just fall into a river!!!
I just realized it looks like the guy wanted to bust out some dance moves or wanted to start a Kumara fight.
Theres bus trails on the path: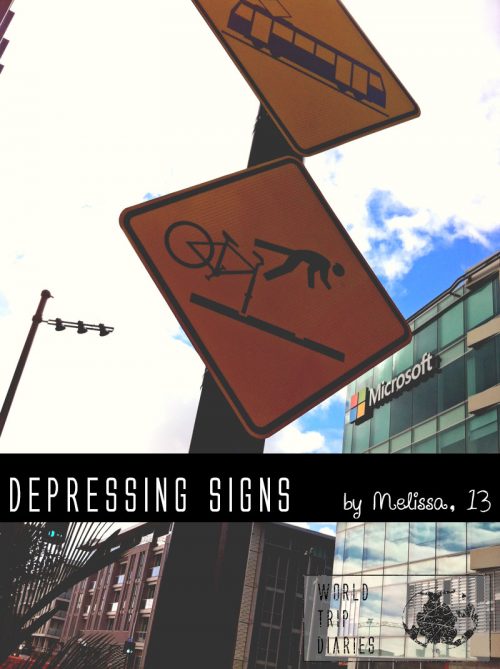 Yeeeeah, theres bus trails on the path…
hahhahah..
The first time I saw this I laughed so hard because I thought that the wheels of the bike had fallen off, but apparently, the wheel of the bike got stuck in the hole and it turned, like sideways.
Hahahahahhhaahhahhahahahahah!
Let's faceapalm on the floor guys!! Haha, how? like "what?!"
Butt scooting:
Who wants to butt scoot down the stairs?!?!
Let's have a race, because that definitely a good idea!
Oh and, don't forget to lift one of your arms up in the air and wave to all the people staring, as you go the stairs.
Hahahaha, I don't think anymore falls down stairs like that, I mean you usually hall down stairs headfirst but whatever, I guess…
hahahah!
Not even I have fallen down stair like that, and I fall down everything.
I think I might need more help then the people who make these signs…
Now, for the last sign of the post… The best of all…
The Upside-down:
First, this one wouldn't look so depressing if it wasn't upside down. Because someone had to put wrong on the train door…
The sign looks depressing as it is but when you flip it upside-down, the poor stickman is stuck upside down, with one leg stuck in the door…
HOW DOES THIS EVEN HAPPEN?!?!
HAHAAHAHAHAHAHAAH!
I don't even know anymore..
Now, we've gone over all the pictures… This is just crazy…
WHAT WAS THE POINT OF THIS?!?!
Hahahahahah! This was probably the funniest post to write.
Anyway, hope you enjoyed going over these 'Depressing' signs with me today. Honestly, this is so pointless it's great. Until next post everyone!
Bye!!!
Love Melissa <3
Which of these were your favourite?
#Depressing
SaveSaveSaveSaveSaveSaveSaveSaveSaveSave
https://www.worldtripdiaries.com/wp-content/uploads/FEAT-mel-depressing-signs-world-trip-diaries-1.jpg
288
815
Thais Saito
https://www.worldtripdiaries.com/wp-content/uploads/wtdlogo.jpg
Thais Saito
2017-04-03 17:04:02
2017-07-31 10:05:21
DEPRESSING SIGNS, by Melissa