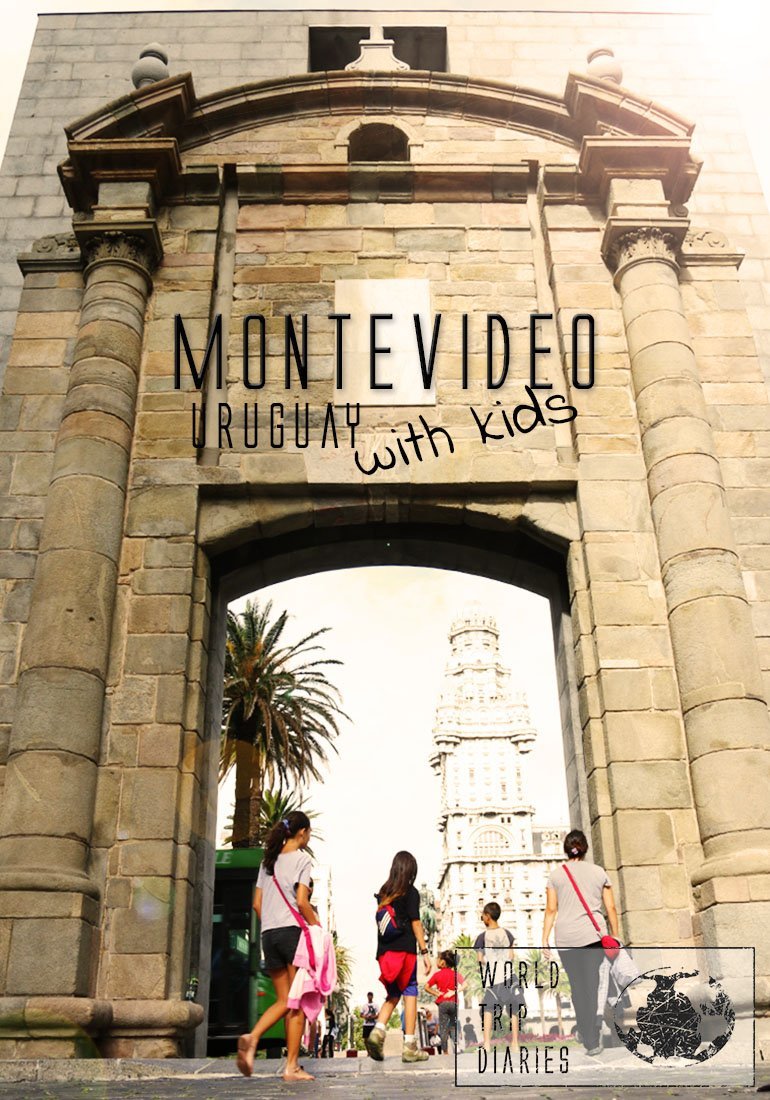 We spent a bit over 2 weeks in Montevideo, Uruguay, in February 2017. On this post, I'll share with you what we did and how you can have an awesome Montevideo time with your kids.
I'm just going to start by saying that I loved Uruguay, but Montevideo was almost perfect. Almost because the dog poop all over does annoy. Plus the stray dogs break our heart.
But it was still an amazing place.
We decided to go during summer because we want to avoid the cold. Montevideo's summer is beautiful, hot, BUT expensive. Super expensive. It was the most expensive place we've been to so far – even more than Japan. We paid so much in accommodation that we had to drop Punta del Este day trip.
It was also Carnaval season, which makes things a lot more expensive (and it lasts for 40 days, so not very easy to skip, but it IS an awesome time to be in the country).
During the high of summer, prices are, on average, accommodation is 3 to 4 times more expensive than in other times. Next time, we might decide to visit in March, when summer holidays are over and so is high season, but it's still warm.
We arrived at the airport and took a bus to Tres Cruces. It was a strange experience as 2 people entered the bus selling things (socks and snacks). Google Maps decided not to work offline and we just couldn't tell if we were close or not. Luckily Angelo speaks Spanish and he asked a police officer where we were supposed to get off of the bus and he let us know one stop prior so we could wake the kids up, put backpacks on and leave.
Tres Cruces is a big bus terminal + shopping mall + square. As we were hungry, we decided to stop at the mall and eat something before heading to the house (it was also a little bit earlier than the arranged time). Well, walking around the mall with our huge backpacks at lunchtime was not a very pleasant experience. Luckily, there's an upper floor food court area with tables and chairs – it was less crowded. We had Burger King because we thought it'd be easier to order and faster. It was OK.
HOUSING
It took us around 30 minutes walking from Tres Cruces to our first apartment in Montevideo. (If you're new to Airbnb, sign up here so you can receive a discount on your first booking – and we get a discount too!) This apartment deserved a whole post to itself. It's beautiful, spacious, silent, the doormen were delightful, everything worked perfectly. They even left us a whole pack of toilet paper and soap bars (very rare – the hosts usually leave one or 2 rolls, even if you, like us, are staying for a week or longer). Everything was super clean, beds were nicely made and we loved every moment in that place. We found out later on that it's actually close to Tres Cruces and we made that walk a few times – easy and pleasant 10~15 minutes on foot with a 4-year-old who loves to stop to see everything around. There's a bus stop right in front of the building, which was great, and a nice supermarket less than 10 minutes away, but many convenience stores a few steps from the entrance. I think it's worth going to Montevideo just to be in this apartment, mind you. It's in Parque Batlle, a nice and green neighborhood in Montevideo.
We went to Colonia and when we went back to Montevideo, we spent our last 10ish days in this other apartment. This one was closer to Ciudad Vieja (Old Town), which is the center, to La Rambla and to Disco supermarket, but it was smaller. The doormen were super sweet and Claudio was the best host we've ever had. He went above and beyond what would be expected from a host, so I can't really recommend his house enough. The best part of this place was that, during Carnaval parade days, we could see it from the apartment windows. It was pretty fun to watch the rehearsals after the kids went to bed with a nice cup of tea in hand. Plus, we could go down, feel the energy and just go back in a few steps. But it was also very loud, so it's not for the noise sensitive (during Carnaval season, between February and March).
By the way, if you're noise sensitive, avoid Carnival season altogether. There are drums everywhere.
Well, if you're not very into Carnival, just skip this season in general because housing is super super super expensive at this time.
TO SEE
Plaza Independencia (Independence square) is where the magic starts. It's the doorway to Ciudad Vieja and it's also where the mausoleum of José Artigas. We didn't know what it was until we actually entered it (it's free and has no lines). It's just underneath the statue, not very easy to miss. The Plaza is the border between the old town and the city center. It's also a great place to sunbathe (if you don't like sand, of course, because otherwise, head to La Rambla), let the kids run and play.
Right after (or before, depending on where you're coming from) there's Ciudad Vieja's entrance: the Ciudadela. It's one of the few remaining parts of the wall that surrounded Montevideo in old times. I love it, it's iconic BUT there's just so many people taking photos there it's actually hard to take one decent photo there. From there on, there are many pedestrian only streets and they're just gorgeous. The buildings are super old (some are even falling apart), but it's a live place, with people actually living, shops, restaurants, and all kinds of commerce. Even some cannabis shops with tons of tourists taking photos with the marijuana plants. (it is legal in Uruguay, so you'll find it everywhere)
Ciudad Vieja is just amazing. It's beautiful, it's full of energy, it combines perfectly the old and the new. The only problem, though, is the dog (hopefully dog) poop everywhere. It was hard to walk and not step on one. It's worth the walk even if you step on poop and you really don't care about architecture. We walked around this part of the city many many times. The kids could run free, there were friendly stray dogs, ice cream, a few squares with people performing, sunbathing, resting. There were a few playgrounds also. I loved it.
La Rambla is another amazing place. It's just the avenue that runs along with Rio de la Plata (the river). We used to walk around 5~10 km every day and it was lovely. There are people exercising, resting, dating, having lunch and just being. It goes from one end of the city to the other, so you can see a lot there. We found it very safe even at night time and had tons of fun there. There's also El Cuadrado, a roller-blading area, playgrounds and nice resting areas.
Parque Batlle is a huge park with a nice playground that gets crowded on weekdays afternoons with schools. Really crowded. It was still nice. The food stall there had once of the coldest and nicest Cokes we've ever had. When we were there, we saw a few ponies around too. They probably belonged to the amusement park they were building for Carnaval.
It's also very close to Estádio Centenário, the Uruguayan soccer stadium. You can tour it cheaply, but when we were there, the guy just let us pass. Everything seemed to be closed, but there was a sign saying that tours were at gate 15 (or was it 11?) so we walked around the stadium to find it and it was closed, but not locked, so we entered and asked. The person there just told us to go ahead so we went. It was in renewal, and it was still impressive. Huge thing and the upper seats were way too high and gave me the chills. In it, there was also the Museo del Fútbol. We entered it, as it was open and after we saw everything, we were told we had to have tickets. Ah, well, we apologized and left but here you go: even if it's open, you may need a ticket to enter and even if it's closed, it might be OK to enter. You'll never know until you ask.
Parque Rodó is another enormous park. We didn't find it's playground but it was entertaining enough as it was. It also has the Feria, or market fair, on Sundays. It sells mostly clothing but there were some other things, like paintings, house decorations and the likes. It has a nice view of La Rambla at night too. It has a small amusement park there. Coral liked it but the other 3 refused to participate.
Teatro Solis is a beautiful and enormous theater in Montevideo. It's just as beautiful on the inside. The guided tours are cheap UYU 60 for English, Portuguese and French tours, and UYU 40 for Spanish tours. You can enter to buy tickets for the current shows and have a coffee for free too.
Mercado Agrícola used to be the produce market there but now it's more of a shopping mall. The outside is beautiful, but the inside is just like any other mall, really. When we were there, we spent around 20 minutes inside. There was this super distressing beeping sound – it just didn't stop! It literally gave me a headache. Even Angelo, who doesn't complain about anything, wanted to leave as fast as we could. So, sorry, but we don't really know what happens in there that would be worth the visit.
La Fuente de Los Candados (Av. 18 de Julio 1249) is the lock fountain in Montevideo. It's on 18 de Julio avenue and it's literally a fountain with a gate around it that's full of locks. It didn't even have water when we visited, and it was on the sidewalk. Well, it may be worth the visit if you plan on leaving your lock there but otherwise, you can see it if you pass through it or go to Bar Facal have a mate.
Museo del Carnaval is the Museum of Carnival. It's small and a bit scary for younger children but it's full of culture and maybe you'll enjoy it!
Playa de Los Pocitos is a famous beach in Montevideo and it's also where the Montevideo letters are. The water is warm but other than that, we didn't think much of it.
TO EAT
Eating is serious business here. There's a lot of beef since it's the biggest industry of the country. I mean LOTS of beef. Asado is everywhere. But fear not, vegetarians and vegans, there are a few places that offer vegetarian options and some vegan restaurants too.
Mercado del Puerto is where the meat is. Want to try authentic parrillada? That's the place. It's basically a bunch of restaurants with a few souvenir stands. The best one, in our opinion, is Cabana Veronica. It's often full, so maybe you'll need to wait. It's a good thing because while you're waiting, you receive (well, I received, haha) some nice bubbly champagne-wine drink and it's sweet, refreshing and delicious. I don't do alcoholics, but I still liked it a lot. It's a shame I forgot to see what it was called so I could buy one.
Ceibo was a fun restaurant we went to. It had a super delicious vegetarian meal of lentil croquette with salad. It had more options, but this one was my favorite. The desserts were also really good.
Locos de Asar is another asado restaurant, but trust me, their veggie kebab is delicious! And the desserts! It's worth just for the dessert!
SHOPPING
Tres Cruces has a mall, it's a regular mall but at the bottom floor, there's the bus terminal and it's where you can find all the bus companies to choose from. There are lots of them, but we used COT and found it to be pretty good!
Punta Carretas is another mall, a fancier one. We were there, though, for the movies.
Mosca is a stationary chain and, well, you want to make me go crazy? Drop me in a stationary store. Melissa is just the same, so they had 2 crazy ladies in there. They also sell toys and books.
The ferias are also great for buying stuff! Tristán Narvajo is a huge one (it probably takes up all the city, we couldn't see the end of it) on Sundays, on 18 de Julio. Must see. There's another one in Parque Rodó, which I wrote about in Parque Rodó.
SUPERMARKETS
Kinko was the first one we went to, but it was more of a convenience store than a supermarket.
Disco is the big supermarket there and it's pretty complete. They're everywhere, so it's easy to find.
Tata was also present in Montevideo, just across the street from our second apartment and we bought most of our groceries there on our last week.
TRANSPORT
Taxi drivers are CRAZY. We took it once from Tres Cruces to the second house (as it was farther and not in walking distance with bags) and it was enough. Seriously, they didn't stop once. And we took 2 cabs, one for Angelo and 2 of the kids and one for me and the other kids. Both did the same thing and went through different ways. My cab even started going back on a one-way street because he'd passed our building. He went back for 2 blocks. Once was enough.
Besides the taxis, we used mostly buses. From local buses to the bus to and from Colonia, we had no problem at all! They're very punctual, very reliable, safe, and relatively comfortable. I really believe that bus is the way there in Montevideo.
TATTOO
We had our Uruguay tattoo done at Luces y Sombras with Chelo Lópes. He was nice even though I speak no Spanish at all and understood what I meant. It was super cheap, UYU 2000 (around US$ 100) for me and Angelo both. And I loved it!
LAST NIGHT HOTEL
For our last night, we spent the night at Hotel Bahamas. They said there was a heated pool, a kitchen in the room BUT let me tell you. The pool was there, it was clean and small but it wasn't heated at all. The kids had fun in it but it was a bit of a disappointment. Then we tried to drink a bit of water from the kitchen tap and it didn't work. We called reception to see what was wrong and they told us that the kitchen isn't for use. Sad.
But the linen was clean and the shower had good pressure. Breakfast was OK and the transfer to the airport was great. Everyone working there was nice enough, other than the unusable kitchen and the unheated pool, it's OK. It's a good price for a one-night thing.
AND THE REST…
Montevideo, though, is NOT pram or wheelchair friendly on some parts. The sidewalks often were uneven, a few parts were broken, and the drivers sometimes are pretty fast, so not safe to wander around in the streets.
The internet, though, it was a dream! Steady, fast, and everywhere. OK, we were in Montevideo and Colonia only, but the internet was perfect in both places, even on my phone. It was the best internet we had so far. Better than Japan, imagine that.
Wear sunscreen. Really. Even if it's cloudy. The sun really burns there.
Well, it's already long enough.
This is our guide to Montevideo. If you read it until the end, you're probably planning your visit there! If you do have any questions, leave them bellow and I'll answer them as fast as I can!
Did you know we have a channel on Youtube? Check us out there!
SaveSave
https://www.worldtripdiaries.com/wp-content/uploads/FEAT-montevideo.jpg
287
815
Thais Saito
https://www.worldtripdiaries.com/wp-content/uploads/wtdlogo.jpg
Thais Saito
2017-03-22 17:37:03
2017-12-26 02:26:51
Our days in Montevideo, Uruguay, with kids