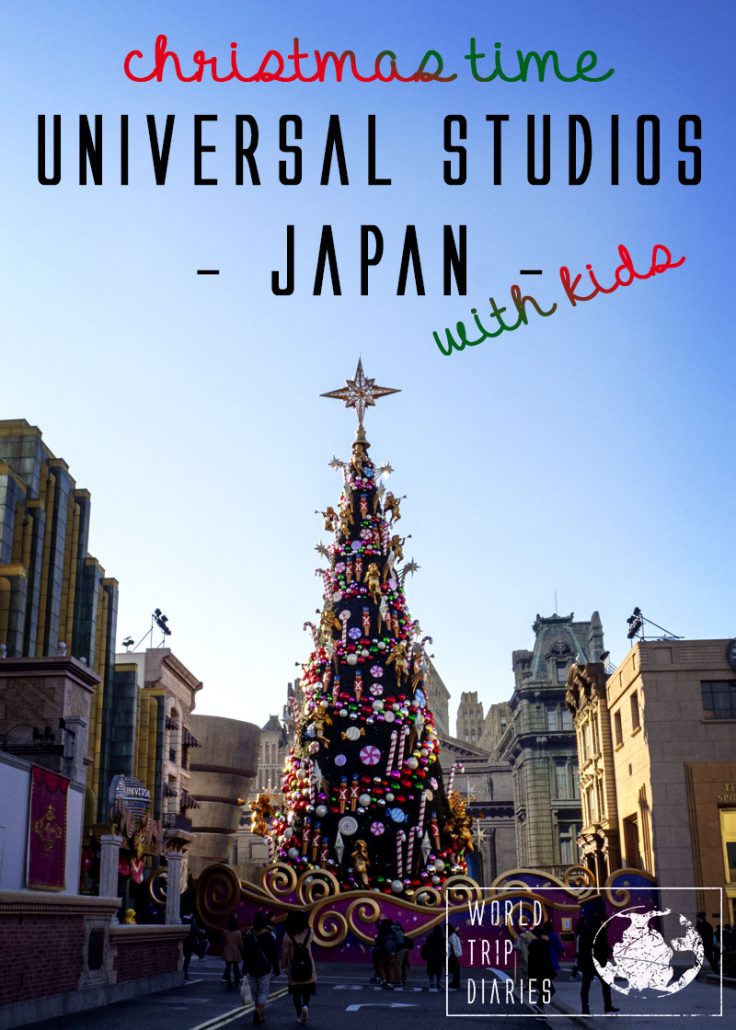 This time, we arrived in Japan through Osaka and we decided to see Universal Studios Japan decorated for Christmas during one of our first days. So here's our guide to Christmas in Universal Studios Japan: winter version.
We visited it on a Wednesday in December, just before Christmas.
* We have a post for USJ during Halloween, click here to see it!
**Grab your ticket to USJ here! (affiliate link)
Going from Osaka to Universal Studios Japan by train
We always go by train because it's one day in the park only and it's super easy to get there.
JR Osaka Loop line has one special line that goes to Universal City Station, which is the Universal City Walk Station. They come around every 20 minutes, so it's easy and quick.
Take the train going to Sakurajima – Universal City and exit when everyone else does.
Christmas at the Wizarding World of Harry Potter
We were expecting the entry to the Wizarding World to be ticketed to control the crowds, but the park was empty (to USJ standards) and entry was free all day long so we were able to go once in the morning, then go back again after we'd done all the other rides.
Well, I need to say that the (fake) snow on Hogsmeade rooftops looks a lot better during winter than during summer. I always felt weird looking at that snow while the heat was literally baking us.
OK, so the entrance to Hogsmeade had a wreath, giving it a little feel of Christmas. Hogsmeade itself hadn't changed but there was a 'magical' Christmas tree near the performance stage.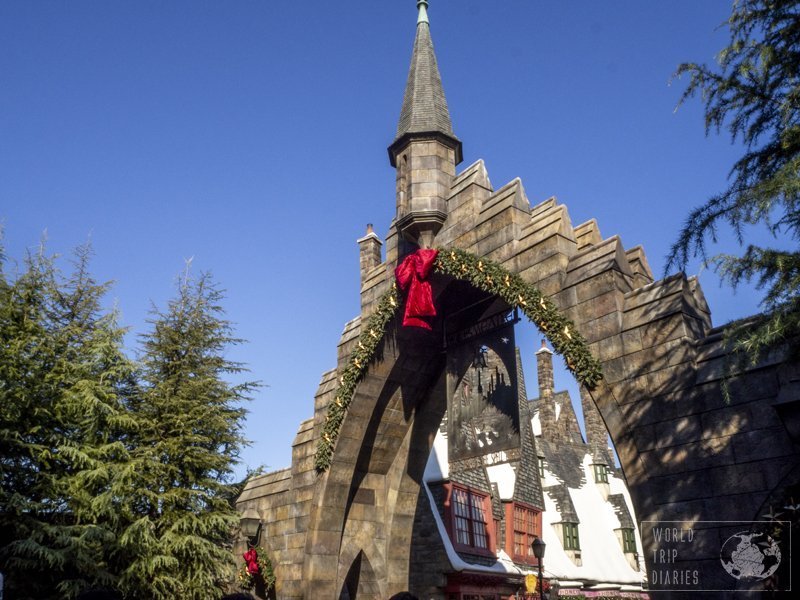 The best thing about that tree is that if you have a magical (aka interactive and more expensive) wand, you can cast TWO spells ('lumos', making the lights stronger, and 'locomotor', making some of the decorations move).
Hogwarts Castle and Hagrid's hut didn't have any special decoration, but I was in line for Flight of the Hippogriff with Coral (5) while the rest of the family went to ride The Forbidden Journey and she started saying that it was snowing. I was like 'Okay…'.
It wasn't until we were actually riding it that I saw the snow on the castle. I am kind of blind, people, I need glasses.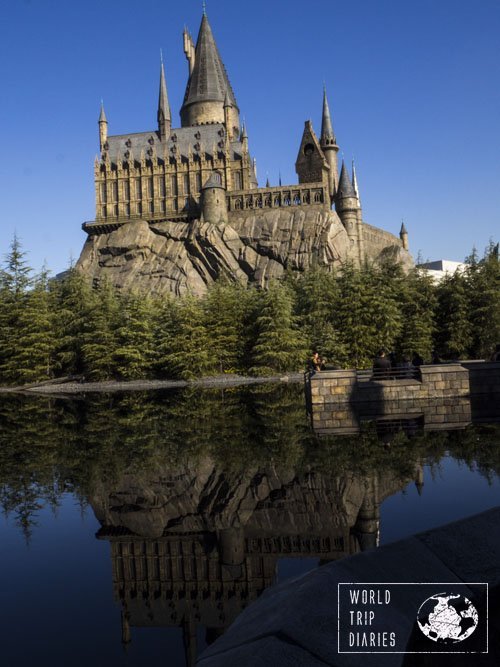 They had a projection going on that made it look like it was actually snowing (only on the Hogwarts Castle, though). It was so beautiful…
After sunset, they started with the amazing light show on the castle (somewhat like Wishes in Disney World) and it was AMAZING. We have bits of it in our video. The crowds for the first few shows were a crazy thing, and all through the night, people wanting to go for the rides had to go through a passage created exactly for this reason.
The Hogwarts light show lasted for around 10 minutes and it kept being shown every 20 minutes, so don't fret, and go for the later shows as they're a lot more empty. AND enjoy The Forbidden Journey and the Flight of the Hippogriff with very short lines (20 minutes) during the shows.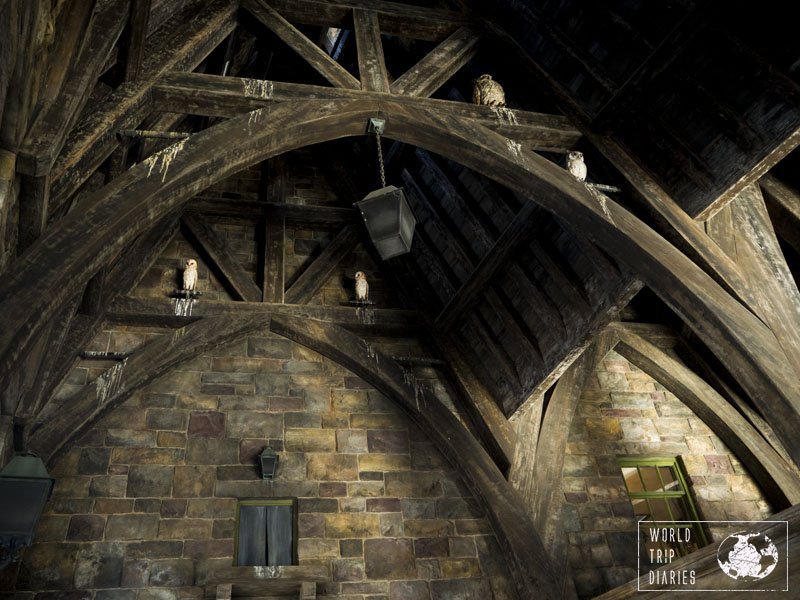 Christmas at Universal Studios Japan
The whole park hadn't changed much and we didn't watch any of the parades and shows, sorry. We were really to busy trying to conquer all the rides and it was really cold to be standing to wait for a show.
There was a special parade called The Voice of An Angel, and it got pretty full around an hour before the time scheduled – great because the rides get empty but bad if you want to watch it.
A huge Christmas tree (and everyone trying to take a photo there, it was pretty hard to walk without photobombing) was standing there near the Spiderman ride, but other than that, nothing. Some restaurants had special Christmas food but it was expensive and the lines were huge, so we also skipped them.
We like to avoid lines whenever possible, I bet you've noticed. They said on the website that the tree changes colors after the 'The Voice of an Angel' event, but we missed it altogether.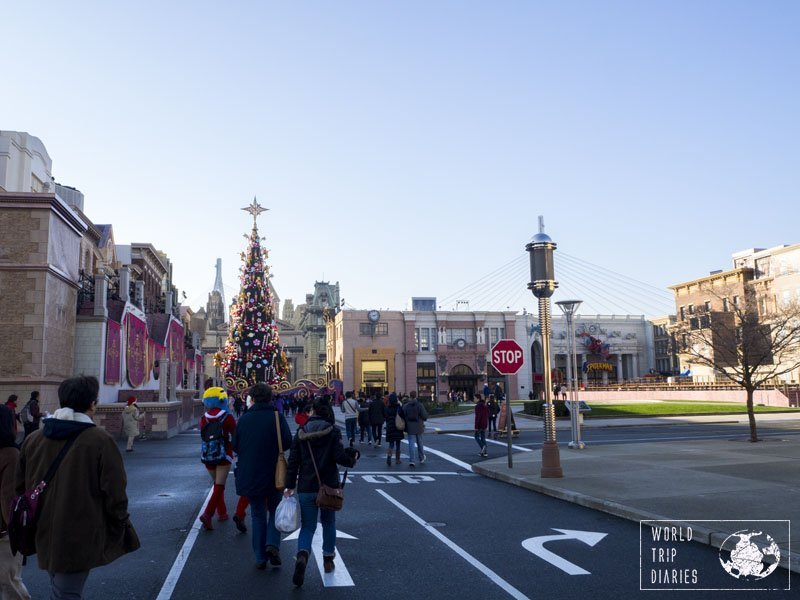 The Wizarding World also had an interactive Christmas tree, but it was very difficult getting close to it – the lines were always huge!
So, yes, if you avoid the Christmas, New Years' and Valentines' weeks, chances are you'll get the park a lot less crowded than usual. And if you avoid all the parades, you'll get a lot more rides done. If you want, there are a lot of different crowd prediction calendars for USJ around.
The park itself isn't different from the other times of the year, and there isn't much difference, except that the JAWS shark was wearing Santa clothes. Don't expect a stunning decoration, though. The streets in Osaka were more decorated than USJ.
If you're going to USJ, buy your ticket here!
Food in USJ for families
All we had was popcorn. Well, almost. We had the hotdogs and a Spider-man (Spiderman bun) from the stall right in front of The Amazing Spiderman ride. The hotdogs were fine, but the bun was kinda gross. Avoid it.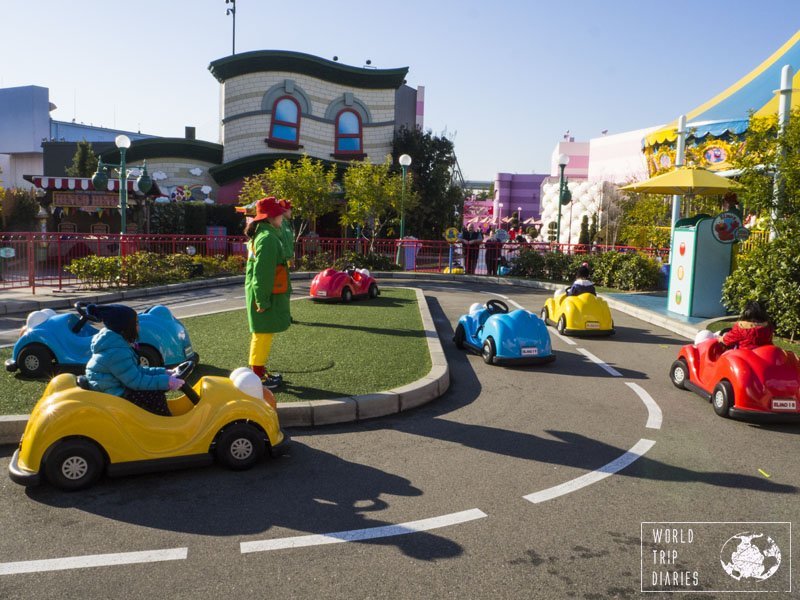 Now back to the popcorns. We bought a pre-historic Minion bucket (we always get the buckets, they're just cool and easier to manage but pretty expensive – JP¥ 3200, which is around US$ 32) and refilled it almost every hour. Every full refill cost JP¥ 780 and a half bucket refill, which is the size of the regular popcorn cup there, cost JP¥ 450.
This time, we tried turkey leg flavor and caramel popcorn. The caramel is my favorite and it's the easiest to find. The turkey leg flavor was in the Jurassic Park area. The other flavors weren't found, otherwise, we'd have tried them all.
The price of the food isn't very different from the restaurants outside the park, but the drinks are highly overpriced. The vending machines are fun, but it ends up being very pricey, so maybe grab a bottle in the morning and refill it with water when needed. There are water fountains everywhere.
You can bring your own food to the park, as long as it doesn't need to be refrigerated. We only took a bottle of water this time because we had plans to only eat popcorn. The hot dogs came when we were too tired to keep walking and needed a break and it was the perfect excuse.
One thing that's unmissable is the hot butterbeer in the Wizarding World of Harry Potter. Yum and warming! You'll find it at the Three Broomsticks, at the Hogs Head or at any of the stalls at the Wizarding World of Harry Potter in USJ.
Rides, tickets, and all the logistic of a day in USJ with kids
We arrived early, a bit before park opening hours, and the entrance was opened. A huge crowd was entering the park.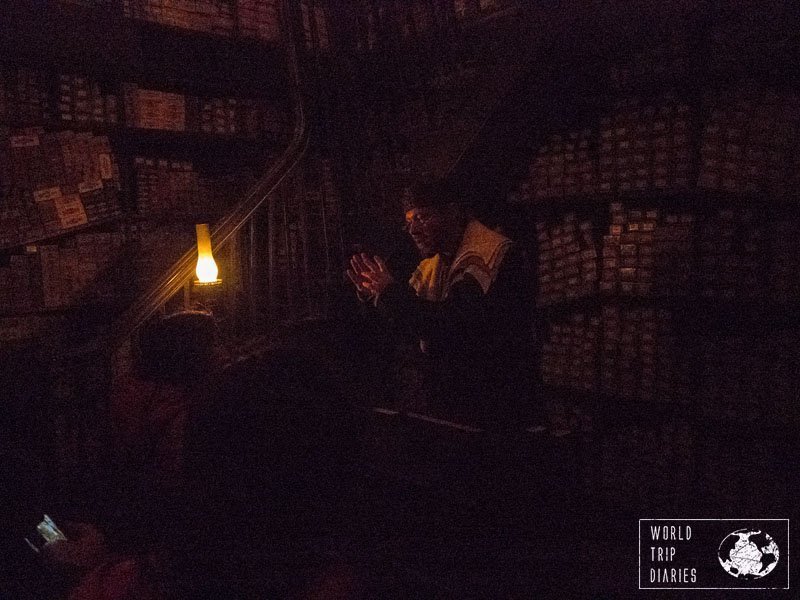 We used to buy our tickets online (in Japanese, mind you, the English version didn't sell tickets. Now we only buy them through Viator. Super easy and the same price! It works perfectly) so all we had to do was scan our phones on their reader (a LOT better than Tokyo Disney, they require the tickets to be printed).
It was pretty fast and easy. I answered a survey right there and received a mini-ball pen in exchange, which made Coral super happy.
Park tickets cost JP¥ 7400 per person 12 and older and ¥5100 for children 11 and under (2019 prices). They offer Express passes, and 2-day passes, but I don't think they're worth it. You can see the whole park in one day without it, even with kids.
By the way, tickets are dated, and even though you can change the date afterward, you will need to make the change by phone, you can't just show up on any other day.
The best rides at Universal Studios Japan
While Melissa and I went to ride Hollywood Dream, Angelo took the other three kids to Universal Wonderland, where all the kiddies rides are. They managed to conquer a lot of the rides during the 30 minutes we were away.
Hollywood Dream is a rollercoaster for 132 cm or 52 in or taller people. It's one entrance to two attractions: Hollywood Dream and Backdrop. The Backdrop is the same rollercoaster, but it goes backward. The line separates in the middle, there's always someone there to guide people to the right place. The wait line for Hollywood Dream was 30 minutes while for Backdrop, it was 80 minutes. We chose the Hollywood Dream – I wonder why. If you want to ride this one, make sure to go first thing in the morning or the last thing before the park closes, because that's when the lines are shorter. We passed it a few times later and it was always over 2 hours waiting for the Hollywood Dream and over 180 minutes for Backdrop. Not worth it.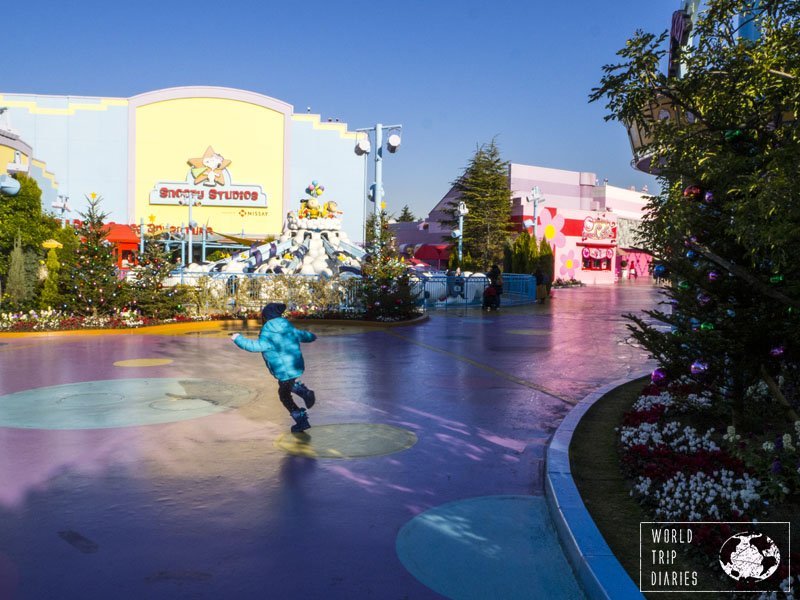 Meanwhile, in Universal Wonderland, the kids rode:
Elmo's Go-Go Skateboard, which is a boat thing that goes up, down, and it turns a bit around in a skate ramp. It's more fun than it looks. It's for kids over 92 cm or 36 in with their parents or 122 cm or 48 in to go unaccompanied. Angelo couldn't go because the lock wouldn't close properly so he was given free Express Tickets. Great deal!
Elmo's Little Drive is for kids between 3 and 5 years old only (for older kids, there's Sesame's Big Drive, which isn't worth the line, according to my older kids). They can drive the car around on their own on a small course there. Coral (5) loves it and goes a few times every time we visit the park. Next time she'll be too old for the Little Drive, though.
Hello Kitty's Cupcake Dream is one of those spinning cups attractions, but it's a cupcake instead of a teacup. Very cute, and any kid can go when accompanied by an adult while 122 cm or 48 in or taller kids can go by themselves.
Moppy's Balloon Trip is the same as the Cupcake Dream above, but it goes up a bit, like Dumbo in Disney or those airplane rides in most parks. Kids taller than 92 cm or 36 in can ride with their parents or 122 cm or 48 in can go unaccompanied. That's where we met them after our rollercoaster ride.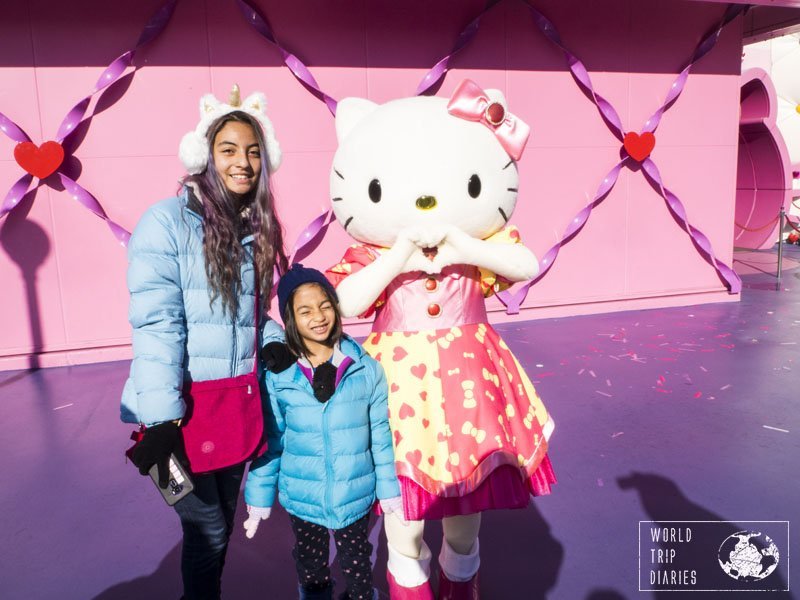 The Wizarding World of Harry Potter at Universal Studios Japan
After that, we decided to go to the Wizarding World of Harry Potter because we could. Here are the best things to do there:
Window shop because the shops are pretty and amazing and they have all things Harry Potter. They are very expensive and the shops are very crowded, but it's fun browsing through them.
Have a butterbeer – try the cold, the frozen, and the hot versions. I like all of them, but my family doesn't really like hot butterbeer. Tsk. More for me, I guess.
Watch a show in Ollivander's shop, as they're very entertaining. Plus, you may get picked to be chosen by your wand. We went twice, once in the morning, when the waiting times were 20 minutes, and once in the evening, when the waiting time was 10 minutes. Coral (5) got picked for the second time and loved it. It was very fun. I love that the wandmaker was clearly British, so he spoke in English and in Japanese – everyone can enjoy it! It's a bit dark, and it's closed, so not everyone likes it, but it's a lot of fun.
Ride the Forbidden Journey in the Castle. I love it. It always makes me a bit motion sick, but I always ride it. Not this time, because the lines were long and I'd ridden Hollywood Dream, so I let Angelo ride it while I went for another turn on the Flight of the Hippogriff with Coral. It's a very cool ride, with 3D glasses, and the characters. The line goes through Hogwarts Castle, which is impeccable and great. For people 122 cm or 48 in or taller and there's a seat trial at the beginning because bigger people may not be able to ride it. Angelo always needs a bit of a push, but he fits. It's a photo attraction, so you can buy your photo in the shop after the ride. If you want to take a photo with the Fat Lady, you'd better do it while you're in line because it's the best spot!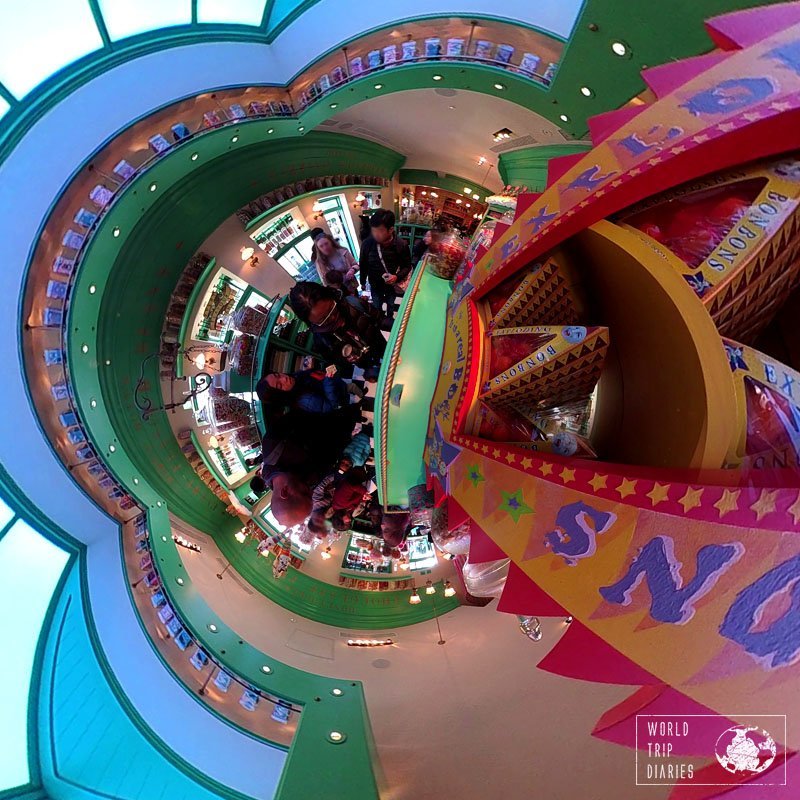 Take the Castle Walk because, even when the line is long for The Forbidden Journey, you don't have enough time to go around and look at every detail. Trust me, you'll want to see it. It's so perfectly done, it's my favorite part of the Wizarding World. Anyone can go. Even Coral liked it this time because we watched the first few movies with her. She saw Dumbledore and got all happy.
Can't-miss the Flight of the Hippogriff and bow to Buckbeak – see if he bows back! He does, but maybe it's not to you. This is a mild rollercoaster for people over 92 cm or 36 in with their parents or 122 cm or 48 in to go unaccompanied. Coral loves it. The line is cute and we pass through Hagrid's hut, which is awesome, and Fang barks. Love it!
Make magic! There are a lot of places where you can use your interactive wand and make magic. Coral (5) was enchanted. She left Hogsmeade saying that she didn't know she could do magic with shining eyes. It was worth all the money in the world.
Take a photo with the Weasley's Ford Anglia and the Hogwarts Express. The Weasley family car is in the Forbidden Forest. There's usually a line to take photos with it. Watch it for a while as it lights up and makes noises. Pretty fun. The Hogwarts Express has the conductor outside, it smokes, but that's it, unfortunately.
Watch the performances, if you catch one. They happen quite a few times a day and they're fun. We didn't see any this time, but on our last visit, we did.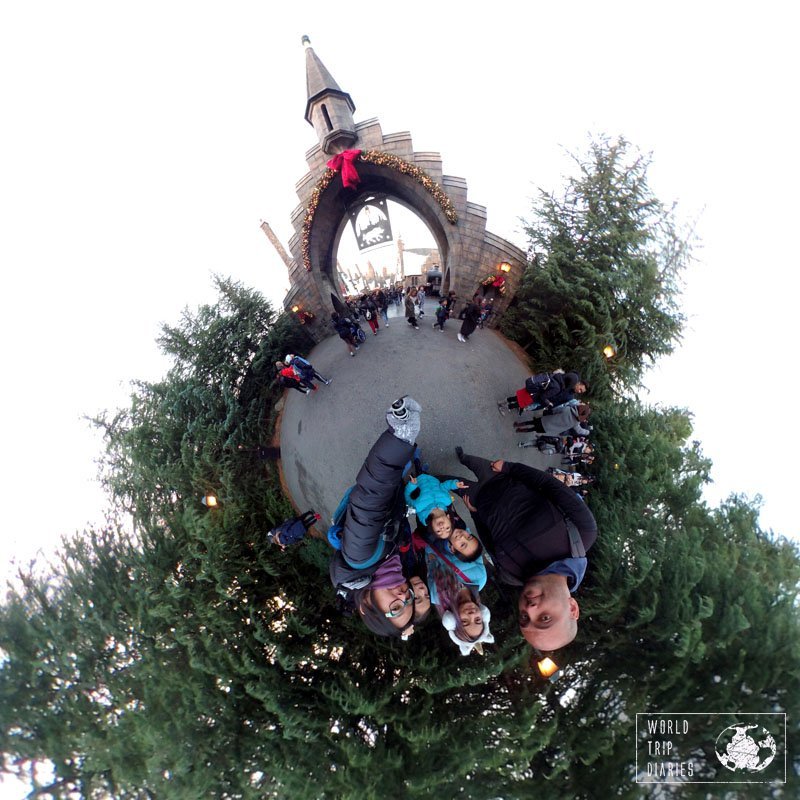 Jurassic Park
On the Jurassic Park area, there are only 2 rides.
We just did Jurassic Park, the Ride. It's a boat ride through the Jurassic Park, goes wrong, and you end up facing a T-rex. There's one big fall, and it gets people quite wet. It's a nice drop, but getting REALLY wet during winter may not have been the best idea. They do sell ponchos in line, but we thought we wouldn't need it. We did need it. Good thing our dawn jackets dried really fast. Kids over 107 cm (42 in) can ride with an adult or over 122 cm (48 in) can ride alone. It's got a photo on the drop – one of the funniest photos in the park.
The Flying Dinosaur is a hardcore rollercoaster. We skipped it because the line was long and we were really scared. People between 132 cm (52 in) and 197 cm (77,5 in) can ride. You ride it flying Superman-style, tummy down. Yikes!
Amity Village
The only ride in Amity Village is Jaws. It's a boat ride, of course. It's fun, but a little scary for the little and/or sensitive ones. It has sharks and guns so… See if it's a good ride for your family. Mine enjoyed the last time we were there. The first time, I ended up with 2 crying toddlers.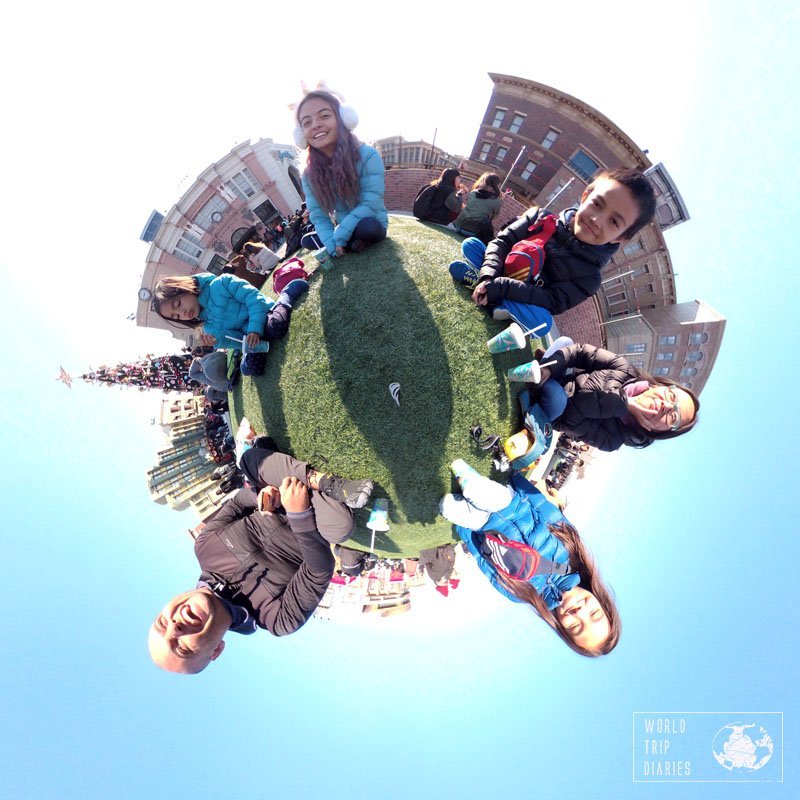 In the rest of the park, we rode:
Space Fantasy. It's a super nice and mild rollercoaster that simulates a ride through the universe. There are missions to complete, but the rider doesn't do anything, just spins and enjoys the views. It's dark, it spins, but it's a great ride for smaller kids, as kids over 102 cm (40 in) can ride with an adult and kids over 122 cm (48 in) can ride alone.
The Amazing Spiderman ride is a 3D glasses ride, pretty cool, actually. I wasn't expecting much out of it, but it was a lot better than I thought. It's a 3D rollercoaster for those over 102 cm (40 in) when accompanied or over 122 cm (48 in) to go unaccompanied. Coral (5) felt a bit scared here and there, but overall, she liked it. There's also a photo in the end.
Youkai Taisou, the Real. We went there after trying to do the Terminator ride and seeing it was closed due to the Christmas event hours. Well, it was fun. It's aimed for little kids, so Coral (5) loved it, but the other kids (10, 12, and 14) didn't. It's all in Japanese, but you don't need to understand what they're saying to get the message. It's a show that lasts around 10 minutes, with a lot of cool effects.
Minion Park
And then, our last stop was Minion Park. It was new so we had to go. The only ride at the moment is the Minion Mayhem but the whole area is ADORABLE! I mean it. It's in Gru's house (great for seeing all the details on the inside too). There's also Miss Hattie's Home for Girls, perfectly done. And there are many Minion restaurants, shows, and shops. It's worth the visit!
Minion Mayhem is a VR rollercoaster for people At least 122 cm if unaccompanied, at least 102 cm if with a supervising companion. It's fun and a great ride for smaller kids too.
The language at Universal Studios Japan
There is a slight problem with the language, as most rides and shows are only in Japanese. Some instructions and signs come in English, but don't expect to find subtitles everywhere.
Minion Mayhem had subtitles for the videos shown while we were in line, but not on the ride. The rest of the rides didn't have any at all. Ollivander's was bilingual, but it was the only one.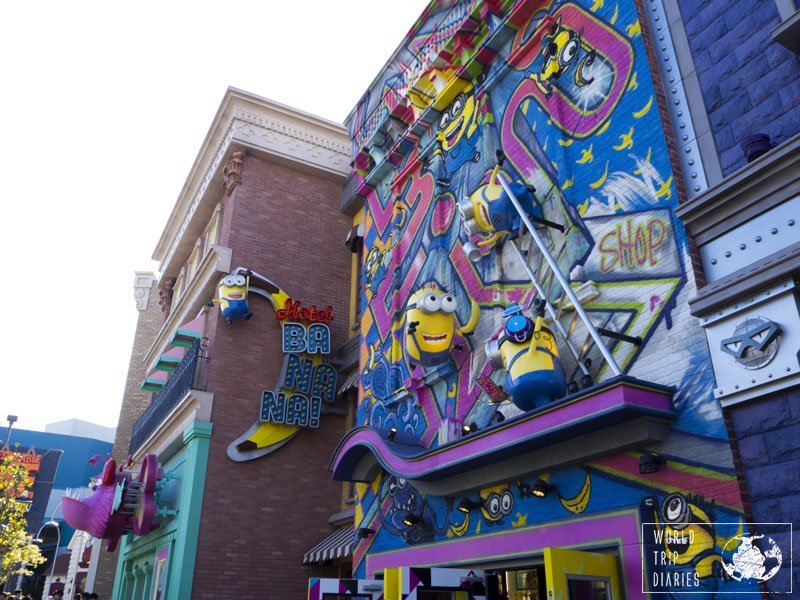 Staff can TRY to communicate, but their English isn't very good more often than not so you'll need to try hard. In some rides, they didn't even try to talk, just made gestures. I didn't realize, as I speak Japanese, but the kids and Angelo felt the lack of English.
Most rides are enjoyable even if you don't understand, but some of them aren't fully appreciated if you don't speak the language.
Plus, they talk a LOT. It's not just 'Popcorn, full or half size?' It's a lotta stuff they manage to put in one sentence, seriously.
I do think Universal Studios Japan should be a little more accommodating towards other languages since there are many tourists there, but Tokyo Disney is the same thing.
Tips for surviving a whole day out in a park during winter
Even though it was winter, we managed to enjoy the whole day pretty well. I think keeping warm was a great deal but wearing new shoes may not have been the smartest idea. I've put together a few tips to help you enjoy a whole day out in the cold, cold winter.
Wear layers – a lot of layers. At least one good thermal long sleeve tee and a pair of pants, one layer of regular warmer clothes (like a pair of winter jeans and a nice and warm T-shirt, one sweatshirt, and one nice jacket).
Don't forget your accessories, as they make a huge difference: gloves, beanie, nice and warm socks (2 pairs is better), a nice waterproof, warm and comfortable pair of shoes, and something for your neck. Note that neck-warmers are better than scarves because they don't need to be taken off on every ride, keeping your neck warm and toastie even on a rollercoaster.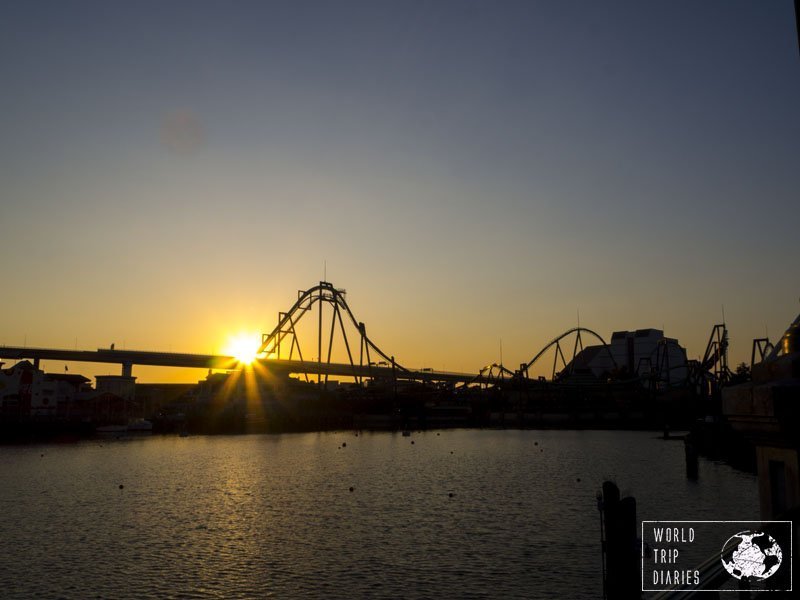 I didn't have any warm shoes. My only pair of shoes was a Vibram Furoshiki and although it's a perfect summer shoe, it's not for winter. So we went to buy one on the day prior to our Universal day. Even though I got myself a nice, warm, comfy pair of boots, wearing new boots was not a very good idea. My feet were crushed at the end of the day. It was still better than having them frozen. Keeping the feet warm is a huge step for winter comfort.
Take a backpack or a larger bag to store your items if needed. It may not be that cold during the afternoon, so you'll want a place to keep your stuff. It's a lot safer to leave your stuff inside the bag while you're on a ride – less risk of forgetting it there.
Take a lip balm and a moisturizer. I don't know about you, but my face suffers when it's cold and a little bit of coconut oil helps a lot. And the lip balm prevents the lips from cracking – you need it!
Also, wear some sun protection because it helps you from getting an even prettier sunburn. I mean beanie + scarf + sunglasses don't make for a good tan line.
Drink plenty of water – WATER, not juices or sodas or beer. Alas, bring your own bottle and refill it everywhere or buy one in the morning and refill that bottle throughout the day. Don't buy a new bottle every time you're thirsty, alright?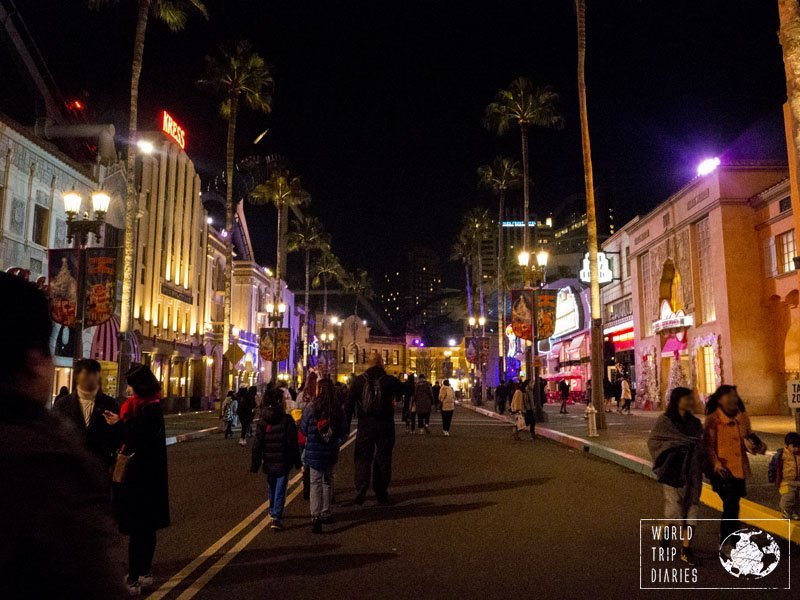 Having a meal sitting down in a warm restaurant is ideal: time to rest the tired feet, rest from the cold wind, and also to nourish the body. But it can get quite pricey and the lines in most restaurants are huge depending on the time. Do it earlier (before 11 am) or later (between 3 pm and 5 pm, or after 8 pm, if the park is opened).
Do the attractions with the longest waiting times right when you enter the park, right before it closes, or during a parade or a show. The lines will be shorter then.
Give yourself a warm drink from time to time – it's so nice, seriously. Besides, it's Japan. You'll find hot tea and coffee anywhere (paid, but…)!
Don't think that because it's cold you don't need sunglasses. You will if the sun is shining. Take it.
Move: there's nothing as useful as this in order to keep your body temperature!
Use hand warmers. They're sold in every single store throughout Japan and they're highly useful. Don't stick it too close to your body because it gets quite hot. Or you can take your reusable hand warmer…
Don't forget to enjoy, because unless you live in Osaka, it's not every day that you can visit it. Plus, the lines are a lot shorter during winter.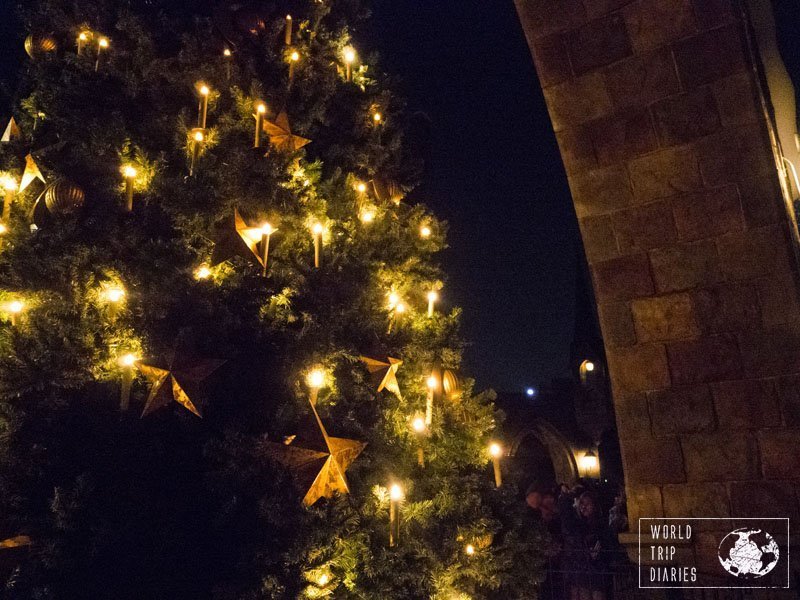 Why visit USJ during winter?
Is Universal Studios open on Christmas day?
First of all: Japan isn't a Christian country so everything works as usual during Christmas. It's open, and it's working on its regular calendar.
Winter hours are shorter than summer hours, but it's enough to do the whole park!
Is December a good month to visit it? Is Universal Studios busy in January or February?
Winter months are the best months to visit because it rains very little in Japan, and the park is relatively empty! I mean, there's a lot of people, yeah, but it's as empty as it's gonna get.
If you avoid the weeks of Christmas, New Years' and Valentines', which are romantic days in Japan (therefore, full of couples), you'll be able to enjoy the park at its best!
February is the coldest month, so you'll need to dress very smartly. But then again, it's the month with fewer crowds – if you avoid Valentine's Day, of course.
To finish it, here is our usual table…
What / Where

Minimun Stay
$ ~ $$$
Child-friendlyness
Best local transport option
Safety
Do we recommend it?
Universal Studios Japan, Osaka

A day
$$$
It's best enjoyed by grown ups and teens, but kids over 3~4 years old can enjoy too. Maybe not the whole day, though.
Train!
Super safe
Yes!
I hope this post was useful for you all, and you can check accommodation in Osaka on Airbnb, Booking.com. (affiliated links).
If you don't already, follow us on Facebook!
https://www.worldtripdiaries.com/wp-content/uploads/FEAT-usj-christmas.jpg
287
815
Thais Saito
https://www.worldtripdiaries.com/wp-content/uploads/wtdlogo.jpg
Thais Saito
2018-01-16 16:42:55
2020-06-30 00:13:36
Christmas in Universal Studios Japan: winter edition