Bye, Colombia and Hello, Canada!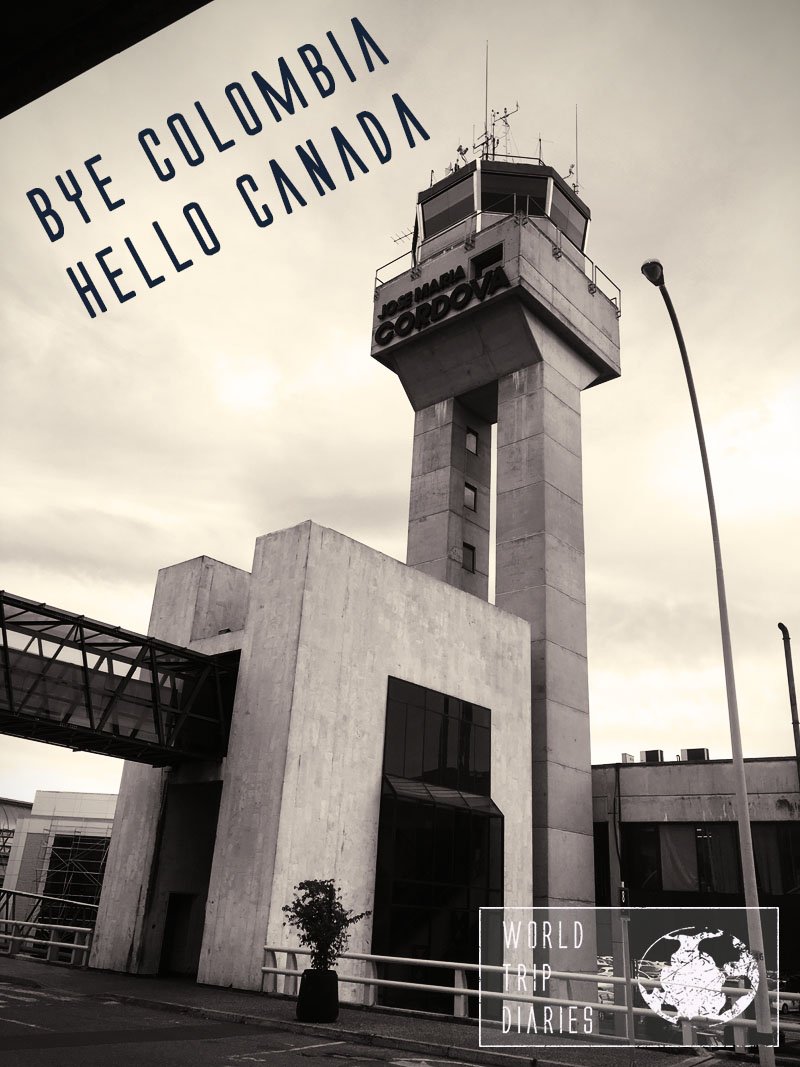 With great sadness, I declare the end – for now – of our Colombian visit and the beginning of the Canadian one! We're spending 2 months in Canada and visiting 4 different cities.
Colombia was my favorite country in South America – it was affordable, beautiful, friendly, welcoming, safe, the food is incredible, and there's a lot to see and do. In Medellín, people occupied the squares and parks until late – such a wonderful thing!
A few tips for families visiting Colombia:
– If visiting Bogotá, bring raincoats and weatherproof shoes, like Crocs – ugly but super comfortable AND easy to dry.
– If visiting Medellín, bring an insect repellent, a hat, and some swim togs.
– Bring some hand sanitizer because toilet paper is everywhere but not soap. Just know that in public toilets, sometimes the paper is outside, by the sinks or the entrance. Take a piece and bring into your cubicle. But overall, public toilets in Colombia were in great shape.
– Try some buñuelos – they're round, and they're deep fried cheesy bread. Yum!
– The Colombian empanadas, though, weren't to our taste. To be really honest, neither of us enjoyed it at all. We all thought it was yuck.
– Arepas aren't also very delicious
– BUT the Colombian chicharón (crunchy pork belly) is the best ever, and their frijol (or bean soup) is also top notch!
– Taxis are cheap, but they take 4 people under protest – they prefer taking 3 people max. If you have lots of kids like we do, you'll need Uber – and it works fine (mostly, at least in Bogotá)
– In Medellín, in 2017, there was no Ubervan or anything larger, so we needed 2 cars. The good thing, though, is that public transport in Medellín in great and you can use it just fine!
– Beware of the altitude: Bogotá is high and may cause altitude sickness. Medellín is also high, but not enough to make people sick.
It's summer in Canada, which makes everything a lot more expensive but the weather's been good and almost always warm.
From next Tuesday on, we'll have a lot more about it here on the blog!
Don't forget to check our Instagram – we post every day!
SaveSave
https://www.worldtripdiaries.com/wp-content/uploads/FEAT-bye-colombia.jpg
287
815
Thais Saito
https://www.worldtripdiaries.com/wp-content/uploads/wtdlogo.jpg
Thais Saito
2017-07-25 16:40:53
2018-08-07 23:18:26
Bye, Colombia and Hello, Canada!