Best things to do in Nagasaki with kids
Nagasaki (Japan) was, just like Hiroshima, a city destroyed by the atomic bombs in World War 2. And despite its tragic history, Nagasaki is a great family holiday destination! I'll share below the best Things to do in Nagasaki with kids – a travel guide for families!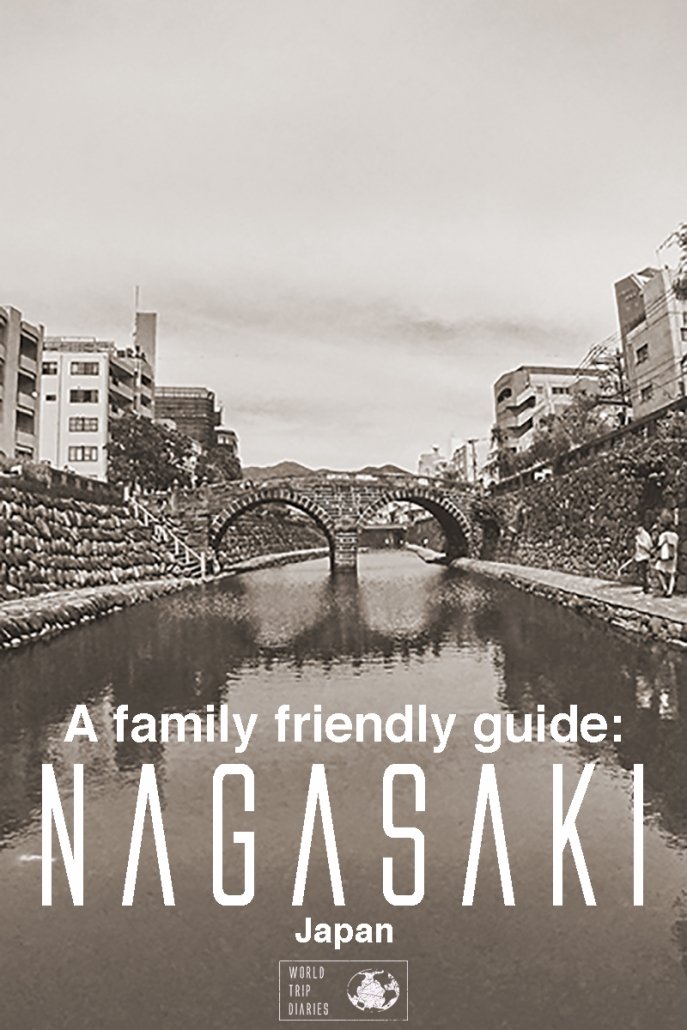 * this post contains affiliate links – they don't cost you anything but give us a small commission
Where is Nagasaki, Japan?
Nagasaki Prefecture is on the northwest coast of Kyushu island (at the South of Japan). Nagasaki city is on the West coast of the prefecture, and it was the city that received the full blow of the atomic bomb.
Even though it was almost completely destroyed then, Nagasaki city is now a beautiful city that thrives.
It also has one of the 3 best night views in the world, acording to the Night View Summit of 2012. Continue to find all about it too!
Where to stay in Nagasaki
We stayed in this pretty little apartment, called Ambiera Doza. Find their latest prices here! It's small, but it has 2 bedrooms, a living room, a kitchen, a bathroom (separate bath and toilet) and a laundry.
Everything was new and working perfectly. The shower room doubles as a drying room for clothes, which heats up and blows wind to dry everything – we found it awesome! It was the first time we encountered it.
It's super well located, very close to the Peace Park, to many awesome restaurants, to China Town, and the arcades. The internet also worked really well there, which is always good.
BUT the only problem was that there was a karaoke bar next door and they sang – seriously – until 4 am when they were into it.
What to do in Nagasaki with kids
Nagasaki is a charming city, and we truly loved it. It's green and entertaining, and it keeps this real Japan feel that we absolutely adore.
It's full of things to see and do, and it's sure to keep you occupied for a while. Find below the things to do in Nagasaki, Japan.
Peace Park (Heiwa Kinen Koen)
Yes, well, we couldn't start anywhere else, could we?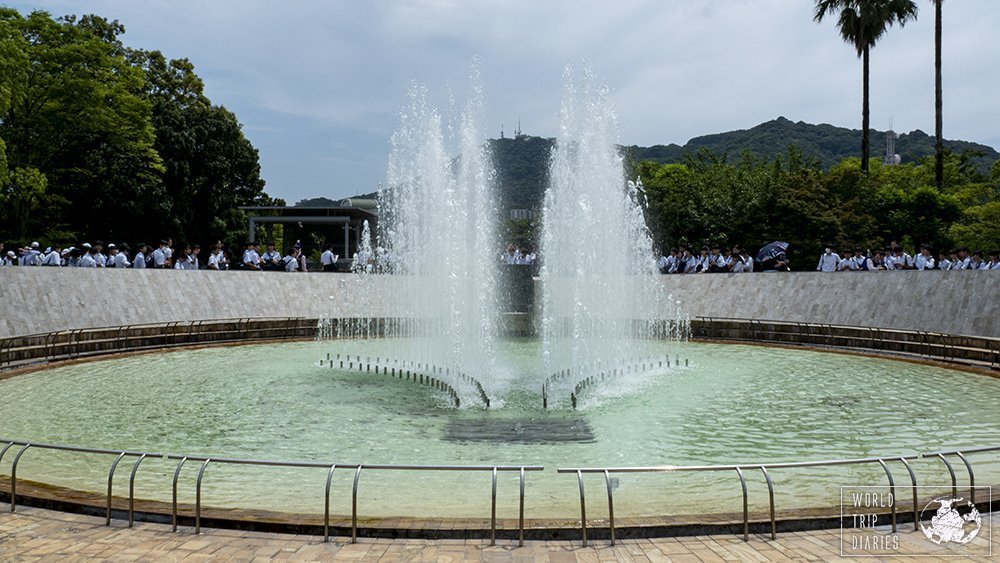 Nagasaki Peace Park is just as beautiful as Hiroshima's. It's so big and so full of things to see that I'll share that in topics!
It's divided into 2 parks, the Memorial Park and the Hypocenter Park. They're right across each other, around 2~3 minutes walking between them.
Note: there are many monuments with water – it's because many people died of thirst after the bomb. The water was contaminated and drinking it meant certain death. Now they use these waters as offering to the dead. Please be mindful and don't touch the water, as inviting as it looks.
Exit the street car at the Heiwa Koen stop.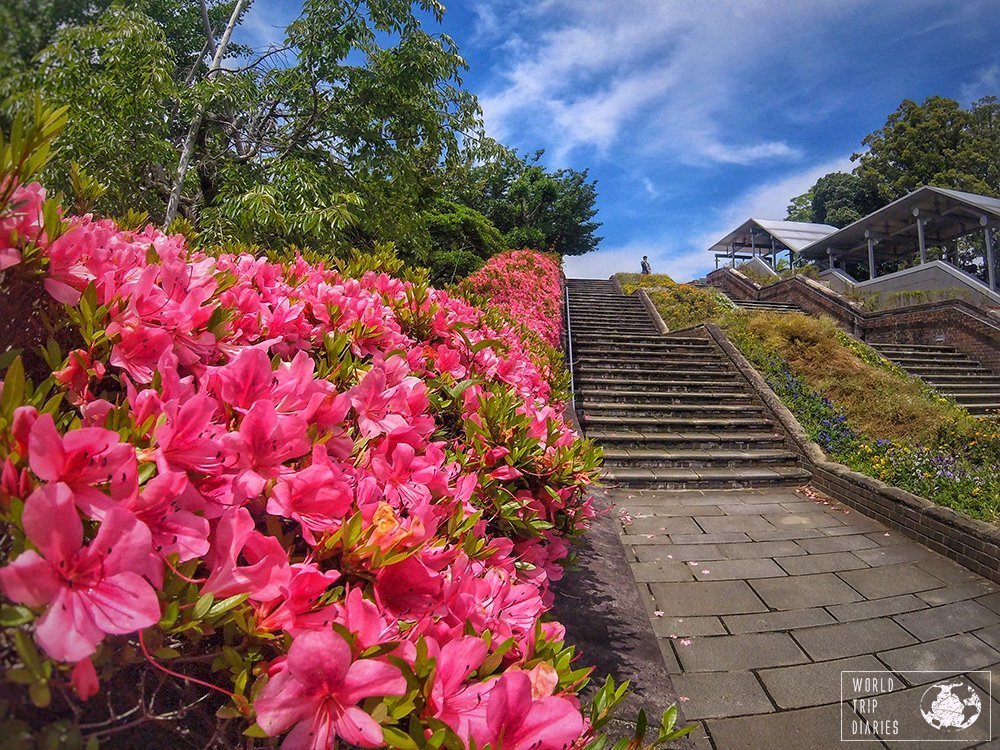 Memorial Park
This is the park with the famous statue and the origami birds. It's a small but beautiful park. Find below what to see at the Nagasaki Memorial Park.
Exit the street car at the Heiwa Koen stop.
The statues
There are so many statues in Nagasaki Peace Park, some heart-breaking ones, some so full of love and hope that fills the soul.
The iconic statue with the man is the highlight, and it's the biggest. It was made by Seibo Kitamura. He has one hand pointing to the threat of nuclear weapons and the other, open in a gesture of peace.
Mostly everywhere you look around the both parks will have a statue or another.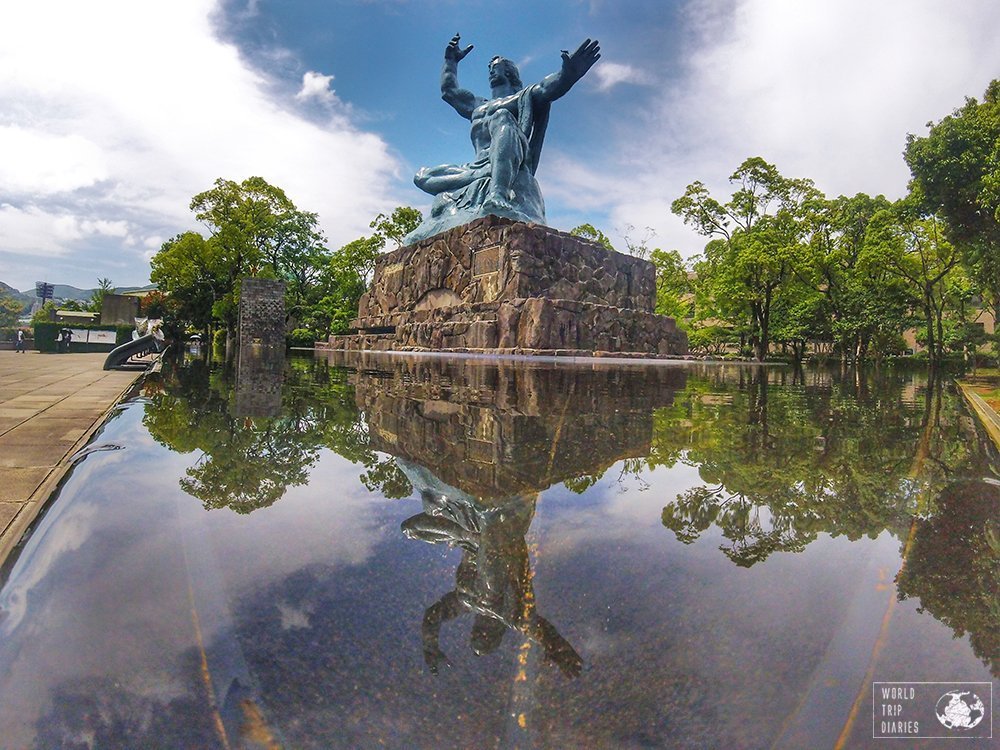 The prison ruins
There was a prison there and everyone died with the bomb. All the convicts, and all the employees. You can still see a little bit of the walls.
The other monuments
There are monuments for the Chinese and Korean victims of the bomb.
Hypocenter Park
This park is gorgeous, with a little stream and a lot of grounding sights. Very worth a stop too!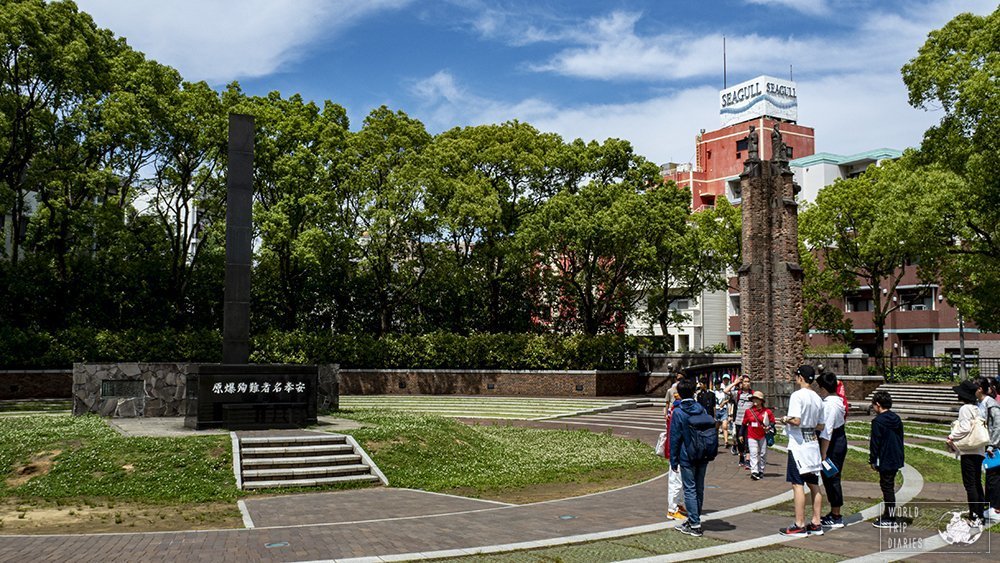 The Hypocenter Cenotaph
This is the mark of where the bomb hit Nagasaki. Even though it actually exploded around 500 m (1649 ft), this is the center of the bomb.
Now there is a cenotaph there, and remember to show your respects when you're there.
Relics of the former Urakami Cathedral
The Cathedral was destroyed with the blast but the few remains of it are there.
The layered floor
The whole park is actually raised from the level it was before the blast. You can see it clearly there, as there's an area that's kept with the original ground level – you go down a level of stairs and there's a window and you can see all the rubbles and all that was found at the site after the bomb.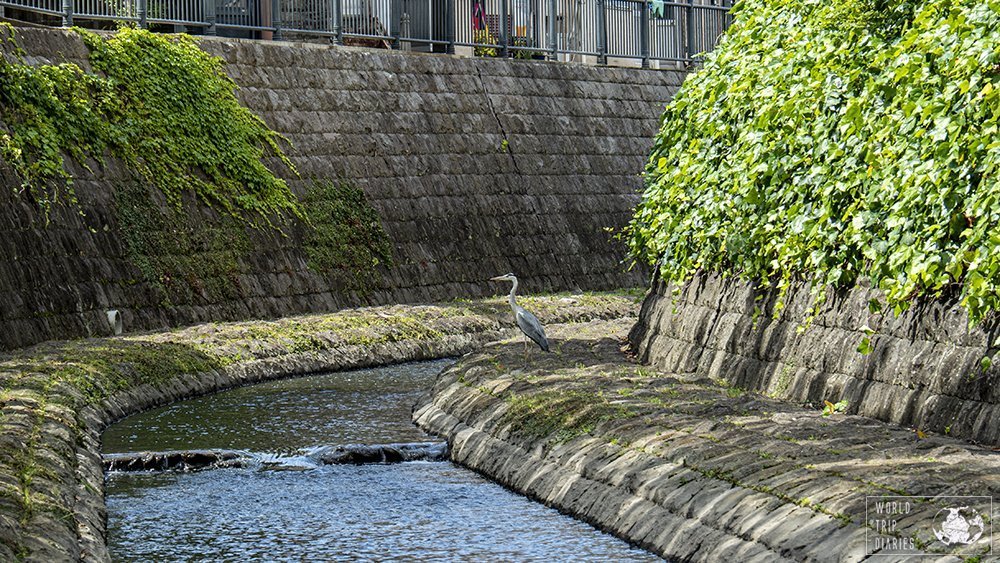 The stream
Then there's this stream there. It's a really nice place to walk around for a bit without the crowds. Just be careful because the ground is really unlevelled, making tripping and falling a very common occurrence.
We actually decided not to enter because we were told it was a little too graphic for our youngest but we did walk around the free area – the area that's 'safe'. It had air conditioning and rest areas, including a café. We could see the number of origami tsuru people made – it's crazy and they're beautiful.
Entry fee: ¥200 for adults (18+) and ¥100 kids (6~18). Under 6 enter for free.
To get there, exit the street car or bus at the Hamaguchi-Machi stop.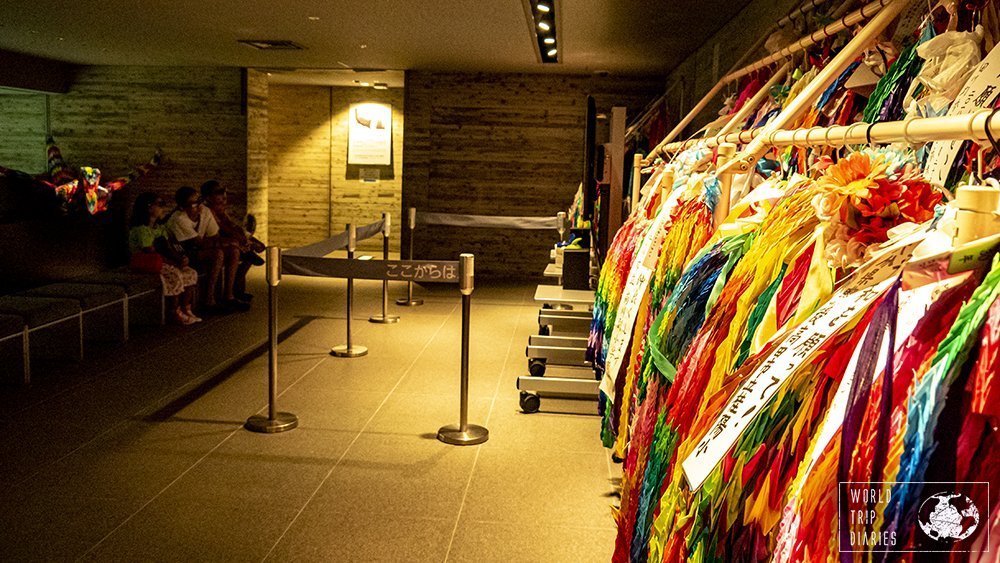 Nagasaki National Peace Memorial Hall for the Atomic Bomb Victims
This is a beautiful, beautiful place. It's sad, disheartening, but incredibly beautiful. You can read a little the stories of the victims of the bomb, learn about the effects on the victims and actually SEE the number of deaths that nuclear bomb has made.
Remember to visit it as respectfully as you can – it means as quiet as possible, and avoiding contact with the water, or disrespectful photos.
Entry is free. It's connected to the Atomic Bomb Museum.
Meganebashi (Megane Bridge)
There's this whole area around Nakashima River where the bridges are all made of stones and they're just lovely. The river in itself has many fishes living in it – and, according to a local conversation I overheard, sometimes you can even find squids there – and it's just stunning.
The most famous bridge is the Megane Bridge (Spectacles Bridge). With the reflection of the bridge over the water, it really do look like glasses. Hence the name.
But the whole area is beautiful and you should take a stroll around it.
Exit the street car at the Kokaido-mae stop and walk for 5 minutes following the river.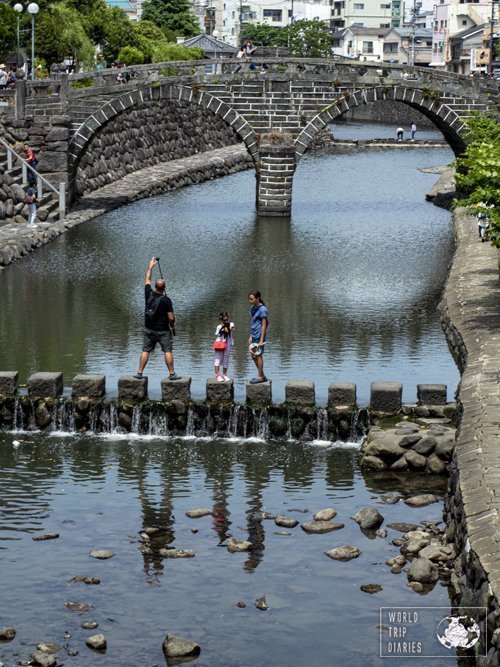 Teramachi Dori (Teramachi Street)
There's this very narrow street in Nagasaki called Teramachi Dori, or Temple Street. It has the name because it's a street full of… temples. There are so many temples, I lost count.
Most temples charge a small fee for entry so you may want to choose a few to visit. The most famous temples are Kofukuji and Sofukuji.
To visit it, exit the streetcar at the Shokakuji Shita stop.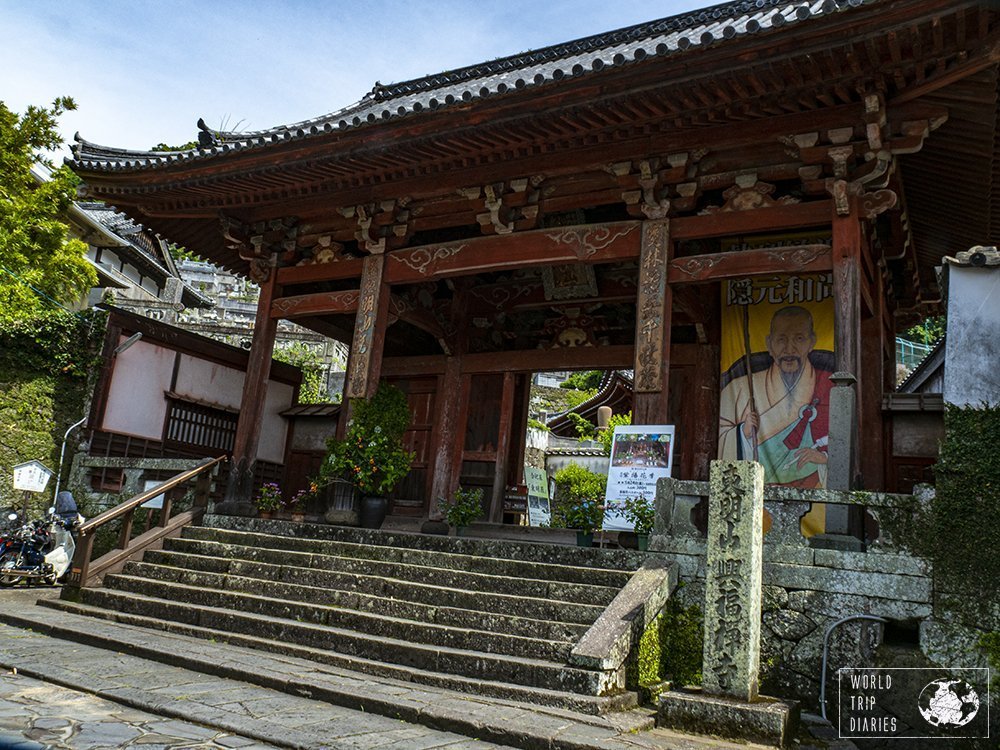 The Nagasaki slopes
Nagasaki is a city in a bowl, literally, much like La Paz (Bolivia). It's surrounded by mountains and it's inhabited all over. The slopes are plentiful and some are really famous for its charm and beauty. You'll encounter quite a few of them everywhere you go, but the most famous is the Dutch Slope. It's quite pretty.
Mirai Nagasaki Cocowalk
It's a mall, and it's a funny one BUT there's a ferris wheel. It should be stunning when it's sunset, really. I'm not a fan of being caged high up in the sky so I pass. But you can definitely try it.
It's around a minute walk from the Zenzamachi or Morimachi stops of the street car.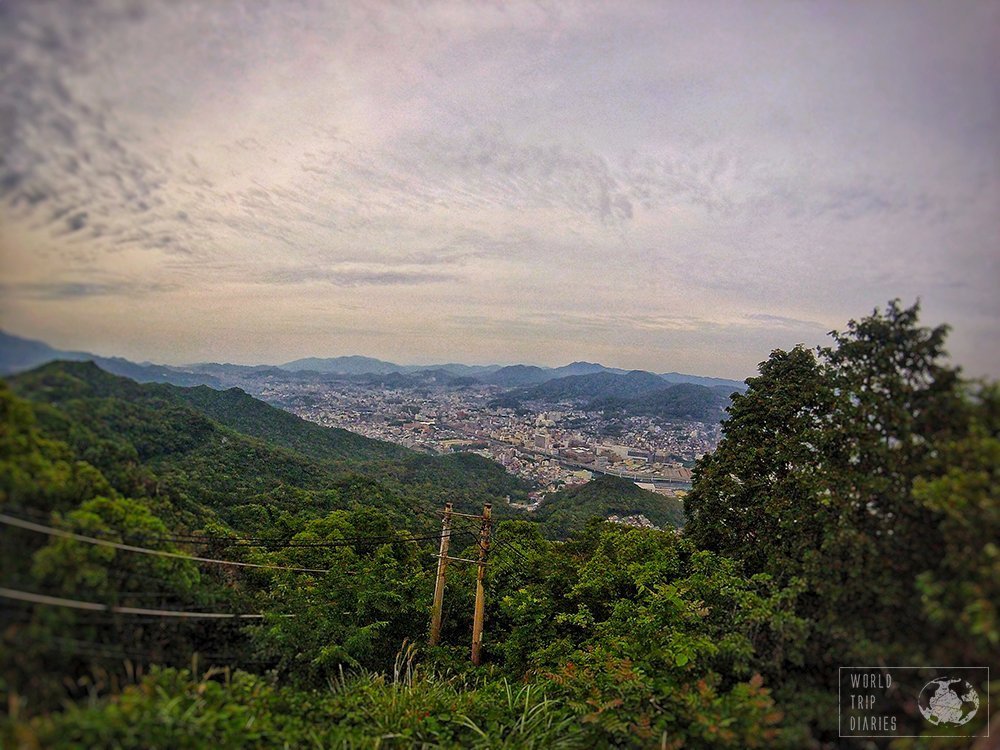 Inasayama Park and Observatory
If you enjoy a night view, you'll enjoy Nagasaki's. Elected as one of the 3 best night views in the world, it's really breathtaking. The Inasayama Observatory is the best place to see it, at the top of Mt. Inasa.
You can arrive a little before sunset, enjoy the park a bit – my youngest had a blast at the playground – and even go see the deer and the monkeys (they are caged and not in a very good condition, so I don't recommend it), then head to the observatory and enjoy the views during and after sunset, which must be stunning.
We didn't. We went during the day. Then we decided to go back at night. Stupid. But it was beautiful and… a little chilly. Bring up something to protect you from the wind even during summer. 
Entry is free.
There are 4 ways of getting to the observatory:
by car (easiest but maybe not the best as there's usually a huge waiting for parking spots at the top). It costs ¥100.
by cable car (it was not operating when we where there and it says it'll be off until the end of 2019.
by free bus, which starts at the parking lot of the Inasayama Park – half way up the mountain.
or on foot – it's around 20 minutes from the Inasayama Park.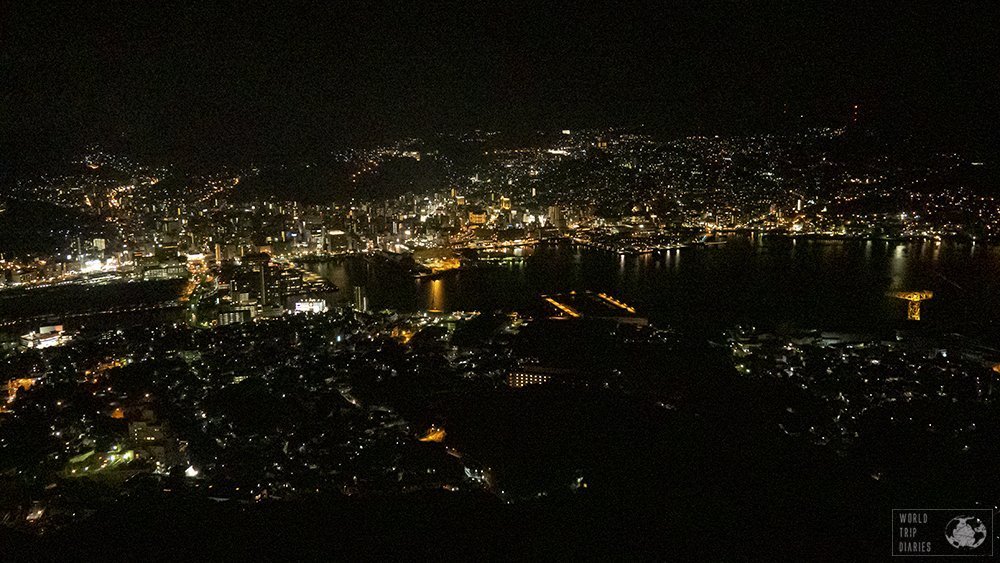 Transport in Nagasaki
Transport in Nagasaki is easy and effective. Well, what else could we expect? It's Japan, after all.
You can get anywhere with them.
Besides the classic train + bus combo, you can also ride the street cars. We rode it once and it was a slight rip off as we didn't have the change and the dude charged us way too much and sent us off the car before we could ask for our money back so we got a bit traumatized. But it's usually fine and most drivers and conductors are good people. They just have bad days. Just have your money counted properly when you're using it. They have the price marked on the screens all over the trams.
The cable car is a good option because it doesn't get stuck in traffic and it has nice views of the city.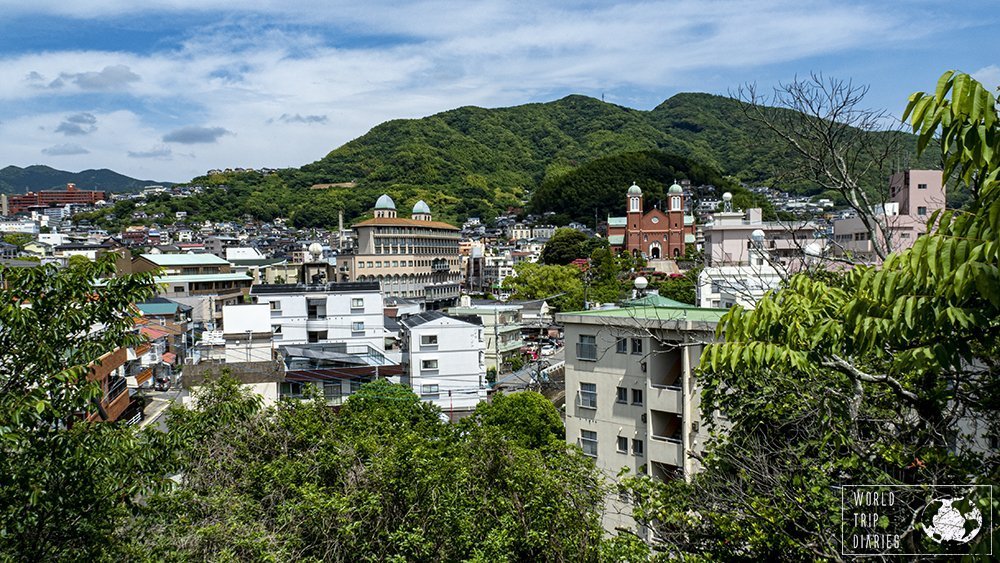 If you don't like any of those, there are always taxis.
For those renting a car, note that parking is expensive and rarely free, so budget for that. We parked our car for around ¥1500 per day on the days we found the cheap parking lot spots up to ¥2300 when they were full. Some parking lots charge only per time used, and some have a maximum price per 12 or 24 hour period, so look around to find the best deal.
What to eat in Nagasaki
There are quite a few Nagasaki specialties that I'd like to show you and we quite loved them. Keep on scrolling to see them!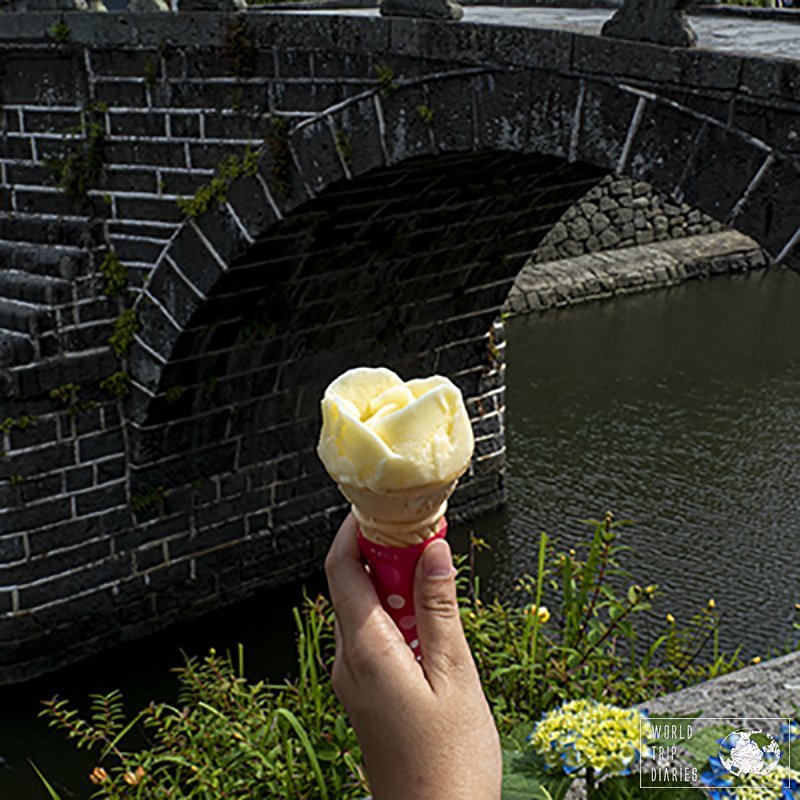 Chirin Chirin ice cream
We found this beautiful flower shaped ice cream near Megane-bashi. It's plain flavor (whatever that means). It tasted like milk and sugar, and it's a traditional Nagasaki treat. The name is the sound the scrape makes when shaping the ice cream.
It cost ¥300.
Castella
This plain sponge cake is very popular in Japan, and it entered the country through Nagasaki. Everywhere in the city you'll find shops especialized in them. Try one or many, they're mostly delicious.
But… my kids liked the cheap ones from the supermarket better. Well…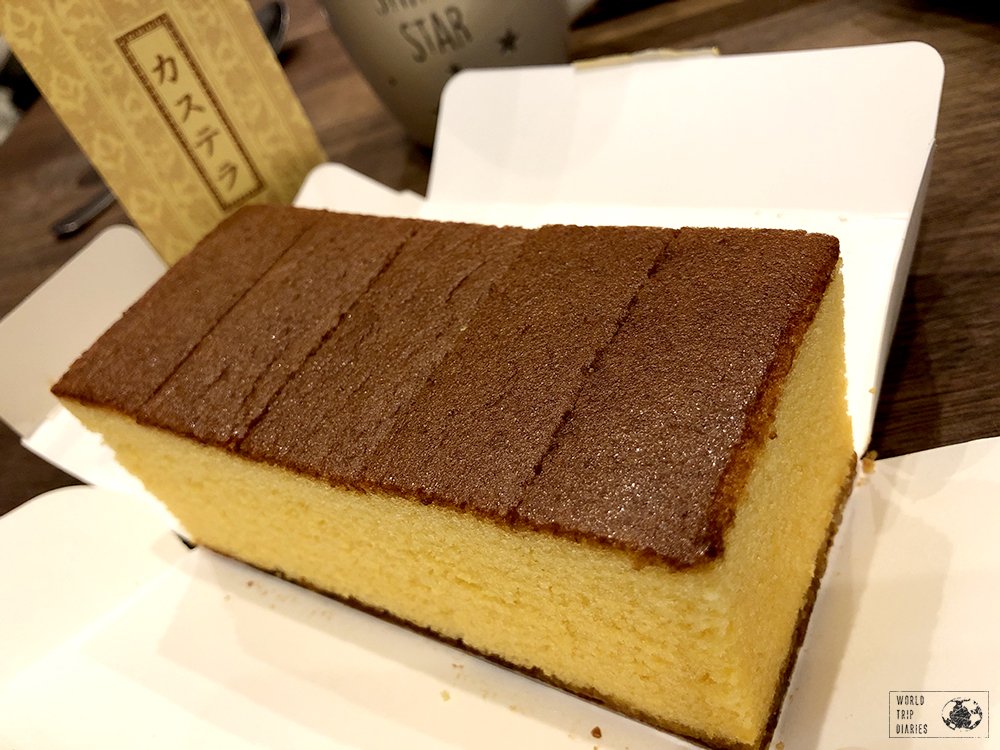 Kakuni Manju
This was a surprise, we didn't know about it. We just saw it and decided to try. We bought ours in the shop in front of Chinatown because they were giving out free tasting and we fell in love.
It's basically slow cooked pork belly in a rice flour bun and man, is it good. It all just melts. Deliciousness in all its existence. No vegetarians in my family. YUM. If I was to recommend a food to try, it'd be this one. Seriously good.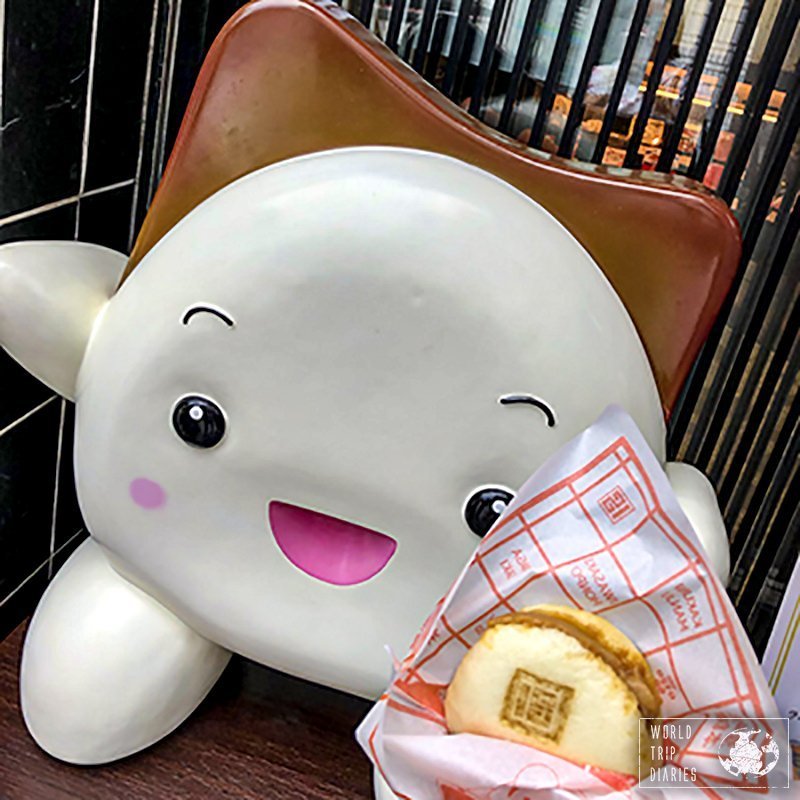 To finish: the best things to do in Nagasaki with kids
Nagasaki was a beautiful surprise. Even though we didn't think we could like a city as much as we loved Hiroshima, Nagasaki was just as beautiful and loveable.
There was so much more to do, and we will, definitely, come back for more!
City / Country

Minimun Stay
$ ~ $$$
Child-friendlyness
Best local transport option
Safety
Do we recommend it?
Nagasaki / Japan

3 days
$$
Perfectly child friendly
Trams (street cars)
super safe, except for the eventual landslide
YES!
https://www.worldtripdiaries.com/wp-content/uploads/feat-nagasaki-japao-filhos.jpg
287
815
Thais Saito
https://www.worldtripdiaries.com/wp-content/uploads/wtdlogo.jpg
Thais Saito
2019-08-06 17:00:18
2019-08-02 13:35:02
Best things to do in Nagasaki with kids