A Miyazaki, Japan, guide for families
Even though it's not a very touristic city, Miyazaki is a charming place to visit. In the Kyushu island of Japan, this city is great – wether for a relaxing time, or something more! Continue below to see our Miyazaki, Japan, a guide for families.
A warning: this post has nothing to do with Ghibli's Hayao Miyazaki. You can see our Ghibli related posts here!
* this post contains affiliate links – they don't cost you anything but give us a small commission
A family-friendly place to stay in Miyazaki
We stayed at the Comfort Hotel. This budget hotel was rated by the kids as * the best hotel ever *. And they've stayed in Disney Hotels all around the world, so you can imagine. 
It's a new hotel, so everything was working perfectly, super clean, nice, and comfortable.
There's a little library is paid for (unless you get a deal and have it included in the price), but it was ¥ 400 per day (around US$ 4) and you had unlimited drinks (soft drinks, tea or coffee), a few snacks, books, and internet.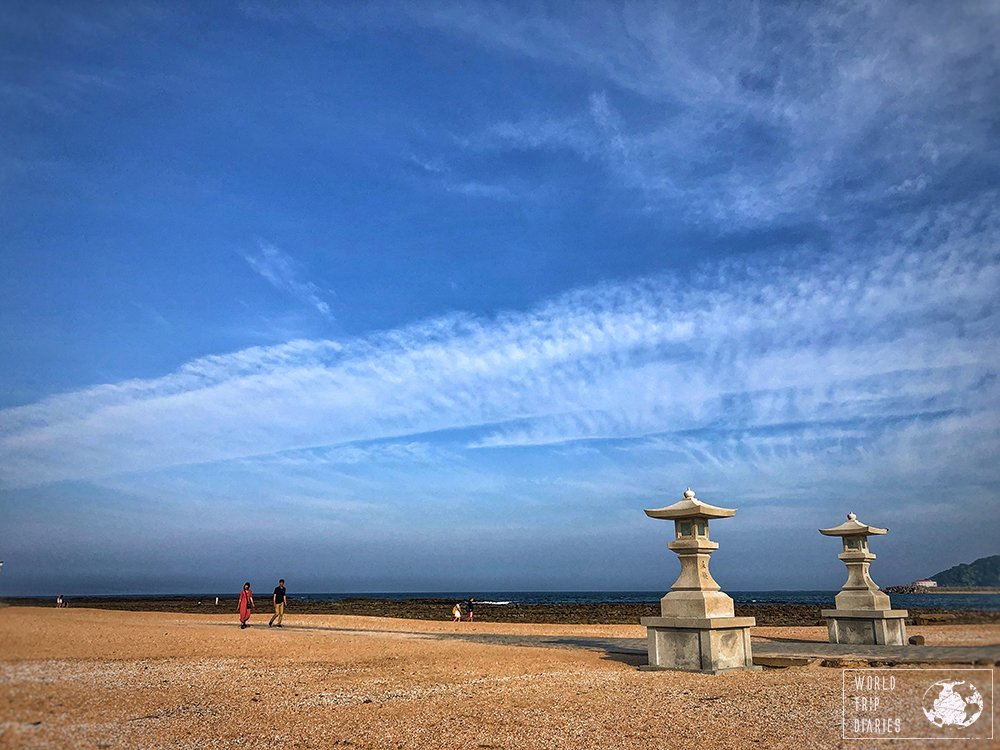 The kids truly enjoyed playing on the TV mirroring the phone screen, watching Youtube from the TV (it was a little hard to learn it, but then it was fun).
The internet was also great, so we could work and watch movies and stuff just fine, which is always good.
Breakfast was buffet style and it was a little less luxurious than all the other places we'd visited in Japan, but it was fine and filling. Very Japanese.
Find their latest prices here!
Best Miyazaki Attractions
Find below the best Miyazaki sightseeing spots – some that we managed to see, and some that we didn't manage to fit into our time there. This time.
Okashi no Hidaka
This is THE place to buy some sweets. Some are very Japanese, some aren't, but they were adapted to the Japanese taste, so it's all very Japanese. Lovely phrase.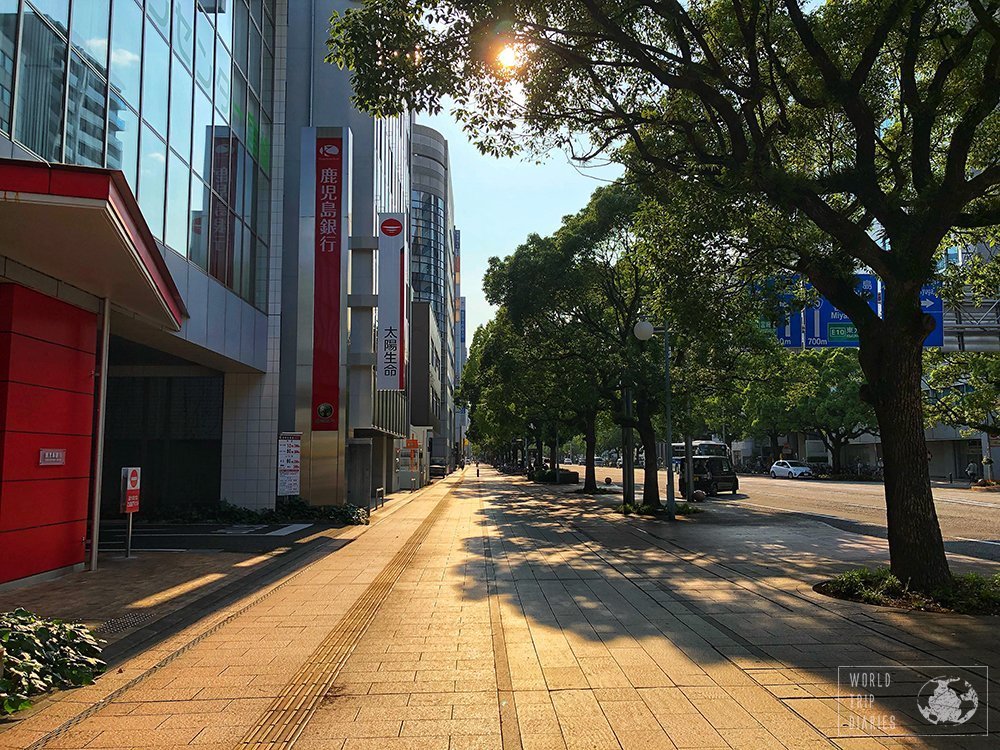 They have quite a few stores all over Miyazaki, but I recommend you pay a visit to the one in the Miyazaki Station (JR) because:
it's conveniently located in the station, which is most people's transport method
it's surrounded by other delicious stores. Go round trying everything you can fit into your stomach. I left it with a hyuganatsu (a citrus fruit) filled with yokan (Japanese jelly), so many types of bread from other places. Besides the treats bought in this store.
it's a great place to grab a souvenir or 2 – just make sure you get one that doesn't need to be refrigerated.
Where: All around Miyazaki. Check their website for the specific location.
Parking: No.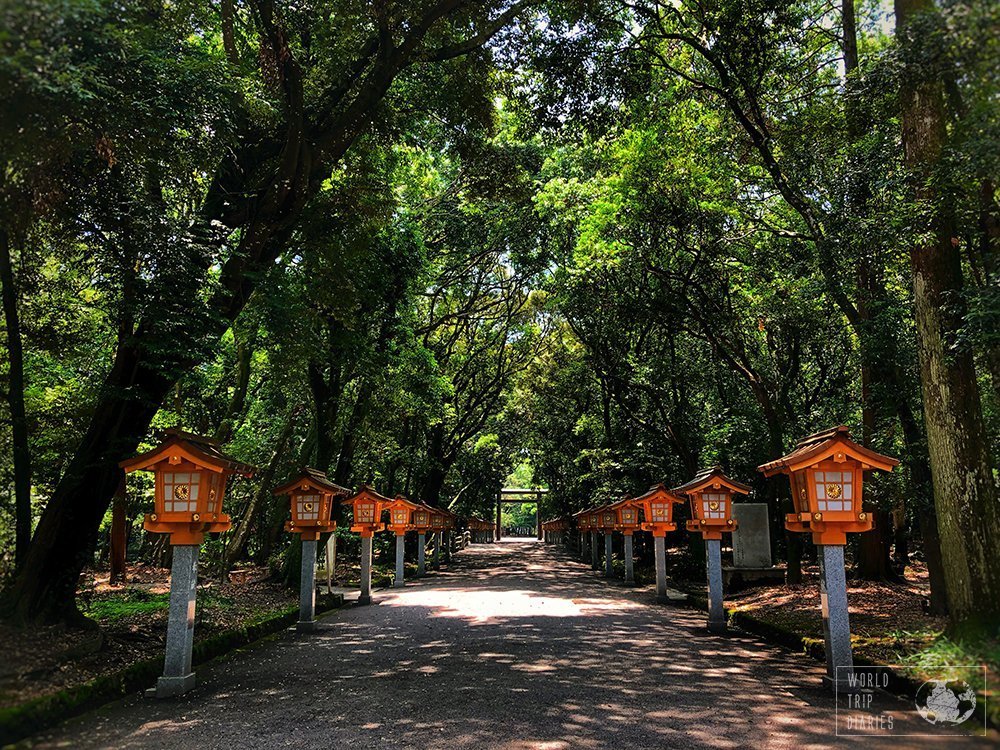 You may also like the complete guide to Japan with kids!
Miyazaki Jingu
Built in 1197 (!!!), this Shinto shrine is a beauty. When we visited, they were having a wedding there, so we had to stay out of the main building, but it was amazing. The whole place is incredibly green and peaceful. We walked around a lot, and we loved it! 
They sell little packs of food for koi near the pond for ¥100 (honesty box) and the fish all come swimming toward you. The pigeons also come around and they do steal the food from you. By the way, you're not supposed to feed the pigeon, but when they steal, they steal.
If you're wondering what to see in Miyazaki, pay a visit to this wonderful shrine!
Where: 2-4-1 Jingū, Miyazaki City
Fee: free
Parking: Free parking, but limited space.
Nichinan Coast (Sun Messe Nichinan)
I'm just going to warn you that… it's a tourist trap. I mean… Moai. Replica Moai. Certified and approved, yes, but… They're tall and photogenic, and the drive there is beautiful, yes. But, not worth it.
OK, so you get the 7 Moai statues, a few caged tortoises, some insect exhibits (like the natural museums have), rainbow color human statues, a playground, shops, and restaurants. If you don't have a Japanese driving license, you don't even get to rent a golf cart to drive around.
Where: 2650 Miyaura, Nichinan-shi, Miyazaki-ken 887-0101
When: Closed on Wednesdays, open from 9:30 am to 5 pm
How much: ¥ 700 (15+), ¥ 500 (12~14), ¥ 350 (4~13), and free for under 4s.
Parking: Free.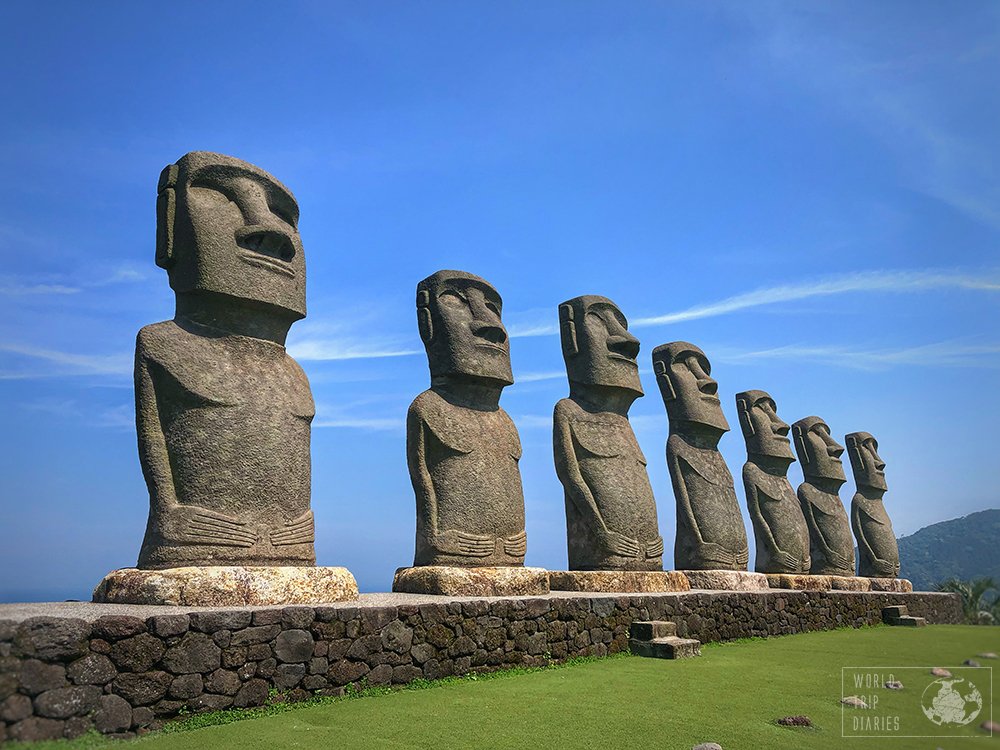 Onino Sentakuita (Devil's Washboard)
Most of Miyazaki's coast has this unique rock formation that makes it look like a giant washboard (hence the name). It's quite unbelievable that it's all nature-made – so perfectly straight! It reminded me of Northern Ireland's Giant's Causeway even though they're very different from each other.
We loved it and spent quite sometime around. We first went to see it from near Sun Messe (above). It was very empty, easy to enjoy but it was quite hard to walk around it and it had a lot of sea cockroaches. Honestly.
Then we stopped a few times to try to find the best place to see it and we came to…
Aoshima Island
This little island (connected by bridge to the mainland) is surrounded by the 'washboard' formation. It's easily accessible and beautiful. Then you can even stop at Aoshima Shrine! We didn't. We spent all our time at the beach, watching hermit crabs, fish, the water, and the rocks.
Well, yes, we did find a couple of dead fish on the sand and the number of tourists wasn't any joke, and we still had so much fun there.
It was our favorite of the Miyazaki tourist attractions, and I highly recommend you visit it too!
How much: Free entry
Parking: No cars on the island, so park on the mainland (it's seriously 20 steps to the island by a lovely bridge). There are many parking lots near the bridge.
Kirishima Totoro Bus Stop
Oh my goodness, this was MY demand. We had to stop there because: Totoro. If you haven't watched it, go do it now!!!
A couple built this life-size Totoro statue and the bus stop in Miyazaki Prefecture, Japan (around an hour away from the city of Miyazaki) and it's a dream! Surrounded by the Kirishima Geopark (it's a volcanic area) and rice farms, it's something not to miss!
Just make sure you're respectful (no loud noises, parking properly, according to the instructions on the sign, not taking anything but photos, not breaking anything) because it was built on the yard of a family home.
Where: 7538-6 Kamamuta, Takaharu, Nishimorokata-gun, Miyazaki 889-4414, Japan
Parking: 3 spots, free of charge
Price: free, but you can leave a donation or buy yourself a Totoro Omikuji (fortune-telling, Totoro style)
Other Miyazaki tourist attractions we didn't have the time to do
Check the official tourism website for more details!
Go to the beach, besides Aoshima. We'd love to have swum. It's all blue and pretty!
Relax in an onsen. My kids don't like onsen (shame) and we can't due to tattoos, anyway.
Visit Awagigihara Forest Park (Citizen's Forest), which is said to be beautiful, enormous, and timeless.
Saitobaru Burial Mounds – we didn't visit because 320 burial mounds didn't sound very attractive to the kids
Takachiho – gorges, rivers, cloud ocean, and waterfalls all together? Yes, please. It's around 3~4 hours from Miyazaki city, and the kids refused the car time, so…
Not to mention the many museums (Art, Nature and History, Science).
Miyazaki Prefecture foods
Miyazaki is famous for:
Miyazaki-gyu – or Miyazaki beef. One of the best in the country.
Chicken Nanban – a deep-fried chicken with a tartare kind of sauce.
Mango – the fruit, also called egg of the sun (Taiyo no Tamago), it's unmissable. They're enormous, extremely sweet and… pricey as.
To finish our Family Friendly Miyazaki Travel Guide
We loved Miyazaki. As with many of the lesser-known places, its tourism industry isn't as developed and it's not as easy to see and do everything but I can assure you that it's very worthy of your time.
It was a great stop for us: relaxing, yet full of fun and beauty.
City / Country

Minimun Stay
$ ~ $$$
Child-friendlyness
Best local transport option
Safety
Do we recommend it?
Miyazaki / Japan

2 days
$$
Super child-friendly
Car or train
Super safe
Oh yes!
Follow us on our Facebook page! That's where we keep all our musings, whereabouts, and more personal stuff!
https://www.worldtripdiaries.com/wp-content/uploads/feat-miyazaki.jpg
287
815
Thais Saito
https://www.worldtripdiaries.com/wp-content/uploads/wtdlogo.jpg
Thais Saito
2019-08-20 21:51:26
2019-08-20 23:52:47
A Miyazaki, Japan, guide for families