A little guide to Santiago, Chile, with kids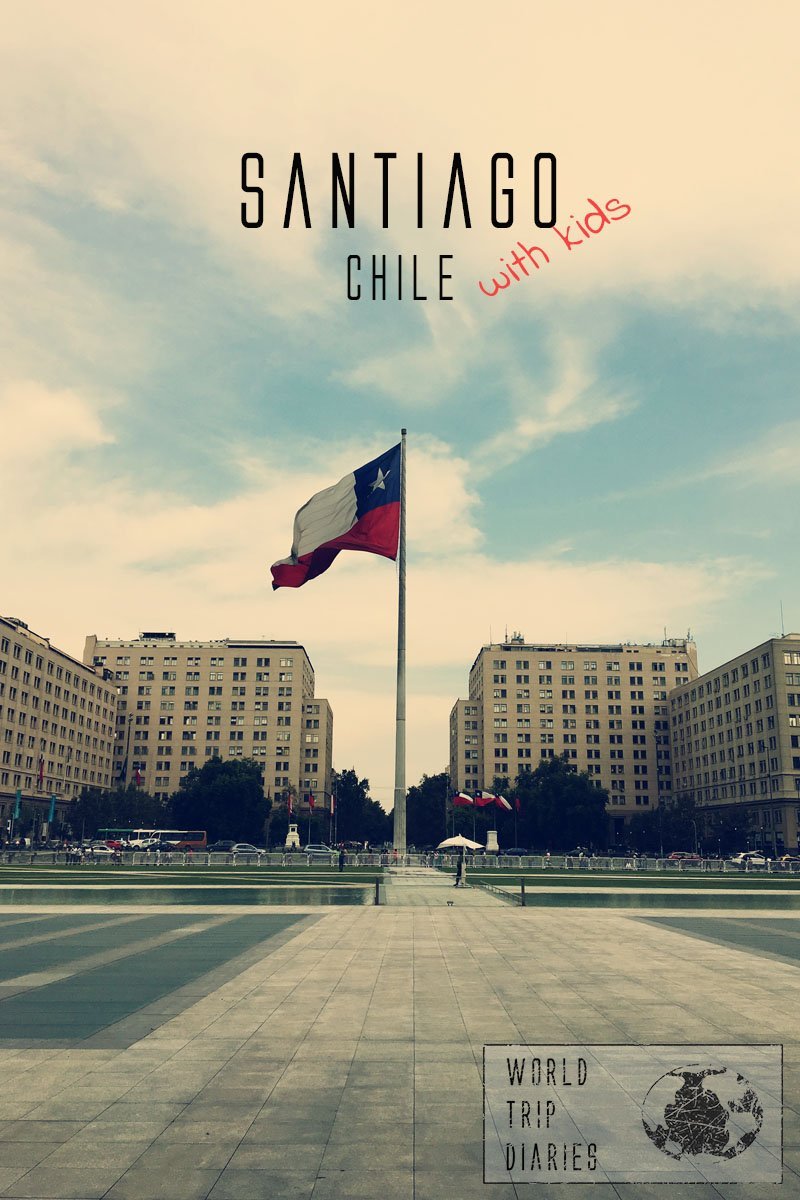 We had a bit over 2 weeks in Santiago, Chile, and I'm going to tell you all about it today.
*this post may contain affiliate links. It just means that if you buy something through them, we get paid a small percentage without costing you anything.
We spent our days in this apartment (if you're new to Airbnb, click on this link first so both you and I can receive a discount on our next booking!). It's huge and super cool looking, we loved the space. It's also very well located, and it was super nice to be able to walk almost everywhere – and if not, walking to the metro station was also easy enough. How not to love having a nice park (Parque Florestal) just across the street? The downside of it is the noise. The neighbors are noisy, the neighborhood is noisy. It doesn't matter if it's 3 am on a Wednesday, people laugh, play music, shout, and dance right on the apartment above or beside yours. I guess it's the cost of being in an artsy neighborhood. But overall, we loved it. The washer/dryer was super welcome too. Arthur, the host, was lovely all the time.
There are supermarkets all around, but we mostly used Express de Lider, because it was closer to the apartment + it had everything.
Where to go
– Sky Costanera is inside Costanera Center and is one great place to watch the sunset. It's on the top of the building, has some bean bags for people to sit and enjoy, and it's got some nice views. There are some cool binoculars (free) that you can use to try to spot the places signaled. It's cheaper on Wednesdays, so plan accordingly. Kids pay less too, so take their passports.
The mall itself is pretty huge too, it's easy to find whatever one may need.
– Plaza de Armas is classic and surrounded by amazing buildings, like Iglesia de Santo Domingo (Santo Domingo Church) and the post office. On Friday evenings and weekends, there are people performing, drawing caricatures, selling arts and crafts and it gets pretty lively. It's full all the time, though.
– Mapocho Station is a closed trains station. While we were there, it was holding 2 photography exhibits (both for free). It's used now as a gallery and it's pretty cool.
– Plaza de Constutuición is a square. A big one. It's a nice place to rest, play some Pokémon Go and enjoy the sunshine.
– Palacio de la Moneda offers daily tours. They're free of charge but very strict. We had to show our passports and confirm names a few times before we were allowed inside. It's where the presidents rule the country, but it used to be the coin factory (hence the name). It's a pretty neat tour and we got to see things we wouldn't ever get close to otherwise. The tour took around 40 minutes, but it can take longer if you ask lots of questions. There are tours in English.
– Around Plaza de Armas, there are many pedestrian only streets full of street vendors, stores, restaurants, and cafés. We saw people performing something there too, although we didn't linger long enough to see what it was.
– Parque Florestal was just across the street from us, and we were there daily because we were having Spanish classes there. There's a nice playground. It's a long and narrow park.
– Right in front of Parque Florestal, there's the Museo de Artes Modernas. We're not very into modern art, so our visit was short. I don't really know if it's worth the visit or not. It's free, so it wouldn't really hurt.
– By the way, the whole neighborhood around the museum above is pretty cool. It's called Bellas Artes and it's the artsy and cool place in Santiago.
– Cerro Santa Lucía is one of the prettiest places I've ever seen. Very much worth the visit. This hill is home to some ruins, a castle, nice gardens, and it offers some killer views of the city and the Andes (if the smog isn't ruining it, that is). It's one of the places where we spent the most time.
– Parque Quinta Normal is one huge and great park, it's really worth a visit. There are playgrounds scattered around it, many informative signs with local curiosities, A LOT of vendors selling food, loads of different places to play, and 3 museums.
– Museo de História Natural (Natural History Museum) is pretty neat, but also a bit creepy. Very informative, but not everything has an English translation. We can even see the people working, like making replicas, restoring something from the display, and things like that. Free entry.
– Museo de Ciencia e Tecnologia (Science and Technology Museum) is small but very interactive. We enjoyed it a lot. It's not free, but it's very cheap and worth a visit.
– Cerro San Cristobal is a hill and we went to the top on the Funicular (you can walk or take the cable car instead) and it was a lot of fun. The entrance to the Funicular is in a building that looks like a little castle and although the line was pretty long (it took us around half an hour until it was our turn), it was worth it. We took the lower part of the car and we had great views, both on the way up and down. The hill itself has a lot to offer, including a zoo. It's a whole day outing for those who wish.
– Arauco Mall is another huge mall, nothing more than that. It's got everything one could need, so if you want to buy something, it's a good place to go. Plus, it's right in front of Arauco Park and the park is pretty huge. The rose garden is beautiful and it also looks stunning at night.
Santiago, in our eyes
What to eat
I'm going to start by saying that we didn't really like the food in Santiago. We didn't find many places that were clean, the service was almost always terrible, and we found only one restaurant we found good enough to go back to.
– Hard Rock Café is overpriced, as all the other branches, but it was so cold, but so cold inside that our food arrived and got cold in less than 10 minutes. Not kidding here. And the service was one of the worst we've had in Chile – and trust me, it was all bad. Not worth it at all.
– The Wonderland Café was our salvation. Arthur, our host, is the owner and everything was delicious. The service was amazing and the place is adorable! It's the only one place I'd recommend you eat in. Seriously.
Now as a PS here, we've eaten at Mc Donald's and it seriously took around 40 minutes for you to order and get your food. Horrible service. We went because we thought it'd be faster, but it wasn't. Twice. Even when we'd only want the ice cream, it'd take 40 freaking minutes.
And there's another place, called Sushi Blue, where we bought sushi to have lunch. We ordered the daily assorted sushi plate and it was horrible. Passion fruit with chicken, salmon sushi topped with ceviche, something so weird we couldn't find out what was… No more, please.
The Andes
We were planning on spending 2 days around the Andes, so we rented a car. Well, the dude told us the car was diesel, so we filled it with diesel and turns out it was gasoline. The car stopped 2 minutes after filling it and they said it was our fault. They never really billed us so I don't know what's going to happen yet here but always check with the company before you fill it because the headache isn't worth it.
So we had only half a day at the Andes after they exchanged the car.
I was super upset, I didn't even want to take the exchange car but Angelo insisted.
And I'm so glad he did.
It was only half a day, but it was one amazing time.
We visited Cajón del Maipo, including Embalse el Yeso (El Yeso Dam), El Ingeño and Baños Morales.
Being surrounded by those beautiful mountains, seeing those little villages, the abandoned houses, it was incredible. Embalse el Yeso is so blue and clear I really felt like swimming. No swimming allowed, but still, there were people swimming.
The roads are narrow and kind of scary at times, but the scenery was always beautiful. We even found a few waterfalls along the way.
It's just stunning all the way, and it's super close to Santiago. It took us around 20~30 minutes of drive.
Then, on the way back we found Casa Chocolate Tienda Boutique. It's a little store in a fairytale house, really. We bought some chocolate in it just because we spent to much time there that it'd be weird to exit empty handed. The chocolate, by the way, was delicious. It's all natural and organic, and yum.
Tattoo
We contacted A LOT of artists in Chile and although some of them responded (taking around 2~3 weeks), they did so very late and we couldn't have ours done. Most of them didn't even bother to answer us or answered very rudely. So we booked on a walk-in place near our home. When we arrived for the tattoos on the day we'd booked, the dude just didn't show up. Luckily, there was another dude there free and he did it for us, and he did it pretty well. I'm not going to recommend or link here because they're not reliable.
Transport
We only used the metro a few times, but they were easy to use and reliable. Depending on the person in charge, kids could pay or not. Melissa (13) and João (11) paid every time. Coral (4) was free, but José was an incognito. He'd pay sometimes, but others, not. Never know.
Buses
We went to Viña del Mar by bus, with Turbus. We were able to buy online, which is great but didn't have to. There are buses between the 2 cities all the time. We booked because we like to have the seats reserved and not have to wait a long time for the next bus.
It was an OK trip, although the movies showed weren't really age appropriate for kids.
Prices vary according to the time, so choose carefully.
Hospital
Angelo woke up one day with a terrible pain in his leg and could barely walk. He went to Clinica Las Condes and it was all fast and efficient. He was well attended and got better in a day.
Spanish Classes
I wanted to take Spanish classes so we found a teacher willing to teach us all at once at the park nearby our apartment. Maité is a lovely person, very patient, capable, funny, and we all enjoyed it a lot. She also had the best price we found. We did learn a lot with her!
Overall
It's not perfect. We hated that the people were always in a hurry – even the staff in restaurants, shops, metro stations… Everyone.
The Chilean Spanish is the fastest and most complicated we've ever heard and I couldn't understand a thing. Terrible.
The food… Oh, man, it was hard. We went to loads of restaurants and only ONE had good enough food and was clean enough: the Wonderland Café. Even McDonalds took AN HOUR to have our food ready. Worst country, in terms of food. Seriously.
And lastly, the smog. AWFUL. We couldn't really deal with it. When we went to the hills, we could breathe better but we couldn't see much due to the pollution. Super downer.
Then we had the horrifying night at the airport. I really wanted to go back to Chile and see the Atacama desert and Patagonia, but I don't really know if I want it anymore. It's a beautiful place, but so stressful I don't know if it's worth it.
Have you been to Santiago? What do you think?
https://www.worldtripdiaries.com/wp-content/uploads/FEAT-santiago.jpg
287
815
Thais Saito
https://www.worldtripdiaries.com/wp-content/uploads/wtdlogo.jpg
Thais Saito
2017-05-02 17:01:31
2019-08-12 16:45:12
A little guide to Santiago, Chile, with kids